Astronomers find 'homeless' planet wandering through space
A planet that is not orbiting a star, effectively making it homeless, has been discovered by a team of University of Montreal (UdeM) researchers working with European colleagues and data provided by the Canada-France-Hawaii Telescope (CFHT) and the European Southern Observatory's Very Large Telescope (VLT). "Although theorists had established the existence of this type of very cold and young planet, one had never been observed until today," said Étienne Artigau, an astrophysicist at UdeM. The absence of a shining star in the vicinity of this planet enabled the team to study its atmosphere in great detail. This information will in turn enable astronomers to better understand exoplanets that do orbit stars.
Free-floating planets are planetary-mass objects that have no gravitational link to a star. "Over the past few years, several objects of this type have been identified, but their existence could not be established without scientific confirmation of their age," explained Jonathan Gagné, a doctoral student of physics at UdeM. "Astronomers weren't sure whether to categorize them as planets or as Brown dwarfs. Brown dwarfs are what we could call failed stars, as they never manage to initiate nuclear reactions in their centres."
Gagné and Artigau, along with Lison Malo and Loïc Albert, all of whom are astrophysicists with UdeM and the Centre for Research in Astrophysics of Quebec (CRAQ), were able to find this planet with the assistance of French astronomers. Philippe Delorme, of the Laboratoire d'Astrophysique de l'Observatoire de Grenoble, was lead researcher. The planet is in fact called CFBDSIR2149 and appears to be part of a group of very young stars known as the AB Doradus Moving Group. "This group is unique in that it is made up of around thirty starts that all have the same age, have the same composition and that move together through space. It's the link between the planet and AB Doradus that enabled us to deduce its age and classify it as a planet," Malo explained.
First of all, the researchers obtained a series of infrared images of CFBDSIR2149 using the 3.6 metres in diameter CFHT. They then used the full strength of the 8 metres in diameter VLT to deduce its mass, its temperature, and of particular note, its age. The planet was found to be between 50 and 120 millions years old, with a temperature of approximately 400 degrees celsius, and a mass four to seven times that of Jupiter. Objects more than 13 times the mass of Jupiter are not considered to be planets but rather Brown dwarfs, as it is this is the minimum amount of mass required for the deuterium at the heart of a star to achieve fusion.
As an aside, it is interesting to note the significance of the finding in terms of the roots of the word "planet." "Planet as a word originates from the Latin word planetus, which originally comes from the Greek words planeta or planêtês, meaning moving or wandering celestial bodies, as opposed to stars which appeared to be in a fixed position in the sky," said Oliver Hernandez, an astrophysicist at UdeM.
In short, this is the first isolated planet – perhaps flung away during its formation – that is not tied by gravity to a star and whose mass, temperature and age meet the relevant criteria. This discovery, which has been sought after for more than a decade, supports theories relating to the formation of stars and planets. Moreover, it supports theories that suggest that these kinds of isolated objects are much more numerous than currently believed.
"This object was discovered during a scan that covered the equivalent of 1000 times the surface of the full moon," Artigau explained. "We observed hundreds of millions of stars and planets, but we only found one homeless planet in our neighbourhood. Now we will be looking for them amongst an astronomical number of sources further afield. It's like looking for a single needle in amongst thousands of haystacks."
The new telescopes are about to transform the hunt for alien life and our understanding of the universe
From strategic points, on Earth and in space, the next telescopes will depend on next-generation technologies in their attempts to answer some of the most important questions of scientists about dark matter, the expansion of the universe and extraterrestrial life.
Some will provide 100 times more information than today's most powerful tools for observing the heavens.
The first of these telescopes, the highly anticipated James Webb Space Telescope from NASA , will be released in 2021, and then start scanning the atmospheres of distant worlds for clues about extraterrestrial life. Already in 2022, other new telescopes in space will take unprecedented observations of the heavens, while observatories on Earth look back to the ancient universe.
This is what is in process and what these new tools could reveal.
Since its launch in 1990, NASA's Hubble Space Telescope has discovered new planets, revealed strange galaxies and provided new insights into the nature of black holes.
It also found that the universe is expanding faster than scientists imagined.
However, many questions remain to be answered. How has the universe evolved over time? Why can't we see 95% of it? If there are aliens, where are they?
The next generation of telescopes – in space and on land – will try to fill these gaps in our knowledge.
First, NASA is building the James Webb Space Telescope (JWST) to observe the history of the universe.
It will study how the first stars and galaxies formed, how planets are born and where there could be life in the universe.
The next telescope is fully assembled and now faces a long testing process at the Northrop Grumman facility in California before its launch on March 30, 2021.
A 21-foot-wide beryllium mirror will help the James Webb telescope observe distant galaxies in detail and capture extremely weak signals within our own galaxy.
The farther you look into space, the more the telescope will look back in time, so it could even detect the first flashes of the Big Bang.
JWST will also observe in detail young and distant galaxies that we have never seen before.
Thanks to the new infrared technology, the telescope was able to provide an unprecedented view of the supermassive black hole in the center of the Milky Way.
These images could help answer questions about how the galaxy formed and its black hole.
"Do the black hole comes first and stars form around it? Do the stars come together and collide to form the black hole? These are questions we want to answer, "said Jay Anderson, a JWST scientist, in an October press release.
JWST will also look for signs of alien life in the atmospheres of exoplanets (the term for planets outside our solar system) – but only those larger than Earth.
By measuring the intensity of the light from the stars that crosses the atmosphere of a planet, the telescope could calculate the composition of that atmosphere.
Scientists have already identified more than 4,000 exoplanets.
But so far, they have not been able to study most of the atmospheres of these planets to look for signs of life, also known as "biosignatures."
If an exoplanet's atmosphere contains methane and carbon dioxide, for example, those are clues that there could be life there. JWST will look for signals like that.
Earth's atmosphere has a lot of oxygen because life has been producing it for billions of years. Oxygen is not stable enough to last a long time on its own, so it must be constantly produced to make it so abundant.
The combination of carbon dioxide and methane (as in Earth's atmosphere) is even more revealing, especially if there is no carbon monoxide.
This is because carbon dioxide and methane would normally react with each other to produce new compounds. So if they exist separately, something is likely to produce them constantly. That something could be a volcano, but as far as we know, only one way of life could release that amount of methane without also shedding carbon monoxide.
Scientists detect water vapor on Jupiter's moon Europa
Scientists already had indications that there was a large ocean beneath the ice sheet of Jupiter's moon Europa. Now, with this finding, it could become the first habitable place of our Solar System, in addition to the Earth.
Forty years ago, a Voyager spacecraft took the first foreground images of Europa, one of Jupiter's 79 moons.
These revealed brown cracks that cut the icy surface of the moon, which gives Europa the appearance of a venous eyeball.
Missions to the outer solar system in subsequent decades have accumulated enough additional information about Europa to make it a priority research objective in NASA's search for life.
What makes this moon so attractive is the possibility that it has all the necessary ingredients for life.
Scientists have evidence that one of these ingredients, liquid water, is present beneath the icy surface and that it can sometimes break into space in huge geysers.
But nobody has been able to confirm the presence of water in these plumes by directly measuring the water molecule itself, until now …
Recently, a team led by NASA's Goddard Space Flight Center has detected water vapor for the first time on the surface of Europa.
To do this, the vapor was measured by observing this moon through one of the largest telescopes in the world, the WM Keck Observatory on top of the Mauna Kea volcano, Hawaii.
Confirming that there is water vapor over Europa helps scientists better understand the inner workings of the moon.
For example, it helps support an idea: that there is an ocean of liquid water, possibly twice as large as Earth's, splashing beneath the ice sheet of miles of this moon – an idea that is almost a certainty.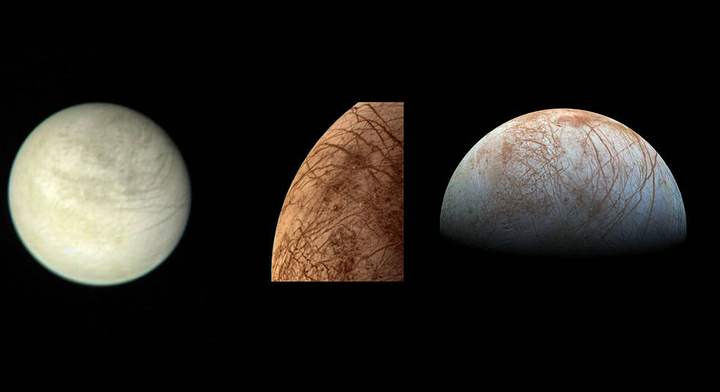 Some scientists suspect that another source of water for plumes could be shallow deposits of melted water ice not far below the surface of Europa.
It is also possible that Jupiter's strong radiation field is removing water particles from Europe's ice sheet, although recent research argued against this mechanism as the observed water source.
«Essential chemical elements (carbon, hydrogen, oxygen, nitrogen, phosphorus, and sulfur) and energy sources, two of the three requirements for life, are found throughout the solar system.
But the third, liquid water, is somewhat difficult to find beyond Earth, "said Lucas Paganini, a NASA planetary scientist and who led the water detection investigation.
"While scientists have not yet detected liquid water directly, we have found the following best option: water in the form of steam."
Paganini and his team reported in the journal Nature Astronomy on November 18 that they detected enough water release from Europa (2,360 kilograms per second) to fill an Olympic pool in minutes.
However, scientists also discovered that water appears infrequently; at least not in quantities large enough to detect them frequently from Earth.
In fact, surface water molecules were detected only once in 17 nights of observation.
"For me, the interesting thing about this work is not only the first direct detection of water on Europa but also the lack of it within the limits of our detection method," Paganini concluded.
Future research
Soon we could find definitive answers about the mysteries of Europa and its habitability level.
The Clipper mission to this moon is expected to be launched in the middle of next year, to finally round off decades of investigation of other missions.
When it arrives on Europa, Clipper will orbit it and make a detailed survey of its surface, interior, atmosphere, subsurface ocean, and other characteristics.
It will also take pictures of the geysers and perform analysis of the atmospheric molecules with mass spectroscopes.
And if that were not enough, it will leave everything ready for the next step, finding an ideal place for NASA to send a robot to collect samples.
Source: NASA
Astronauts may hibernate on trips to Mars
Astronauts traveling to Mars in the near future may have to hibernate, according to a European Space Agency (ESA) scientist.
In interview with The Telegraph, Professor Mark McCaughrean, senior science consultant to the ESA Board of Science, revealed that hibernation could reduce the need for large amounts of food during the seven-month trip to Mars.
He explained:
The idea is that you sleep while traveling and use much less consumables.

Sleep is not the same as hibernation, because if you hibernate, it lowers your body temperature and reduces everything else, oxygen, and so on.
Placing astronauts in this state can also prevent fights between astronauts during the tiring journey, according to Professor McCaughrean.
He added:
If you have 100 people within a few hundred cubic meters for seven, nine months, you will have 20 people at the end, because they will do the Hunger Games. They will kill themselves.
While the idea of ​​hibernating astronauts may seem absurd, ESA is already conducting experiments on animals.
Professor McCaughrean said:
We are now experimenting with artificial hibernation to numb someone for seven months and not worry about food. We are talking about how we would do that. You do this with animal testing and we have programs to analyze how it would happen.
However, there are several obstacles to be overcome before these tests can be performed on humans.
He even said:
We are nowhere near that, because there are all ethical questions about how you would do it.
(Source)