Astonishing Irregularities That Are Evidence of a Hollow Moon Space Station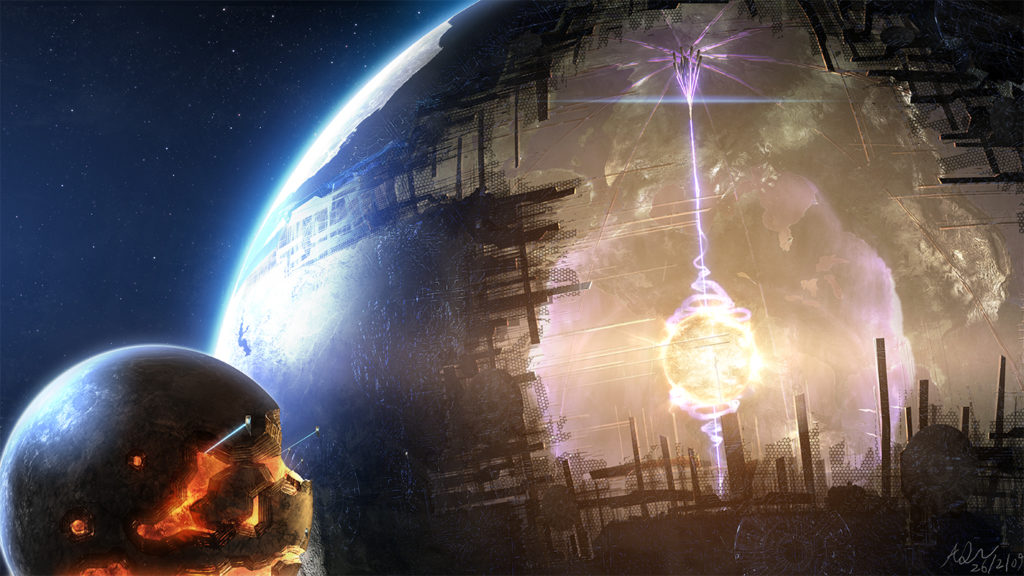 The majestic natural satellite has been the source of curiosity of countless people. It brightens up our dark nights and provides a way to navigate for our ancestral fathers.
But over the years, as our understanding of the space has increased, we found some astonishing information about the moon that led to more questions than answers.
Is the moon actually Earth's natural satellite? 
The new information has led to speculation that it might actually be an extraterrestrial technology transported here to survey mankind's progress and the impact we have on planet Earth, or maybe something entirely different.
The reason why the moon was brought here remains to be a huge source of speculation, something we will hopefully find out in the near future, but for now we have the following information that dispels the previous notion that it is a natural planetary body:
1. The Moon Predates the Earth
It was initially believed that the moon was formed when an external body crash-landed on Earth. A part of the debris from the crash accumulated into what we now know as the moon.
There is yet another theory stating that when Earth was formed, the remaining dust came together to form a heavenly body that revolves around the Earth.
However, when surface materials from the moon were brought back to Earth by the astronomers, the results led to startling discoveries, as the moon rocks and dust predated our planet, which is around 4.53 billion years old.
The material comprising the moon turned out to be around 5.3 billion years old and the dust even older, dating to about 6.3 billion years.
Hence, the moon must have originated somewhere else.
2. The Moon's Density
we know for a fact that the Earth's density is 5.5 gm/cm3. Surprisingly, the moon's density was found to be 3.34 gm/cm3, around 3.34 times the density of an equal volume of water.
This was explained by the renowned NASA scientist, Dr. Gordon Macdonald in 1962. He stated that if our astronomical data is to be deduced, we come to the conclusion that the interior of the natural satellite is hollow.
3. Moonquakes
A few years after Dr. Gordon Macdonald's theory came to be, in 1969, the team of Apollo 12 landed on the moon. During their decent, they landed in a rough manner onto the moon's surface, around 40 miles from their intended destination.
The crash resulted in an artificial moonquake, which had startling characteristics. Upon impact, the moon started to reverberate just like a bell would, which we all know is hollow.
The reverberations lasted for more than an hour. The same phenomenon was again witnessed when Apollo 13 landed on the moon and its impact caused an even greater seismic activity, which lasted for more than three hours.
This led to the conclusion that the moon is unnaturally light for its size and possibly doesn't even have a core, which would otherwise significantly increase its weight.
4. An Unnaturally Perfect Orbit
we all know that the moon orbits around our planet in an almost perfect circular orbit, but still technically elliptical.
This unnatural orbit couldn't have been captured by Earth's gravitational force, as we can clearly see in the substantially elliptical orbits of the other satellites in our solar system.
This further fuels the speculations that the moon was placed in its current position and orbit by an intelligent mind.
5. A Stationary Orbit
Another weird thing about our moon is that its orbit around the Earth is completely stationary. Meaning that it doesn't spin on its own axis as all of the other moons in our solar system do.
This is why every time we look up at the moon, we see the same side of it — the side that faces Earth.
6. Unexplainable Center of Mass and Geometric Center
Another thing about the moon we have been unable to scientifically understand is the discrepancy in its center of mass, which is around 6,000 feet closer to our planet than its geometric center.
This discrepancy should, according to our understanding, cause the moon to constantly wobble — yet, it remains steady.
Conclusion
since we have discovered all of these discrepancies with the moon, we have been constantly trying to figure out how it maintains its uniquely circular orbit, without a spinning axis and without wobbling.
However, despite all of our efforts to understand these anomalies, we have yet to come up with a conclusive answer.
The hypothesis that highly advanced extraterrestrials have hollowed out the moon and placed it in an almost perfect orbit around our planet, gives birth to even more wild speculations.
We know for a fact that the moon is primarily responsible for the tides, seasons and even some earthquakes. The moon is also known to influence our sleep and even our mood.
So we can draw the conclusion that the aliens that brought it here knew exactly what they were doing and it was part of their agenda to influence life on Earth via the moon space station.
It has also been speculated that Earth is now a prison planet and the moon a space station for alien guardians. Even more interestingly, author David Icke has speculated that the moon is an important part of the matrix deception that kept mankind enslaved for millennia.
Shocking footage – Justin Bieber that appears to transform into a GIANT LIZARD
Justin Bieber "shapeshifted into a reptilian" while greeting fans who had waited for him to arrive at Perth Airport, Australia, according to hundreds of witnesses who took to social media and were interviewed by local press after the incident.
One witness, interviewed by news outlet Perth Now, said that "all hell broke loose" in the airport after Justin Bieber shapeshifted in front of his fans. "There were girls hiding in toilets, crying. Guys were running for the exits, jumping in taxis to get out of there."
Perth Now briefly published an article about the incident on Sunday featuring multiple interviews with witnesses, however within an hour of publication the article was taken down and scrubbed from the internet – but not before alert readers captured screenshots of the article and proof that it appeared on Google.
Perth Now has not responded to questions about why they deleted the article from their website, or if they were acting under outside orders.
It would not be the first time a news outlet or social media platform was forced to censor content relating to celebrity reptilian shapeshifting, with Twitter notorious for deleting tweets and user accounts whenever a famous figure is seen in reptilian form by members of the public.
"Golden age of shapeshifting reptilian sightings"
The Perth Now article quoted witnesses that saw Bieber with eyes "with a black stripe down the middle" and "big scaly claws that were lashing out angrily."
One traumatized fan with tickets for Bieber's upcoming concerts claimed she "won't be going to any now, no way."
Despite the removal of the article from the internet, the reptilian sightings continued the next morning, after Bieber left his $25,000-a-night Chairman's Villa hotel room at Crown Towers and was spotted in camouflage shorts and white t-shirt at nearby Leederville skate park.
"He was hanging around with this big guy, his bodyguard I guess, and we were just staring because he kept turning into a huge reptile," said a local skater. "His bodyguard was pointing at us, shouting that he'd kick our teeth in if we didn't put our phones away."
There were multiple accounts of seeing Bieber with "greenish-brown claws", and one account claiming they saw him covered in "turd colored scales," while others claim to have seen the Sorry hitmaker in "full female reptilian form."
"Really big, like way over six foot, slitty little reptile eyes, curves, and covered in scales."
Experts claim Bieber belongs to the Babylonian Brotherhood – a group of shapeshifting reptilian humanoids determined to control the world and usher in the New World Order.
According to historians there have been sightings of reptilians around the world at regular intervals throughout history, however it is widely believed that we are now in a golden age of reptilian sightings. There is a belief that the world is gaining consciousness, waking up, and that the veil is slowly lifting.
It is said that Justin Bieber, a member of the dominant reptilian-Illuminati bloodline, is becoming one of the most commonly sighted shapeshifting reptilians in the world.
Two people watching the same scene will not necessarily both be able to discern the shapeshifting reptilian, however experts are saying that more people than ever before have developed the ability to witness reptilians manifest in their true form.
Video:

Psychic Predicts Royal Wedding Will Be Cancelled
A psychic in Ireland has issued a rather bold prediction that this coming weekend's royal wedding between Prince William and Meghan Markle will be cancelled! The lavish affair, expected to draw millions of royal watchers tuning in on TV from around the world, has been beset by odd events over the last few days. And self-proclaimed clairvoyant Siobhan Kilroy foresees the strangeness surrounding the wedding culminating with a shocking conclusion on Saturday when the couple will wind up not exchanging vows.
According to an Irish media outlet, the psychic had previously predicted that this week would see a major headline-making story rock royal watchers in the days before the big event. With the news that Markle's father now plans to pass on attending the wedding due to health concerns, Kilroy believes that her proverbial sixth sense has been proven correct. However, she warns, not everything is as it seems with the surprising story.
"I said there would be sensational news coming from the UK and somebody would "fall ill" and that wouldn't be the truth," Kilroy declared. She claims that Markle's cancellation is part of a cover up to set the stage for an even bigger bombshell before the big day. "Something serious will happen that will stop the wedding," she forecasted, musing that the event has likely already "fallen apart" behind the scenes at Buckingham Palace.
While there does seem to be a weird vibe hovering over the weekend's events, a cancellation of the royal wedding would be a story of seismic proportions. Given the carefully stage-managed image of the royal family, such a turn of events is hard to imagine happening. So, in a sense, the psychic deserves some credit for sticking her neck out and making the rather audacious prediction. Should she be proven correct, the world may be talking more about Siobhan Kilroy than Meghan Markle on Sunday.
Dave Chappelle's Family Claim Star Was Killed And Cloned By Illuminati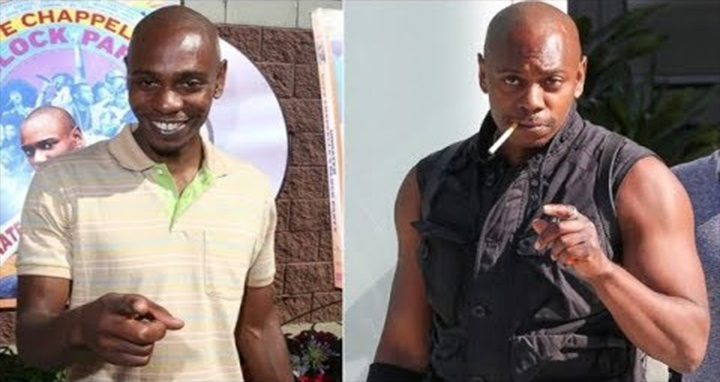 Dave Chappelle was killed and cloned by the Illuminati, according to his cousin who claims the comedian's physical appearance changed after his return from exile in Africa and appearance on the Oprah Winfrey Show.
Chappelle's cousin also claims that "the new Dave" does not recognize her, despite the fact she was extremely close to Chappelle before the strange events surrounding his "escape to Africa" and "doomed return to America and the entertainment industry."
"He wasn't one of them and he refused to do their bidding," Dave Chappelle's cousin says. "He got too big and they took him out. The new Dave Chappelle is not the old Dave Chappelle. He looks nothing like him, he doesn't recognize his own family, and he is a totally different person on stage. All of his real fans can see this."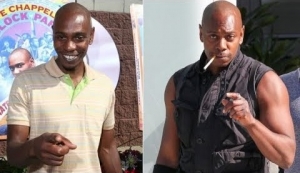 Dave Chappelle's cousin claims the old Dave (pictured on the right) is physically different to the new Dave (pictured left.)
Dave Chappelle is one of those famous people who was not born into fame. The Illuminati prefer to put their own bred stooges into positions of power, whether politicians or celebrities. If it can't be one of their bloodlines then it is an MK Ultra victim, for example Britney Spears, Katy Perry, or Kanye West, someone who they have brainwashed since infancy, someone they know will follow their agenda.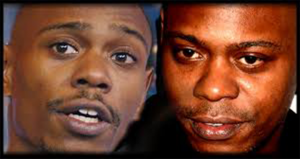 Fans claim Dave Chappelle has been acting very differently, and even looks different, since his return from self-imposed exile in South Africa.
They also gather people through blackmail and sellouts, they like people so desperate for fame that they will sign a contract in blood, selling their soul to the wicked industry. These are the people like Jay-Z who know what is going on but do not care, as long as they get their paycheck.
Truth Scrambler reports: Dave Chappelle, at least initially, did none of these things. He was unique in that regard. He got famous with stand-up and eventually earned his own show on Comedy Central called the Chappelle Show. Since he was an independent writer/actor/performer, he had free rein on this show and what we saw in those two seasons was something fresh, original and not scripted by the industry Illuminati.
There was no hidden agenda, just an honest look at race, society, and whatever Chappelle felt like covering.
Now according to his cousin's testimony, at this point Dave was called into the executive's office, and was seated at a round table of rich exec Illuminati types who basically told him he needed to cut out some of the material that he was doing. Specifically they had a problem with his depiction of black people. They didn't like his honest take on certain characters and portrayals because, according to his cousin, they were grooming Obama to become the next president, and felt this being threatened by Dave's show.
When Dave refused to compromise his creative license and artistic vision, they offered him $50,000,000 to change the show to the way they wanted. Again Dave refused.
He left that meeting badly shaken. It sounds like he had a run-in with the Illuminati and was feeling implicitly threatened by some very powerful people. It was at this point that he fled to Africa. The media portrayed it the same way they do whenever a controlled celebrity begins to break down due to Illuminati pressure: they say he or she is having a psychotic break, a meltdown, a mental breakdown, you name it. They said Dave was overwhelmed by the fame, couldn't handle the pressure.
Dave had nothing of the sort. He loved the limelight. No, he experienced a brush with something very powerful and sinister and was scared out of his wits. He was careful not to name names or get specific about it during interviews, but if you read between the lines and combine that with his cousin's testimony, you get a clear picture.
He needed to get away, so he went to Africa, without even telling his wife. He told his brother and his cousin, and called his wife once there, but didn't give his specific location. Sounds like someone trying to evade an assassination to me.
In the end it was his love of the limelight that would be his downfall. If what his cousin is saying is true, he should have stayed in Africa. He came back, and initially laid low, doing local standup shows but refraining from returning to Hollywood and television. But eventually he felt the need to talk, he needed to tell his story to the world. So he went onto Oprah.
When you watch the Oprah interview, you can see that she is playing her Illuminati part, in trying to portray him as someone who broke down from the fame, buckled under the pressure. Dave's body language looks like the unconscious messaging of a broken man. Clearly he is conflicted at this point, wanting to return, to tell his story, to possibly get his show back, but at the same time confronted by Illuminati devils everywhere he turns, trying to control his movements, his image, his story.
According to his cousin who does not wish to be named, it was not long after the Oprah interview that Dave Chappelle was killed and cloned. The way they did it was by luring him back into the Hollywood executive office, back to the round table of exec types who push the Hollywood agenda, by offering him his show back, with full creative license to Dave. Sounds too good to be true, but Dave fell for it. It was his love for the show that did him in.
His cousin warned him, "don't do it, it's a trap." But Dave wanted to believe. Dave promised his cousin that he would call her right after the meeting with the executives. She never received and still has not received that phone call.
She tried calling his cell shortly after the meeting. Someone else picked up, a stranger's voice, who told her that Dave was not there and hung up. She tried again and the phone became disconnected.
She believes the Illuminati took Dave to an underground base where they sampled his DNA and murdered him. Then through the use of something called organic robotoid cloning, they grew a new Dave in a matter of hours. Now with clones, they are going to look similar but not exact. They had this problem before where family members recognize that the person coming home to them is not their loved one. Oddly enough, Putin's ex-wife testified about this same thing, a few years back. Since they knew Dave's wife and kids would not be fooled by the clone Dave, they killed and cloned them as well.
Video 1:

Video 2: Dave Chappelle's Cousin Said He Was Killed And Cloned- This Is Her Story