As Gov't Frames ET's as Threat, Many Use Higher States of Consciousness to Contact Them
Dylan Charles, Editor
Waking Times
Recent media events brought the UFO and disclosure story back into the headlines, if only for a very brief moment.
Boiled down it goes something like this: a disgruntled Pentagon employee goes public about a secretive black-budget program that looks at the UFO/alien phenomenon as a potential threat, in the process discloses new UFO footage and other vague details about the government's experience with ET's.
Mr. Elizondo, in his resignation letter of Oct. 4, said there was a need for more serious attention to "the many accounts from the Navy and other services of unusual aerial systems interfering with military weapon platforms and displaying beyond-next-generation capabilities." He expressed his frustration with the limitations placed on the program, telling Mr. Mattis that "there remains a vital need to ascertain capability and intent of these phenomena for the benefit of the armed forces and the nation." [Source]
The story doesn't hold up too well under independent scrutiny, though, and top journalists and ET researchers have been quick to call this media event a CIA covert op aimed at twisting the narrative on an issue of critical fascination. Something akin to a false flag alien invasion to help usher in new defense programs and surveillance technologies, while obfuscating the truth about advanced energy technologies.
All in the News
The news cycle works in such a way that our perception of the world is greatly influenced by the sudden appearance of news items like this, how these items are framed, and then how quickly they disappear without follow-up. A story hits all the major outlets with gale force, the pundits and spin doctors do their overnight magic, then the story disappears, leaving behind only the imprint, or the feeling it gave us.
This dramatically instructs our worldview on as issue without out ever fully informing us on the issue. Our reaction to it is thus distorted by a distorted picture. It's called framing.
This is exceptionally relevant to the UFO conversation because the story is framed as threat and as an issue on which our knowledge and experience is limited. It thereby omits broad accounts of contact and communication with alien races through altered and higher states of consciousness, such as telepathy, lucid dreaming, astral projection and astral travel, and meditation, as well as through the use of shamanic plant medicines, DMT and psilocybin containing mushrooms.
Terence McKenna spoke on this while asking the question, 'are aliens the future us?' He explains how entheogens like DMT open up a type of telepathy of the soul, allowing one to transcend space and time and to re-emerge in the here and now with information about our situation on planet earth today.
The vast majority of human encounters with extra-terrestrial intelligences happen in the form of one-to-one communication, often initiated by highly empathic or intuitive people.
Communication in this context often cites alien races like the Plaideans, the Dogons, the Arcturians, and many others. Channelers demonstrate another form of conscious, positive contact, and there are volumes written about Seth, Bashar, Ashtar, and others who transmit wisdom to earthlings who've allowed themselves to be conduits.
James Gilliland of the organization Enlightened Contact with ExtraTerrestrial Intelligence (ECETI) has been having what he claims is open contact with ET's for decades. Gilliland trains other to have ET contact, as does researcher Steven Greer, both of whom describe positive and enlightening experiences with extraterrestrials.
The Next Frontier in Human Consciousness
In this light, the extraterrestrial presence here on earth is the next frontier in the exploration of human consciousness.
Intuitive counselor Gigi Young explains how this perspective reframes the whole issue of disclosure, making it one of personal evolution rather than one of government control.
"When will governments disclose?

Like much of our experience here, we want to make disclosure an external event: files revealed, alien beings discussed and advanced tech released. The reality is that these are things that occur authentically **after** we reach a certain level of self awareness and cosmic connection ourselves and not a moment before.

Disclosure is actually a quantum leap of consciousness where in we deeply shift, begin to remember who we are, and then the external world flows with information to match.

The more that we clamour for governments to release files and "tell the truth" (Soft disclosure! Full disclosure! Medium disclosure! ) the more energy they can harvest from us and the more leverage they have to control the narrative. This includes aspects of the government that are actively pushing their distraction narratives in the New Age and Ufology, by the way.

These stories from the government/military/whistleblowers become crooked because there is no inner truth to hold them accountable; our intense external focus indicates that we are not looking inward and connecting with our own cosmic consciousness and capacity to remember.

We don't need disclosure, we don't need to be told who we are, we need to remember who we are. We need to play with our own capacities to journey beyond this world. We need to continue waking up and releasing dependancy on people to tell us who we are and what we are capable of." ~ Gigi Young
Beings of Feeling
Humans are beings of feeling. We abandon our senses when emotional. Intuition is our guide when logic and reasoning come up short, and even the cutting edges of scientific endeavor are guided by that 'gut feeling,' a form of innate curiosity.
We also abandon ourselves to fear, which is the main currency of government control. And while it would be naive to presume that all alien beings were friendly, a continually evolving body of experience suggests that there are indeed benevolent extraterrestrials positively influencing the human race.
About the Author
Dylan Charles is the editor of Waking Times and co-host of Redesigning Reality, both dedicated to ideas of personal transformation, societal awakening, and planetary renewal. His personal journey is deeply inspired by shamanic plant medicines and the arts of Kung Fu, Qi Gong and Yoga. After seven years of living in Costa Rica, he now lives in the Blue Ridge Mountains, where he practices Brazilian Jiu Jitsu and enjoys spending time with family. He has written hundreds of articles, reaching and inspiring millions of people around the world.
This article (As Gov't Frames ET's as Threat, Many Use Higher States of Consciousness to Contact Them) was originally created and published by Waking Times and is published here under a Creative Commons license with attribution to DylanCharles and WakingTimes.com. It may be re-posted freely with proper attribution, author bio, and this copyright statement.
US special forces engaged in combat with aliens during the Vietnam war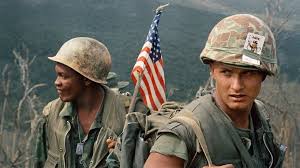 This incident happened in early 1972 during the Vietnam War. A US Special Forces group was secretly delivered at night and parachuted in an area on the Cambodia-North Vietnamese border.
The operation was vital: to destroy a facility in North Vietnam, which, as it was possible to establish by American intelligence, was secretly overhearing top secret conversations of the US Army in South Vietnam.
The SWAT team set up camp for the night, preparing to assault the North Vietnamese team at dawn. In the early morning, the commandos quietly crept up to the Vietnamese base, but what they saw there shocked and frightened them.
As the team got closer to the location of the North Vietnamese unit, they suddenly discovered that there was a large spherical ship that stood on three sturdy metal supports.
The ship suddenly began to hum, causing instant sickness, dizziness, and disorientation in the US military.
The group leader was about to issue a command to retreat when a group of strange looking humanoid creatures appeared.
Not believing what they saw, the special forces group was even more frightened by what these creatures were doing (according to the description of the soldiers, taking into account modern data based on numerous contacts, it can be assumed that they were "gray"): the aliens got out of a large pile various parts of human bodies and placed them in large containers – arms, legs, torso, heads; this terrible list went on and on.
Some were the remains of white people, others were black (US Army soldiers), and others looked like Vietnamese (Vietnamese soldiers from the base).
What they saw sobered and angered the special forces and the commander gave the order to open fire – the bullets hit the bodies of the creatures, but they did not do any harm, except for one who was killed by a shot in the head.
Several commandos were killed, and others were seriously injured by the effects of unknown weapons. Then the aliens quickly retreated into the ship and he quickly rushed into the sky,
Soon, another CIA team appeared on the scene, as one of the survivors said they were all given some kind of mind-altering drugs to try to make them forget about this incredible fight. And it worked, at least for a while.
However, in the late 1980s, two members of the special forces team who took part in that battle began to have nightmarish memories of the events of April 1972, which prompted one of them to contact many other special forces who were found and who were still alive.
Two had already died, three were not found at all, but the rest were able to meet in August 1988 and decided that this story should be told.
They turned to researcher and ufologist Leonard Stringfield and he published their story in his 1991 book.
The story is told in Stringfield's UFO Crash Retrievals: The Inner Sanctum. 
UK UFO case to be kept secret until 2072
The UK Department of Defense has blocked the planned release of a dossier detailing the famous UFO incident.
Back in August 1990, two tourists walking in the Scottish Highlands near Calvine, Pitlochry, witnessed a strange rhombic object hovering over the nearby landscape.
They managed to take pictures of the UFO before it flew away at significant speed.
Eager to share what they saw, the couple contacted the Scottish Daily Record and shared both their story and the photos they took.
Then the journalists shared the pictures with the UK Department of Defense.
It turned out that the tourists weren't the only ones who saw the object – the pilot of the RAF Harrier jet also witnessed the phenomenon – again near Calvine – after being forced to investigate this UFO.
Military intelligence officers sent these images to JARIC, which is the Joint Air Intelligence and Reconnaissance Center.
It is the UK's military center of excellence when it comes to image analysis. These intelligence officers concluded that these photographs were real and that no one had the slightest idea what they were.
Thirty years later, the dossier of the Ministry of Defense, including photographs, was scheduled for declassification and publication, which is typical of such documents.
However, the release has now been postponed for another 50 years for unknown reasons.
According to the 30-year rule, the file was supposed to be released on January 1, 2021, but if the ministry gets it, it won't be released until January 1, 2072 – an 82-year closure.
"By the time the world gets to see the file, the two witnesses will be dead. It is crazy. What are the authorities trying to hide?"
A complaint lodged under the Freedom of Information Act about the National Archives withholding the documents is now under investigation by the UK information watchdog, the Information Commissioner's Office.
The National Archives refused to comment further. The MOD refused to comment at all.
What are the authorities trying to hide?
FBI decrypted documents confirm that there are giant aliens
The topic of aliens has always attracted attention. Recently, foreign media disclosed that a declassified document released by the Federal Bureau of Investigation (FBI) once again confirmed the existence of UFOs and aliens.
FBI Declassified Document: Describes UFO and Aliens
The British "Daily Star" reported that earlier this year, the FBI released the decrypted documents in 1947. The 70-page decrypted report contained a "Memorandum 6751". The person who wrote the report was an anonymous university professor.
"Memorandum 6751″ mentioned that there were flying saucers, unidentified creatures, and " giant aliens resembling humans ".
The report stated that these aliens are like humans, "but larger in size. They are not from any planet known to people, but from the etheric." "Ether" is a term used in ancient Greece, generally referring to the atmosphere or sky.
There is also a description of the flying saucer in the decryption report, which refers to the fact that most of the flying saucers are loaded with alien creatures. The flying saucers have powerful radiation, are very fast, and have powerful attack capabilities.
"These flying saucers have a kind of radiant energy or light that can easily disintegrate any spacecraft that launches an attack. They can re-enter (earth) from the ether at will, or they can simply disappear from our sight without leaving a trace."
The report states, "If one of these (flying saucers) is attacked, the attacking aircraft will almost certainly be destroyed. As far as the general public is concerned, this may lead to proximity panic and international suspicion."
Tesla is a " Venusian "
In recent years, due to the expiration of the confidentiality period, the FBI has published many decrypted documents on its official website, including one about the famous inventor Nicholas. Tesla (Nikola Tesla) declassified documents, caused a public heat. The document mentioned that Tesla came from "Venus" and was an "alien".
The decrypted document is called "Nikola Tesla Part03 of03". It is the third document about Nikola Tesla decrypted by the FBI. It has 64 pages of content, some of which are blacked out and cannot be distinguished.
The remaining content that is not blacked out contains the following passage: "The people of the universe have contacted Nikola Tesla many times and told the FBI that Tesla was from Venus. Tesla was brought to the earth in 1856 to a Yugoslav couple to raise."
The publication of this document shocked the world. Faced with a wave of discussions and doubts from netizens, the FBI did not make any response or explanation, which is even more curious.
F-18 fighters chase UFO
"The Wall Street Journal" recently reported that the non-profit organization "National UFO Reporting Center" data shows that so far this year, UFO sightings have increased by 51% over the same period last year. The center has received approximately 5,000 sightings reported.
On September 8, the United States retired Lieutenant Colonel David. David Fravor accepted the Massachusetts Institute of Technology scientist Rex. In a live webcast interview with Lex Fridman, he talked about the bizarre experience of driving an F-18 fighter jet to chase UFOs 16 years ago.
On November 14, 2004, a UFO was found in the waters of San Diego, California, and Frevo piloted an F-18 fighter to investigate. Both he and the pilot of the other fighter saw a white Tic Tac mint-shaped flying object.
Subsequently, the pilot Chad Underwood flew an F-18 fighter jet, caught UFO on the radar, and successfully filmed UFO video with an infrared camera.
In April this year, the Pentagon released three videos of UFOs, one of which was taken by Underwood during this operation.
12 U.S. soldiers live on alien planets
Former Minister of Defense of Canada Paul. Paul T. Hellyer once disclosed that there are aliens living on the earth and working for the US government. Many US presidents have also admitted the existence of aliens on different occasions.
In addition, some U.S. military personnel disclosed that a top-secret exchange between the U.S. military and aliens was named "Operation Zeta," and an alien envoy came to the United States. In July 1965, 12 American soldiers secretly boarded an alien spacecraft to the planet Zeta.
Of these 12 people, 4 never returned to Earth. Of these 4 people, 2 died, 2 chose to stay on Zeta, and the remaining 8 returned to Earth 13 years later.