Artist's Work Goes Viral After Censorship Of His Psychedelic Sex Art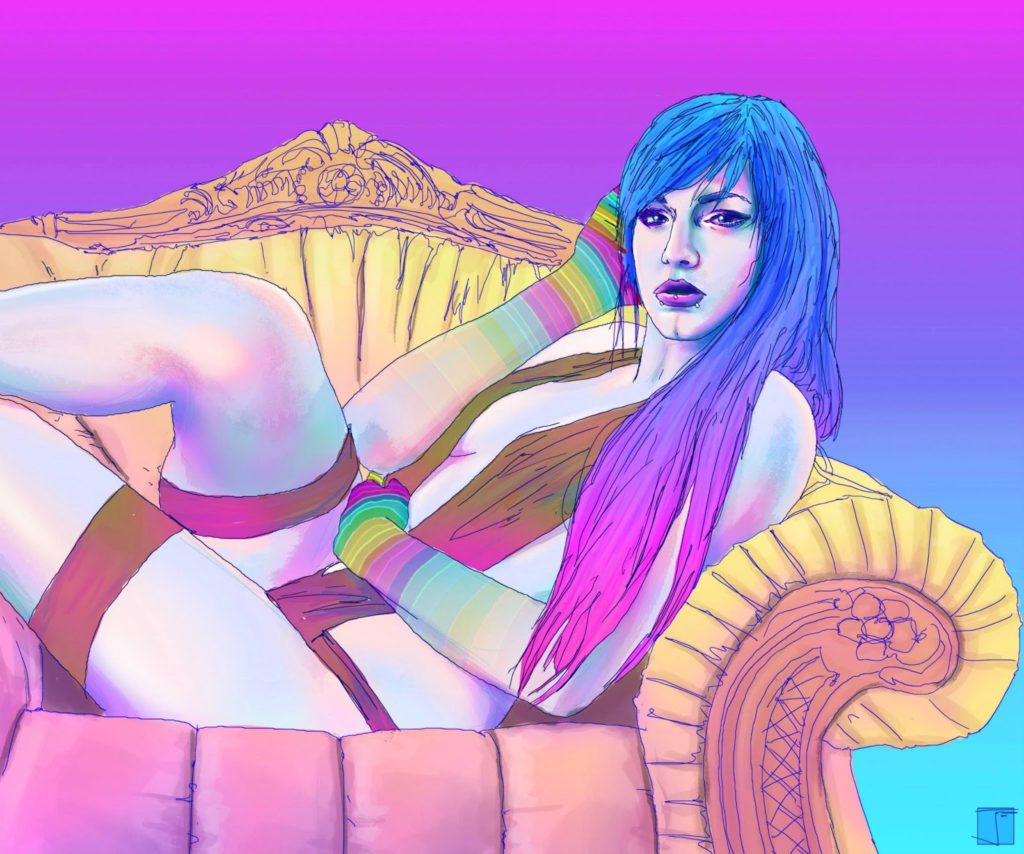 By  Amanda Froelich Truth Theory
I am, you are, we are, one. That is a truth of the universe, and it becomes quite clear as one experiments with psychedelics — or, spends long amounts of time in silent meditation.
Everything from LSD to peyote to marijuana to Ayahuasca can be considered a psychedelic. As the Drug Policy Alliance explains, these substances have been used for thousands of years. Most often, they play a role in religious and therapeutic purposes.
The idea that certain plants and fungi can contribute to cohesion within the mind, body, and spirit and, as a result, produce healing effects is an unpopular one. This is because, the modern world takes a rigid stance against freedom of thought and, consequently, the use of mind-altering substances.
To be clear, there are risks to consuming psychedelic drugs. However, most are minute, which is why in recent years, scientists (specifically, with John Hopkins University) have begun to study the illegal substances. What they've found is phenomenal — and their research has just started.
In one study, the researchers concluded that a hallucinogenic drug found in "magic mushrooms" eases depression and anxiety in people with life-threatening cancer. Another study suggests the fungi could be a "promising" treatment for people with PTSD and anxiety. And, earlier this year, a study was published concluding that psilocybin is the safest psychedelic to experiment with recreationally.
Essentially, what we are learning  is that psychedelic substances are not as bad the mainstream media and federal government have made them out to be. While more research needs to be conducted on the safest ways to consume and use them, it seems clear the taboo that surrounds the use of mind-altering substances needs to lessen.
On that topic, an artist who hid his true identity for years, simply because the world wasn't ready for his imaginative mind, recently went "viral." It all started when Facebook banned the artist's work which he had been uploading to social media networks under the alias Phazed. That artist, who has now revealed his identity, is Jean Francois Painchaud.
Up until a couple of weeks ago, Painchaud was working on the PBS kids show Wild Kratts during the day. In the evenings, he would create GIFS which explore the unification which occurs during conscious sex. He was having trouble sharing his artwork, however, because the topic of sex — and images of the naked human body — are censored.
Painchaud disclosed during an interview: "Soon after I started posting my art online, I found out that there are people out there who are very sensitive when it comes to the female body. No matter how much I censor my work, I still get reported. It's ridiculous. So, whenever they take down my art or censor me, I make a big deal out of it, hoping that we might be able to change this culture of incessant censoring over time." 
Fortunately, being banned turned out to be one of the best things that could have happened for his career. In just a few weeks, the artist has welcomed more than 45,000 new followers to his Tumblr, Instagram and Facebook accounts.
When asked how "magic mushrooms" affect his work, Painchaud responded: "Mushrooms didn't only help my art develop; they changed my entire life. Using mushrooms helped me overcome my depression, my insecurities and my anxiety. Most of that anxiety came from negative experiences with my father and being bullied at school."
The artist added: "Before I found shrooms, I was making art to improve my skills. It was as if I was trying to impress myself or show off. But what's the point of sharpening your tools, if you're never going to build something of your own?"
The exploration of sex — especially through art — might make some people uncomfortable, but Painchaud finds the combination of sex and psychedelics to be "very beautiful and inspiring." He said, "I feel that both psychedelics and sex can help you transcend your ego and tap into a purer state of being – of living in the moment."
At first glance, the GIFs do seem slightly pornographic. However, the colors are a contrast to traditional porn, which tends to objectify women — and, to an extent, men — through bland, pale colors and regurgitated scripts.
Painchaud's artwork, on the other hand, has a central theme: connection. The "energy" which is conveyed through color flows through nearly every scene and connects those who have agreed to share their bodies and hearts. The unions which are portrayed are holy in their own, unique way, and the color, shapes, and vibrancy confirm this.
Support the artist on Patreaon
Tesla autopilot sensor recorded "ghost" in an empty cemetery
A Tesla electric car with an activated autopilot function recorded an invisible person who allegedly moved around the cemetery. Social network users jokingly noted in the comments that, most likely, this is some new function from Elon Musk, which allows you to see ghosts.
In the United States, a Tesla electric car with an activated autopilot function recorded an invisible person who allegedly moved through a cemetery.
The corresponding video was posted by Twitter user Ovidiu Maciuc.
The recording shows how a silhouette of a man appears on the monitor of an electric car, moving around the cemetery. After that, the driver raises the camera and starts filming the graveyard through the windshield, but there are no people there.
After some time, the "ghost" went in the opposite direction from Tesla and disappeared from the on-board computer screen.
Social network users jokingly noted in the comments that, most likely, this is some new function from Elon Musk, which allows you to see ghosts.
For many though, if you take into account the comments, the video seemed rather creepy. Some even tried to guess what the navigation system actually showed.
Some users thought the system could recognize ghosts. Others refuted this version and said that the reason for all this is an insufficiently accurate sensor, which was used for the equipment of the Tesla car.
Earlier it became known that Tesla electric cars in the near future may receive a new function with which they can talk with pedestrians. For this, American cars will be equipped with special external speakers.
In addition, Tesla cars in the future will receive the option to change the horn and sound of movement at low speeds to warn pedestrians. According to Elon Musk, among the sounds of movement there will be the sound of the clatter of a horse's hooves, and as a whistle – the bleating of a goat.
Mysterious energy source melts Tel Aviv sidewalks, leading to the evacuation of several buildings in Israel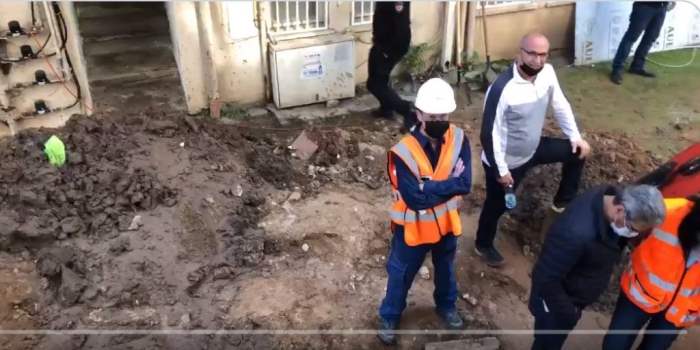 About two weeks ago, Tel Aviv residents noticed that the concrete surface outside their homes was heating up and steam was coming out of the ground. Tests showed that steam that reached 60 ° C (140 ° F) was water based.
The witness explains: "I was afraid that there was a power line in the area and asked a worker to dig out the ground with a shovel. Steam suddenly came out. I imagined it was probably a geyser. It seemed to me that this was a geological incident – also because there were no problems with electricity in the building. "
Although the experts did not find any hazardous substances or any risk to the stability of buildings at the site, residents as well as kindergartens in the area were evacuated.
Officials described the heat source as "trapped energy" of unknown origin.
Work continues, steam is still rising and the ground is still hot. It is currently unclear what is causing the warming. Note the hole dug in the area. The area is still blocked.
Mysterious origins
City officials said they will "continue to monitor the temperature of the earth, which is expected to cool down for a long time, and will continue to investigate the causes of the unusual event."
Israel Electric Corporation has not found a connection between heat and power in the area.
The Israel Geological Survey confirmed the rise in temperature after testing ground and water temperature levels, but said it has not yet found an explanation.
Despite their best efforts, municipal officials, the fire department, Israel Electric Corporation and the Ministry of the Environment have yet to find a source of heat.
Meanwhile, the Tel Aviv municipality has informed dozens of evacuees that they can return to their homes. However, residents are not going to return until they receive a detailed account of the source of the mysterious event.
"They evacuated us because they were concerned about our safety, and now they are urging us to return without any convincing explanation. How can you be sure that there is no more danger? "
The night sky in southern Taiwan shows a weird red moon alarming netizens: 2021 disaster year omen?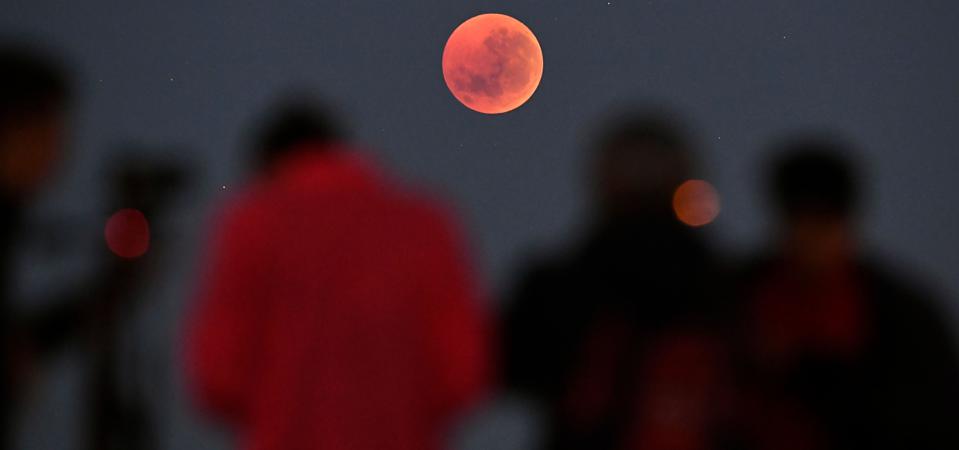 Some people in Chiayi, Taiwan took pictures of a large dark red moon hanging in the night sky on the first night of 2021 and uploaded them to Facebook. There are also people in Tainan who have photographed the rare "red moon". The weird scene has aroused heated discussions among netizens. Some people worry that an earthquake may occur, while others suspect that this is a precursor to the year of disaster in 2021?
Yesterday, on January 1 at about 8:00 in the evening, Chiayi residents shared a photo of "2021's first red moon" on Facebook. As you can see in the photo, the weather was quite good at that time. There was a clear big round moon in the night sky, but it was a dark red moon, which was very different from the usual moon.
Later, people in Kaohsiung and Tainan also posted photos of the red moon they had taken.
The weird and rare "big red moon" immediately attracted the attention of netizens. Some people think that such a sight is caused by air pollution, and some people think that the red moon is "extremely beautiful", but many people worry about whether it is a harbinger before the disaster ?
"Hope is not a harbinger of disaster~", "A harbinger of disaster in 2021???", "It looked uneasy", "After seeing the red moon, I hope everyone will be safe".
Some netizens worry that this is a pre- earthquake omen.
"Remember the red moon before the 921 earthquake (omen)", "earthquake precursors", "I feel that there will be an earthquake again recently", and "It seems that 2021 will be another year of bloody disaster."
The British clairvoyant Craig Hamilton-Parker published his prediction for 2021 on YouTube in December last year, stating that, as far as the world is concerned, 2021 will be a year full of social unrest, armed conflict and political changes. There will be difficult times right now until 2025.
He also predicted that the biggest worry is climate and earthquakes. A tsunami will occur near Japan. Large earthquakes will occur in the Himalayas, Iran and the Americas. There will also be problems such as floods, dams bursting, and huge icebergs obstructing shipping. Until 2025, the severity of environmental problems will gradually increase.