Army Remote Viewer Peers Into The Origins of Humanity To Find Out If Humans Were Created
IN BRIEF
The Facts: Joseph Mcmoneagle, one of the most successful Army-trained remote viewers, peered into the past to look into the possible origins of human history. He saw that we were created by intelligent beings in what he called a 'laboratory.'
Reflect On: Why is the mainstream story of human history still limited to Darwin's Theory of Evolution? Why have so many discoveries, like giants, and life on other planets, been completely concealed and brushed off as a conspiracy theory?
The true origins of human history remain a mystery, but that's not what mainstream academia would have us believe. Since Darwin, human evolution and 'the survival of the fittest' has been pushed on the population as some sort of scientific truth, despite the fact that it remains a theory with multiple loopholes and 'missing links.' If you question it, in some circumstances, you are almost considered a nut.
This continues to happen in many different fields of knowledge; when you question beliefs that have been ingrained for so long you get a harsh response, and in some cases, you're liable to be fined, put in jail or at the very least you receive tremendous amounts of hate and censorship.  What we don't hear about is the fact that there are several hundred scientists, if not several thousand, who have spoken up against the scientific validity of the theory of evolution.  I recently wrote an article about more than 500 scientistscoming together to reject Darwin's theory of evolution and explain why it's not really valid at all.
Our DNA Originated Somewhere Else
Even one of the founding fathers of DNA, Francis Crick, believed that human DNA must have originated from somewhere else in the galaxy, whereby "organisms were deliberately transmitted to earth by intelligent beings on another planet." You can read more about that here. I also recently wrote about a paper that was published by 33 scientists in the Progress in Biophysics and Molecular Biology Journal suggesting that the flourishing life during the Cambrian era (Cambrian Explosion) originated from the stars.
"With the rapidly increasing number of exoplanets that have been discovered in the habitable zones of long-lived red dwarf stars (Gillon et al., 2016), the prospects for genetic exchanges between life-bearing Earth-like planets cannot be ignored. " (The study)
There is a great little blurb from Cosmos Magazine, one of the few outlets who is talking about the study.
Serious inquiry into the origins of human history are not encouraged in the mainstream. Yet as we dig a little on what's being done, there is a lot to find out, with new theories and discoveries that seem to be popping up every single year.  Modern day education is hardly keeping up with this, and in fact continues to promulgate old theories and notions that have long been disproven. As a result, nobody beyond ardent self-motivated researchers are learning about new developments or have any knowledge of these viewpoints.
Opening Our Minds
The suppression of the discoveries of giant humanoid skeletons falls directly into this category, though the secrecy that wraps up the Smithsonian is a topic for another article. Suffice it to say that successful cover-ups of information are possible in part due to the phenomenon of 'cognitive dissonance', which speaks to the extreme discomfort that a piece of information that disrupts the worldview you grew up with can have on you. Many of us have and do experience this, including myself. In today's day and age, it's important to practice overcoming the discomfort to keep an open mind.
Consider entertaining new ideas without necessarily accepting them, just give them a chance to swirl in your mind a bit. With new information constantly emerging at a rapid pace in all fields, an open mind is what serves us best. If we stay closed and refuse to even look at or acknowledge evidence that contradicts what we believe, we will never advance towards actual truth, and simply be caught up in an agnostic state while never really getting to the bottom of the questions that are naturally on our mind.
The StarGate Program
The StarGate program was co-founded by Russell Targ (watch his banned TED talk about ESP here), Hal Puthoff, who is now a member of the 'To The Stars Academy' with Tom Delonge, and other notable names who have worked on Deep Black Budget programs within the U.S. government. They are currently spearheading an effort to let the American public know that UFOs are real and that there is sufficient evidence to suggest that, as Louis Elizondo says, "we are not alone, whatever that means."
The StarGate program investigated parapsychological phenomenon like remote viewing, telepathy, telekinesis, and clairvoyance. The program yielded high statistically significant results and was used multiple times for intelligence gathering purposes. A lot of interesting information came out of the literature that was declassified in 1995 after the program ran for more than two decades.
It was a complete mystery why the program was shut down: remote viewing, for example, which is the ability to describe the physical characteristics at a given location irrespective of distance, was found to be repeatable, even more than findings in the hard sciences, with a success rate of over 80 percent. Remote viewing was how the rings around Jupiter were actually discovered by Ingo Swann before NASA was able to measure them. You can read more about that here.
To summarize, over the years, the back-and-forth criticism of protocols, refinement of methods and successful replication of this type of remote viewing in independent laboratories has yielded considerable scientific evidence for the reality of the [remote viewing] phenomenon. Adding to the strength of these results was the discovery that a growing number of individuals could be found to demonstrate high-quality remote viewing, often to their own surprise. . . . The development of this capability at SRI has evolved to the point where visiting CIA personnel with no previous exposure to such concepts have performed well under controlled laboratory conditions." (source)
The Breadth Of Remote Viewing
There are examples in the literature, from remote viewers looking at classified Russian technology during the cold-war era, locating a lost spy plane in Africa and the prediction of future events. Yes, along with remote viewing comes the ability to view into the past, and view into the future. Obviously, this gets tricky, especially if we look at quantum physics, which works in tandem with parapsychology. In quantum physics, experiments have also shown how what happened in the past can change the future, and what happens in the future can change the past, on a quantum scale. You can read more about that here.
There were multiple people working within the Remote Viewing Program, which was conducted at Stanford Research Institute (SRI) in conjunction with multiple intelligence agencies, and one of them was Joseph Mcmoneagle. Many of these people, after decades in the program, continued on with their research and experimentation long after the program was declassified. Joseph was one of the most successful Army-trained remote viewers, and one of the original members of project Stargate. He was actually awarded the Legion of Merit for "producing crucial and vital intelligence unavailable from any other source" to the intelligence community.
The Origins Of Humanity
In 1983, McMoneagle worked with Robert A. Monroe, founder of the Monroe Institute in Faber, Virginia, which provided basic out-of-body orientation for many of the military remote viewers. There, he conducted a session seeking to discover the origin of humanity. As the late great author and researcher Jim Marrs points out in his best selling book Our Occulted History points out:
During the 129-minute session, he described a shoreline on what appeared to him to be a primitive Earth. He later estimated a time of about thirty million to fifty million years after the time of the dinosaurs. Cavorting on this shoreline was a large family of protohumans-hairy animals about four feet in height, walking upright and possessing eyes exhibiting a spark of intelligence despite a somewhat smaller cranial capacity. Two things surprised McMoneagle in this session. These creatures appeared to be aware of his psychic presence, and they did not originate at that location.
McMoneagle described his experience in his 1998 book, The Ultimate Time Machine:
This particular species of animal is put…specifically in that barrier place…called the meeting of the land and the sea…I also get the impression that they're…ah…they were put there. They mysteriously appeared. They are not descended from an earlier species, they were put there (by a) seed ship…no, that's not right. Keep wanting to say ship, but it's not a ship. I keep seeing a…myself…I keep seeing…oh, hell, for lack of a better word, let's call it a laboratory, where they are actually inventing these creatures. They are actually constructing animals from genes. Why would they be doing that? Can we do this yet…here and now? Like cutting up genes and then pasting them back together. You know, sort of like splicing plants…or grafting them, one to another…Interesting, it's like they are building eggs by injecting stuff into them with a mixture of DNA or gene parts of pieces.
He described these creatures as delicate-looking aquiline-featured humanoids, unclothed, in possession of a prehensile tail and large "doe-like" eyes. They seemed to be using some sort of light that McMoneagle had a hard time describing, but eventually described it as a "grow light."
Marrs got the impression that it was like someone tending to a garden, and planting seeds, but "there isn't any concern about the seeds after they are planted…It's simply like…well…put these seeds here and on to better and bigger business. No concern about backtracking and checking on the condition of the seeds. They can live or die, survive or perish." The session ended with him moving closer in time and perceiving these beings growing in size and ability, eventually becoming herding humans.
The surveillance of and interference with humanity is documented in the lore of almost all civilizations that have roamed the planet. Although some have called this mere 'interpretation,' it reminds me of people referring to the confirmation of spiritual and metaphysical realms as a result of quantum physics. It is simply labelled as an interpretation due to the fact that it upsets so many belief systems and long-held preconceived ideas.
The Takeaway
The story of human history has a lot of holes. From the UFO extraterrestrial phenomena to the discovery of strange skeletal remains, to the rejection of Darwinism all the way to the existence of intelligence ancient civilizations like Atlantis, and others that thrived possibly millions of years ago, we are like, as author Graham Hancock coined, a species with amnesia. But perhaps we are starting to remember. Perhaps our only two explanations are incorrect, or perhaps they're both correct, combined with other factors. The point is, what we've been told is not true, and the recognition of that fact will lead us on the path towards true discovery, and away from the concealment and manipulation of information and truth.
I'm not saying this is how humans are created, perhaps it is just some sort of glimpse into something much bigger that took place billions of years ago?
An End of Life Caregiver Has a Message About Death that You Need to Hear Right Now
Speaking from his experiences working in an ER and witnessing death first hand, then going on to work in end of life care with Hospice, Zach Bush MD, shares a few powerful observations about the way we look at death and life.
As a guest on the Rich Roll Podcast, Bush spent considerable time talking about the impending ecological crisis the human race is facing, and how our current course of action will almost certainly lead to the death of our species and of life on earth, he helps us to reframe our concept of death.
"We have the belief, I think in our subconscious, because of the movies we watch, because of the TV shows we watch, because of our big divorce from the death process, it's become sterilized. You have probably not seen many people die. You have probably not seen your loved ones die. They've probably died in operating rooms, or ICU's… and so very few human beings are now watching this process of death, and its allowed death to be defined as an endpoint. As a contraction, or a disappearance, rather than what I've actually seen it to be." ~Zach Bush, MD
He goes on to point out examples of people have biologically died but have been brought back to life. These are the people who've experienced what we've come to call near death experiences, a remarkable phenomenon in which people from all ages, backgrounds, ethnicities, cultures, and so on, all share a very common experience.
"And what I've seen it to be is a massive expansion, of consciousness, of reality, of awareness, and ultimately of love." ~Zach Bush, MD
As an ICU doctor, Bush was a firsthand witness to resuscitation of many patients, and he expresses his awe with the fact that the most common thing a patient would first say after being brought back to life was, 'why did you bring me back?'
"In the hours that follow, they are telling their loved ones, 'I went into this space, and it was bright white light everywhere, and in that moment I felt completely accepted for the first time in my life." ~Zach Bush, MD
Now, this is the part you really need to hear right now and share with others:
"I think we're all walking around right now lonely as hell. And our opportunity to rebirth, because death is not an endpoint, is a transformation moment. It's an expansion beyond limits of this frail, biological shell that we carry around. And the instant that we step outside of that, we find out that the universe embraces us in every single second of our existence, in complete acceptance of who we are. We are enough, in and of our own identity of 'I am,' at every second of every point of our existence." ~Zach Bush, MD
He goes on to ask a very big question about our existence, that is, what if we need a death moment in order to evolve into who we are really supposed to be?
Watch the short clip for yourself, here, and please share with friends, family, and loved ones.
About the Author
Vic Bishop is a staff writer for WakingTimes.com. He is an observer of people, animals, nature, and he loves to ponder the connection and relationship between them all. A believer in always striving to becoming self-sufficient and free from the matrix, please track him down on Facebook.
This article (An End of Life Caregiver Has a Message About Death that You Need to Hear Right Now) was originally created and published by Waking Times and is published here under a Creative Commons license with attribution to Vic Bishop and WakingTimes.com. It may be re-posted freely with proper attribution, author bio and internal links.
10 Quotes from Hermann Hesse's Siddhartha That Will Truly Inspire You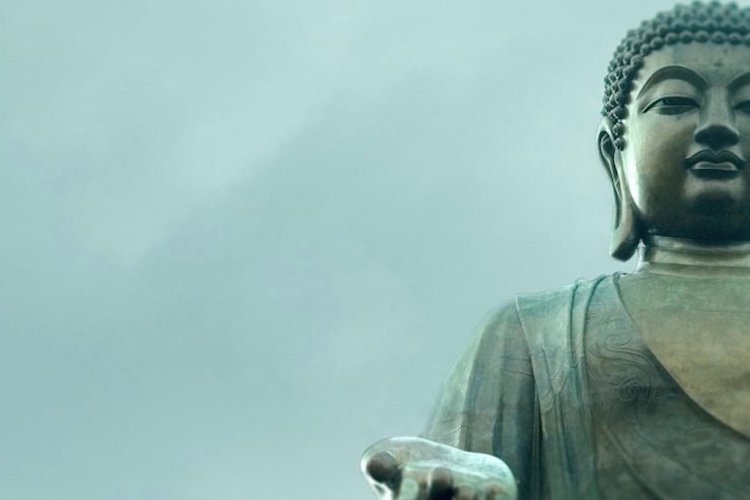 Christina Sarich, Staff Writer
Waking Times
Hermann Hesse's timeless book, Siddhartha, should be required reading for any spiritual seeker. The book is about Siddhartha's journey as a respected son of a Brahmin. Everyone expects that he will follow in his father's footsteps. He enjoys an idyllic life and follows the tenets of his religion expecting that they will bring him peace and happiness. He feels the pangs of discontent though, and observes that his father and elders have not yet reached enlightenment, even though they too have followed the instructions of their religion. When starving and naked ascetics cross Siddhartha's path one day, his journey truly begins. On this endeavor, he comes to a river that teaches him many life lessons.
If you haven't had a chance to be profoundly awakened by this book yet, here are ten quotes from it that will move you to question your own environment, religion, culture, and relationships, to possibly find something more.
"Wisdom cannot be imparted. Wisdom that a wise man attempts to impart always sounds like foolishness to someone else … Knowledge can be communicated, but not wisdom. One can find it, live it, do wonders through it, but one cannot communicate and teach it." 
We so often misunderstand the difference between wisdom and knowledge in this world. Wisdom is timeless. It can only be arrived at with discernment and the development of our consciousness to a level that understands paradox and true freedom.
Knowledge simply binds us to erroneous, concrete beliefs, making it nearly impossible to understand the truth of the Universe. Wisdom, however, discloses Truth in ways that cannot even be explained with a thousand books, a million teachings from religious figures, or a hundred million facts memorized and assimilated. Wisdom is so pure, that even language corrupts it.
"When someone seeks, then it easily happens that his eyes see only the thing that he seeks, and he is able to find nothing, to take in nothing because he always thinks only about the thing he is seeking, because he has one goal, because he is obsessed with his goal. Seeking means: having a goal. But finding means: being free, being open, having no goal." 
There are numerous literary and mythical examples of the seeker. Joseph Campbell describes the seeker in the quintessential quest for the Holy Grail – a representation of some outer prize that can be obtained with enough valor or sacrifice, but what we truly seek can be found only within our own hearts. When we seek an outside goal, this is an indication that our own hearts long to be understood. Striving for something outside ourselves causes us to forever remain a seeker.
"I have always believed, and I still believe, that whatever good or bad fortune may come our way we can always give it meaning and transform it into something of value." 
All people, places and circumstances in life are fodder for spiritual advancement. Tears are a spiritual release. Hearing a song on the radio that reminds us of someone is a clue from the Universe to send that person love and compassion. Seeing someone else go through something horrible and thinking, "that could have been me," is a reminder to be thankful.
Getting stuck at a red light is a reminder to breathe deeper. An argument is a gentle tug from the Universe to look inside yourself. Everything that we experience can help us grow. It isn't just the positive, airy fairy things that help us grow.
When we do a life review, the times we acted with courage and faced our pain, fear, and sadness will be the moments when we smile the biggest.
"We are not going in circles, we are going upwards. The path is a spiral; we have already climbed many steps." 
This point is described in great detail by Don Beck and Christopher Cowan in their discussion of spiral dynamics. The way they visualize change is in a spiral. Though we may circle around to the same challenges, each time we do, we are higher up on the spiral, hopefully with a higher level of consciousness with which to approach the problem.
Beck explained that if we try to impose our 'solutions' too far ahead of the curve the result can be rebellion rather than transformation. Because of this, the authors use the term "more complex" instead of "better" or "higher" to describe humanity's stages of evolutionary development. Even if we haven't quit reached the apex of what we can visualize, we have already taken many steps to make a better world a reality.
"So she thoroughly taught him that one cannot take pleasure without giving pleasure, and that every gesture, every caress, every touch, every glance, every last bit of the body has its secret, which brings happiness to the person who knows how to wake it. She taught him that after a celebration of love the lovers should not part without admiring each other, without being conquered or having conquered, so that neither is bleak or glutted or has the bad feeling of being used or misused." 
Sex is so often a mindless exchange between people these days. It is not an act to be engaged in so recklessly, though. When we share each other's bodies, subtle energies are exchanged between us. The cultivation of these energies can even be used to achieve higher states of consciousness. When we act as though our bodies are just sacks of flesh, instead of the physical manifestation of energy, then we are missing the point of sensuality.
"It may be important to great thinkers to examine the world, to explain and despise it. But I think it is only important to love the world, not to despise it, not for us to hate each other, but to be able to regard the world and ourselves and all beings with love, admiration and respect." 
One of my own spiritual teachers once said to me, you only have to learn to love. That is your only lesson while you are here. Even when we think we are loving, there are usually ways that we are not acting, thinking, and feeling from a loving place. This includes how we think and treat ourselves, not just other people.
"My real self wanders elsewhere, far away, wanders on and on invisibly and has nothing to do with my life." 
Whatever you define yourself as in this life – a father, a mother, a daughter, a son, a husband, a friend, a lover, a worker, etc. – these are only labels. They don't not encase your infinite soul. You have been all these things and more in many lifetimes, and in many more places than where you are now.
"Opinions mean nothing; they may be beautiful or ugly, clever or foolish, anyone can embrace or reject them." 
You know that other saying about opinions and asses. Enough said.
"One can beg, buy, be presented with and find love in the streets, but it can never be stolen." 
With everything that has been taken from us by an evil, destructive, psychotic, corrupt cabal, isn't wonderful to know that love cannot be traded like a stock or destroyed like gold, faked like paper money, or made to be more, or less valuable at the whims of a few elite. Love is eternal, indestructible, and pure. It is our greatest treasure.
"I shall no longer be instructed by the Yoga Veda or the Aharva Veda, or the ascetics, or any other doctrine whatsoever. I shall learn from myself, be a pupil of myself; I shall get to know myself, the mystery of Siddhartha." He looked around as if he were seeing the world for the first time." 
 Every single major religion on this planet has been corrupted. This doesn't mean that religion has nothing left to teach us. It also doesn't mean you need to believe in God or be an atheist to arrive at true wisdom, but as long as you are looking to an institution or a person to bring you enlightenment, you'll miss it.
About the Author
Christina Sarich is a staff writer for Waking Times. She is a writer, musician, yogi, and humanitarian with an expansive repertoire. Her thousands of articles can be found all over the Internet, and her insights also appear in magazines as diverse as Weston A. Price, Nexus, Atlantis Rising, and the Cuyamungue Institute, among others. She was recently a featured author in the Journal, "Wise Traditions in Food, Farming, and Healing Arts," and her commentary on healing, ascension, and human potential inform a large body of the alternative news lexicon. She has been invited to appear on numerous radio shows, including Health Conspiracy Radio, Dr. Gregory Smith's Show, and dozens more. The second edition of her book, Pharma Sutra, will be released soon.
This article (10 Quotes from Hermann Hesse's Siddhartha That Will Truly Inspire You) was originally published at The Mind Unleashed and is re-posted here with permission.
Holy Relics: Miraculous Powers Of Icons
Orthodox Christianity provides the faithful with many sacred objects of worship, especially icons – artistic depiction of holy figures. It is commonly believed these holy relics possess spiritual powers to perform miracles and protect individuals and even whole country from possible danger.
What is holy icon?
An icon (from Greek "image") is a religious work of art, most commonly a painting, where the most common subjects include Christ, Mary, saints and angels. In Orthodox Christianity the icons provide inspiration and connect the worshipper with the spiritual world, sometimes they are called "windows into heaven."
These objects are important for believers because they depict patron saints, people who are chosen as special protectors or guardians over all areas of life. Traditionally people see them as symbols of how to live a better life. Most of Orthodox Christians understand that they are merely expressing honour and respect for the people and events depicted, and not for the icons themselves.
Since the time of Byzantine Empire the icons had become a major part of worship and devotion among the Orthodox Christianity followers. The walls of churches were covered inside from floor to roof with icons, scenes from the Bible, allegorical groups. Icons were taken on journeys as a protection, they marched at the head of armies, they hung in a place of honour in almost every house etc.
More reverence has been always paid to icons believed to have miraculous origins.
'Our Lady of Vladimir'
Our Lady of Vladimir
Our Lady of Vladimir is one of the most venerated Orthodox icons. Regarded as the holy protectress of Russia, the icon is displayed in the Tretyakov Gallery, Moscow.
Patriarch Luke Chrysoberges of Constantinople sent the newly-painted icon as a gift to Grand Duke Yury Dolgoruky of Kiev about 1131. The beautiful image was coveted by Yury's son Andrei the Pious who brought it to his favourite city Vladimir in 1155. When the horses that transported the icon stopped near Vladimir and refused to go further, this was interpreted as a sign that the Blessed Virgin wants to stay in Vladimir. To house the icon, the great Assumption cathedral was built there, followed by other churches dedicated to the Virgin throughout northwestern Russia.
In 1395, during Tamerlane's invasion, the image was taken from Vladimir to the new capital, Moscow. The spot where people and the ruling prince met the icon is commemorated with the Sretensky monastery. Vasili I of Moscow spent a night crying over the icon, and Tamerlane's armies retreated the same day. The Muscovites refused to return it back to Vladimir and placed it in the Assumption cathedral of the Moscow Kremlin. The image was also credited with saving Moscow from Tatar hordes in 1451 and 1480.
One of the most exquisite icons ever painted, Our Lady of Vladimir is imbued with universal feelings of motherly love and anxiety for her child. By the 16th century the Vladimirskaya (as the Russians call it) was a thing of legend. It was even rumoured that the icon was painted by St Luke on the Lord's table of the Last Supper. The venerated image was used in coronations of tsars, elections of patriarchs, and other important ceremonies of state.
But its most important service was yet to come. In December 1941, as the Germans approached Moscow, Stalin order that the icon be taken from a museum and placed in an airplane and that it be carried around the besieged capital. Several days later the German army started to retreat.
'Our Lady of Kazan'