'Ariel School' Alien Sighting: 20 years later
Two decades ago something strange occurred in a remote elementary school in Ruwa, Zimbabwe.  Sixty two curious and frightened schoolchildren witnessed a silver object descend from the sky, onto the furthest part of the schoolyard. To their terror, a small humanoid creature appeared on top of the craft then quickly made its way around the weed-entangled area of the lot. Some of the kids ran in horror while others stood transfixed at the strangely events unfolding before their eyes.
That's when Cynthia Hind, a South African MUFON field investigator got the call. She quickly pieced the incredible story to some strange events that began just a few days prior. Hind had written an article titled 'UFO flap in Zimbabwe: Case No 95.' In it, she begins with the date of Wednesday, September 14th, 1994. It reads:
"Wednesday, 14th September, 1994, was an exciting night for Southern Africa. Round about 20:50 to 21:05 hours, a pyrotechnic display of some magnificence appeared in the almost clear night skies of this part of the continent."
Case No. 95 goes on to talk about the multitude of witnesses that reported seeing strange and wonderfully eerie fireballs burning across the night sky. These witnesses included scientists, astronomers, amateur astronomers, and the dozens of scattered residents that happened to be looking up into the night sky.
The accounts varied of what flew across the sky that night. From a zeppelin on fire to a low-flying jumbo jet with visible cabin lights and sparks blazing out its tail. Many witnesses submitted drawings of what they saw in the sky that night and remarkably, almost all of the the drawings resembled the same shaped craft in distress. It would be another 48 hours before Case No. 96 would begin with an incredible experience of the third kind.
September 16, 1994. The Children of Ariel School – Case No. #96. Ruwa, Zimbabwe:
"On Friday 16th September, at approximately 10:15, 62 children from Ariel School, a private primary school in Ruwa (about 20 km from Harare) were in their playing field for the mid-morning break. Suddenly, they saw three silver balls in the sky over the school. These disappeared with a flash of light and then reappeared elsewhere. This happened three times and then they started to move down towards the school with one of them landing (or hovering) over a section of rough ground made up of trees, thorn bushes, and some brown-grey cut grass with bamboo shoots sticking up out of the ground. The children are not allowed in this area although it is adjacent to their playing field and is not fenced off, because of snakes, spiders and perhaps other harmful creatures. One can soon disappear from view while walking here, and there is only one very rough track used by tractors in an attempt to clear this area.

There is a line of electricity pylons and according to one boy, the object followed along this line prior to landing. There is also some controversy as to whether the object _landed_ on the ground or hovered above it. On Tuesday, 20th September, I went out to the school with a BBC reporter and their television equipment, as well as my son and Gunter Hofer, a young man who builds his own electrical equipment, viz, a Geiger counter, a metal detector and a magnetometer, to try and see if the object left any traces behind.

The headmaster of the school is Mr. Colin Mackie, who was most co-operative, and although he had never been involved with UFOs or a believer in them, said that he believed the children had seen what they said they saw.

I was able to interview about 10 or 12 older children and this was recorded for BBC television.

One eyewitness, Barry D., said he had seen three objects flying over, with flashing red lights. They disappeared, and reappeared almost immediately, but somewhere else. This happened about three times. Then they came and landed near some gum trees; Barry said the main one (object) was about the size of his thumb nail held at arm's length. The reports were similar although some children were more observant than others. The consensus of opinion was that an object came down in the area where they indicated, about 100 metres from where they were at the edge of the school playing field. Then a small man (approx 1 metre in height) appeared on top of the object. He walked a little way across the rough ground, became aware of the children and disappeared. He, or someone very like him, then reappeared at the back of the object. The object took off very rapidly and disappeared. The little man was dressed in a tight-fitting black suit which was 'shiny' according to one observant girl (11 years of age). He had a long scrawny neck and huge eyes like rugby balls. He had a pale face with long black hair coming below his shoulders.

I had suggested to Mr. Mackie prior to visiting the school and before the children had been interviewed, that he let the children draw what they had seen and he now has about 30-40 drawings, some of which are very explicit and clear, although some are rather vague. The children's' ages vary from 5/6 to 12 years. I have 22 photocopies of the clearer drawings as Mr. Mackie kindly allowed me to page through the pictures and choose those I wanted. Most of the descriptions are similar but some of the craft are very obviously 'flying saucers', and I wonder how many of these children have had access to the media. Others are crude but more or less in this saucer shape.

The children vary in cultures: there are black, white, coloured and Asian children. One little girl said to me, 'I swear by every hair on my head and the whole Bible that I am telling the truth.' I could see the pleasure on her face when I told her that I believed her. The smaller children from 5-7 years were very frightened at the time and ran shouting 'Help me, help me.' When the older children asked why they were saying this, the reply was, 'He is coming to eat us.' I should think this applied more to the black African children who have legends of _tokoloshies_ eating children.

Their teachers were in a meeting and did not come out. When I queried the headmaster about this he said the children always shouted and yelled during their playtime and no-one thought there was anything unusual going on. The only other adult available at the time was one of the mothers who was running the tuckshop. When the children came to call her, she did not believe them and would not come out: she was not prepared to leave the tuckshop with all the food and money. Gunter and the men thoroughly examined the ground around where the children had seen the object, but could get no reaction on the geiger counter or any other equipment. If the object was hovering perhaps nothing would show."

Source: Ufoevidence.org
Coincidently the famous Dr. John Mack was in Zimbabwe during these events and decided to investigate the incident at the Ariel private school. What follows are the recorded interviews of some of the children of Ariel school.
Twenty years after the harrowing account of the humanoid sighting, some of those original witnesses were interviewed on camera for the second time. Their feelings, although matured, still express the same unwieldiness since their original interview. Fast forward to the 11:34 mark for the recent interviews of the Ariel schoolchildren.
For years, the strange events that unfolded in the mid-morning break on that small schoolyard have remained unexplained like many other UFO incidents. Even the most ardent of skeptics can only theorize that this must be some sort of mass hysteria but the problem with that theory is that mass hysteria does not include mass hallucination. Mass hallucination, as far as science goes, has never been proven as a natural phenomena . So most of the skeptical readers simply brush this story off as if it was just another schoolyard prank. As the years pass and the children grow up and develop lives and families of their own, one thing remains constant about the case. Their emotions and accounts for what transpired that September morning in Ruwa, Zimbabwe in 1994.
The cast of Ghost Hunters to host panel at AlienCon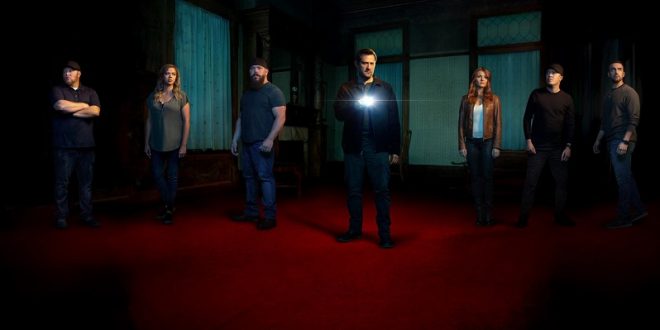 AlienCon the world's first convention dedicated to seeking the truth about extraterrestrial existence and solving the mysteries of the universe, has announced new program details for the October 4-6 event in Dallas, Texas. A+E Networks previously announced celebrity guests at AlienCon Dallas will include HISTORY's "Ancient Aliens" contributors Giorgio A. Tsoukalos, David Childress, Nick Pope, Caroline Cory, Jason Martell, John Brandenburg, Travis Taylor, and Jonathan Young.
The entire cast of A&E's "Ghost Hunters," one of the most successful paranormal series of all time, joins AlienCon Dallas for a panel discussion, Inside the World of A&E's "Ghost Hunters," on Saturday, October 5 at 2:20pm.
Have you ever wondered what it takes to investigate the paranormal? Hear from paranormal expert Grant Wilson and his new team of investigators. For the first time ever, this team of seven paranormal investigators – Wilson, Daryl Marston, Kristen Luman, Brandon Alvis, Mustafa Gatollari, Brian Murray and Richel Stratton – are sharing their approach to investigations, the cutting-edge technology they use, and how they research and prepare to go into a hunt.
Panel:  Inside the World of A&E's "Ghost Hunters"
Saturday, 10/5 at 2:20PM 
Grant Wilson, team leader/executive producer, and panel moderator
Daryl Marston, co-lead investigator
Kristen Luman, co-lead investigator
Mustafa Gatollari, site analyst/researcher/paranormal investigator
Brandon Alvis, tech manager/paranormal investigator
Richel Stratton, paranormal investigator
Brian Murray, paranormal investigator
There will also be two panel discussions regarding the Skinwalker Ranch
Panel: The Secret of Skinwalker Ranch
Friday 10/4 at 1:40PM
Panel: The Future of Skinwalker Ranch
Saturday, 10/5 at 11:00AM
Fans can learn more about ticket packages, special celebrity guests, and up-to-the-minute AlienCon Dallas programming information by visiting TheAlienCon.com.

AlienCon, owned by A+E Networks® in partnership with Prometheus Entertainment and produced by Mischief Management, LLC, is a three-day fan event inspired by HISTORY®'s hit series, Ancient Aliens®. AlienCon offers the opportunity for like-minded people to come together to challenge existing beliefs and seek disclosure of all kinds in an environment that inspires discovery and discussion.  The event will feature over 150 hours of original programming, sneak peeks and exclusive panels. Attendees can meet and mingle with their favorite celebrity guests.
More information can be found on the AlienCon website: TheAlienCon
A Taos Close Encounter of the Hunters and Aliens Kind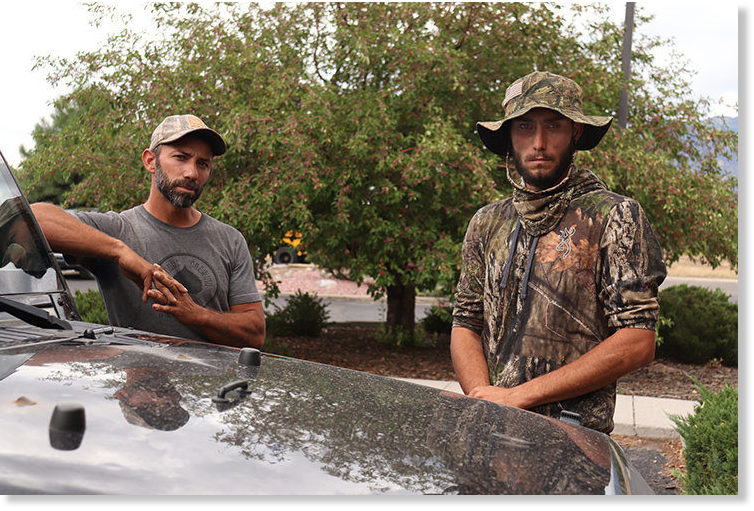 © Jesse Moya/Taos News
Staci Matlock
Taos News
From left, Josh Brinkley and Daniel Lucero were out bow hunting for elk near Cerro de la Olla Monday (Sept. 2) northwest of Taos when they had a strange encounter with a gigantic white structure that then disappeared. A day earlier, Brinkley saw what he thought were two hunters, but later described as oddly clothed "very tall figures with oversized heads." The two men are still trying to figure out what they saw.
Bow hunters Josh Brinkley and Daniel Lucero, dressed in camouflage gear, looked a little uncomfortable sitting in chairs at a local newspaper.
The Santa Fe County residents had just come into Taos after several days in rugged terrain near Cerro de la Olla, also called Pot Mountain, northwest of town near Ute Mountain.
They had a strange tale to tell and they weren't sure of their reception.
"We're a couple of guys that don't believe in much, but we believe now," Brinkley said.
They went hunting for elk.
They encountered aliens or something else so strange they don't know what to call it.
Brinkley, 41, said he's been going to the Pot Mountain area hunting for 15 years. He had never seen anything particularly odd.
He said he works construction and on movie sets. He's a family guy who doesn't want anyone to think he's crazy.
He and Lucero have worked together for eight years.
They say they aren't prone to seeing things and didn't particularly believe in aliens.
Odd Figures
Opening morning of bow hunting season was Sunday (Sept. 1). The two men had gone a couple of days early to scout the area for elk. Lucero, 26, had never been there.
They set up along the tree line on different sides of a field and waited. After three hours and no elk, Brinkley became restless. It was about 9:30 a.m.
"I take off walking, creeping around through the woods, looking for elk," Brinkley said.
He reached the top of the mountain where there's a caldera, a kind of wide bowl left behind by a collapsed volcano. He went to the edge on the southwest side. As he walked to the edge he noticed two figures on his side of the caldera. He thought at first they were hunters. But, they were "very tall shapes of these beings, standing side by side, staring right at me," he said.
He walked toward them across the brushy field. He estimates they were about 35 yards away. As a bow hunter, where measuring distance is critical to hitting a target, he said he's pretty adept at it. He went around the bush and looked again. The figures were gone.
He looked around and didn't see them. "Figured I would talk to them. They were gone, just gone," Brinkley said.
He thought more about what he had seen: With their lower half concealed by bushes in the caldera, he had only seen them from the waist up. "The shape that would be like their heads, it looked like they had huge hoods on. It looked like two ribbons coming off either side to a point at the top and bottom (like a banana). The right side was black, left side was white and a little shiny. Torsos were kind of black, I couldn't see many details. It definitely looked like clothes. In middle of the oval was just gray."
He thought maybe it was the back of hunters' heads. "But it looked too strange, too crazy."
Later, he drew what he could remember of them in a leather bound sketchbook he carries with him. And he drew what he saw next.
Weirded Out
Brinkley hurried back to where Lucero was still waiting. Still no elk. "I was a little weirded out," he told his friend.
He told Lucero he had seen a couple of hunters and that's probably what had scared off the elk. He couldn't bring himself at first to say what he might have just imagined.
They went back to camp. "I couldn't take it any more," Brinkley said. "I told him what I saw was weird. They were too tall, their heads were too big to be hunters."
"Anyone who knows me knows I don't tell these weird stories."
Lucero said he had known something was up when Brinkley had walked quickly and noisily up to his position at the field. Normally his friend is quiet, a hunter's slower, more measured speed through the bushes.
After Brinkley told him, Lucero felt a little weird, too. "I didn't know what to believe," Lucero said.
Brinkley kind of wrote off what he saw.
A Strange Structure
On Labor Day (Sept. 2), they headed out again to hunt early in the morning and hiked all around the area. No elk. They got back to their Jeep at about 2:30 p.m.
"We couldn't figure out why there was no elk," Brinkley said.
They decided to drive to the other side of the mountain and see if there were other hunters or four-wheelers scaring off the elk. As they drove, the men saw no signs of any wildlife at all, they said.
They drove about 10 minutes, when they saw it. They both work with movie sets. At first they thought it was a movie base camp. "It's this big tent structure, like a circus tent, 50-60 feet tall. Coming off the left of it was this long building, almost like what you would build for an archery lane for target practice. It was a third the height, but really long, maybe a couple hundred feet."
They were about a quarter mile away and couldn't see the bottom of the structure.
They watched it for about a minute as they drove.
"What is it," he asked Lucero, "a base camp for a movie? Or are they building an alien ship set?"
They drove down a little hill, lost sight of the structure for at most five seconds, Brinkley said.
"When we topped the hill, it was gone. Just gone."
Lucero said he was watching it the whole time while Brinkley drove except for those few seconds. "There was no dust, there was nothing," Lucero said.
They drove around the area searching for what they had seen until dark.
Nothing.
"I just know it was real," Brinkley said. "It was huge and white and then gone."
'Profoundly Unsettling'
When the two men reached a place with cell signal, they told a few friends what they had seen. They thought about calling the Air Force. A friend put them in touch with Peter Davenport, longtime executive director of the National UFO Reporting Center in Washington state.
Davenport confirmed they had called him. "It was a dramatic story," he said. "If it is true, it is profoundly unsettling."
He said out of the thousands of calls he gets every year about supposed alien sightings, they rarely describe seeing aliens on the ground.
They aren't the first hunters to see something they can't explain. Four hunters in Challis, Idaho, in 2000 described having a large triangular craft hover a couple of hundred feet above them before moving off over the mountains.
After listening to some 350,000 phone calls over 25 years, Davenport thinks he can tell those that are credible.
This was one of them, he said.
Brinkley and Lucero said they weren't drinking and weren't on drugs.
The hardest thing is telling their story. "People probably think we are insane," Brinkley said
He said he didn't believe in UFOs. "I sure do now," he said.
Lucero said he doesn't know about aliens. "I just know I've never seen anything that big just disappear."
"The two aliens, you can say I imagined that. But you cannot explain something that big just — gone," Brinkley said.
After telling their strange tale, the hunters did what they came to do – go try one more time to find elk.
New Mexico Hunters Have ET Encounter on Pot Mountain
Let's answer a few of the obvious questions right away. Yes, there really is a Pot Mountain in New Mexico. No, it has nothing to do with marijuana. Yes, that may absolve the two ET-spotting hunters from accusations that they were high when they claim to have seen two tall big-headed, half-black/half-white aliens on Pot Mountain. No, they weren't trying to be politically correct with that description. Yes, one saw the creatures and both saw something that was either their tent or their means of transportation. And no, they didn't take any pictures. However, it's an interesting story and UFO expert believes their sincerity in telling it.
"We're a couple of guys that don't believe in much, but we believe now."
Josh Brinkley and Daniel Lucero were still in their bow-hunting camouflage clothing when they told their story to the Taos News. The friends and co-workers have been hunting together for elk for years, but this was Lucero's first time on Cerro de la Olla – an inactive volcanic mountain northwest of Taos named Mountain of the Pot or Pot Mountain because of its pot shape. Brinkley brought him there a few days before the September 1 opening day of elk season to scout for some good spots. However, he was alone and wondering why there were no elk around when he had his first close encounter.
"[I noticed the] very tall shapes of these beings, standing side by side, staring right at me. The shape that would be like their heads, it looked like they had huge hoods on. It looked like two ribbons coming off either side to a point at the top and bottom (like a banana). The right side was black, left side was white and a little shiny. Torsos were kind of black, I couldn't see many details. It definitely looked like clothes. In middle of the oval was just gray."
Brinkley estimated the creatures were 35 feet from him. As he walked around a bush to get a better look, they disappeared. He told the Taos News that he returned to Lucero but hesitated before telling him about the unbelievable encounter with the two tall beings. They returned to the same area the next day and still saw no elk. That's when both hunters had a close encounter of the tent kind.
"It's this big tent structure, like a circus tent, 50-60 feet tall. Coming off the left of it was this long building, almost like what you would build for an archery lane for target practice. It was a third the height, but really long, maybe a couple hundred feet."
As they drove around to get closer, they lost sight of the structure for less than five seconds. When they had a view again of where it was … it wasn't.
"When we topped the hill, it was gone. Just gone. There was no dust, there was nothing, I just know it was real. It was huge and white and then gone."
They had no further encounters. In addition to the Taos News, they told their story to Peter Davenport, the executive director of the National UFO Reporting Center, who was intrigued by the witnesses claiming to see actual alien creatures and added this comment to the report of the call.
"NUFORC was impressed with what we perceived to be the apparent sincerity of the caller during the telephone conversation with him."
One discrepancy between the two accounts – NUFORC says there were three witnesses while the Taos News says there were only Brinkley and Lucero. That might be cleared up with an official written account to NUFORC by the witnesses, but that hasn't happened yet.
What did Josh Brinkley and Daniel Lucero see? Taos is well-known as a center for New Age beliefs, but it and New Mexico in general have had their share of strange incidents and alien encounters, ranging from the mysterious Taos hum to the Roswell UFO crash to extraterrestrials living in caverns near Dulce to the alleged 1948 'flying saucer' crash in Hart Canyon near Aztec with 14 to 16 small humanoid corpses found in the wreckage.
Is the incident on Pot Mountain just a good title for a major motion picture or a real close encounter? It would have helped their case to have photos instead of drawings and another witness who is not also a friend and co-worker. It would have also helped if there were footprints of the ETs and imprints or other evidence of the mysterious tent.
Keep looking up … unless hunting season has started.
Source: Mysterious Universe