More than two million UFO fans signed up to 'see them aliens' by storming Area 51 base.
The US military has apologised over a tweet saying it would fight "millennials" with stealth bombers if they attempted to enter Area 51, saying it "in no way" reflects their stance.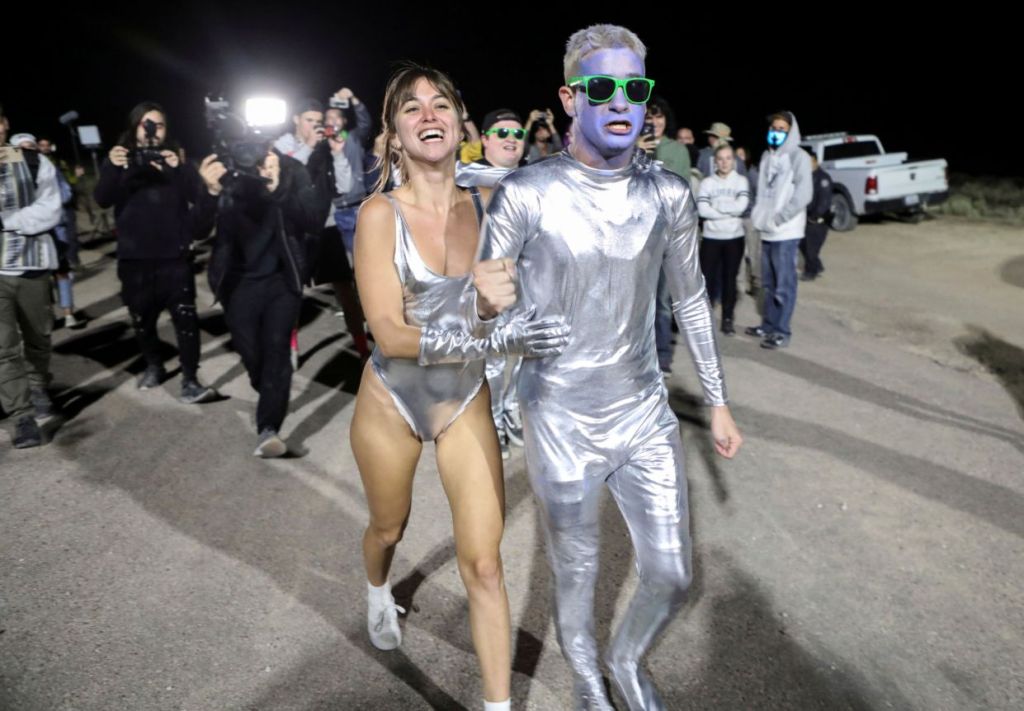 More than two million UFO fans signed up to "see them aliens" by storming the Area 51 base which has long been rumoured to house government secrets about alien life.  However, only a few thousand UFO enthusiasts turned up in rural Nevada for the 'pilgrimage' on Friday.
The tweet – which was posted on Friday and has since been deleted – was done by the PR arm of the US military, called the Defence Visual Information Distribution Service (DVIDS).
It stated: "The last thing #Millennials will see if they attempt the #area51raid today" with a picture of military officers in front of a stealth bomber.
The following day the unit apologised. A spokesperson tweeted: "Last night a DVIDSHUB employee posted a tweet that in NO WAY supports the stance of the Department of Defense.  It was inappropriate and we apologize for this mistake."
Area 51 tested aircraft ranging from the U-2 in the 1950s to the B-2 stealth bomber in the 1980s. The government spent decades refusing to acknowledge the site even existed, before releasing documents confirming it in 2013.
Its secrecy still fuels speculation that it's where the government studies aliens.
Visitors descended on the tiny desert town of Rachel, a short distance from the military site, in response to a recent, viral social-media invitation to "storm" Area 51, raising concerns by local authorities of unruly crowds overwhelming the community.
The US Air Force issued stern warnings for people not to approach the gates of the Nevada Test and Training Range, where Area 51 is located.
However, crowds were significantly smaller than expected.
Around 1,000 people visited gates on Thursday and Friday, and more made the trek on long dirt roads near Rachel on Saturday.
Officials reported six arrests overall, mostly for misdemeanour trespassing on base property, a $1,000 (£800) fine. One man was arrested for disorderly conduct at a festival venue and one for public urination at a base gate.
In Nye County, west of Las Vegas, authorities reported no arrests after a total of about 200 people showed up early on Friday at two remote gates to the once-secret Area 51 facility.
In Lincoln County, Sheriff Kerry Lee said about 20 people broke from among revellers early Saturday and "acted like they were going to storm, but stopped short."
On Friday, one man was treated for dehydration by medics at the Rachel festival.
While costumed space aliens were a common sight in events that began on Thursday, no one has reported seeing actual extraterrestrials or UFOs.
Source www.independent.co.uk