Are all crop circles man-made ?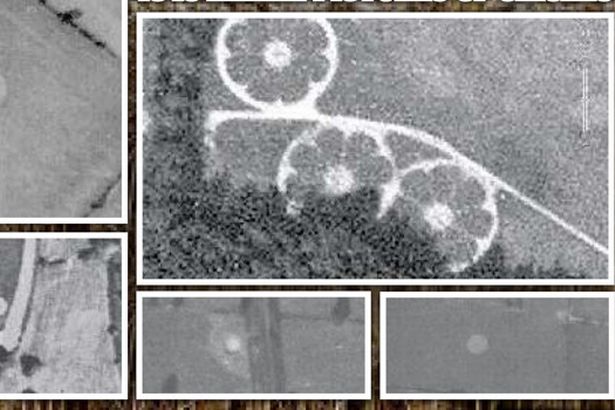 A crop circle expert from Australia believes that he has evidence to suggest that they aren't.
While there is no doubt that a lot of crop circles are hoaxes, the jury is still out on whether every single crop circle can be attributed to people with planks of wood and a lot of spare time. Researcher Greg Jefferys claims to have uncovered evidence that crop circles have been appearing in fields as far back as 1880, a fact that he believes proves that the phenomenon pre-dates circle hoaxers.
"This discovery proves that claims by various artists to be the sole creators of crop circles are themselves a hoax," he said. "I hope this discovery will stimulate renewed interest in crop circles by serious scientific researchers who have been fooled by the hoax claims."
An Aussie historian believes he has buried forever the 'cereal' lie that crop circles are the work of hoaxers – by unearthing Black Country images of them dating back to 1945 and beyond.
Some cases illustrate how far a joke can go. If it was a joke, of course.
On the night of July 8, 1953, three American students, Edward Waters, Thomas Wilson, and Arnold Payne, were traveling by car on Highway 78 west of Atlanta. Suddenly, Waters saw someone on the road and was forced to stop abruptly.
The three boys had an incredible sight. Two short humanoid creatures stood in the way, and beside them lay a third being. At first glance, it was dead and wounded, as if hit by a car.
When the two living monkey-like humanoids saw the humans, they rushed to the red alien ship, which immediately flew out and disappeared into the night sky.
Shortly thereafter, the boys met Officer Sherley Brown. They told him what they saw, and when the officer went to the designated location, he found the dead body of a strange creature and a black burned circle of asphalt, apparently left behind by an alien ship.
This story immediately makes a lot of noise in the media and remains current for a few days. The three students were the center of attention of the journalists and gave many interviews.
The body of the strange little creature was transferred to a hospital. There, one of the doctors said that "it is definitely not from Earth". Then the US Air Force became interested in the case.
Then, the body of the being was taken and given to Dr. Hermann Jones of Emory University and Professor Marion Hines. Soon, they announce the following:
"We cannot explain the lack of fur, but for all other reasons, we consider this creature to be a monkey and its characteristics are closest to that of rhesus monkeys."
When these words appear in the media, the three students immediately acknowledge the fraud, and that this body is indeed a rhesus monkey.
It turns out that while playing cards, Waters bets $ 10 that he will make his photo appear in the newspapers in the coming days. Then he and two of his friends came up with a plan for how to do it.
They bought rhesus monkeys from a local pet store. To keep the seller silent, they paid him a generous amount. Then they killed the innocent animal, shaved his body with a razor, cut off his tail, and "artistically" laid him on the road to a certain place. Nearby, using a striking machine, they made the "alien ship trace".
The court fines Waters $ 40, but then there are many calls from offended citizens who demand more, higher fines.
The reaction of the locals was so violent that Waters soon had to leave Atlanta and move to another city.
Many conspiracy theories have emerged for this story. In fact, in those days many people claimed to have seen strange lights and UFOs in the area. It was said that the three students were forced to "admit" that it was their "joke".
Conspiracy theorists point to the rapid disappearance of the Waters, the main eyewitness. They think he may not have been hiding from angry citizens, but he was abducted by the FBI because he was a major eyewitness.
[ad_2
Mysterious Ray of Light causes panic in Edmonton, Canada
On Wednesday evening 27 November 2019, the citizens of Edmonton (Alberta, Canada) were amazed by the presence of a gigantic ray of light that seemed to be projected by a huge sphere of light that was located near the oil refinery.
This mysterious ray of light caused panic among the people to attack the switchboards of the fire brigade and the police. According to local media, the strange phenomenon was seen for the first time around 7:00 pm and remained visible for hours.
As often as it happens with such events, many people have published photos of the mysterious pillar of light on social networks and have speculated about its origin. And among the most popular theories was that the lightning was evidence of an alien invasion.
Welp, it's been a good run but it looks like the Apocalypse is nigh.
.
.
.
.
.
(Yes, I know it's the flare at the @EPCOR Gold Bar plant but it looks damn spooky) #yeg #yegwx pic.twitter.com/EXl8dLvwdS

— ❄️ Laurie ❄️ (@MakingLaurie) 27 November 2019
However, the most skeptical, expressed concern that the strange light came from a disaster of some kind and continued to report it to the fire department, which offered an alternative explanation via Twitter for what people saw in the sky.
light pillars! Looks to be a refinery throwing up some light that's refracting off the ice crystals in the air to create that bright spire. #yegwx https://t.co/6Gy8D5299h

— Josh Classen (@joshclassenCTV) 27 November 2019
According to the official version, the ray of light was neither of extraterrestrial nor demonic origin and had a much less sinister explanation. The fire brigade then wrote on Twitter that: "it was established that it could be a controlled fire at the Imperial Oil refinery in Strathcona, which will continue for the next 48 hours".
According to CBC News, it would have been a type of incineration used to safely burn additional gases that cannot be used. Strathcona is an oil refinery located just outside Edmonton. The refinery fire was to last 48 hours in total and could be seen west of Parkland County. Although some citizens of Edmonton thought it was an extraterrestrial activity, others knew exactly what was happening when they saw bright light in the sky.
But this explanation did not prevent some conspiracy theorists from insuring that it had nothing to do with the Strathcona refinery, since as a general rule any unusual activity in its facilities was communicated in advance. For what they believe the Canadian authorities are trying to hide what has happened, that the light beam is of extraterrestrial origin, be it a sort of signal or the landing of an alien ship.
UFO flies to the White House and the Capitol. NORAD announces potential violation of airspace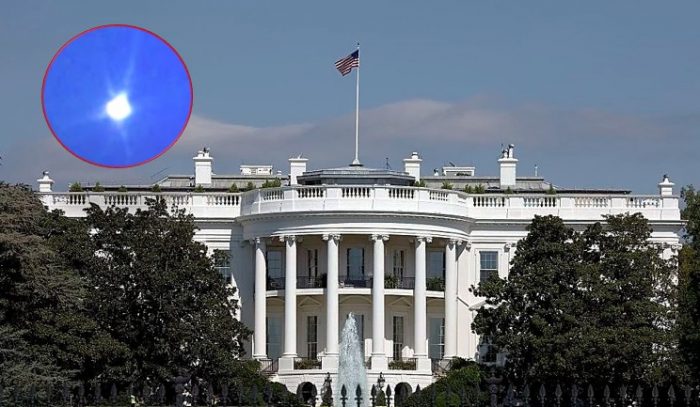 On Tuesday, November 26, 2019, NORAD announced the blocking of airspace and roads adjacent to the White House and Capitol Hill, due to a potential violation of airspace, which may have been caused by an unidentified drop-shaped flying object that was stationed above the White House and the Capitol. For officials of the NSA and the White House, of course, in order to minimize and ridicule the incident, they said it was a flock of birds.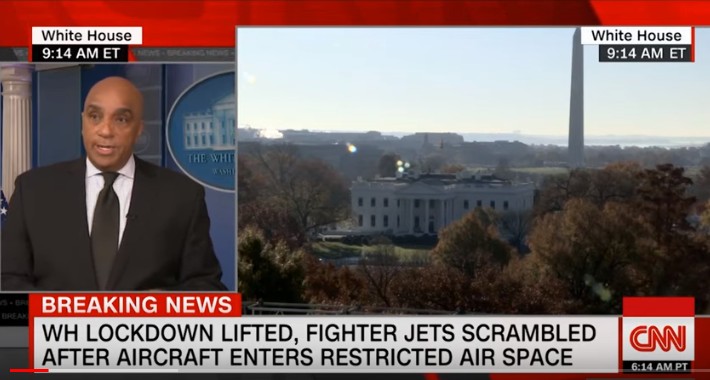 A spokesman for the North American Aerospace Defense Command (NORAD) told NBC News that the object that caused the airspace blockage may have been caused by "a flock of birds or a weather balloon". The spokesman also stated that the event was "resolved without incident". On Tuesday the White House and the Capitol Building suffered a brief power failure.
You don't have to believe to extraterrestrials to know that the US government knows how a flock of birds appears on the radar. And it's not even the first time that unexplained UFO activities take place on the White House!
But the ufologists have asked themselves ironically: how can a flock of birds stop at the White House and on the Capitol, causing a blockage of the electric current and subsequent blockage of the air space, putting NORAD on alert?
The US government has tried to ridiculously explain the situation by saying that the birds have been seen on an obsolete radar system, and even saying that it is a creation by a cloudy, and therefore meteorological, system, they have even said that this huge object on sight, could be a small drone. Clearly they have no idea what this object was … so it wasn't identified … and it was flying, and it was a solid object.
The British ufologist Scott Waring said: " This is absolutely a visit of alien ships. The UFOs were seen in Washington as early as 1952, when for several weeks from July 12 to July 29, the objects were first sighted on radar … just like this week's UFO. Then they saw on the radar that the ship's movements did not resemble the conventional ones, but moved like nothing they had ever seen. Then a plane spotted one … saying it was like an orange fireball with a long trail, but others were white and without tails. I am sure that 1952 was not the first time ever, and 2019 will not be the last. "
The NORAD, after this UFO sighting, sent three F16 fighters for a reconnaissance flight over.