They were buried about 2,000 years ago. On their heads were tightly fitting "helmets" of human skulls, and more specifically of older children.
In 2014-2016, archaeologists conducted intensive excavations in the Salango region, Ecuador. Most recently, their results have been published in Latin American Antiquity.
In total, 9 scaffolds were excavated at this site, which, according to the ceramic remains, belong to people from Guangdong who lived in Ecuador between 100 BC. and 800 AD.
One of the two children was 18 months old when she died and the other was 6-9 months old. When archaeologists discover their remains, they immediately see that their skulls are strange and too thick. It turns out that the upper skulls of older children are tightly stacked on the skulls of young children.
It seems that when they were placed on the skulls of babies, they still had remains of flesh. Otherwise, the skulls would dry up and then fall out of their heads.
Archaeologists were shocked by such a ritual. They have never encountered anything like this in Ecuador and in Central and South America before. They have not read about such customs in other countries. Still, scientists do not know whether young children and skull owners died naturally or were killed.
Most likely, all children died of malnutrition. During their study, scientists found that there were clearly visible signs of hunger on the bones. During excavations, archaeologists also discovered a layer of volcanic ash that had fallen there shortly before the funeral. The ash can explain why starvation began in these places.
In addition, a finger phalanx, also childish, was sandwiched between one of the skulls and the helmet. This part of the likely rite also puzzles archaeologists.
According to archaeologists, one version of the creation of "helmet skulls" is that it was a kind of attempt to protect babies. Ancient people may have believed that the souls of babies were still too undeveloped and "wild", and therefore, in the afterlife, they would need a guide and protector at an older age. But, for now, these are just guesses.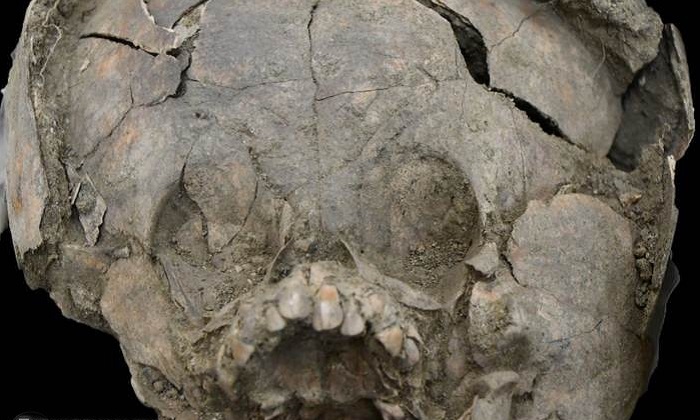 In the graves, near the bodies of the babies, are also found small figures of people made of stone, probably representing a kind of "guardian".