Arcadia Regeneration company
"As an officer, pilot and engineer of The Domain, I must always assume a very pragmatic point of view.  I could not be effective or accomplish my missions if I were to use philosophical dogma or rhetoric as my operations manual.  Therefore, our discussion of history is based on actual events that occurred long before any IS-BEs arrived on Earth, and long before the "Old Empire" came into power.  I can relate part of this history from personal experience:
Many billions of years ago I was a member of a very large biological laboratory in a galaxy far from this one.  It was called the "Arcadia Regeneration Company". [i] (Footnote)  I was a biological engineer working with a large staff of technicians.  It was our business to manufacture and supply new life forms to uninhabited planets.  There were millions of star systems with millions of inhabitable planets in the region at that time.
There were many other biological laboratory companies at that time also.  Each of them specialized in producing different kinds of life forms, depending on the "class" of the planet being populated.  Over a long span of time these laboratories developed a vast catalogue of species throughout the galaxies.  The majority of basic genetic material is common to all species of life. [ii] (Footnote)  Therefore, most of their work was concerned with manipulating alterations of the basic genetic pattern to produce variations of life forms that would be  suitable inhabitants for various planetary classes.
The "Arcadia Regeneration Company" specialized in mammals for forested areas and birds for tropical regions.  Our marketing staff negotiated contracts with various planetary governments and independent buyers from all over the universe.  The technicians created animals that were compatible with the variations in climate, atmospheric and terrestrial density and chemical content.  In addition we were paid to integrate our specimens with biological organisms engineered by other companies already living on a planet.
In order to do this our staff was in communication with other companies who created life forms.  There were industry trade shows, publications and a variety of other information supplied through an association that coordinated related projects.
As you can imagine, our research required a great deal of interstellar travel to conduct planetary surveys.  This is when I learned my skills as a pilot."
Airl – Officer, Pilot and Engineer with The Domain Expeditionary Force. from the Top Secret military transcripts published in the book ALIEN INTERVIEW
---
[i] "… Arcadia Regeneration Company".
"One of the birthplaces reported for Zeus is Mount Lycaeum in Arcadia. Lycaon, a cannibalistic Pelasgian king, was transformed into a werewolf by Zeus. Lycaon's daughter was Callisto. It was also said to have been the birthplace of Zeus' son, Hermes.
Arcadia remained a rustic, secluded area, and its inhabitants became proverbial as primitive herdsmen leading simple pastoral unsophisticated yet happy lives, to the point that Arcadia may refer to some imaginary idyllic paradise.
The Latin phrase Et in Arcadia ego which is usually interpreted to mean "I am also in Arcadia" or "I am even in Arcadia" is an example of memento mori, a cautionary reminder of the transitory nature of life and the inevitability of death. The phrase is most often associated with a 1647 painting by Nicolas Poussin, also known as "The Arcadian Shepherds". In the painting the phrase appears as an inscription on a tomb discovered by youthful figures in classical garb. It has been suggested that the phrase is an anagram for the Latin phrase "I! Tego arcana Dei", which translates to "Begone! I keep God's secrets."
–  Reference:  Wikipedia.org
[ii]  "… the majority of basic genetic material is common to all species…"
"The Genetic Core of the Universal Ancestor
J. Kirk Harris, Scott T. Kelley,1 George B. Spiegelman,3 and Norman R. Pace1
1 Department of Molecular, Cellular and Developmental Biology, University of Colorado, Boulder, Colorado 80309-0347, USA; 2 Graduate Group in Microbiology, University of California, Berkeley, Berkeley, California 94720, USA; 3 Department of Microbiology and Immunology, University of British Columbia, Vancouver, British Columbia, Canada V6T 1Z3
Molecular analysis of conserved sequences in the ribosomal RNAs of modern organisms reveals a three-domain phylogeny thatconverges in a universal ancestor for all life. We used the Clustersof Orthologous Groups database and information from publishedgenomes to search for other universally conserved genes that havethe same phylogenetic pattern as ribosomal RNA, and thereforeconstitute the ancestral genetic core of cells. Our analyses identified a small set of genes that can be traced back to the universalancestor and have coevolved since that time.
As indicated by earlierstudies, almost all of these genes are involved with the transferof genetic information, and most of them directly interact withthe ribosome. Other universal genes have either undergone lateraltransfer in the past, or have diverged so much in sequence thattheir distant past could not be resolved. The nature of the conservedgenes suggests innovations that may have been essential to thedivergence of the three domains of life. The analysis also identifiedseveral genes of unknown function with phylogenies that trackwith the ribosomal RNA genes. The products of these genes arelikely to play fundamental roles in cellularprocesses."
– Reference:  http://www.genome.org/cgi/content/abstract/GR-6528v1?etoc
NASA admits that "Mysterious Objects" photographed in space are "unknown"
NASA has labeled the strange sightings that occurred during Shuttle space missions as "unknown objects" on an official website. Since then, the images have resurfaced after being published on YouTube.
The NASA cameras captured three strange objects in space – and the agency cannot explain what they are. The images on the Gateway to Astronaut Photography of Earth website from NASA resurfaced after being shared on YouTube by controversial conspiracy theorist Scott C. Waring. In a 1985 photo, a snake shaped object, like many seen from Earth, floats on the dark background of space.
A second photo of the same year shows a large object that bizarrely imitates a screw or a rivet. And a third object – photographed by the Space Shuttle astronauts in 1990 – shows an object similar to a grid suspended over the Atlantic Ocean, off the coast of Brazil.
Mysteriously, all the images were classified as "unknown objects" by the space agency – apparently contradicting the consensus that these structures are simply space junk.
Scott – who has earned a reputation in the past for his bizarre claims of having found mysterious life on Mars – found the photos disconcerting and shared them on his YouTube channel. He was more fascinated by the snake-like UFO, which suggested it could be "alive, organic".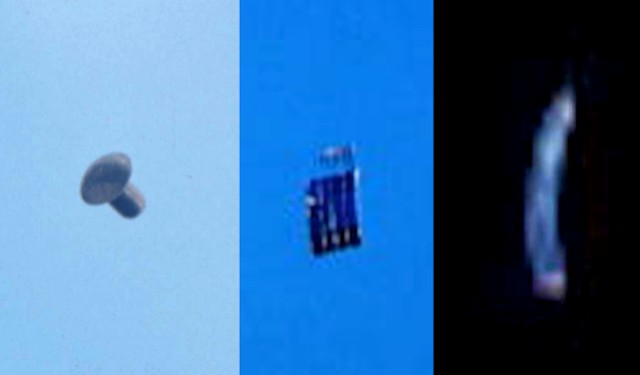 "It seems that it floats in space like a real animal," said Scott, mentioning a conversation he had with an astronaut earlier this year who said he saw something "that looked like a semi-transparent living creature" outside of the International Space Station.
UFO hunter claims spike in sightings of 'snake-like objects' in US skies – speculation runs rampant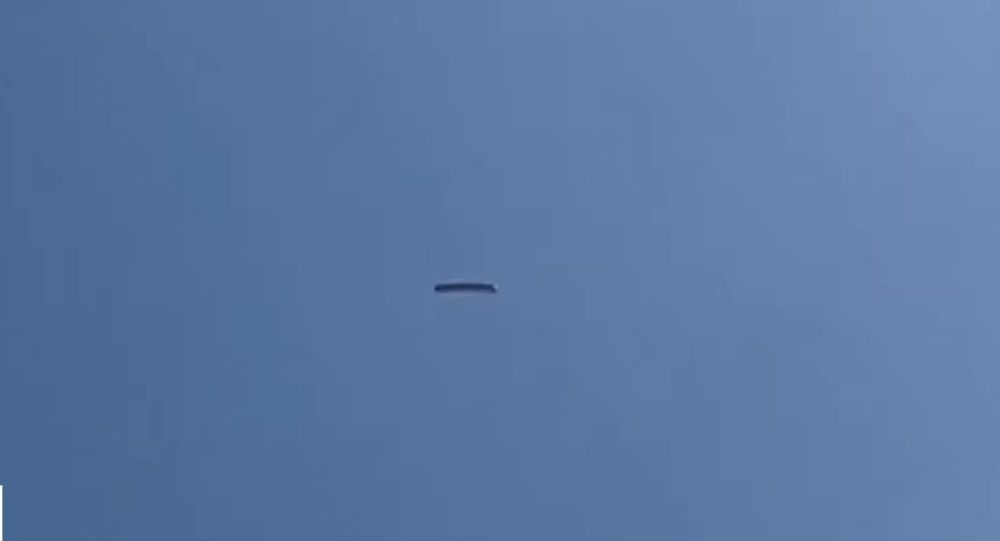 Over the last month, an elongated unidentified object, which reminded some of a cigarette or a snake, has been spotted in several US states, from California to Wyoming, and even Scotland. However, there is still no explanation of what it was or where it came from.
Numerous sightings of snake-shaped objects hovering in several places in the US, from Wyoming to Texas, have prompted conspiracy theories about the government secretly spying on people, The Daily Star reports. The claims were fueled by reports about one of them hovering over Dallas, Texas. According to the outlet, images of the "craft," which witnesses on the Mutual UFO Network (MUFON) describe as "a black pipe" with a "dull metal colour," have now emerged, although they were initially taken in September.
The outlet reports that at least two people have independently said that they spotted the strange object that day.
"They had also seen the object and shared the exact same testimony. That definitely adds some validity to this sighting. I don't think, right now, anyone is lying," UFO hunter Jane Kyle told the British outlet, dismissing an allegation that it could be something as simple as a balloon.
With no feasible explanation available, researchers have suggested their own theories. Kyle agreed with one of them, saying it could be something "top-secret military," but added we will hardly be able to find out exactly if that was the case as "it's something we don't have access to as the public." However, the unusual shape of this object offers room for debate.
"A snake-like UFO, I feel like I want to lean towards that not being something of our own," she told the outlet.
Over the past month, the enigmatic object (or similar objects) has been spotted above numerous places in the US- New York, Wyoming and Washington -even Edinburgh, Scotland. It was allegedly spotted for the first time in June above California's Mojave Desert, located not far away from the notorious Area 51 – a military base, where, as various conspiracy theorists claim, the US government allegedly experiments with alien technologies. Its reappearance there was reported in September.
"Something big in the sky up there is moving really-really-really slow. And it is tilting back and forth sometimes. Look at how slow that thing is moving. And it's humungous. It's really-really big," said the author of the video.
Quantum physicist makes impressive predictions about UFOs
A "time capsule of the mind" by the physicist Deep Prasad serves as a kind of mission statement for an in-depth exploration of technology related to unexplained sightings of UFOs on the west coast of the United States.
Prasad, vice president of technology at UAP Expedition Group and CEO of ReactiveQ, expects big things to happen in the next 5 to 10 years. The synopsis of what he is trying to do appears on the site Medium.com.
He predicts that "we will discover that we are not alone in the universe." But it goes beyond that. Before he even lists 10 points he intends to explore, he insinuates about an agenda to find out the truth he seeks:
If it turns out that a secret group of humans has surpassed every single country, military capability and private industry on the planet in an insurmountable leap, we will report.
His predictions suggest that he has a different understanding of what extraterrestrial life means, using the alien term "for lack of a better word."
The website Mystery wire previously reported the emergence of UAP Expedition Group in the UFO research scenario. The composition of the group includes people who were on board the USS Princeton at the time of the Tic Tac UFO report, which was reported by New York Times in December 2017 and recognized as 'real' by the US Navy earlier this year. The Dave Fravor's Navy Commander's visual observation in 2004 off the coast near San Diego sparked interest in understanding UFOs.
The group told the vice.com that aims to exploit technology to revolutionize travel.
The website punkrockandufos.com interviewed Prasad in June. He explained his interest in the topic then. The article states:
The young innovation star is also an avid UFO advocate; He is one of us.
Below are the impressive predictions of quantum physicist Deep Prasad, followed by a video of his interview on the channel. Townhall media:
We will find that we are not alone in the universe.
This will become a familiar fact sometime in the next 5 to 10 years. Some will naturally debate this, no matter how much science and evidence is presented. After all, we still have people who believe in Terra Plana to this day.
We will find that the engineers of these advanced technologies are not human, but they are NOT extraterrestrial as we define them.
We will find that words like extraterrestrial, ultra-terrestrial, and interdimensional are inaccurate descriptions of what the beings behind these UFOs really are. From what I have seen in terms of data, it seems that the answer will be complicated, if not totally impossible to fully understand with our current knowledge of physics and philosophy.
We will find that an unfortunate amount of human mythology and folklore is the result of intelligent nonhumans messing with holographic technology for some unknown reason.
Let's find out much, much more about ourselves, who and what we really are.
Such revelations will shock virtually every living sentient person. Depress some while releasing others (I would bet more…).
Finally, there will be communication between human civilization and alien civilization, for lack of a better word, once enough humans are psychologically ready for the first contact.
UFOs will be formally recognized as a valid doctoral and masters topic in the fields of Quantum Information, Quantum Gravity, Condensed Matter Physics, High Energy Physics, Sociology, History, Literature, Engineering and even Biology.
Sometimes things we cannot change, end up changing us.