Arcadia Regeneration company
"As an officer, pilot and engineer of The Domain, I must always assume a very pragmatic point of view.  I could not be effective or accomplish my missions if I were to use philosophical dogma or rhetoric as my operations manual.  Therefore, our discussion of history is based on actual events that occurred long before any IS-BEs arrived on Earth, and long before the "Old Empire" came into power.  I can relate part of this history from personal experience:
Many billions of years ago I was a member of a very large biological laboratory in a galaxy far from this one.  It was called the "Arcadia Regeneration Company". [i] (Footnote)  I was a biological engineer working with a large staff of technicians.  It was our business to manufacture and supply new life forms to uninhabited planets.  There were millions of star systems with millions of inhabitable planets in the region at that time.
There were many other biological laboratory companies at that time also.  Each of them specialized in producing different kinds of life forms, depending on the "class" of the planet being populated.  Over a long span of time these laboratories developed a vast catalogue of species throughout the galaxies.  The majority of basic genetic material is common to all species of life. [ii] (Footnote)  Therefore, most of their work was concerned with manipulating alterations of the basic genetic pattern to produce variations of life forms that would be  suitable inhabitants for various planetary classes.
The "Arcadia Regeneration Company" specialized in mammals for forested areas and birds for tropical regions.  Our marketing staff negotiated contracts with various planetary governments and independent buyers from all over the universe.  The technicians created animals that were compatible with the variations in climate, atmospheric and terrestrial density and chemical content.  In addition we were paid to integrate our specimens with biological organisms engineered by other companies already living on a planet.
In order to do this our staff was in communication with other companies who created life forms.  There were industry trade shows, publications and a variety of other information supplied through an association that coordinated related projects.
As you can imagine, our research required a great deal of interstellar travel to conduct planetary surveys.  This is when I learned my skills as a pilot."
Airl – Officer, Pilot and Engineer with The Domain Expeditionary Force. from the Top Secret military transcripts published in the book ALIEN INTERVIEW
---
[i] "… Arcadia Regeneration Company".
"One of the birthplaces reported for Zeus is Mount Lycaeum in Arcadia. Lycaon, a cannibalistic Pelasgian king, was transformed into a werewolf by Zeus. Lycaon's daughter was Callisto. It was also said to have been the birthplace of Zeus' son, Hermes.
Arcadia remained a rustic, secluded area, and its inhabitants became proverbial as primitive herdsmen leading simple pastoral unsophisticated yet happy lives, to the point that Arcadia may refer to some imaginary idyllic paradise.
The Latin phrase Et in Arcadia ego which is usually interpreted to mean "I am also in Arcadia" or "I am even in Arcadia" is an example of memento mori, a cautionary reminder of the transitory nature of life and the inevitability of death. The phrase is most often associated with a 1647 painting by Nicolas Poussin, also known as "The Arcadian Shepherds". In the painting the phrase appears as an inscription on a tomb discovered by youthful figures in classical garb. It has been suggested that the phrase is an anagram for the Latin phrase "I! Tego arcana Dei", which translates to "Begone! I keep God's secrets."
–  Reference:  Wikipedia.org
[ii]  "… the majority of basic genetic material is common to all species…"
"The Genetic Core of the Universal Ancestor
J. Kirk Harris, Scott T. Kelley,1 George B. Spiegelman,3 and Norman R. Pace1
1 Department of Molecular, Cellular and Developmental Biology, University of Colorado, Boulder, Colorado 80309-0347, USA; 2 Graduate Group in Microbiology, University of California, Berkeley, Berkeley, California 94720, USA; 3 Department of Microbiology and Immunology, University of British Columbia, Vancouver, British Columbia, Canada V6T 1Z3
Molecular analysis of conserved sequences in the ribosomal RNAs of modern organisms reveals a three-domain phylogeny thatconverges in a universal ancestor for all life. We used the Clustersof Orthologous Groups database and information from publishedgenomes to search for other universally conserved genes that havethe same phylogenetic pattern as ribosomal RNA, and thereforeconstitute the ancestral genetic core of cells. Our analyses identified a small set of genes that can be traced back to the universalancestor and have coevolved since that time.
As indicated by earlierstudies, almost all of these genes are involved with the transferof genetic information, and most of them directly interact withthe ribosome. Other universal genes have either undergone lateraltransfer in the past, or have diverged so much in sequence thattheir distant past could not be resolved. The nature of the conservedgenes suggests innovations that may have been essential to thedivergence of the three domains of life. The analysis also identifiedseveral genes of unknown function with phylogenies that trackwith the ribosomal RNA genes. The products of these genes arelikely to play fundamental roles in cellularprocesses."
– Reference:  http://www.genome.org/cgi/content/abstract/GR-6528v1?etoc
UFO caught on camera in Kamloops, British Columbia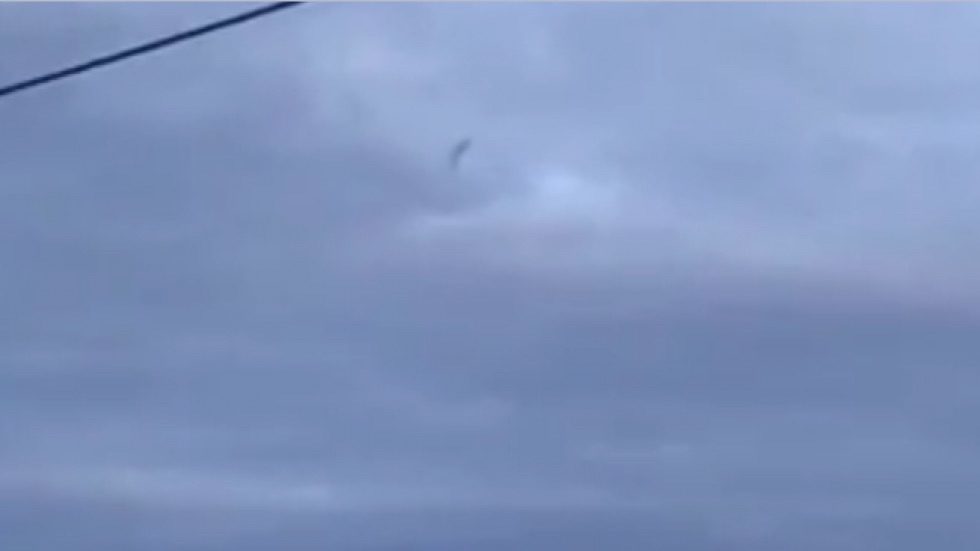 Harprit Singh swears he is not one to make bogus UFO sightings.
That's why what he saw in the sky above Kamloops baffles him.
Singh sent CFJC Today video he recorded at 4:15 p.m. Saturday, Nov. 10, at the New Afton mine just west of Kamloops, where he works.
The video seems to show a strange movement behind the clouds.
WATCH: The strange movement can be seen in the upper half of the frame, near the middle. (Video Credit: Contributed / Harprit Singh) LANGUAGE WARNING
Singh says the disc-shaped object moved upward very quickly, which is when he took out his phone to record what he was seeing.
Singh says the disc-shaped object moved upward very quickly, which is when he took out his phone to record what he was seeing.
"I thought it would be some smoke that would disappear soon," said Singh, "but when I watched continuously, it was something behind the clouds. It didn't disappear and I got shocked when it moved up in a very quick movement."
"At that moment, I realized it was something different; something strange. When it gave some different movements, I started recording this video. It was some sort of disc that moved into a vertical and horizontal position afterward," he said.
Singh is hesitant to call the object a UFO because of the skepticism associated with UFO sightings, but he doesn't know how else to explain what he saw.
"I don't want to say that it's a sort of UFO. But I have seen some videos similar to this kind of thing, that's why I said it's some sort of UFO," said Singh. "I know it's awkward to say this, but seriously, after seeing this… it was really strange."
"I have never seen these things in the sky. Never. This was really something different."
The Extraterrestrial Find Of The Aztecs In Ojuelos De Jalisco (Mexico)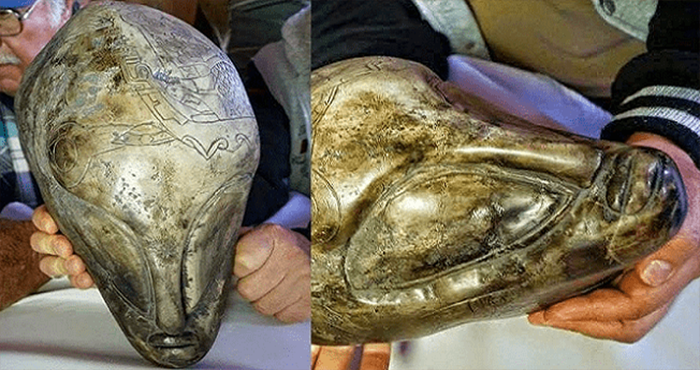 Our ancestors may have had a constant relationship with extraterrestrial beings. We informed you about the material that made one of Tutankhamun's daggers.
However, this is not the only unique discovery, since a surprising series of archaeological objects is the clear proof of the existence of a remote pre-Mayan culture (possibly the ancient gods with elongated skulls or cone-shaped heads), hidden by those who rule the world and forgotten by humanity.
Several families from the city of Ojuelos in the province of Jalisco, Mexico, have been collecting for approximately 50-60 years a total of approximately 400 extraordinary archaeological objects, with the dream of one day opening their own museum and becoming known by the public. said objects.
The Collection Consists Of Tablets:
Knives, plates, figurines, rings and jade pendants, made of stone or metal, which clearly describe how these ancient extraterrestrial extraterrestrial gods (of elongated skulls and large slanted eyes, with a high degree of intelligence).
A high state of consciousness and a deep spirituality and connection with the universe, traveled in their spaceships.
Through the high technological development of their UFOs, they knew very well not only our solar system, in which they traveled between the Earth and their planets of origin, but could also come from beyond our solar system or from our galaxy.
They have also discovered a series of skulls discovered in several Latin American countries, especially Paracas – Peru, called "Paracas Elongatus".
Also in Bolivia, Ecuador, Colombia and Mexico, have been in recent years, a series of skulls and skulls in the shape of a cone, which have left scientists without words.
In the last dates also one was found in Australia, that received the name of "Australian Elongatus".
What do you think? or forget to leave us your comments below and spread the information with your friends
Montana Air Base Suffers Power Outage as Giant Circular UFO Hovers Overhead
You would think events like this would have been all over the news at the time when it had occurred.
According to a report published by The Mutual UFO Network a Montana witness near Great Falls reported that a contact on the Malmstrom Air Force Base described a 10-minute power outage after a circular-shaped object "over a half-acre in size" hovered over the base" on January 24, 2018.
"My base contact described the object only as black," the reporting witness stated. "If contacted, Malmstrom AFB will confirm the power outage but nothing more. Investigators are on their way. Last sighting was in May 2017. This source is reliable and confirmed as am I."
The witness describes himself as a retired police detective "not given to exaggerations."
The filed report indicates the object was black in color with no structural features. The object size was larger than 300 feet. No exterior lights. No emissions. The object was hovering at less than 500 feet in altitude. The object was over one mile away from the witness. No landing was observed.
Investigators contacted the media relations department at Malmstrom and did not receive a reply. The power outage may have been limited to the launch site area and not the entire base. '
MUFON CAG Investigator Marie Cisneros and Montana State Director John Gagnon closed this case as Information Only.
"Ruled out for astronomical or weather anomalies," Cisneros and Gagnon stated in their report. "Ruled out for bolides or fireball activity. Ruled out for obvious hoax.
"Our conclusion: Unidentified object. Size, shape, flight pattern and path does not fit with known conventional aircraft. Because this was reported by someone other than the witness, this case has to be filed as an Information Only unless further information is forthcoming by the witness."
Malmstrom Air Force Base is in Cascade County, Montana, adjacent to Great Falls. It is the home of the 341st Missile Wing (341 MW) of the Air Force Global Strike Command (AFGSC). As a census-designated place, it has a population of 3,472.
ufosightingshotspot