The apocalyptic flood affected more than 6.8 million people in China's Hunan province and damaged 628,000 hectares of agricultural land.
A total of 6.86 million people have been affected by rain-induced floods in central China's Hunan province this year, local officials said Friday.
Downpours in the province have killed 24 people, according to the Flood Control and Drought Management Authority.
Approximately 21,300 houses collapsed or were seriously damaged, and about 628,000 hectares of agricultural land were damaged by heavy rains.
According to official statistics, direct economic losses amounted to 14.63 billion yuan (about $ 2.14 billion).
As of Wednesday, Hunan Province had 24 heavy rainfalls this year, with a total of 1,299.4mm.
The flood around the Yangtze continues
In the second half of August, the world's attention was focused on the Chinese Three Gorges hydroelectric power station, which had to withstand the next and maximum wave of flood in its entire history. The speed of water approach there reached 80,000 cubic meters per second – despite the fact that the spillway could pass a maximum of 50,000 cubic meters per second.
Fortunately, the high flow rate of the Yangtze did not last long and the reservoir level rose only to 168 meters, while the extreme state for the dam is 175 meters. However, although the flood has subsided a bit, the dam continues to collapse, as evidenced by satellite images from September 2: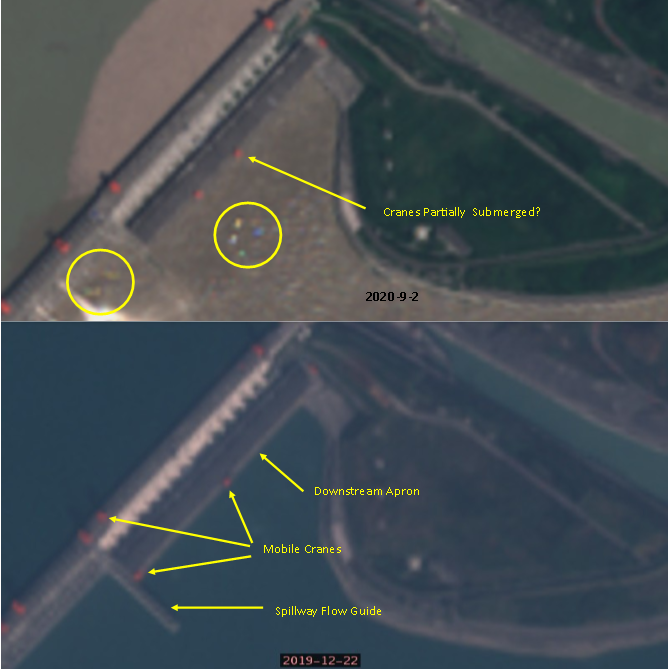 The water from above is still flowing and will continue to flow, but half of the spillways were closed, although the reservoir has not yet been lowered to the required level. 
This suggests that the spillways are severely destroyed from long continuous operation:
In addition, there is also such a thing as cavitation – the formation of bubbles in water, which collapse with the release of energy. The release is very large – there is even a technology for cavitation cleaning of hydraulic structures from build-ups, that is, with such bubbles, concrete can be peeled off to reinforcement in a few seconds.  
The only thing that now stands between the Chinese and the elements is 'strong and reliable Chinese concrete'.