Antarctic Press to Publish Trump's Space Force!
Antarctic Press just released their April solicitations and it includes Trump's Space Force by writer Chuck Dixon, artist Timothy Lim, and colorist Brett R. Smith.
Trump's Space Force was originally crowdfunded on IndieGoGo and raised over $72,000 from 1605 backers. The original goal for the campaign was $15,000. However, the Antarctic Press version of the book will be different from the one delivered to IndieGoGo backers, which included a number of goodies alongside the story.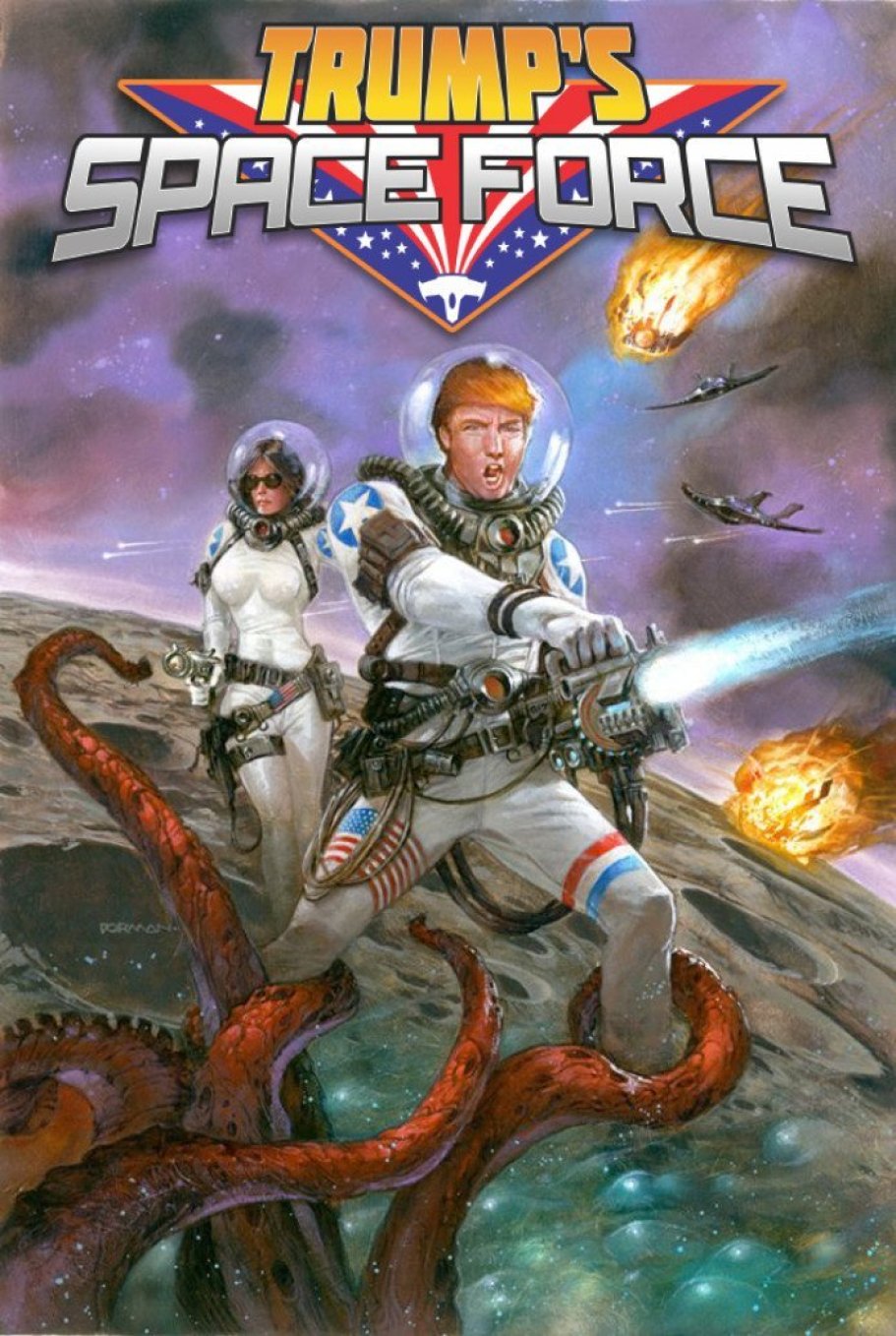 The book features a number of cameos including Regina Ragowski from the Rags Zombie comic, One America News Network's Jack Posobiec, prolific comic creator Scott Adams, Fox Business Network's Charles Payne, Donald Trump Jr., and Jack Irons.
The official solicitation reads:
The Celestial Peacekeeping Astral Coalition contacts the President of the United States to deliver a dire warning: Earth is in danger of takeover by another group of aliens from somewhere in the far left wing of the galaxy. This insidious force, the Sienn'en, have an armada ready to invade Earth for its resources. But with the CPAC's help, Trump puts together an team ready to take the battle into orbit and beyond! A force to make space great again!
Timothy Lim previously described the plot to us:
"The main plot focuses on why President Trump decides to establish a Space Force: he learns of a deep, dark conspiracy between extraterrestrial forces and the Establishment, setting up for an invasion. It's not gonna happen on his watch!"
Colorist Brett R. Smith explained the importance of why crowdfunded books like Trump's Space Force need to find a publisher: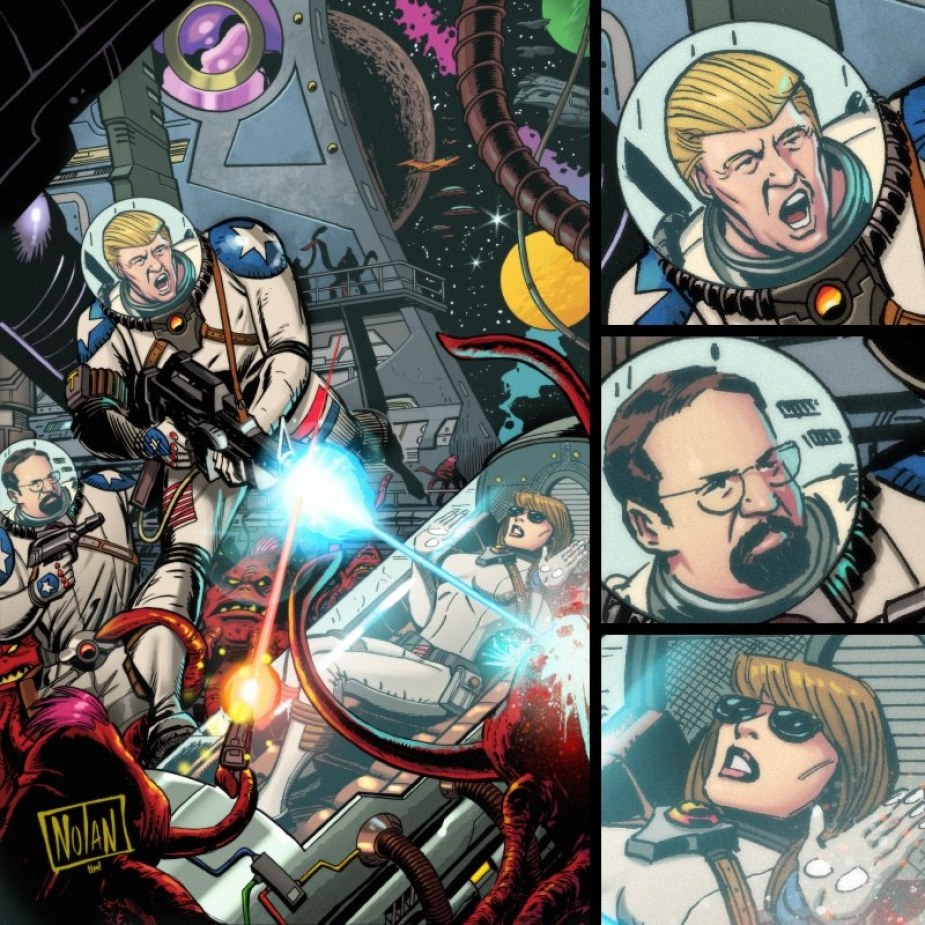 "It's important to me that we provide a retail version of crowdfunded books like Trump's Space Force. For one there are many people who missed the campaign and want a copy and its my obligation to make that possible to the audience – plus its simply more sales which is part of why I'm in the business of making comics and graphic novels. The other reason to make it available after the campaign is because some people are not comfortable purchasing something via crowdfunding. They want to know its already produced and available through direct sales via a website, Amazon or through special order to their local LCS."
He continued:
"Publishing these books after the crowdfund only makes these books more real because they will now be available in the more familiar ways people purchase comics. And why wouldn't I want to make my books and graphic novels available to more customers? It's a no-brainer."
Trump's Space Force will hit comic book shelves on April 24, 2019. It will retail for $4.99.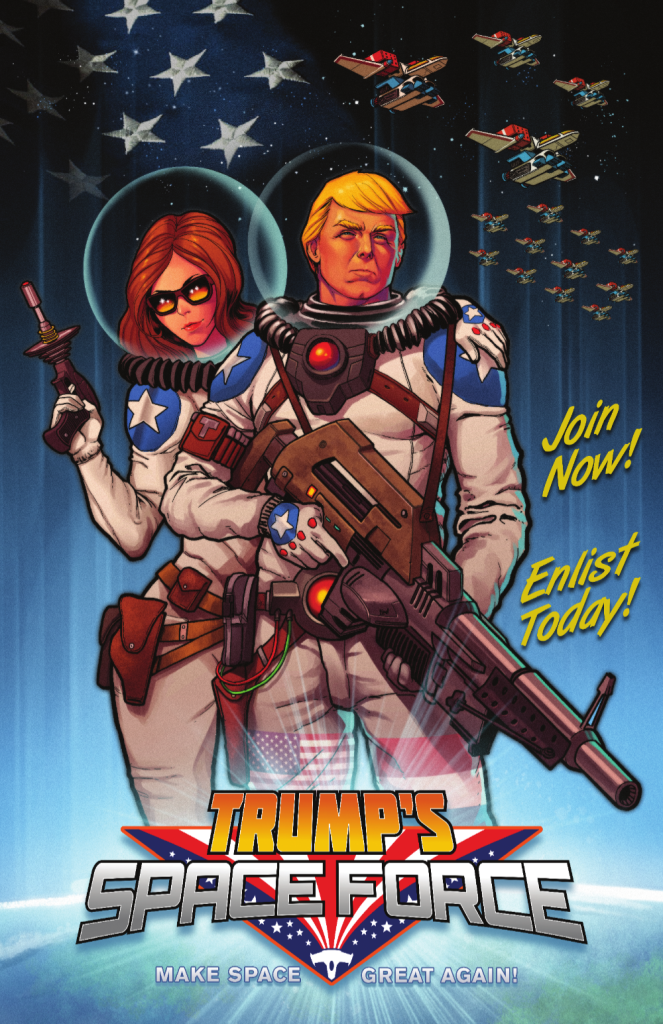 Alabama Passes Law to Chemically Castrate Pedophiles
In the state of Alabama, certain types of sex offenders like pedophiles will now be chemically castrated by law before they are given parole. The legislation was signed into law by Alabama's governor Kay Ivey, and will apply to all sex offenders who are convicted of crimes against children younger than 13.
For these offenders, chemicals will be used that will reduce their libido, and hopefully the likelihood of them repeating their crimes. Critics of the bill said that it was unconstitutional, claiming that it violates a person's right to freedom from "cruel and unusual punishment."
Attorney Raymond Johnson says the point of contention is the fact that this is happening once people have already paid their debt to society.
"They're going to challenge it under the 8th Amendment Constitution. They're going to claim that it is cruel and unusual punishment for someone who has served their time and for the rest of their life have to be castrated," Johnson said.
The bill was initially introduced by Republican congressman Steve Hurst, who recently told CBS42 that the punishment fits the crime.
"I had people call me in the past when I introduced it and said don't you think this is inhumane? I asked them what's more inhumane than when you take a little infant child, and you sexually molest that infant child when the child cannot defend themselves or get away, and they have to go through all the things they have to go through. If you want to talk about inhumane – that's inhumane. If we do something of this nature it would deter something like this happening again in Alabama and maybe reduce the numbers," Hurst said.
This is a practice that is actually not legal throughout most of the United States. There are only 8 states that currently allow chemical or surgical castration for extreme sex offenders, but even in these states, it is rarely ever actually used. Under Alabama's new laws, this would be happening to every prisoner that fit the criteria, by law.
In 1996, California became the first state to pass a law allowing for chemical castration of certain sex offenders. In the years that followed, Florida, Georgia, Louisiana, Montana, Oregon, and Washington also passed similar laws.
However, as previously mentioned, the guidelines in most of these states are very loose, and this type of measure is rarely enforced, even in cases of crimes against children.
Chemical castration is an extreme measure for a modern industrialized society, but there are some cases where it could be plausible, according to experts. Earlier this week, we reported on the story of a disturbed man from the United Kingdom who avoided jail time after his third time getting caught with large stashes of child abuse images and videos.
The 36-year-old man was arrested with over a million illegal files on his home devices, which depicted graphic scenes of child sexual abuse. For over a decade, this man has been in and out of courthouses, repeating the same crimes over and over again.
This case is slightly different because the suspect only had images and videos, and because there was not a specific underage victim involved.
However, the drive to repeat the same crime over and over again is very similar among these types of predators. In cases where a predator has many underage victims and repeated offenses, a punishment like this is not unreasonable.
Alabama's governor Kay Ivey has been in the national media spotlight for past several months, due to another piece of controversial legislation in the state. This May, Kay Ivey found herself at the center of a national debate on abortion, after signing one of the most restrictive abortion laws in the country.
The legislation, called House Bill 314, "Human Life Protection Act," bans all abortions in the state except when "abortion is necessary in order to prevent a serious health risk" to the woman. The bill will reclassify abortion as a Class A felony, which will be punishable by up to 99 years in prison for doctors who carry out the procedure.
However, the 74-year-old governor shocked her constituents this week, by signing a bill that legalized medical marijuana in the state. Kay Ivey has been the governor of Alabama for just two years, since 2017.
Security camera captures strange creature like an Elf
When we talk about creatures like elves, we immediately think of mythical stories like Lord of the Rings, Harry Potter and World of Warcraft.
However, to think that they can exist in our world is practically impossible. Imagine the surprise of a citizen of the United States when she found a similar creature in her security camera …
Since the first civilizations there have been stories of monsters, beasts and mythical and legendary creatures that have shared the world with different cultures. Even today, there is a belief that strange beings coexist with humanity, keeping hidden from the eyes of people.
Stories about how they lived and how they related to the human world have been transmitted between generations to this day. Even, mentioning certain people with a spatial gift to see them.
Be it myth, legend or reality, it never ceases to amaze us all, that is why we understand the reaction of Vivian Gomez, a citizen of Colorado, United States, who was totally shocked when she checked the security camera of her home when she woke up and the images, he found the silhouette of a creature similar to an elf walking very close to his car, which was in the parking lot of his house.
The creature, as you can see in the video, is extremely small, with long, pointed ears, frighteningly like an elf. However, the video only lasts nine seconds, so we do not know what happens next. It was there when Gomez decided to post the video on social networks in search of answers.
The publication, as expected, went viral all over the world in a matter of hours. Inclusive, media (as we mentioned above, are covering all kinds of strange phenomenon for some unknown reason) showed the video, which had already reached seven million reproductions and was shared in one hundred and thirty thousand occasions.
An immense number of users assured that it is more evidence that mythological beings not only existed, but actually exist, although they remain hidden from humans, although we can sometimes see them thanks to technology.
However, it can not be ruled out that it is an extraterrestrial. As a curiosity, many people highlight the enormous resemblance that has with the fictional creature of the Harry Potter saga, Dobby, the house elf.
Obviously, the skeptics have also spoken, ensuring that it is most likely that it is a child. However, the hostess said that the video was taken almost at eleven o'clock at night and, in her neighborhood, there are no children on the street at that time. Do you think the elves live among us?
80-mile-wide 'storm' is swarm of ladybugs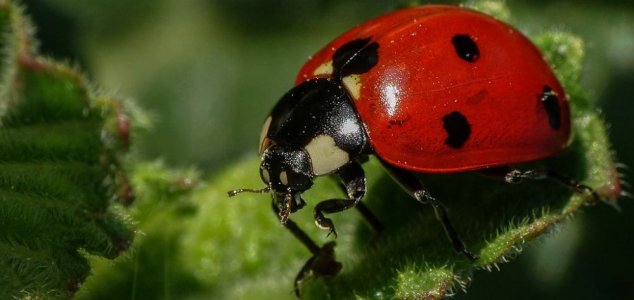 Image Credit: CC BY 2.0 Gabriel Gonzalez
The ladybugs spent the winter up in the mountains.
A storm that appeared on National Weather Service radar recently turned out to be something else entirely.
The vast swarm of insects, which covered a 6,400-square-mile region of Southern California, showed up on June 4th at an altitude of up to 9,000ft.
"The size of that is bewildering," said ladybug expert Tim Kring from Virginia Tech University.
It is believed that the ladybugs had spent the winter engaged in a form of hibernation up in California's Sierra Nevada mountains before waking up to find food as the warmer weather settled in.
The National Weather Service was able to tell the swarm apart from a meteorological event because the skies over the region were clear at the time and there was no rain.
A weather spotter also observed the cloud traveling towards the San Diego area.
These particular insects, which are known as convergent lady beetles, will ultimately lay their eggs and die after they have eaten enough food and the next generation will begin the cycle anew.
The large echo showing up on SoCal radar this evening is not precipitation, but actually a cloud of lady bugs termed a "bloom" #CAwx pic.twitter.com/1C0rt0in6z

— NWS San Diego (@NWSSanDiego) June 5, 2019
Source:
Mashable