Another Side of The Music Industry: Monarch Mind Control
An alter ego. It's a term that we are all familiar with, and in many cases love to use when describing (either legitimately or playfully) the reasoning behind doing something we aren't regularly noted to partake in. By definition an alter ego is recognized as a second self which displays characteristics, behaviors or holds belief systems noticeably different from our primary self. Amongst celebrities the creation of an alter ego has become more than a popular thing, with several prominent figures at the forefront of entertainment currently embracing their so-called 2nd self – Beyonce's 'Sasha Fierce,' Eminem's 'Slim Shady,' Nicki Minaj's 'Roman Zolanski' and Lady Gaga's 'Jo Calderon' to name a few.
"Sometimes if it's really early in the morning, Roman gets cranky and doesn't want to get out of bed. Roman…wants to stay out all night and not wake up so I send Nicki into the world." – Nicki Minaj
Alter ego recognition has become so popular and mainstream that even an entire children's program, Hannah Montana, was dedicated to the storyline of a preteen needing to create an alternate persona to help separate her famous from normal self.
With alter egos being thrown around so casually throughout the entertainment world, is it any coincidence that the creation of an alternate persona is the primary goal of Monarch Mind Control -an extension of the well recognized and CIA developed MK Ultra? In full, Monarch Mind Control (MMC) is noted as a mind control technique that combines occult rituals, psychology and neuroscience to create an alter ego within a desired subject. Within MMC the subject is often referenced to as 'the slave,' while those responsible for both applying the technique and activating it are known as 'the handlers.' It is believed by many that once fully programmed, monarch slaves are then used on demand by an elite group to carry out rituals, performances, deliver messages, etc. that are in-line with a desired outcome.
Am I, through this article, saying that MMC is the cause behind each of the alter ego's in entertainment today? Not at all. Nor am I even stating it's existence as a 100% fact. I'm just presenting some interesting and noteworthy findings in relation to the theory. It's up to you as the reader to decipher whether or not what I present resonates as true or is merely a coincidence.
The History of Monarch Programming Mind control techniques have been noted throughout history dating as far back as Ancient Egypt. However mind control did not enter the realm of science until the 1930′s when a physician by the name of Josef Mengele brought it into full practice within Nazi concentration camps. The majority of Mengele's research within mind control remains classified to this day, however some has slowly come to the surface including the recognition of it being the basis for the covert CIA research program MK Ultra.
MK Ultra is widely known to have run throughout the 1950′s and 1960′s and is admittedly said to have been done for the purpose of developing the best torture and interrogation methods to later use on enemies of the state. The testing is said to have included, but is not limited to: the administering of LSD, electroshock, physical abuse, isolation and sensory deprivation, and was conducted on both adult and children test subjects. Once light was shed on the existence of MK Ultra in the 1970′s, the CIA quickly stepped forward saying that it had stopped all such experiments. Since that point however, several whistle-blowers have come forth saying that the project merely went completely underground with MMC being the classified continuation.
As a continuation, MMC is said to use intense trauma and unbearable pain, through some of the previously mentioned methods, to force subjects to dissociate from reality. The dissociation is believed to be critical in unlocking the ability to create a secondary persona within the slaves psyche that can then be programmed and activated at will by the handler.
In a controversial and courageous speech held in 1992, well-respected author and psychologist Dr. Cory Hammond delved deeper into the process of MMC shedding light on how exactly the process works. His research was founded in speaking to fellow therapists and specifically recommended clients across the country, identifying a number of common brainwashing techniques. Here are some key excerpts from his talk:
When you find the same highly esoteric information in different states from Florida to California and from different countries, you start to get an idea that there's something going on that is very large and very well coordinated. So I have gone from someone not knowing what to think about it all to someone who clearly believes ritual abuse is real.

What they basically do in these programs is they get a child and start programming in basic forms, it appears, by about age two and a half, after the child's already been made dissociative. They'll make him dissociative not only through abuse, like sexual abuse, but also things like putting a mousetrap on their fingers and teaching the parents, "You do not go in until the child stops crying. Only then do you go in and remove it." They start in rudimentary forms at about age two and a half and kick into high gear, it appears, around six or six and a half. They continue through adolescence with periodic reinforcements in adulthood.

"What's the purpose of it?" My best guess is that they want an army of Manchurian Candidates, tens of thousands of mental robots who will do prostitution, child pornography, smuggle drugs, engage in international arms smuggling, do snuff films, and all sorts of other very lucrative things. These Manchurian Candidates will do the bidding of their masters, so that eventually the megalomaniacs at the top believe they can create a Satanic Order that will rule the world.
One of the most powerful examples Dr. Hammond also brought up in his talk was the findings of Bernard Diamond, who had worked with Sirhan Sirhan, the individual incarcerated since 1969 for the murder of Robert F. Kennedy. To this day Sirhan has total amnesia of the act of killing Kennedy, but when under hypnosis is able to remember it all in great detail. Does this potentially suggest that Sirhan's action was a byproduct of MMC? That perhaps his dissociated alter ego had been programmed and activated to carry out this "manchurian-esque" act? We can't say for sure, but it certainly is worth considering.
Lee Harvey Oswald, Sirhan-Sirhan, Charlie Manson, John Hinckley Jr., Mark Chapman, David Koresh, Tim McVeigh and John Salvi are some notable names of infamy, strongly suspected of being pawns who were spawned by MKULTRA – Ron Patton
It is also worth noting that shortly after delivering this speech, Dr. Hammond completely stopped all research and talks on the subject. The primary reasoning: the alarming number of threats (including death threats) that he had received in response to his revelations. Could these threats have come from those hoping to keep MMC out of the public eye? Potentially, but once again it is certainly worth considering.
Potential MMC Victims in Pop Culture We have all seen it by now. For many of us, I'm sure more often than we would have probably liked to. What I am referring to is the "performance" that Miley Cyrus put all of humanity through at the 2013 MTV Video Music Awards. From the incessant gyrating, to the sexually derogatory humping, to her incredible inability to keep her tongue in her mouth, Miley sure did a great job at seeming like someone who had been monarch programmed. The fact that the performance directly coincided in timing to some of the most critical moments in the Global Crisis in Syria, I'm sure was merely a coincidence. The last thing those in governing power would want is for the vast majority of North America to be more preoccupied with a 20-year-old twerking rather than a pending third world war right? Again, it's simply worth considering.
Whether or not it was intentional, it certainly worked. A statistical analysis run by Michael Lofti, a Persian-American Political Commentator, found Google search interest ratings (scale of 1 to 100) for 'Miley Cyrus' jump and stay at 100 while 'Syria' fell to a disappointing 2 over that same time frame.
Many believe the performance itself was even littered with symbolism suggesting that Miley truly is 2013′s intentional version of America's 'good girl gone bad.' Rather than go into this symbolism myself I simply suggest that those who are interested take the time to read this FULL BREAKDOWN put together by those at The Vigilant Citizen.
Miley is certainly not the first celebrity to find themselves suspect to potential MMC manipulation. Britney Spears is perhaps the most infamous American sweetheart to eventually find herself a living example of an individual under manipulation. Britney's marquee performance also coincidentally took place at the MTV Video Music Awards, 10 years prior to Miley's debacle, and featured the infamous make-out extravaganza for music legend Madonna, who took the time to publicly lock tongues with both Britney and Christina Aguilera as part of a live performance. It was the kiss that officially sealed Britney as America's new 'bad girl' with the content of her music supporting that, gone were the days of innocence and 'Oops I Did It Again,' and in stepped in the days of uncontrollable sexuality and 'I'm A Slave 4 U.'
Aside from both publicly becoming entertainment's 'good girl, gone bad' on the same platform, what do Britney and Miley also have in common? They both shaped their good girl images through childhood careers with Disney. Disney coincidentally has been linked on numerous occasions to potentially having its films used as a part of MMC and is also believed by many to be one of the leaders behind it.
…Disney movies and the other shows are so important to the programmers. They are the perfect hypnotic tool to get the child's mind to dissociate in the right direction…Most of the Disney films are used for programming purposes. Some of them are specifically designed for mind-control. – Fritz Springmeier, The Illuminati Formula to Create a Mind Control Slave
If Britney truly was victimized by MMC than the toll it seemed to take on her over time is certainly worth noting. Drug use, mental instability, questionable parenting choices and the random shaving of her head are just some of the behaviors that many have brought into question in regards to Britney over time. Perhaps the strongest piece of evidence to potential manipulation and the existence of a secondary persona within Britney came in an interview she had with Diane Sawyer, which you can watch below.
Whether or not Miley will find herself on a similar path one cannot know at this time, but the early signs and similarities are certainly worth noting, especially considering the sexual turn that Miley's music, much like Britney's before her, has recently taken.
Monarch Symbolism In Entertainment The all-seeing eye, demons, ancient symbols and baphomet are just a few of the reoccurring items and themes that seem to love appearing, usually in completely unrelated ways to the content, throughout music videos, movies and TV shows. Their existence is one thing that I feel can certainly be stated as a fact, see any of the following music videos and tell me that it all is either mere coincidence or directly related to the songs content and I will be shocked:
Lil Wayne – Love Me (Explicit) ft. Drake, Future
Ke$ha – Die Young
Lady Gaga – Alejandro
Katy Perry – Wide Awake
Britney Spears – Hold It Against Me
Nonetheless, if you do truly feel that these symbols were fitting and not purposely placed I do respect that opinion, I also invite you to search for a breakdown of any of the above listed videos to make sure that you are made aware of some that you may have either missed or may not be aware of. It's also worth noting that these 5 videos are not the only ones out there, they are simply a small sample size of the hundreds if not thousands that seem to feature these symbols to varying degrees.
Assuming that these symbols/ themes do recur, the question now becomes why? Could it be a level of programming that they are attempting to inflict on us the viewers? Could it be to desensitize us to their existence and placement throughout society? Or could it simply be artistic coincidence? In my opinion, the best answer to that question lies within. Let this article simply be a starting point for your own research and findings on all of the aspects of both MMC and MKUltra, there really is a lot of information and well-formulated opinions out there that are worth considering. Once you have done your research, see what resonates with you as true and don't be afraid to stand by it even if it isn't in-line with popular opinion. No matter which side of the spectrum you stand on having an awareness towards this subject is important, and that's why I felt inspired to write this article.
SOURCES Vigilant Citizen – http://vigilantcitizen.com/hidden-knowledge/origins-and-techniques-of-monarch-mind-control/#fn-12502-5 Zap2It – http://www.zap2it.com/news/pictures/-celebrities-with-alter-egos-pictures,0,3940742,showall.photogallery Vigilant Citizen – http://vigilantcitizen.com/musicbusiness/mtv-vmas-2013/ Examiner – http://www.examiner.com/article/courageous-professor-silenced-after-talk-on-cults-ritual-abuse-and-mind-control Whale.co – http://www.whale.to/b/monarch_q.html Christian Post – http://www.christianpost.com/news/american-media-ignore-syria-crisis-possible-wwiii-to-cover-miley-cyrus-vma-controversy-analysis-finds-103306/ Vigilant Citizen – http://vigilantcitizen.com/musicbusiness/britney-spears-mind-control-and-hold-it-against-me/
What The Economist predicted for 2021 and for what purpose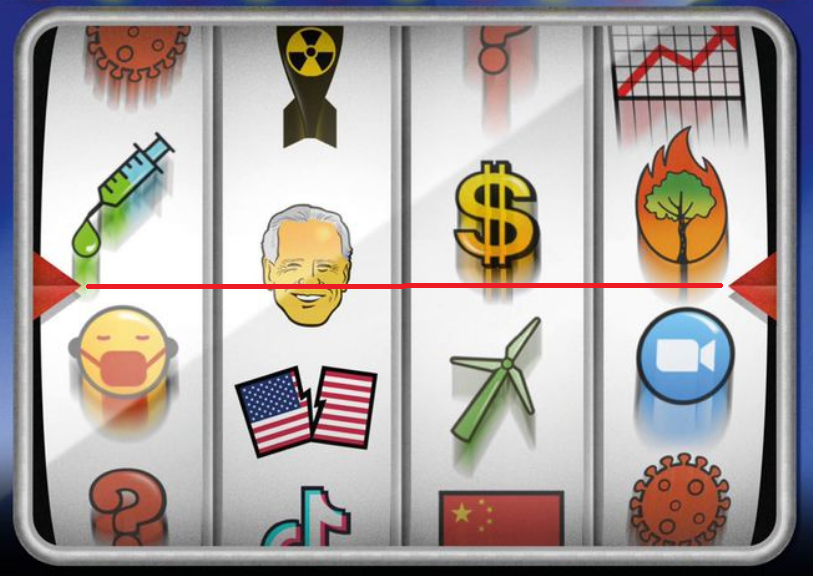 In mid-November 2020, The Economist magazine gave the world's conspiracy theorists a new bone in the form of another forecast cover for 2021 or more. Everything, as the conspiracy theorists believe, is within the framework of the old and ancient rule of the owners of this world: they must inform the flock of their plans for the future, which, according to universal principles, removes responsibility for their actions from great leaders.
Great bosses, at least for some reason, think so.
This is what the owners of The Economist wanted to tell us.
In the past, the people discussed each new cover of The Economist with terrible force, trying to guess the dates of the coming star, however, now there is no particular excitement. This is partly due to the fact that with the arrival of the coronavirus, the star has almost arrived, and the only thing that is still unclear is how and when its final stage will be.
We need to note of course that all the decryptions of the past covers did not come true – although there were several very significant hits.
Nevertheless, the picture is still discussed, since closer to the final everything is almost in plain text: a one-armed bandit with four drums, one of which stopped on the face of Mr. Biden or a person similar to him. On this basis, everyone in unison interpreted the stopped drum as a toughly resolved issue, the alternative to which was either a split in the United States or an atomic war. However, in fact, everything is there for a reason.
You don't need to look too closely at the cover to notice
The drawing divides a diagonal shadow, which practically none of their symbols on the drum captures – it shares only a symbol with Biden, something like this: Why such a direct allusion to some kind of rebirth and who is hiding behind the mask / back of Mr. Biden is unclear.
Although, judging by the position of the drum, in any case, whoever was hiding there won. The second point, which was not noticed by any of the YouTube "deciphers of the Illuminati messages" is the rising of some luminary at the base of the machine.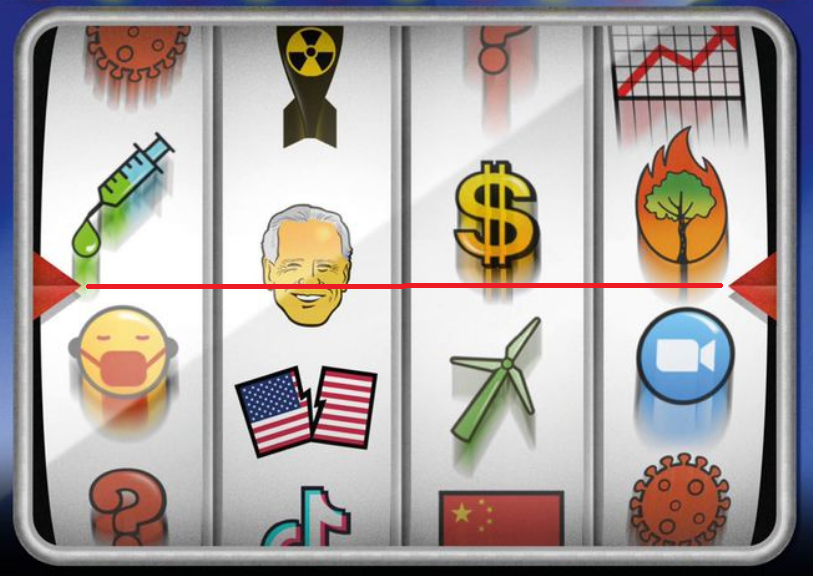 The luminary did not get into the frame, only its rays are visible, but these rays are suspiciously red. Moreover, they are red against a reddish sky. Does this mean that in 2021 we will be shown Nibiru or is it something else ascending – no one, except, of course, the Reptilians, even knows.
Finally, the virus deserves special mention, which is drawn on two reels. Why is the virus next to the vaccine in the first – it seems to be understandable, but why the virus is in the fourth? Therefore, it will not be a coronavirus, but some other pathogen?
All other symbols presented are obvious: a vaccine, a baby in a muzzle, TikTok, a Chinese flag, Skype with a TV camera, as if hinting at remote communication. Some other graph, which everyone interprets as economic growth / inflation, but it can also be an increase in mortality. It is not very clear, however, with the American flag: is this an allusion to the division of American society, or will America really split in half?
In one of the recent current covers, The Economist has already laid out a calendar with a volcano and an asteroid, so anything can happen with a split of the continent, but the main thing that is incomprehensible here is completely different.
It is unclear: is this a global plan that can be replayed by some other player who has approached the machine, or is it such an ultimatum that is no longer subject to discussion? We will not know the answer to this question before December 2021.
Poison, alien rays and black magic: The story of the unexplained death of conspiracy theorist Max Spiers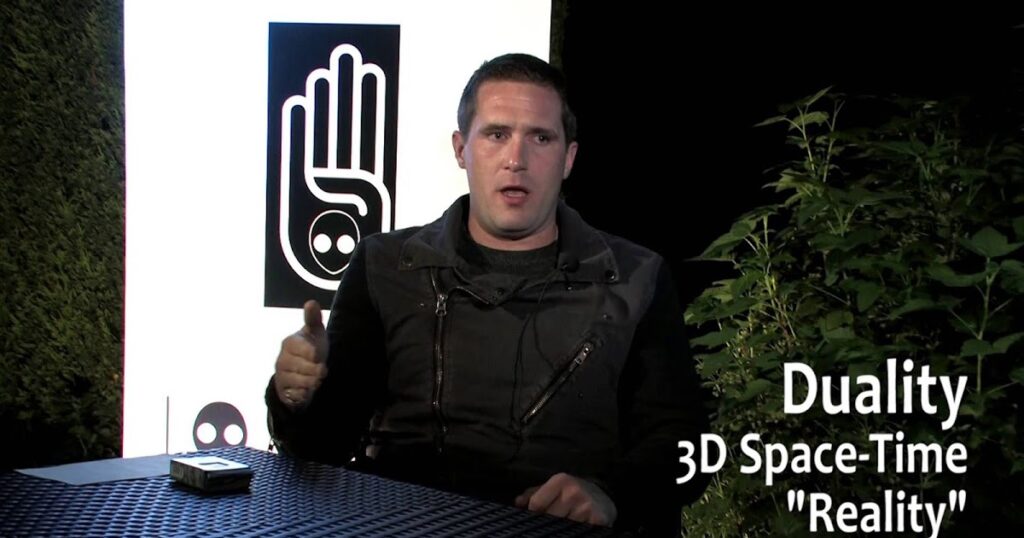 The researcher was preparing to reveal information to the public about a black magic circuit, in which a number of politicians and celebrities participated. According to 31-year-old Sarah Adams, who was engaged to the unfortunate man, Spiers had spent the last months of her life researching a black magic practice circuit in which celebrities were involved.
Was he poisoned, struck by alien rays or killed by black magic – in the versions of his fans and journalists, the truth collides with the most insane theories.
The father of two children, 39-year-old Spiers died in July 2016 at his friend's house in Warsaw, a death so strange that her circumstances were studied in Poland and the UK, albeit without much success.
The Polish police focused on the "natural causes" of his death, without even doing an autopsy, which caused the outrage of his relatives and fans. When the body of the British arrived at home, forensic experts could not even determine the cause of death. Then, in December 2016, the coroner's inquest was launched, which is still dragging on.
It is only known for certain that the conspiracy theorist before his death was sick of blood or some kind of black liquid.
Mr Spiers fell ill, had a fever and general weakness. The next day Mr. Spiers vomited two liters of black liquid. A friend called a doctor who tried to resuscitate the patient, but later admitted the fact of his death

from the official statement of the coroner.
Demons and super soldiers
Spiers went to the same school with actor Orlando Bloom, but he is not remembered for that. He was an unusual person even by the standards of his circle. Having spent many years searching in the X-Files style, Max has gained popularity among ufologists and conspiracy theorists as a bright orator who is not afraid of the most shocking statements. For example, he received his nickname "Super Soldier" for claiming that from birth he was part of a secret government program to create elite warriors. However, Max failed to prove this.
What absurd claims Spiers did not make, the last days of his life are indeed shrouded in mystery. In many interviews and TV programs made in the wake of this story, several main points are repeated: he conducted a new investigation, received threats from unknown persons, tried to warn his relatives about something before his death.
Shortly before his death, Spiers began studying the biographies of rich people: businessmen, politicians and show business stars . His mother Vanessa Bates told about this, without naming specific names. Two days before his death, he sent an extremely strange SMS, in which he actually predicted his death.
Your son is in danger. If something happens to me – investigate

SMS to Spiers' mother
When the mother was given the late son's computer, all of his records were deleted, she recalls. In her opinion, Max's investigation led him to "dark places", someone seriously wanted him dead. "He was a very tough man in his prime, and yet he just took it and died on a sofa in Poland," Bates marveled.
The popular conspiracy theorist was killed by Satanists in order to expel demons from him, some say with reference to his girlfriend. According to her, Spiers managed to call her from Warsaw and tell her that he was there against his will. Allegedly, devil worshipers seized him and tried to "reprogram", for which they gave him a substance that immersed him in a coma for two days.
"Max could not escape because he was kept in a house in the woods, he was surrounded by a fence under electricity. He said something "demonic" was going on, he had to get out and find a church or some other holy place. But two days later, he was dead, " Adams quoted the Sun tabloid as saying.
There is no confirmation of this conversation, but Adams repeatedly mentioned in conversations with reporters Spiers' investigation of a secret society of Satan fans associated with the highest circles of power and show business .
We've received death threats before, but this time they looked real. They wrote to us that we would both die … He was going to expose black magic, it was associated with political leaders and celebrities

Sarah Adams
Looking for the truth
Every day there are fewer and fewer opportunities to reliably establish the cause and culprits of Spiers' death. Many of his acquaintances and fans believe in the hand of the "world government" or a blow struck from outside our planet. Being killed by agents of the secret world government is the highest compliment, proving that you are a huge danger to them and their plans, the popular UFO blog Exopolitics writes.
Max Spiers used to say, among other things, that the masses have undergone a kind of hypnosis and live in a Matrix, with brainwashing in the media and their valid sources, etc., because they are "programmed".
Other material provides a long list of UFO researchers and scientists who have allegedly died a violent death. "Death from a headshot. Death that looks like poisoning, death that looks like strangulation, death as a result of the possible implantation of a deadly virus … This only confirms the long-known fact that the life of an experienced ufologist is much shorter than usual," says the journal Paranoia.
But there is a more prosaic explanation for Spiers' death. The BBC channel devoted its own investigation to this story, during which it learned about his addiction to drugs. Several years ago, he accidentally suffered a pelvic injury, began taking painkillers, and soon allegedly switched to heroin. In the video, filmed shortly before his death, the conspiracy theorist is allegedly "high", according to one episode of the project. Spiers' mother feared for his mental health and worried that he was hanging out with the wrong people.
Could Spiers' death be a banal heroin overdose? We wouldn't have to guess if the Polish authorities had given an immediate answer. While it remains to wait for the end of the coroner's inquiry – its results may give the UK the opportunity to start an international investigation.
What do Flat Earth advocates think of chemtrails?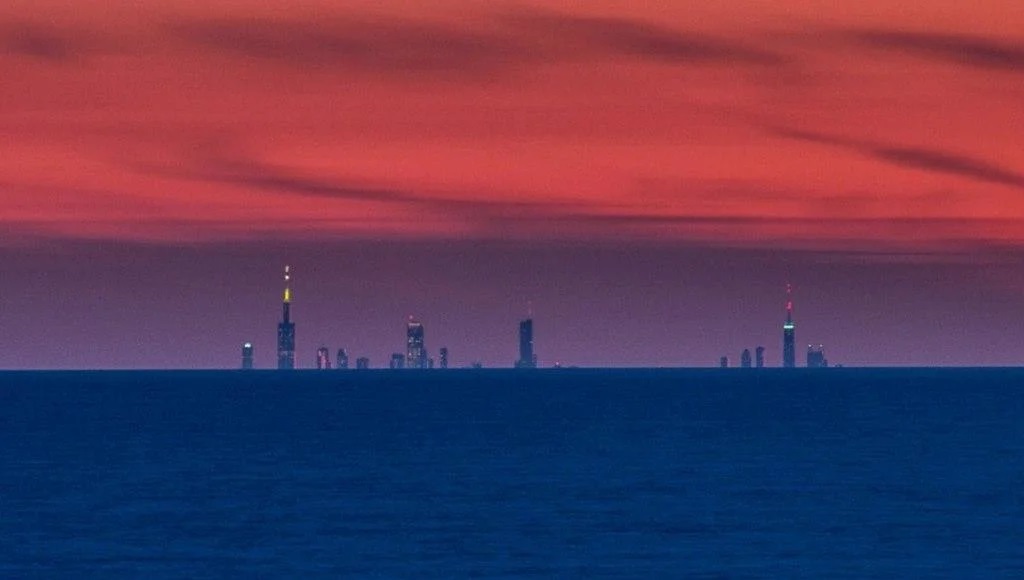 One of the eternal discussions that appears from time to time on conspiracy platforms around the world is the endless debate about the shape of the Earth. Some people believe that the Earth is a sphere that dangles around the Sun, while other people believe that we live in a circus, which is flat, like any arena. 
The day before, this discussion flared up again – in particular, under the impression of one of Elon Musk's videos, which people watched carefully:
In the video, the camera periodically turns on, looking at the engine of the last accelerating stage, the view from the lens leaves no doubt that the Earth is spherical:
However, from time to time, something happens to the lens and the Earth looks for some reason flat, like a table:
This phenomenon cannot be explained by the approximation function, since the size of the engine does not change and therefore it seems that the rounding of the Earth is achieved by a combined survey, during which some manipulations with the background are carried out.
Below is the video from a NASA satellite, from which one can think that something is flying fast near the Sun and is the size of Jupiter:
Another photo with the Sun:
This is only the catch of ufologists for a week, and so something constantly revolves near the Sun. Everyone would gladly think of shooting artifacts, but there have been a lot of artifacts lately, thus there is a suspicion that the Sun itself in SOHO frames is also an artifact, that the Earth is flat like a steppe and that we are shown in the sky a movie about The sun.
Most of the people who are under the yoke of the education of the Secondary School, for some reason, are sure that, totally misinterpreting everything, about something, but about the shape of the Earth, the textbook is not lying, and therefore it is heresy to challenge the textbooks. However, what does Round Earth have to say bout the chemtrails that have been sprayed in the sky for decades?
The Round Earth has nothing new to say about this. Nevertheless, if we assume that the Earth is covered with a kind of dome, then what will happen to the substances sprayed from aircraft in 10 years or more? From the Round Earth, these wonderful chemicals will escape into space, but on Flat Earth, all this chemistry will remain under the dome, as a result of which the owners of the circus will have the opportunity to turn on the "Project Blue Beam", during which "the sky will roll into a scroll" or something like this.
Naturally, "Blue Beam" can be turned on without a dome – for example, by organizing a broadcast from satellites. But it will take a year at most to prepare such a performance, since all the chemistry that can be used for the screen evaporates very quickly – no aerosols can fly in the atmosphere for decades. Meanwhile, chemtrails have been around for many, many years. That is, one gets the impression that something keeps this chemistry from above and makes it possible to build a screen for slides for years, forming a matrix layer by layer.
But what's the point in all this? – convinced supporters of the round Earth will ask us. The sense in this is that if there really is a dome above the Earth, then the screen can be made denser – with a good resolution, like on an advanced monitor. On such a screen, it is possible to show such tricks that the fake cannot be recognized even through a telescope.
Therefore, if the Earth is flat and covered with a dome, the "Blue Beam" may not be limited to alien ships hovering over cities, but even turn into a journey to other star systems through a wormhole, after which we will have a completely new sky overhead, but all these are just theories and one day, we may know.