Another Intriguing Epstein Connection
(Joseph Farrell) If you're following all the stories swirling around the murder of Jeffrey Epstein, you'll definitely be interested in this one. But first, a little context. Last Friday I blogged about the human trafficking problem and came up with certain speculations.
In that blog, I indicated that there were several features of human trafficking networks that had to be present in order for it to work: (1) there had to be a covert means of moving people around under the eyes of authorities, such as military cargo planes or other military transports, or private planes and transports, (2) a way of "tracking" the movement of "inventory" and corresponding money flows, and (3) the willing participation of major banks in the nefarious activity via compromised or infiltrated managers in a position to handle and launder the money from such "business."
With that context in mind, consider this article, shared by V.T., to whom I am  grateful for passing it along:
Former Israeli Intel Official Claims Jeffrey Epstein, Ghislaine Maxwell Worked for Israel
Now for those of you who've been paying attention for a very long time, the name of Ari Ben-Menashe will sound very familiar, because he was one of the names that kept popping up during the Reagan years as being involved in the Iran-Contra affair:
In an interview last week with the independent outlet Narativ, Ben-Menashe, who himself was involved in Iran-Contra arms deals, told his interviewer Zev Shalev that he had been introduced to Jeffrey Epstein by Robert Maxwell in the mid-1980s while Maxwell's and Ben-Menashe's involvement with Iran-Contra was ongoing. Ben-Menashe did not specify the year he met Epstein.
Einstein: E= Epstein Didn't Kill Himself 
Ben-Menashe told Shalev that "he [Maxwell] wanted us to accept him [Epstein] as part of our group …. I'm not denying that we were at the time a group that it was Nick Davies [Foreign Editor of the Maxwell-Owned Daily Mirror], it was Maxwell, it was myself and our team from Israel, we were doing what we were doing." Past reporting by Seymour Hersh and others revealed that Maxwell, Davies and Ben-Menashe were involved in the transfer and sale of  military equipment and weapons from Israel to Iran on behalf of Israeli intelligence during this time period.
And again, if you followed all of that back in the 1980s, you'll be aware that another name keeps popping up in connection with Iran-Contra: Adnan Khashoggi. Sure enough…:
However, as MintPress reported in Part IV of the investigative series "Inside the Jeffrey Epstein Scandal: Too Big to Fail," Epstein was involved with several arms dealers during this period of time, some of whom were directly involved in Iran-Contra arms deals between Israel and Iran. For instance, after leaving Bear Stearns in 1981, Epstein began working in the realms of shadow finance as a self-described "financial bounty hunter," where he would both hunt down and hide money for powerful people. One of these powerful individuals was Adnan Khashoggi, a Saudi arms dealer with close ties to both Israeli and U.S. intelligence and one of the main brokers of Iran-Contra arms deals between Israel and Iran. Epstein would later forge a business relationship with a CIA front company involved in another aspect of Iran-Contra, the airline Southern Air Transport, on behalf of Leslie Wexner's company, The Limited.
So far, according to Ben-Menashe, Epstein was involved in a lot more than human trafficking.
Now, if you recall that period of history and were following all of its strange interconnections, you'll recall that Iran-Contra was also entangled with the strange Bush-Clinton nexus and to the allegations that a covert drug-running operation was being run by certain clowns in America through the airport at Mena, Arkansas, and you'll recall that the names Adnan Khashoggi and Ari Ben-Menashe kept popping up not only in relationship to the arms-hostages-drugs circus that was Iran Contra, but also in connection to the BCCI scandal (Bank of Credit and Commerce International, or as we like to call it here, the Bank of Crooks and Criminals International).
Finally, there was one more scandal that the names Ben-Menashe and Adnan Khashoggi also kept popping up; they kept popping up in connection to the PROMIS scandal, the theft of the database management system by Reagan's Department of Justice, its alteration by at least two players adding their own "backdoors" into the software, and its sale to, or arranged theft by, other countries for use in their intelligence agencies. (For those interested, I reproduce Ben-Menashe's affidavit on PROMIS to the American House of Representatives in my book Hidden Finance, Rogue Networks, and Secret Sorcery.)   And sure enough:
Thus, there are indications that Epstein was involved with Middle Eastern arms deals, including some related to Iran-Contra, during this period. In addition, Epstein would later claim (and then subsequently deny) having worked for the CIA during this period.

…

If Robert Maxwell did recruit Epstein and bring him into the "family business" and the world of Israeli intelligence, as Ben-Menashe has claimed, it provides supporting evidence for information provided to MintPress by a former U.S. intelligence official, who chose to remain anonymous in light of the sensitivity of the claim.

This source, who has direct knowledge of the unauthorized use of PROMIS to support covert U.S. and Israeli intelligence projects, told MintPress that "some of the proceeds from the illicit sales of PROMIS were made available to Jeffrey Epstein for use in compromising targets of political blackmail." As was noted in a Mintpress series on the Epstein scandal, much of Epstein's funding also came from Ohio billionaire Leslie Wexner, who has documented ties to both organized crime and U.S. and Israeli intelligence.
After the PROMIS software was stolen from its rightful owner and developer, Inslaw Inc., through the collusion of both U.S. and Israeli officials, it was marketed mainly by two men: Earl Brian, a close aide to Ronald Reagan, later U.S. envoy to Iran and close friend of Israeli spymaster Rafi Eitan; and Robert Maxwell. Brian sold the bugged software through his company, Hadron Inc., while Maxwell sold it through an Israeli company he acquired called Degem. Before and following Maxwell's acquisition of Degem, the company was a known front for Mossad operations and Mossad operatives in Latin America often posed as Degem employees.

With Maxwell — Epstein's alleged recruiter and father of Epstein's alleged madam — having been one of the main salespeople involved in selling PROMIS software on behalf of intelligence, he would have been in a key position to furnish Epstein's nascent sexual blackmail operation with the proceeds from the sale of PROMIS.

This link between Epstein's sexual blackmail operation and the PROMIS software scandal is notable given that the illicit use of PROMIS by U.S. and Israeli intelligence has been for blackmail purposes on U.S. public figures and politicians, as was described in a recent MintPress report.
Observe that if these allegations are true, then we have present in the Epstein affair all three essential components for his participation in a much larger network, for we have (1) a means of shuttling the "inventory" around that won't raise suspicion, namely Epstein's private planes, but also any transport that could have been supplied to him by his covert intelligence connections, and (2) a way of tracking the inventory and its money flows, and additionally, the blackmailed "clients", provided by bootlegged copies of PROMIS or possibly by backdoors added into intelligence agencies versions of that software, or by granting the necessary passwords for access to it, for the express use by that trafficking network, and (3) the  willing  participation of banks in the process, represented here by the presence of BCCI hovering on the edges of these relationships, via Adnan Khashoggi's strange connections to it.
Note, that my speculation here is somewhat different than the article's, in that I'm urging that Epstein's connection to the PROMIS scandal may be much more than merely via a contacts with those connected to it, but rather, that if one wants to run a network such as this, trading in drugs, arms, and humans themselves, then an inventory and cash-flow tracking system has to be a component. But other than that, the implied presence of those three components, plus the connections of Epstein to other famous scandals, now provides an explanation for why he had to be "suicided." It is much more than simply a decision taken to roll  up a network whose overhead has become too costly to maintain. The network itself was not only highly profitable, but given Epstein's long association with it, was also profitable from the standpoint of the sheer influence it garnered for itself. And if, as this article avers, he was a part of it going all the way back to the Reagan era, then he may have known a great deal about how so many things interconnected.
The real "Epstein black book" was in his head, and he had to be silenced.
See you on the flip side…
About The Author
Joseph P. Farrell has a doctorate in patristics from the University of Oxford, and pursues research in physics, alternative history and science, and "strange stuff". His book The Giza DeathStar, for which the Giza Community is named, was published in the spring of 2002, and was his first venture into "alternative history and science".
Why the storm on Area 51 did not take place and what happened to those who still decided to try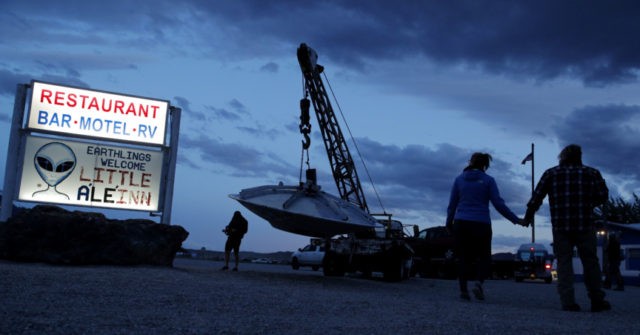 In Lincoln County (USA, Nevada, 140 kilometers from Las Vegas), near the towns of Heiko and Rachel (their total population is only 173 people) is one of the most secret places on Earth – the so-called "Area 51". Until 2013, this area was classified, no data could even be found on the Internet. In fact, the US military base is located there, where, according to many journalists, the study of alien life forms is being conducted.
At the end of 2019, more than 2 million Americans planned to launch an "storm on Area 51" to finally understand what the U.S. military had been hiding for so long. How did it all end?
How did it all start?
There are no detailed data on Area 51 in the public domain. According to analysts, previously there was a military base where experimental tests were carried out using aircraft. Repeatedly in these parts, eyewitnesses noticed unidentified flying objects. And so it was until 2013, when satellite images of the base did not appear in the public domain (they were subsequently deleted, but some of the images were preserved).
It was then that the base became "open", it was retrained into a training one. But many Americans do not believe this and claim that the main complex of "Area 51" is located underground. And the military base itself is just a cover from prying eyes.
You know that: it was in the area of ​​Area 51 that the top-secret SR-91 Aurora invisible aircraft was tested. According to eyewitnesses, visually it did not look like a familiar plane or a helicopter. It is possible that it was during the tests that they perceived it as a UFO, but the authorities did not provide any official comments on this subject. Since testing the SR-91 Aurora, the base has regularly increased in size.
Matty Roberts is an ordinary American who once jokingly posted a Facebook post to a humorous group, calling for an "Area 51 storm" to finally get evidence of aliens. This appeal, unexpectedly for everyone, was supported by more than 2 million Americans. And the date of the event was set on September 20, 2019. By the way, both Matty and the administration of the group where the post was originally posted, subsequently disowned this undertaking (and even deleted the post).
Subsequently, a new group was created dedicated to the storming of the closed territory, where it was already seriously proposed to "free the aliens." Information about the event took on a viral distribution, which was even a concern for US Air Force leaders.
Preparing for the storm and the reaction of the authorities
"Preparation" for the storming began on September 16th. At the same time, Heiko and Rachel became a refuge for all those who planned to visit Site 51. Almost a week earlier, the desert villages turned into a kind of center for the "alien festival". Already on September 17, more than 70 people came there as tourists.
Authorities were worried about the intention to conduct a "storm", arguing that the military had the right to use weapons against those who attempted to enter the restricted area under the Air Force's security. And a week before September 20, an additional perimeter with barbed wire and additional spotlights appeared around the base. The entire military base was transferred to enhanced security.
As early as September 17, some eyewitnesses attempted to break into the fence of Area 51. Govert Sweep and Tees Granzier were caught by the US military for trying to dig under the perimeter of the guarded facility. As a result, they were sent to court with the confiscation of all available equipment (worth about 10 thousand dollars).
Starting on September 18, the so-called "meme festival" began in Heiko. About 2 thousand people visited him. For the most part, they just listened to music, drank alcohol, danced. The media claimed that none of those present was preparing for a real storm on Area 51, and everything that happened was more like a huge open-air disco.
Storm Area 51
On September 20, at 16:45 local time, a storming was planned. About 80 people came close to the gates of Site 51. They were not aggressive, mainly took pictures against the backdrop of a military facility or talked with officers standing at the checkpoint.
All this was more like festivities. They even brought a huge flying saucer mockup, not to mention hundreds of "alien" inflatable dolls.
Eyewitnesses say that all this was prepared by those who planned to carry out the "storm". But the participants claim that many of the decorations were installed by the military themselves. Allegedly, in this way they tried to translate the whole event as a joke, to weaken the aggressive mood of the "attack aircraft". Who is right – now it's not possible to find out.
But as a result of the storming was recognized as one that did not take place. Of the majority of those present, no one came close to the checkpoint, since a fine of $ 1,000 was imposed for this with confiscation of property. The military did not use weapons, but they did not even allow anyone to approach the checkpoint. It is not known exactly how many military personnel were in Area 51 at that moment, but obviously ten times more than the "attack aircraft".
But several incidents nevertheless happened (according to the news bulletins):
One of the women present tried to climb under a barbed wire fence. In addition to the many scratches she received, she was subsequently fined 1 thousand dollars.
One of the men urinated on a barbed wire fence. He was also handed over to the local sheriff to draw up an offense report.
To all the rest, the military were as loyal as possible. Theoretically, almost everyone could have been arrested for being in a public place while intoxicated. But the officers preferred simply to "talk" with the "stormtroopers", without using either force or weapons.
What happened to those who decided to storm?
The most "affected" by the Govert Sweep event. According to a court decision, he was arrested for 10 days, adding to the penalty of a fine of 2 thousand dollars (for attempting to illegally enter a closed facility and for parking in the wrong place for this). Everyone else who tried to get into the base received fines of up to $ 1,000. There were no injuries after September 20, 2019. In total, the storming, which was originally considered a joke, was supported by more than 2 million Americans. The event has become so widespread that in 2020 the "festival" is planned to be held again. Heiko and Rachel hope so: villages can soon turn into a popular tourist destination
The Nuremberg Code and the ethics against the upcoming forceful vaccinochipization
Vaccination / chipization is moving by leaps and bounds and people around the world are already starting to think about how to avoid this miraculous manipulation. Of course, no one knows the laws, but in different countries the laws are also different, however, there is a universal law. It is called the Nuremberg Code.
The Nuremberg Code is an international document regulating the principles of conducting medical experiments and procedures on people. The Code was developed and adopted after the Nuremberg trial of doctors in 1947, as a result of which many, many citizens were sent to the gallows, in particular for the forcible administration of different vaccines to people. The code has only ten points and it reads:
1. The absolutely necessary condition for conducting an experiment on a person is the voluntary consent of the latter.
2. The experiment should bring positive results to the society, unattainable by other methods or research methods; it should not be random, essentially non-binding in nature.
3. The experiment should be based on data obtained in laboratory studies on animals, knowledge of the history of the development of this disease or other studied problems. Its holding should be organized in such a way that the expected results justify the fact of its holding.
4. When conducting an experiment, it is necessary to avoid all unnecessary physical and mental suffering and damage.
5.None of the experiments should be carried out if there is reason to assume the possibility of death or a disabling injury to the subject; an exception, perhaps, may be cases when research physicians act as subjects in carrying out their experiments.
6. The degree of risk associated with the experiment should never exceed the humanitarian importance of the problem that the experiment is aimed at
7. The experiment should be preceded by appropriate training, and its implementation should be provided with the equipment necessary to protect the subject from the slightest possibility of injury, disability or death.
8. The experiment should be carried out only by persons with scientific qualifications. At all stages of the experiment, those who conduct it or are engaged in it require maximum attention and professionalism.
9. During the experiment, the subject should be able to stop him if, in his opinion, his physical or mental state makes it impossible to continue the experiment.
10. During the experiment, the researcher responsible for carrying out the experiment should be prepared to terminate it at any stage if professional considerations, conscientiousness and caution in the judgments required of it, give reason to believe that the continuation of the experiment may lead to injury, disability or death test subject.
As American lawyers write, the key points are 1 and 6 – that is, the person involved in the vaccination must be capable to give consent; a person should be able to exercise freedom of choice, without the intervention of any element of force, deception, coercion, direct or hidden; the person must possess sufficient knowledge and understanding of the elements of the subject in question. The next universal legal document is called Article 6 of the 2005 UNESCO statement on bioethics and human rights. It is written there:
Article 6, section 1. Any preventive, diagnostic and therapeutic medical interventions should be carried out only with the prior, free and informed consent of the person concerned on the basis of adequate information. If necessary, consent must be expressed and can be revoked by the person concerned at any time and for any reason.

Article 6, section 3: In no case shall the collective agreement of the community or the consent of the community leader or other authority be a substitute for the informed consent of individuals.
Thus, any orders of a particular Parliament or a celebrated supreme leader on compulsory vaccination will violate Article 6 of the UNESCO statement on human rights and bioethics. Along the way, they violate the Nuremberg Code, in particular Article 1 and Article 6. It is still unknown how the authorities of different countries will try to circumvent these fundamental ethical documents.
Vaccination passports will be distributed soon, possibly in October

The Department of Defense announced on Tuesday it had a contract with ApiJect Systems America for $ 138 million to create a ready-made supply chain for pre-filled syringes: when the COVID-19 vaccine is available, syringes should be ready.
Under the contract, a subsidiary of ApiJect RAPID USA Inc. will act as part of the Project Jumpstart initiative to create a high-speed supply chain of pre-filled syringes using blown, filled and densified plastic technology, which will enable the production of medical-grade injection devices. The contract will be completed by October 2020.
ApiJect announced Tuesday that it also plans to increase syringe production in 2021, producing 330 million pre-filled BFS syringes per month by the end of the year.
"RAPID USA is led by our diverse team of experienced engineers, pharmaceutical technology experts and management. Our team has made tremendous efforts to ensure that all Americans can receive critical injections when developing and testing drugs, "says ApiJect Systems America CEO.
Concluding a contract for the early production of vaccine syringes is exceptionally good news, but two things confuse conspiracy theorists. First, what does the Pentagon have to do with vaccines? It is clear when this or that Ministry of Defense enters into a contract with a pharmaceutical company that supplies the military with disposable syringes with promedol or antibiotic there, but what does the Pentagon have to do with vaccines?
It is possible, of course, that the Pentagon wants to vaccinate the military first, but there we are talking about an order for almost one and a half hundred million dollars. It is unlikely that a disposable syringe costs 10 bucks, rather about a dollar, so it comes to vaccinating every US military ten times. It's a bit much even for people who are very protective of their health.
The second thing that bothers everyone is the entry on the company's official website:
Regardless of whether the health officials are conducting the planned vaccination program or the pandemic emergency response campaign, they can make better decisions if they know when and where each injection occurs. With an additional RFID / NFC tag on each syringe filled with BFS, ApiJect will make this possible.
Before making an injection, a healthcare professional will be able to launch a free mobile application and "touch" a pre-filled syringe with his phone, capturing a unique NFC tag serial number, GPS location, date / time. The application will then upload the data to a government-selected cloud database.
Here is such an interesting company, this ApiJect, which prepares not just vaccination syringes, but also RFID syringes. Judging by the description of the company, the chip with the identifier is located on the syringe itself, but who knows and who checks it? More likely, ApiJect received an order for syringes with a miracle vaccine from Bill Gates and in this case they will begin to distribute it around the month of October.