Angeline Moore's "Orphan Girl" Tombstone Story
Fifteen-year-old Angeline Moore's body was found beaten to death on Huckleberry Ridge, not far from Station Camp, on January 6th, 1872.
Although her tombstone calls her an "orphan girl," that is actually incorrect and her mother was alive and well and living in Kentucky.
Angeline had in fact been bound to a woman named Keziah Thompson, who lived near Huntsville. When the body was discovered, nearly fourteen miles beyond Huntsville, it presented a horrific appearance to those that discovered her body.
One eye was mashed in, the collar bone dislocated, and several ribs were broken, and bruises innumerable bore evidence of the most inhuman treatment. It was because of this that her body wasnt at first recognized and why when she was interred her tombstone was inscribed with the words "orphan girl".
The Knoxville Daily Chronicle described the finding of Angeline's body in the following way:
"The body bore evidences of brutality and inhumanity at the contemplation of which a demon might shudder. The affair has caused intense excitement. When found, the body was on a small path near the road. Her collar bone and one rib were broken. The left eye was mashed in, apparently by a severe blow, and the entire body, most horribly mutilated, bore witness to refined cruelty, which is at once sickening and a burning shame to advanced civilisation."
Initially, her body was simply buried. Soon afterwards, however, the disappearance of Angeline Moore became known, and her body was disinterred and a coroner's inquest was held. The body was recognised as that of the missing girl, and suspicion soon pointed to widow Mrs. Keziah Thompson, to whom the dead girl had been bound.
It was rumoured that the girl had been subjected to severe and cruel treatment, so inhuman that she was not given necessary clothing and shelter and in consequence had her fingers and toes badly frozen.
This led to a second degree murder indictment against Mrs Thompson and her daughter Sallie. A jury was unable to convict her however, resulting in a mistrial, and the two women were never tried again for the crime.
The only motive that could be given was by neighbours, who suggested the possible reason for the murder of Angeline Moore, by Mrs. Thompson and her daughter, is that some property held by them would in a short time, have reverted to the girl, and they, perhaps, wishing to avoid parting with it murdered her.
It is thought that Mrs. Thompson and her daughter took Angeline's body at night fourteen miles into the mountains, in order to avert suspicion from herself.
Angeline Moore is interred at Chimney Rock Cemetery in Oneida, Scott County in Tennessee.
By Paul Middleton, source: Ghosts, the paranormal, myths and legends
TV with no plug turns itself on inside an abandoned military building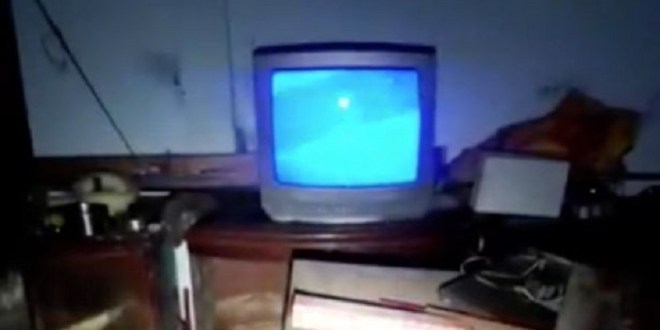 Shocking footage captured a TV allegedly turning itself on in a powerless derelict house that once belonged to a serviceman.
Zenith Chien, a self-proclaimed seeker of paranormal activities often streams his adventures on Facebook under the online persona Yao Yao.
However, in his latest video, Zenith got more than he bargained for while exploring the home of a former Republic of China military man.
His late-night adventures took him to an abandoned residence in Daliao District on 29th September in Taiwan's southwestern port city of Kaohsiung, where there is a large concentration of military dependents' villages.
Mr Chien's live stream, which lasted over 27 minutes, shows him exploring one of the homes last occupied by the widowed owner who herself passed away in 2016.
Most of the house's furniture, appliances and even kitchen utensils had been left in their places.
He then comes across a switched-on TV, but it soon gets very creepy.
"F**k! Why is the TV on? No, really? Why did the TV turn on by itself? It turned on by itself.
"How is there even electricity in a place like this? There is no electricity!" he says, testing the light switches.
After walking over to the TV, he realises the plug to the has been removed.
The spooky happenings quickly heard Zenith saying: "Sorry, sir.
"You watch your TV. I'm leaving."
He then ends the live stream by announcing: "That's it. That's all for today."
How the television managed to turn on by itself despite the apparent lack of power is still a mystery.
Mr Chien said the incident severely traumatised him and left him with unusual red-eye for several hours.
He said he went to pray at his local temple after the scare.
The villages known in Chinese as 'juancun' were built by the Republic of China military in the late 1940s and 1950s as provisional housing for members of the armed forces and their dependents following defeat to Chairman Mao's Red Army and the nationalist government's retreat to the island in 1949.
As many of the former servicemen have now died, their former homes remain abandoned and often neglected by their descendants who see no value in maintaining the properties.
Source: Daily Star
Levitating stones near the crystal mine were filmed on camera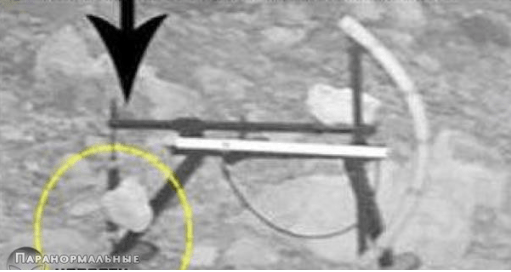 A small private quartz crystal mine called Board Camp Crystal Mine is located in Arkansas, near the town of Mena Where Levitating stones were captured on camera
It was opened in 2008, and work on the extraction of quartz in it began in 2012. The owner of the mine is Orville Murphy, who lives in the city of Mena with his wife Cherill.
Everything went fine, but in 2017, strange things began to happen in the mine and next to it, which Murphy himself and his workers and visitors to the mine noticed – there are also guided tours.
Mostly, strange flashes of light were noticed, but there were reports of incomprehensible shadows and even about UFOs.
Murphy decided to install a CCTV camera at the entrance to the mine, which reacted to the movement and took pictures every time something moved in the frame. And the camera captured something truly extraordinary.
The first inclusion of the camera recorded a stone hanging not very high above the ground, an ordinary stone that in many lay on the ground near the mine. The second inclusion of the camera occurred at the moment when this stone finally fell to the ground.
And then it got even weirder, whence a bright light started to flash from above and it was so intense that at some point the camera simply could not stand it and stopped working.
When Murphy uploaded the video to the network, he was interested in ufologists from the organization MUFON. They even decided to come to the Murphy mine and personally inspect everything there. For their sake, Murphy closed the mine for a while and all work stopped there.
"They told us that our video falls under 3% of real evidence of something unusual, while 97% of all messages that come to them on the site, as a rule, have neither photos nor video confirmations," Murphy said.
It should also be answered that Orville Murphy is a Catholic believer and was disturbed by unusual occurrences in the mine. He was afraid to be ridiculed or ostracized by local residents only for the assumption that his mine attracted aliens or ghosts.
Therefore, since 2017, Murphy has "sunk to the bottom." His mine works as before, but now the owner avoids any talk of paranormal phenomena as if nothing had happened here.
Award Winning 'The Witching Hour' to premiere on Manhattan Neighbourhood Network
Just in time for the Halloween season, Argos Paranormal is proud to announce that its award-winning series The Witching Hour will be airing for a new audience in Manhattan, New York, through the Manhattan Neighborhood Network's Lifestyle Channel (FIOS 34, RCN 83, and Spectrum 56 & 1996) on Wednesday, September 25, at 12:30 am EST.
Among other things, The Manhattan Neighborhood Network is known for distributing The Chris Gethard Show before it was picked up by truTV in 2017.
With new episodes of The Witching Hour being released on the 2nd and 4th Wednesday's of every month, viewers will have the opportunity to experience what goes on during the most active part of the night at some of the East Coast's most haunted locations.
The Witching Hour is an award-winning series which goes where no other paranormal show has gone before as the investigators of Argos Paranormal investigate the locations that the locals fear and no other paranormal show has ever dared to investigate.
These investigators will be pushing themselves to their max limits as they investigate locations at around 3 am, also known as the witching hour when paranormal activity is believed to be at an all-time high during the night. The show was also recognized as the Best Non-Fiction Series during the 10th Annual Indie Series Awards.
Argos Paranormal consists of a team of investigators, primarily based in Northern Virginia, with a background in media and journalism with the knowledge and experience in the occult and paranormal to help individuals discover whether or not their location is the site of paranormal anomalies.
Their collective background in media has provided them with the experience to use the proper AV equipment during their investigations while their knowledge in investigative journalism enables them to analyze their evidence from a perspective of proof and logic.
Their services include investigating small private residences to commercial sites while using the latest tools in the paranormal community to help them collect empirical data to help individuals figure out what goes bump at night.
Find The Witching Hour Online:
Website: www.argosparanormal.com/witchinghour
Facebook: Facebook.com/ArgosParanormal
Instagram: www.instagram.com/argosparanormal
Twitter: @ArgosParanormal
YouTube: www.youtube.com/argosparanormal