Ancient Egyptian Handbook of Spells Deciphered
by Owen Jarus
An Egyptian Handbook of Ritual Power (as researchers call it) has been deciphered revealing a series of invocations and spells. It includes love spells, exorcisms and a cure for black jaundice (a potentially fatal infection). Written in Coptic (an Egyptian language) the 20 page illustrated codex dates back around 1,300 years. This image shows part of the text.
Credit: Photo by Ms. Effy Alexakis, copyright Macquarie University Ancient Cultures Research Centre
Researchers have deciphered an ancient Egyptian handbook, revealing a series of invocations and spells.
Among other things, the "Handbook of Ritual Power," as researchers call the book, tells readers how to cast love spells, exorcise evil spirits and treat "black jaundice," a bacterial infection that is still around today and can be fatal.
The book is about 1,300 years old, and is written in Coptic, a Greek language. It is made of bound pages of parchment — a type of book that researchers call a codex.
"It is a complete 20-page parchment codex, containing the handbook of a ritual practitioner," write Malcolm Choat and Iain Gardner, who are professors in Australia at Macquarie University and the University of Sydney, respectively, in their book, "A Coptic Handbook of Ritual Power" (Brepols, 2014).
The ancient book "starts with a lengthy series of invocations that culminate with drawings and words of power," they write. "These are followed by a number of prescriptions or spells to cure possession by spirits and various ailments, or to bring success in love and business."
For instance, to subjugate someone, the codex says you have to say a magical formula over two nails, and then "drive them into his doorpost, one on the right side (and) one on the left."
The Sethians
Researchers believe that the codex may date to the 7th or 8th century. During this time, many Egyptians were Christian and the codex contains a number of invocations referencing Jesus.
However, some of the invocations seem more associated with a group that is sometimes called "Sethians." This group flourished in Egypt during the early centuries of Christianity and held Seth, the third son of Adam and Eve, in high regard. One invocation in the newly deciphered codex calls "Seth, Seth, the living Christ." [The Holy Land: 7 Amazing Archaeological Finds]
The opening of the codex refers to a divine figure named "Baktiotha" whose identity is a mystery, researchers say. The lines read, "I give thanks to you and I call upon you, the Baktiotha: The great one, who is very trustworthy; the one who is lord over the forty and the nine kinds of serpents," according to the translation.
"The Baktiotha is an ambivalent figure. He is a great power and a ruler of forces in the material realm," Choat and Gardner said at a conference, before their book on the codex was published.
Historical records indicate that church leaders regarded the Sethians as heretics and by the 7th century, the Sethians were either extinct or dying out.
This codex, with its mix of Sethian and Orthodox Christian invocations, may in fact be a transitional document, written before all Sethian invocations were purged from magical texts, the researchers said. They noted that there are other texts that are similar to the newly deciphered codex, but which contain more Orthodox Christian and fewer Sethian features.
The researchers believe that the invocations were originally separate from 27 of the spells in the codex, but later, the invocations and these spells were combined, to form a "single instrument of ritual power," Choat told Live Science in an email.
Who would have used it?
The identity of the person who used this codex is a mystery. The user of the codex would not necessarily have been a priest or monk.
"It is my sense that there were ritual practitioners outside the ranks of the clergy and monks, but exactly who they were is shielded from us by the fact that people didn't really want to be labeled as a "magician,'" Choat said.
Some of the language used in the codex suggests that it was written with a male user in mind, however, that "wouldn't have stopped a female ritual practitioner from using the text, of course," he said.
Origin
The origin of the codex is also a mystery. Macquarie University acquired it in late 1981 from Michael Fackelmann, an antiquities dealer based in Vienna. In "the 70s and early 80s, Macquarie University (like many collections around the world) purchased papyri from Michael Fackelmann," Choat said in the email.
But where Fackelmann got the codex from is unknown. The style of writing suggests that the codex originally came from Upper Egypt.
"The dialect suggests an origin in Upper Egypt, perhaps in the vicinity of Ashmunein/Hermopolis," which was an ancient city, Choat and Gardner write in their book.
The codex is now housed in the Museum of Ancient Cultures at Macquarie University in Sydney.
Who and why he removed 10 pages from the Devil's Bible?
One of the largest medieval manuscripts is the so-called Codex Gigas, also known as the Devil's Bible, because it has a large image of the Devil on one of the pages .
The weight of the book is 75 kg, its width is 49 cm and its height is 89 cm. It is estimated that it would take at least 30 years for one person to write and draw the whole book.
According to legend, however, it took only one night to do so for an unknown monk living in the 13th century AD. The same monk was imprisoned in a cell for violation of discipline and vows, and a much more severe punishment awaited him. In an attempt to avoid punishment, the monk decided to surprise the superiors with a book that described " all the knowledge of the earth ."
To write this book, the monk turned to the Devil himself for help. In exchange for his soul, the Devil created the Codex Gigas overnight.
Initially, the Devil's Bible was stored in the monastery in Podlazice, in the territory of modern-day Czech Republic, near the town of Chrudim. After a while it was moved to the monastery in Brumov. In 1648, it was stolen by Swedish soldiers and taken to Sweden as a prey. In 1649 the manuscript was placed in the Royal Library of Stockholm, where it is still preserved.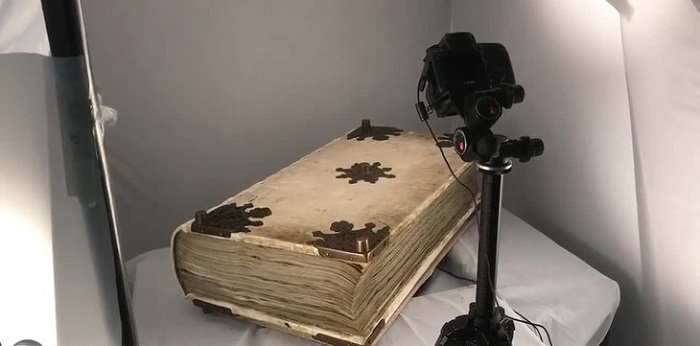 There are 310 pages in the Devil's Bible, but there were 320 pages before. So, 10 pages were taken and what was written in them is still unknown to anyone.
It is officially believed that the statutes of the Benedictine monastery are written on these 10 pages, but many conspiracy theorists are sure that no one would extract the written rules of the monastery from such a huge and valuable book, and that the missing pages clearly contain much more important information.
For example, the prophecies about the Apocalypse. Or, the so-called "devil's prayer", the reading of which, under certain conditions, is described on the vanished pages to summon the Devil. At the same time, the sheets did not just fall out of the bound book because of old age and decay. They have been deliberately removed. They were cut off from the Codex and this is evident from the cropping of these pages.
None of the historians knows when and by whom these pages were removed. In the 16th century, one of the mystics of the Paracelsus Circle became interested in the Code, and in 1590, his student visited the Brumov Monastery to study it.
The Code also attracts the attention of the Holy Roman Emperor – Rudolf II, who sought occult information in it. He even ordered the Codex to be transported to his Prague Castle. Then the legend of the Devil's Bible began to spread. Most probably, it was Rudolf II who tore these pages, finding in them the occult records he needed.
Another oddity of Codex Gigas is that no one has even tried to rewrite this book. In those centuries, when printing was not yet invented, important manuscripts were constantly rewritten to reproduce.
Moreover, even more voluminous and complex texts have been rewritten than the Devil's Bible.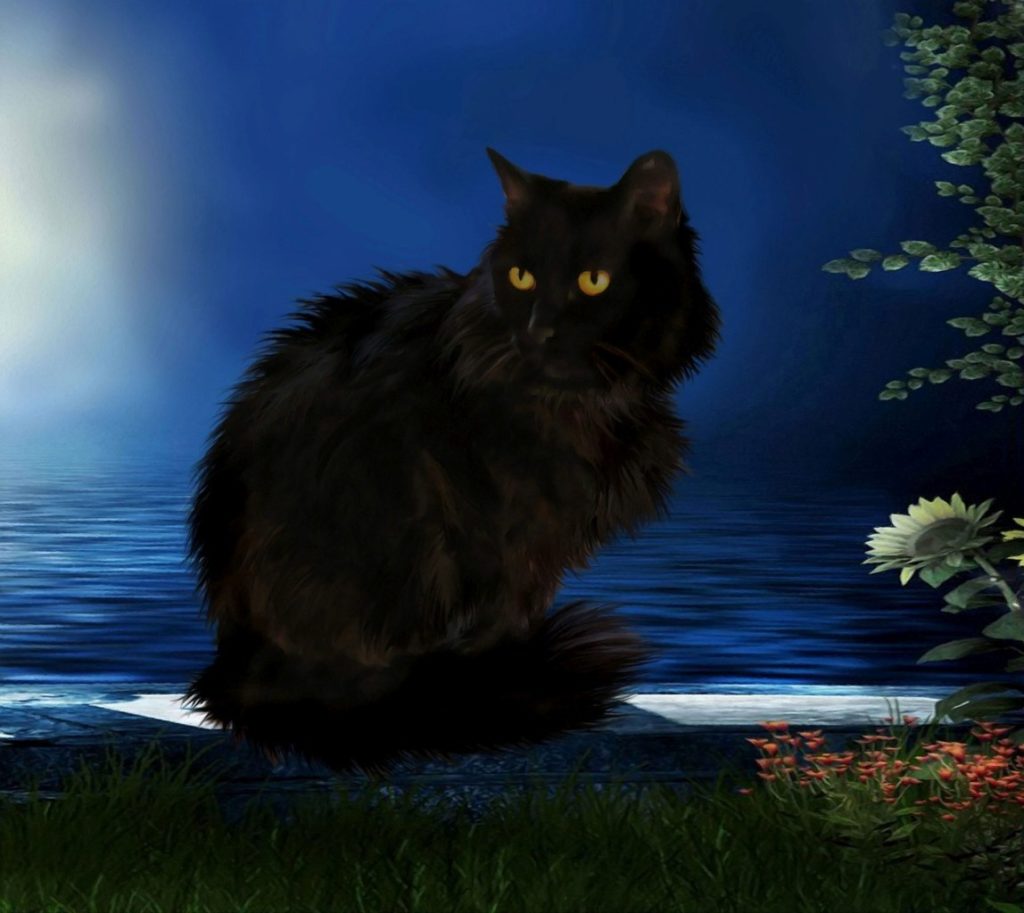 In some areas where people live, black cats that are completely black in fur, are a rarity, and this factor adds to their mysterious trait. Also, in the night, a black cat can be practically invisible, so people in the darkness see just the two eyes of the cat, which can be a pale shade of green, orange, or yellow or be amber colored.
Many superstitious people were terrified, thinking an invisible creature or demon with 2 eyes or simply 2 floating, glowing eyes were staring at them in the dark. Black cats were the traditional and most common creatures that lived with witches even though witches had other animals around them, at times, as rats, dogs, ferrets, birds, frogs, toads, and hares. These small animals were often kept in pots or baskets lined with sheep's wool and fed various things including milk, bread, meat, and blood. Often, such animals would have the same affectionate nick names or common names that parents give their children.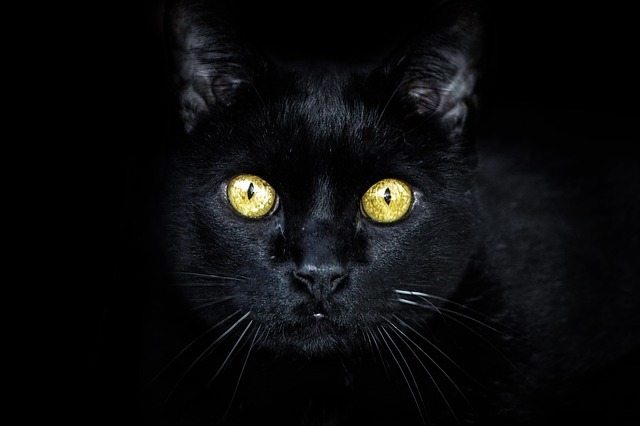 When a person, for example, an old lady, especially a person who lives alone, has, for example, a pet black cat; there are people who strangely talk to their pets as though they are human beings and can understand every word. Centuries ago, when belief in witchcraft was very strong, many people that saw and heard a person talking to an animal seriously wondered if the animal was a spirit or demon in animal form that attends and obeys its master- a witch. The occult name for such an animal is called a familiar. There are other reasons that can make people further wonder if a person is a witch; as that person being unnaturally mean; highly aggressive; hateful in personality, and if such a person were also very ugly, it would add to their resentment by others.
The American author, Edgar Allen Poe (1809-1849) wrote a short horror fiction story called "The  Black Cat" that would reinforce the idea of a black cat having supernatural powers. In that story, a black cat gets its revenge against its owner who has abused it, then horribly mutilates it, and later kills it.Once, in the 1970's, there was an occult supplier who sold, among many other things, tall candles in the shape and color of a black cat. The sales pitch was that the black cat, being a symbol of bad luck, when burned in candle form would destroy that black cat image and this became a ritual for good luck.For many, many years, black cats have gotten a bad rap; a really unfair, undeserved reputation of being evil and harmful to humans. Some people, over the years, tried to undo; reverse this situation by claiming that black cats are actually good luck. In certain parts of Europe, for instance, black cats are looked upon as actually bringing good luck.
Some folks, centuries ago, thought that at times a witch's familiar or familiars was a person or people that , from the power of witchcraft, got turned into an animal or animals as punishment for somehow angering a witch.Black cats began to develop an association with evil in the minds of various people, centuries ago, from the extreme worry that any black cat there was could be a demon in disguise. Many people developed a great fear, distrust, and revulsion to all black cats and would chase them away, at times even throwing small objects as stones at the animals.Various people began to believe that the black cat, from its demonic significance, brought bad luck, especially if a black cat crosses your path.
Satanic pacts to create "immortal guerrillas" in Colombia?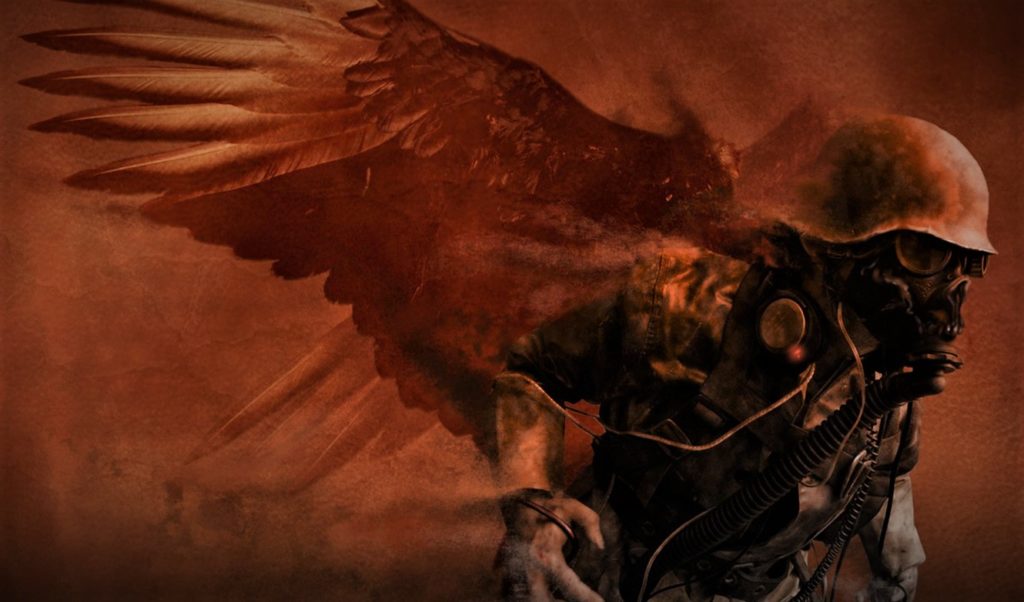 For many years Colombia has been hit by a dangerous guerrilla that has not been eliminated, why? The reason could be more macabre than many think: Satanic covenants.
People who, in one way or another have had contact with the guerrillas, tell how they have witnessed guerrillas who are shot, get up and continue fighting armed, some with a simple machete.
Although it sounds like something impossible, it is a speech that is repeated constantly among the interviewees. One of the most chilling stories tells us how, during a night like any other, a squad of paramilitaries was awakened and taken to a hill in the jungle.
In front of them lay a boy who was, if anything, 16 years old. The women were trained on the other side and the commander, with a machete in hand, called one of them and handed it to him, ordering him to behead him.
The woman said she could not do it and, in a threatening voice, the commander shouted: "He who does not serve to kill, serves to be killed."
With nothing else to do, the woman dropped the machete on the supplicant boy, but could not finish the work. The commander took the machete and with a certain blow, beheaded the young man in front of everyone.
Without hesitation, he got up and exclaimed: "Welcome to the ACC, I am commander 030 and I must deliver three thousand souls to the devil."
"Commander 030" was one of those immortal soldiers who, based on satanic covenants and sacrifices, had obtained eternal protection. To this myth are added declarations of United States military factions that have faced the Colombian guerrillas.
Some say they shot them with AK47 rifles and saw how, without any protection, they received the bullets and they did not pass through them.
They simply did not harm them beyond a bruise. Other more extremists say they have seen them become invisible, heal at great speeds and disappear from one moment to another.
Many communities that live in nearby areas where the guerrilla is alive, tell how these people use prayers, rituals, sacrifices and satanic pacts.
These stories are supported by the latest findings made by the Colombian and US military, where they have found "picket houses" with prisoners, still alive, dismembered.
Some captured say that this is part of one of the many satanic rituals and pacts they perform for their protection. Sounds really amazing and macabre at the same time.
But many of these guerrillas have been seen killing soldiers armed with guns using a simple machete, which leads us to really think about the chances of this being real …