Ancient Civilizations? Check Out These Mysterious Structures Found On The Bottom Of The Ocean Floor
Michael Snyder
In cultures all over the world, there are ancient stories about beautiful, prosperous cities that became submerged in the ocean and were never seen again.  The most famous of these is the story of Atlantis, but there are many others.  So could it be possible that some of these cities actually exist?  In recent years, modern technology has allowed humanity to investigate the ocean floor like never before.  As we have done so, we have made some incredible discoveries.  You are about to see some amazing mysterious structures that have been found on the bottom of the ocean floor all over the world.  Could these mysterious structures actually be evidence of very advanced ancient civilizations?  As we learn about these ancient civilizations, will this knowledge turn the conventional version of human history that we all learned in school upside down?
We live at a time when mind blowing discoveries are being made at a pace never seen before.  Just last month, I wrote about the megalithic ruins that have just been discovered in Russia that contain the largest blocks of stone ever found (even bigger than Baalbek).
Nobody can explain where those stones came from, who lived there, or how ancient humans could cut and move such massive blocks.
Well, similar things could be said about many of these mysterious structures on the bottom of the ocean floor…
The Ancient Underwater City Of Yonaguni-Jima, Japan
For as long as anyone can remember, residents of Okinawa have passed on stories of a vast underwater city to their children.  Most considered those stories to simply be myths.  But after what happened in 1986, that all changed…
In 1986, a diver near the island of Yonaguni Jima, off the southern tip of Japan (around Okinawa) came across some strange structures about 25 metres below sea level.

They appeared to be stepped structures with terraces and ramps.

One of the largest pyramid structures is 600 feet wide and 90 feet high –with five separate levels of stone blocks with what appears to be road surrounding the structure.

Tool marks and carvings have been discovered upon the stones (and documented) which indicate that they have were constructed rather than being natural stone structures.

Masaaki Kimura, a marine geologist from Japan's Ryukyus University, Japan has been studying and mapping the site for over 15 years and believes that the site is over five thousand years old – but was sunk during an earthquake two thousand years ago.
I have posted a YouTube video about these incredible ruins below.  As you can see, they truly are remarkable…
Dwarka – Off The Coast Of India
An incredible underwater city can be found just off the coast of India as well.  It is known as "Dwarka", and at the longest point it stretches for five miles.  Once again, this city provides evidence of a highly advanced civilization in the ancient world…
The Bay of Cambay was discovered by marine scientists in early 2002. The city is located 120 feet underwater in the Gulf of Cambay off the western coast of India. The city is five miles long and two miles wide, carbon dating estimates the site to be a whopping 9,500 years old, and, more amazingly, architectural and human remains are still intact. The discovery astounded scientists because it predates all other finds in the area by 5,000 years, suggesting a much longer history of the civilization than was first assumed. Marine scientists used sonar images and sum-bottom profiling to locate the lost ruins and it is believed the area was submerged when the ice caps melted in the last Ice Age. The Indian nationals have dubbed the find 'Dwarka' (The Golden City) in honor of ancient submerged city said to belong to Hindu god, Krishna.
In the YouTube video posted below, you can learn much more about Dwarka…
Cuban Underwater City
In 2001, the BBC reported on the discovery of a "lost city" in Cuban waters…
A team of explorers working off the western coast of Cuba say they have discovered what they think are the ruins of a submerged city built thousands of years ago.

Researchers from a Canadian company used sophisticated sonar equipment to find and film stone structures more than 2,000 feet (650 metres) below the sea's surface.
Some have speculated that this could be the location of the mythical city of Atlantis, but since 2001 follow up work has been slow.  The following is what Wikipedia has to say about this "lost city"…
Cuban underwater city refers to a site thought by some to be a submerged granite complex structures off the coast of the Guanahacabibes peninsula in the Pinar del Río Province of Cuba.

Sonar images interpreted as being symmetrical and geometric stone structures resembling an urban complex were first recorded in early 2001 covering an area of 2 square kilometres (200 ha) at depths of between 600 metres (2,000 ft) and 750 metres (2,460 ft). The discovery was reported by Pauline Zalitzki, a marine engineer, and her husband Paul Weinzweig, owners of a Canadian company called Advanced Digital Communications, working on an exploration and survey mission in conjunction with the Cuban government. The team returned to the site a second time with an underwater video robot that filmed sonar images interpreted as various pyramids and circular structures made out of massive, smooth blocks of stone that resembled hewn granite. Zalitzki said "It's a really wonderful structure which really looks like it could have been a large urban centre, However, it would be totally irresponsible to say what it was before we have evidence."
Lake Huron
Did you know that there are ancient ruins under Lake Huron?
They have just been discovered.  According to USA Today, "an elaborate network of hunting blinds and animal-herding structures" has been found that is potentially thousands of years old…
Deep below the surface of Lake Huron, scuba-diving researchers have found an elaborate network of hunting blinds and animal-herding structures dating back roughly 9,000 years.

Lake levels of the day were some 250 feet lower, exposing a narrow bridge of land running from one side of Huron to the other. Prehistoric people evidently thought this isthmus was a perfect place to intercept caribou on their seasonal migrations. The hunting site they built, now inundated, opens a window onto prehistoric America and provides valuable evidence in a region where such artifacts are practically non-existent.
Underwater City Near Saipan
Thanks to Google Earth, ordinary people like you and I are able to examine our planet like never before.  For example, one gentleman named Scott Waring believes that he has been able to spot a massive underwater city near Saipan using Google Earth.  The following is what he had to say about what he discovered…
Hey guys, was looking over Google Earth and came across this remarkable looking underwater anomaly. The massive walls seem to go for about 50 miles, but long ways is about 250 miles. Sure these anomalies could be an ancient Asian civilization that sank under the ocean long ago, but it also could be an underwater alien base. Its size and location would insure millions could use it and since its in such a secluded area, few humans will ever see their UFOs leaving/entering the water.
Video of him discussing this discovery is posted below.  Check it out and come to your own conclusions…
I have a feeling that we are just scratching the surface of these underwater discoveries.  And since many of these sites have been totally undisturbed by human activity for thousands of years, we could potentially find some things that are absolutely mind blowing.
But the question is this – as more information about our ancient history comes to light, are you going to be able to handle it?
This Temple Was Carved Out Of A Single Rock – Nobody Knows How 'The Builders' Made It
Scroll down to watch full video.
In what could be the next wonder of the world, archaeologists have recently unearthed a temple that ancients have carved out of a mountain rock. Located in Elora, Maharashtra, India, the temple is known as The Kailasa Temple. Some name it the Kailash. The Kailasa temple is dedicated to the Hindu faith and was ordered to be built by King Krishna I of the Rashtrakuta dynasty in ancient India.
Archaeologists Baffled By The Kailasa Temple
It forms part of a temple complex of 34 cave temples which were of similar construct.
The Construction
What has boggled and amazed scientists is the construction of the temple. Unlike many temples that were built from ground up, the Kailasa temple was carved out straight from the rock of a mountain. To add further amazement, a staggering 400,000 tonnes of rock were excavated and hauled out. During the construction of the temple.
The temple originated around 8th century A.D, and it is intriguing that technology of the period could have contributed to such a momentous construction task. One may wonder at the scope of the construction and estimate the temple to be completed after many decades or centuries. However, the temple only took less than 18 years to finish, according to scientific estimates.
It was estimated that 60 tonnes of rock were being removed every day during temple's construction phase. The temple workers laboured for 12 hours a day hauling at least 5 tonnes of rock out from the mountain per hour. Scientists still have not fully figured out the constructions methods used in conjunction with the tools available during the period and were left baffled at the scope of the operation.
Architecture
The Kailasa temple is part of a complex of 34 monasteries and temples which span over an area of 2 kilometres. As they were all cut out of the mountainside, they are collectively known as the Elora caves, carved out from a basalt cliff.
The temple has a height of 98 feet, was 109 feet wide, and had a depth of 164 feet. This makes it possibly one of the biggest known structures of its kind on the planet. The entrance of the temple faces the west. What is remarkable about the entrance is the degree of accuracy of its facing, giving it a 270-275 degree on a compass.
A 2 storey gateway adorns the entrance to the temple, which further leads to a U-shaped courtyard. The temple is dedicated to the worship of Lord Vishnu and Lord Shiva, and deities of both lords align the interior of the temple. Three storey arcades line the perimeter of the courtyard and showcase many sculptures and panels of marvellous beauty and design.
Complex and majestic staircases and bridges link the many different areas of the temple together, adding to the splendour of the place.
Built By Extraterrestrials?
As mentioned before, the time when the temple was built and the available technology of the period coupled with the time it took to build and the momentous scope of the construction had left many baffled. The entire feat would be extremely difficult if not impossible to achieve at that time.
However, the video below reveals a theory which may offer an explanation, that extraterrestrials gave a hand in the construction of this temple.
Thank you for watching!
The Impossibly Huge Ancient Monolith of Tlaloc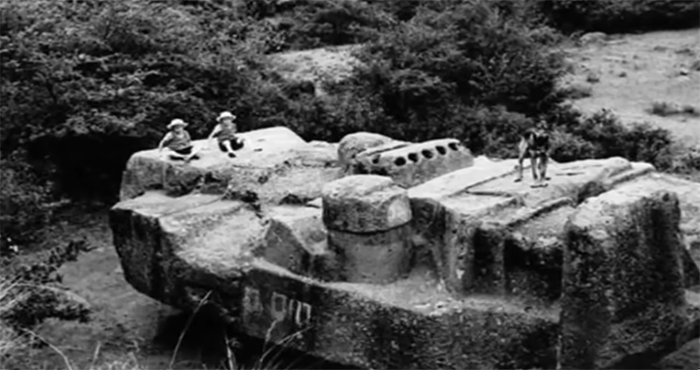 One of the oldest, most widely recognised gods through ancient Mesoamerica, is a being known as Tlaloc.
Worshipped as a giver of life and sustenance.
He was also feared for his ability to send hail, thunder, and lightning, and for being the lord of the element water.
Appearing in many forms throughout Aztec history, of usually water-dwelling creatures such as amphibians.
Could his roots actually date back to the so called "great deluge," which has been noted in so many ancient religions throughout the world?
Although the name Tlaloc is specifically Aztec, worship of a storm god, far predates Teotihuacan, and is eerily similar to the Maya god Chaac.
Undoubtedly the most impressive depiction of Tlaloc which can be found anywhere, is his megalithic statue, found in the small town of Coatlinchan..
Clearly once a pilgrimage site, whats impressive regarding the statue is its size, weighing in at an estimated 168 tons, largest existing monolith in the Americas.
Made from Basalt, the workable stone for this monumental artwork, was at some point, transported to this spot in preparation for carving.
The question is, how did our ancient ancestors move such enormous lumps of basalt, similar in size to those of the Moai statues, synonymous with Easter island.
Why did this ancient people revere water gods so much?
Were these gods inspired by traumatic memories and legends, left to them by their ancestors? Possibly a surviving fragment of the once flourishing civilisation, responsible for so many now unexplainable sites, all over the world?
Intriguingly, according to Aztec belief, Tlaloc was a god primarily connected with meteorological phenomena, that were related to water.
In 1963, the National Museum of Anthropology in Mexico City, decided that the monolith should be placed at the entrance of the museum. The people of Coatlinchan eventually agreed to this request, on the condition that a government road, a school, and a medical centre, be built in their city.
On the 16th of April 1964, the monolith began its journey to Mexico City.
The Monolith of Tlaloc was transported on the back of a giant, purpose-built trailer, over a distance of about 30 miles.
When the monolith arrived in the capital, it was greeted by a crowd of 25,000 people, upon its arrival, the location mysteriously experienced an unusual storm…
Clearly an incredible ancient artefact, which we find, highly compelling.
Video:

Geological evidence proves that the Great Sphinx is 800,000 years old
In 2015, two Russian scientists announced that the Giza sphinx was 800,000 years old. It was Robert Schoch who followed along from #John_ Anothony_West in suggesting the Sphinx was at least 7000 years old. Here I suggest it could be way older. If we think in terms of Geological timescales rather than weathering over mere thousands of years. Why not? Humans have been around for OVER ONE MILLION YEARS, so why not?
"The Sphinx water erosion hypothesis contends that the main type of weathering evident on the enclosure walls of the Great Sphinx was caused by prolonged and extensive rainfall[1] that would have predated the time of Djedefre and Khafre, the Pharaohs credited by most modern Egyptologists with building the Great Sphinx and Second Pyramid at Giza around 2500 BC. Egyptologists, geologists and others have rejected the water erosion hypothesis and the idea of an older Sphinx, offering various alternative explanations for the cause and date of the erosion….
Response of climatologists
Recent studies by German climatologists Rudolph Kuper and Stefan Kröpelin, of the University of Cologne suggest the change from a wet to a much drier climate may have come to an end around 3500 – 1500 BC, which is as much as 500 years later than currently thought. Egyptologist Mark Lehner believes this climate change may have been responsible for the severe weathering found on the Sphinx and other sites of the 4th Dynasty. After studying sediment samples in the Nile Valley, Judith Bunbury, a geologist at the University of Cambridge, concluded that climate change in the Giza region may have begun early in the Old Kingdom, with desert sands arriving in force late in the era.
Schoch points out that mudbrick mastabas on the Saqqara plateau about 20 km away, indisputably dated to Dynasties I and II, have survived relatively undamaged, which he believes indicates that no heavy rainfall has occurred in the region since the Early Dynastic Period, and nor was any heavy rain anticipated by those Early Dynastic Period communities who built those structures.
Reader replied to this, stating that they "were built on an area of high ground and do not lie within any natural catchment. These tombs will not, therefore, have been exposed to any significant run-off." He concludes that "the fact that they are not significantly degraded, as Schoch has pointed out, demonstrates that rainfall itself has not been a significant agent of degradation in Egypt." Rainfall water run-off, however, has been a more significant factor. Schoch cites evidence of flood water damage in another location to illustrate this.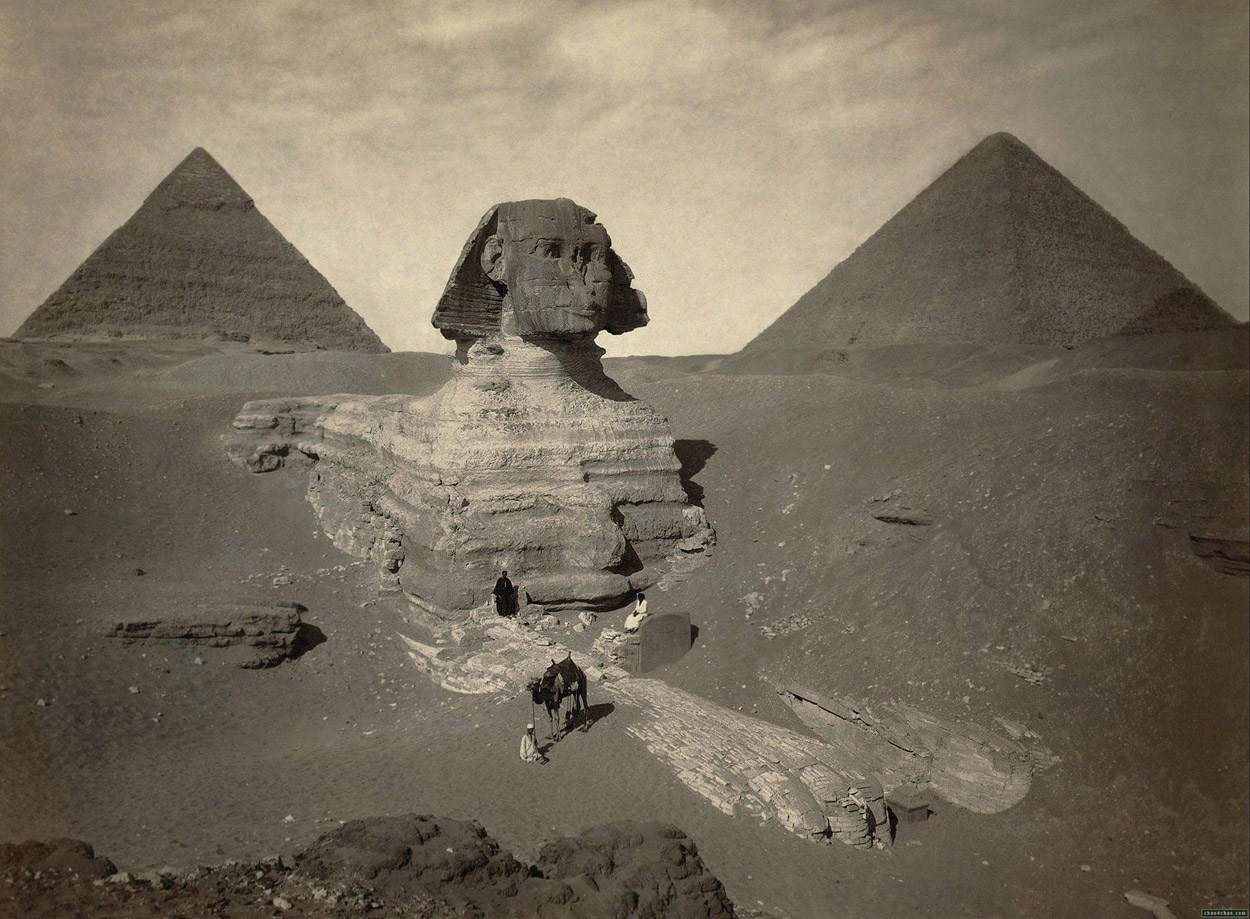 The Great Sphinx partially excavated, ca. 1878
Schoch further notes the same heavy precipitation-induced weathering as seen on the walls of the Sphinx enclosure is also found on the core blocks of the Sphinx and Valley Temples, both known to have been originally constructed from blocks taken from the Sphinx enclosure when the body was carved. Though the presence of extensive 4th Dynasty repair work to the Sphinx and associated temples is acknowledged by such Egyptologists as Lehner and Hawass, Schoch contends: "Therefore if the granite facing is covering deeply weathered limestone, the original limestone structures must predate by a considerable degree the granite facing. Obviously, if the limestone cores (originating from the Sphinx ditch) of the temples predate the granite ashlars (granite facings), and the granite ashlars are attributable to Khafre of the Fourth Dynasty, then the Great Sphinx was built prior to the reign of Khafre."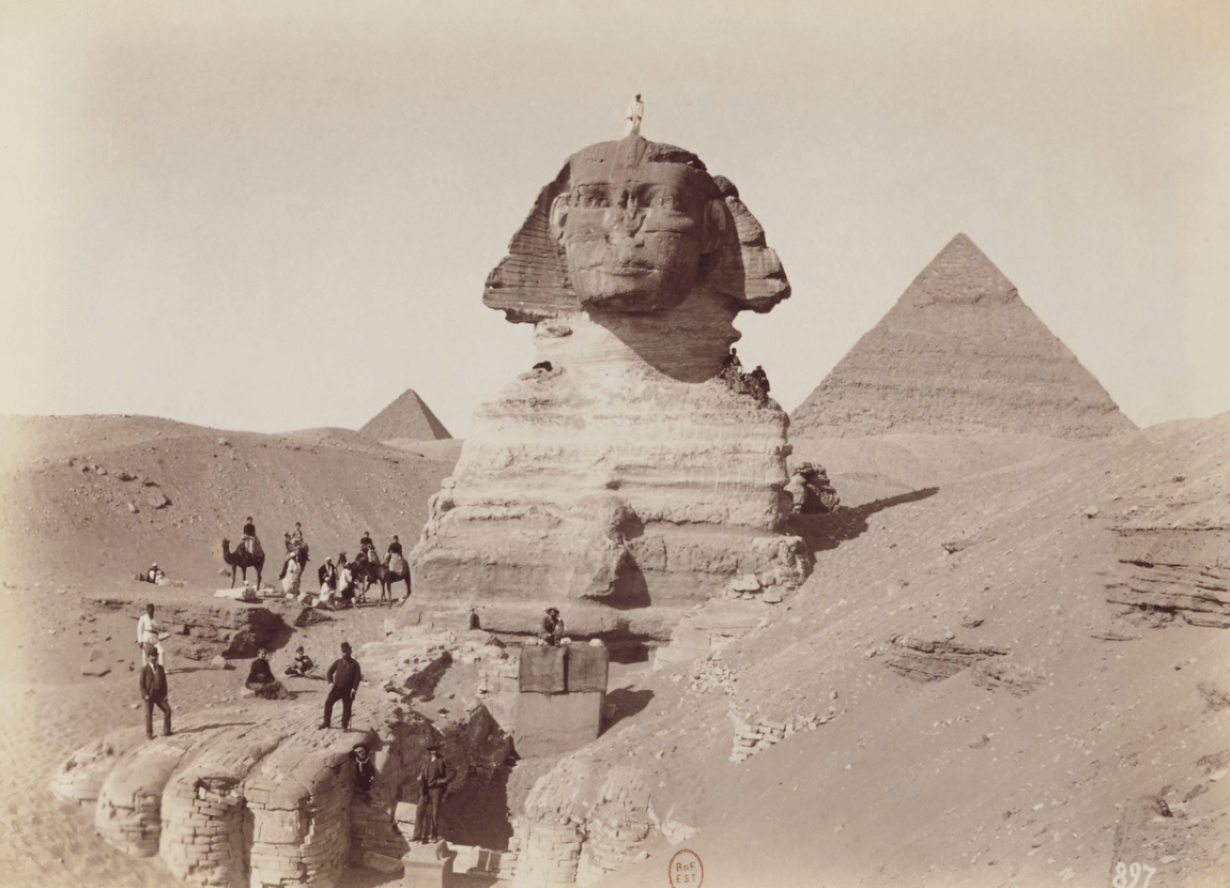 The Sphinx circa 1880s, by Beniamino Facchinelli.
Colin Reader, a British geologist, agrees that the suggested evidence of weathering indicates prolonged water erosion. Reader found, inter alia, that the flow of rainwater causing the weathering had been stemmed by the construction of 'Khufu's quarries', which lie directly "upstream" of the Sphinx enclosure, and therefore concludes that the Sphinx must predate the reign of Khufu (2589 – 2566 BC), and certainly Khafra, by several hundred years. Reader disagrees with Schoch's palaeometeorological estimates, and instead concludes that the Sphinx dates to the Early Dynastic Period (c. 3150 – 2686 BC). To explain the disproportionate size of the head compared to the body, Reader, as does Schoch, also suggests the head of the Sphinx was originally that of a lion and recarved sometime later in the likeness of a pharaoh.
Similarly, David Coxill, a geologist working independently of both Schoch and Reader, has concluded from the evidence of weathering in the enclosure that "[t]he Sphinx is at least 5,000 years old and pre-dates dynastic times [before 3100 BC]."
Source en.wikipedia.org