Ancient Cities and Megalithic Sites Underwater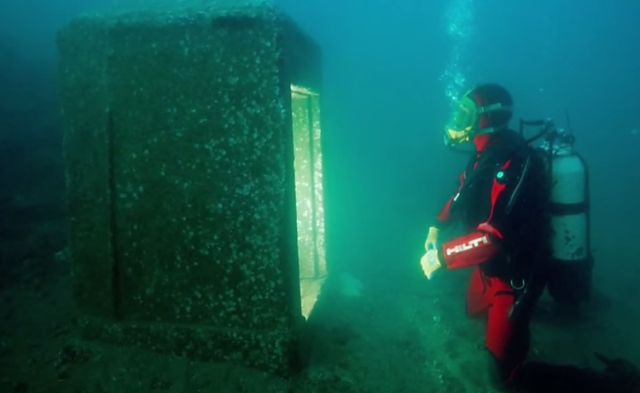 A wealth of human history lies submerged in ancient cities at the bottoms of lakes, seas and oceans of the world.
Some of these urban centers were sent into the water via earthquakes, tsunamis or other disasters thousands of years ago.
Many ruins have just recently been rediscovered, by accident or through emergent technological innovations. Some have even caused scientists to question the history of human civilization.
Unlike the fabled cities of Atlantis and Lemuria, the underwater ruins of the ancient Greek city of Helike were rediscovered in 2001. Buried underneath the remnants of a primordial lagoon, it is no longer a tantalizing mystery for writers, historians and enterprising explorers. A multitude of ancient cities and buildings have been found underneath the waters of our oceans. In the past couple of years, discovery claims surfaced of ancient underwater sites the size of Pompeii. As convincing as these claims are, no real proof has ever been found for the supposed Japan, Cambay and Cuba anomalies and these sites remain highly controversial. The following ruins serve as a reminder of Mother Nature's might and of our glorious archaeological ancestry.
Seahenge Norfolk, England
Seahenge, also known as Holme 1, consisted of a ring of fifty-five oak trunks that formed a circular enclosure with a large inverted oak stump in the centre. The trunks were placed in a trench and not in individual holes with their bark facing outwards and split sides facing inwards. Placed about 3 ft into the ground, we will never know how tall the trunks actually were. It was built around the 21st century BC. After its discovery in 1998, the site was excavated despite protests from Neo-pagan groups and the timbers were cleaned and placed in permanent storage. A recreated Seahenge was placed at the original site and a museum opened to the public in 2008.
Sunken ruins of Cleopatra's palace, Alexandria, Egypt
Off the shores of Alexandria, the city of Alexander the Great, lie what are believed to be the ruins of the royal quarters of Cleopatra. It is believed that earthquakes over 1,500 years ago were responsible for casting this into the sea, along with artifacts, statues and other parts of Cleopatra's palace. The city of Alexandria even plans to offer underwater tours of this wonder.
Lost more than 1600 ago, Cleopatra's palace as well as the temple of Isis was discovered in the archaeological waters of Alexandria. Legend holds that Cleopatra and Marc Anthony committed suicide to avoid capture by the Romans, who in turn destroyed and dispersed their belongings. Up to date, archaeologists have found three areas where they believe their tomb to be. More than 140 artifacts have been excavated so far, and excavation work continues to this day at the submerged royal quarters. Archaeologists are also researching the possibility of an underwater museum at the site.
Links: http://www.smithsonianmag.com/science-nature/Raising-Alexandria.html
Herakleion and Canopus, Abu Qir Bay, Egypt
Herakleion and Canopus were the twin cities guarding the gateway to Egypt. Herakleion was also home to Menelaus, king of Sparta, during his famous 10-year war against Troy. More than 1200 years ago, the cities abruptly collapsed when a flood turned the ground on which they were built into silt. Until their discovery in 1999, the only proof of their existence came from the texts of a few venerable historians and Greek mythology. The ancient ruins were discovered at depths of 20 – 23 feet (7 m), frozen in time, with its many temples, statues and other dwellings still demonstrating its former glory.
Link: http://blog.world-mysteries.com/strange-artifacts/thonis-heracleion-legendary-sunken-city-discovered/
Baiae,Bay of Naples, Italy
Baiae was the home port of the Western Imperial fleet of Rome. Playground of the filthy rich and infamous for its corruption and decadence the site has delivered numerous Roman sculptures. As a stockpile of casts were discovered, some believe a workshop probably mass-produced copies of original bronze sculptures for the Roman market. Baiae was annihilated by Muslim invaders in the 8th century AD and completely abandoned by 1500. Due to the volcanic activity of the area, the structure ultimately collapsed into the ocean.
Pavlopetri Peloponnese, Greece
Pavlopetri is unique as it is the earliest submerged archaeological city to have been discovered. It had a layout of streets, courtyards, tombs and various buildings that has largely remained as it was millennia ago. Accurately mapped for the first time in 2009, archaeologists were amazed to discover the site sprawled more then 30,000 square meters. The town was engulfed around 1000 BC by an earthquake. A protected underwater cultural heritage site as listed by UNESCO, it remains in danger of being damaged by thieves, tourists and boat anchors.
The complex mix of expert archaeology, underwater robotics and state of the art graphics allowed the team to piece together the secrets of Pavlopetri, producing spectacular results.
Link: http://www.bbc.co.uk/programmes/p00kvv96
Atlit-Yam Haifa, Israel
Dating from around 7000 BC, this is one of the oldest and largest submerged human dwellings ever discovered. In fact, for 9000 years the granular ocean floor preserved the site so well, that bugs can still be found in the grain stores and the skeletons are still lying peacefully in their graves. The ruins were discovered in 1984 and immediately gave rise to different theories as to how the well-developed ancient village met its ultimate demise. From a tsunami to the gradual rise of the ocean due to the systematic melting of the glaciers, the events leading to its ultimate fate will forever be shrouded in mystery.
Link: http://www.antiquities.org.il/article_Item_eng.asp?sec_id=14&subj_id=139
Port Royal, Kingston Harbor, Jamaica
Home to prostitutes and pirates, Port Royal used to be the "Wickedest City on Earth". Founded in 1518, it was a notorious port city and popular abode for English and Dutch privateers until their governments cancelled their commissions to confiscate Spain's ships. As the privateers became pirates, the port became the hotspot for pirates from as far away as Madagascar. Destroyed and sunk in part after an earthquake in 1692, excavations have yielded historical documents, various buildings, thoroughfares and actual preserved food. Various plans are in the pipeline to redevelop the town into a main tourist destination.
The Shore Temple Mahabalipuram, India
The famous Mahabalipuram temple has always been encased in folklore. The legends spoke of seven temples that were so dazzling; the gods grew envious and sent a flood that submerged all but one of them, leaving the Shore Temple companionless. After the Tsunami of December 2004, a collapsed temple as well as several other structures and primordial rock sculptures used in the same era to decorate walls and religious shrines were exposed. It revived theories that Mahabalipuram formed part of the Seven Pagodas the first Europeans wrote about.
Bay of Cambay, India
A few years back discovered the remains of a vast 9,500 year old city. This submerged ruin has intact architecture and human remains. More significantly, this find predates all finds in the area by over 5,000 years, forcing historians to reevaluate their understanding of the history of civilazation in the region. The find has been termed Dwarka, or the 'Golden City,' after an ancient city-in-the sea said to belong to the Hindu god Krishna.
Link: http://news.bbc.co.uk/1/hi/world/south_asia/1768109.stm
Bimini Road
The Bimini Road, sometimes called the Bimini Wall, is an underwater rock formation near North Bimini island in the Bahamas. The Road consists of a 0.8 km (0.50 mi)-long northeast-southwest linear feature composed of roughly rectangular to subrectangular limestone blocks.
Although it is generally considered to be a naturally occurring geological feature, as a result of the unusual arrangement and shape of the stones some believe that the formation is the remains of an ancient road, wall, or some other deliberately constructed feature. For example articles published in Argosy (an American pulp magazine) and either authored or coauthored by Robert F. Marx, a professional diver and visitor to the Bimini Road, argued that the Bimini Road is an artificial structure.
Yonaguni-Jima, Japan

A mysterious undersea structure off the coast of Japan causes controversy – is this a natural geological phenomena or a man-made structure which changes the history books as we know them?
In 1986, a diver near the island of Yonaguni Jima, off the southern tip of Japan (around Okinawa) came across some strange structures about 25 metres below sea level. They appeared to be stepped structures with terraces and ramps. One of the largest pyramid structures is 600 feet wide and 90 feet high –with five separate levels of stone blocks with what appears to be road surrounding the structure.
These structures seem to have been carved right out of bedrock in a teraforming process using tools previously thought unavailable to ancient cultures of the region.
MEGALITHIC RUINS near Yucatan Channel, Cuba
A team of scientists continues to explore megalithic ruins found in the Yucatan Channel near Cuba. They have found evidence of an extensive urban environment stretching for miles along the ocean shore. Some believe that the civilization that inhabited these predates all known ancient American cultures. So far, only computer models of this mysterious underwater city exist.
Samabaj Lake Atitlán, Guatemala
Discovered in 1996, researchers have concluded that the ruins were originally an island until volcanic activity or a landslide sunk it 1700 years ago.
The buildings were drowned before the era of Mayan rule and artifacts discovered have left the impression that the area was abandoned in a hurry. Several ceremonial monuments have been uncovered as well as altars, incense burners, ceramics and other artifacts. Excavations are extremely demanding as the visibility is close to none and everything is covered with a very thick layer of silt.
1000 Pillar Temple – Impossible Ancient Technology Found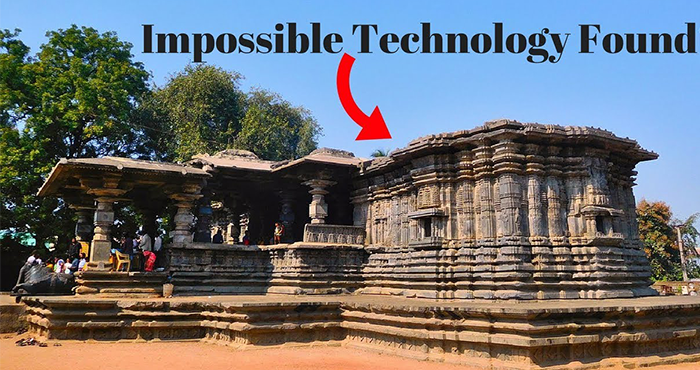 Today we are going to look at one of the strangest ancient sites in India – this is the Thousand Pillar Temple which is at least 750 years old. On first sight, it looks like a regular temple, but there is something fundamentally different about this temple, because there are no visible joints at all between the stone blocks in the walls of this temple.
This is a large temple, but look carefully as I go from the ground to the top, do you see any joints? This makes people wonder if this entire temple is made of one solid rock, like the Kailasa Temple, but archeologists confirm that it is in fact made of many many blocks of stone.
In 1300 A.D , an army of the Muslim King Allauddin Khalji tried to demolish this temple, and they took out many of the stone blocks from the ground and the ceiling, because it was easier to dismantle them, but they could not dismantle the blocks on the walls. If you look at the floor, these are newer stone slabs placed by the Archeology department, and you can see how these blocks are loosely connected.
If you compare the modern day stone masonry with the ancient technique, modern technology appears quite primitive, because you can clearly see the joints. The archeology department has been trying to restore the temple from the destruction and graffiti by Allauddin Khalji's army.
Now, why is this temple called 'The thousand pillar temple'? Most visitors wonder why this is known as the thousand pillar temple because it doesn't have a thousand pillars. It is called so because it is made of one thousand blocks of stone, this is the actual reason why this name is used. But even in most sophisticated temples like the Lepakshi temple, we can see clear evidence of joints between the blocks, but in this temple, the joints are not visible.
What is fascinating is that there was no cement, mortar, or glue used to join these blocks. How did ancient builders achieve such an extraordinary level of jointing, many centuries ago? What kind of technology existed and how was such a temple built?
The underlying technology is this:
Ancient builders created a complex interlocking system with at least a dozen different cuts in each stone block. These complex cuts maximize the amount of surface area shared by the connecting blocks, and will create an extremely tight fit.
This is hard enough to do between 2 stone blocks, but imagine using several stone blocks on all sides and how many cuts would have been needed to connect 4 or 5 blocks together. I mean, this is just an extraordinary technology. This can be done on wood, but how did they manage to make these cuts on large stone blocks many centuries ago? Making these cuts is one thing, but the level of precision, to make these joints invisible can be achieved only with advanced machines.
We can clearly see that building a massive temple with no visible joints is impossible with primitive tools. Did ancient builders use cutting, drilling and polishing tools, just like today? If so, do we have any evidence of these tools in the temple itself?
How about these carvings which resemble modern drilling and polishing tools? In most temples, we usually see carvings of Gods, but in this temple, we can see these tool like carvings, with a conical, striated top with a long shaft, which is remarkably similar to modern day tool bits.
Just compare these carvings with today's tool bits side by side. You have to admit there is an uncanny similarity. Is this a coincidence, or did ancient builders use tool bits just like us, to make these precise interlocking system?
The pillars in the temple confirm that drilling machines were in fact used. There are very tiny holes drilled on these pillars. My friend is struggling to send a thread through the small holes, but these holes are too small even for a thread. The priest is happy to help us, he picks up something thinner than a thread and inserts it successfully through these holes.
If you think these carvings are not drill bits, how do you explain such tiny holes carved on the pillars? How do you explain the construction of an entire temple with no visible joints? Were they created with advanced machines, or with simple tools like chisels and hammers?
VIDEO:

1,000-Year-Old Mammoth Bone Pendant With A Mysterious Message In Turkic Runes Discovered In Yakutia
An 11-year-old boy in the village of Yakutia has discovered a 1,000-year-old message on a pendant that was carved into a mammoth bone with Turkic runic inscriptions.
The four mysterious words are believed to be in the Orkhon-Yenisei type script. Such writings are normally found in rock art in Yakutia, also known as Sakha Republic, the world's coldest region.
Academic Ninel Malysheva said: 'Runes rarely occur on such things as talismans and amulets. 'If it is confirmed that this bone found in Namsky district is genuine, it will be a great scientific discovery for the republic.  'A comprehensive study is now required involving paleontologists, archaeologists and Turkologist. Studies on exact dating and decoding the inscription are underway at the Museum of Writing, part of the North-Eastern Federal University (NEFU).
Photo © Michil Yakovlev (Image Source)
Photo ©Michil Yakovlev (Image Source)
Interesting fact:
One of the earliest recorded Turkic language is in the form of a script called "Turkic Runes", found in Russia's southern Siberia and the Xinjiang uygur Autonomous Region of China (a region not surprisingly also known as Chinese Turkestan) beginning at around the 8th century CE.
Example of Turkic runes. "Irk Bitig Fal Kitabı" page 7. 9th century. ©The International Dunhuang Project (Image Source)
What are the four mysterious words?
One theory is that the words express 'good wishes', but scientists hope to find the exact meaning.
Village where the ancient pendant was discovered is some 100 kilometres north of Yakutsk, the regional capital, and the world's coldest city. Another example of Turkic runes in Yaktutia is the so-called Petrov inscription. It is a writing made using ocher some 200 km from Yakutsk. It is known as the most northerly rune inscription in the world.
Researchers in the middle of the last century believed that the inscription indicated the location of medieval treasure.
A literal translation is said to read: 'Pearls of the tribe Az.' Scientists claim such Turkic scripts date back 1,000 years or more.
The Old Turkic script – also known as variously Göktürk script, Orkhon script, Orkhon-Yenisei script –  is the alphabet used by the Göktürks and other early Turkic khanates during the 8th to 10th centuries.
The script is named after the Orkhon Valley in Mongolia where early 8th century inscriptions were discovered in an 1889 expedition by Nikolai Yadrintsev. These Orkhon inscriptions were published by Vasily Radlov and deciphered by the Danish philologist Vilhelm Thomsen in 1893. This writing system was later used within the Uyghur Khaganate.
Additionally, a Siberian variant is known from 9th century Yenisei Kirghiz inscriptions, and it has likely cousins in the Talas Valley of Turkestan and the Old Hungarian alphabet of the 10th century. Words were usually written from right to left.
Yakut runic letters are the least studied in Siberia. They provoke heated discussions among the linguists and Turkologists. But most new finds of inscriptions are made in Yakutia. Now the total number all Yakutian finds is close to 90. Most runic inscriptions of Yakutia have not yet been deciphered.
Source: siberiantimes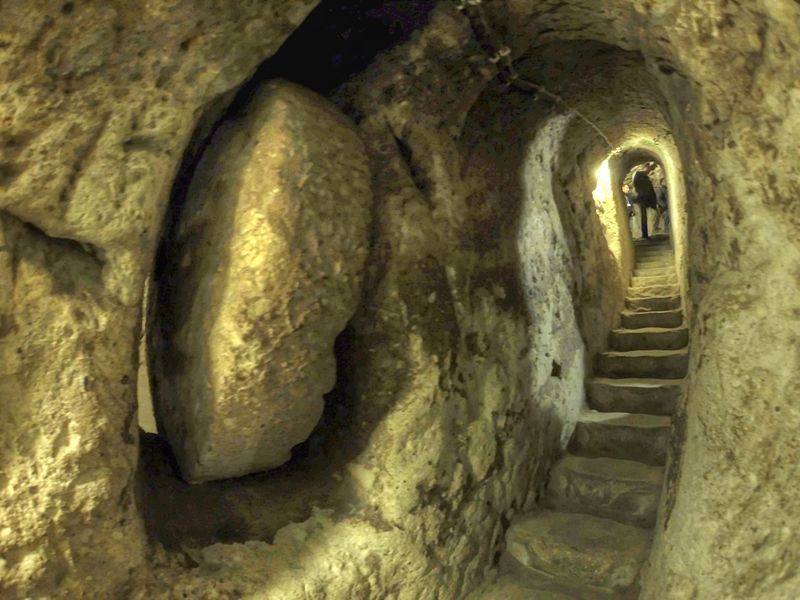 Who built the underground City of Derinkuyu?
The worldwide known region of Turkey – Cappadocia it has magical beauty not only on its surface but also in the bottom. Every part of this region is magical. Above ground, there are ancient volcanic stone chimneys, known as "fairy chimneys". There are no words to describe this excellence. Оr as someone once said: Cappadocia – it looks like Mars but it's in Turkey. Over the years, generations and cultures have changed, but they all contributed to the unique appearance and structure (in and out) of these chimneys today. The "fairy chimneys" have very impressive architecture.
But Cappadocia is not just what we see on the surface. In the heart of Cappadocia lie hidden places. Also it has beauty inside, within, like a human being you know. The underground city of this region number about 200 and they are spread across the entire region. It's assumed there could be more lying below the surface, waiting to be discovered. Of all the underground cities discovered so far, the most interesting story brings the city of Derinkuyu. The city was discovered by accident. when a local family decided to renovate their home. Suddenly a wall gave way to reveal a room and passage that led to this underground network. Derinkuyu it's like a huge building.
According to some research, it is on 11 floors or levels descending about 280 feet, with an area of a little over 4 miles squared (10.4 kilometers squared). Inside there are many chambers for everyday activities, tombs, temples, living quarters etc. This underground city can also be connected to other local underground networks as well as wineries, underground water well systems providing fresh water, and a security system made up of enormous stone doors that can close the city from the inside. Each section, or level, can be separated from the following. Heavy stone doors could close Derinkuyu from the inside in order to fend off intruders, and each story could be shut off individually.
The most frequent guests throughout the years are tourists and archaeologists. The place by itself it's safe considering its solid structure. The underground rock is very strong. Despite the good structure of the stone, there are no signs of the existence of any cave-ins. Furthermore, the engineer of this masterpiece had a good knowledge of the stone, stonework, architecture, and the local geography.
And the real question is: Who built this underground kingdom and why?
It is really difficult to determine the age of the structure. Furthermore, there is no recorded documentation of the construction and the people who lived there moved over the years. Common assumptions are that they are built by the early Christians but later research has shown that early Christians were only temporary residents. According to UNESCO, the first signs of monastic activity in Cappadocia date back to the 4th century, at which time, acting on the instructions of Basil the Great, Bishop of Caesarea, small anchoritic communities began inhabiting cells dug into the rock. It is believed that these underground premises were mostly refugee shelters.
There are many theories about who built the underground city. There are beliefs that the caves were constructed by the Persian King Yima. But in fact, he was more a mythological figure than a real king. The story of the king Yima is similar to the story of Noah in the Bible: The king built an underground city on the orders of the god Ahura Mazda, to protect his people from a catastrophic winter. He collects pairs of the best animals and people as well as the best seeds in order to reseed the Earth after the winter cataclysm.
The story of the 'winter' it's in fact maybe the period of the ice age. And the last ice was between 110,000 to 10,000 years ago. The diverse labyrinths, so many floors and security doors point to the fact that these rooms are built to protect something or someone. The most impressive fact is that the network would have taken an immense amount of time to construct without advanced tools. The mystery of who built these underground networks is huge and heavy as the rolling stones on the doors of Derinkuyu.