Ancient Cities and Megalithic Sites Underwater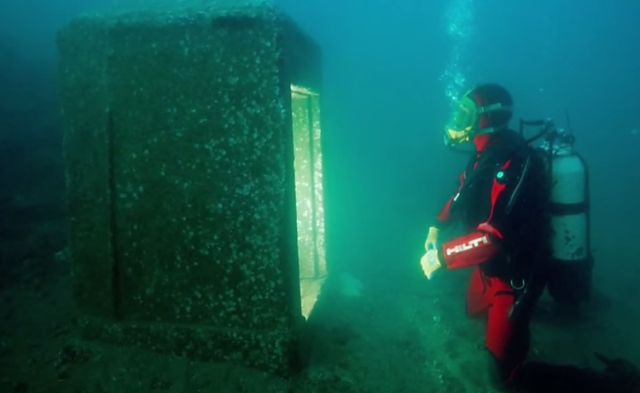 A wealth of human history lies submerged in ancient cities at the bottoms of lakes, seas and oceans of the world.
Some of these urban centers were sent into the water via earthquakes, tsunamis or other disasters thousands of years ago.
Many ruins have just recently been rediscovered, by accident or through emergent technological innovations. Some have even caused scientists to question the history of human civilization.
Unlike the fabled cities of Atlantis and Lemuria, the underwater ruins of the ancient Greek city of Helike were rediscovered in 2001. Buried underneath the remnants of a primordial lagoon, it is no longer a tantalizing mystery for writers, historians and enterprising explorers. A multitude of ancient cities and buildings have been found underneath the waters of our oceans. In the past couple of years, discovery claims surfaced of ancient underwater sites the size of Pompeii. As convincing as these claims are, no real proof has ever been found for the supposed Japan, Cambay and Cuba anomalies and these sites remain highly controversial. The following ruins serve as a reminder of Mother Nature's might and of our glorious archaeological ancestry.
Seahenge Norfolk, England
Seahenge, also known as Holme 1, consisted of a ring of fifty-five oak trunks that formed a circular enclosure with a large inverted oak stump in the centre. The trunks were placed in a trench and not in individual holes with their bark facing outwards and split sides facing inwards. Placed about 3 ft into the ground, we will never know how tall the trunks actually were. It was built around the 21st century BC. After its discovery in 1998, the site was excavated despite protests from Neo-pagan groups and the timbers were cleaned and placed in permanent storage. A recreated Seahenge was placed at the original site and a museum opened to the public in 2008.
Sunken ruins of Cleopatra's palace, Alexandria, Egypt
Off the shores of Alexandria, the city of Alexander the Great, lie what are believed to be the ruins of the royal quarters of Cleopatra. It is believed that earthquakes over 1,500 years ago were responsible for casting this into the sea, along with artifacts, statues and other parts of Cleopatra's palace. The city of Alexandria even plans to offer underwater tours of this wonder.
Lost more than 1600 ago, Cleopatra's palace as well as the temple of Isis was discovered in the archaeological waters of Alexandria. Legend holds that Cleopatra and Marc Anthony committed suicide to avoid capture by the Romans, who in turn destroyed and dispersed their belongings. Up to date, archaeologists have found three areas where they believe their tomb to be. More than 140 artifacts have been excavated so far, and excavation work continues to this day at the submerged royal quarters. Archaeologists are also researching the possibility of an underwater museum at the site.
Links: http://www.smithsonianmag.com/science-nature/Raising-Alexandria.html
Herakleion and Canopus, Abu Qir Bay, Egypt
Herakleion and Canopus were the twin cities guarding the gateway to Egypt. Herakleion was also home to Menelaus, king of Sparta, during his famous 10-year war against Troy. More than 1200 years ago, the cities abruptly collapsed when a flood turned the ground on which they were built into silt. Until their discovery in 1999, the only proof of their existence came from the texts of a few venerable historians and Greek mythology. The ancient ruins were discovered at depths of 20 – 23 feet (7 m), frozen in time, with its many temples, statues and other dwellings still demonstrating its former glory.
Link: http://blog.world-mysteries.com/strange-artifacts/thonis-heracleion-legendary-sunken-city-discovered/
Baiae,Bay of Naples, Italy
Baiae was the home port of the Western Imperial fleet of Rome. Playground of the filthy rich and infamous for its corruption and decadence the site has delivered numerous Roman sculptures. As a stockpile of casts were discovered, some believe a workshop probably mass-produced copies of original bronze sculptures for the Roman market. Baiae was annihilated by Muslim invaders in the 8th century AD and completely abandoned by 1500. Due to the volcanic activity of the area, the structure ultimately collapsed into the ocean.
Pavlopetri Peloponnese, Greece
Pavlopetri is unique as it is the earliest submerged archaeological city to have been discovered. It had a layout of streets, courtyards, tombs and various buildings that has largely remained as it was millennia ago. Accurately mapped for the first time in 2009, archaeologists were amazed to discover the site sprawled more then 30,000 square meters. The town was engulfed around 1000 BC by an earthquake. A protected underwater cultural heritage site as listed by UNESCO, it remains in danger of being damaged by thieves, tourists and boat anchors.
The complex mix of expert archaeology, underwater robotics and state of the art graphics allowed the team to piece together the secrets of Pavlopetri, producing spectacular results.
Link: http://www.bbc.co.uk/programmes/p00kvv96
Atlit-Yam Haifa, Israel
Dating from around 7000 BC, this is one of the oldest and largest submerged human dwellings ever discovered. In fact, for 9000 years the granular ocean floor preserved the site so well, that bugs can still be found in the grain stores and the skeletons are still lying peacefully in their graves. The ruins were discovered in 1984 and immediately gave rise to different theories as to how the well-developed ancient village met its ultimate demise. From a tsunami to the gradual rise of the ocean due to the systematic melting of the glaciers, the events leading to its ultimate fate will forever be shrouded in mystery.
Link: http://www.antiquities.org.il/article_Item_eng.asp?sec_id=14&subj_id=139
Port Royal, Kingston Harbor, Jamaica
Home to prostitutes and pirates, Port Royal used to be the "Wickedest City on Earth". Founded in 1518, it was a notorious port city and popular abode for English and Dutch privateers until their governments cancelled their commissions to confiscate Spain's ships. As the privateers became pirates, the port became the hotspot for pirates from as far away as Madagascar. Destroyed and sunk in part after an earthquake in 1692, excavations have yielded historical documents, various buildings, thoroughfares and actual preserved food. Various plans are in the pipeline to redevelop the town into a main tourist destination.
The Shore Temple Mahabalipuram, India
The famous Mahabalipuram temple has always been encased in folklore. The legends spoke of seven temples that were so dazzling; the gods grew envious and sent a flood that submerged all but one of them, leaving the Shore Temple companionless. After the Tsunami of December 2004, a collapsed temple as well as several other structures and primordial rock sculptures used in the same era to decorate walls and religious shrines were exposed. It revived theories that Mahabalipuram formed part of the Seven Pagodas the first Europeans wrote about.
Bay of Cambay, India
A few years back discovered the remains of a vast 9,500 year old city. This submerged ruin has intact architecture and human remains. More significantly, this find predates all finds in the area by over 5,000 years, forcing historians to reevaluate their understanding of the history of civilazation in the region. The find has been termed Dwarka, or the 'Golden City,' after an ancient city-in-the sea said to belong to the Hindu god Krishna.
Link: http://news.bbc.co.uk/1/hi/world/south_asia/1768109.stm
Bimini Road
The Bimini Road, sometimes called the Bimini Wall, is an underwater rock formation near North Bimini island in the Bahamas. The Road consists of a 0.8 km (0.50 mi)-long northeast-southwest linear feature composed of roughly rectangular to subrectangular limestone blocks.
Although it is generally considered to be a naturally occurring geological feature, as a result of the unusual arrangement and shape of the stones some believe that the formation is the remains of an ancient road, wall, or some other deliberately constructed feature. For example articles published in Argosy (an American pulp magazine) and either authored or coauthored by Robert F. Marx, a professional diver and visitor to the Bimini Road, argued that the Bimini Road is an artificial structure.
Yonaguni-Jima, Japan

A mysterious undersea structure off the coast of Japan causes controversy – is this a natural geological phenomena or a man-made structure which changes the history books as we know them?
In 1986, a diver near the island of Yonaguni Jima, off the southern tip of Japan (around Okinawa) came across some strange structures about 25 metres below sea level. They appeared to be stepped structures with terraces and ramps. One of the largest pyramid structures is 600 feet wide and 90 feet high –with five separate levels of stone blocks with what appears to be road surrounding the structure.
These structures seem to have been carved right out of bedrock in a teraforming process using tools previously thought unavailable to ancient cultures of the region.
MEGALITHIC RUINS near Yucatan Channel, Cuba
A team of scientists continues to explore megalithic ruins found in the Yucatan Channel near Cuba. They have found evidence of an extensive urban environment stretching for miles along the ocean shore. Some believe that the civilization that inhabited these predates all known ancient American cultures. So far, only computer models of this mysterious underwater city exist.
Samabaj Lake Atitlán, Guatemala
Discovered in 1996, researchers have concluded that the ruins were originally an island until volcanic activity or a landslide sunk it 1700 years ago.
The buildings were drowned before the era of Mayan rule and artifacts discovered have left the impression that the area was abandoned in a hurry. Several ceremonial monuments have been uncovered as well as altars, incense burners, ceramics and other artifacts. Excavations are extremely demanding as the visibility is close to none and everything is covered with a very thick layer of silt.
Mysterious Staircase Found In Giza Plateau?
An announcement that seemingly slipped us by, was made recently within Egypt.
This announcement, pertained to an amazing discovery made within an area of the Giza plateau, that for a number of decades, has been conveniently been shut off from the public…
Although the location is claimed to be a military training base, archaeologists have apparently been secretly beavering away within this remote slice of antiquity.
Announced by the Supreme Council of Egyptian Antiquities, Egyptian authorities have apparently found the mysterious traces of the legendary 4th lost pyramid of the plateau.
This provocative announcement stirred up a gale of protest among many Egyptologists, and the reasons for this may because the discovery, might turn out to be highly controversial…
Although the pyramid is in a very bad state, and this may be due to its immense age, with only a few rows of blocks remain, and these surviving blocks clearly displaying evidence to indicate, that the missing blocks have simply eroded away over the eons,,, this ruin, may not be the most important find in the area, or indeed the purpose for the video.
Along with these pyramidal remains at the site, is another amazing anomaly.
In the middle of this mysterious desert, an enormous staircase has been found, plunging into the desert floor.
Seemingly excavated before this announcement, and left for those who were fortunate enough to get access to the area, to rediscover and photograph.
This enormous staircase plunges straight through a limestone basin many metres in depth, this surgical slice, has revealed an astonishing implication, it ha revealed that the Giza plateau does indeed extend this far, not only that, but it demonstrates the sheer, unimaginable cubic size of this area of stone, a block of stone that was apparently man-made…
Where this staircase actually leads to, is as yet, unknown, although it is thought to drop far below that which is currently visible, and preliminary scans of the area are suggesting that it plunges through the plateau, deep into an ocean of ground water below.
By examining the pictures of the discovery, it appears that the site has indeed been excavated from the sand, having most likely been submerged from view beforehand, the questions are:
Who did these excavations?
Who built this unbelievable structure, or indeed the mind bogglingly enormous Giza plateau?
Who built the pyramids and sphinx upon it?
Where did such an enormous stone plateau come from?
How did they shape and carve such mysterious structures with such blocks.
Or perhaps most importantly of all, where does this staircase lead?
Did whoever undertake this excavation task, manage to discover where it led?
More research and exploration will undoubtedly be undertaken over the next few years.
We will, of course, keep you posted.
Source Mystery History , YouTube
Third Snowy Pyramid Recently Discovered in Antarctica Could Rewrite History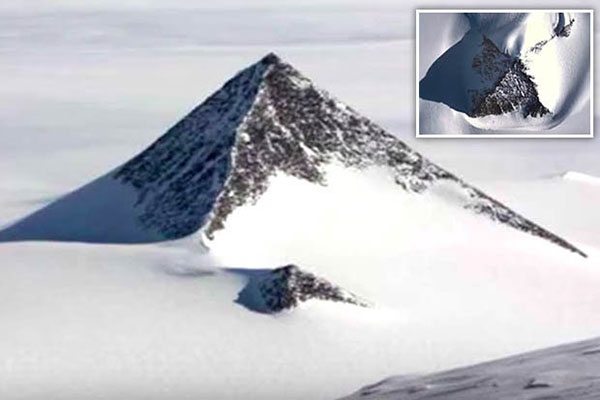 Though not everyone is willing to admit it, our planet is full of relics and monuments that prove Earth was once populated by extremely advanced civilizations. Point in case: the third ice-covered pyramid discovered in Antarctica!
Ever since the service was released, Google Earth been a boon not just for conspiracy theorists but also for anyone looking to uncover clues about what lies hidden beyond sight. If you need a good vantage point, you need good eyes and altitude. Satellites have both.
The latest in a group of three snow-covered pyramids was recently discovered through Google Earth satellite imagery and in a few days, the finding has taken the alternative history communities by storm. Two of the pyramids can be found approximately 10 miles inland while the third rests near the coastline.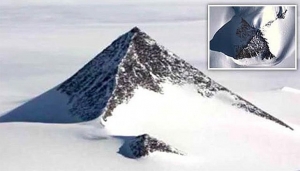 The implications of this discovery are complex and if accepted, it could turn the scientific world on its head. No history book ever mentioned an Antarctic civilization with the skills and technology necessary to erect enormous pyramids. There is one apparent reason behind this situation and by the looks of it, it would suggest tech-savvy civilizations existed on Earth a long time before our own emerged.
Antarctica is now a frozen wasteland but it wasn't always like this. It got to its current position through plate tectonics, inching closer to the geographic South Pole year after year. Millions of years ago, Antarctica's climate was much warmer because its position was closer to the equator. This is established fact backed up by several accepted discoveries, not some wild speculation.
Some years ago, the British Antarctic Survey (BAS) uncovered evidence that the antarctic climate was much different in the distant past.
Go back 100 million years ago," BAS's Dr. Vanessa Bowman said "and Antarctica was covered in lush rainforests similar to those that exist in New Zealand today."
Another expedition –led by NASA and involving 11 other scientific organizations– discovered out-of-place microbial life forms in the depths of Antarctica's Lake Vida, trapped under a sheet of ice 65 feet thick. The microbial colonies had been prospering in isolation for millions of years and scientists believe they are the descendants of microorganisms that lived in a much warmer climate. Who knows what other enigmas lay buried in ice, hopelessly waiting to be revealed.

The resemblance is unsettling.
Even with today's technology, building structures as massive as the pyramids of Antarctica would be nearly impossible. There are simply too many problems relating to manpower and the logistics required for such a project. If building these mysterious monuments were to be a viable venture, it must have taken place in the past, when Antarctica was a favorable place for human life.
And this opens up a king-sized can of worms. The continent was habitable only in the very distant past, but mainstream science says the wheel wasn't invented until some 6,000 years ago. At the same time, anatomically-modern humans are said to have mastered fire only 125,000 years ago. So where do these controversial pyramids fit in? Are they evidence of an ancient advanced civilization or do we need to stretch our imagination even further and regard them as proof of time travel? The mind boggles when we remain attached to our outdated beliefs.
Proponents of alternative history and fans of the ancient aliens hypothesis have no problem in accepting the parallel reality generated by such discoveries. It's not hard to see and accept that we aren't the first and though it may seem this way, we probably won't be the last.
Thousands of years after they were built, we are still fascinated by the Egyptian pyramids. The monuments left behind by their society have stood the test of time and in more than one way, they've granted their builders immortality. Keeping that in mind, what could be said about pyramids that are millions of years old? Does that put our own lives into perspective and make us see the bigger picture?
Or do we recoil in egotistic dismissal?
Source: https://ufoholic.com
Ancient texts suggest the town the legendary King Arthur comes from
King Arthur really did exist and was born near Leeds, according to a British historian who claims to have found evidence that proves legends about the ruler were true.
Arthur was born around 475 AD in his kingdom's capital, Barwick-in-Elmet, a once sprawling stronghold, he says.
The finding was made by studying a number of historical texts, narrowing down the range of potential figures who fit the descriptions presented.
His theory disputes the folklore tale that Arthur was conceived at Tintagel in Cornwall and challenges academics who believe the king was just a myth.
The claims are made by Adrian Grant after six-years of research critically examining 12 major battles he is believed to have fought in during the Arthurian campaign.
Mr Grant, the latest in a long line of amateur history writers fascinated by Arthurian mythology, set out to write his latest book, Arthur: Legend, Logic and Evidence, after working on a previous volume about Scottish clans.
After hearing of various clans claiming to have links to the legendary leader, the former high school geography teacher decided to look into Arthur's true lineage.
He set out to prove or disprove Arthur's existence by studying works by Gildas, Aneurin, Bede, Nennius, Marie de France, Chrétien de Troyes, Geoffrey of Monmouth, Thomas Mallory, works by two anonymous authors, the Welsh Annals and the Anglo-Saxon Chronicle.
He believes Arthur was the son of Masgwid Gloff, a fifth-Century king who ruled over the kingdom of Elmet – a region located in what is now the West Riding of Yorkshire – and his wife Gwenllian V Bryche.
His true name was Arthwys ap Masgwid, or Arthur, son of Masgwid.
Mr Grant came to this conclusion by marrying what historical texts say about Arthur and his roles in the Arthurian campaign, a series of battles in which the legendary figure was the leader.
Speaking to MailOnline, Mr Grant, 70, said: 'Many people have tried to identify Arthur and have squeezed the facts to fit an individual they have already decided upon.
'I created the time window in which he had to exist, through researching these historical records, then trawled the family trees available online.
'This Arthur fits all the criteria. He was born at the right time and he was a junior brother so almost a spare, which means he was free to fight and die well, but wasn't expected to inherit the throne.'
Today, the village of Barwick-in-Elmet – seven miles east of Leeds city centre – has just under 5,000 residents.
Arthur's family castle would have stood on or near to Hall Tower Hill, an existing mound and ditch once home to an Iron Age fort.
Mr Grant, added: 'I think I have uncovered the truth. This study was conducted with a view of separating fact from fiction and history from legend.
'Previous researchers have approached the matter in a completely different way. They have made assumptions that have turned out to be unwarranted.
'The thing is you have a limited time scale. The first battle was in 495 AD and the legend says that Arthur was selected at the age of 15.
'That leaves you with a date between 475 AD and 480 AD as to when he was born.
'We have a very small window and you have an individual with the right name and that fits all the necessary questions, there is nobody else – so therefore that's him.'
Source: http://www.dailymail.co.uk