Ancient Aliens, Superheroes, and the Decline in Religious Belief
Co-author: Abby Moore (superhero theorist). Are myths of ancient astronauts filling the voids left behind in the exodus from the myths of religion? Perhaps the popularity of the Ancient Aliens television series parallels the decline of traditional religious belief in 21st-century America. After all, twice as many Americans believe in ancient aliens visiting humans on Earth (35%) than believe in the pure evolution of human life on Earth (19%). Maybe TV shows about ancient aliens and Hollywood movies about superheroes provide the big cosmic narratives that once belonged almost solely to theology. Think about it: ancient aliens and superheroes both have superpowers once reserved for Gods, prophets, and miracle makers.
For the record, I am an existentialist without the angst, influenced by Sartre, Sagan, and others. In a vast and ancient universe of two trillion galaxies and three sextillion stars stretching across 100 billion light years, I am not a cosmic narcissist who believes a Creator has a special plan for me or my species on a speck of a planet in a remote part of one galaxy. Yet, the cosmic vastness gives me hope that— to quote the astronaut Taylor (Charlton Heston) in Planet of the Apes (1968)— there has "to be something better than man. Has to be." As explained in my most read essay in Medium, these better-than-human extratrerrestrials have never visited Earth (though I wish they would). Instead, we are witnessing the electronic birth of a new religion based in the myths and imaginary legends of extraterrestrial reality-TV stars—the "ancient aliens" who star in every episode, but have yet to appear.
21st Century Non-Belief
Much has been written about the decline of religious belief in 21st-century America, as documented in various surveys by the Pew Research Center. Americans who have no religious belief and/or no religious affiliation rose to 22.8% in 2014, up from 2% in the 1950s. While religious writers blamed the decline on the usual suspects (the breakdown of society, the decay of traditional values, and so on), the atheists and humanists tweeted their cheers of hope, apparently overlooking the possibility that a decline in traditional religious belief does not automatically equate to a rise in reason, science, and enlightenment. Given the increasing paranormalism in America, it could be the opposite. Make no mistake, something will fill the void.
According to the United States Census, the current US population is an estimated 327 million people. If indeed 22.8% of Americans are non-believers, that total equals about 75 million people. Age is definitely a factor in non-belief. Over 33% of millennials claim no religious belief, while GenX non-believers are at 23%, Baby Boomers are 17%, and those born before 1945 are 11%.
According to Pew, about 50% of the unaffiliated are disenchanted with religion or don't need religion because of their beliefs in "science" and the lack of evidence for a Creator. Another 20% have a beef against organized religion, while 18% are unsure of their beliefs and 10% are inactive.
What's most interesting to me is not the increase in atheists and agnostics, but the 15.8% who believe "nothing in particular." 15.8% equals just over 50 million people. Since I doubt all of these people are nihilists, I wonder what they believe about the origins and destiny of the human species.
Are they merely disinterested in religion? Have they outgrown religion, with no need to replace it with any other worldview or cosmology? Do they believe in evolution or that the observable universe is indeed 13.7 billion years old and contains two trillion galaxies? Do they believe in human-caused climate disruption or the Anthropocene? Do they believe we got here via the advice and interventions of ancient aliens? Or do mobile phones, cool threads, hipster restaurants, and Netflix subscriptions provide the needed daily dope—such that they do not need a cosmology for themselves or for our species?
The Apollo Effect
According to Gallup surveys and National Public Radio, the "nones" stayed below 5% until the Apollo program in the late 1960s. The rise of the nones began with the launch of rockets to the moon and continued long after the Apollo program was shut down. For readers who might not know, Apollo 8 orbited the moon in 1968 and took the famed Earthrise image, with Apollo 11 landing on the moon in 1969 and Apollo 17 marking the last journey to the moon in 1972.
The Internet Effect
According to computer scientist Allen Downey, the rise of the internet correlates with the rise of non-belief from 1990 to 2010. During that period, the increase in non-believers jumped from 8% to 18% of Americans. In a study of four decades of survey data trends regarding demographics, socioeconomics, religious affiliation, and internet usage, Downey concluded that:
• Religious upbringing increases the chance of religious affiliation as an adult. Decreases in religious upbringing between the 1980s and 2000s account for about 25% of the observed decrease in affiliation.
• College education decreases the chance of religious affiliation. Increases in college graduation between the 1980s and 2000s account for about 5% of the observed decrease in affiliation.
• Internet use decreases the chance of religious affiliation. Increases in Internet use since 1990, from 0 to nearly 80% of the general population, account for about 20% of the observed decrease in affiliation.
Please keep in mind that "correlation" does not equal "causation." Correlations show patterns that we must connect to other knowledge, evidence, and observations.
What Accounts for the Other 45%?
Given there are 75 million non-believers, what other trends might account for the startling growth in numbers? If we follow Downey's study and assume upbringing, education, and the internet can account for 55% of the increase, what else accounts for the other 45% (33.7 million people)?
Is it the growth of the scientific outlook? That's possible, given that only 9% of Americans believed in pure evolution in 1982 and the total has more than doubled to 19% in 2014 (according to Gallup). However, it is likely a good chunk of that 19% is accounted for in the 55% of Downey's study?
Could the increases be attributed to the various "New Atheist" books published in the past few years? Recent works include: Sam Harris' The End of Faith (2004), Susan Jacoby's Freethinkers: A History of American Secularism (2004), Richard Dawkins' The God Delusion (2006), Daniel Dennett's Breaking the Spell (2006), Christopher Hitchens' God is Not Great (2007), and Victor Stenger's God: the Failed Hypothesis (2007). These books might have had marginal influence on creating more non-believers, but my guess is that most of the readers of these books were already atheists. Plus, the sales of these books are dwarfed by the audience size of Ancient Aliens.
The Rise of Ancient Alien Theory: Hijacking the 2001 and Apollo Narratives
Published at the pinnacle of the space age in 1968, Erich von Daniken's Chariots of the Gods? hijacked the space narrative from Apollo and Stanley Kubrick's 2001: A Space Odyssey. 2001 appeared in 1968, along with Planet of the Apes, Apollo 8 (the first journey to the moon), and Chariots of the Gods?. Apollo 11 landed on the moon in 1969 as von Daniken's book was becoming popular around the world. Chariots of the Gods? did what few other works tried (outside of a few episodes of the original Star Trek): it connected human destiny on Earth to the stars we were beginning to explore with the Apollo program. As I wrote in my previous essay about ancient-alien theory:
"The ancient-astronaut theory draws upon two valid cosmological concepts: 1) the reality of the immensity of space and time; and 2) the possibility of advanced civilizations somewhere in the cosmos. Given that the scale of the observable universe is immense and that NASA's Kepler telescope suggests there may be billions of planets in the Milky Way, there is almost certainly life elsewhere in the cosmos, perhaps including intelligent civilizations."
"Given that the observable universe is 13.7 billion years old and it took 4 billion years for intelligent life to emerge on Earth, then it is possible the remaining 9 billion years produced civilizations that may have existed for millions or billions of years. If so, they may have developed space travel technologies that allow them to traverse the great distances with relative ease…Such a possibility is one reason why 2001 offers such a compelling vision of human origins and destinies. After all, it would be an epochal moment to find a black monolith somewhere on Earth or the moon, beaming out a radio signal to an alert and curious species."
Such a possibility is attractive, at least in theory. If ancient aliens have visited our planet, they would have possessed highly advanced sciences and technologies. They would have been viewed as gods, angels, and miracle makers by premodern humans, who would have looked upon the beings and technologies with awe, wonder, and fear.
Since Chariots of the Gods? was a huge best-seller, it was made into a documentary film, Chariots of the Gods (1970). Creator of The Twilight Zone, Rod Serling even narrated a one-hour TV version called In Search of Ancient Astronauts (1973). A copycat version of the film, Mysteries of the Gods, was released in 1976—hosted by none other than William Shatner, a.k.a. Captain Kirk, looking rather hip in a green turtleneck and black velour blazer, while sporting a 1970s-style toupée. With films and TV shows as publicity, Chariots of the Gods? sold over 40 million copies during the 1970s.
Without a doubt, 2001, Planet of the Apes, and von Daniken's book and films were trying to account for human origins and destiny at the pinnacle of the space age and the Apollo program. When I first encountered Chariots of the Gods? as a boy in the suburbs of Texas in the 1970s, it seemed like a plausible counter-narrative to the self-righteous evangelicals in my school and neighborhood. As explained here, I eventually began to question the validity of the assertions and realized the ancient-alien theory was bogus pseudoscience. To be frank, I was kinda bummed out. But, logic and evidence mattered more to me. Still do.
Of course, there were mainstream media efforts to debunk Chariots of the Gods? These included a 1976 Skeptical Inquirer article, a book entitled The Space Gods Revealed that featured a forward by Carl Sagan, and a BBC-PBS production of Nova (the episode "The Case of the Ancient Astronauts"). Nevertheless, the book's pseudoscientific ideas continued to circulate around the world in the decades that featured the rise of non-belief in the wake of Apollo. Given that Chariots of the Gods? sold 40 million copies, can we assume it had zero impact on traditional religious beliefs?
In 2009, a two-part episode of Ancient Aliens appeared on the History Channel. So popular was the show that the History Channel programmed the Ancient Alien series, which began in 2010 and is still running every season—134 episodes and counting! As point of comparison for the atheist programs, Neil deGrasse Tyson's 2014 Cosmos reboot only had 13 episodes and seems to appear on TV far less often than Ancient Aliens. I have seen both series listed in Netflix. Why would Ancient Aliens far outstrip Cosmos if the issue was merely a scientific outlook?
The prime-time episodes of Ancient Aliens draw well over one million viewers, plus there are endless repeats during days and evenings. These audiences are far larger than anything on the Science Channel. Who knows how many millions of viewers have seen the various episodes of Ancient Aliens? Among the 45% and 33 million non-believers unaccounted for in Downey's study, how many millions might be fans of Ancient Aliens? I don't know but it is a question worth considering. I bet the total is far from zero. After all, recent surveys show that 35% of Americans believe aliens have visited Earth in the ancient past (see the Chapman surveys below).
The Ancient Aliens series features fanciful storytelling, with many scenes shot at the various remote sites where "evidence" of ancient aliens supposedly exists. Still, it's all pseudoscientific nonsense—simply because there are no proven artifacts of extraterrestrial origin. There is no academic conspiracy against the ancient-alien theorists as implied in the narration and comments of the talking heads. What's needed is proven evidence, as cleverly suggested by the monolith in 2001. But we haven't discovered a monolith or the "chariots." I wish we had.
In Chariots of the Gods?, Mysteries of the Gods, and Ancient Aliens, virtually all of the so-called evidence and arguments provided by the theorists are myth, superstition, hearsay, anecdotal, or involve an inference or conclusion that is fallacious, implausible, or unknowable. The "evidence" and arguments also contain inaccuracies, mistaken assumptions, unrelated facts, and false similarities. The few remaining pieces of "evidence" — which are a tiny fragment of the absurd claims — are simply mysteries yet to be solved or mysteries that will never be solved. One might say this is also a key point in the cultural emergence of "alternative facts."
Ancient Aliens: A New Cosmic Religion
But the pseudoscience, endless fallacies, and alternative facts have not prevented the multi-season programming of the television series. Even if the History Channel decided against renewing the series, it would run for decades in syndication and for eternity online, at least until real extraterrestrials arrived or we finishing wrecking the planet.
Chariots of the Gods? and Ancient Aliens have given birth to new cosmic religion narrative, with von Daniken as the great prophet and his followers serving as the scribes—Giorgio Tsoukalos, Graham Hancock, David Childress, and others. Like God and his prophets, the unseen aliens have superpowers and have shaped our past and perhaps our destiny, especially if they return. The ancient alien narrative is like the standard Creator narratives, in that it assumes most everything humans have done follows from pre-ordained grand plans, with mysterious or hidden purposes, effected by an all-powerful force from the sky, a force that has yet to return to prove it exists. Like the Creator narrative, we humans must have been special beneficiaries. After all, the ancient aliens have taken the time to visit our tiny planet, thus caring enough to allegedly build stone structures, design ancient batteries, create cool statuettes, and paint pictographs before cruising to the next galaxy or star system.
Despite (or because of) the pseudoscience, the ancient alien theorists are doing a far better job of connecting humanity to the cosmos than Hollywood filmmakers and contemporary philosophers. The ancient-alien theorists have a fervant audience of followers who feel the theory connects our origins and destinies to the stars. Meanwhile, Hollywood merely sends us into space to wage Star Wars and battle Alien monsters.
All of the above is why I predict the ancient-alien narrative will continue to grow over time, precisely because it is filled with mystical and magical beliefs that mirror religious mythologies. Ancient Aliens makes us feel special—just like Jesus, ETs came to visit us and advise us. After hijacking the 2001narrative, von Daniken and his scribes have built the ancient-astronaut theory into a new religion, a new cosmic narrative filling the void left by contemporary philosophy as it shrinks before a massive and expanding universe. Meanwhile, secular society provides us with mobile phones and IMAX movies, and says we and our tribes are special—so super-special that superheroes will save us in case the aliens don't make it back in time.
Superheroes: Our Secular Gods
Born of Nietzsche's 19th century "Ubermensch," the superhero emerged to counter horiffic "supermen" of the 20th century — the Marxist New Man and the Nazi Aryan man. By the early 20th century, the Soviet Union promised to create the Marxist New Man, the new human supposedly liberated from capitalism and united via communism and "scientific" materialism, supposedly destined to operate on an international scale. Countering the Marxist New Man, Nazi Germany concocted a racist Aryan Man, a mythical superman from the past supposedly destined to rule Europe and much of the world. Of course, both of these visions of a "new man" resulted in genocide and mass slaughter in totalitarian societies, culminating in World War II and the deaths of hundreds of millions of people before, during, and after the war.
In America's land of a mythic "Democratic Man," the only "superman" would be Superman, Batman, and subsequent legions of superheroes to save us in comics and movies. Though superheroes are fictional, their stories draw on real world events, such as nuclear weapons and environmental destruction. Superheroes function like secular gods providing stories about humanity's survival and redemption in the face of apocalypse. In the end credits for The Avengers: Age of Ultron (2015), we see a giant sculpture of the Avenger superheroes, as if they are a pantheon of gods from Ancient Greece or Rome.
Well into the 21st century, the superhero films just keep coming from Hollywood. Be it Superman, Batman, X-Men, Wonder Woman, or The Avengers, it seems almost all superhero films feature superheroes confronting a doomsday scenario for humanity. The superheroes must "save the world" because we can't do it. Just as ancient-aliens fills the void left by philosophy divorced from science, superheroes fill the void left because industrial society has become divorced from nature, yet it is utterly reliant on the resources we are depleting. Oceans are acidifying, sea levels are rising, and nuclear war is still a possibility, while terrorism, exploitation, and endless tribal warfare plague secular society. Superheroes are needed to save us from ourselves because we know we have no answers, no real solutions for our problems, no leaders or institutions left to trust. It's the same thing, over and over again, as illustrated in presidential elections.
In the 21st century, Americans expect their presidents to be superheroes battling the doomsday scenarios of the other party—thus we give the presidents ever-expanded political and legal powers, as if we are trying to give them superpowers and make them into superheroes with super solutions. Both major parties do it. Don't deny it. When the dictator arrives in America, it will be in the guise of a presidential superhero with political superpowers. As Trump has shown, the superhero prez won't even need to be rational or coherent or even sane. They just need to be superheroes who zap the bad guys. This is what happens when religion and nationalism merge with Hollywood and the 24/7 media spectacle.
In superhero movies and sequels, the superheroes must return to save us, again and again. Ancient-alien theorists claim extraterrestrial visitors shaped our past, present, and perhaps our future when they return. The return of aliens and superheroes echoes the promised return of Jesus and Nietzsche's cycle of the eternal return, the superhero feedback loop. Ancient aliens and superheroes have superpowers beyond anything humans have, not unlike the Gods and prophets in religions. In the end, superheroes are our secular Gods and fulfill functions formerly reserved for religion, while ancient-alien theory claims to offer a secular narrative that connects us to the stars, yet ends up as another religion—a merger of the space age and new age.
Superhero stories and ancient-alien theory now stand in for contemporary philosophy, divorced from 21st century cosmology and declared "dead" by Stephen Hawking. In the absence of a science-based popular philosophy that offers us hope, meaning, and purpose (beyond tribalism, consumerism, and strip-mining other planets) amid the cosmic vastness, the ancient-alien theory provides hope and meaning by connecting our origins and destiny to a story that begins in the stars—even it is in a universe of alternative facts.
How much of the decline of traditional religious belief can be attributed to the rise of ancient alien theory? I don't know, but given this analysis, I bet it is far from zero. This possibility is why the traditional religions will try to colonize the ancient-alien theory. Already, one prominent religious leader suggests we baptize extraterrestrials upon meeting them. If the ancient aliens do show up and don't believe in a Creator, we might well need the superheroes to save us from a religious war in space!
_____________
Barry Vacker is author of the new book, Specter of the Monolith (2017), which explores the meaning of Apollo and films like 2001 and Interstellar, while outlining a new and entirely original space philosophy for the human species. The book is available in Apple's iBooks, Barnes & Noble (here), and Amazon (here).
Source medium.com
The Ley Lines: could they influence the Earth in any physical way?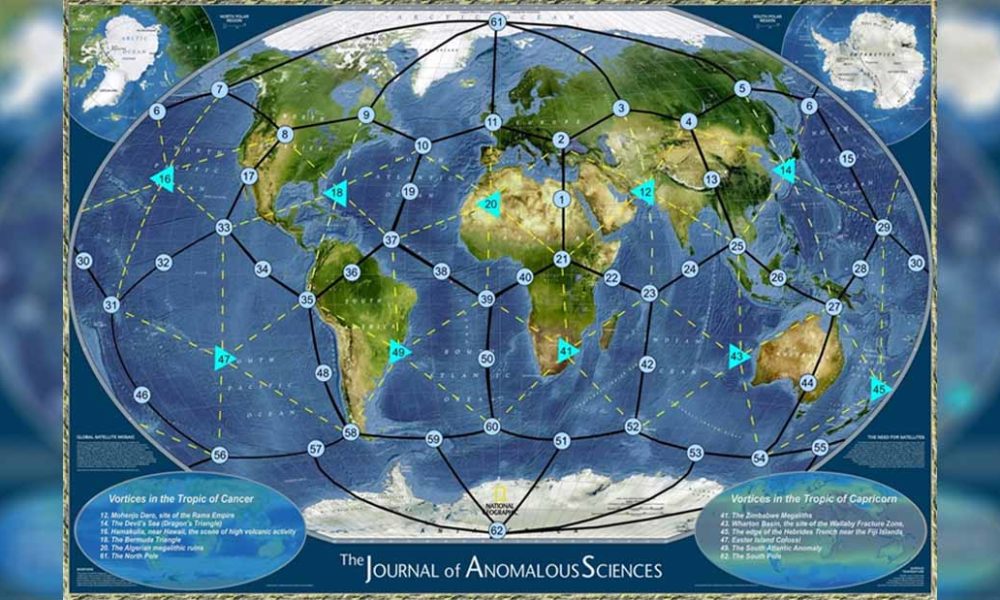 The Ley lines would be "subtle" magnetic energy flows that would be found throughout the Earth. They would physically influence the places they travel.
The Ley Lines are hypothetical energy routes that run throughout the Earth. According to experts on this subject, many ancient megalithic monuments were built in vortices or intersection points of these lines (like Stonehenge or the Pyramids of Egypt). These routes would establish a planetary harmonical energy and it is thought that would influence the ecology of the planet, since the energy would be perceived concentrated in fertile natural places such as mountains, lakes and forests. They would also affect the human beings!
This kind of Energy has been referred to as "subtle" or "etheric", since it is different from the types of magnetic energy that science knows. Different ancient cultures would also have called them: dragon trails, dragon currents or snake paths.
The term was coined in 1921 by amateur archaeologist Alfred Watkins, who observed a alignment of several megalithic monuments and ancient places from Great Britain. First it was considered that the Ley Lines were only alignments, but then they were given an esoteric character, with the rectilinear flow of that subtle energy of the Earth.
The Ley Lines influence the ecology of the Earth
Theorists of this esoteric phenomenon say that the lines intersect in several places, forming power points or vortex points around the planet. These vortex points would influence the ecology and life of each place. This is also related to the so-called geomancy.
In fact, this concept has bases in the ancient Chinese religious philosophy of feng shui. Feng shui speaks of chi, or "vital breath" that moves in currents and is affected by the shapes, space and direction of the cardinal points. The art of feng shui seeks to perceive the flow of lung-mei or dragon currents and accommodate space and objects to benefit that flow.
The Ley lines, and especially the vortex points, would be places of concentration of positive chi (energy). A great natural example where this occurs is a valley surrounded by hills: the mountainous circle would create a vortex point of etheric energy, forming a kind of shield and fortress. The green valley with the help of that vortex, attracts water currents and creates fertile soils.
In druid belief, the energy of the Earth was called wyvern, and it slid across the ground. The wyvern lines transmitted life (or vitality) and fertilized the land.
Magnetism affects water and earth
You have to keep in mind that magnetism affects water (can purify it). According to researcher Rene Noorbergen, the ancient civilizations knew about Earth's magnetism (or of one type of energy, at least) and that would have been used to fertilize the earth (Modern horticulturists know about the fertilizing properties of magnetic fields).
In the vortex points too, observable energy phenomena would be generated, like strange lights that have been reported near a Dolmen monument  in Loon and near a monastery in Aduard, both in the Netherlands.
Will the existence of these Ley lines be possible? Scientists have not really investigated this, but it is known that the Earth has enough movement of magnetic energy which, in addition to the known electromagnetic spectrum, is very wide, with different wavelengths (such as visible light and X-rays).
References: EarthGeomancy / Ancient-Wisdom / LeyLijnen / IntuitiveDoc.
The secret séance rituals of America's largest Spiritualist community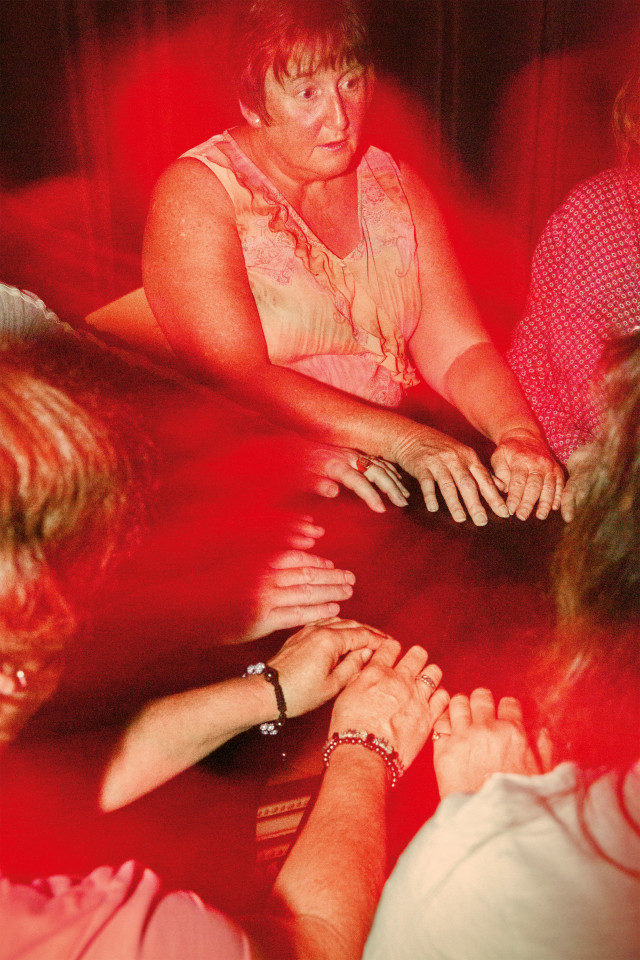 Eric Spitznagel
NY Post
Shannon Taggart was never a big believer in ghosts. But that changed in 2001, during one of her first visits to Lily Dale — a hamlet in southwestern New York state that's home to the world's largest spiritualist community.
The Brooklyn photojournalist was taken by surprise while watching a private reading with Gretchen Clark, a fifth-generation medium.
"All of a sudden, she started laughing at nothing," Taggart tells The Post. "Apparently the spirit of her brother was in the room and told her a joke."

"I told him not to interrupt me while I'm working," Clark explained to her client and then turned to an empty spot and yelled, "Chapman, we've talked about this!"
She composed herself and returned to the reading and then just as quickly turned back to Taggart.
"Margaret's here," Clark announced.
"Margaret? I don't know any Margaret," Taggart insisted.
Clark closed her eyes and listened. "She says 'Texas.' What does 'Texas' mean?"
Taggart instantly knew. "My great aunt Margaret lived in Texas and she'd died a few months earlier," Taggart says. "I'd totally forgotten. My whole body just tensed up. It was truly spooky."
That encounter was just the beginning of a spiritual awakening for Taggart, who would spend the next 18 years documenting mediums in New York as well as Essex, England, and Antequera, Spain. More than 150 of her photographs, many never before seen, are published in her new book Séance (Fulgur Press).
Taggart didn't set out to prove or disprove spiritualism. Rather, she says, she was driven by "a sinking feeling that these mediums knew something about life that I didn't."
When she first traveled to Lily Dale, it was out of curiosity.
Years earlier, her cousin had learned from a medium that their grandfather hadn't died from heart disease — as Taggart had always believed — but by asphyxiation. She laughed off the story, until her parents confirmed it.
"Someone at the hospital put food into his mouth and left him alone," her father had said, "and he choked."
This story stayed with Taggart over the years, and she became consumed with "how a total stranger could have known the details of this tragedy."
In 2001, at age 26, she decided to visit Lily Dale despite knowing nothing about the place except that it was a short drive from Buffalo, where she grew up, and the medium who revealed her grandfather's secret had lived there.
The town was founded as a gated spiritualist summer retreat in 1879, and not much has changed since then. With a population of some 275 residents — many of whom are practicing mediums — it looks like a town frozen in the mid-19th century. Narrow roads are lined with old-fashioned houses, many adorned with signs announcing "the medium is in." A rickety wooden auditorium in the center of town is typically "papered with flyers advertising trumpet séances, past-life regressions, astral-travel workshops, spoon-bending classes and circles to develop mediumship," Taggart writes.
She arrived with no plan and was initially too nervous to do anything but drive around.
But Taggart eventually wrote a letter to the Lily Dale Assembly's board of directors asking permission to take photos during what she first thought would be "one summer making a photo essay about this quirky little town."
"I would just wander around and literally knock on people's doors and say, 'Would you talk to me? Would you teach me about spiritualism?' " she recalled. "And they very graciously did."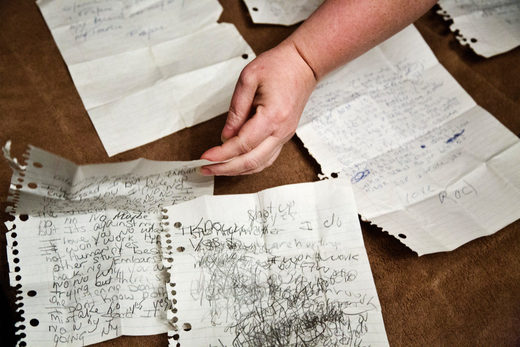 A medium claims to have received letters under her pillow from a man who lived in the 1800s after meeting him through a Ouija board.
What she learned from them wasn't necessarily how to communicate with ghosts. It was a peek into a shadowy subculture that "was once a seminal force in Western culture," Taggart writes. "A legacy that was absent from every textbook I had ever studied, including my histories of photography."
Spiritualism — a belief system based not just on the existence of spirits, but the idea that they want to stay in contact with the living — was once part of the mainstream. It was embraced by public figures like psychoanalyst Carl Jung, evolutionary biologist Alfred Russel Wallace, poet William Butler Yeats and even Abraham Lincoln. But today, it's almost entirely hidden.
"It flourishes in fiction and entertainment but is marginalized by academia and the media," Taggart writes. The contemporary Western worldview is that spiritualism is the stuff of fiction. But after what Taggart witnessed, and photographed, she wasn't so sure.
As her exploration took her overseas, she learned that not all mediums started out wanting to be mediums.
Reverend Jane from Erie, Pa., found the calling at age 6, when "she saw a spirit standing inside her grandmother's closet," Taggart writes, and discovered she could make supermarket cans fly across shelves and candles do somersaults in the air.
Others came to it after being triggered by the grief of losing a loved one.
British medium Simone Key, a lifelong atheist, was drawn to spiritualism after her mother passed and she began getting messages, on her long-broken word processor, that read: "We must communicate."
Annette Rodgers of Essex, England, felt the calling after her 16-year-old daughter, Lauren, died from a heroin overdose. Two years later, still deep in depression, Rodgers attended a spiritualist church "on a whim and immediately felt 'Yes, this is what I need,' " she told Taggart.
She now runs a spiritualist center in Spain and says her dead daughter visits regularly.
Dorothy Pries works at the Lily Dale Museum
"I once saw Lauren turn Annette's iPhone around on a table," a fellow medium recounted to Taggart. "Her connection to her mother is that strong."
But mediumship isn't limited to communication with dead loved ones. Sometimes things get awkward.
Lily Dale medium Betty Schultz recalled a reading she had with a Catholic priest who was a regular client. "The spirits showed Betty a baby who had died and told her the priest was its father," Taggart writes. Betty silently insisted to the spirits that there was no way she'd be sharing this information.
Without explaining why, she sent him to another medium — who later scolded Schultz: "Why didn't you give that man the message from his baby?"
Taggart developed close friendships with some of her photo subjects, like Lauren Thibodeau, a longtime Lily Dale resident who found her way to spiritualism without any warning. She explained how she first went into a trance on New Year's Eve 1989 in front of her husband and his friend, the best man from their wedding, "who never came to their home again," writes Taggart.
Thibodeau shared one of the biggest headaches of spiritualism: uninvited famous people. Most mediums want nothing to do with celebrity ghosts — there's no faster way to drive away an on-the-fence skeptic than "I have a message from Albert Einstein" — but Thibodeau says it's sometimes unavoidable.
She remembers a session in which Elvis Presley's ghost showed up unannounced.
"No!" Thibodeau shouted at the ghost. "I'm not doing this, get out of here!"
When the spirit refused to leave, Thibodeau apologized to her clients. "I'm sorry, I have Elvis here and I don't know why," she said. She then learned that the mother of the woman she was doing a reading for had been a housekeeper at Graceland.
For Thibodeau, it was a lesson in not being too quick to cast judgment. "Now, any time a spirit comes, regardless of who they are, I'll give a message," she told Taggart. "I don't shoo them away. We communicate with dead people, and a dead celebrity is still dead."
Even after almost two decades following mediums, Taggart isn't sure she'd call herself a believer just yet. "I no longer subscribe to the popular belief that spiritualists are charlatans just trying to make money off of people," Taggart says. "For the most part, I found them to be very sincere."
But as for whether she believes in ghosts and life after death, the now 44-year-old is still on the fence. The closest she comes to sounding like a convert is when discussing an unsettling experience from 2013. It happened while she was visiting Sylvia and Chris Howarth, a married medium couple in England.
The morning after watching Sylvia do a séance in the dark — something the experienced spiritualist rarely did because "sometimes the phenomena continued into the next day" — Taggart was making tea in their kitchen and reached to open a cupboard.
"The ceramic knob exploded in my hands," Taggart remembers. "Half of it shot into the air and crashed to the floor. The other half became razor-sharp and cut into my hand, and it started gushing blood." Chris ran into the room, reached for the broken knob, and soon he was bleeding too.
"Just telling that story again, it gives me chills," Taggart says.
So was it a paranormal encounter? She isn't sure.
"All I know is, I still have a scar because of what happened that day," she says. "And I still think about it all the time. So who knows?"
Miracle in Colombia – A saint statue rescues city dwellers from landslide
Residents of the city of Jericó, in the Colombian department of Antioquia, are sure that it is the statue of St. Montoya which rescued them from a heavy landslide a week ago because of heavy rains.
The altar with the statue was located on the slope of the mountain from which the landslide descended. Muddy streams flooded the streets and destroyed more than 10 houses. However, none of the locals died or even seriously injured, and the statue itself was not damaged at all.
However, more than a thousand people lost access to their homes and were evacuated.
Local priest Jesus Herrera told reporters:
"We consider it a true sacred miracle that nobody was killed, and Los Aguacates did not collapse."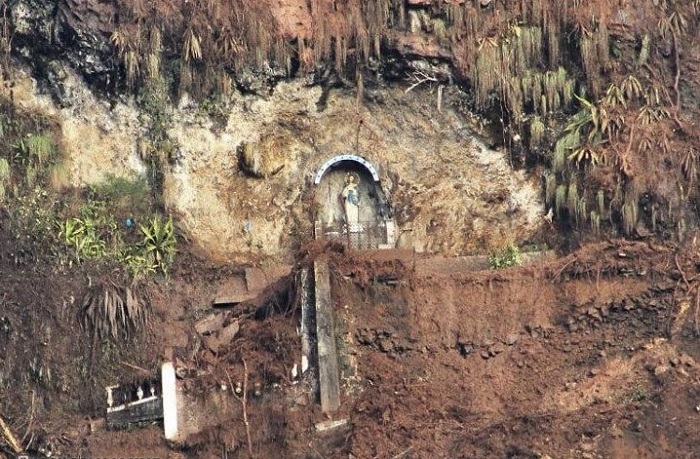 Only two people were slightly injured – an elderly woman and a small child. This muddy landslide floods the entire surrounding area, including the city streets.
According to locals, at such a level of disaster, there would have been many more casualties had it not been for the protection of St. Montoya.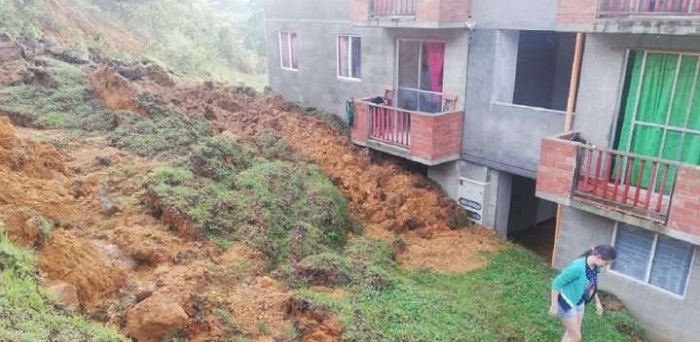 The statue of the patron saint of the city of St. Laura Montoya (Saint Laura Montoya), was installed here in 1919, in honor of a true Catholic nun.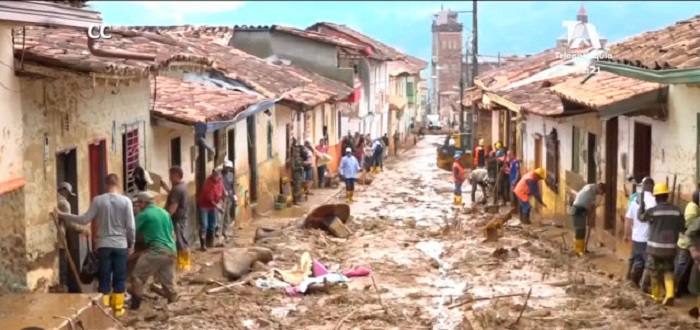 She was Colombia's first saint. Immediately after the statue was erected, worshipers began to visit it, finding it miraculous.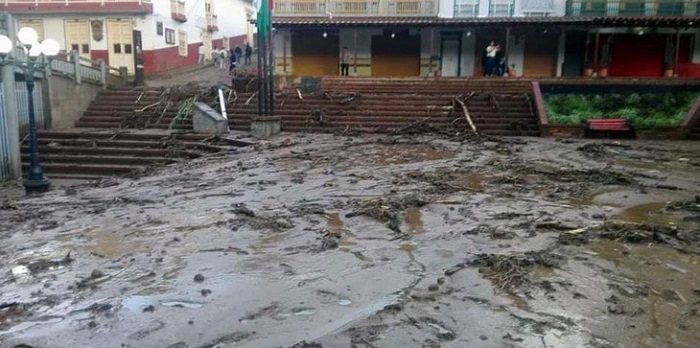 One of the locals says:
"Apart from material damage, we have no reason to cry. I'm sure we were all saved from the miracle the saint gave us. "
Mariana Garces, another resident says:
"Just look at all this horror that is now on our streets. No one can help us, but I think, nevertheless, someone or something intervenes. I already believe that there are spiritual powers in these places, and I am not the most religious person. "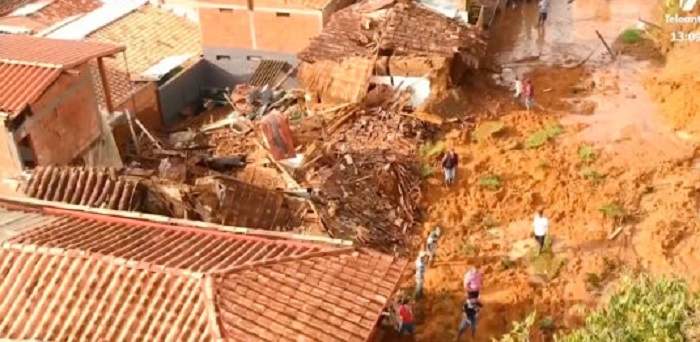 In addition to Heriko, heavy rainfall caused flooding and landslides in six other Antioquia regions, but there the effects were smaller and only 3 houses were completely destroyed.