An Overlooked Piece of the Solar Dynamo Puzzle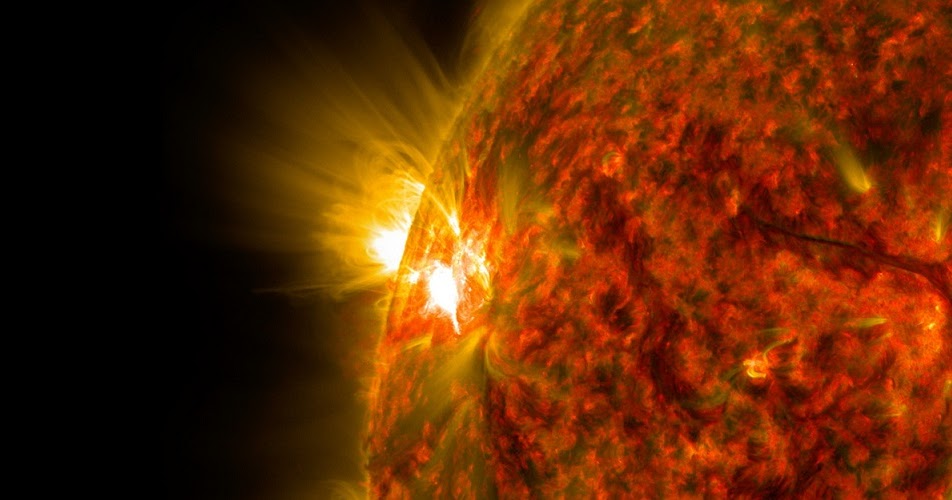 A previously unobserved mechanism is at work in the Sun's rotating plasma: a magnetic instability, which scientists had thought was physically impossible under these conditions. The effect might even play a crucial role in the formation of the Sun's magnetic field, say researchers from Helmholtz-Zentrum Dresden-Rossendorf (HZDR), the University of Leeds and the Leibniz Institute for Astrophysics Potsdam (AIP) in the journal Physical Review Fluids.
Just like an enormous dynamo, the sun's magnetic field is generated by electric currents. In order to better understand this self-reinforcing mechanism, researchers must elucidate the processes and flows in the solar plasma. Differing rotation speeds in different regions and complex flows in the sun's interior combine to generate the magnetic field. In the process, unusual magnetic effects can occur – like this newly discovered magnetic instability.
Researchers have coined the term "Super HMRI" for this recently observed special case of magnetorotational instability (MRI). It is a magnetic mechanism that causes the rotating, electroconductive fluids and gases in a magnetic field to become unstable. What is special about this case is that the Super HMRI requires exactly the same conditions that prevail in the plasma close to the solar equator – the place where astrophysicists observe the most sunspots and, thus, the Sun's greatest magnetic activity. So far, however, this instability in the Sun had gone completely unnoticed and is not yet integrated in models of the solar dynamo.
It is, nonetheless, known that magnetic instabilities are crucially involved in many processes in the universe. Stars and planets, for example, are generated by large rotating disks of dust and gas. In the absence of a magnetic field, this process would be inexplicable. Magnetic instabilities cause turbulence in the flows within the disks and thus enable the mass to agglomerate into a central object. Like a rubber band, the magnetic field connects neighboring layers that rotate at different speeds. It accelerates the slow particles of matter at the edges and slows down the fast ones on the inside. There the centrifugal force is not strong enough and the matter collapses into the center. Near the solar equator it behaves precisely the other way around. The inner layers move more slowly than the outer ones. Up to now, experts had considered this kind of flow profile to be physically extremely stable.
The researchers at HZDR, the University of Leeds and AIP still decided to investigate it more thoroughly. In the case of a circular magnetic field, they had already calculated that even when fluids and gases were rotating faster on the outside, magnetic instability could occur. However, only under unrealistic conditions: the rotational speed would have to increase too strongly towards the outer edge.
Trying another approach, they now based their investigations on a helical magnetic field. "We didn't have any great expectations, but then we were in for a genuine surprise," HZDR's Dr. Frank Stefani remembers – because the magnetic instability can already occur when the speed between the rotating layers of plasma only increases slightly – which happens in the region of the Sun closest to the equator.
"This new instability could play an important role in generating the sun's magnetic field," Stefani estimates. "But in order to confirm it we first need to do further numerically complicated calculations." Prof. Günther Rüdiger of AIP adds, "Astrophysicists and climate researchers still hope to better understand the cycle of sunspots. Perhaps the 'Super HMRI' we have now found will take us a decisive step forward. We'll check it out."
With its various specialisms in magnetohydrodynamics and astrophysics, the interdisciplinary research team has been investigating magnetic instabilities – in the lab, on paper and with the aid of sophisticated simulations – for more than 15 years. The scientists want to improve physical models, understand cosmic magnetic fields and develop innovative liquid metal batteries. Thanks to close cooperation, in 2006, they managed to experimentally prove the theory of magnetorotational instability for the first time. They are now planning the test for the special form they have predicted in theory: In a large-scale experiment that is currently being set up in the DRESDYN project at HZDR, they want to study this magnetic instability in the lab.
Dinosaurs came from across the galaxy, NASA demonstrates with incredible video
NASA, through a very well explained video, shows us that the dinosaurs originated from the other side of galaxy.
NASA is the largest space studies and research entity in the world. Yes it is. They are not the only ones who study everything related to outer space. That's why when NASA talks about space dinosaurs, we all pay attention, especially when there's a video.
NASA takes seriously the fact that dinosaurs may have originated elsewhere in the galaxy. This sounds crazy, so you have to watch a video where everything is explained.
The video was posted by Dr. Jessie Christiansen in her Twitter account. She is a NASA researcher and the publication is as you will see below.
She says:
I was always interested in galactic archeology, but I don't think that's what they meant.
The sun takes about 200 million years to orbit the center of the galaxy, which means that the last time we were there occurred at the beginning of the Jurassic period. The dinosaurs walked the land and the sea.
The Jurassic period lasted 55 million years.
The Cretaceous period ranged from 145 to 66 million ago. The middle Cretaceous occurred on the other side of the galaxy.
65 million years ago, extinction occurred.
The rise of mammals has lasted 65 million years to the present.
The sun takes about 200 million years to orbit the center of the galaxy.
What will Earth look like on the next galactic anniversary? While not as exciting as seeing invading dinosaurs, at least it leaves us with a good question. And perhaps until then, the human is not even a memory on the surface of the earth.
I have always been interested in galactic archaeology, but I don't think this is what they meant.

Did you know that dinosaurs lived on the other side of the Galaxy? pic.twitter.com/ngGCAu0fYU

— Dr. Jessie Christiansen (@aussiastronomer) 28 August 2019
Christiansen said it took her about four hours to make the film using timed animations in PowerPoint. She also noted a couple of minor corrections to the text in her video: Plesiosaurs are not dinosaurs, and we complete a galactic orbit every 250 million years, not 200 million years.
'A spiral through space'
But galactic movement is more complicated than the video shows. The other stars and planetary systems in the galaxy are also moving, at different speeds and in different orbits. The inner portions spin faster than the outer regions.
What's more, the galaxy itself is moving through space, slowly approaching the nearby Andromeda galaxy.
"The animation kind of makes it seem like we've come back to the same spot, but in reality the whole galaxy has moved a very long way," Christiansen said. "It's more like we're doing a spiral through space. As the whole galaxy's moving and we're rotating around the center, it kind of creates this spiral."
So in the solar system's rotation around the galactic center, we're not returning to a fixed point. The neighborhood is different from the last time we were here.
Earth, however, is not drastically different; it still supports complex life. That's partially thanks to the path of our sun's galactic orbit.
"Our solar system doesn't travel to the center of the galaxy and then back again," Christiansen said. "We always stay about this distance away."
In other words, even as our solar system travels through the Milky Way, it doesn't approach the inhospitable center, where life probably wouldn't survive.
"There's a lot of stars, it's dynamically unstable, there's a lot of radiation," Christiansen said. "Our solar system certainly doesn't pass through that."
That's a huge part of why dinosaurs, mammals, or any other form of life can exist on Earth.
NASA Supercomputer Creates Millions of Virtual 'Universes' to Reveal Mystery of Cosmos
Astronomers have historically turned to two disparate methods to understand the Universe. Telescopes have traditionally been used to observe galaxies, while scientists have recently attempted to simulate them on large computers. Now a theoretical astrophysicist has revealed the early results of "a third way" – a novel method offering new insights into galaxy formation and the role dark matter plays in it.
Professor Peter Behroozi of Arizona University is leading a team harnessing NASA's Pleiades supercomputer to generate millions of Universe simulations, each following a different theory of galaxy formation.
He told Express.co.uk: "Telescopes can see lots of galaxies in exquisite detail but they are only tiny snapshots of their histories.
"Galaxies take hundreds of millions of years to evolve and of course, during a human lifetime, we can't even see a tiny fraction of that, so can't tell how does they evolved with observations alone.

"Simulators are inputting all the physics they knew into very big computers still experience issues, because even computers for the next few hundred years will be insufficient to simulate a galaxy down to its individual components."
Instruments like NASA's Hubble Space Telescope can see both galaxies as they were many billions of years ago and nearby galaxies, obtaining exquisite images of how they look today.
The scientist uses the metaphor of having pictures of people at all different time points in the history of their lives.
The problem scientists face is piecing together how galaxies grow through time.
He said:
"We put a guess into a computer for how quickly galaxies grow over time and how many mergers they have and we generate an entire Universe full of galaxies, going from the very first time points right after the Big Bang until the present day.
"And then still inside the computer, we pretend we're astronomers, and we observe this universe exactly as people have done here on earth.
"And we ask, do the observations in the computer resemble the observations of the real universe, or do they differ in some way?
"Things that we look at, for instance, include how many galaxies we see at different points in the history of the universe?
"How large are they? How clustered are they?
"And by asking the question 'does the universe that we generated on the computer resemble the real universe?' we can then get a sense of how close we are to the real answer.
"So it's like a game of almost how to call you're getting warmer or cooler, in terms of how close you are to what the real universe is doing."
The Arizona University team's simulations have already achieved some "surprising" results, showing how star formation may have been more efficient in the early Universe.
For context, most of stars in the Universe are in galaxies that stop forming new stars.
Professor Behroozi said:
"This has been a puzzle for a very long time, because if we observe these galaxies that have stopped forming stars, we find there's a lot of material and lot of fuel available to form stars, but the galaxies are not using up this fuel to form new stars.
"What we found with the universe machine is the most common explanation, that is it was hard for the fuel to cool and condense to small enough regions to form stars, we found that was very less likely to be correct, because it gave a different prediction for how galaxies grew, than what came out of our measurements."
The NASA universe machine – the size of entire floor of the building – took required around 5 million Central Processing Units (CPU) hours, meaning it would take a laptop 5 million hours to complete.
To convert that into something more familiar like years, that would be about half a millennium.
The resulting incredible simulations, as seen in the video above, are only the start, Professor Behroozi revealed.
He said:
"What we've done so far with galaxies, we want you to eventually include every part of the universe.
"In other words, to make a full, complete movie of the entire universe, with galaxies, black holes, supernova explosions, with everything we can observe in the real universe, to add to this virtual universe, to understand really what's causing every piece that we see."
Tom Fish
Express UK

Headline image: NASA, ESA and the HST Frontier Fields team (STScI), Acknowledgement: Judy Schmidt
SpaceX's Starship May Fly for Just $2 Million Per Mission, Elon Musk Says
The big spaceship-rocket duo will use just $900,000 of fuel per launch.
SAN FRANCISCO — Each flight of SpaceX's big Mars-colonizing spacecraft will have a very small price tag, if all goes according to plan.
The Starship system, which consists of a reusable 100-passenger spaceship stacked atop a huge reusable rocket known as Super Heavy, will use just $900,000 worth of propellant to get off Earth and into orbit, Elon Musk said here today (Nov. 5) at the first U.S. Air Force Space Pitch Day.
"If you consider operational costs, maybe it'll be like $2 million" out of SpaceX's pocket each time, Musk said during a conversation with Lt. Gen. John Thompson, commander of the Space and Missile Systems Center, Air Force Space Command, at Los Angeles Air Force Base.
"This is much less than even a tiny rocket," Musk added. "So, it's something that needs to be made."
During Space Pitch Day (which should be called Space Pitch Days, since it runs through tomorrow), companies try to sell Air Force brass on their space-related ideas. In keeping with this focus, Thompson mostly asked Musk about business stuff — how to spur innovation, how management and leadership styles shift as a company grows, and so on.
This may sound relatively dry to space geeks, but Musk injected some fun nuggets into the conversation. For example, the billionaire entrepreneur said he does "zero market research whatsoever," striving instead to create the Platonic ideal of a rocket or car. (Musk is also CEO of electric-vehicle maker Tesla.)
If he pulls that off, then "people will want to buy it," Musk said.
He also hyped Tesla's new pickup truck, saying that "it looks like an armored personnel carrier from the future," and announced that he had just finished watching the 1996 movie "Space Jam" (serially, during 15- to 20-minute morning workout stints on the treadmill).
Musk demurred when Thompson asked about his leadership qualities, saying he doesn't consider himself an expert on leadership. Thompson urged Musk not to "sell himself short" in this regard, teeing up a self-deprecating joke that the billionaire jumped on.
"That's true. There's plenty of others doing that," Musk said, referring to investors who are betting on the stock price of his companies (particularly Tesla) to fall.
Toward the end of the 40-minute conversation, Thompson gave Musk the floor to say anything he wanted to the audience of investors, engineers, entrepreneurs and military officials. The SpaceX founder and CEO took the opportunity to talk about something near and dear to his heart: the importance of fully and rapidly reusable orbital rockets.
This is the technological advance that will slash the cost of spaceflight by orders of magnitude, allowing humanity to become a truly spacefaring species, Musk has said repeatedly over the years.
"It's absolutely profound to have a reusable rocket," he said here today. "This is the holy grail."
SpaceX has been working to make this vision a reality, and the company has made considerable progress. SpaceX now routinely lands and reflies the first stages of its workhorse Falcon 9 rocket, and it's doing the same with the heavy-lift Falcon Heavy, which has three launches under its belt. The company is now also starting to recover and refly payload fairings, the protective nose cones that surround satellites during launch. (There is still work to do, however; for example, the second stage of the Falcon 9 and Falcon Heavy is still single-use hardware.)
Starship and Super Heavy fit well into this grand vision. Both vehicles (the spaceship, like the overall architecture, is known as Starship) will be fully reusable, and each individual craft will fly many times before it's retired, Musk has said.
These missions will be quite varied. Starship and Super Heavy are designed primarily to help humanity settle Mars, the moon and other deep-space destinations, but SpaceX wants the duo to take over all of the company's needs eventually. So, if all goes according to plan, Starship will also launch satellites (perhaps starting as early as 2021) and maybe even clean up space junk and ferry people on point-to-point trips around Earth, Musk has said.
Being able to do all of this for $2 million a pop would be revolutionary. That would be the cost of each mission for SpaceX, to be clear; we don't yet know how much the company will charge customers for a Starship mission (or "is charging," for Japanese billionaire Yusaku Maezawa has already booked a round-the-moon flight on the vehicle, with a target launch date of 2023).
But, for some perspective, SpaceX currently sells Falcon 9 and Falcon Heavy launches for $62 million and $90 million, respectively. And those prices are considerably lower than similar services offered by SpaceX's competitors.
Source www.space.com