An amazing cookbook by Nostradamus. Why the alchemist treated plague and impotence with jam
On December 14, the French alchemist and fortuneteller Michel de Notrdam, known as Nostradamus, was born. But few people know that his first book was … a culinary one. We will tell you why Nostradamus loved jam so much.
In his most important book, Les Propheties, 1555, Nostradamus predicted many world events that did take place: for example, the French Revolution, both world wars, and even the election of Donald Trump as president. But a few years earlier, he wrote another work – "Treatise on cosmetics and jams" (Traité des fardements et confitures), which was also published in 1555.
It brought together drug speculations, beauty tips, and sweet recipes – all sugar-based. The full title of the book is: "A wonderful and very useful opus for those who want to get acquainted with exquisite recipes, divided into two parts.
The first tells about the different ways of making blush and fragrances for whitening and beautifying the face.
The second demonstrates the methods and manner of making several types of jam, from honey, sugar and wine, consisting of chapters, as can be seen from the content. Compiled for the first time by M. Michel de Notrdam, M.D. from the Salon de Cros in Provence, re-published. In Lyon, at Antoine Volan, 1555 ".
Nostradamus and his cookbook, 1555
As you know, Nostradamus was a doctor, but was almost expelled from the university for his passion for pharmaceuticals – thanks to his ability to combine herbs, medicines and … sugar, he was nicknamed the alchemist.
The fact is that sugar at that time was so rare and valuable that it was used as a medicine, and its sale was often controlled by pharmacies. During his experiments, Nostradamus invented elixirs from sugar, berries and fruits, which were supposed to be a cure for the plague that raged in Europe in the 16th century.
Due to the high cost of sugar, some types of sweet jams and jellies were reserved exclusively for nobles and kings. For example, when preparing quince jam – according to Nostradamus, in no case should you peel the quince before cooking, because the peel will only "strengthen" the product. After boiling the fruits, grind them and add sugar.
Also, Nostradamus in his book shares recipes for canned pumpkin, which, in his opinion, has antifever properties, candied orange peel, seedless cherry jam, candied pears, "pink pill" lozenges for the treatment of plague, laxative pink syrup and also gives a recipe for marzipan – varieties of sweet almond candies that are very popular today. 
Unfortunately, neither sweets nor medicinal herbs saved his wife and two children, who died of the plague.
With the help of cherry jam, Nostradamus suggested fighting the bubonic plague
Also in "Treatise on Cosmetics and Jams" you can find a recipe for a jelly love potion made from sugar, mandrake apples, cinnamon and … the blood of seven male sparrows. The syrup obtained by boiling and straining the mixture had to be stored in a gold or silver vessel. One spoonful of such a drug should have caused a fiery passion that could become dangerous if not satisfied.
Some of the Nostradamus recipes described in "Treatise on Cosmetics and Jams" were completely poisonous. For example, lye was used to make the hair lighter and teeth were cleaned with crushed crystals and sea snail shells. To make the beard darker and softer, or to dye the mustache – color of "black amber", Nostradamus recommends soap mixed with ash and walnut juice.
Tesla autopilot sensor recorded "ghost" in an empty cemetery
A Tesla electric car with an activated autopilot function recorded an invisible person who allegedly moved around the cemetery. Social network users jokingly noted in the comments that, most likely, this is some new function from Elon Musk, which allows you to see ghosts.
In the United States, a Tesla electric car with an activated autopilot function recorded an invisible person who allegedly moved through a cemetery.
The corresponding video was posted by Twitter user Ovidiu Maciuc.
The recording shows how a silhouette of a man appears on the monitor of an electric car, moving around the cemetery. After that, the driver raises the camera and starts filming the graveyard through the windshield, but there are no people there.
After some time, the "ghost" went in the opposite direction from Tesla and disappeared from the on-board computer screen.
Social network users jokingly noted in the comments that, most likely, this is some new function from Elon Musk, which allows you to see ghosts.
For many though, if you take into account the comments, the video seemed rather creepy. Some even tried to guess what the navigation system actually showed.
Some users thought the system could recognize ghosts. Others refuted this version and said that the reason for all this is an insufficiently accurate sensor, which was used for the equipment of the Tesla car.
Earlier it became known that Tesla electric cars in the near future may receive a new function with which they can talk with pedestrians. For this, American cars will be equipped with special external speakers.
In addition, Tesla cars in the future will receive the option to change the horn and sound of movement at low speeds to warn pedestrians. According to Elon Musk, among the sounds of movement there will be the sound of the clatter of a horse's hooves, and as a whistle – the bleating of a goat.
Mysterious energy source melts Tel Aviv sidewalks, leading to the evacuation of several buildings in Israel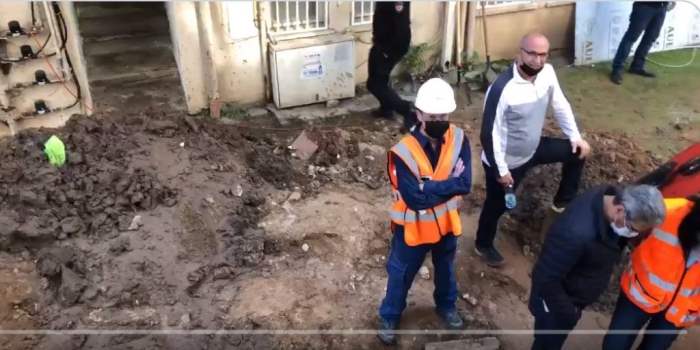 About two weeks ago, Tel Aviv residents noticed that the concrete surface outside their homes was heating up and steam was coming out of the ground. Tests showed that steam that reached 60 ° C (140 ° F) was water based.
The witness explains: "I was afraid that there was a power line in the area and asked a worker to dig out the ground with a shovel. Steam suddenly came out. I imagined it was probably a geyser. It seemed to me that this was a geological incident – also because there were no problems with electricity in the building. "
Although the experts did not find any hazardous substances or any risk to the stability of buildings at the site, residents as well as kindergartens in the area were evacuated.
Officials described the heat source as "trapped energy" of unknown origin.
Work continues, steam is still rising and the ground is still hot. It is currently unclear what is causing the warming. Note the hole dug in the area. The area is still blocked.
Mysterious origins
City officials said they will "continue to monitor the temperature of the earth, which is expected to cool down for a long time, and will continue to investigate the causes of the unusual event."
Israel Electric Corporation has not found a connection between heat and power in the area.
The Israel Geological Survey confirmed the rise in temperature after testing ground and water temperature levels, but said it has not yet found an explanation.
Despite their best efforts, municipal officials, the fire department, Israel Electric Corporation and the Ministry of the Environment have yet to find a source of heat.
Meanwhile, the Tel Aviv municipality has informed dozens of evacuees that they can return to their homes. However, residents are not going to return until they receive a detailed account of the source of the mysterious event.
"They evacuated us because they were concerned about our safety, and now they are urging us to return without any convincing explanation. How can you be sure that there is no more danger? "
The night sky in southern Taiwan shows a weird red moon alarming netizens: 2021 disaster year omen?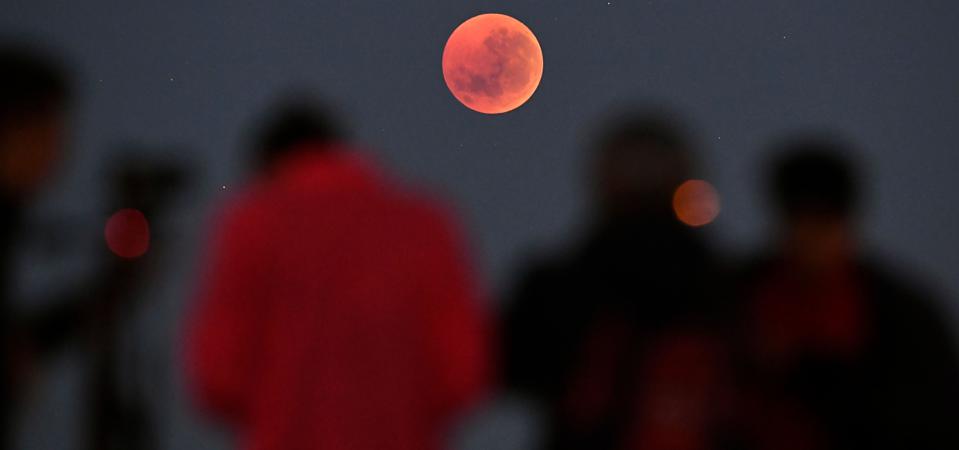 Some people in Chiayi, Taiwan took pictures of a large dark red moon hanging in the night sky on the first night of 2021 and uploaded them to Facebook. There are also people in Tainan who have photographed the rare "red moon". The weird scene has aroused heated discussions among netizens. Some people worry that an earthquake may occur, while others suspect that this is a precursor to the year of disaster in 2021?
Yesterday, on January 1 at about 8:00 in the evening, Chiayi residents shared a photo of "2021's first red moon" on Facebook. As you can see in the photo, the weather was quite good at that time. There was a clear big round moon in the night sky, but it was a dark red moon, which was very different from the usual moon.
Later, people in Kaohsiung and Tainan also posted photos of the red moon they had taken.
The weird and rare "big red moon" immediately attracted the attention of netizens. Some people think that such a sight is caused by air pollution, and some people think that the red moon is "extremely beautiful", but many people worry about whether it is a harbinger before the disaster ?
"Hope is not a harbinger of disaster~", "A harbinger of disaster in 2021???", "It looked uneasy", "After seeing the red moon, I hope everyone will be safe".
Some netizens worry that this is a pre- earthquake omen.
"Remember the red moon before the 921 earthquake (omen)", "earthquake precursors", "I feel that there will be an earthquake again recently", and "It seems that 2021 will be another year of bloody disaster."
The British clairvoyant Craig Hamilton-Parker published his prediction for 2021 on YouTube in December last year, stating that, as far as the world is concerned, 2021 will be a year full of social unrest, armed conflict and political changes. There will be difficult times right now until 2025.
He also predicted that the biggest worry is climate and earthquakes. A tsunami will occur near Japan. Large earthquakes will occur in the Himalayas, Iran and the Americas. There will also be problems such as floods, dams bursting, and huge icebergs obstructing shipping. Until 2025, the severity of environmental problems will gradually increase.