Amelia Dyer – "Baby Farmer" Serial Killer
Amelia Dyer was a 'baby farmer' by trade, someone who, for a fee, would look after children, usually illegitimate, until a home could be found for them.
Unmarried mothers in Victorian England often struggled to gain an income, since the 1834 Poor Law Amendment Act had removed any financial obligation from the fathers of illegitimate children, whilst at the same time trying to bring up their children in a society where single parenthood and illegitimacy were very much stigmatised.
This led to the practice of baby farming in which people acted as adoption or fostering agents, in return for regular payments or a single, up-front fee from the babies' mothers.
Many businesses were set up to take in these young women and care for them until they gave birth. The mothers subsequently left their unwanted babies to be looked after by these people and often ended up in workhouses themselves. Unscrupulous carers often resorted to starving the farmed-out babies, to save money and even to hasten death.
Emelia Dyer was born in 1837 and raised in Bristol to respectable parents and trained as a nurse before deciding that 'adopting' illegitimate infants was a more lucrative career.
In 1879 she was sentenced to six months' hard labour after being found guilty on a charge of neglect. A doctor had become suspicious of the number of infants who had died while in Mrs Dyer's care and had reported the matter to the authorities. On her release she spent several periods in mental institutions before resuming her child-care activities.
In 1895 at the age of 58, she moved to Kensington Road, Reading and began advertising for babies to look after. It was not long before small bodies were being fished out of the Thames.
On the 30th of March of 1896, a bargeman recovered the corpse of 15-month old Helena Fry from the river Thames at Reading. Helena's body was wrapped in a brown paper parcel which had the name of a Mrs. Thomas and her address on it – Piggott's Road Lower Caversham. Mrs. Thomas was one of Mrs. Dyer's aliases.
It took the police some time to trace Mrs. Dyer as she had already moved on, changing her address quite frequently and also using various aliases. In the meantime, a Cheltenham barmaid, 23 year old Evelina Marmon, had answered a newspaper advert from a "Mrs Harding" seeking a child for adoption.
Under the premise of adopting them into loving homes, Amelia Dyer murdered over 300 babies.
She met "Mrs Harding" and paid her a £10 fee to take her four month old baby daughter Doris on the 31st of March 1896. She felt comfortable with the arrangement as "Mrs Harding" appeared to be a respectable and motherly person. The following day Mrs. Dyer "adopted" another child, Harry Simmons.
The police finally located Mrs. Dyer, who they kept under surveillance for several days before mounting a "sting" operation using a young woman to pose as a potential customer. She was arrested on April the 4th, 1896 when she opened the door to the person she thought would be this customer only to find two policemen standing there.
The two tiny bodies of Doris and Harry were found in the Thames on April the 10th, 1896, both wrapped in a carpet bag and both white tapes round their necks. In all, the corpses of seven babies, all of whom had been strangled, were recovered from the Thames and each one had the same white tape around their neck. She soon confessed saying, "You'll know all mine by the tape around their necks.".
She made two attempts to commit suicide in Reading police station. She came to trial before Mr. Justice Hawkins at the Old Bailey on the 21st and 22nd of May 1896 charged with Doris' murder in the first instance, so that if she was acquitted, she could be tried for another.
This was standard practice until recently in cases of multiple murder. Miss Marmon identified Mrs Dyer in court as "Mrs Harding". The defence tried to prove insanity but failed to convince the jury who took just 5 minutes to find her guilty.
Although there was strong evidence of her dubious sanity, her crimes were also appalling and the jury seemed to give far more weight to that aspect. Mr. Justice Hawkins sentenced her to death.
During her three weeks in the condemned cell, she filled five exercise books with her "last true and only confession." In a compassionate move the authorities removed her from Newgate for a few hours so that she would not have to hear the hanging of Milsom, Fowler and Seaman the day before her own execution.
The chaplain visited her on the evening of the 9th and asked her if she had anything to confess, she offered him her exercise books saying "isn't this enough?"
She was hanged the following morning on the 10th of June 1896 by James Billington,at precisely 9am, becoming at 59, the oldest woman to be executed since 1843. Asked on the scaffold if she had anything to say, she said "I have nothing to say".
Her ghost was said to haunt Newgate prison prior to it being demolished in 1902. No one will ever know the exact number of her victims but at the time of her arrest, she had been carrying on her trade for 15 to 20 years. It is believed she may have murdered as many as between 200 and 400 babies in all.
By Paul Middleton, source: Ghosts, the paranormal, myths and legends
The Mirror Lake Michigan Hauntings
Ideally, institutions of higher learning are environments where young people who are first stepping out on their own are encouraged to become independent thinkers and dynamic individuals.
In the face of so much newness, university and college culture often develops systems of ritual and ceremony which provide a contrast to this independence as well as comfort and structure to students as they transition into adulthood.
This week is, typically, when many students at The Ohio State University would be participating in one of it's best known rituals: jumping into a freezing Mirror Lake prior to a football game with it's biggest rival, The University of Michigan.
Why jump in an ice cold lake in support of your school football team? The tradition seems to have it's origins in a turn of the century hazing practice where upperclassmen would assert their dominance by tossing freshmen into the lake.
This became a common occurrence during "May Week", an annual demonstration of school spirit. As the rivalry between Ohio State And Michigan State grew, May Week activities slowly shifted to the increasingly popular "Beat Michigan Week" and the tradition of voluntarily throwing oneself into the lake was born.
The idea of young people being cast into a lake before an important event has been around for centuries. The Aztec, Mayan, Celt and early Nordic cultures all participated in this practice as an offering to their gods during significant times of the year, and although the young people they hurled into the water were victims of human sacrifice, the Mirror Lake Jump certainly invokes thoughts of these ancient rituals.
In fact, it was the tragic death of a 22 year old Dayton man during the 2015 jump that caused the University to put a stop to the practice once and for all. My heartfelt condolences go out to the family of this young man.
According to the campus rumor mill, this wasn't the only time this type of tragedy has occurred. Stories persist of a member of the Alpha Omicron Pi sorority that broke her neck during a Mirror Lake jump in the 1980s.
The legend states that her fellow sorority sisters carried the body back to the house and hid her to avoid the repercussions of underage drinking gone horribly wrong. Ever since, many have claimed to hear screaming and splashing in the waters of the lake only to see it's surface mirror smooth when they turn to find the source of the commotion.
Another tale tells of a jogger that was killed near the lake during a mugging. This young man is said to be seen running by the lake, looking over his shoulder, before vanishing into thin air.
The most commonly spotted and well-established ghost of OSU goes by the name Lady of the Lake. Since the 1920s people have witnessed the apparition of a woman in turn of the century clothing glide across Mirror Lake on cold, wintry nights and mornings.
Some believe her to be a mysterious ice skater, but most know her as the wife of Frederick Converse Clarke.
Clarke was a professor of economics and sociology that lost all his money when he invested in a Georgia Gold Mine project that failed miserably. Aside from the obvious blow to his credentials as a professor of economics, the financial ruin left Clarke despondent and suicidal.
After airing his feelings to Dr. Oxley Thompson and getting no sympathy, the depressed professor took his own life on September 21st, 1903 in a garden overlooking Mirror Lake.
Clarke's wife blamed the university's insensitivity to her husband's plight as the cause of his death and vowed to haunt the grounds after her passing.
In 1922 the university built Pomerene Hall on the site of Clarke's suicide garden and it appears that the spirit of Mrs.Clarke decided it would be a fine building to inhabit when not gliding across the lake.
It is here that she is thought to be responsible for doors that lock and unlock of their own accord, the sound of footsteps across empty rooms and the manipulation of computer voice software, occasionally causing machines that aren't even turned on to greet the living with a dull, electronic "hello".
For reasons unknown she is most fond of room 213, where she is seen in a pink antebellum dress moving across to a window that overlooks the very lake that her husband last gazed upon before taking his life more than 100 years ago.
Today, Mirror Lake sits drained and fenced off awaiting a 6 million dollar renovation that will give it a "more natural appearance". In an effort to end the tradition of the lake jump, the timing of this renovation was no accident, but some defiant students are vowing to leap into some body of water, even if it is the Olentangy River.
Source: Booze & Boos
The German Navy's Cursed and Haunted Submarine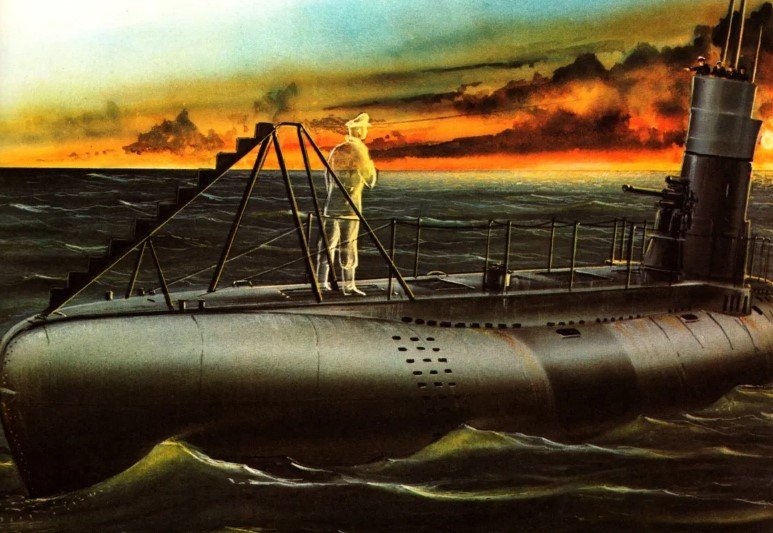 From the time she was being constructed, in 1916, there was something sinister and evil about the German submarine UB-65.
Before she was even launched, an accident in the Hamburg shipyard occurred, where a steel girder broke from a crane, crushing a ship builder to death. A second worker was also badly injured.
Investigators could find no reason for the accident, and within a few months, the submarine had put to sea, undergoing trials. Three engineers, testing the ship's batteries, were overcome with deadly fumes. Again, an inquiry was launched, but failed to determine the cause of their deaths.
Despite her early record of tragedy, the submarine was commissioned, and placed under the command of Kapitanleutenant Martin Schelle, a 29-year-old veteran of the Kaiser's Navy.
She soon put to sea in an operational capacity, and found herself in the middle of a fierce storm. Captain Schelle used this opportunity to test his boat's ability to surface in rough seas, and upon breaking the surface, a sailor was washed overboard to his death.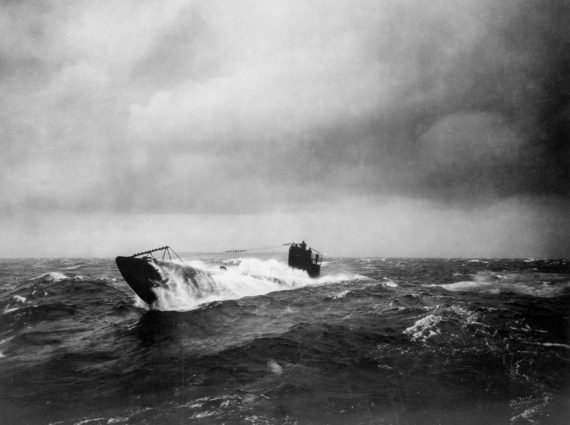 German U-boat
Unexplained Malfunctions Aboard UB-65
Soon after, ballast tanks sprung a leak, and the submarine plunged to the bottom of the sea. Seawater rushing inside caused the dry cell batteries to leak the same toxic fumes that had earlier killed the engineers.
This time, however, the crew was fortunate and suffered no fatalities. UB-65 remained on the bottom of the ocean for 12 long hours, before she was finally able to surface.
Returning to harbour, engineers could again find no explanation for the malfunctions. The crew were beginning to feel their ship was cursed, and many no longer wanted to serve on UB-65. She had soon earned the nickname "The Iron Coffin" within the U-boat fleet.
After leaving port, another tragedy occurred. An exploding torpedo killed the second officer, and wounded several others. Schelle returned to port, the officer was buried, and things started to get really eerie.
Ghost of the Second Officer Appears
While still docked, shortly after the funeral, a seaman claimed to watch the dead officer walk up the gangplank, towards the bow of the ship, and disappear before his very eyes.
More sightings were soon being reported. A lookout claimed to have seen the dead officer standing on the deck of the ship, in rough seas. At first, the commander dismissed the ghost stories, but then he reportedly came face to face with the dead man himself. Whether he admitted it or not, Captain Schelle was now a believer.
The high command finally agreed to have a priest bless the ship, a feat almost unheard of in the no nonsense German Navy. She docked in a port in Belgium, where the ritual was carried out.
After the ceremony was completed, the crew was broken up, and assigned to other ships in the fleet. A new crew was assigned to UB-65, and the captain demanded there was to be no further talk of ghosts.
The change of crew seemed to have no effect. The ghost of the officer was reported on several more occasions, once walking through a steel bulkhead. A torpedoman, terrified by the spirit, jumped to his death in the sea.
The Strange End to UB-65
In July of 1918, off the south coast of Ireland, a U.S. submarine sighted UB-65. Before the American crew could take any action, the German boat mysteriously exploded, seemingly on its own.
UB-65 took her entire crew to the bottom of the ocean, leaving only a patch of oil, some debris, and mystery behind.
The most haunted house in England 'The Cage' has finally sold after 12 years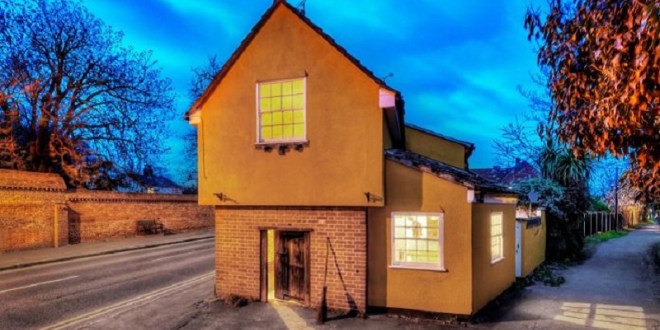 Vanessa Mitchell has owned a two-bedroom house 'The Cage' since 2004 and often reported seeing ghosts and other spirits. The ghost and spirits would regularly disturb and scared the woman.
The owner insisted she had to leave the house after the horrific incident happened when the ghosts physically attacked her at home. Years Later, it was revealed that the house was used to hold prisoners accused of Blackmagic and witchcraft in the 16th century.
She states she was walking over the stairs and suddenly got pushed over while pregnant and saw mysterious blood spatterings appear.'
Electric gadgets have also turned themselves on, and doors started slamming while walls inexplicably were covered in blood.
After this horrific incident, she decided to move out in 2008 – just four years after purchasing it – buyers were wary and doubtful of taking the house.
Now the haunted house The Cage, in St Osyth, Essex, has finally sold, subject to deal, after nearly a dozen years on the market.
Guests often reported hearing women's voices and cries from the storeroom even though no one was there when they checked for it.
The claims led to paranormal detectives who regularly came to the haunted house, and it was also a matter of many documentaries.
A plaque on the rear of the house depicts the plight of Ursula Kemp, who was jailed in The Cage on doubt of witchcraft before being hanged in Chelmsford in 1582.
Source: The Digital Wise