Did you know that some cetaceans use "nets" to catch their food? A good example is humpback whales or yubartas, whose size can reach 16 meters long. These whales dive and swim in circles around their prey, blowing bubbles as they do. The underwater footage shows a whale using bubble nets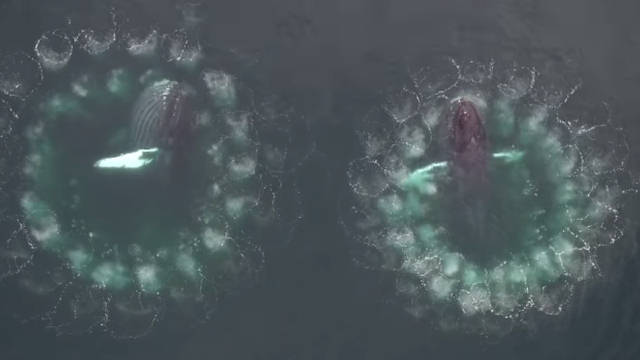 The resulting structure emerges forming a column of fish traps, allowing other members of the group to swim from below, with their mouths open, through the cylinder of bubbles to enjoy a delicacy.
The scene is captivating and fascinating to watch, and now scientists have recorded it on camera from an unprecedented angle which clearly shows whale using bubble nets.
In addition to the aerial view provided by a drone, where one of these humpback whales is seen creating the bubble trap, marine biologists at the University of Hawaii in Mānoa mounted cameras and sensors on the animals, using suction cups to collect data about this fascinating behaviour.
«We have two angles. The drone view shows us the networks of bubbles and how they emerge to the surface, while the cameras in the whales show us everything from their perspective, " explains marine biologist Lars Bejder . "Together they offer us amazing material."
Migrating yubartas visit Alaska to feed during the summer, before returning to warmer waters near Hawaii for winter, where they reproduce and breed the calves. During this last period, the whales do not eat, so they need to store large reserves of Alaskan krill to support themselves.
What is fascinating about bubble networks as a method of feeding is that it seems to be a learned behavior. Not all humpback whales hunt in this way, and those that do have varied techniques. It is also a cooperative task, where these cetaceans work together to ensure that everyone receives their ration.
The number of humpback whales has increased after the 1985 commercial hunting ban, and they are no longer considered endangered. However, in the last five years, there has been a substantial decrease in sightings of these animals. The research that recorded the videos is part of an attempt to find out why, the potential causes being changes in the food population, anthropogenic impact on their habitat and climate change.
"We are watching how these animals manipulate their prey and prepare them for capture. The films we achieve allow us to have data that we lacked before, "concludes Bejder.
Source: ScienceAlert