Alternate Theory Emerges (Epstein Body Double/Clone): Was Jeffrey Epstein Swapped out of His Cell to Prevent Him from Being Murdered?
(Mike Adams) The apparent murder of Jeffrey Epstein is sending shock waves around the world, jolting more people awake to the fact that the deep state is so dangerous that even prisoners are not safe from being murdered.
It has now become apparent to every thinking person that America is occupied by an enemy force, a corrupt criminal cartel known as "Democrats" who will kill anyone that gets in their way or threatens their power. Jeffrey Epstein, of course, could have testified to the fact that Bill Clinton is a serial rapist and child abuser whose perverted crimes have been covered up by the complicit left-wing media for decades.
But what if President Trump and William Barr knew Epstein was about to be murdered and took steps to secure him in a safe location so that his testimony could also be secured? Epstein could be the key to bring down the Democrat deep state traitors whose leaders have long been tied to child trafficking, video blackmail and Satanic child molestation rituals. Testimony from Epstein could topple the entire house of cards and expose the sick, Satanic child sacrifice and rape rituals that high-level Democrats have been carrying out for decades.
That's why this alternate theory is at least worth considering. Although it's impossible to know whether this is true, there appears to be photographic evidence (see below) that the dead body carted out of Jeffrey Epstein's jail cell was not the body of Epstein. The body was "swapped," according to some analysts who are looking very closely at the evidence.
The most likely explanation of all this remains, in my view, the simpler theory that Jeffrey Epstein was murdered by deep state operatives connected to the Clintons. After all, the Clintons have been surrounded by a long list of mysterious deaths, "suicides" and body bags. The number of ex-Clinton body guards, accountants and business associated who have been killed is truly astounding. And the suspicious events at the prison where Epstein was being held continue to mount. For example, why is there no video footage of Epstein killing himself? Why were the guards pulled away? Why was Epstein removed from suicide watch? Why was Epstein's cellmate removed from his cell just one day earlier? See a summary of these key questions from Michael Snyder.
Even AG William Barr has questions:
NEW: Attorney General Bill Barr says he was "appalled" and "angry" at the failure to "adequately secure" Jeffrey Epstein.

"We are now learning of serious irregularities at this facility that are deeply concerning and demand a thorough investigation" https://t.co/O0OFAg3xyj pic.twitter.com/LiLUJj5cdD

— ABC News Politics (@ABCPolitics) 12 August 2019
Photographic analysis: The body removed from Epstein's cell doesn't seem to match Jeffrey Epstein
According to Intellihub, which ran some of the best investigatory journalism following the Las Vegas mass shooting, the photograph of a body being removed from Epstein's jail cell appears to depict the body of a man who isn't Epstein at all. We haven't yet confirmed the origins of these photos or the conclusions of the analysis, but it's a theory worth considering, since the face profiles don't seem to match. The nose, in particular, doesn't seem to be the same nose as Jeffrey Epstein:
Adding to the mystery, according to Intellihub, a worker at the prison posted a message to 4chan that's recorded as being posted 10 minutes before the media broke the story of Epstein's death. According to this post, which has not yet been authenticated (so take it with a grain of salt):
Not saying anything after this pls do not try to dox me but last night after 0415 they took him [Epstein] [to] medical in a wheelchair front cuffed but not 1 triage nurse says they spoke to him. Next thing we know trip vans show up? We do not do releases on weekends unless a judge orders it. Next thing we know, he's put in a single man cell and hangs himself? Here's the thing, the trip van did NOT sign in and we did not record the plate number and a guy with a green dress military outfit was in the back of the van according to the tower guy that let him through the gate. You guys I am shaking right now but I think they switched him out.
This apparent post seems to indicate that a military person arrived and swapped out Jeffrey Epstein (alive) with a dead body that sort of resembled Jeffrey Epstein. Is it true? You decide.
Be skeptical of all this, of course. There are many potential theories about what happened to Jeffrey Epstein. Because the evidence is being so aggressively covered up, none of us have proof (yet) that any particular narrative is accurate. One thing we know for sure, however, is that the establishment media is lying to us all.
Who would want to remove Jeffrey Epstein and keep him alive?
The obvious question at this point, then, is who would want to remove Jeffrey Epstein and keep him alive? There are really only two possibilities for this:
Possibility #1) William Barr and President Trump ordered him moved to a safe location to secure his testimony and help bring down the deep state.
Possibility #2) The deep state (Clintons) kidnapped him to torture him and kill him. But this explanation doesn't make much sense because it's much easier for them to just kill him in his own cell and be done with it. There's no rational reason to remove him from his cell, only to kill him somewhere else.
Thus, the only remaining explanation — if you believe he was swapped out with another body — is that the DOJ and Trump had him moved to secure his testimony. There's also a "wildcard" theory that Epstein worked for Mossad, and that Mossad snuck into the jail cell and swapped him out, but that seems beyond far-fetched at this point. Even for conspiracy analysts.
Is Epstein still alive?
All this brings us to the possibility that Jeffrey Epstein may still be alive, and he may be in U.S. military custody where he is about to offer all kinds of video recorded testimony naming all the high-level Democrats who paid him money to sexually abuse teen girls and boys.
Or, perhaps, this is all just wishful thinking and the truth is that Epstein is dead as a rock. Dead men don't talk. And they especially don't talk about the Clintons.
By the way, the left-wing media — run by absolute morons and traitors — now says that if you don't believe the official explanation of Jeffrey Epstein committing suicide, then you are a "conspiracy theorist." These are the same media loons who have been pushing a wildly fabricated Russia collusion conspiracy theory for nearly the last three years. Their conspiracies aren't conspiracies, you see. But your conspiracies are "conspiracy theories." That's how the deranged, left-wing media operates, which is exactly why no intelligent person in America trusts anything the media reports anymore.
There will no doubt be a lot more breaking news (and possibly evidence) about Jeffrey Epstein in the days ahead. But if he's alive and being held by the DOJ or the U.S. military, his testimony could implode the entire Democrat party which has been run by child trafficking rapists and sex abusers for many decades. Jeffrey Epstein could truly be the ultimate weapon to bring down the shadow government dominated by Democrats. That is, unless he's already room temperature.
Don't trust the media. Trust your instincts on this one. While you're at it, the assassination of JFK was also a deep state cover-up run by the corrupt FBI of the 1960s. So you might want to pick up a few books by Jim Marrs and get educated about reality, because the deep state has been running psyops on the American people since at least World War II. Only now has a president arrived that could start to challenge the occupying enemy force (i.e. deep state swamp creatures) who have been mind-controlling America for generations.
Things are about to get interesting…
Glenn Dennis' story about the UFO crash in Roswell (video)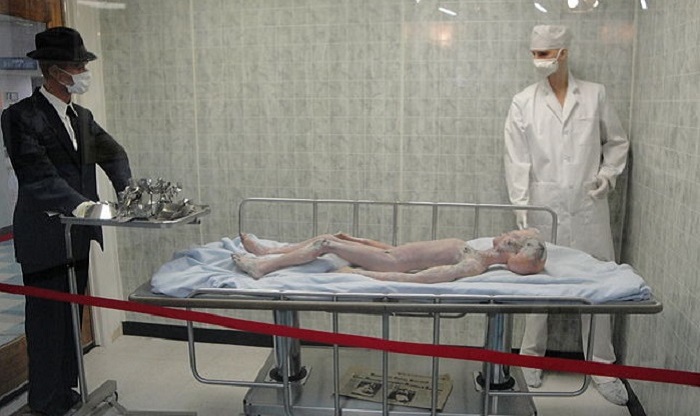 Glenn Dennis' story is considered to be one of the most important evidence that an alien ship fell in Roswell and the bodies of dead aliens fell into the hands of the US military.
When it comes to what happened in Roswell, New Mexico, in July 1947, almost all the evidence for this case is contradictory.
There are several theories about what happened there, including the official one. But there is almost no evidence for each of them except the stories of eyewitnesses.
The testimonies of these eyewitnesses are also different. Some detailed and curious and others strange and ridiculous. Many of them went through the "third or fourth hand" before reaching the ufologists, who later wrote numerous books about Roswell.
The official version says that a balloon from Mogul's secret program is falling in Roswell. Unofficial versions tell of the crash of an alien ship (or a secret aircraft of the US Air Force) and strange deformed bodies discovered at the scene of the crash.
It is alleged that the remains of this ship and the bodies of aliens were transported to military bases. They are still stored there in secret hangars, where they are studied and modern equipment are created on the basis of the material studied.
One of the most controversial (and at the same time intriguing) eyewitness accounts is the story of the famous Glen Dennis. In 1947, this man worked as a body embalmer at the Roseville branch of Ballard Funeral Home.
It all started when a couple of small coffins were ordered at the Air Force Bureau, as if for baby bodies. Dennis immediately suspected something unusual about all this.
Dennis knew a nurse who worked at a nearby military base, and a little later, she secretly told Dennis how several strange little bodies were brought to her hospital at the base, and that she had personally seen military doctors open these bodies.
Dennis shares:
"She had to bring the boxes to the room where two doctors had previously opened these bodies. And according to her, she immediately sensed the horrible smell in this room. She had never felt more disgusted in her life.
From this smell, the girl felt so bad that she was forced to leave the room for a while, as she was ill. In addition, she went with two other doctors who also started vomiting.
When she returned, she "saw something that no one had ever seen," and when she told me about it, I was worried about her condition. It seems she was in shock. "
Then, the nurse described to Dennis what the internal organs of one of the bodies looked like. She said they had four fingers on their hands, and at the end of each finger there were small jellies.
According to the nurse, the creature's head was disproportionately large compared to the weak body. The eyes were deep. The skull bones were not rigid but flexible. The nose was almost invisible, only in the form of two holes, and the mouth was just a thin slit in the skin.
These creatures had no teeth in their mouths, but had cartilaginous plates instead of teeth. Their ears were tiny. There was no hair on the body, and the skin of the creatures was very dark, almost black, probably due to fire burns.
After the nurse told him about it, Dennis promised never to reveal her name while he was alive. However, soon something happened to this woman, she disappeared.
When Dennis tried to question what had happened to her, someone told him that she had been transported to work in England and then "accidentally" died in the accident.
Dennis spoke of all this only in the early 1990s, when he was already an adult and not afraid for himself, but considered his girlfriend long dead.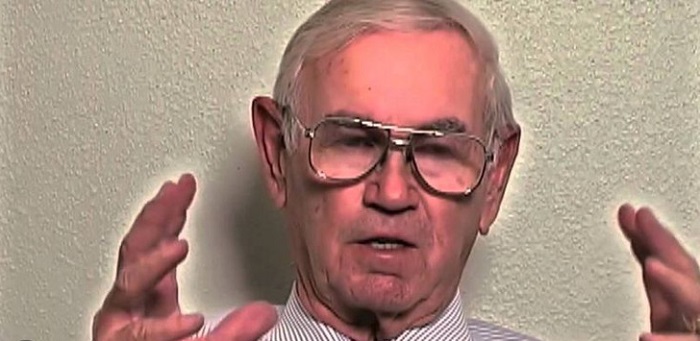 Ufologists tried to find the real name of this woman, but failed. Until her death, in 2015, Dennis kept his promise and never revealed her name.
Watch an interview with Glenn Dennis.
NASA was frightened by the Presence of Extraterrestrials on the Moon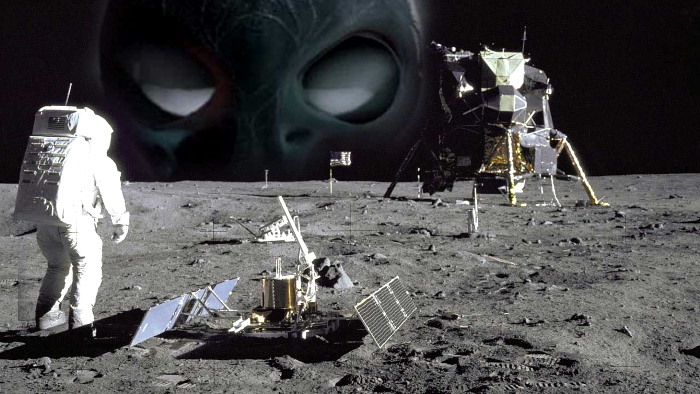 Russian central television RTR, broadcasted a sensational documentary stating that astronauts working for the American space agency, NASA, encountered extra-terrestrial civilizations during Apollo missions on the moon.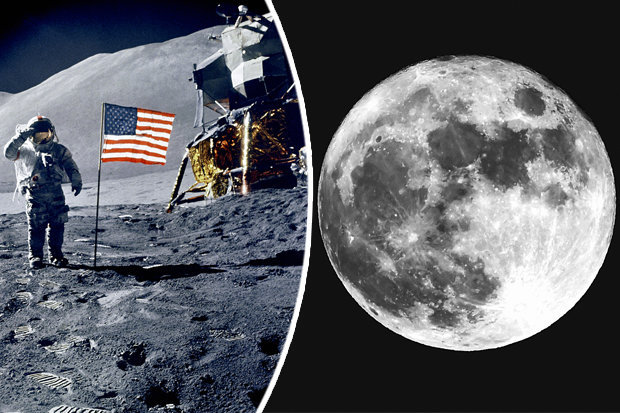 Evidence of these claims was presented by Russian UFO researcher Vladimir Azhazha and astronomer Yevgeny Arsyukhin, who claim that the Apollo missions were besieged by spies from an extra-terrestrial origin from the beginning. They also claimed that there were records of communications between the astronauts and the Mission Control Center which commented on explorations of lunar bases, remnants of alien spaceships and desert settlements on the lunar surface.
The two researchers claimed that the messages had been blocked and encrypted by the Americans to prevent anyone from hearing these highly dangerous messages for national and global security.
The researchers also stated that the beings living on the Moon did not appreciate the intrusion of astronauts from the Earth into their territory. They claim that when NASA brought a dummy machine to the moon (the Lunar Rover Vehicle) to examine the craters, the alien creatures asked the spaceships to desist and immediately leave the Moon and return to Earth.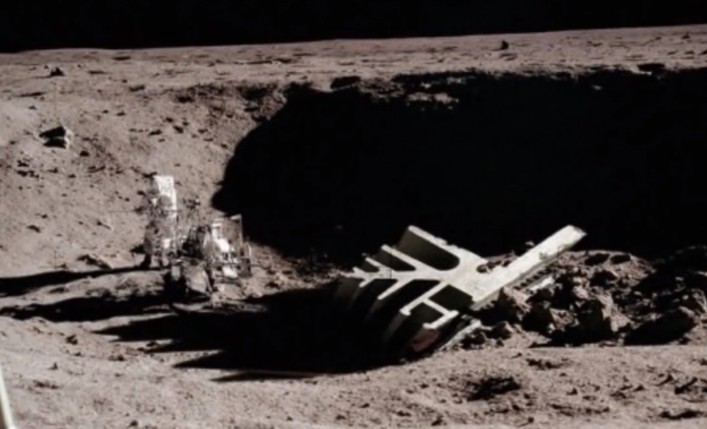 The creatures somehow managed to communicate their desire for secrecy while they were involved in an observation mission on Earth. NASA feared the beings becoming enemies and agreed that they would put an end to lunar exploration missions.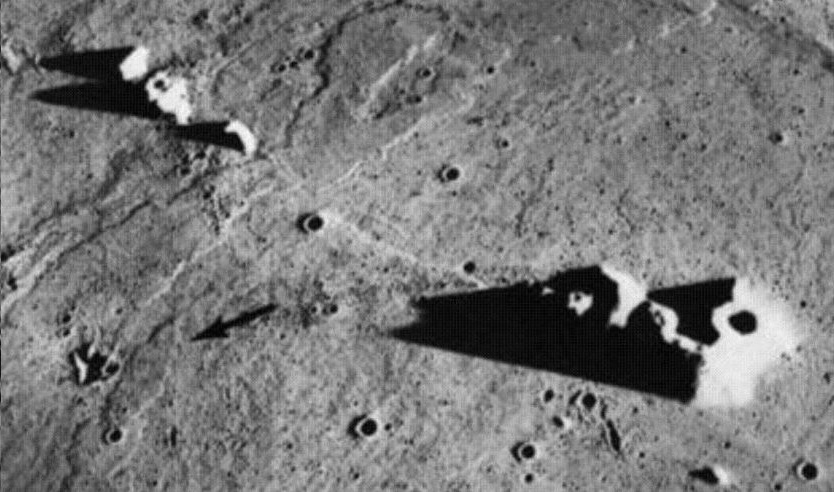 While skeptics might say that these claims are far-fetched, this is not the first time that the claims of alien beings colonizing the Moon have been raised. If the story is true, it would explain some of the unusual discrepancies involving lunar missions, including censored images of the lunar surface and a large number of space mission recordings that NASA claims to have "lost" … strangely.
It would also explain why the US government abandoned the hugely expensive and politically profitable lunar exploration project, and why NASA has never tried to explore the Moon more widely in recent years.
Illuminati symbols and signs are all around us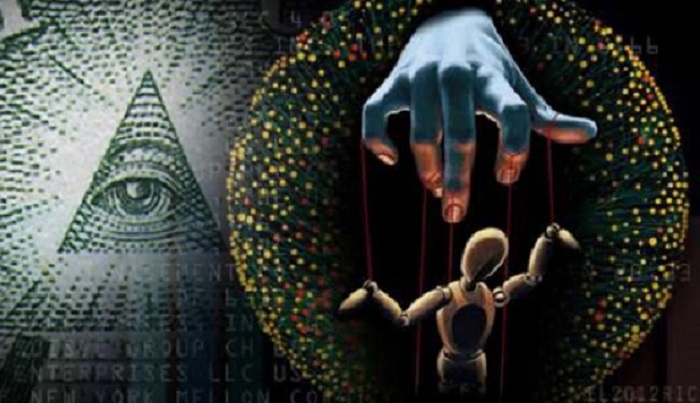 The word "Illuminati" means "enlightened," and this society officially appeared on May 1, 1776 in Freistaat Bayern.
Its founder is the theologian philosopher Adam Weishaupt, who is a supporter of Europe's liberal ideas.
Weishaupt, according to Weishaupt's idea, primarily opposes religious prejudices and silly superstitions in everyday life, advocating for gender equality and women's education.
As we can see, this is not much different from other similar societies that emerged later in the 18th century. It was not related to extraterrestrials, neither to reptiles, nor to any "world rulers".
However, over the last two centuries, this group and its perception in society has changed dramatically. Now, the Illuminati is in contact with the World Government and their goal is to create a unified, authoritarian-style World Order.
For the most part, this statement is based on the famous phrase "Novus Ordo Seclorum" written on the back of a US dollar banknote. Translates as "New World Order" or "New Order of Ages".
According to conspiracy theorists, in order to achieve such a New World Order and establish authority over all countries, members of the public penetrate into power structures, organize murders, control secular and religious societies, manipulate information in the media.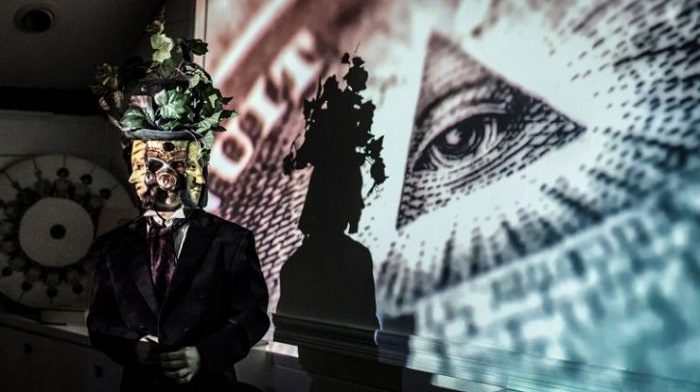 Conspiracy theorists say the Illuminati is responsible for the assassination of US President John F. Kennedy, the September 11 attack, the massive disturbances in the global stock market, and so on.
In general, any great conspiracy is not complete unless the Illuminati is mentioned, including extraterrestrials, conspiracies for chemical trails, manipulations of dangerous viruses that subjugate human consciousness and create zombies that are obedient and loyal to the authorities.
Studying the Bible and its prophecies, conspiracy theorists are sure that there are hints of the Illuminati there as well. It is alleged that it is stated that a Secret Decree would be issued and a World Government would be created that would win the hearts of the people through flattering and sweet promises.
In the beginning, everything will be "smooth and beautiful", but after that, the government will show its true goals. This government will be a cruel totalitarian force that will eliminate both freedom and religion.
Many people who think of themselves as savvy do not believe in the Illuminati. But it is difficult to overlook the many strange things that occur around the world every day and resemble the symbolism of the Illuminati.
On the $ 1 note, there is indeed a strange symbol – an eye in a triangle at the top of a pyramid. This is interpreted as the seeing eye. It turns out to be associated with both the Illuminati and the Masons. In particular, President Franklin Delano Roosevelt, 1882-1945) was a Freemason.
Shining rays surround the Eye, symbolizing its influence on all other countries.
If the lines of the Eye, the pyramid, the start and end letters on the inscription are connected, then another curious symbol appears – the Pentagram or the Baphometh Star. The same pentagram is seen in the eagle with the same banknote as in many other corporate and governmental symbols of the United States.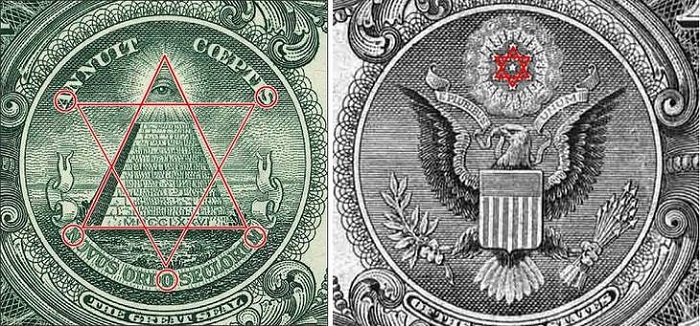 Nowadays, Illuminati symbols can be seen almost anywhere. But, they are most commonly found in the entertainment industry: in films, cartoons, videos, in clothing and gestures of singers and actors.
Many singers mention Illuminati characters in their lyrics, insert them into albums and stage decorations during performances.
Many Popular Hip Hop Stars Like Jay Z, Rihanna, Kenny West, etc., constantly show the sign of the triangle-pyramid with hands.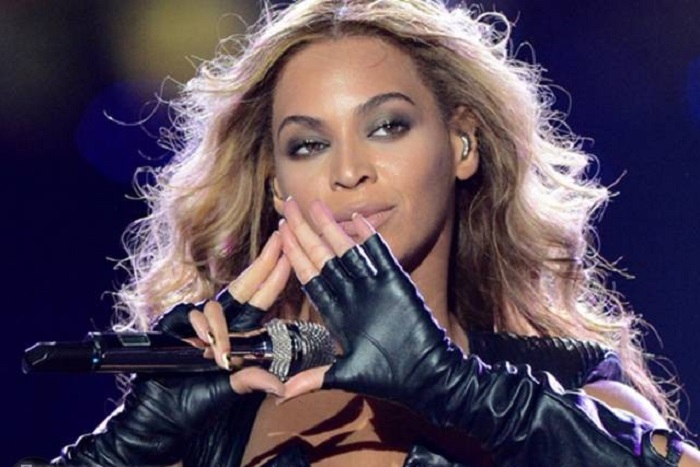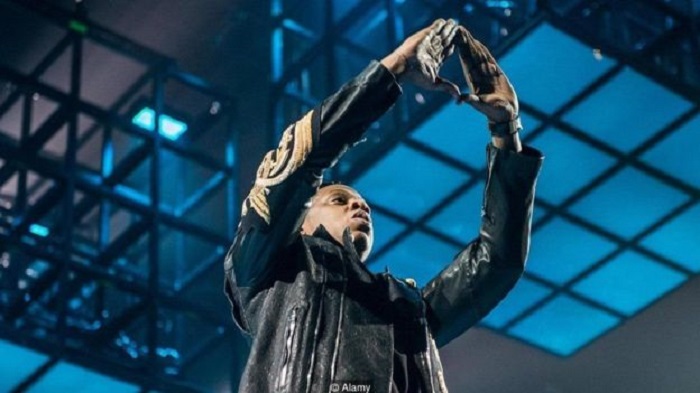 Other gestures popular with the stars, are eye-catching gestures.
Check out the photos below.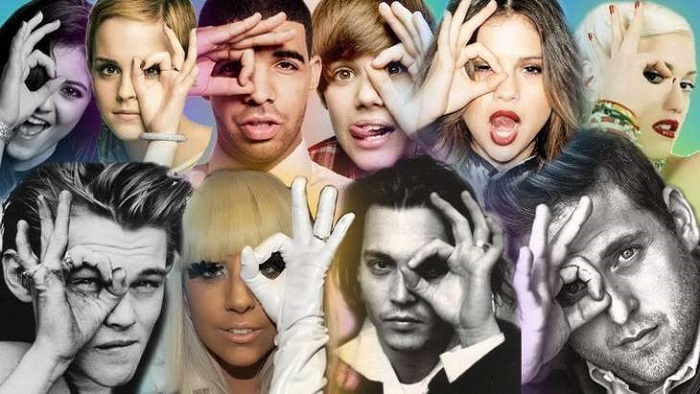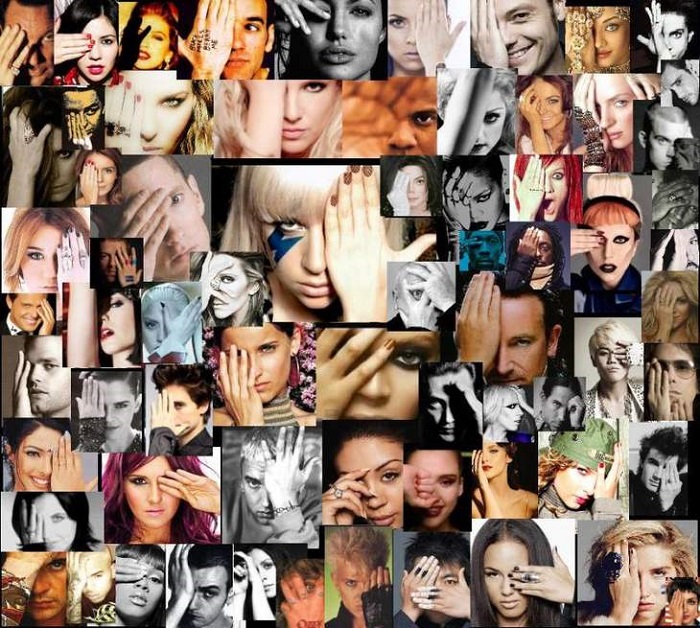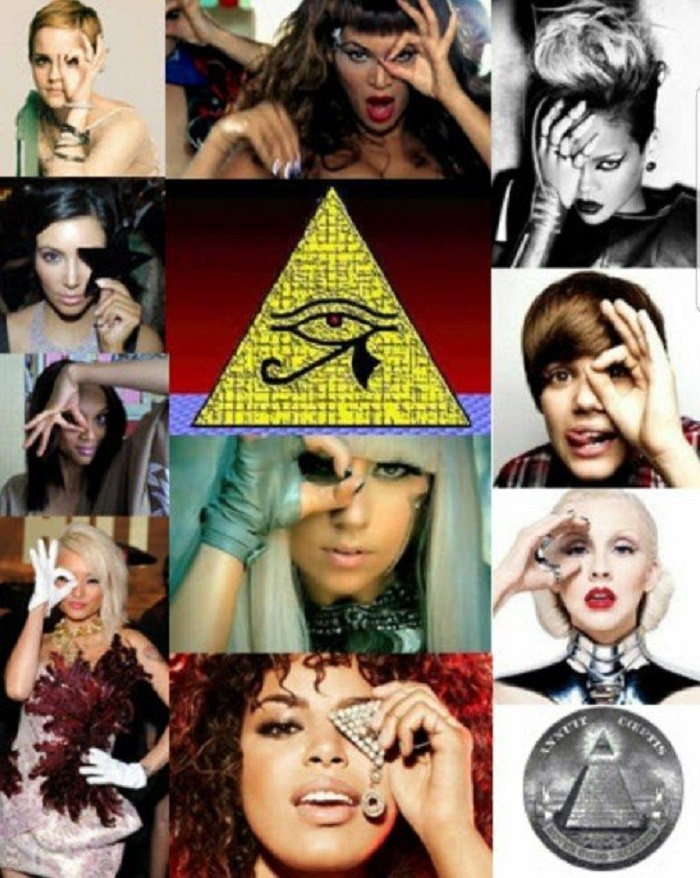 Marvel comics have their own secret group, the Illuminati, which operates as a secret society. The Illuminati is even mentioned in video games, including the Call of Duty, Street Fighter, Assassin's Creed, Metal Gear and World of Warcraft series.
The symbolism of the Illuminati and their inscriptions can be seen even in such 'harmless' products as the Disney, SpongeBob and Tom and Jerry animated films. They also appeared in the adult animations Family Guy, The Simpsons and South Park.
So, are the Illuminati true?
Skeptics mercilessly mock people who believe in the existence of the Illuminati and write that "looks like rappers and their fans".
But why are the strange gestures and symbols of the Illuminati so widespread? Why can they be seen in so many things? Why show them? Just for fun? Or maybe it is due to something we still know nothing about and for some hidden purpose?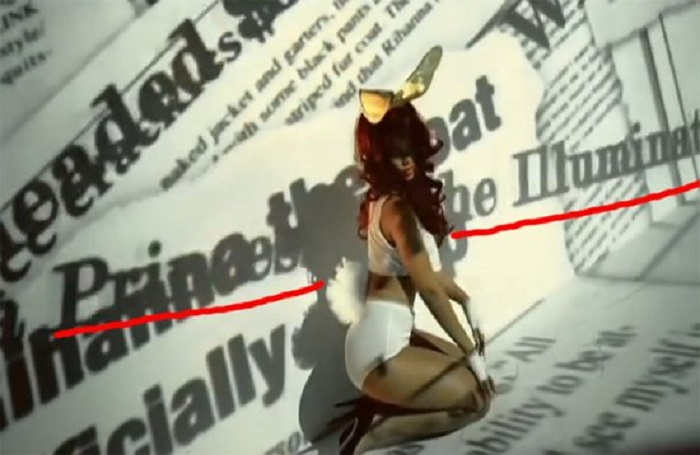 The truth is still unknown. But, the next time you watch an animation, movie or music video, take a closer look at the symbolism and you might notice the Illuminati symbols there.