Alternate Theory Emerges (Epstein Body Double/Clone): Was Jeffrey Epstein Swapped out of His Cell to Prevent Him from Being Murdered?
(Mike Adams) The apparent murder of Jeffrey Epstein is sending shock waves around the world, jolting more people awake to the fact that the deep state is so dangerous that even prisoners are not safe from being murdered.
It has now become apparent to every thinking person that America is occupied by an enemy force, a corrupt criminal cartel known as "Democrats" who will kill anyone that gets in their way or threatens their power. Jeffrey Epstein, of course, could have testified to the fact that Bill Clinton is a serial rapist and child abuser whose perverted crimes have been covered up by the complicit left-wing media for decades.
But what if President Trump and William Barr knew Epstein was about to be murdered and took steps to secure him in a safe location so that his testimony could also be secured? Epstein could be the key to bring down the Democrat deep state traitors whose leaders have long been tied to child trafficking, video blackmail and Satanic child molestation rituals. Testimony from Epstein could topple the entire house of cards and expose the sick, Satanic child sacrifice and rape rituals that high-level Democrats have been carrying out for decades.
That's why this alternate theory is at least worth considering. Although it's impossible to know whether this is true, there appears to be photographic evidence (see below) that the dead body carted out of Jeffrey Epstein's jail cell was not the body of Epstein. The body was "swapped," according to some analysts who are looking very closely at the evidence.
The most likely explanation of all this remains, in my view, the simpler theory that Jeffrey Epstein was murdered by deep state operatives connected to the Clintons. After all, the Clintons have been surrounded by a long list of mysterious deaths, "suicides" and body bags. The number of ex-Clinton body guards, accountants and business associated who have been killed is truly astounding. And the suspicious events at the prison where Epstein was being held continue to mount. For example, why is there no video footage of Epstein killing himself? Why were the guards pulled away? Why was Epstein removed from suicide watch? Why was Epstein's cellmate removed from his cell just one day earlier? See a summary of these key questions from Michael Snyder.
Even AG William Barr has questions:
NEW: Attorney General Bill Barr says he was "appalled" and "angry" at the failure to "adequately secure" Jeffrey Epstein.

"We are now learning of serious irregularities at this facility that are deeply concerning and demand a thorough investigation" https://t.co/O0OFAg3xyj pic.twitter.com/LiLUJj5cdD

— ABC News Politics (@ABCPolitics) 12 August 2019
Photographic analysis: The body removed from Epstein's cell doesn't seem to match Jeffrey Epstein
According to Intellihub, which ran some of the best investigatory journalism following the Las Vegas mass shooting, the photograph of a body being removed from Epstein's jail cell appears to depict the body of a man who isn't Epstein at all. We haven't yet confirmed the origins of these photos or the conclusions of the analysis, but it's a theory worth considering, since the face profiles don't seem to match. The nose, in particular, doesn't seem to be the same nose as Jeffrey Epstein:
Adding to the mystery, according to Intellihub, a worker at the prison posted a message to 4chan that's recorded as being posted 10 minutes before the media broke the story of Epstein's death. According to this post, which has not yet been authenticated (so take it with a grain of salt):
Not saying anything after this pls do not try to dox me but last night after 0415 they took him [Epstein] [to] medical in a wheelchair front cuffed but not 1 triage nurse says they spoke to him. Next thing we know trip vans show up? We do not do releases on weekends unless a judge orders it. Next thing we know, he's put in a single man cell and hangs himself? Here's the thing, the trip van did NOT sign in and we did not record the plate number and a guy with a green dress military outfit was in the back of the van according to the tower guy that let him through the gate. You guys I am shaking right now but I think they switched him out.
This apparent post seems to indicate that a military person arrived and swapped out Jeffrey Epstein (alive) with a dead body that sort of resembled Jeffrey Epstein. Is it true? You decide.
Be skeptical of all this, of course. There are many potential theories about what happened to Jeffrey Epstein. Because the evidence is being so aggressively covered up, none of us have proof (yet) that any particular narrative is accurate. One thing we know for sure, however, is that the establishment media is lying to us all.
Who would want to remove Jeffrey Epstein and keep him alive?
The obvious question at this point, then, is who would want to remove Jeffrey Epstein and keep him alive? There are really only two possibilities for this:
Possibility #1) William Barr and President Trump ordered him moved to a safe location to secure his testimony and help bring down the deep state.
Possibility #2) The deep state (Clintons) kidnapped him to torture him and kill him. But this explanation doesn't make much sense because it's much easier for them to just kill him in his own cell and be done with it. There's no rational reason to remove him from his cell, only to kill him somewhere else.
Thus, the only remaining explanation — if you believe he was swapped out with another body — is that the DOJ and Trump had him moved to secure his testimony. There's also a "wildcard" theory that Epstein worked for Mossad, and that Mossad snuck into the jail cell and swapped him out, but that seems beyond far-fetched at this point. Even for conspiracy analysts.
Is Epstein still alive?
All this brings us to the possibility that Jeffrey Epstein may still be alive, and he may be in U.S. military custody where he is about to offer all kinds of video recorded testimony naming all the high-level Democrats who paid him money to sexually abuse teen girls and boys.
Or, perhaps, this is all just wishful thinking and the truth is that Epstein is dead as a rock. Dead men don't talk. And they especially don't talk about the Clintons.
By the way, the left-wing media — run by absolute morons and traitors — now says that if you don't believe the official explanation of Jeffrey Epstein committing suicide, then you are a "conspiracy theorist." These are the same media loons who have been pushing a wildly fabricated Russia collusion conspiracy theory for nearly the last three years. Their conspiracies aren't conspiracies, you see. But your conspiracies are "conspiracy theories." That's how the deranged, left-wing media operates, which is exactly why no intelligent person in America trusts anything the media reports anymore.
There will no doubt be a lot more breaking news (and possibly evidence) about Jeffrey Epstein in the days ahead. But if he's alive and being held by the DOJ or the U.S. military, his testimony could implode the entire Democrat party which has been run by child trafficking rapists and sex abusers for many decades. Jeffrey Epstein could truly be the ultimate weapon to bring down the shadow government dominated by Democrats. That is, unless he's already room temperature.
Don't trust the media. Trust your instincts on this one. While you're at it, the assassination of JFK was also a deep state cover-up run by the corrupt FBI of the 1960s. So you might want to pick up a few books by Jim Marrs and get educated about reality, because the deep state has been running psyops on the American people since at least World War II. Only now has a president arrived that could start to challenge the occupying enemy force (i.e. deep state swamp creatures) who have been mind-controlling America for generations.
Things are about to get interesting…
Looking for Planet X: Everyone can already see Nibiru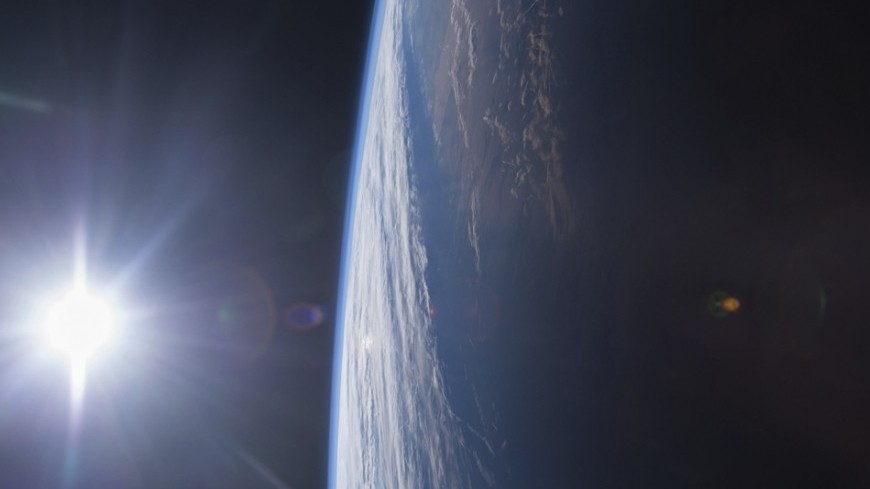 The following article is quoted from an archived New York Times article from … July 1, 1987:
According to NASA's scientist John Anderson, if a large planet is located at the edge of the solar system, it should travel in an elongated orbit almost at right angles to the orbits of other planets. According to him, such an orbit will bring the planet closer to the rest of the solar system only every 700-1000 years.
Dr. Anderson voiced this new hypothesis about the possible existence of Planet X at a press conference at the Ames Research Center in Mountain View, California. The center manages the flights of the Pioneer 10 and 11 spacecraft, which are now more than four billion miles from the Sun on courses that will ultimately deliver them to interstellar space.
Astronomers have long searched for Planet X to explain amazing observations showing disturbances in the orbits of Uranus and Neptune. These vibrations indicated that some large distant object had a gravitational effect on known outer planets. The search led in 1930 to the discovery of Pluto, but it turned out that it was too small to disrupt the orbits of Uranus and Neptune.
After two Pioneer spacecraft flew over Jupiter in the 1970s, they were sent along a trajectory beyond the boundaries of known planets and monitored to see if they were exposed to an invisible gravitational force. Small space stations almost do not produce their own gravitational forces, so they are sensitive indicators of any distant gravitational perturbations.
Dr. Anderson said that for five years of accurate measurements and analysis, he did not find anything in the Pioneer data that could reveal gravitational effects that cannot be explained by the forces of the famous nine planets.
In fact, according to Dr. Anderson, a review of astronomical data over the past 75 years has failed to provide clear evidence of such disturbances. But the observations of the 19th century, which caused subsequent speculation, after careful study by astronomers at the US Naval Observatory, were confirmed – that is, something affects the orbits.
Dr. Anderson concluded that the apparent presence of some power in the 19th century and its absence can now be explained by the existence of a large object, which is now at a great distance from the Sun – approximately opposite Uranus and Neptune.
"The best explanation," said Dr. Anderson, is that the object is in orbit tilted at right angles to the orbits of the other planets. Thus, in the last century, it crossed the plane of other planets and is now located far from the plane in its elongated orbit.
According to the hypothesis, the object should be five times more massive than the Earth. If he were more massive, his presence would be detected. If he were less massive, his strength would probably not be large enough to push Neptune out of orbit.
The hypothetical Planet X also figured in the assumptions about the cause of mass extinctions on Earth, which apparently occur regularly every 26 million years. Daniel P. Whitmere, an astronomer at the University of Southwest Louisiana, suggested that Planet X could follow a course in which every 26 million years it perturbes a cloud of comets in the outer solar system and thus sends destructive meteorites to Earth.
"We do not support this theory as a working hypothesis," Dr. Anderson said in a telephone interview. "But we do not refute this."
In 1987, Dr. Anderson, speaking at a press conference at the Ames Research Center in Mountain View, California, thwarted a round of applause, but after 30 years, such statements are not perceived in the same way. Meanwhile, everything is easily explainable and falls well into place.
The fact that something else was detected at the edge of the solar system by astronomers back in the 19th century and the observations of these people were confirmed not by a youtuber, but by astronomers at the US Naval Observatory. And what do the supporters of the New Chronology say about the 19th century?
They say that all the "historical events" until the 19th century were sucked out and that in fact several centuries ago there was some kind of disaster, after which people began to dig out the silt of the city and build civilization from scratch. But after causing this catastrophe, Nibiru did not evaporate – it moved on the same course, where Uranus and Neptune moved slightly – which was noticed by astronomers of the 19th century. 
Then Nibiru moved further and the effect of influence on the planets disappeared – there were only asteroids that were turned upside down, which revolve around the Sun not like everyone else, but in perpendicular orbits. 
And now Nibiru is approaching again. The direct descendants of those who survived the past cataclysm and retained technology now, obviously, just rule the world. They know exactly the date of the next pass to Nibiru, therefore, on the eve of this date, a command was given to defame the topic. And if in the middle of the last century astronomers wrote scientific articles about Nibiru, now no one will pickle so that they do not consider him a fool. 
Nevertheless, although the Apocalypse has almost come, Nibiru is not very visible. Why not? It is not visible because some kind of people spray chemtrails with a special composition that absorbs light of a certain spectrum:
But, despite these titanic efforts, Nibiru can still be noticed – just buy a mask of a welder or look at the Sun through special glasses:
Thus, the person shows the whole procedure live. The fact that this is not a glare is obvious. Whoever wants to – can repeat everything, whoever does not want to – let him believe after seeing the message on TV: apparently, the blind will see soon enough and severe events may start soon. 
Blue Beam on ISS: UFO observed the test of the US military satellite in low Earth orbit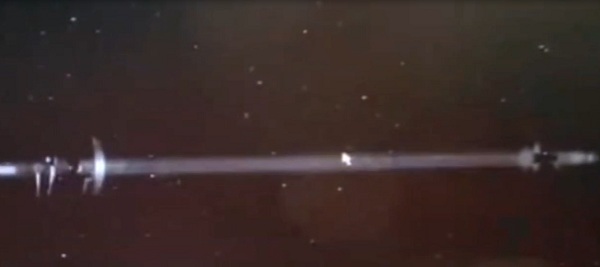 On June 17, according to open data, the United States launched the Red-Eye-2 small spacecraft for experiments in the interests of managing promising research projects of the country's Defense Ministry DARPA.
The Red-Eye microsatellite was launched into near-Earth orbit using the NanoRacks Kaber Microsat deployer, outside the Japanese Kibo laboratory module.
The 110-pound Red-Eye has tested satellite communications, on-board computers and thermal management technology.
DARPA (US Department of Defense Advanced Research Projects Office) writes the following on this subject:
Optical communication terminals using lasers to transmit data through space will be tested in upcoming experiments by the Space Development Agency and the Defense Advanced Research Agency.

These terminals are important components of future low-orbit platforms that will require optical cross-linking between satellites, so data collected in space can be immediately sent to military command centers on earth.

Laser communication systems have much higher data rates than radio-based systems, but DoD has problems such as the effect of cosmic radiation on optical terminals and the ability of electronics to withstand the load of a space launch …
This is according to official data, but in a live broadcast from one of the ISS cameras (from the second, since the first was turned off due to the many UFOs falling into the frame), we see something completely different.
The US military satellite launched into orbit from the ISS is approaching the second satellite (and judging by the size it is far from being "microsatellites") and begins the exchange of laser beams.
This, somehow, is not very similar to the declared tests by one launched satellite "testing of satellite communications, on-board computers and thermal control technology."
Not to mention the fact that all this "test" is accompanied by many UFOs that fly right next to this pair of US military satellites and monitor them.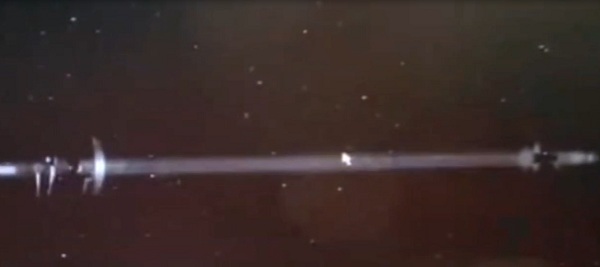 Now the ISS crew consists of Russian cosmonauts Anatoly Ivanishin and Ivan Wagner, as well as American astronauts Christopher Cassidy, Douglas Hurley and Robert Benken.
Judging by the negotiations with the control center that were going on at the time of the "tests", the Russian cosmonauts had no idea what was happening and went about their own business.
There is very little open information about the purpose of these military satellites. We were only able to find a mention that "DARPA plans to launch a pair of small satellites that will carry optical inter-satellite communications systems made by SA Photonics. At the end of the Blackjack program in 2022, DARPA's goal is to demonstrate that the optical laser network can provide global secure communications for the US military."
First of all, what is surprising is what the United States uses the International Space Station to launch military satellites.
Secondly, it is surprising that both the astronauts and the control center cannot be unaware of the presence of UFOs in the Earth's orbit, since they see them not only visually, but also on cameras, but they don't consider any explanation of this UFO and even confirmation of their actual existence to the public.
Coronavirus – an experiment in social engineering
On June 7, 2020, Carlo Maria Vigano, a former senior official of the Vatican, sent an open letter to Donald Trump, in which he remarked that the "Covid-19 pandemic" and the riots that synchronously followed were "an experiment of gigantic social engineering.
There are many other hints, even details. There is nothing particularly new and unknown to the conspiracy theorists in the letter, but the fact is that all this is stated not by a "dude with a foil cap", but by the Title Archbishop of Ulpian and the former Apostolic Nuncio in the United States of America:
 In recent months we have been witnessing the formation of two opposing sides that I would call Biblical: the children of light and the children of darkness. The children of light constitute the most conspicuous part of humanity, while the children of darkness represent an absolute minority. And yet the former are the object of a sort of discrimination which places them in a situation of moral inferiority with respect to their adversaries, who often hold strategic positions in government, in politics, in the economy and in the media. In an apparently inexplicable way, the good are held hostage by the wicked and by those who help them either out of self-interest or fearfulness. 
 These two sides, which have a Biblical nature, follow the clear separation between the offspring of the Woman and the offspring of the Serpent. On the one hand there are those who, although they have a thousand defects and weaknesses, are motivated by the desire to do good, to be honest, to raise a family, to engage in work, to give prosperity to their homeland, to help the needy, and, in obedience to the Law of God, to merit the Kingdom of Heaven. On the other hand, there are those who serve themselves, who do not hold any moral principles, who want to demolish the family and the nation, exploit workers to make themselves unduly wealthy, foment internal divisions and wars, and accumulate power and money: for them the fallacious illusion of temporal well-being will one day – if they do not repent – yield to the terrible fate that awaits them, far from God, in eternal damnation. 
 In society, Mr. President, these two opposing realities co-exist as eternal enemies, just as God and Satan are eternal enemies. And it appears that the children of darkness – whom we may easily identify with the deep state which you wisely oppose and which is fiercely waging war against you in these days – have decided to show their cards, so to speak, by now revealing their plans. They seem to be so certain of already having everything under control that they have laid aside that circumspection that until now had at least partially concealed their true intentions.
The investigations already under way will reveal the true responsibility of those who managed the Covid emergency not only in the area of health care but also in politics, the economy, and the media. We will probably find that in this colossal operation of social engineering there are people who have decided the fate of humanity, arrogating to themselves the right to act against the will of citizens and their representatives in the governments of nations.
 We will also discover that the riots in these days were provoked by those who, seeing that the virus is inevitably fading and that the social alarm of the pandemic is waning, necessarily have had to provoke civil disturbances, because they would be followed by repression which, although legitimate, could be condemned as an unjustified aggression against the population. The same thing is also happening in Europe, in perfect synchrony. It is quite clear that the use of street protests is instrumental to the purposes of those who would like to see someone elected in the upcoming presidential elections who embodies the goals of the deep state and who expresses those goals faithfully and with conviction. It will not be surprising if, in a few months, we learn once again that hidden behind these acts of vandalism and violence there are those who hope to profit from the dissolution of the social order so as to build a world without freedom: Solve et Coagula, as the Masonic adage teaches.
 Although it may seem disconcerting, the opposing alignments I have described are also found in religious circles. There are faithful Shepherds who care for the flock of Christ, but there are also mercenary infidels who seek to scatter the flock and hand the sheep over to be devoured by ravenous wolves. It is not surprising that these mercenaries are allies of the children of darkness and hate the children of light: just as there is a deep state, there is also a deep church that betrays its duties and forswears its proper commitments before God. Thus the Invisible Enemy, whom good rulers fight against in public affairs, is also fought against by good shepherds in the ecclesiastical sphere. It is a spiritual battle, which I spoke about in my recent Appeal which was published on May 8.
 For the first time, the United States has in you a President who courageously defends the right to life, who is not ashamed to denounce the persecution of Christians throughout the world, who speaks of Jesus Christ and the right of citizens to freedom of worship. Your participation in the March for Life, and more recently your proclamation of the month of April as National Child Abuse Prevention Month, are actions that confirm which side you wish to fight on. And I dare to believe that both of us are on the same side in this battle, albeit with different weapons. 
 For this reason, I believe that the attack to which you were subjected after your visit to the National Shrine of Saint John Paul II is part of the orchestrated media narrative which seeks not to fight racism and bring social order, but to aggravate dispositions; not to bring justice, but to legitimize violence and crime; not to serve the truth, but to favor one political faction. And it is disconcerting that there are Bishops – such as those whom I recently denounced – who, by their words, prove that they are aligned on the opposing side. They are subservient to the deep state, to globalism, to aligned thought, to the New World Order which they invoke ever more frequently in the name of a universal brotherhood which has nothing Christian about it, but which evokes the Masonic ideals of those want to dominate the world by driving God out of the courts, out of schools, out of families, and perhaps even out of churches.
 The American people are mature and have now understood how much the mainstream media does not want to spread the truth but seeks to silence and distort it, spreading the lie that is useful for the purposes of their masters. However, it is important that the good – who are the majority – wake up from their sluggishness and do not accept being deceived by a minority of dishonest people with unavowable purposes. It is necessary that the good, the children of light, come together and make their voices heard. What more effective way is there to do this, Mr. President, than by prayer, asking the Lord to protect you, the United States, and all of humanity from this enormous attack of the Enemy? Before the power of prayer, the deceptions of the children of darkness will collapse, their plots will be revealed, their betrayal will be shown, their frightening power will end in nothing, brought to light and exposed for what it is: an infernal deception.
 Mr. President, my prayer is constantly turned to the beloved American nation, where I had the privilege and honor of being sent by Pope Benedict XVI as Apostolic Nuncio. In this dramatic and decisive hour for all of humanity, I am praying for you and also for all those who are at your side in the government of the United States. I trust that the American people are united with me and you in prayer to Almighty God.
 United against the Invisible Enemy of all humanity, I bless you and the First Lady, the beloved American nation, and all men and women of good will.
+ Carlo Maria Viganò 
Titular Archbishop of Ulpiana
Former Apostolic Nuncio to the United States of America