Aliens Are Real, And They're Laughing At Your Outlook On Life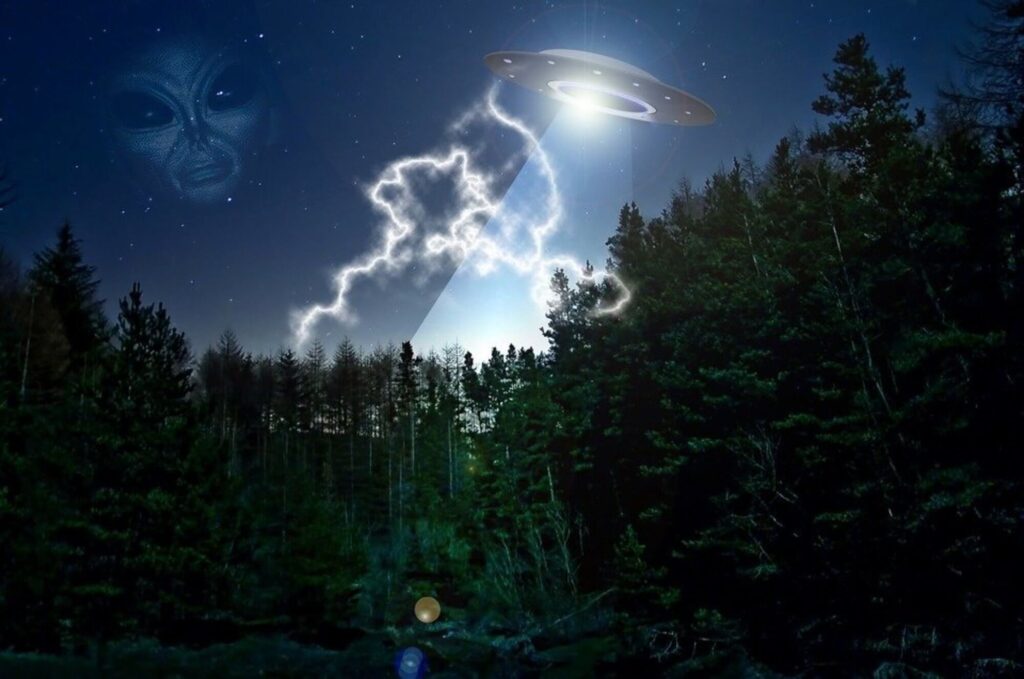 Trying to answer the most pondered question in the universe says much more about us than about them.
There are few thoughts more self-centered, egotistical and altogether ignorant than those of someone who denies the existence of extraterrestrial life. In a universe so infinitely vast, the statistical probability that there exists life elsewhere is unquestionable; the only question is whether the human race is ready to accept our meager significance in such a boundless universe.
We humans seem to be preoccupied with more pressing matters, ranging from the name of the new Kardashian baby to the release date of the next season of "Riverdale." The world continually obsesses over an abundance of minute occurrences, some admittedly more trivial than others. For instance, a campaign for social activism or climate change awareness is obviously respectable, but its significance still pales in comparison to the broader question that haunts us from womb to tomb: are we alone?
We only really ever flirt with the idea of aliens when it's for mindless entertainment — a fright at the movies or a smile at the blossoming friendship of a young boy and his cute extraterrestrial discovery. We scoff at the prospect of aliens when it's removed from escapist fanfare and introduced into ordinary life, hence the amusing stereotype of the conspiracy-crazed "tin foil hat" psycho. Maybe these supposed lunatics have more to offer than a quick laugh, though; maybe they're onto something.
From my perspective, the crazy guy who cries "government cover-up" at every possible UFO sighting and even buys alien communicators (yes, they exist) in case of an emergency is half-right. He's right to believe in something greater than he sees on news stations or the Internet, that there exist monumental things to be found in the stars beyond politics and television and humanity.
He's wrong, however, to focus on the idea of extraterrestrial life as a threat to his human way of life. In reality, while the odds of life elsewhere are remarkably high, the odds of encountering an alien species anytime soon is equally low. The point, then, is not to ready your bunker for a doomsday invasion, but to adjust your life according to the realization that you are but a blip, a one-night stand in the infinite affairs of the universe.
It's a humbling thought that might bring you existential worry, but it comes with good news: your worries mean nothing. Enjoy your life! Your existence might be meaningless to the universe, but that only means you have no obligation to anything but yourself to make it count.
The time may come when you have to put your new outlook on life to the test. On Nov. 12, Harvard researchers concluded that an elongated object found circling the Earth in 2017 might be an alien probe. I'm not saying the Earth is 100 percent going to get invaded, but I'm also not saying it won't (okay, it probably won't).
Source: www.theodysseyonline.com
They visit an extraterrestrial base in Spain and record two UFOs (Video)
 a few weeks ago, some images recorded with a drone in La Rioja (Spain) shocked the world of mystery. A UFO burst into the camera suddenly … and soon it went viral in the networks.
The Youtube channel "Hidden Truth" speculated that there was an extraterrestrial base in the vicinity of the town of Ribafrecha.
So they approached the scene and, accompanied by the authors of the original recording, investigated the field.
For this, they were equipped with two infrared cameras for what could happen. And it happened.
Beyond the "crack" from which the UFO allegedly took off at the end of January, a large grotto that opened on the ground, and the most interesting thing of the recording happens at night.
It was 7:15 p.m. when the infrared cameras captured "something that nobody was prepared to see". "We did not give credit; It was not just a UFO, but two, and they crossed in the sky. "
Thus, two luminous points break with a constant movement in a firmament full of stars. "They are anomalies that shine like stars in a linear way, but they are not airplanes", concludes the researcher of "Hidden Truth".
In addition, he advances that "this is the first video-program of all the material we have and, believe me, the best is yet to come."
In his farewell, he says that "many questions the veracity of the recordings and many believe that there is no extraterrestrial base, but our research suggests that this place is really extraordinary."
What's your opinion about it? Do we have an extraterrestrial base in Spain? Watch the mentioned video below, and leave us your comment below.
Finally: Lie Detector Test Proves Buzz Aldrin Saw Alien UFOs In Space
A glance at some of the world's most-read news websites will have left many readers under the impression Buzz Aldrin had confirmed he saw an alien craft. But he has almost certainly not.
The institution behind the claim will not reveal how the claim has been proven, Aldrin himself has denied it, and at least some of the astronauts named didn't actually take part in the study, since two of them are dead.
The claim, originally published in the Daily Star, has now been repeated by many of the world's biggest websites and across the world. The reports – many of which cast little doubt on the initial claims – have been shared thousands of times.
The report trades on the idea that Nasa is secretly keeping evidence of aliens under wraps.
While some Apollo astronauts have claimed to have seen UFOs during their missions, Mr Aldrin, the second man on the moon, has not – repeatedly denying reports suggesting he spotted an alien craft during the historic 1969 mission.
The original report said Apollo 11 astronaut Mr Aldrin had "passed lie detector tests over claims they experienced alien encounters". It said experts had examined astronauts'accounts of "strange space sightings", using the "latest technology" and that they had proven the astronauts were convinced about what they saw.
It claimed that the experts came from the Institute of BioAcoustic Biology and Sound Health, a non-profit in Albany, Ohio. The organisation had used "top-secret" technology, it said, which scans people's voices to understand them.
As well as Mr Aldrin, the report claims that four Nasa astronauts have been studied and found to be telling the truth about their claims. It appears that the group did that with recordings, since two of the astronauts being studied are now dead.
But there's no proof that the wild claims of that organisation have been tested or proven. While "bioacoustics" is a legitimate scientific exercise – it explores how living things make and are changed by sound – that is not what the organisation is doing.
A website that appears to belong to the institute claims that it "quietly goes about changing the future". "This tiny non-profit research institute has provided supporting evidence for the ancient claims that the sounds of the voice can act as a holographic representation of health and wellness," the website claims.
It goes on to suggest that the institute can not only tell whether people are lying, but also can be used to "reverse diseases and traumas previously thought to be incurable, to reveal the secrets of our true nature, to enhance our lives, to predict what may be our fate through the frequencies of our voice".
None of those claims have been tested and many of them appear to be impossible according to modern science. It is theoretically possible that it could be possible to understand whether someone is lying by listening to their voice, but previous examples have been unreliable and the institute reported on by the Daily Star did not make its working available to the public or to other scientists.
Mr Aldrin has repeatedly dismissed suggestions he has seen a UFO. He has spoken about seeing a light out of the window as he was heading towards the Moon – but has always said he is sure that what he saw was either the rocket the crew had separated from, or panels that had come off when the lander and the rocket were detached.
"It was not an alien," he wrote in an Ask Me Anything session on Reddit three years ago. He explained that he had told Nasa about what he had seen and presumed that information had been sent out into the world – until he mentioned what he had seen in a TV interview, which many now point to as proof that Mr Aldrin had seen an alien craft.
The Daily Star repeated this claim in its report, writing that "Aldrin has always maintained he spotted a UFO on the way to the moon". While it is true that what he said is in some sense unidentified – in that it's not clear what part of the spacecraft it was – the suggestion that he thinks it might be alien was false and he has repeatedly denied it.
But the institute and the Daily Star suggested that Mr Aldrin had seen a UFO and that its tests had shown that he knew it, even if he wasn't aware of it. He continues to believe otherwise because his logical mind "cannot explain it", the Daily Star reported.
Mainstream Records Bizarre UFO Traveling Like it is Alive over Volcano
Something strange is going on this year, and last year: the mainstream media, mainstream weather monitoring organizations, and all of them are suddenly willing to talk about UFO's, and we are spotting them with undeniably accurate technology. The question is, are the UFO's from human beings or something we don't understand.
Above the Colima Volcano in Colima, Mexico, a UFO was recorded and published in an article by AccuWeather, which is a mainstream source of weather information.
Also known as the Volcán de Colima, it is one of the most active members historically of the active volcanoes in the Western Volcanic Belt.
It looks like some type of red light, slowly moving across the scene of the volcano. Or perhaps the footage is slowed down. It begins in a line type shape, and then you can see it go closer to the base of the volcano and it is shaped like a slightly red dot.
Then, it strangely shoots out of the scene to the left. It looks like this thing is alive or being controlled by something that is alive.
This is actually an incredibly compelling piece of footage, but people should also be weary of the fact that mainstream media is so eager to report it. Why are they so eager to report this type of thing now?