Aliens Are Real, And They're Laughing At Your Outlook On Life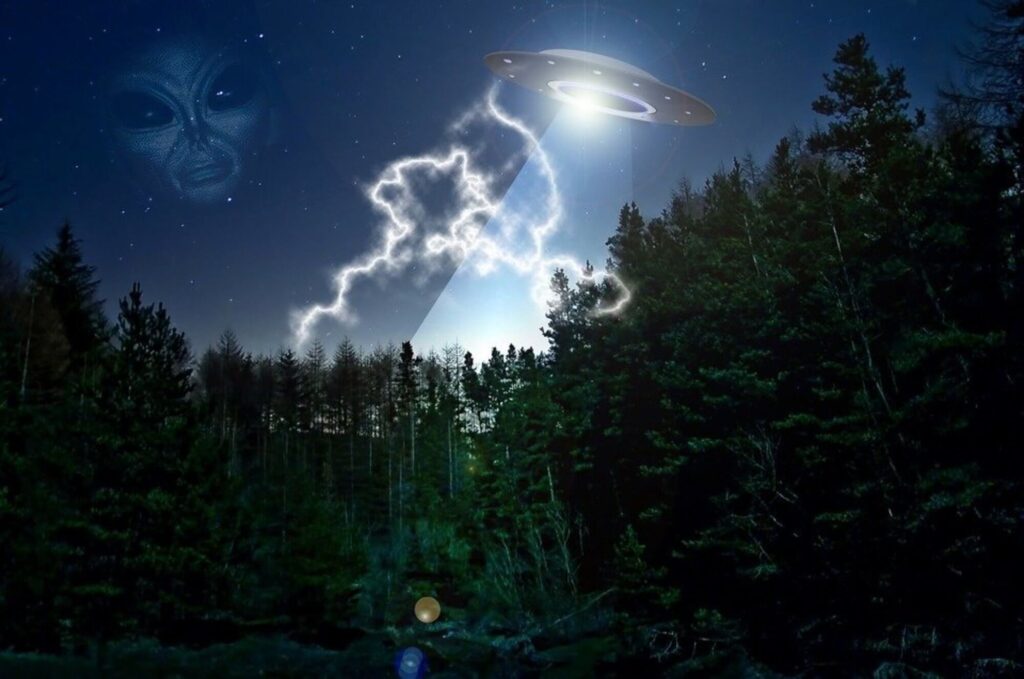 Trying to answer the most pondered question in the universe says much more about us than about them.
There are few thoughts more self-centered, egotistical and altogether ignorant than those of someone who denies the existence of extraterrestrial life. In a universe so infinitely vast, the statistical probability that there exists life elsewhere is unquestionable; the only question is whether the human race is ready to accept our meager significance in such a boundless universe.
We humans seem to be preoccupied with more pressing matters, ranging from the name of the new Kardashian baby to the release date of the next season of "Riverdale." The world continually obsesses over an abundance of minute occurrences, some admittedly more trivial than others. For instance, a campaign for social activism or climate change awareness is obviously respectable, but its significance still pales in comparison to the broader question that haunts us from womb to tomb: are we alone?
We only really ever flirt with the idea of aliens when it's for mindless entertainment — a fright at the movies or a smile at the blossoming friendship of a young boy and his cute extraterrestrial discovery. We scoff at the prospect of aliens when it's removed from escapist fanfare and introduced into ordinary life, hence the amusing stereotype of the conspiracy-crazed "tin foil hat" psycho. Maybe these supposed lunatics have more to offer than a quick laugh, though; maybe they're onto something.
From my perspective, the crazy guy who cries "government cover-up" at every possible UFO sighting and even buys alien communicators (yes, they exist) in case of an emergency is half-right. He's right to believe in something greater than he sees on news stations or the Internet, that there exist monumental things to be found in the stars beyond politics and television and humanity.
He's wrong, however, to focus on the idea of extraterrestrial life as a threat to his human way of life. In reality, while the odds of life elsewhere are remarkably high, the odds of encountering an alien species anytime soon is equally low. The point, then, is not to ready your bunker for a doomsday invasion, but to adjust your life according to the realization that you are but a blip, a one-night stand in the infinite affairs of the universe.
It's a humbling thought that might bring you existential worry, but it comes with good news: your worries mean nothing. Enjoy your life! Your existence might be meaningless to the universe, but that only means you have no obligation to anything but yourself to make it count.
The time may come when you have to put your new outlook on life to the test. On Nov. 12, Harvard researchers concluded that an elongated object found circling the Earth in 2017 might be an alien probe. I'm not saying the Earth is 100 percent going to get invaded, but I'm also not saying it won't (okay, it probably won't).
Source: www.theodysseyonline.com
NASA records again a large cube shaped UFO next to the Sun (Video)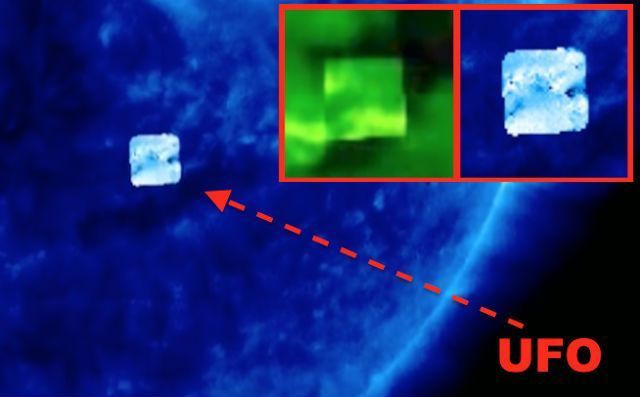 A new photograph taken by a NASA satellite is giving enough to talk about, because in it you can see, again, a strange cube shaped UFO near the Sun.
The alleged finding was made by researcher Scott Waring, editor of the popular UFO website "Ufo Sightings Daily". According to this ufologist, in the image taken last February by SOHO, belonging to NASA, we can see an enormous cube-shaped object that, according to him, would be an extraterrestrial spaceship.
NASA's SOHO Science Archive, where Waring found the alien cube, is a downloadable program that allows anyone to track the photo file of NASA's sun.(cube shaped UFO)
Waring believes that this anomaly in space is very similar to one already seen in October 2018, but this time appears with less brightness and with a presumed design of lines on its surface.
The files contain a combination of real-time data and solar telemetry with images and films from the Sun. However, NASA has mentioned that the alleged ship is not such, since it would only be an optical defect caused by cosmic rays that hit the lens of the SOHO.
What do you think about this UFO "cube" near the Sun? Watch the following video and leave us your comment below.
Mysterious huge white orb flew over Texas
The following video, published recently on YouTube by Mexican ufologist Pedro Ramirez, was received on April 8 of this year in the US city of Stephenville, Texas. It is reported that a group of local residents suddenly saw in the sky a strange anomaly and captured it on the camera of a smartphone.
Video shows a strange white object flying among rare clouds on daytime sky. UFO are suspiciously similar to some mysterious sphere that does not fit into the framework of ordinary celestial phenomena.
Some netizens stated that this is just a small cloud. However, such a theory does not hold water. Firstly, it is unlikely that nature has created a perfectly smooth spherical cloud. Secondly, the clouds are not so dense and do not have clear boundaries.
Pedro Ramirez and many of his colleagues expectedly concluded that this was an aircraft of representatives of an extraterrestrial civilization. According to ufologists, most of these "alien guests" are UAVs, controlled from distant space, and they can be the most bizarre forms and states, including disguised as clouds.
Such drones study our Earth, ufologist says. They collect various samples and data, but do not affect people's lives in any way. Why all this is necessary for aliens, remains a mystery to researchers.
Mysterious Art depicting Ancient Aliens and Intelligent Ancestors
We are immersed in the immense theme of UFOs on Earth, which, according to some, has begun since the beginning of the human race and, according to the same, some have since been proven to have seen UFOs . Whether it is so I think it is a matter of personal judgment.
While living in Ecuador, a father received a lot of gifts from the local, some of which were quite ancient and not so typical of ancient art. In this photo depicted deity seems doubtful to today's cosmonauts.
And of course, after all, we can not miss the very famous  crystal skull, which is said to be legally hand-drawn for hundreds of years and almost impossible. In fact, in one of his first studies a scientist looking at him under the microscope said that he really should not exist.
We continue the theme from the previous road that was for ancient mysterious sculptures, and today we will also be acquainted with the strange drawings of the past.
On the drawing below, the author drew something strange on November 4, 1697. in the German city of Hamburg.
The illustration below shows something drawn by Admiral Blyu in his book Theatrum Orbis Terrarum, published in 1660. Something strange is seen, which hovers over two Dutch ships.
Strange looking is the next illustration, which shows large black and white circles over Basel in Switzerland in 1566. Notice the reactions of people.
What exactly is shown in the following illustration I think everyone should decide for themselves, but it is certainly quite controversial.
Little by little, we reach our latitudes, where we see a strange image below in Vysoki Dechani Monastery in Kosovo.
We also reach the borders of our country, where there are also many similar images as perhaps the most famous in the church "Transfiguration of the Lord"
In the 15th Century in Ben, France, strange images could also be found, like the lower one depicting something that remarkably resembles our contemporary concept of a flying saucer.
Drawn in 1710. and today exposed at the Fujivian Museum in Cambridge , the picture "The Birth of Christ" shows something very strange.
After the first two articles related to strange engravings and sculptures and the strange drawings of the past today, we are focusing on the next quirks that this time relate to cave paintings in ancient times.
The picture below, painted in a cave in Tanzania, shows two figures strangely reminiscent of flying saucers . The painting of the cave wall dates back to about 29,000 years.
Found in a cave near Kimberley, Australia, the next two cave drawings show strange creatures drawn there more than 5,000 years ago by the Aborigines in these lands.
Found in a cave in the Sahara Desert and created around the 6th millennium before the harvest, the following drawings again puzzled more than anything else we are used to seeing.
The next cave paintings were discovered in a cave in France called "Pech Merle" and are believed to have been created 17-19 years ago by the ancient people inhabiting these places.
And the last one found today in Peru and created 14-16 thousand years ago by the Indians in the region. There is more perplexity than anything that remains.