Alien Species: Advanced Humans, Greys and Reptilians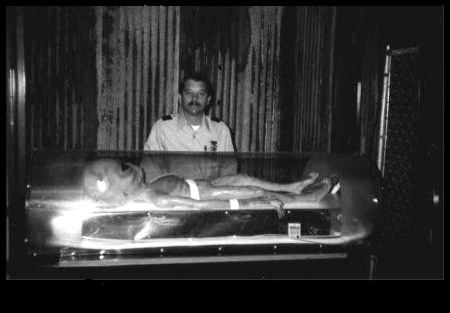 According to the "Disclosure Project  on the 9th May 2001 by 1989, 57 different varieties of alien beings had been catalogued.
The Disclosure Project is a nonprofit research project working to fully disclose the facts about UFOs, extraterrestrial intelligence, and classified advanced energy and propulsion systems. We have over 500 government, military, and intelligence community witnesses testifying to their direct, personal, first hand experience with UFOs, ETs, ET technology, and the cover-up that keeps this information secret.
A former Army Sergeant who worked at NATO, Clifford Stone, has said the US Government had tried to suppress what he actually seen one strange day in Pennsylvania, back in 1969. "I was involved in situations where we actually did recoveries of crashed saucers. There were bodies that were involved with some of these crashes. Also some of these were alive," he said. "While we were doing this, we were telling the American public there was nothing to it. We were telling the world there was nothing to it," Mr Stone added.  "You have individuals that look very much like you and myself, that could walk among us and you wouldn't even notice the difference," he said.
Small grey alien  photographed in Missouri in 1931 allegedly
Stone claimed to have catalogued 57 different species of alien life forms.
Sergeant Stone tells an amazing story about the history of UFO's and extraterrestrials dating back to the early 40's and probably before. General Douglas MacArthur organized a group called the Interplanetary Phenomena Research Unit back in 1943 to study this issue and it continues to this day. Their purpose is to recover objects of unknown origin particularly those that are of non-Earthly origin. They obtain field intelligence information and pass it on to those who are the "keepers of this information." Stone says that even Project Bluebook had an elite investigation unit, which was outside of Bluebook. This unit was thought to be working in conjunction with Bluebook but in fact was not. Stone has seen living and dead extraterrestrials in his official duties on an army team that retrieved crashed ET crafts. He thinks that the extraterrestrials will not permit us to explore the depths of outer space until we've learned to grow spiritually and that they will make themselves known soon if we don't first acknowledge their presence. On February 26th, 1942, commonly called the Battle of Los Angeles, we find that there are some 15 to 20 unidentified craft flying over Los Angeles. We immediately responded by trying to shoot these objects down. The 37th Coastal Artillery Group expended 1,430 rounds. We immediately set out to try to find out if there was some hidden base belonging to the Axis from where these planes could come, some commercial airport that they could have had these aircraft housed. None of this bore out. Every search effort we made turned out to be fruitless. http://ufology.wikia.com/wiki/Clifford_Stone
Videos Uploaded by AgentJoannaDark Subscribe to this channel here: https://www.youtube.com/user/AgentJoannaDark
Our advanced brothers and sisters from outer space that bring us a message of love and hope
Did Hitler really meet with aliens?
Alleged meeting of greys and humans.
AgentJoannaDark  writes, "These Beings have long, narrow faces, with long, narrow, large eyes, sharply slanted upward and outward in an almost narrow-V position, given an almost insect-like appearance. This comparison is heightened by the Praying-Mantis types' extremely thin, long torsos, long, extremely-thin arms which are usually crooked into a sharp bend at the mid-joint, with the hand and fingers/mitten sloping almost vertically downward from the "wrist", and legs also bent at an almost right-angle at the mid-joint, creating a crouched pose. The overall effect is the characteristic "Praying Mantis" look. It should be noted that experiencers feel that this type is no insect, but rather an intelligent, gentle-spirited, but somewhat "hyper" and jerky-moving, human-like lifeform. There are both males and females".
jj
Here you can see how the main Alien Races look like starting with the well known Greys, and the Reptilians, their masters. The Ancient Mantis are also included
The Greys are a species from Zeta Reticuli 2, Bellatrax and Orion: the most popular greys, are said to have evolved in a society where emotions were supressed, leading to a crisis, and a threat to their survival, so they came to earth searching for our DNA material(composed of 22 ET species) to create hybrids that would assure their survival they also perform tasks for their masters, the Reptilians or Draconans(royalty) like abducting people for them or monitoring and control
Grey alien allegedly held at Area 51
Alleged grey alien filmed in Mexico at night
They are mostly a negative race except some zetans and children looking ones
The Ancient Mantis are an old and rare branch of Greys
Grey aliens London 1999
J-Rod the alleged alien ambassador to Area 51
Alien allegedly captured in Brazil
Captured alien in Brazil
Alien said to be held at Area 51
A baby alien and an alleged crash victim from Roswell.
Aliens in jars
The dominant reason for alien abductions, according to the field theory, is "Replacement" or "creating a race to replace human beings.
AgentJoannaDark: "The Reptilians, with their Royalty the Draconans, who are malevolent beings that came from another universe, in fact they were dumped here, they claim this universe as theirs and they seek control and domination, they colonize and enslave many planets, are warriors and also genetic engineers, so they find life forms in planets and alter them to create races to serve them."
AgentJoannaDark: "They dont want other races to evolve and raise to higher dimensions, so they control and manipulate so that they are regressive like them, they are concerned about earth becaused they know we are primitive hunters, warriors like them and see a threat in us using space travel to colonize other planets so they control us and are here for that purpose, they consider the earth as one of their planets, a number of them are underground and in high leadership positions(cloaked), and want us to kill each other in wars and create tensions and rivalries so that we are not united as a race and dont raise to the next dimension (4th and 5th)"
Writing in a preface to Knight-Jadczyk's book High Strangeness: Hyperdimensions and the Process of Alien Abductions, Richard Dolan states, "It's a rare book that has the ability to change one's mind about the world.  Rarest of all are those gems with the ability to change one's life.  High Strangeness is such a book…. High Strangeness is a book that lays out provocatively and passionately the hidden slavery of the human race."  Dolan goes on to describe the field theory set out in that book, "The human race is being manipulated physically and spiritually by a race of beings that we know as the Reptilians…. They can manipulate time with ease, they control the "Greys" and they live in what is known as the Fourth Density.  Dolan writes of this field theory, "The Reptilians are able to manipulate and control us
Large grey alien, at unknown military facility judging from the concrete block wall, is oozing from the eye. More powerfully built that the small Greys.  May be the boss of the small Greys….would you give the shirt off your back to bandage an alien,…somebody did
This alien picture comes from the streets of South America where the locals apparently found an alien body and tore it apart until all the was left was this alien
Also they eat us, from adults to litle children
An alledged alien autopsy in Russia
Alien captured byy Jonathan Reed, suspected as a hoax. Reed, as many of you may know, claimed to be a Seattle psychologist, who, in October 1996 took his golden retriever Suzy with him on a hike to one of the Cascade Mountains and found a strange alien creature and a hovering, black obelisk. Reed claims to have killed the alien, brought it back to his house and photographed it, only to eventually have it stolen. http://www.ufocasebook.com/reedalien.html
For more from the Disclosure Project
Watch the May 9, 2001 Press Conference at: https://www.youtube.com/watch?v=lkswXVmG4xM
Watch the 2 Hour Witness Interview DVD at: https://www.youtube.com/watch?v=dUOTF7NQlwQ
Watch the 4 Hour Witness Interview DVD Part 1 at: https://www.youtube.com/watch?v=ud49Gh9yYLs
Watch the 4 Hour Witness Interview DVD Part 2 at: https://www.youtube.com/watch?v=kpHAxxRKks
Burlington News description of alien species. http://www.burlingtonnews.net/secretsufo.html
Kaikōura, New Zealand UFO sighting still flummoxing locals 40 years later
© Image – supplied; Video – The Project
Forty years on from an unidentified flying object (UFO) sighting that put Kaikōura in the international spotlight, those who witnessed the strange occurrences are still confused by what they saw.
Three bright lights appeared in the Kaikōura sky in December 1978, bewildering those to witness it – including air traffic controllers John Cordy and Andy Herd.
It was even caught on camera by an Australian film crew who was in the area trying to capture footage of them.
Journalist Quentin Fogarty said they were transfixed by the mysterious lights, some of which were the size of a house.
"We saw this string of lights, it started as a small pinpoint of light then grew into this large pulsating globe with tinges of orange and red," he said.
"I'm sitting there transfixed – we were told after it was about the size of a house."
The objects even appeared on radar, further confusing air traffic staff.
The Muldoon Government said it was squid boats, the moonlight bouncing off cabbages or Venus rising – but those who were there aren't convinced.
"Come on, radar returns from a field of cabbages? Squid boats doing 180 knots at 14,000 feet?" said Mr Cordy.
Even Mr Herd, a sceptic according to his son, believed the flashing lights were not normal.
"My father was a very sensible man," Daniel Herd said. "It would have taken a lot for him to believe that this was something as unusual as he did believe that it was."
Further complicating the mystery is other sightings of UFOs six years earlier in 1972, and a US scientist who studied the lights admitting he believed it wasn't a hoax… or explainable as squid boats.
You can watch Newshub's video coverage here.
Watch How A Lightning Strike Temporarily Disables This UFO's Cloaking Shield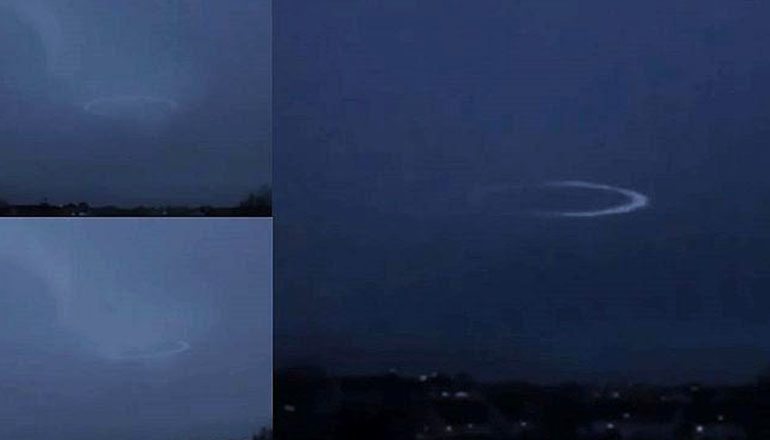 It seems electrical disturbances have an impact on a UFO's cloaking device, as evidenced by the following video.
An unidentified flying object's cloaking shield is one of its best assets since it allows the craft's occupants to remain undetected while performing their obscure activities on Earth.
Visible light can be considered an oscillating electric and magnetic field and because the cloaking shield works on a visible level, it must operate on some kind of electromagnetic principle we've yet to discover. You know what else is electromagnetic? The immense power surge caused by a lightning strike. So it makes sense that when a camouflaged UFO is hit by the thousand or so Giga Watts discharged by a lightning bolt, some interference may occur.
In the following video we are treated to the rare sight of such a phenomenon.
During a recent thunderstorm in the U.S., a large, circular UFO became visible after coming in contact with the immense voltage of an electrical discharge between clouds. It is unclear whether the craft was accidentally hit or it was there exactly for that reason. Perhaps these advanced vehicles are able to harvest energy from a variety of sources, including, but not limited to volcanoes, lightning and solar wind.
After lightning touches its surface, the UFO becomes visible for approximately 30 seconds during which it remains lit and illuminates the sky and clouds surrounding its massive body. Once the UFO disappears, the surrounding area returns to its normal luminosity.
Although videos like this are rare, they are not unheard of. In a previous article, we showed you a fleet of UFOs recharging their batteries during a thunderstorm. Another video that quickly went viral featured a creepy UFO exiting a lightning storm at a high velocity.
It's obvious that aliens always need two things: human specimens and a whole lot of power.
Source: http://ufoholic.com/
Forestry Worker Attacked By Aliens In Scotland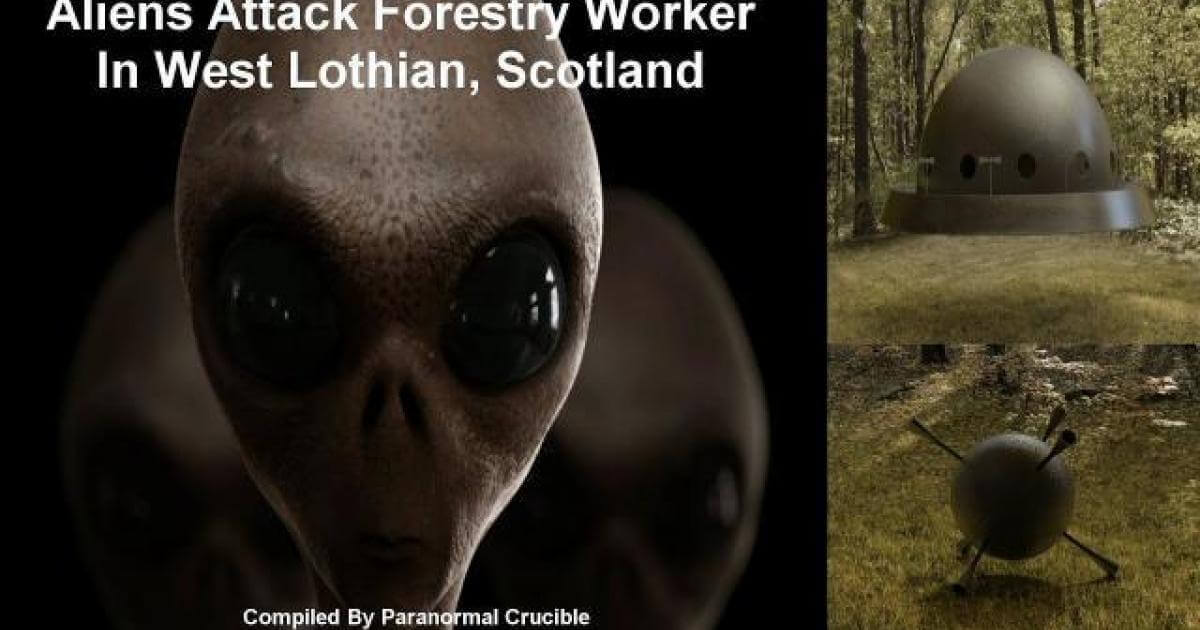 A seemingly unprovoked attack on a Scottish forestry worker over 30 years ago has been recounted by the victim, who still has no idea why he was targeted.
The forestry worker, Robert Taylor, arrived at work as usual on a typically cold November morning and began walking towards the job site through a woodland path only to emerge into a clearing and see the alien craft.
He described the object as spherical, around 20-30 feet in diameter and hovering around 15 feet from the ground. Shortly after this two objects fell from the craft resembling world war two sea mines, rolled towards him and attached themselves to his hips. As the objects approached, he remembered smelling burning, and shortly after they attached themselves to him they began to pull him towards the main craft.
At this point, he lost consciousness and remembers nothing of whatever happened next. After he came to the object was gone, leaving only marks in the ground below where the craft had been, a graze on his forehead and what he described as an incredible thirst. He also believed at the time that he was not unconscious for more than a minute or two, although was somewhat disoriented by the events.
What provoked the attack is unknown, although presumably, the craft was not expecting Taylor to approach it. Some have speculated that the aliens abducted Taylor in an attempt to erase his memory of having seen them. Others that he was experimented on, and that his time aboard the craft may have been much longer than he thought at the time.
Unlike the majority of UFO sightings or abduction experiences, there are seemingly no arguments forthcoming that the events could have come from a man-made source. Experimental aircraft would not have accounted for the spherical objects that pulled Taylor towards the ship, nor the lack of consciousness. Not to mention that West Lothian where the attack took place is not a location known for its abundance of secret military test bases.
The full eyewitness account of the abduction can be found here: