Alien Species: Advanced Humans, Greys and Reptilians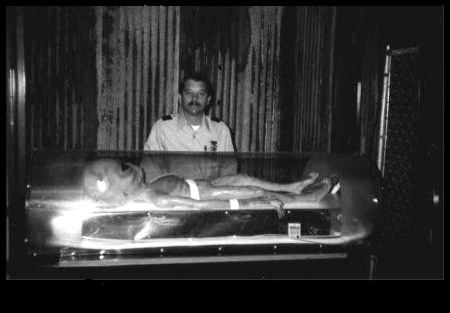 According to the "Disclosure Project  on the 9th May 2001 by 1989, 57 different varieties of alien beings had been catalogued.
The Disclosure Project is a nonprofit research project working to fully disclose the facts about UFOs, extraterrestrial intelligence, and classified advanced energy and propulsion systems. We have over 500 government, military, and intelligence community witnesses testifying to their direct, personal, first hand experience with UFOs, ETs, ET technology, and the cover-up that keeps this information secret.
A former Army Sergeant who worked at NATO, Clifford Stone, has said the US Government had tried to suppress what he actually seen one strange day in Pennsylvania, back in 1969. "I was involved in situations where we actually did recoveries of crashed saucers. There were bodies that were involved with some of these crashes. Also some of these were alive," he said. "While we were doing this, we were telling the American public there was nothing to it. We were telling the world there was nothing to it," Mr Stone added.  "You have individuals that look very much like you and myself, that could walk among us and you wouldn't even notice the difference," he said.
Small grey alien  photographed in Missouri in 1931 allegedly
Stone claimed to have catalogued 57 different species of alien life forms.
Sergeant Stone tells an amazing story about the history of UFO's and extraterrestrials dating back to the early 40's and probably before. General Douglas MacArthur organized a group called the Interplanetary Phenomena Research Unit back in 1943 to study this issue and it continues to this day. Their purpose is to recover objects of unknown origin particularly those that are of non-Earthly origin. They obtain field intelligence information and pass it on to those who are the "keepers of this information." Stone says that even Project Bluebook had an elite investigation unit, which was outside of Bluebook. This unit was thought to be working in conjunction with Bluebook but in fact was not. Stone has seen living and dead extraterrestrials in his official duties on an army team that retrieved crashed ET crafts. He thinks that the extraterrestrials will not permit us to explore the depths of outer space until we've learned to grow spiritually and that they will make themselves known soon if we don't first acknowledge their presence. On February 26th, 1942, commonly called the Battle of Los Angeles, we find that there are some 15 to 20 unidentified craft flying over Los Angeles. We immediately responded by trying to shoot these objects down. The 37th Coastal Artillery Group expended 1,430 rounds. We immediately set out to try to find out if there was some hidden base belonging to the Axis from where these planes could come, some commercial airport that they could have had these aircraft housed. None of this bore out. Every search effort we made turned out to be fruitless. http://ufology.wikia.com/wiki/Clifford_Stone
Videos Uploaded by AgentJoannaDark Subscribe to this channel here: https://www.youtube.com/user/AgentJoannaDark
Our advanced brothers and sisters from outer space that bring us a message of love and hope
Did Hitler really meet with aliens?
Alleged meeting of greys and humans.
AgentJoannaDark  writes, "These Beings have long, narrow faces, with long, narrow, large eyes, sharply slanted upward and outward in an almost narrow-V position, given an almost insect-like appearance. This comparison is heightened by the Praying-Mantis types' extremely thin, long torsos, long, extremely-thin arms which are usually crooked into a sharp bend at the mid-joint, with the hand and fingers/mitten sloping almost vertically downward from the "wrist", and legs also bent at an almost right-angle at the mid-joint, creating a crouched pose. The overall effect is the characteristic "Praying Mantis" look. It should be noted that experiencers feel that this type is no insect, but rather an intelligent, gentle-spirited, but somewhat "hyper" and jerky-moving, human-like lifeform. There are both males and females".
jj
Here you can see how the main Alien Races look like starting with the well known Greys, and the Reptilians, their masters. The Ancient Mantis are also included
The Greys are a species from Zeta Reticuli 2, Bellatrax and Orion: the most popular greys, are said to have evolved in a society where emotions were supressed, leading to a crisis, and a threat to their survival, so they came to earth searching for our DNA material(composed of 22 ET species) to create hybrids that would assure their survival they also perform tasks for their masters, the Reptilians or Draconans(royalty) like abducting people for them or monitoring and control
Grey alien allegedly held at Area 51
Alleged grey alien filmed in Mexico at night
They are mostly a negative race except some zetans and children looking ones
The Ancient Mantis are an old and rare branch of Greys
Grey aliens London 1999
J-Rod the alleged alien ambassador to Area 51
Alien allegedly captured in Brazil
Captured alien in Brazil
Alien said to be held at Area 51
A baby alien and an alleged crash victim from Roswell.
Aliens in jars
The dominant reason for alien abductions, according to the field theory, is "Replacement" or "creating a race to replace human beings.
AgentJoannaDark: "The Reptilians, with their Royalty the Draconans, who are malevolent beings that came from another universe, in fact they were dumped here, they claim this universe as theirs and they seek control and domination, they colonize and enslave many planets, are warriors and also genetic engineers, so they find life forms in planets and alter them to create races to serve them."
AgentJoannaDark: "They dont want other races to evolve and raise to higher dimensions, so they control and manipulate so that they are regressive like them, they are concerned about earth becaused they know we are primitive hunters, warriors like them and see a threat in us using space travel to colonize other planets so they control us and are here for that purpose, they consider the earth as one of their planets, a number of them are underground and in high leadership positions(cloaked), and want us to kill each other in wars and create tensions and rivalries so that we are not united as a race and dont raise to the next dimension (4th and 5th)"
Writing in a preface to Knight-Jadczyk's book High Strangeness: Hyperdimensions and the Process of Alien Abductions, Richard Dolan states, "It's a rare book that has the ability to change one's mind about the world.  Rarest of all are those gems with the ability to change one's life.  High Strangeness is such a book…. High Strangeness is a book that lays out provocatively and passionately the hidden slavery of the human race."  Dolan goes on to describe the field theory set out in that book, "The human race is being manipulated physically and spiritually by a race of beings that we know as the Reptilians…. They can manipulate time with ease, they control the "Greys" and they live in what is known as the Fourth Density.  Dolan writes of this field theory, "The Reptilians are able to manipulate and control us
Large grey alien, at unknown military facility judging from the concrete block wall, is oozing from the eye. More powerfully built that the small Greys.  May be the boss of the small Greys….would you give the shirt off your back to bandage an alien,…somebody did
This alien picture comes from the streets of South America where the locals apparently found an alien body and tore it apart until all the was left was this alien
Also they eat us, from adults to litle children
An alledged alien autopsy in Russia
Alien captured byy Jonathan Reed, suspected as a hoax. Reed, as many of you may know, claimed to be a Seattle psychologist, who, in October 1996 took his golden retriever Suzy with him on a hike to one of the Cascade Mountains and found a strange alien creature and a hovering, black obelisk. Reed claims to have killed the alien, brought it back to his house and photographed it, only to eventually have it stolen. http://www.ufocasebook.com/reedalien.html
For more from the Disclosure Project
Watch the May 9, 2001 Press Conference at: https://www.youtube.com/watch?v=lkswXVmG4xM
Watch the 2 Hour Witness Interview DVD at: https://www.youtube.com/watch?v=dUOTF7NQlwQ
Watch the 4 Hour Witness Interview DVD Part 1 at: https://www.youtube.com/watch?v=ud49Gh9yYLs
Watch the 4 Hour Witness Interview DVD Part 2 at: https://www.youtube.com/watch?v=kpHAxxRKks
Burlington News description of alien species. http://www.burlingtonnews.net/secretsufo.html
Extraterrestrial Life Report Revealed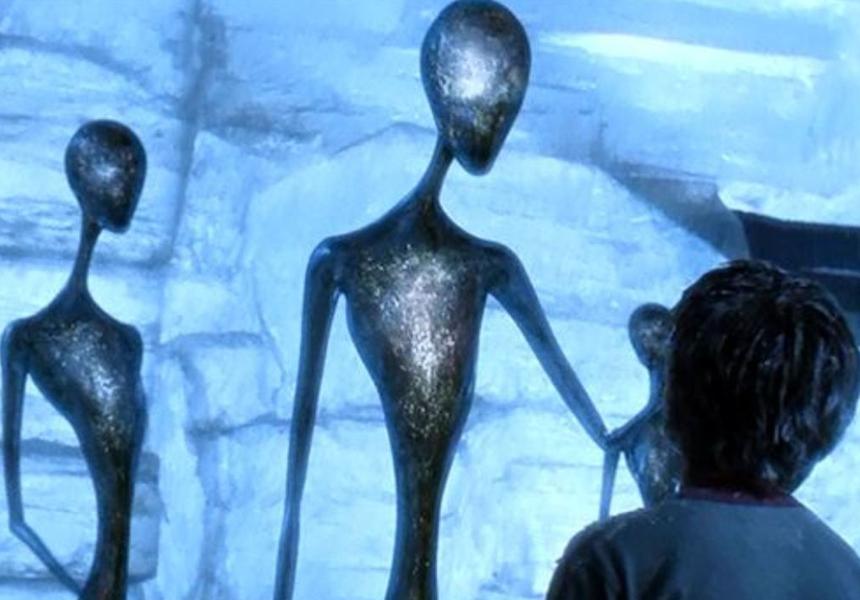 An international team of astronomers has presented official data on the results of a massive search for space radio signals, which could be evidence of the existence of extraterrestrial life.
The studies were conducted using the largest radio receiver in the world – the observatory in Green Bank (USA). According to EurekAlert, the study was conducted by Breakthrough Listen, based at the University of California at Berkeley. A report on the results was announced at the annual meeting of the American Association for the Advancement of Science.
A team led by graduate student at the University of Pennsylvania, Sofia Sheikh, used a method called transit photometry. It allows one to detect extremely small deviations in the spectrum of visible light when a cosmic object passes between us and any star. This method is widely used to search for exoplanets. In this case, astronomers analyzed information obtained using Parkes radio telescopes in Australia and Green Bank in the United States. They searched for radio signals from the 20 closest stars in the so-called C-band – these are radio waves with a frequency of four to eight gigahertz.
"There has been a lot of talk about this region before, but there has never been a targeted search in it," Sofia Sheikh explains."
If other civilizations had telescopes like ours, they would know that there are planets in the solar system that block the light of the star, and they'd even know that life exists on Earth. That's how we discovered thousands of other exoplanets, so we can assume that this is how other intelligent species find planets. And if they know that we are here, they can give us a signal."
However, as follows from the report, the Sheikh and her team have not yet found any technical radio signals that could indicate the existence of an extraterrestrial civilization. Nevertheless, the analysis made it possible to reduce the scope of the search, which will be continued.
"We didn't find any aliens," said Andrew Simon, Breakthrough Listen chief researcher, at a media briefing. "
But we must bear in mind that we have set very strict restrictions on the presence of technologically advanced extraterrestrial species in the galaxy – within the radio frequency spectrum of 4-8 gigahertz. the results will allow those who wish to improve the experiment to climb another step. " We add that in the framework of the project, astronomers directed the telescope to each star for five minutes, and then for the same time took it aside. Then the process was repeated twice more.
As a result, hundreds of radio signals were caught that were initially identified as inexplicable. However, they nevertheless found an explanation. In most cases, these were terrestrial radio interference, and in four cases the "alien" signals turned out to be signals from flying artificial satellites.
According to the study, Breakthrough Listen published almost two petabytes of data. In June last year, a petabyte of data received from radio and optical telescopes was also published. The amount of information is so great that researchers called on the public to look for along with them data on potential signals from intellectually developed civilizations.
Underwater Portal Near Malibu
Six years ago, Maxwell, Dale Romero, and Jimmy Church from the Fade to black program of the American radio station Dark Matter discovered a gigantic underwater portal off the coast of Malibu, California. 
The structure is located under water at a depth of 450 meters, and the lower part of the underwater portal reaches a depth of 700 meters. The portal, respectively, has a height of 250 meters and is located more than ten kilometers from the coast of Malibu. To date, there is no information about the purpose of the structure, who built it or who manages it.
Gigantic underwater portal
The "roof" of the underwater portal has dimensions of 2200 x 4000 meters, while it clearly visible columns indicating the entrance. The distance between the input columns is 836 meters, and their height reaches 192 meters. In this way, the entrance gates provide space for huge vehicles or structures such as the double-sized Eiffel Tower. According to ufologists, the underwater portal may well be the underwater base of UFOs.
True, UFOs seem to be very dubious candidates for such a huge complex. An alternative is the version of the earthly origin of this complex, which can be operated by the US military. An alternative is the China Lake Naval Base, located in the middle of the Mojave Desert in the USA, which can be connected to the underwater portal with a secret underground base and communications. Also known as a possible link is the Naval Underwater Center, located in Hautron, a town on the way from Las Vegas to Reno.
The construction of such an underwater base or underwater portal requires the solution of enormous technical problems. It is possible that the complex, existing for millennia, was accidentally discovered by the American military, and now they use it for their own purposes. This is the only option, because if the United States would build this structure on its own, it would certainly be noticed, because it would require a large amount of technical equipment, and it would be hard not to notice the activity in this place. True, it was suggested that the construction of the facility could be, for example, during the Second World War. But nevertheless, the "version of the construction" of the underwater portal is very doubtful, and there is no evidence for this.
The meaning and purpose of the underwater portal
Suppose an underwater portal is actually operated by the US Army and Navy. But then what is its purpose? The dimensions of the complex suggest a huge base, inside which you can hide vehicles, buildings and much more. And this underwater portal could be connected to both of the bases mentioned above. It has long been rumored that all of the United States are dotted with underground tunnels, and that all military bases are connected in this way to each other.
Unfortunately, there is no real evidence in the public domain of the existence of such tunnel systems and deep underground military bases (DUMB), and therefore everything remains at the level of rumors and hypothetical assumptions. Moreover, the cost of building such tunnel systems would reach trillions of dollars. And trillions, even in the secret budget, are almost impossible to hide. But back to our construction. An underwater base or underwater portal at a depth of 450 meters would keep secret the secret work and groundwork of the US Navy. On such a basis, new technologies could be developed, such as weapon systems, submarines or military technologies unknown to us. Such research projects could be funded from the black budgets of the US defense budget.
The mystery of the mysterious underwater portal near Malibu could be easily solved with the help of a diving expedition, which could carefully examine the complex using an underwater vehicle. But such an underwater expedition requires the permission of the American government, and the question of whether such permission will be granted remains unanswered.
For decades, the US population has been confident that the US government is hiding extraterrestrial technology from the public. After the Roswell incident and the rather clumsy attempts of the US military to explain it, skepticism about confidence in the government among US citizens has intensified, and over time it does not become smaller.
Particularly strange in recent years, the statement by US President Donald Trump, who stated that he did not believe in aliens and did not have any data about them, could have seemed especially strange. The Americans immediately decided: Lying! Rumor has it that when taking office, each new US president receives a secret book from his predecessor, which should contain all important state secrets. True, so far no US president and senior White House official has deigned to confirm.
Nimitz Carrier Technician Reported Meeting with Tic Tac UFO and Massive Greenish anomalies
A naval technician who was aboard an E-2 Hawkeye aircraft supporting F-18s sent to intercept the Tic Tac UFOs seen on the Princeton radar system spoke about this meeting.
The technician stated that he could see Tik-Tak from the window of his plane, which was flying at about the same height.
He also told Bati about the non-disclosure agreement that he and the other passengers on the plane were supposed to sign after the incident.
"It was not a completely voluntary process, it was rather" sign it and never talk about what you saw, "he explained.
Davy Beati also said that he spoke with a second witness who saw some people boarding the Princeton to collect all evidence of the meeting.
Massive greenish UFOs flying through space continue to arrive
Meanwhile, greenish anomalies were noticed during the live broadcast from cameras installed on the ISS.
One unidentified flying object leaves the Earth's atmosphere, while the second object appears to remain stationary near the International Space Station.
These strange anomalies keep coming and no one knows what they can be.