Alien Killer Robots May Have Wiped Out Extraterrestrial Colonies
All lifeforms in the universe could be wiped out by Rogue artificial intelligence!
via inquisitr:
The search for life throughout the solar system remains one of the most intriguing possibilities for humanity, but so far, the search has yielded no measurable results. One scientist believes he knows the reason why — alien killer robots.
While it might sound like the name of a science fiction movie or a fresh new video game, the Daily Mail reports that theoretical physicist Alexander Berezin of the National Research University of Electronic Technology in Russia believes artificial intelligence is why humans haven't found extraterrestrial life.
Berezin's alien killer robots theory explains the "Fermi paradox," which gets its name from physicist Enrico Fermi. The paradox exists because of the high likelihood that there is alien life somewhere in the universe and yet, there's no proof so far that such life exists, according to a Metro report.
According to Berezin, the reason for the "Fermi paradox" is that advanced civilizations destroy other lifeforms in the universe with their technology. The physicist said that his theory "predicts a future for our own civilization that is even worse than extinction."
He believes that either rogue artificial intelligence rebelled against its creators and wiped out lifeforms or biological lifeforms somewhat like humans inadvertently killed other life when it attempted to colonize other planets and areas of the universe. In his paper, Berezin wrote, "I am not suggesting that a highly developed civilization would consciously wipe out other lifeforms. Most likely, they simply won't notice, the same way a construction crew demolishes an anthill to build real estate because they lack incentive to protect it."
Alien killer robots may have wiped out every extraterrestrial civilisation in the universe, scientist claims https://t.co/Cv4WZaEvrV pic.twitter.com/VRps9xdE4E

— prmorthons (@PrMorthons_PhD) May 29, 2018
Ultimately, his idea presents a rather bleak future for humanity either way. If humanity achieves interstellar travel on a large scale basis, he believes its doomed to wipe out all other forms of life inadvertently (or possibly purposefully). However, should humanity fail to conquer the stars and begin to colonize any of the other possibly habitable places within this universe sometime in the future, then it is doomed to be wiped out by another lifeform or rogue alien killer robots.
Of course, this is only one possible solution to the "Fermi paradox." Another possibility is that the distance between advanced civilizations is too great to communicate, so one civilization would be extinct before such attempts to communicate arrived somewhere else, and that's why there's no proof of alien life. Still another option is that the advances needed to explore and colonize the universe fully would actually lead to the destruction of the lifeform itself.
No matter what the reason, so far humanity has no proof that extraterrestrial lifeforms exist, but who knows? These bizarre alien killer robots could play a role in that lack of knowledge.
Rachel Dillin
Inquisitr
Cosmic Rays from Distant Binary Star System Eta Carinae, Bombarding Earth
For years, Earth has been bombarded by cosmic rays emanating from a mysterious source astronomers couldn't identify. Now, new research conducted with the help of NASA's NuSTAR space telescope has finally tracked down the source of these rays: Eta Carinae, a binary star system just 10,000 light-years away. In an event called the Great Eruption of 1838, the system created a stunning hourglass nebula in a tremendous burst of energy that temporarily made it the second-brightest object in the night sky.
According to Fiona Harrison, the principal investigator of NuSTAR: "We've known for some time that the region around Eta Carinae is the source of energetic emission in high-energy X-rays and gamma rays. But until NuSTAR was able to pinpoint the radiation, show it comes from the binary and study its properties in detail, the origin was mysterious."
The powerful cosmic radiation is caused, in part, by two currents of stellar wind colliding as they swirl around the twin stars. These winds then create shockwaves that boost the strength of the X-rays and gamma rays also being emitted. According to Kenji Hamaguchi, of NASA's Goddard Space Flight Center: "We know the blast waves of exploded stars can accelerate cosmic ray particles to speeds comparable to that of light, an incredible energy boost. Similar processes must occur in other extreme environments. Our analysis indicates Eta Carinae is one of them."
Discovering the source of these cosmic rays helps astronomers to understand a bit more about Eta Carinae, which is still something of a mystery: scientists have no idea what caused its famous "eruption" in 1838 which, by all rights, should have ended in a supernova.
Although Earth's magnetosphere keeps us safe from (most) radiation, cosmic rays might actually be increasing around our planet. This makes space travel more deadly than it already is. And if the amount of radiation keeps increasing, we might find out the limits of our atmosphere the hard way.
Source: A Star's Echo by OuterPlaces
Chris Mahon
Outer Places
Headline image: © Pixabay Composite
NASA Just Released First Close-Up Images Of Ceres' Mysterious Bright Spots
NASA has released some high-resolution images that give a close-up look at the mysterious bright spots of Ceres.
The images come courtesy of the NASA Dawn spacecraft, which at the moment, is at the lowest orbit of the planet.
Bright Spots Are No Alien Cities
The amazing photographs reveal the salt deposit in the southwest region of Cerealia Facula, which is located in the Occator Crater of Ceres. The Dawn spacecraft captured the photographs on June 22.
High-Resolution Images Courtesy of NASA Dawn Spacecraft
The Dawn spacecraft is able to send back superb high-resolution photographs showing the rugged surface with scientists having been intrigued by the bright spots of the Occator Crater. The spots can be clearly seen in the high-res photos due to the fact they stand out against what is essentially a dark background. They are something the public along with scientists were amazed ever since Dawn first discovered them in 2015 when arriving at Ceres.
On June 6, the spacecraft was at its lowest orbit and since then has managed to send back many thousands of images along with data that has given scientists a lot more information about Ceres.
One thing that has baffled scientists is how Ceres evolved over time along with how it manages to remain geologically active even though the planet is relatively small in comparison to other planets.
Data Has Exceeded All Expectations of NASA
NASA said the latest images to come from Ceres have a resolution that is less than 5 meters per pixel. The framing camera lead investigator, Dr. Andreas Nathues said, "The data exceeds all our expectations."
NASA showed an image taken in February 2015 of Ceres, with the image sparking interest in the bright spots, which at that time remained even more of a mystery than they are today. It was said they took on the appearance of alien headlights. After more analysis, it was determined they were, in fact, salt deposits.
Dawn Spacecraft is Just 22 Miles Off Ceres Surface
The orbit of Ceres is 22 miles from the surface of Ceres with NASA capturing the carbonate deposit on the southwest part. The salt deposits gave a huge clue about the current activity while the data and images will help scientists to find answers to how they got there.
Cerealia Facula is the biggest deposit in the middle with Dawn managing to take some of the closest ever photos after it adjusted the orbit trajectory.
The results of the high-resolution images have been better than hoped for as they show the rich details of the planet offering scientists along with others a glimpse of the beauty of Ceres. The low orbit meant that many more details could be seen on the planet, including the bright spots.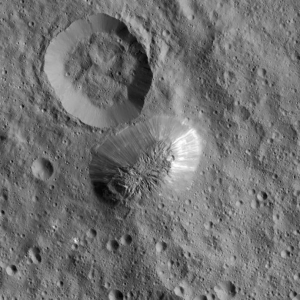 Astronomers detect very bright radio emission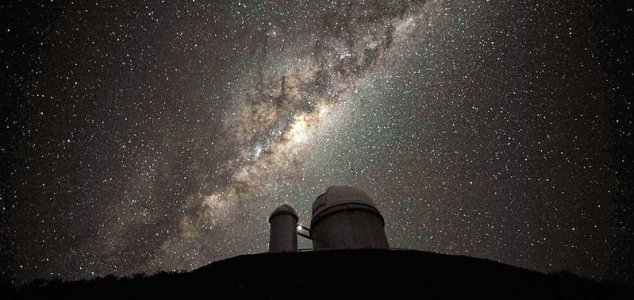 Image Credit: CC BY 4.0 ESO / S. Brunier
Quasars are fascinating astronomical phenomena.
Originating deep in the universe, the radio blast is from a quasar – the luminous active nucleus of a distant galaxy.
Scientists believe that this intense burst of energy came from a quasar situated 13 billion light years away – meaning that the emission originated at a time when the universe was much younger.
By analysing the burst, it will be possible to learn more about the history of the cosmos.
"We are seeing P352-15 as it was when the universe was less than a billion years old, or only about 7 percent of its current age," said Chris Carilli of the National Radio Astronomy Observatory (NRAO).
"This is near the end of a period when the first stars and galaxies were re-ionizing the neutral hydrogen atoms that pervaded intergalactic space."
"Further observations may allow us to use this quasar as a background 'lamp' to measure the amount of neutral hydrogen remaining at that time."
Source: Independent