'Alien Jesus': The Pre-Modern History of Outer Space
A 16th-century monk saw a universe full of Christs.
A few weeks ago on The Toast, Mallory Ortberg wrote a piece called  "Another Lifeless, Empty Planet Found." Beginning as a faux news report about scientists announcing their discovery of earth-like planets, it ends up sounding like Werner Herzog writing for The Onion:
"In some ways," Travers said, trying to light a cigarette with stained and trembling fingers, "it's more of a punch in the gut than ever, finding a sun so much like our own, and a planet that exists well within the conditions to produce life but doesn't. Like it's a blind and gleeful mockery of our own existence. Like looking at your own empty grave and seeing your name erased from the headstone."

She lit a new cigarette from the dying embers of the old one.

"There might be ice, though," she added hopefully.
Aside from being a clever satire of the "it's a wonderful universe" school of science writing, it also raises a good question about what we expect from nature. Does everything we learn about the universe have to make us feel good about ourselves?
In many ways, the history of science is the history of humans getting progressively more freaked out by their own cosmic insignificance. Most cultures' origin stories tend to be about a plucky band of survivors overcoming the odds and becoming the chosen people — or, at least, the people who really matter. Understandings of humanity's place in nature tended to follow the same pattern: whether we're being made out of corn by the gods of the Popul Vuh so we can "keep the days" or being given command over all the other animals by Yahweh, we like to see ourselves as being kind of a big deal in the grand scheme of things.
Giordano Bruno, a renegade sixteenth-century monk from the Kingdom of Naples, stands out as a true eccentric in this regard. Even today, his ideas sound slightly crazy: just last spring, in fact, I befuddled a lunch table of distinguished scholars at the Huntington Library by inadvisedly bringing up Bruno's "alien Jesus" theory.
Let me explain.
In his 1584 book On the Infinite Universe and Worlds, Bruno theorized that
there is a single general space, a single vast immensity which we may freely call Void; in it are innumerable globes like this one on which we live and grow. This space we declare to be infinite… In it are an infinity of worlds of the same kind as our own.
This was controversial, but it wasn't grounds for being declared a heretic. However, Bruno crossed a line when he followed his argument to its logical conclusion: if there are an infinity of worlds, and if some worlds have sentient beings created by God, then wouldn't these planets also need to be saved by the personification of God? By, well, alien Jesuses? (Bruno, its important to remember, wasn't an atheist—just a highly unconventional Christian).
Bruno expressed the idea in strong terms: "The Supreme Ruler cannot have a seat so narrow, so miserable a throne, so trivial, so scanty a court, so small and feeble a simulacrum" as our earth alone, he scoffed. Instead, Bruno argued that God must be "glorified not in one, but in countless suns; not in a single earth, a single world, but in a thousand thousand, indeed in an infinity of worlds."
Now that – essentially the theory of an infinite number of intelligent beings worshipping an infinity of extraterrestrial Gods that are the various incarnation of the one Supreme Being – is the sort of thing that got you burnt at the stake in the sixteenth century. Especially if you were a touchy, sarcastic Neapolitan. And so it came to pass.
In fact, though, what Bruno was proposing was actually the feel-good variant of our modern vision of the cosmos. Its fun to believe in aliens, especially if we believe that they are essentially like us. Our own history as a species becomes part of a greater story that gives meaning to our existence. As Ortberg's piece highlighted, it's a lot less fun to believe that we're matter which randomly became sentient amidst an endless void interspersed by icy rocks and balls of shrieking gas.
Artist Jed McGowan recently commemorated the Voyager probe's journey out of our solar system with a beautiful series of illustrations that evoke this fundamentally lonely vision of space:
After awhile, you can't help but empathize with Voyager and admire its WALL-E-esque pluck in the face of adversity, doing its thing out there in the empty wastes: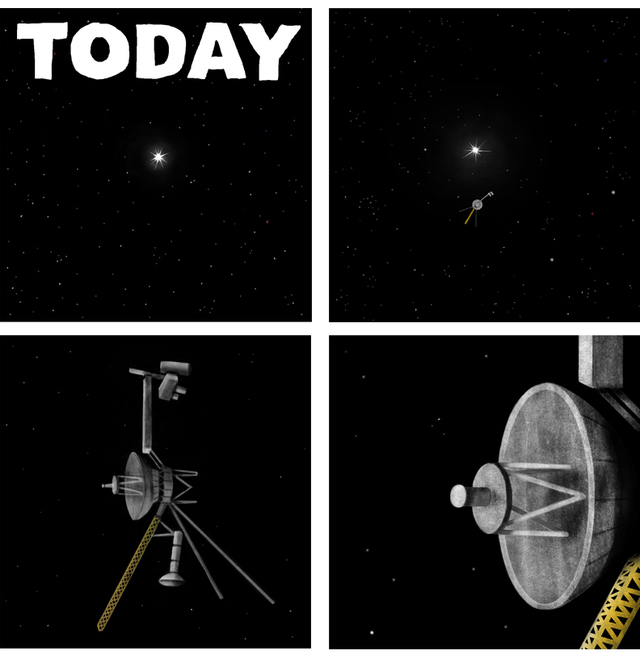 Strapped onto Voyager is a letter, a message that its conceivable to imagine being the last surviving artifact of the entire human species (if we accidentally blow up the solar system, say). The author of that letter was effectively serving as the spokesman for every human who has ever lived. If extraterrestrial life ever finds and decodes the message as intended, they may well assume that he was one of the greatest beings of Planet Earth, a paragon of our species and of all that we stand for.
His name was Jimmy Carter.
"This is a present from a small distant world" to an "awesome universe," Carter wrote in 1977, ever the courteous Southerner. Star Wars had hit theaters a couple months before, and you can detect its influence in the President's choice of words: "We hope someday, having solved the problems we face, to join a community of galactic civilizations," he enthused. Carter also assumed the mantle of cosmic DJ, inviting any beings who found Voyager to give its golden LP a spin.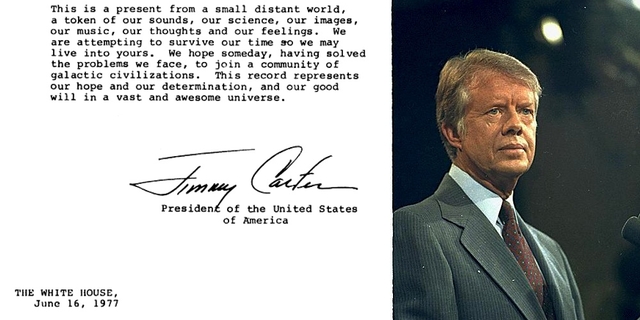 But what happens if there are no other civilizations, no alien Jesuses, no man-bats on the moon (as an 1830s hoaxer claimed), not even any squiggling strands of RNA or single-celled organisms floating in the primordial seas of some other pale blue dot? Does empty space have a history? Or does history only begin when sentient beings push back against the void?
Perhaps we can imagine Voyager as an emissary not only of the human species, but of history itself. By being a human artifact made in a particular place and time—the summer when Luke Skywalker hit theaters, Rod Stewart's "Tonight's the Night" was a hit, and Carl Sagan and Anne Druyan were falling in love—Voyager is a mobile bubble of history.
If the Elon Musks of the world succeed, others will be joining it soon. History's sphere will expand outside the Earth, and maybe someday outside the Solar System. Anywhere humans or human objects go, we leave traces that will become part of an ever-expanding past.
For now, though, the only material artifacts of human history out there in the void beyond Pluto are a hopeful letter from a Georgia peanut farmer and a mixtape from the 70s.
Keep on trucking, Voyager.
We were wrong-100 billion habitable Earth-like planets in our galaxy alone
Estimates by astronomers indicate that there could be more than 100 BILLION Earth-like worlds in the Milky Way that could be home to life. Think that's a big number? According to astronomers,  there are roughly 500 billion galaxies in the known universe, which means there are around 50,000,000,000,000,000,000,000 (5×1022) habitable planets. That's of course if there's just ONE universe.
In fact, just inside our Milky Way Galaxy experts believe are some 400 BILLION STARS, but this number may seem small as some astrophysicists believe that stars in our galaxy could figure the TRILLION. This means that the Milky Way alone could be home to more than 100 BILLION planets.
However, since astronomers aren't able to see our galaxy from the outside, they can't really know for sure the number of planets the Milky Way is home to. They can only provide estimates.
To do this, experts calculate our galaxy's mass and calculate how much of that mass is composed of stars. Based on these calculations scientists believe our galaxy is home to at least 400 billion stars, but as I mentioned above, this number could drastically rise.
There are some calculations which suggest that the Milky Way is home on an average between 800 billion and 3.2 trillion planets, but there are some experts who believe the number could be as high as eight trillion.
Furthermore, if we take a look at what NASA has to say, well find out how the space agency believes there are at least 1,500 planets located within 50 light years from Earth. These conclusions are based on observations taken over a period of six years by the PLANET—Probing Lensing Anomalies NETwork—collaboration, founded in 1995. The study concluded that there are way more Earth-sized planets than Jupiter-sized worlds.
So much space, so little information.
In 2013, Dr. Phil Yock, from the department of physics at the University of Auckland said how: "Kepler finds Earth-sized planets that are quite close to their host stars, and astronomers estimate that there are around 17 billion such planets in the Milky Way. These worlds are hotter than our planet, although some could be of a comparable temperature (and  could, therefore, be habitable) if they are orbiting a cool star called a red dwarf."
"Our proposal is to measure the number of Earth-mass planets orbiting stars at distances typically twice the Sun-Earth distance. Our planets will, therefore, be cooler than the Earth. By interpolating between the Kepler and MOA results, we should obtain a good estimate of the number of Earth-like, habitable planets in the Milky Way. We predict a number in the order of 100 billion."
"Of course, it will be a long way from measuring this number to actually finding inhabited planets, but it will be a step along the way."
The number seems to be increasing every year.
If we take a peek at the data provided by the Kepler space mission, we'll find how astronomers believe approximately 40 BILLION Earth-sized planets orbiting habitable zones of Sun-like stars and red dwarfs in the Milky Way galaxy alone.
Since Kepler was launched in 2009, the space telescope has discovered a total of 4,034 potential alien planets, of which 2,335 are verified exoplanets.
Interestingly, some astronomers say that around 11 billion planets may be orbiting Sun-like Stars, while other believe this number is more like 100 billion.
In 2017 NASA made great progress in the search for alien planets. Their most noteworthy discovery was the solar system Trappist-1, home to SEVEN Earth-like planets who may even be home to alien life.
In June of 2017, NASA revealed a statement saying that they had discovered ten new planets outside of our solar system that are very likely of similar size and temperature as Earth and may even have life developed on their surface.
Scientists Found 234 Alien Civilizations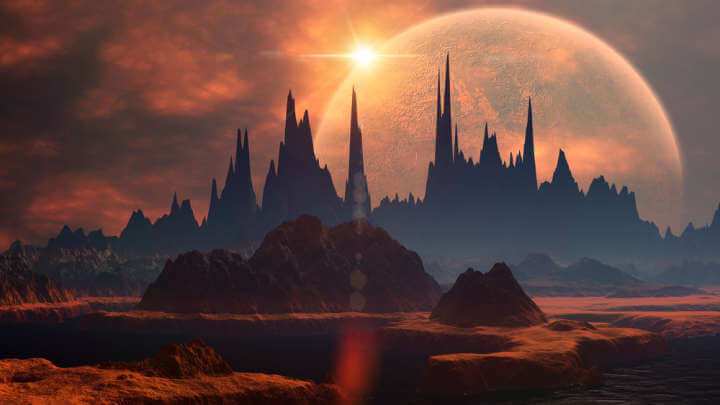 Aliens are like buses, you spend ages waiting for one and then 234 come along at once. Or at least, that's what two astronomers from the Laval University in Quebec are suggesting.
Ermanno Borra and his graduate student Eric Trottier have analyzed over 2.5 million stars and galaxies for pulses of light emitted at regular intervals and discovered it in 234 stars similar in size to our Sun. The team believes that alien civilizations are behind those signals.
The researchers looked at the Fourier Transform (FT) of the light spectrum. The FT is a mathematical tool that allows us to work out where the components of a signal come from. If the light is a milkshake, by using the FT you get the recipe.
The FT analysis has found periodic modulated components which, according to the scientists, are caused by the super quick light pulses (less than a trillionth of a second) generated by Extraterrestrial Intelligence (ETI).
In the paper, available from the Publications of the Astronomical Society of the Pacific, they discard every other explanation such as instrumental effects, rotation of molecules, rapid stellar pulsations, and peculiar chemistry.
"We find that the detected signals have exactly the shape of an ETI signal predicted in the previous publication and are therefore in agreement with this hypothesis," the researchers wrote in the paper.
"The fact that they are only found in a very small fraction of stars within a narrow spectral range centered near the spectral type of the Sun is also in agreement with the ETI hypothesis."
These superfast pulses will have to be generated by incredibly powerful lasers, like the one at the Lawrence Livermore National Laboratory.
Interestingly, in previous publications Borra has stated that this area of astronomy is the least explored, which raises the question on why these aliens would all decide to communicate in such a complicated and energy-consuming way.
The researchers admit that although they believe aliens is the most likely explanation, this is yet to be confirmed.
The Stephen Hawking-backed project Breakthrough Listen will conduct follow-up observations of these 234 stars, but the team at UC Berkeley, where the project's science program is based, invite people to be skeptical.
"The one in 10,000 objects with unusual spectra seen by Borra and Trottier are certainly worthy of additional study. However, extraordinary claims require extraordinary evidence.
It is too early to unequivocally attribute these purported signals to the activities of extraterrestrial civilizations," the Breakthrough Listen team said in a statement.
Source iflscience.com
Don't Panic but There's an 11% Chance Elon Musk's Tesla Is on a Collision Course With Earth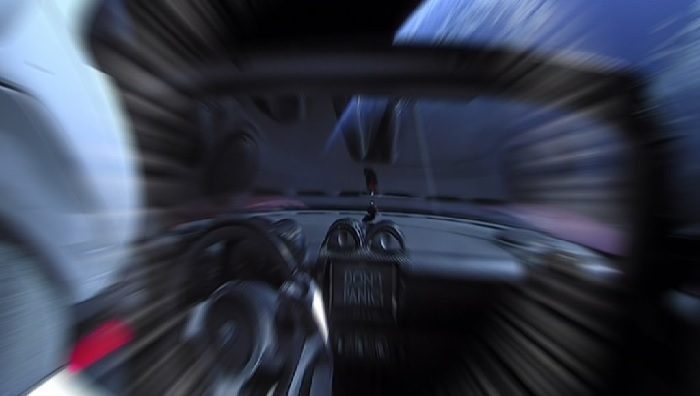 I guess 11% is fairly low but then again any percentage is still a chance…the risk of satellites and other launched objects crashing back to Earth with potentially deadly consequences are becoming too regular now and not to mention the natural threats we already face from asteroids, comets etc..
via Science Alert:
It's the darnedest thing, guys. Remember that Tesla owned by Elon Musk that SpaceX cavalierly launched into space last week? Well, it turns out that might not be the last we see of it.
In fact, according to a new analysis of the Roadster's orbital trajectory, that stylish hunk of red metal, rubber, 'Starman', and other cool stuff is on track to make a number of close encounters with Earth – and ultimately, one day, it could even hit us.
That's the assessment of Canadian astrophysicist Hanno Rein from the University of Toronto Scarborough, who, with fellow researchers, ran the numbers on what the Tesla's invisible highway through space might look like, given what we know about orbital dynamics.
"We have all the software ready, and when we saw the launch last week we thought, 'Let's see what happens.'" Rein told Science.
"So we ran the [Tesla's] orbit forward for several million years."
Over that epic expanse of time (and space), it's fair to say that a lot of things could happen – and the further ahead we estimate, the fuzzier the picture becomes, given how many gravitational factors could affect the overall trajectory of the vehicle (and the second stage of the Falcon Heavy rocket, to which it remains attached).
Nonetheless, the team's simulations suggest the Tesla's elliptical orbit around the Sun – which sees it repeatedly cross the orbits of Mars, Earth, and Venus – will make for several close encounters with Earth in the future, the first of which is expected to take place in 2091.
Looking further ahead, the good news is the researchers don't foresee any possible impacts with Earth for the next thousand years at least – but they're not offering any kind of firm guarantee on that.
"The bottom line is we can't predict with certainty what's going to happen after just a few hundred years, because it's a chaotic orbit and we can only draw conclusions in a statistical sense," Rein told CBS News.
Still, across some 240 simulations tracing the long-term dynamical evolution of the car's possible orbital destinies, "roughly 50 percent are going to hit a planet in the next few tens of millions of years," Rein figures.
To the extent their approach can quantify risk of a collision, the researchers say there's a 6 percent chance the Tesla will collide with Earth within the next million years, and a 2.5 percent chance Venus will get clipped over the same time frame.
As time goes on – looking 3 million years ahead – the probability of a collision with Earth increases to 11 percent.
Mars got off scot-free in all the test runs with no impacts, and only in one simulation did the Tesla collide with the Sun – sometime within the next 3 million years.
It's worth pointing out that these calculations haven't yet been peer-reviewed by other scientists, but as the researchers themselves freely acknowledge, there's a great deal of mathematical unknowns in these orbital scenarios.
But given the Roadster is estimated to have a virtually immortal half-life of some 20 million years (as it ever-so-slowly erodes into nothingness in space), the team ultimately "expect collision probabilities with the Earth to be substantial", they write in their paper.
In any case, if the worst happens, there's really no need to be worried. Not now, nor much, much, much later.
"It will either burn up [in the atmosphere] or maybe one component will reach the surface," Rein told Science.
"There is no risk to health and safety whatsoever."
Phew.
The findings are available on the pre-print website arXiv.org.
PETER DOCKRILL
Science Alert