'Alien Jesus': The Pre-Modern History of Outer Space
A 16th-century monk saw a universe full of Christs.
A few weeks ago on The Toast, Mallory Ortberg wrote a piece called  "Another Lifeless, Empty Planet Found." Beginning as a faux news report about scientists announcing their discovery of earth-like planets, it ends up sounding like Werner Herzog writing for The Onion:
"In some ways," Travers said, trying to light a cigarette with stained and trembling fingers, "it's more of a punch in the gut than ever, finding a sun so much like our own, and a planet that exists well within the conditions to produce life but doesn't. Like it's a blind and gleeful mockery of our own existence. Like looking at your own empty grave and seeing your name erased from the headstone."

She lit a new cigarette from the dying embers of the old one.

"There might be ice, though," she added hopefully.
Aside from being a clever satire of the "it's a wonderful universe" school of science writing, it also raises a good question about what we expect from nature. Does everything we learn about the universe have to make us feel good about ourselves?
In many ways, the history of science is the history of humans getting progressively more freaked out by their own cosmic insignificance. Most cultures' origin stories tend to be about a plucky band of survivors overcoming the odds and becoming the chosen people — or, at least, the people who really matter. Understandings of humanity's place in nature tended to follow the same pattern: whether we're being made out of corn by the gods of the Popul Vuh so we can "keep the days" or being given command over all the other animals by Yahweh, we like to see ourselves as being kind of a big deal in the grand scheme of things.
Giordano Bruno, a renegade sixteenth-century monk from the Kingdom of Naples, stands out as a true eccentric in this regard. Even today, his ideas sound slightly crazy: just last spring, in fact, I befuddled a lunch table of distinguished scholars at the Huntington Library by inadvisedly bringing up Bruno's "alien Jesus" theory.
Let me explain.
In his 1584 book On the Infinite Universe and Worlds, Bruno theorized that
there is a single general space, a single vast immensity which we may freely call Void; in it are innumerable globes like this one on which we live and grow. This space we declare to be infinite… In it are an infinity of worlds of the same kind as our own.
This was controversial, but it wasn't grounds for being declared a heretic. However, Bruno crossed a line when he followed his argument to its logical conclusion: if there are an infinity of worlds, and if some worlds have sentient beings created by God, then wouldn't these planets also need to be saved by the personification of God? By, well, alien Jesuses? (Bruno, its important to remember, wasn't an atheist—just a highly unconventional Christian).
Bruno expressed the idea in strong terms: "The Supreme Ruler cannot have a seat so narrow, so miserable a throne, so trivial, so scanty a court, so small and feeble a simulacrum" as our earth alone, he scoffed. Instead, Bruno argued that God must be "glorified not in one, but in countless suns; not in a single earth, a single world, but in a thousand thousand, indeed in an infinity of worlds."
Now that – essentially the theory of an infinite number of intelligent beings worshipping an infinity of extraterrestrial Gods that are the various incarnation of the one Supreme Being – is the sort of thing that got you burnt at the stake in the sixteenth century. Especially if you were a touchy, sarcastic Neapolitan. And so it came to pass.
In fact, though, what Bruno was proposing was actually the feel-good variant of our modern vision of the cosmos. Its fun to believe in aliens, especially if we believe that they are essentially like us. Our own history as a species becomes part of a greater story that gives meaning to our existence. As Ortberg's piece highlighted, it's a lot less fun to believe that we're matter which randomly became sentient amidst an endless void interspersed by icy rocks and balls of shrieking gas.
Artist Jed McGowan recently commemorated the Voyager probe's journey out of our solar system with a beautiful series of illustrations that evoke this fundamentally lonely vision of space:
After awhile, you can't help but empathize with Voyager and admire its WALL-E-esque pluck in the face of adversity, doing its thing out there in the empty wastes: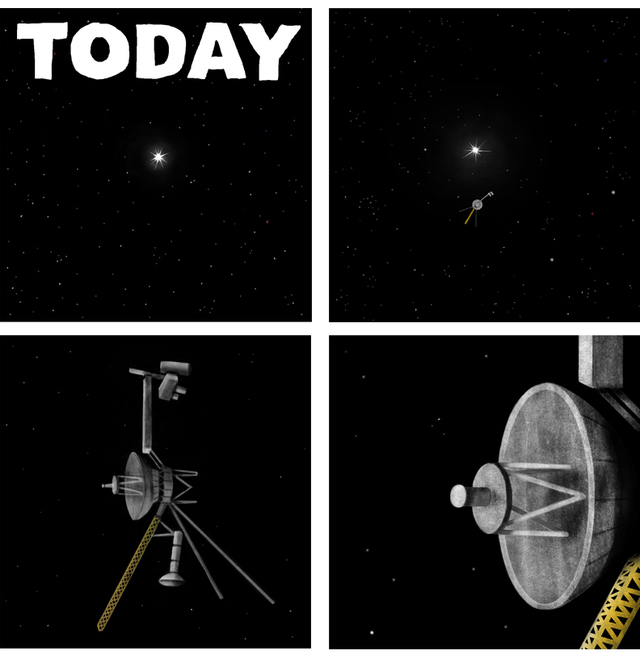 Strapped onto Voyager is a letter, a message that its conceivable to imagine being the last surviving artifact of the entire human species (if we accidentally blow up the solar system, say). The author of that letter was effectively serving as the spokesman for every human who has ever lived. If extraterrestrial life ever finds and decodes the message as intended, they may well assume that he was one of the greatest beings of Planet Earth, a paragon of our species and of all that we stand for.
His name was Jimmy Carter.
"This is a present from a small distant world" to an "awesome universe," Carter wrote in 1977, ever the courteous Southerner. Star Wars had hit theaters a couple months before, and you can detect its influence in the President's choice of words: "We hope someday, having solved the problems we face, to join a community of galactic civilizations," he enthused. Carter also assumed the mantle of cosmic DJ, inviting any beings who found Voyager to give its golden LP a spin.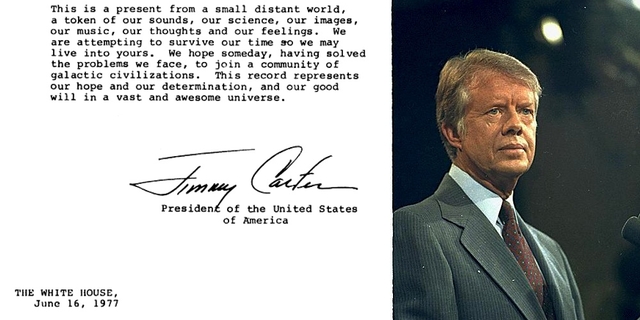 But what happens if there are no other civilizations, no alien Jesuses, no man-bats on the moon (as an 1830s hoaxer claimed), not even any squiggling strands of RNA or single-celled organisms floating in the primordial seas of some other pale blue dot? Does empty space have a history? Or does history only begin when sentient beings push back against the void?
Perhaps we can imagine Voyager as an emissary not only of the human species, but of history itself. By being a human artifact made in a particular place and time—the summer when Luke Skywalker hit theaters, Rod Stewart's "Tonight's the Night" was a hit, and Carl Sagan and Anne Druyan were falling in love—Voyager is a mobile bubble of history.
If the Elon Musks of the world succeed, others will be joining it soon. History's sphere will expand outside the Earth, and maybe someday outside the Solar System. Anywhere humans or human objects go, we leave traces that will become part of an ever-expanding past.
For now, though, the only material artifacts of human history out there in the void beyond Pluto are a hopeful letter from a Georgia peanut farmer and a mixtape from the 70s.
Keep on trucking, Voyager.
Four of the most promising alien worlds in the solar system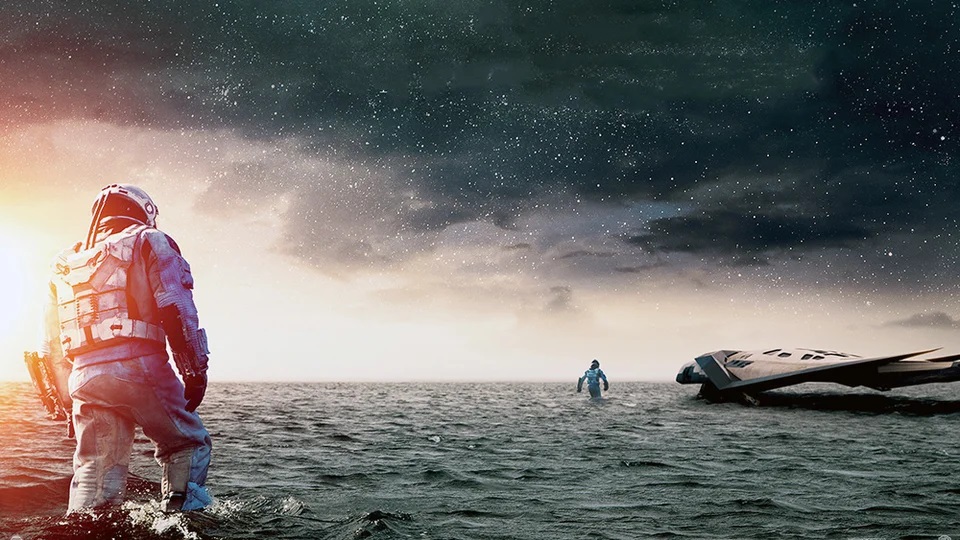 The Earth's biosphere contains all the known ingredients necessary for life as we know it. In a broad sense, these are: liquid water, at least one source of energy and a list of biologically useful elements and molecules.
But the recent discovery of a nutrient in the clouds of Venus reminds us that some of these ingredients exist elsewhere in the solar system. So where are the other most promising locations for extraterrestrial life?
Mars
Mars is one of the most Earth-like worlds in the solar system. It has a 24.5-hour day, polar ice caps that expand and contract with the seasons, and a large number of surfaces that have been created by water throughout the planet's history.
The discovery of a lake under the south polar ice cap and methane in the Martian atmosphere (which changes with the season and even the time of day) makes Mars a very interesting candidate for life. Methane is important because it can be produced by biological processes. But the real source of methane on Mars is not yet known.
It is possible that there is life here, given the evidence that the planet once had a much more favorable environment. Today Mars has a very thin, dry atmosphere, almost entirely composed of carbon dioxide. This provides poor protection against solar and cosmic radiation. If Mars has managed to preserve some of its water reserves beneath its surface, it is possible that life could still exist.
Europe
Europa was discovered by Galileo Galilei in 1610, along with three other larger moons of Jupiter. It is slightly smaller than the Moon and orbits the gas giant at a distance of about 670,000 km every 3.5 days. Europa is constantly contracting and stretching by the competing gravitational fields of Jupiter and other Galilean moons. This process is known as tidal bending.
The moon is believed to be a geologically active world, like the Earth, because strong tidal curves heat its rocky, metallic interior and partially melt.
Europa's surface is a vast expanse of water ice. Many scientists think that under the frozen surface there is a layer of liquid water – a global ocean that cannot freeze due to heat and which can be more than 100 km deep.
Evidence for this ocean includes geysers erupting through cracks in the surface ice, a weak magnetic field, and chaotic surface relief that could have been deformed by ocean currents circling below. This ice sheet insulates the underground ocean from the extreme cold and vacuum of space, as well as from Jupiter's fierce radiation belts.
At the bottom of this oceanic world, we can find hydrothermal vents and volcanoes. On Earth, such features often support very rich and diverse ecosystems.
Enceladus
Like Europa, Enceladus is an ice-covered moon with a subsurface ocean of liquid water. Enceladus revolves around Saturn and first came to the attention of scientists as a potentially habitable world after the unexpected discovery of huge geysers near the moon's south pole.
These jets of water emerge from large cracks in the surface and, given the weak gravitational field of Enceladus, are sprayed into space. This is clear evidence of the existence of underground storage of liquid water.
Not only water was found in these geysers, but also many organic molecules and, most importantly, tiny grains of solid silicate particles, which can only be present if the ocean's subsurface water is in physical contact with the rocky bottom at a temperature of at least 90 ? C. This is very compelling evidence for the existence of hydrothermal vents at the bottom, providing the chemical composition necessary for life and localized energy sources.
Titan
Titan is Saturn's largest moon and the only moon in the solar system with a solid atmosphere. It contains a thick orange haze of complex organic molecules and a methane meteorological system instead of water with seasonal rains, dry spells, and surface sand dunes created by wind.
The atmosphere is composed primarily of nitrogen, an essential chemical used to build proteins in all known life forms. Radar observations revealed the presence of rivers and lakes of liquid methane and ethane and, possibly, the presence of cryovolcanoes – volcano-like formations that spew liquid water rather than lava. This suggests that Titan, like Europa and Enceladus, has a supply of liquid water below the surface.
At such a huge distance from the Sun, Titan's surface temperature is -180 Celsius, which is too cold for liquid water. But the abundance of chemicals available on Titan has given rise to speculation about the possible existence of life forms – potentially with a fundamentally different chemical composition from terrestrial organisms.
"Decision not made": Head of NASA admitted that the US may not be able to land at the moon's pole
The head of NASA is unsure about the ability of the United States to land at the Moon's South Pole. The director of the agency admitted this to the scientists, admitting that instead of the pole, the astronauts can fly to the places of the previous Apollo landings.
NASA Director Jim Bridenstine made an unexpected statement, talking about plans for the first landing of American astronauts on the moon in 50 years. As you know, during the Artemis 3 mission, in accordance with the plans of President Donald Trump, the United States plans to carry out a manned launch to the Moon in 2024 and, for the first time since 1972, land astronauts on it in the region of the Moon's South Pole.
During this mission, a week-long landing of "the first woman and another man" is planned on the surface of the Earth's satellite.
Until recently, the fact that the landing is planned precisely in the polar region was not questioned – this is the most unexplored region of the Moon, scientists assume there are water deposits, and it is there that the Russian automatic station "Luna-25" will be launched in 2021.
However, the day before, speaking at an online conference of the Lunar Exploration Analysis Group, the head of NASA admitted that the flight to the South Pole would not take place. Answering the question whether it is possible in the future for astronauts to fly to the sites of past Apollo missions, the official not only answered in the affirmative, but also made it clear that this option is being considered for 2024.
"For the first Artemis 3 mission, our goal is to reach the South Pole, and of course, this is the most interesting place right now, because there is water ice, we need to study it, understand how to get it and use it," Bridenstine said. "But I can imagine that these places (of the Apollo landings) can be interesting too.
If we decide that the South Pole is out of reach for Artemis-3, then perhaps we will learn more by going to where we left our instruments in the past … There may be scientific discoveries, and, of course, the very inspiration from the return to the Apollo landing sites will be amazing. However, these decisions have not yet been made".
In doing so, the official added, the United States needs to develop "codes of conduct" to protect these historic sites from subsequent expeditions.
The Moon's South Pole was designated the target of the first American astronaut landing in many years in 2019 in a speech by US Vice President Mike Pence at the National Space Council. "To reach the moon in the next five years, we must choose our goals now. NASA already knows that the South Pole is of great scientific, economic and strategic value, and now is the time to decide to go there," the official said.
Now Bridenstein's statement says that NASA may abandon its previous plans. Landing near the poles of the Moon is technically more difficult than in the equatorial or mid-latitudes, and neither automatic nor manned missions have landed near the poles before.
And although Bridenstein's statement about the possible refusal to fly to the Pole is still vague, it has already worried the scientists attending the conference: at subsequent sessions they began to seek clarifications from NASA representatives.
This is due to the fact that the scientific tasks that must be set before scientists depend on the selected region. Just recently, NASA asked specialists to participate in the development of scientific problems that American astronauts could solve during the first landing on the moon in several decades.
"At this point, we are instructed to do our job with a polar landing in mind," said Renee Weber of the Marshall Space Center when asked about a possible relocation of the landing site. According to representatives of NASA, the department has just begun to select certain areas. "The scientific community will be involved in this process," said Jake Bleacher, head of one of the NASA divisions.
And while NASA continues to hope for a long-term base camp on the moon, agency officials have made it clear that it is not yet known whether a second manned mission, Artemis 4, will follow in the footsteps of the first. "We really need to assess the ability of our landers and what areas they can go to," Bleacher said, adding that "it's not clear" about how long after the first mission the second will go.
In the spring, it became known that Boeing had lost the competition for the design of lander, and Blue Origin, SpaceX and Dynetics were among the winners. Three winners of the competition were announced in April, under the initial contract SpaceX will receive $ 135 million, Blue Origin – $ 579 million, Dynetics – $ 253 million.
An amateur astronomer from Brazil discovered a large near-Earth asteroid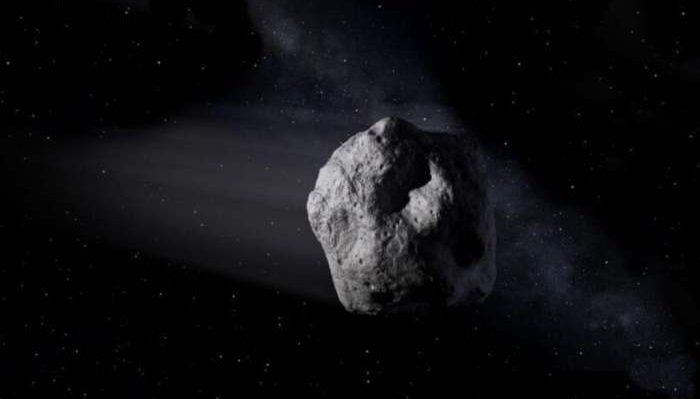 Brazilian amateur astronomer Leonardo Amaral discovered a large asteroid 2020 QU6 with a diameter of about 700 meters. He approached the Earth on Thursday and flew 40 million kilometers from its surface, the Planetary Society writes.
"This event was another reminder of what we have discovered, not all large near-Earth asteroids, we must continue to support the ground-based astronomy and invest in space projects, like the telescope NEOSM from cosmic threats to the full protection of the Earth." – said  a leading adviser on space Casey Dreyer Planetary Society Policy.
Asteroid 2020 QU6, which Leonardo Amaral discovered at the end of August this year, has become one of the largest near-Earth asteroids in recent years. At the same time, he was not potentially dangerous for humanity and life on Earth, since in the foreseeable future he would not approach it at a dangerous distance.
It makes a revolution around the Sun in about 3.2 years, moving away from it twice as far as the Earth's orbit is located. 2020 QU6 crosses the orbit of Mars and reaches the inner boundary of the main asteroid belt. At the maximum point of approach to the Sun, the asteroid almost reaches the Earth's orbit, approaching the star by 1.1 astronomical units (the average distance between the star and our planet).
In the past few decades, scientists around the world have been actively monitoring near-Earth asteroids and conducting a kind of space "census" among them, trying to understand how dangerous they are for humanity. Now astronomers know about 22 thousand asteroids, which periodically approach the Earth at a relatively short distance.
Almost two thousand of them are included in the PHA (Potentially hazardous asteroids) catalog – a list of small celestial bodies that are potentially dangerous to life on Earth. To get on this list, an asteroid must approach our planet at a distance of no more than 8 million km, and also be large enough so as not to collapse when passing through the atmosphere and cause a regional catastrophe.