Alien Face Appears In Mother's Womb – Ultrasound Reveals Strange Visage; An Ancient "Vampire" And Other Haunting Images
Here are four haunting images:  the first a strange face in an ultrasound images, a "dark man" photographed in a graveyard, a mystery figure accidentally photographed at a Texas lake, and finally a female "vampire"
Alien Face Appears In Pregnant Mothers Womb? is the title of the latest video from Stephen Hannard of Alien Disclosure Group UK.
Mother-to-be Anne Clewlow was stunned when she received an ultrasound scan of her baby and saw this ghostly face alongside it staring back at her.
Grainy markings next to the picture of her womb appear to form a giant human head with two eyes, a nose, a mouth, ears and neck.
The alien-like face even appears to have a mop of dark-coloured hair.
Despite the spooky appearance of the face, Ms Clewlow, 34, is treating it as a guardian angel who is watching over her unborn child.
Ms Clewlow, from Stoke-on-Trent, Staffordshire, was nine weeks pregnant when she had the routine hospital scan for her second child.
An operations manager, she said: 'When I had the ultrasound and looked at the screen, I didn't see anything unusual but when it was printed it was obvious.
At first I brushed it off and thought it was just one of those things but after I looked at it a few times I couldn't deny there was nothing there because it is just so vivid.
I don't think there is anybody I have shown it to who hasn't pointed it out. Some people have been a bit freak out by it.
It looks like a bald man. I don't know anyone in my family who looks like that so I just think it is something of a guardian angel.
Although I'm not religious I do think it could be something watching over my baby.'
Ms Clewlow, who has a 10-year son, Ryan, is due to give birth to her second child in August. http://www.dailymail.co.uk/news/article-2290136/Shocked-mother-sees-ghostly-face-womb-baby-scan-picture-says-childs-guardian-angel.html
ADG Facebook: http://www.facebook.com/pages/Alien-Disclosure-Group/189249627773146  Follow ADG on Twitter: http://twitter.com/ADG_UK
Dark man 
Dark man in the Peck Cemetery, taken in Decatur Ill., a well-known haunted cemetery in the area.
There were 2 people at the location at this time, but neither claim to be in this shot.
. Photo taken in 2007 Lake Travis
Female Vampire
The remains of a female 'vampire' from 16th-century Venice, buried with a brick in her mouth to prevent her feasting on plague victims Reports of vampires in graves actually describe a corpse during decomposition. The rigor mortis would have disappeared. A phenomenon called epidermolysis would be visible, in which the epidermis loosens from the underlying dermis and the nails fall off, exposing the nail beds and giving the impression of new growth. At the same time, the corpse would be going through the putrefaction stage in which the abdomen gets bloated from the build-up of gases, according to the magazine Archaeology.
Samir S. Patel writes, "The decay of the gastrointestinal tract contents and lining create a dark fluid called "purge fluid" that might flow freely from the nose and mouth and could easily be confused with the blood sucked by the vampire. And if a corpse was wrapped in a shroud, putrid gases and purge fluid flowing from the mouth would moisten the cloth so that it would sink into the mouth (which would open as the muscles relaxed after rigor mortis), where the fluids would break it down. So the legend that corpse could eat through its shroud is a real observation that was interpreted without the proper medical knowledge."
Photo: Courtesy Matteo Borrini
The nachtzehrer is a dead body kept in a kind of liminal life by supernatural forces or Satan," according to Archaeology.  A "scientific" overview of them was offered by Protestant theologian Philippus Rohr at the University of Lipsia in 1679, under the title Dissertatio historico-philosophica de masticatione mortuorum. The text describes some distinctive habits of this revenant: the nachtzehrer usually eats the cloth or funerary shroud in which it is wrapped, and its chewing causes noises similar to a pig while it is eating. As it chews through the shroud, it is just in a larval stage. When it becomes stronger, it can even leave its grave to become a real, "traditional" vampire  See more at .
http://archive.archaeology.org/online/features/halloween/plague.html
Mouth of Truth
The "Mouth of Truth" is an ancient Roman sculpture, thought to be an image of a Pagan God.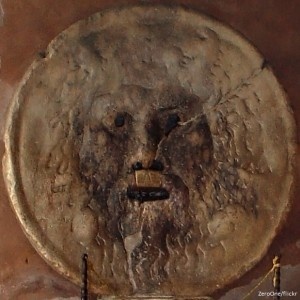 The myth behind it is, that if you place your hand in it's mouth and tell a lie, it will bite it off!
Evil Tooth Worm
The "evil tooth worm" is an urban legend that dates back as far as 5000 BC – where it was referenced in a Sumerian text. Without adequate understanding of why teeth decayed, many believed that the tooth worm bore a hole through your tooth and hid beneath the surface.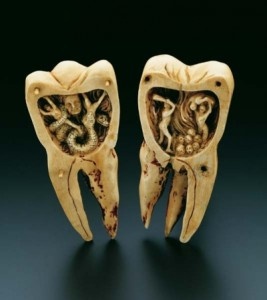 A toothache was  the result of a restless worm wiggling around.
More than 5,000 strange holes have been found at the bottom of the Pacific Ocean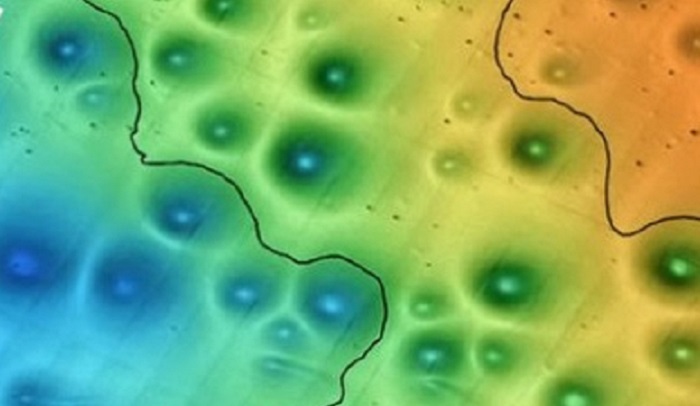 On a relatively small part of the Pacific Ocean, off the western coast of the United States, there are several thousand indentations of various sizes, the origin of which is not completely clear.
This was reported by scientists at the Monterey Bay Aquarium Research Institute (MBARI).
The larger pits have an average width of 175 meters and a depth of about five meters. Their shape is almost perfectly round.
Over the last few years, experts at MBARI and other organizations have found more than 5,200 such holes, such as smallpox, on an area of ​​approximately 1 300 square kilometers. So far, this is the largest concentration of such sites in North America.
More recently, scientists have been exploring the bottom of California in more detail. The fact is that they want to build a power plant there, but first they need to study the local conditions in detail.
Thousands of small pits or micro-depressions have been discovered using sonars mounted on autonomous submarines. Their width is about 11 meters and the depth is about a meter. Moreover, their shape is not round but oval.
Previously, similar seabed depressions have been found elsewhere in the world, and their origin is mainly due to methane emissions.
However, MBARI researchers find no evidence of this gas in the bottom sediments or in the water in this region.
Sonar data showing sludge bed layers, indicate that these points have been inactive for the last 50,000 years.
Scientists discover that the Y chromosome is disappearing from the blood of men
A study has found that Y chromosomes of men are disappearing as they get older and could put them at greater risk of cancer.
Humans have 23 pairs of chromosomes. The Y chromosome is considered the male chromosome and women don't have it: they have the XX chromosomes while men have XY.
But researchers have discovered that many men also lack Y chromosomes in some of their white blood cells.
The investigation
To reach this conclusion, scientists led by the University of Cambridge conducted a study on samples of 205,011 men, obtained from the Biobank gene bank in the United Kingdom, which contains the DNA of 500,000 volunteers.
They identified 156 autosomal genetic variants related to the loss of the Y chromosome, which were preferably close to genes involved in the regulation of the cell cycle, susceptibility to cancer or somatic drivers of tumor growth.
They found that more than four in 10 men (43.6%) had lost a notable proportion of their Y chromosomes at the age of 70.
The researchers found that one in five men in a sample of more than 200,000 had begun to lose Y chromosomes of DNA in some of their blood cells.
20% of men of all ages had lost some of the Y chromosomes in their blood and this proportion had doubled when men were 70 years old.
Subsequent analysis showed that people with high genetic predisposition to lose the Y chromosome were at greater risk of suffering from some type of cancer. The autosomal genetic variants found also influenced other aspects such as reproductive aging or type 2 diabetes.
Possible causes
The study authors believe that the loss of Y occurs through predisposition to processes that promote errors in cell division, or processes that help create an environment where aneuploid cells (cells with an abnormal number of chromosomes) are more likely to proliferate.
The team that made the discovery said that this strange change may be a sign that men's DNA was unstable and that the body was allowing random genetic mutations to accumulate.
The research has been published in the magazine Nature.
The Dani cannibal tribe and their smoky dead ancestors
In the Baliem Valley, West Papua Province in Indonesia, lives a weirdly primitive tribe called the Dani People.
A few decades ago, Dani actively practiced ritual cannibalism. It is now reported that this tradition has been discontinued.
In their recent macabre history, there is no less a frightening tradition of smoked dried carcasses of their dead relatives over a fire. And also cutting off the phalanges of women's fingers.
The phalanges were cut with a stone axe. This procedure is performed for those women who have lost a male relative: husband, son, brother or nephew, to emphasise the pain of loss and to appease the dead's spirit.
The surgery was primitive and rough, but the wounds on the hands of the women healed well and fairly quickly.
Recently, Italian photographer Gianluca Chiodini visited the village of Dani People and made unique color photographs.
Chiodini wandered in the jungle for days trying to find the tribe and finally he was lucky.
The photographer shares:
"The natives greeted me warmly and did not even try to eat me."
Gianluca was shocked to see the 250-year-old corpses of the dead, Dani's "eternal" ancestors, completely black from smoking for a long time.
The guide told the Italian that seven smoked mummies are stored in the village, but only two of them are allowed to be shown to strangers. The rest are taboos, and if the photographer tries to find them himself and photographs them, the natives could kill him.
To prevent mummies from decomposing, they are removed daily and carefully smeared with ointment of herbs and lard. Then they are hung over the fire so that the smoke can penetrate well into the body. All this has been happening daily for 250 years.
Dani people stopped eating their relatives only after 1990, at least officially. Now the meat they eat is mostly pork.
The natives hunt wild pigs with bows and arrows. After being captured and killed, the pigs are wrapped in palm leaves and allowed to be smoked by fire, like the mummies of their ancestors.
When the meat is hot, it is considered ready. Men are the first to eat, and women and children eat what is left behind.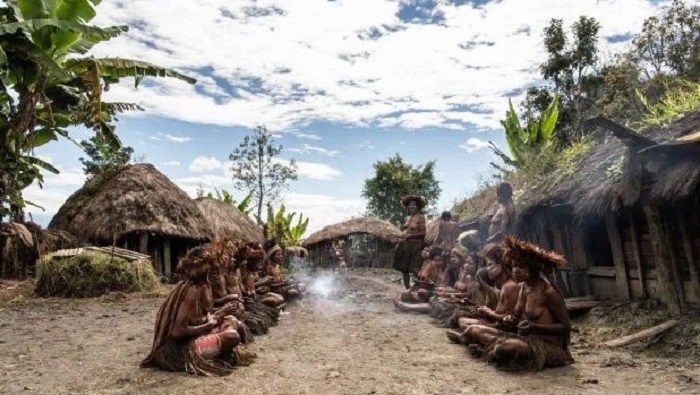 Many women in the tribe have their fingers cut off, meaning they have lost many male relatives.
Whether these deaths were in battle with neighboring tribes or through illness, history is silent …
Now, finger-cutting is also considered a forbidden procedure and in young women the fingers are already intact but you can still see the amputated hands of the older women.