Another mysterious monolith, the appearance of which previously puzzled the authorities of the American state of Utah, this time discovered in the east of Romania, writes the Daily Mail newspaper.
Last week, it was reported that Utah Public Safety officials had found a structure of shiny metal about twice as tall in the desert. After a few days, the monolith disappeared. According to the local land administration bureau, "an illegally installed structure called a" monolith "was removed <…> by an unknown party."
The Romanian monolith was erected on a hill near the town of Piatra Neamt, a few meters from the ruins of the Dacian fortress of Petrodava. It was discovered on November 26th.
Roxana Josanu, a spokeswoman for the Culture and Historical Heritage Department of Neamt County, said the authorities were studying the "strange emergence" of a monolith about four meters high.
"Before anything can be installed here, the permission of our organization is required, which must be approved by the Ministry of Culture," she added.
The monolith in Romania, unlike the construction in Utah, is not a rectangle, but a rectangular trapezoid with a beveled top. Besides, its surface is covered with "patterns".
Earlier, the media noted that the find in the Utah desert is similar to the alien obelisk from the Stanley Kubrick movie "A Space Odyssey 2001", except for the fact that it is not black, but silver. It was assumed that we are talking about an art object.
Utah – Creepy creature spotted
The following video has already been watched by over three million people. Many users thought that the strange figure could be both a demon and a huge bat. Another part considered it to be a joke.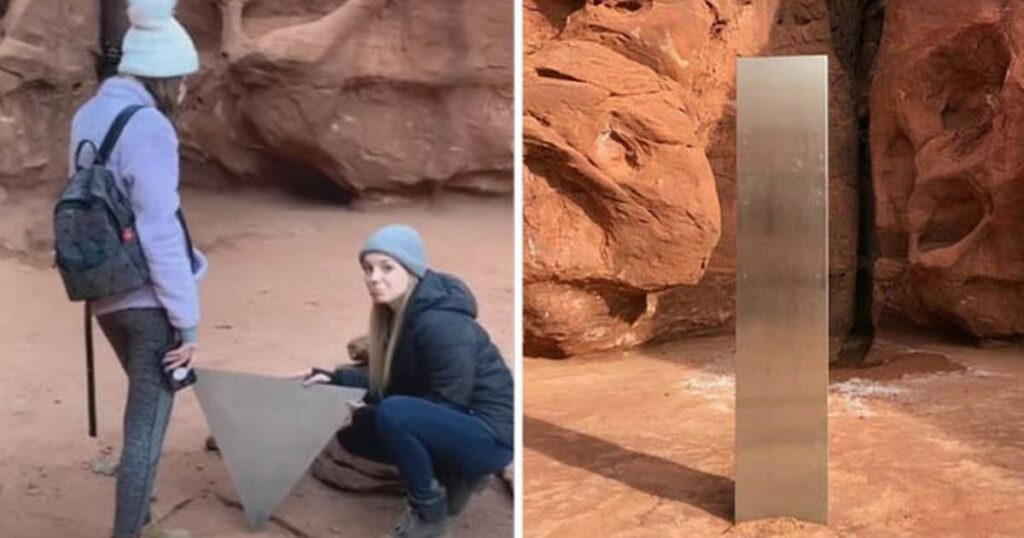 The situation with the monolith in Utah has become even more mysterious after a video was leaked showing a truly creepy creature. 
TikTok user @ serg.boy wanted to look at the monolith and was very disappointed when he did not find it. In a video posted online, he says that he drove with his friends for more than 15 hours, but the monolith was not in place.
After watching the video, users noticed a strange, pointed shape in the background. It appears to emerge from a crack in the structure behind his girlfriend. Further out of the darkness, the outlines of a face appear. The user who posted the video most likely did not notice the mysterious figure, but many other viewers drew attention to it.
In the comments, versions of what this figure could be immediately began to appear. Some wrote that it was a demon. Others say that it is a huge bat. Others even suggested that it was an alien. But the majority still insisted that someone was trying to joke in this way.