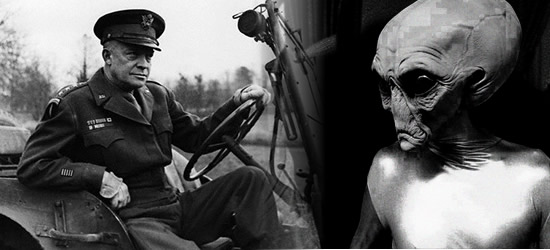 Valiant Thor, labeled a Space Emissary by the Department of Defense, lands on Earth with a promise of bright future for the world, and lives at the Pentagon for 3 years interacting with the President and Vice President and military brass. Our film explores what happened during Thor's Pentagon tenure.
The National Investigations Committee on UFOs (NICUFO) was founded in July, 1967, as a California non-profit Corporation, IRS Code Section 501(c)(3), by Dr. Frank E. Stranges (1927 – 2008).
"The landing of Valiant Thor was perhaps the first documented landing of a human-type alien by military officials. He met with President Eisenhower and Vice President Richard Nixon for an hour, then the alien was put on VIP status and shuttled back to the Pentagon."  –Harley Byrd, Project Blue Book, Division of United States Air Force
It is alleged that these three people were extraterrestrials and had came to Earth in the 1950′s with an important message. This is a photo (one of several) that was taken at a meeting with the United States Government.Valient Thorr's, or Valthor's, message seemed to be one of peace. He said that we are being watched by multiple alien species. Valiant Thor (right) in High Bridge New Jersey in 1959
Stranger at the Pentagon – Short Film  recreating the events of Space Emissary Valiant Thor who lived at the Pentagon under VIP status for 3 years under Eisenhower Administration.
Author Dr. Frank E. Stranges met Commander Valiant Thor, a Created Being and spiritual representative of the universe on Christmas Eve in 1959. He had a lifelong friendship with Thor until his death in November 2008.
Extracted from:  "Stranger at the Pentagon"
by Dr. Frank E. Stranges, Ph.D.
1967, Inner Light Publications,
New Brunswick, NJ ISBN 0-938294-66-0  See more extracts at Biblioapleyades
"When I asked him where he was from, he replied, 'I am from the Planet that is called Venus.' I asked him how many visitors from Venus were presently on Earth and he said, 'There are presently seventy seven of us walking among you in the United States. We are constantly coming and going.'"
The First Meeting
March 16, 1957, in Alexandria, Virginia, one of the finest leaders of the planet Venus, operating under the direction of the Central Control and who had been chosen to make the contact as well as direct the project, landed his craft and was met by two police officers, weapons drawn.
A thought transference quickly convinced them that he meant no harm and he was ushered into the back seat of their patrol car. After crossing over into Washington, D.C., they were met by the Secretary of Defense along with six of his staff members. Soon police from every conceivable district and agency had joined in, all trying to claim their right to escort him to President Dwight D. Eisenhower.
Through his own version of the power of positive thinking, he was able to dismiss them all and soon passed through the security posts followed by an Air Force Captain.
Meanwhile, his presence in the area had thrown everyone into a dilemma. The introduction he held from the High Council worried them because, though not written in any Earthly language, their minds were given power to properly translate the inscribed message.
Captain Gould (not his real name) asked him to remain and after downing two plain bourbons muttered…
"My god, why couldn't this have happened on my day off?"
Suddenly the door opened and six armed guards led Val to what appeared to be an elevator. It went rapidly to the bottom-most level. Maximum security was in place. After transferring to an underground train, they sped toward the White House. Six officials, six armed guards and three secret service men escorted him into the office of President Eisenhower.
From behind the desk the President rose while the secret service men remained nervous and uneasy. As he extended his hand to shake that of the President, the secret service men drew their revolvers and pointed them at Val. Following the nod of the President, they reluctantly lowered their guns.
Standing in front of his desk, the President said,
"Of course, you know we have suspended all rules of protocol. I have a good feeling toward you. Please, sir, what is your name?" "And where do you come from?"
"I come from the planet your Bible calls the morning and the evening star."
"Venus?"
"Yes, sir."
"Can you prove this," he asked.
"What do you constitute as proof?"
He quickly retorted, "I don't know."
"Will you come with me to my ship?"
He answered with a quizzical look and said,
"My friend, I cannot come and go as I please. There are others to be considered. There are committees to be consulted and security measures to be adhered to. Please spend some time with us here …Let's get better acquainted …learn more about one another …and perhaps soon, real soon, well …we shall see."
In 1959 Dr. Frank Stranges  had his first physical encounter with Commander Valiant Thor, a Venusian. His book, Stranger at the Pentagon explains the details of his encounters.
According to Stranges:  Commander Valiant Thor was created (as were the Angels) eons before time was configured. He is indeed a very wise man and has thereby been duly endowed with abilities far beyond that of human imagination. He stands about six feet tall and to this day he weighs about one hundred and eighty-five pounds. His hair is brown and wavy. His eyes are also brown and his overall complexion is rather tanned.
The Commander has a unique sense of humor, which certainly distinguishes him from a host of many other "space people." He is a very unusual man in many respects. Yet while standing in his presence, one is suddenly made to feel quite comfortable. He is a man of many spiritual gifts which have distinguished him to the point where he was duly appointed as one of the Council of Twelve on his home planet Venus.
Whenever he is dispatched to other parts of the Universe, he is always greeted as a man of God. A man who is looked upon with tremendous love and respect. He is often called upon to assist those of other worlds in making certain decisions which directly affect the entire population. His conduct is always above reproach in every manner whatsoever.
The truth of this matter lies in the fact that he is in demand because of his unique ability to spiritually discern and thereby solve many problems. Such a man whose reputation precedes him is loved and admired for his dedication and love of Almighty God, under whose direct orders he operates.
It may interest you to discover that he had indeed communicated with a number of members of the Inner Circle, the Interspace link subscribers, members of the Royal Order of Melchizedek and others during the past years. A number of you have written to him in the past with certain problems and he has been kind enough to reply to your requests.
However, over a period of time, certain people have also sent in some rather foolish requests. Such as, what color toilet tissues should I use, how can I find a space woman (or man) to marry, please grant me a good tip on the stock market, and I will give Dr. Stranges 10%, and other such ridiculous questions and meaningless propositions. Of course, he did not dignify such questions with a reply.
Commander Valiant Thor has the ability to appear and disappear at will. He also possesses the ability to disassemble the molecular structure of his body and reassemble himself at a distant point. This is the manner in which he vanished from the Pentagon, passing through the door of his apartment in which he was confined and carefully guarded by two Air Force Military Policeman.
He then joined his brother, Vice Commander Donn and Jill who then appeared on the front lawn of the home of Howard Menger, in High Bridge, New Jersey. They then attended a lawn UFO lecture, where every one there saw them. However, few of them knew or even suspected that these people were from another world. My friend, the late August C. Roberts took many pictures of them, which were later published in my book Stranger at the Pentagon.
One of the witnesses at that particular lecture was another friend of mine, Mr. James Moseley of Key West, Florida. Oddly enough, over the years, quite a number of people have recognized him when he has attended lectures, both in the United States and abroad.
Inasmuch as he has been gifted with many other abilities, he has successfully utilized these to assist mankind on this planet Earth. He is able to speak and communicate in every language and dialect (including sign language) known to mankind today. In this manner, he has successfully won the confidence of people, worldwide.
Among these, the children whom he has literally picked up off of the garbage dumps of major cities of the world. These are the children who have no parents, no place to sleep or proper food for their frail bodies. They are sickly, weak, undernourished and unwanted by the multitudes. He has approached these poor children, both boys and girls, spoke to them in their own language or dialect, won their competence and in many cases literally carried them in his loving arms to the waiting Victor Class Space Craft.
Once on board, the children are warmly and lovingly caressed by other members of the crew who care for them before they are brought into the homes and waiting arms of the newly adoptive parents. He also possesses the ability of looking directly into your heart and mind in order to fully ascertain and appreciate your inner needs. This is a trait also practiced with great love by our Master, Jesus Christ, with whom the Commander enjoys constant fellowship and communion.
The Bible, Genesis and Creation of Man by the Ancient Anunnaki Extraterrestrials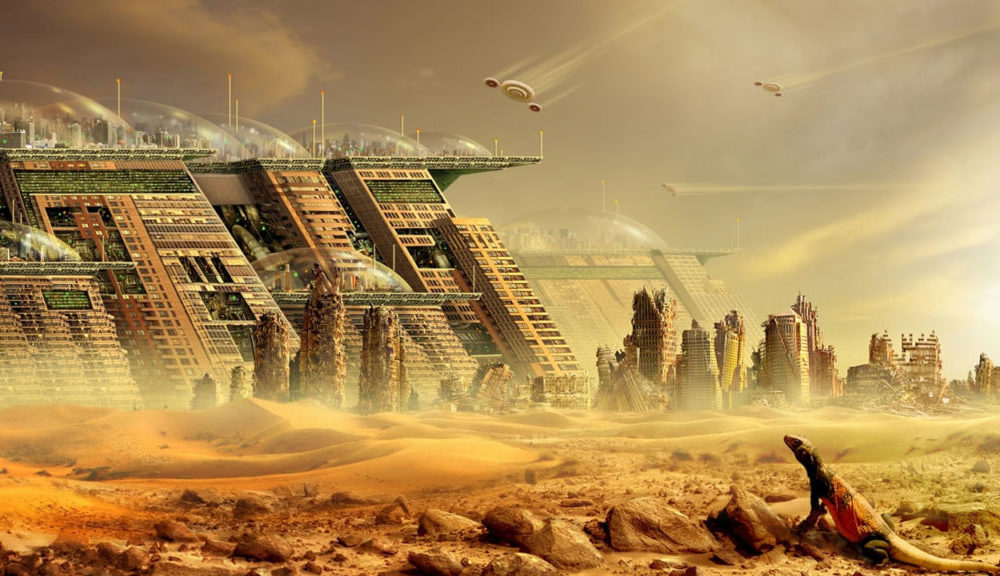 The history of our creation is one of the founding myths of Civilization … There have been many sources for this story throughout Human History, and in this post we explore the suggestion made in Chronicles of the Land of Zacharias Sitchin that the story in Genesis in the Bible is actually about the creation of man by the Anunnaki Ancient Foreigners of Mesopotamia.
On the 12th Planet, Revised Genesis and The Lost Book of Enki, Sitchin provides us with the earliest version of the Genesis biblical story of our creation contained in the Sumerian Cuneiform Texts, the oldest writing known to mankind.
The first landing and establishment of the E.DIN base station by the former Alien Anunnaki.
The reason why the ancient Anunnaki aliens left Nibiru and came to Sumeria.
Sitchin suggests that the Sumerian records reveal that around 445,000 BC, a total of 50 Anunnaki Ancient Alien Astronauts landed in the area that would later be known as Mesopotamia in search of gold
The Anunnaki had ventured from their own Planet to Earth (Ki) because the atmosphere of their Nibiru Planet had deteriorated.
The Anunnaki investigation had established that gold was the element that could be used to effectively repair Nibiru's atmosphere, and the investigation of the Anunnaki solar system had also established that gold in significant quantities could be found on Earth by extracting it from the ocean.
The first gold extraction project was established on the banks of Mesopotamia, according to the Revised Genesis of Sitchin.
A total of six days was dedicated to the construction of the new settlement in the region between the Tigris and the Euphrates.
The seventh day was declared a rest day by the leader, Enki.
Due to the fact that Earth Station 1 was the first Anunnaki settlement, in Revised Genesis, Sitchin argues that it is probably the location of the Biblical Garden of Eden.
After some time, it was discovered that the amount of gold in the Ocean surrounding Edin was not adequate, so the gold mining operation moved to Africa, where huge gold deposits existed and still exist until today.
Enki was put in charge of African operations, and his Half-Brother Enlil was subsequently sent from Nibiru, and received command of Earth Station 1 from the leaders of the Homeland.
Igigi's Rebellion and the Creation of Adam (Man) by the Ancient Anunnaki Extraterrestrials
To help with the gold mining project, the Anunnaki were initially attended by the Igigi until they rebelled after years of hard work, forcing the Anunnaki to find an alternative source of work.
Genesis Revisited narrates a long and controversial debate at the Council of the Gods of Anunnaki, where it was finally decided, following a suggestion by Enki, that the Igigi be replaced by the creation of a "Primitive Worker" obtained by combining the DNA of Anunnaki with the DNA of the most advanced primate on Planet Earth at that time, probably Homo Habilis, approximately 440,000 years ago.
The project was led by Enki and Ninhursag, who was in charge of the Medical Laboratory. The experiments were initially unsuccessful, until the 'Adam' prototype was born in the Genetics Laboratory using Anunnaki surrogate mother Wombs.
According to Zacharias Sitchin, this is what is meant in Genesis when it is read: "And the Lord took Adam, and put him in the garden of Eden, to work on it and take care of it."
Although the Anunnaki's demand for Adam Primitive Laborer was high and could not be satisfied, Enlil prohibited Enki from conducting more Genetic experiments that would allow Adam to reproduce outside the controlled environment of Anunnaki Genetic Laboratories … Enki pretended to agree but secretly continued with his DNA Experiments.
The tree of knowledge and the tree of life
According to Revised Genesis, while studying the Adam he had created, EN.KI watched two females bathing in a river and soon slept with both. Over time they gave birth to one child each, a man and a woman.
Enki's children were named ADAPA and TI.TI, which would later be known as Adam and Eve.
The only thing about ADAPA / ADAM and TI.TI / EVE was that, despite being Enki and human hybrids, they were able to reproduce by themselves.
Enki then took his offspring to Enlil Earth Station 1 as they were highly intelligent, and represented the best results achieved by the Anunnaki Genetics project.
However, there was a problem that Enki could not solve … that is, despite being able to procreate, he could not achieve a long life for the Adam and, therefore, allow Adam to live as long as the Anunnaki themselves, that is, the Adam could not have the "Immortality" or Longevity enjoyed by the Gods.
In Sumerian iconography, Enki is represented by the snake symbol, and the original Sumerian story of Adam and Eve seems to be the story of the sons of Enki ADAPA and TITI being led to the self-realization of their intelligence and ability to reproduce by their Father, Enki (the snake), that is, 'eating from the tree of knowledge'.
Before Enki found a way to give them a life as long as that of the Anunnaki themselves, that is, to eat from the "Tree of Life," they were expelled from Edin's Base Station by Enlil because he was against allowing the Adam's procreate, since he believed that their numbers should always be kept in control to avoid overpopulation.
Thus, the story of original sin told in Genesis seems to have a completely different dimension in the ancient Sumerian writings.
The difference of opinion between Enki and Enlil about the role of the Primitive Worker in the Anunnaki Project eventually triggered an Anunnaki War of Factions.
Yet, Revised Genesis provides us with the Sumerian version of the fall of man.
Conclusion: The biblical story of Genesis according to the extraterrestrial texts of the ancient Sumerian Anunnaki
The image that emerges from the story of Adam and Eve from the Sumerian records, as told in the book of Zechariah Sitchin, Revised Genesis, is that the Story of Genesis is not about a literal conversation led by a man, a woman and a 'talking snake'.
From the Earth Chronicles, it becomes clear that in Genesis there are fragments of a longer history with roots in ancient Sumeria that reveals why human beings have no eternal life, and how we come to the Knowledge and Experience of Self-awareness, as well as the ability to reproduce.
It is our acquisition of the ability to reproduce through the unauthorized efforts of an Anunnaki God-scientist that threatened to alter the delicate stability of the Anunnaki Earth Gold-Mining project according to Enlil.
For this reason, Adam and Eve were expelled from the Garden of Eden (E.DIN Base Station) by Enlil to defend themselves outside the protection and security of the Anunnaki Base Stations in which they had worked, and who also looked after them including providing food, shelter and medical care so that they could continue assisting the Anunnaki in their role as Igigi replacements.
As outcasts, ADAPA and TITI had to learn for the first time to fend for themselves and their descendants without the help of Anunnaki … This is what is usually described as the "price of original sin", since humanity is supposed to have Received the judgment and has been expelled from Paradise as an explanation of the human condition.
In the Sumerian records, as well as in Genesis, ADAPA and TITI leave the Garden with 'Knowing', but Longevity remains with the Gods, who restricted Humanity's access to the Tree of Life (Longevity) preventing any additional genetic experiments which would eventually extend the lives of the Gods to Humanity:
And he threw Adam out … and placed the Cherubim and the Flaming Sword east of the Garden of Eden, which turned to guard the Tree of Life.
The Anunnaki Ancient Astronuat Theory also continues to provoke interest and debate on the question of our origins and whether the Historical Timeline of Civilization provided by the current historical paradigm is correct.
The Man Who "Hacked" NASA & The AFSPC Gives A New Interview Describing What He Found
The Facts:Nearly two decades ago, Gary Mckinnon of the UK accesses nearly 100 NASA and Department of Defence, including the US Air Force Space command. He faced extradition for 10 years after finding a picture of a UFO and a list of "non terrestrial officers."
Reflect On:How sheltered are we from certain information? Has 'national security' simply become an excuse to keep information concealed from the public to protect corporate and government interests?
The field of UFOlogy has long been muddled with disinformation campaigns and bad journalism, and sometimes this journalism includes infiltration efforts by intelligence agencies themselves. This is clear given the fact that intelligence agencies have a direct relationship with journalists and mainstream media outlets, as there are declassified documents showing so. Operation mockingbird is a great example, not to mention all of the mainstream media journalists who have come out and said that mainstream media is directly influenced by intelligence agencies, governments and corporations. You can find some of these documents and see examples of these whistleblowers in two previous articles I've published that go into more detail here, and here. When it comes to UFOs, we know that they're real, but we also know that along with that reality there has been "an official campaign of ridicule and secrecy." (Ex-CIA Director Roscoe Hillenkoetter) Perhaps this ridicule campaign carries on today through some rather ghastly, unbelievable claims, but let's not let that mask the fact that this phenomenon is indeed real, and there are a plethora of credible sources including documents, data, physical evidence, and more suggesting we're not alone, and that we probably are being visited and have been visited by intelligent extraterrestrial beings from other worlds and possibly other dimensions.
A lot of this evidence has come from UFOlogist Richard Dolan, who has always been a key resource for me with regards to accessing credible information about the UFO phenomenon. I find that it's important to seek out proper researchers who share information in a credible and verifiable way, especially about a subject that can so easily be ridiculed when you are trying to reach the masses who don't have much knowledge about it, but are genuinely curious. I also feel that my generation of UFO researchers lack proper research and investigative skills, are easily influenced and swayed, and in the age of social media are simply trying to share whatever they can, no matter how credible, to simply 'stay relevant,' instead of doing it for the love and genuine desire to share important, truthful information.
Like I said, there are some rather 'outside the box claims' out there that have absolutely no credibility behind them, and to share those actually does more disservice to the movement, in my opinion. On the other hand, there are some very outside the box claims and information that do indeed have tremendous amounts of credibility behind them, and these are the ones we should be paying attention to.
One example comes from the case of Garry McKinnon, who for 10 years was in great danger of extradition to the United States for accessing nearly 100 NASA and military computers including the United States Space Command. This was the real deal, and HERE is a clip of Obama and the UK Prime Minister at the time fielding a question about Garry, this breach made headlines new.
Gary was able to access these computers in real time and view files on them. He found some startling pictures, one in particular was of a large cylindrical shaped UFO hovering in space, in addition to a strange spreadsheet document with a list of "non-terrestrial officers," presumably belonging to a publicly unacknowledged branch of the United States military operating in space, as well as "fleet to fleet" transfers of materials, whatever that means.
I'll let you listen to the interview below for more details straight from Garry McKinnon's mouth, via Dolan's Youtube Channel, where he also describes a high-resolution photograph, taken from space, of a smooth, cigar-shaped craft.
The Real Secret Space Program
Is there a secret space program, and have clandestine groups been reverse engineering ET technology?
Dr. David Clarke is an investigative journalist, reader and lecturer at Sheffield Hallam University in England. He was also the curator for The National Archives UFO project from 2008–2013, and regularly comments in national and international media on UFOs.
These documents reveal how the RAF expressed great interest in finding UFOs.
Dr. Clarke told The Daily Mail,
Even though they have been partly censored they can't conceal the fact the UK military were interested in capturing UFO technology or what they coyly refer to as 'novel weapon technology'… And the files reveal they were desperate to capture this technology – wherever it came from – before the Russians or the Chinese got hold of it first…. Although this was 1997, Russia was still regarded as an undefeated enemy with a weapons programme regarded as a threat to the West.
The question is: Did they get one? More on that later…
The military personnel who are encountering these phenomena tell remarkable stories. In one example, over the course of two weeks in November 2004, the USS Princeton, a guided-missile cruiser operating advanced naval radar, repeatedly detected unidentified aircraft operating in and around the Nimitz carrier battle group, which it was guarding off the coast of San Diego. In some cases, according to incident reports and interviews with military personnel, these vehicles descended from altitudes higher than 60,000 feet at supersonic speeds, only to suddenly stop and hover as low as 50 feet above the ocean. – Christopher Mellon, former Assistant Secretary of Defence
We don't know the answer to these questions, but we do know that the United States has a history of government agencies existing in secrecy for years. The National Security Agency (NSA) was founded in 1952, and its existence was hidden until the mid 1960s. Even more secretive is the National Reconnaissance Office, which was founded in 1960 but remained a secret for 30 years.
We are talking about Special Access Programs (SAP). From these we have unacknowledged and waived SAPs. These programs do not exist publicly, but they do indeed exist. They are better known as 'deep black programs.' A 1997 US Senate report described them as "so sensitive that they are exempt from standard reporting requirements to the Congress."  (source)
We also know that there is a black budget to fund these programs.
HERE is another great discussion with Dolan titled "Secret Space Program, Real Evidence."
Are These Objects Extraterrestrial?
There are literally hundreds of people with extensive academic, political and military backgrounds, all the way to astronauts, who have been blowing the whistle for a very long time.  Many scientific publications have also been made throughout the years describing strange and radar confirmed military sightings by military pilots. You can see some evidence and documentation from this article I wrote regarding the Chilean Air Force.
According to Herman Oberth, one of the founding fathers of rocketry and astronautics, "flying saucers are real and . . . they are space ships from another solar system. I think that they possibly are manned by intelligent observers who are members of a race that may have been investigating our Earth for centuries." (Oberth, Hermann: "Flying Saucers Come from a Distant World," The American Weekly, October 24, 1954)  (source 1)(source 2)
""We have, indeed, been contacted — perhaps even visited — by extraterrestrial beings, and the US government, in collusion with the other national powers of the Earth, is determined to keep this information from the general public."
–Victor Marchetti (Second Look, Volume 1, No 7, Washington, DC, May, 1979)
Another great quote:
"There are objects in our atmosphere which are technically miles in advance of anything we can deploy… we have no means of stopping them from coming here… there is a serious possibility that we are being visited and have been visited for many years by people from outer space, from other civilizations… This should be the subject of rigorous scientific investigation and not the subject of 'rubbishing' by tabloid newspapers."
– Lord Admiral Hill-Norton, former Chief of Defence Staff, 5 Star Admiral of the Royal Navy, Chairman of the NATO Military Committee
The point is, if you believe some of these objects are indeed extraterrestrial, you are not alone. Couple these statements with the claims of thousands of individuals who have had contactee and abduction experiences who've shared remarkably consistent stories, it's definitely a plausible hypothesis for the UFO phenomenon.
The Takeaway
What are the implications of extraterrestrial contact? Humanity will always go through paradigm shifting realizations that will jolt human consciousness. Right now, we have a lot of work to do here on Earth, and we should be focusing on cleaning up our planet and ridding it of greed, destruction, war, etc. I feel that the ET reality is somehow connected to that realization, and the need and urgency that many of us feel regarding the planet and service to others.
What about you?
Stephen Bassett explains why NASA hides the truth
Explaining why NASA is allegedly forced to cover up the existence of space aliens, Stephen Bassett argued that ending the "truth embargo" on this issue would greatly benefit the space agency.
Explaining why NASA is allegedly forced to cover up the existence of space aliens, Stephen Bassett argued that ending the "truth embargo" on this issue would greatly benefit the space agency.
Stephen Bassett, the man who has long campaigned for the government to end its alleged embargo on the truth about extraterrestrial life, has recently claimed that NASA essentially has its "hands tied" when it comes to concealing UFO appearances, the Daily Star reports.
Commenting on the instances of the International Space Station live feed being cut, which a number of conspiracy theorists attribute to alien spacecraft allegedly popping up in the frame, Bassett argued that the US space agency is not actually a "bad guy" here.
"It's them essentially obeying the law, which is what the National Security Act is, and simply not doing anything which would, quote, endanger the truth embargo because under the act of national security it has to remain", he explained during a chat with the media outlet."
Bassett went on to elaborate that by the time NASA was established in 1958 via the Space Act, the US government was allegedly well aware of the existence of "extraterrestrial presence" and thus knew that these phenomena might be encountered by the civilian space program.
"And so what the government did, what congress did, was to put a clause in the Space Act right there up the front that says anything which involves national security, deemed to be national security matters, that NASA encounters will be completely turned over and deferred to the Department of Defence and NASA will say and do nothing", he said, adding that therefore, "NASA has been between a rock and a hard place" since 1958.
Therefore, Bassett argued, ending the alleged "truth embargo" on the truth about the existence of aliens "will be a massive boom for NASA."
"First of all, the burden of having to maintain this posture, essentially a blind posture, will be gone and the interest in space and space research will expand and explode and NASA will be the recipient of that. And so they will be throwing some serious parties at various NASA facilities around the country the day after the head of state finally confirms the ET presence," he surmised.
(Source)