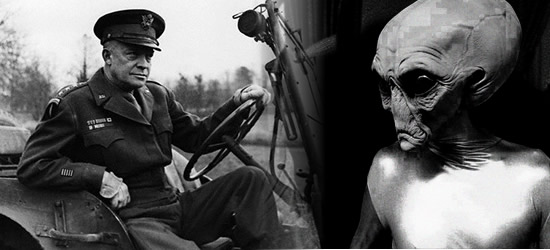 Valiant Thor, labeled a Space Emissary by the Department of Defense, lands on Earth with a promise of bright future for the world, and lives at the Pentagon for 3 years interacting with the President and Vice President and military brass. Our film explores what happened during Thor's Pentagon tenure.
The National Investigations Committee on UFOs (NICUFO) was founded in July, 1967, as a California non-profit Corporation, IRS Code Section 501(c)(3), by Dr. Frank E. Stranges (1927 – 2008).
"The landing of Valiant Thor was perhaps the first documented landing of a human-type alien by military officials. He met with President Eisenhower and Vice President Richard Nixon for an hour, then the alien was put on VIP status and shuttled back to the Pentagon."  –Harley Byrd, Project Blue Book, Division of United States Air Force
It is alleged that these three people were extraterrestrials and had came to Earth in the 1950′s with an important message. This is a photo (one of several) that was taken at a meeting with the United States Government.Valient Thorr's, or Valthor's, message seemed to be one of peace. He said that we are being watched by multiple alien species. Valiant Thor (right) in High Bridge New Jersey in 1959
Stranger at the Pentagon – Short Film  recreating the events of Space Emissary Valiant Thor who lived at the Pentagon under VIP status for 3 years under Eisenhower Administration.
Author Dr. Frank E. Stranges met Commander Valiant Thor, a Created Being and spiritual representative of the universe on Christmas Eve in 1959. He had a lifelong friendship with Thor until his death in November 2008.
Extracted from:  "Stranger at the Pentagon"
by Dr. Frank E. Stranges, Ph.D.
1967, Inner Light Publications,
New Brunswick, NJ ISBN 0-938294-66-0  See more extracts at Biblioapleyades
"When I asked him where he was from, he replied, 'I am from the Planet that is called Venus.' I asked him how many visitors from Venus were presently on Earth and he said, 'There are presently seventy seven of us walking among you in the United States. We are constantly coming and going.'"
The First Meeting
March 16, 1957, in Alexandria, Virginia, one of the finest leaders of the planet Venus, operating under the direction of the Central Control and who had been chosen to make the contact as well as direct the project, landed his craft and was met by two police officers, weapons drawn.
A thought transference quickly convinced them that he meant no harm and he was ushered into the back seat of their patrol car. After crossing over into Washington, D.C., they were met by the Secretary of Defense along with six of his staff members. Soon police from every conceivable district and agency had joined in, all trying to claim their right to escort him to President Dwight D. Eisenhower.
Through his own version of the power of positive thinking, he was able to dismiss them all and soon passed through the security posts followed by an Air Force Captain.
Meanwhile, his presence in the area had thrown everyone into a dilemma. The introduction he held from the High Council worried them because, though not written in any Earthly language, their minds were given power to properly translate the inscribed message.
Captain Gould (not his real name) asked him to remain and after downing two plain bourbons muttered…
"My god, why couldn't this have happened on my day off?"
Suddenly the door opened and six armed guards led Val to what appeared to be an elevator. It went rapidly to the bottom-most level. Maximum security was in place. After transferring to an underground train, they sped toward the White House. Six officials, six armed guards and three secret service men escorted him into the office of President Eisenhower.
From behind the desk the President rose while the secret service men remained nervous and uneasy. As he extended his hand to shake that of the President, the secret service men drew their revolvers and pointed them at Val. Following the nod of the President, they reluctantly lowered their guns.
Standing in front of his desk, the President said,
"Of course, you know we have suspended all rules of protocol. I have a good feeling toward you. Please, sir, what is your name?" "And where do you come from?"
"I come from the planet your Bible calls the morning and the evening star."
"Venus?"
"Yes, sir."
"Can you prove this," he asked.
"What do you constitute as proof?"
He quickly retorted, "I don't know."
"Will you come with me to my ship?"
He answered with a quizzical look and said,
"My friend, I cannot come and go as I please. There are others to be considered. There are committees to be consulted and security measures to be adhered to. Please spend some time with us here …Let's get better acquainted …learn more about one another …and perhaps soon, real soon, well …we shall see."
In 1959 Dr. Frank Stranges  had his first physical encounter with Commander Valiant Thor, a Venusian. His book, Stranger at the Pentagon explains the details of his encounters.
According to Stranges:  Commander Valiant Thor was created (as were the Angels) eons before time was configured. He is indeed a very wise man and has thereby been duly endowed with abilities far beyond that of human imagination. He stands about six feet tall and to this day he weighs about one hundred and eighty-five pounds. His hair is brown and wavy. His eyes are also brown and his overall complexion is rather tanned.
The Commander has a unique sense of humor, which certainly distinguishes him from a host of many other "space people." He is a very unusual man in many respects. Yet while standing in his presence, one is suddenly made to feel quite comfortable. He is a man of many spiritual gifts which have distinguished him to the point where he was duly appointed as one of the Council of Twelve on his home planet Venus.
Whenever he is dispatched to other parts of the Universe, he is always greeted as a man of God. A man who is looked upon with tremendous love and respect. He is often called upon to assist those of other worlds in making certain decisions which directly affect the entire population. His conduct is always above reproach in every manner whatsoever.
The truth of this matter lies in the fact that he is in demand because of his unique ability to spiritually discern and thereby solve many problems. Such a man whose reputation precedes him is loved and admired for his dedication and love of Almighty God, under whose direct orders he operates.
It may interest you to discover that he had indeed communicated with a number of members of the Inner Circle, the Interspace link subscribers, members of the Royal Order of Melchizedek and others during the past years. A number of you have written to him in the past with certain problems and he has been kind enough to reply to your requests.
However, over a period of time, certain people have also sent in some rather foolish requests. Such as, what color toilet tissues should I use, how can I find a space woman (or man) to marry, please grant me a good tip on the stock market, and I will give Dr. Stranges 10%, and other such ridiculous questions and meaningless propositions. Of course, he did not dignify such questions with a reply.
Commander Valiant Thor has the ability to appear and disappear at will. He also possesses the ability to disassemble the molecular structure of his body and reassemble himself at a distant point. This is the manner in which he vanished from the Pentagon, passing through the door of his apartment in which he was confined and carefully guarded by two Air Force Military Policeman.
He then joined his brother, Vice Commander Donn and Jill who then appeared on the front lawn of the home of Howard Menger, in High Bridge, New Jersey. They then attended a lawn UFO lecture, where every one there saw them. However, few of them knew or even suspected that these people were from another world. My friend, the late August C. Roberts took many pictures of them, which were later published in my book Stranger at the Pentagon.
One of the witnesses at that particular lecture was another friend of mine, Mr. James Moseley of Key West, Florida. Oddly enough, over the years, quite a number of people have recognized him when he has attended lectures, both in the United States and abroad.
Inasmuch as he has been gifted with many other abilities, he has successfully utilized these to assist mankind on this planet Earth. He is able to speak and communicate in every language and dialect (including sign language) known to mankind today. In this manner, he has successfully won the confidence of people, worldwide.
Among these, the children whom he has literally picked up off of the garbage dumps of major cities of the world. These are the children who have no parents, no place to sleep or proper food for their frail bodies. They are sickly, weak, undernourished and unwanted by the multitudes. He has approached these poor children, both boys and girls, spoke to them in their own language or dialect, won their competence and in many cases literally carried them in his loving arms to the waiting Victor Class Space Craft.
Once on board, the children are warmly and lovingly caressed by other members of the crew who care for them before they are brought into the homes and waiting arms of the newly adoptive parents. He also possesses the ability of looking directly into your heart and mind in order to fully ascertain and appreciate your inner needs. This is a trait also practiced with great love by our Master, Jesus Christ, with whom the Commander enjoys constant fellowship and communion.
Aliens blamed for spate of cow mutilations in Argentina after 'strange lights' seen in sky
© Express, UK
Sean Martin
Express, UK
Local farmers in Santa Fe, north-eastern Argentina, have seen seven cows killed and mutilated with some believing extraterrestrials are killing the bovine animals.
Witnesses claim the cows look as if they were attacked with lasers, while strange markings were also found on their tongues and genitals.
Farmers in the region are blaming aliens or the mythical chupacabra – a myth from South America which supposedly feeds on animals' blood.
Norberto Bieri, owner of one of the seven cows, told local media: "They did not have tongues or flesh around the jaw, but they did not take any animals away or remove their bones.
"It seems as though the clean incisions were done with a laser as there is no trace of a knife being used. The cows did not have signs of blood and nothing had appeared to eat them.
"Some people say chupacabra or aliens did it. Others believe it was rodents.
"The truth is, the cows are dead and there are no answers as to why."
Mr Bieri added that there had been other recent cases of mutilated animals.
Samples were sent to the lab to be analysed and results indicated the cattle had not been shot or poisoned, adding more mystery to the case.
However, experts offered their, more logical, opinion.
A rat-like animal called hocicudo is endemic to South America and some believe they are responsible.
The day that the Aliens attacked Tuscany, in Italy
During the autumn of 1954 throughout western Europe several surprising events occurred of encounters with strange flying objects (UFOs) and encounters with extraterrestrial beings, according to the sources of the testimonies and victims that relate their experiences, most were peasants and villagers. Let's talk about a case that happened in a small town in Tuscany, Italy.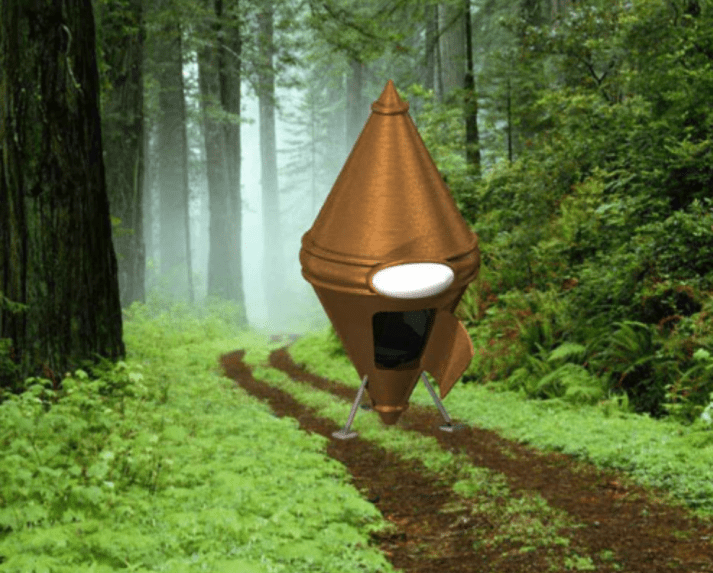 Rosa Lotti Dainelli was a forty-year-old peasant, mother of four children, owner of a farm called "La Collina" in the locality Cennina7 (a small town near Biicine, in the province of Arezzo, Italy).
Monday, November 1, 1954. That morning Rosa was going to go as usual to the church in her town where she used to go, that day she had got up very early at half past six in the morning as the feast of all was celebrated Saints and had several important things to do. Rosa that day decided to release a new dress that she had kept for the occasion and some new shoes.
He left his house with a large bouquet of flowers that he had taken the day before with the intention of going to church after going to the cemetery to visit his deceased relatives as usual on that day. He took a small path that would take her first to the place where he was going. Halfway through he realized that there was a lot of humidity at night because of the abundant morning dew, he stopped to take off his shoes so they would not get wet holding them with his left hand since in the other hand he was carrying the bouquet of flowers and he continued the path barefoot on the path.
Rosa went somewhat distracted looking at the flowers she was carrying and went through a small forest, when she suddenly stopped and was surprised to see a strange device parked on the ground by the side of the road.
Rosa for a few seconds remained motionless and not knowing how to act but minutes later decided to continue moving slowly down the path of the forest. The farmer, without being able to look away from the apparatus, was curiously observing this strange object as she continued to walk, an object which has the shape of two cones, was of a brilliant brown metallic color with golden reflections.
Afraid of this, she decided to approach very slowly to observe more details of that machine. Approached about 5 meters away from the device, Rosa from there could already appreciate the dimensions of that object, which had a height of more than 2.5 meters by almost 2 meters in diameter and a little further down there was a small door which was totally open.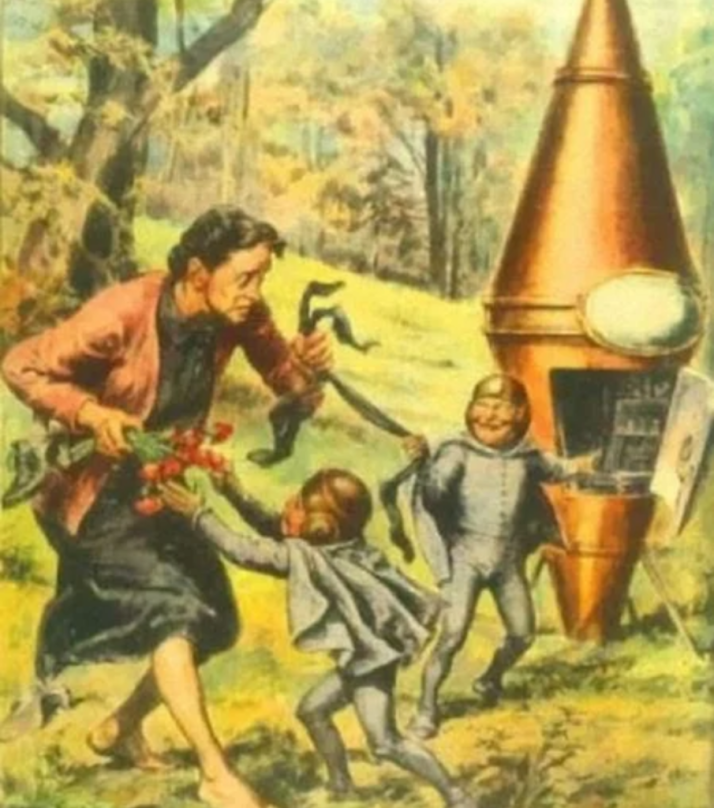 Curiosity overcame him at that moment, making him approach the opening, where he could see two small armchairs facing what looked like a very illuminated board. A kind of broad band surrounded the junction of the cones and above this band were observed several small windows similar to blinking lights similar to "portholes". Suddenly Rosa heard a noise among the branches and in the distance, a few meters away, she saw two little beings appear among the bushes, which caused the woman to be petrified by such an apparition.
They were beings that seemed very smiling, gesticulating, without giving any sign of being a threat to her. In fact it seemed as if they were trying to make themselves understood and wanted to start a conversation with her, they had small and very dark eyes (according to Rosa), they were short (they would not be more than one meter tall), they looked very Similar to humans, their faces were almost perfect, although their trail was rather aged by the wrinkled skin.
The beings wore a bluish-gray one-piece suit with a cape on their backs and over their heads they wore a kind of helmet. They approached her slowly with a funny and friendly face speaking loud and sharp in a strange language. Rosa at that moment remained motionless, so the beings took the opportunity to jump on him and snatch the bouquet and his shoes. At that moment, Rosa proved that despite the size, these beings had great strength.
She tried to recover her belongings, but the one who was closest to her insisted on taking everything she had in her hands. Then Rosa already panicked for fear of being harmed and ran to the trees, hiding as she could in the forest.
When he left, he saw how these creatures stayed in custody and with great curiosity inspected the bouquet of flowers, took some objects that had been left on the ground and then approached the ship, deposited everything inside and then returned to the place and began to search the surroundings are supposed to be looking for Rosa who already died of fear, continued crawling among the grass and thus managed to get away more than 50 m. Once refugee, from that place he observed how those beings, climbed the small ship minutes later and closed the door of the ship. Soon after, with a great sonic vibration and releasing a lot of smoke and flames, that device began to rise and in an instant disappeared into the sky ..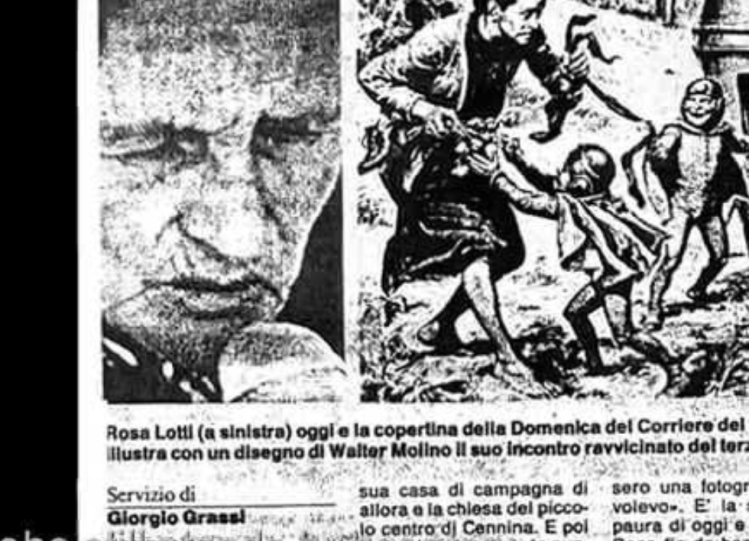 Life on Enceladus? complex organic molecules on Saturn's satellite?
From stories about the inhabitants of the Moon to the costly research programs set up by space agencies, identifying the presence of life on another heavenly body seems to be an endless concern for mankind. As the margins of the known Universe are still moving away from the Earth, the possibility of discovering living beings on another planet is increasing even though we have no certainty, but only hope and probability.
For the moment, we are grateful for these probabilities, awaiting the day that it will undoubtedly confirm that we and our planet do not represent the only life-assembling complex of this huge universe.
But to host life, a heavenly body must give it certain conditions. (Here, it seems that we still need to expand our ideas a little, because we tend to believe that any living thing on another planet must be made up just like the living things on Earth, not necessarily like them, but be the same at the molecular level.
If one of the great scientific discoveries of recent years – bacteria capable of using arsenic instead of phosphorus – is confirmed – that means that our perspective on what is living must change. And then, it is possible that some planets with attributes that today seem inappropriate to become more interesting in the future in the light of our changed concepts.)
But, by the way, all people, at all times, think about the ideas of their time, so let us also thank ourselves to the contemporary ideas regarding what life means and the conditions that a planet must fulfill for that the miracle of life should appear there and perpetuate.
Extraterrestrial life could develop into Enceladus's hidden oceans
The first observations of Saturn's satellite were made in 2005 when hydrothermal jets were detected for the first time. Now, there may be the answer that raises the chances of alien life.
"From where Enceladus has the energy to support the phenomenon has always been a mystery to us,"said astrobiologist Gael Choblet of Nantes University in France.
"I have now considered with greater detail how the structure and composition of the solid core can play a key role in generating the necessary energy,"he added.
It is estimated that the ice thickness is 25 kilometers, but only one kilometer around the southern polar region, where these hydrothermal phenomena occur.
The small pieces of minerals detected in jets suggest that salts and silica dust are formed by the interaction of water that can reach up to 90 degrees Celsius with the rocks of the Enceladus satellite. For this interaction to take place, there must be space in the core for water to coexist, so the core must be porous.
"Whatever the mineralogical composition of the core, it must contain water," Choblet explained, "maybe 20-30% water."
In the new simulations, the team found that the tides generated by the orbit around Saturn can heat the water inside Enceladus due to the frictional force produced as the liquid circulates through rock fragments.
When the water rises in temperature (reaching up to 90 degrees in the orange sections in the image below), it rises through the porous core through the ocean to the surface in the form of jets.
Previous studies state that this heat would have been from radioactive material, but if that was the case, the process would have provided the heat needed to emerge the jets for several million years, so somehow the radioactive material would have appeared recently on Enceladus.
The new theory offers a more plausible explanation, with a phenomenon that takes place over a longer period.
What's most interesting is that the warm water, the long time and the chemical composition found on Enceladus are key elements in the emergence of life.
Thus, this study can be the basis for the search for extraterrestrial life.
Scientists have found evidence of complex organic molecules on Saturn's satellite
Using mass spectrometry data collected by NASA's Cassini probe, scientists have found that large organic carbon molecules are ejected through the cracks on the frozen surface of Enceladus, one of the many natural satellites of the giant gas giant, Saturn.
Researchers at the Southwest Research Institute, who discovered the presence of these molecules, believe that the chemical reactions between the solid core of the satellite and the warm water in the ocean under ice are responsible for these complex compounds, Phys.
"ONCE AGAIN, WE ARE AMAZED BY ENCELADUS. PREVIOUSLY, WE IDENTIFIED ONLY THE SIMPLEST ORGANIC MOLECULES CONTAINING A FEW CARBON ATOMS, BUT EVEN THOSE WERE VERY INTERESTING, "SAID CHRISTOPHER GLEIN, A SCHOLAR AND CO-AUTHOR OF THE WORK RECENTLY PUBLISHED IN NATURE.

"NOW WE HAVE FOUND ORGANIC MOLECULES WITH MASSES OF OVER 200 ATOMIC MASS UNITS. THESE ARE TEN TIMES HEAVIER THAN METHANE. WITH COMPLEX MOLECULES EMANATING FROM THE LIQUID WATER OF THE OCEAN, THIS SATELLITE IS THE ONLY BODY BESIDES THE EARTH THAT SIMULTANEOUSLY MEETS ALL THE NECESSITIES OF LIFE AS WE KNOW IT. "

"EVEN AFTER ITS END, CASSINI CONTINUES TO TEACH US ABOUT ENCELADUS'S POTENTIAL IN ASTROBIOLOGY," GLEIN ADDED.
During the flight, near Enceladus, on October 28, 2015, with the help of the INMS (Neutral Mass Spectrometer) instrument, molecular hydrogen could be detected when the ship passed through a jet.
Previous studies have already shown that the satellite has an ocean under the ice layer and above the solid core. The molecular hydrogen jet is probably formed by the geochemical reactions between water and rocks in hydrothermal environments.
"HYDROGEN PROVIDES A SOURCE OF CHEMICAL ENERGY THAT SUPPORTS MICROBES LIVING IN THE EARTH'S OCEANS NEAR HYDROTHERMAL SPRINGS," SAID HUNTER WAITE, THE SCIENTIST WHO HEADS THE TEAM AT INMS AND CO-AUTHOR OF THE NEW STUDY. "ONCE YOU HAVE IDENTIFIED A POTENTIAL SOURCE OF FOOD FOR MICROBES, THE NEXT QUESTION IS ABOUT THE NATURE OF COMPLEX ORGANIC COMPOUNDS IN THE OCEAN. THIS WORK IS THE FIRST STEP IN THAT UNDERSTANDING OF THE COMPLEXITY OF ORGANIC CHEMISTRY BEYOND OUR EXPECTATIONS. "

"ALSO, THE FINDINGS IN THIS STUDY HAVE IMPORTANT SIGNIFICANCE FOR EXPLORATIONS OF THE NEXT GENERATION," GLEIN ADDED. "A FUTURE SHIP CAN FLY THROUGH THE JET TO ANALYZE THESE COMPLEX ORGANIC MOLECULES USING A HIGH-RESOLUTION MASS SPECTROMETER TO HELP US DETERMINE EXACTLY HOW TO FORM THEM."
Year after year, benefiting from advances in exploration technology, astronomers discover more planets that seem to be "good for life." Let us understand: we do not necessarily speak of "good for us", that is, good to live on, but some that offer similar conditions – identical – to those on Earth, conditions that could allow them to live there beings, adapted to those conditions.
And on Earth there are many places where people do not live, but they live enough life forms, some with a very original metabolism. And some creatures on the Earth can withstand almost unimaginable harsh conditions.
If experts will persuade those who decide the money destination to provide funds for the preparation of such a mission, Enceladus could become the next star on alien life searches.
He deserves it, say "his admirers", because he has a lot to offer – he has qualities that can feed hope much more than the planet Mars, the one that "consumes" currently the funds for the research of the profile.
Well, what can I say? Let's be healthy to take the time when the world explodes the news that the space mission to Enceladus has found signs of biological activity there, undeniable evidence that there is what we have been looking for decades – life-forms living on another heavenly body from our solar system.
References: