Alien artifacts from ancient Egypt found in Jerusalem & kept secret by Rockefeller Museum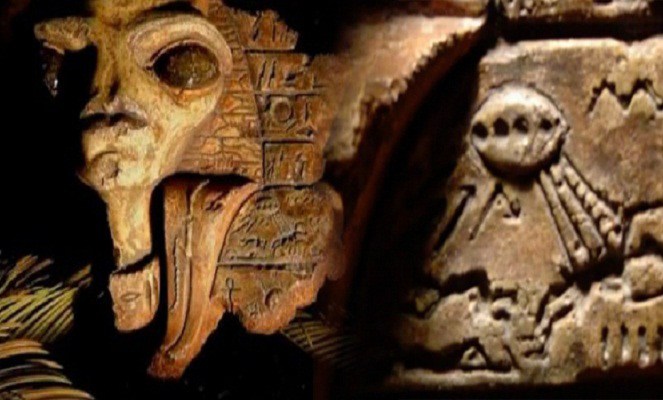 Alien enthusiasts have been left fascinated by reports of ancient Egyptian artifacts that were discovered in the home of famous Egyptologist Sir William Petrie. The artifacts are believed to be the ultimate proof of alien contact and are said to rewrite not only Ancient Egyptian history but the history of the entire planet. Like many other 'controversial objects' these mysterious artifacts were also kept a secret.

So, where do we start?
A YouTube video posted by Paranormal Crucible purports to show alleged ancient Egyptian artifacts and sculptures which were found at the Giza plateau. These items were reportedly taken away from Petrie's home in Jerusalem by 'officials belonging to the Rockefeller Archaeological Museum' after the discovery was made reports popular UFO portal UFO Sightings Daily.
The reports of the alleged artifacts captured the internet as you would expect.

According to Intellihub News, the alleged 'otherworldly' artifacts were discovered in a secret room in the home of Sir William Petrie.
---
---
It is sad that the renowned Egyptologist had found ultimate proof of alien life before he died in 1942, but instead of sharing the discovery, for some reasons he decided to hide the artifacts away in his home.
Now, according to reports, these items have been taken by the Rockefeller Museum and like many other discoveries that contradict mainstream history, these too could be hidden from society.
Interestingly, the Inquisitr decided to dig further and was able to confirm that the prestigious Petri Museum of Egyptian Archaeology has in their possession a grandiose collection of ancient Egyptian and Sudanese items which include ancient Egyptian "firsts," such as the "oldest linen" and "oldest dress" from ancient Egypt (5,000 B.C.).
The Petri Museum also displays some of the earliest examples of Metallurgy in Ancient Egypt.
However, as the Inquisitr indicates they were NOT able to confirm that the museum has displayed 'Alien Artifacts' discovered in Egypt, nor recovered from a secret room in Petrie's residence in Jerusalem.
But this may be because these items contradict history and mainstream beliefs say ufo researchers who believe in the story. Like many other things that go against the beliefs of mainstream scholars, these artifacts too have been locked away from society.
---
As always, sensational stories require sensational evidence.
According to the editor of Intellihub News, the Ancient Egyptian artifacts found in Petrie's residence in Jerusalem directly link the ancient Egyptian civilization to an advanced civilization, not from Earth.
 Among the artifacts –now in possession of the Rockefeller museum— are two alleged mummified bodies of approximately four feet in height. Some have even speculated that these mummified bodies could be the remains of 'alien' visitors.
According to reports from Intellihub News, the physical features of the alleged mummified bodies indicate their possible alien nature. According to the editor of the website, the anomalous skeletons have "stereotypical alien "elongated heads, large eye sockets, and long spiral arms."
But as if the mummified bodies weren't enough, it is said that among the artifacts were "highly advanced" mechanical devices and a golden spherical object with strange writings.
Intellihub News' editor indicates that the high-tech devices have "an intricate mechanism which is surrounded by gold spiral tubing that has several small gold orbs and crosses attached to it."
Is it possible that the alleged artifacts are part of 'interstellar navigational devices'?
Intellihub News points towards Abydos and the temple built by Seti I, and his son Ramses II, where we can observe the so-called Flying machines of Abydos.
There, we are able to 'spot' what seem to be representations of modern day vehicles like Helicopters, submarines, and aircraft.
The only problem is that these inscriptions are believed to be thousands of years old.
Scientists believe these are not aircraft but the result of a psychological phenomenon called pareidolia.
However, there are more mysteries when it comes to Ancient Egypt and Aliens.
But is it just because we would love to find a connection between one of the greatest civilizations to inhabit Earth and alien visitors?
Well, it is a possibility, but there are more interesting details worth looking at.
An Ancient Egyptian text called the Tulli Papyrus mentions a fascinating story during the reign of Thutmose III when an alleged mass UFO sighting occurred over ancient Egypt.
The ancient text reads (translated):
"In the year 22, of the third month of winter, sixth hour of the day […] among the scribes of the House of Life it was found that a strange Fiery Disk was coming in the sky. It had no head. The breath of its mouth emitted a foul odor.

 Its body was one rod in length and one rod in width. It had no voice. It came toward His Majesty's house. Their heart became confused through it, and they fell upon their bellies. They [went] to the king, to report it. His Majesty [ordered that] the scrolls [located] in the House of Life be consulted. His Majesty meditated on all these events which were now going on.

After several days had passed, they became more numerous in the sky than ever. They shined in the sky more than the brightness of the sun, and extended to the limits of the four supports of heaven […] Powerful was the position of the Fiery Disks.

The army of the King looked on, with His Majesty in their midst. It was after the evening meal when the Disks ascended even higher in the sky to the south. Fish and other volatiles rained down from the sky: a marvel never before known since the foundation of the country. And His Majesty caused incense to be brought to appease the heart of Amun-Re, the god of the Two Lands. And it was [ordered] that the event [be recorded for] His Majesty in the Annals of the House of Life [to be remembered] for ever."
Aliens deactivated nuclear weapons to show us how useless they are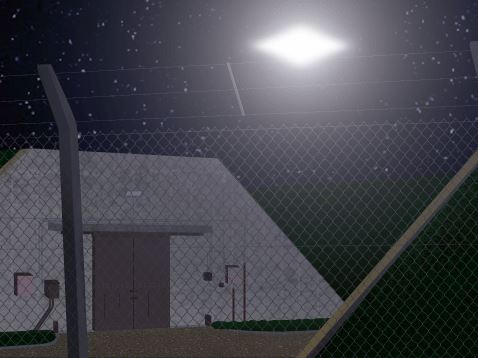 As far back as in 2008, a group of former Air Force officers shared their incredible accounts of UFOs allegedly demonstrating a distinct interest in nuclear weapons sites; since then, lobbyists have urged heightened efforts to force the US government to declassify all it knows about extraterrestrials.
Aliens have been turning our nuclear weapons on and off to demonstrate how "useless" they are against them, claims an activist seeking to end the "government ET truth embargo", reports Daily Star Online.
Stephen Bassett is the founder of Paradigm Research Group (PRG), which has been engaged in a tireless effort to shed light on the "truth" about extraterrestrials and UFOs.
Bassett claims that several witnesses have observed Unidentified Aerial Phenomena, as he calls them, in line with the US Navy's official definition, manipulating our own nuclear weapons with ease and even "turning them off".
However, the expert is quick to downplay any fears that this constitutes a threat to humanity, saying this actually shows us that ETs and Unidentified Aerial Phenomena (UAP) support nuclear disarmament.
They turned off our nuclear weapons repeatedly; does that mean they are bad? The witnesses to the events, and there are many, generally believe that it is not an ominous thing but rather a message.

It wasn't a threat but a message that these things are useless. [As if they're saying] "they certainly are useless against us, all you are going to do is kill yourselves and we can't turn them off at will, why don't you just get rid of them?" That's how the witnesses, by and large the majority, have interpreted this
This is by far not the first time it has been claimed that aliens have been shutting down nukes and showing an interest in military bases.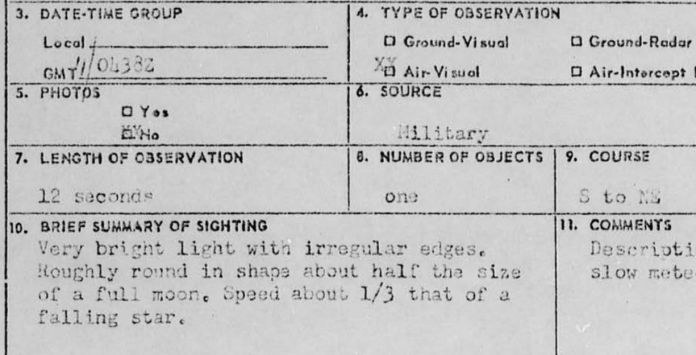 Former US Air Force lieutenant Bob Jacobs was one of a group of former Air Force officers, that also included Robert Salas, who appeared back in 2008 on CNN's Larry King Live to make the claim that UFOs activated missile systems at five Air Force Bases in five different states, but the United States government had reportedly covered up the information.
Bob Salas, a former US Air Force captain, and Bob Jamison, a former US Air Force officer, made the sensational claim that during a missile test, an object "shot a beam of light at the warhead" in what has been called the 1967 Malmstrom AFB UFO incident, when missiles in the middle of Montana were reportedly rendered temporarily inoperable.
Salas said:
The Air Force investigated this secretly, I believe through 1972. I think this thing was not of this Earth. I'm convinced it was not built here, because it was able to send signals to each of our missiles separately. The guidance and control equipment was upset in each one
He was asked, he says, by commanders to sign a non-disclosure document in which he pledged to never talk about the incident.
Bob Jacobs, a former US Air Force photographic instrumentation officer, said a UFO appeared in a film he filmed in 1954 at Vandenberg Air Force Base and was later confiscated by CIA agents.
Stephen Bassett previously told Daily Star Online that NASA is forced by the US government to shut down the ISS live feed when aliens put in an appearance.
Bassett, who has long campaigned for the government to end its alleged embargo on the truth about extraterrestrial life, recently said NASA has essentially its "hands tied" when it comes to revealing the appearance of UFOs.
The executive director of Paradigm Research Group, founded in 1996, Bassett has been working to end what he claims is a government-imposed embargo on the truth behind the so-called "UFO" phenomenon.
Unique UFO landing photos have appeared in Brazil
In 1995, in Brazil, there is a rare incident where a UFO leaves behind not only scared eyewitnesses but also material traces of its presence.
But, just a few days ago, photos of the incident were posted to the public for public access. Previously, only some Brazilian experts and ufologists had seen the photos.
On October 1, 1995, fishermen Fernando Bessera and Wilson da Silva Oliveira were fishing in their boat on the island of Ilha de Mayor, off the coast of Sao Paulo. Suddenly, they saw a large object in the shape of a disk that emitted a bright yellow light over their heads.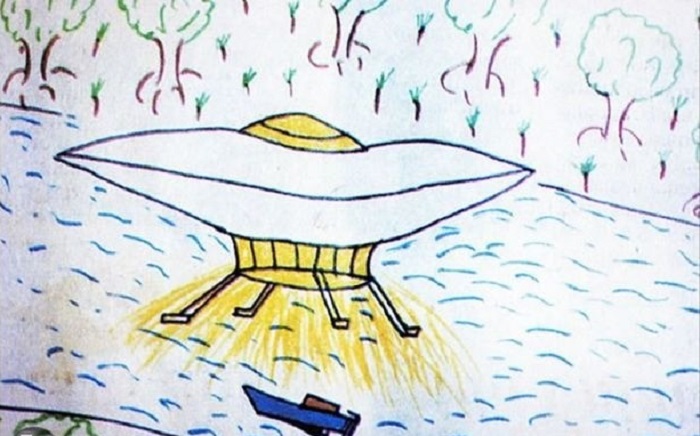 At first, the fishermen took the object for a balloon, but when that disk landed on an island not far from them, they realized that it was something completely different.
The frightened fishermen immediately set sail from the place. They told their loved ones about what they saw. The next day, when the two fishermen with other curious people returned to the place, they saw strange imprints on the mud and grass.
Wilson says:
"I almost died of fear and immediately hid at the bottom of the boat …!"
Fernando shares:
"When the light was over our heads, the object changed direction and flew to the island. Then it landed on it. Then we tried to start the boat's engine. Nothing happened. About ten times we tried, and it wasn't until after that tenth attempt that the engine finally went to work and we set sail from there as quickly as possible. "
That night, both fishermen could not sleep in fear, and in the morning, could not resist not returning to the island and see if this object is still there. The site was gone, but there were many strange traces everywhere.
Including, a 5.5m rounded "track" where all the grass was dried and twisted clockwise.
Traces were found, most likely from the "chariots" of the disc. They are four rectangular concave tracks, each measuring 10 cm by 15 cm, with a depth of 2 cm in the ground.
Apparently, the flying object was small and not too heavy.
These days, this can be attributed to a large drone. However, nothing like this happened in 1995.
A few days later, a sensational UFO landing near Sao Paulo was published in the Brazilian Tribune. Local investigators of anomalous phenomena arrive at the site, take photos, take samples of soil and grass.
Later, they classify this case as a Close Encounter of the second type in the Heinek Classification. They consider the problems with the engine of the boat as a typical effect of electromagnetic UFO radiation on the operation of electronics. Also, severe corrosion of engine parts was detected, and there was none before the accident.
At the same time, the object had some physiological effect on the eyewitnesses themselves, probably using the same radiation. Both fishermen complained of skin and eye irritation for several days after the encounter.
Nothing unusual was found in the soil samples taken from the place of the disk landing. But when plant seeds were planted in it, they germinated very quickly. At the same time, the same seeds planted in soil taken outside the landing zone did not sprout at all during this time.
It is also revealed that this is neither a small aircraft nor a helicopter. Santos Air Force Base stated that at that time, no aircraft were flying in those areas.
Update on the Nazca 3-Finger Mummies Scientific Study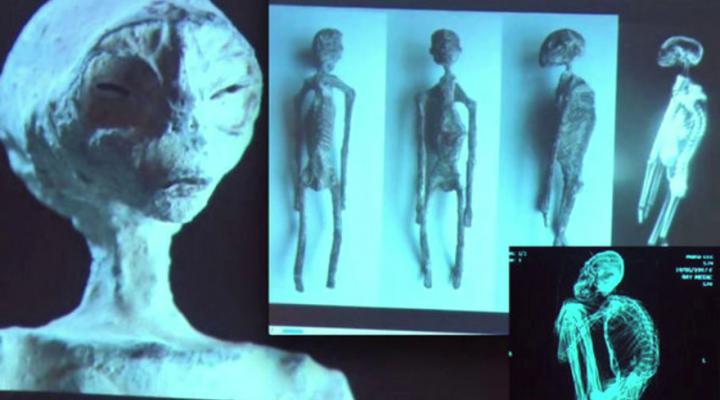 Despite the efforts of government officials, mummies and skeptics around the world, scientists and researchers trying to study Nazca's mysterious three-fingered mummies continue to fight for the world's right to see what these preserved beings are.
On November 6, 2019, four of them made presentations at the VI International Research Congress, organized by the National University San Luis Gonzaga – the university that now owns the three-finger mummies. Fortunately for the uninvited (us, for example), Giorgio Piacenza of ExoNews (Instituto Exopolitica News Service) attended the conference and was able to interview some of the university's presenters, participants and staff.
Biologist José da Cruz Ríos López, who participated in historical and DNA testing on mummies, confirmed to Piacenza that the research follows objective scientific principles and is not involved in any monetary gain. He reiterated that it would be impossible to create these three-finger mummies from human and / or animal parts. See the interview below:
In his interview with Piacenza, the University's vice president of research, Dr. Martin Alarcón Quispe talks about protecting the three-fingered mummies from skeptics, including the Peruvian Ministry of Culture, while still providing access to serious scientific researchers and members of the public. The vice president said the mummies have reptile skin that could help them survive in the desert, and their DNA does not correspond to any known species. However, he wants the process to be scientific, regardless of the final results and determinations. Watch:
Then Dr. Galeckii Dimitri from Russia who also confirmed that his research found that the mummies could not have been assembled and in his mind were not fakes. Although they have some human traits, he doesn't believe they're human. The skin on the mummies is continuous, not pieced together. He found no evidence of alterations, either physical or chemical, to the mummies, and confirmed that not only were egg-like things seen by X-ray inside the bodies, they were surrounded by a membrane.. Video below:
Piacenza spoke with Dr. Robert E. Farrell, an engineering professor and researcher with an interest in UFO / UFO, as well as three-finger mummies. For him, CAT scans prove that they are non-human beings, possibly from another planet. He also explains how carbon dating can determine the age of Maria, the largest of the mummies, even if she came from another planet. Watch:
Finally, Piacenza includes an interview with someone who has been involved with the three-finger mummies since the discovery was announced – investigative reporter Jaime Maussan. He summarizes many of the unusual findings about the mummies and the resistance to this research that could change human history. Watch it below:
If you're looking for definitive proof that these three-finger mummies were once aliens, the interviews won't provide them. However, data continues to accumulate, saying that they're something other than human and not fakes.…
(Source)