Alien Abduction Insurance: Are You at Risk?
If you live in a high UFO area, you may want to consider insurance for abduction, impregnation, and death by aliens.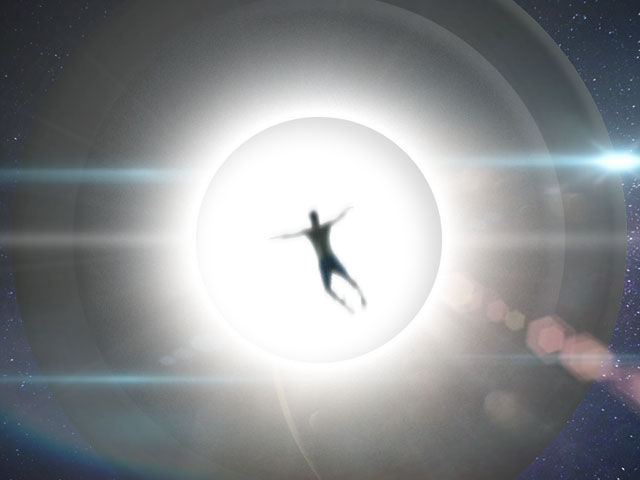 Do you need alien abduction coverage?
Hale-Bopp, the Great Comet of 1997, passed by Earth on March 22 of that year. Concealed in it's tail, according to a religious group known as Heaven's Gate, was a spacecraft waiting to take their souls to another "level of existence" or an "evolutionary kingdom above human."
The group was lead by a man named Marshall Applewhite, or "Do," as his followers called him, who believed his bodily "vehicle" was inhabited by the same alien spirit which belonged to Jesus. All Do and his followers had to do was shed their physical shell and ascend to the comet as it passed.
In October 1996, just months before the 39 members of the "Heaven's Gate Away Team" donned their matching Nike Decades and consumed lethal amounts of phenobarbital with applesauce and vodka to facilitate their transformation, the group reportedly purchased alien abduction insurance from London firm Goodfellow, Rebecca, Ingrams and Pearson Ltd. (GRIP). The policy would pay out $1 million for up to 50 members of the group in the event of abduction, impregnation, or death by aliens.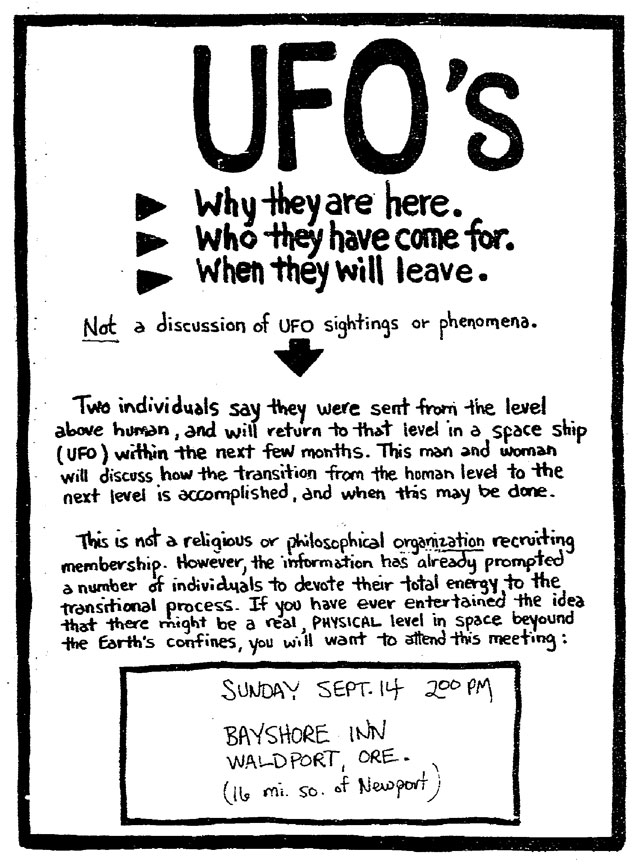 Heaven's Gate recruitment flier
Heaven's Gate was preparing to exit Earth aboard a passing UFO. It was probably a good idea to have some security in place in case that didn't go as planned. But what about the average Earthbound human? Are we at risk?
Apparently so.
On Christmas Eve of 1996, GRIP reported, an Enfield man was "kidnapped" by aliens with triangular heads. That may seem difficult to prove, but the transparent alien claw left behind was enough for GRIP. The company announced they paid their first alien abduction claim.
Suspicions soon began to mount, however, forcing GRIP to admit the claim was little more than a publicity stunt.
But that didn't matter. By 2000 the firm had sold 37,000 alien abduction policies, The Telegraph reported.
"I've never been afraid of parsing the feeble-minded from their cash," managing partner Simon Burgess was quoted in a 1998 SF Gate article.

A member of Heaven's Gate shows off their Away Team patch
Insurance companies will write policies for some odd things, like the vocal cords of a professional singer, the nose of a winemaker, or the penis of a porn star. But what if you're maimed by a ghost? Or unexpectedly become a werewolf? Or, God forbid, you experience a virgin birth? Immaculate conception, it seems, is a big concern among women named Mary.
Don't worry, GRIP has you covered.
"The Royal Falcon Hotel in Lowestoft, England, for example, insured its staff and customers against death and disability caused by ghosts, poltergeists and other abnormal phenomena," a newsletter article from Geico (which does not cover ghosts) stated.

Beam me up, I'm covered.
Florida-based UFO Abduction Insurance Co. was the first to offer alien abduction insurance, covering abductees as early as 1987. Owner Mike St. Lawrence said he first heard about the phenomenon when the book Communion by Whitley Streiber was published.
"I checked my homeowner's policy to find out if I was covered for a risk like this, and I wasn't," St. Lawrence said in a 1999 interview with Tampa Fox news.
So he decided to fill that gap in the insurance market, and you can still get covered today.
For a single lifetime premium of $19.95 you get a $10 million policy providing psychiatric care and sarcasm coverage (limited to immediate family members, who provide at least 70% of the heckling), as well as a double indemnity clause in the event the alien insists on conjugal visits or regards you as a food source.
But what happens in the event you are actually abducted?
A successful claimant (with a properly completed form) would be entitled to $1 per year for 10 million years, paid out annually on April 1st. The form asks questions about the aliens, where they're from, what type of spacecraft they're driving, and a description of the abduction. The signature of an authorized alien who was on board the UFO during the incident is required.
Abductees are limited to one occurrence per policy, however, so if you are a "frequent flyer" you will need to purchase multiple policies.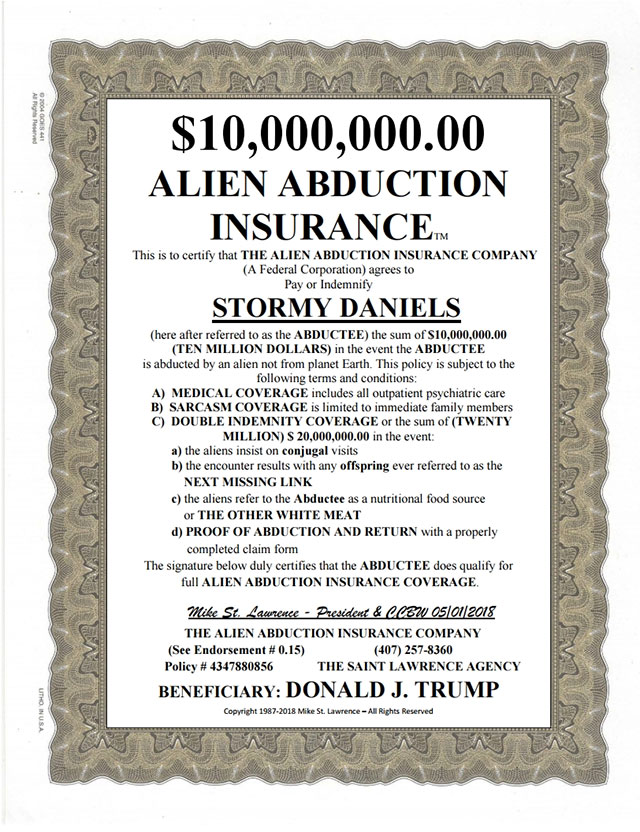 Alien abduction insurance certificate
But what about, say, reincarnation? Yes, you could buy coverage for that, as well.
"While it's still true you can't take it with you," the company notes, "now you can leave it here and come back and get it."
But what if you were to come back as an animal? Or an insect? Don't worry, the $10 million payout doubles "if you return as a lower life form."
How's that for peace of mind?
For every fear, rational or otherwise, it seems there's an insurance policy to exploit it.
"Some academics have concluded that early insurance companies got rich by exploiting fear of 'body snatchers' among the urban poor of Victorian England's disease-ridden cities," The Telegraph wrote. "An explosion in the sale of penny life policies coincided with the 1832 Anatomy Act giving hospitals the right to claim for medical experimentation the bodies of anyone whose family could not afford a proper burial."
The Alien Abduction Insurance Co. isn't out to scam anyone, though. "You can't get what we do," St. Lawrence says about the tongue-in-cheek nature of his company's policies, "unless you get what we do."
The members of Heaven's Gate, having departed for TELAH (The Next Level Above Human) were found dead on March 26, 1997. GRIP suspended sales of alien abduction insurance for fear that they may actually have to pay the claim.
But it didn't last long.
"Greed got the better of us and we resumed them," Burgess said.
GRIP had never paid an alien abduction claim. While it's unclear how many claims they may actually receive, I think it's safe to say no one has ever been able to provide sufficient proof to get their payout.
The strange story of Jodie Lynn Myers: The Corpse Bride
Forrest Fuller nicknamed the "Groom of Doom" named for the grim plan he set in motion after jealously stabbing Jodie LynnMyers to death in 1994.
He Killed His Girlfriend … And Planned to Make Her His Corpse Bride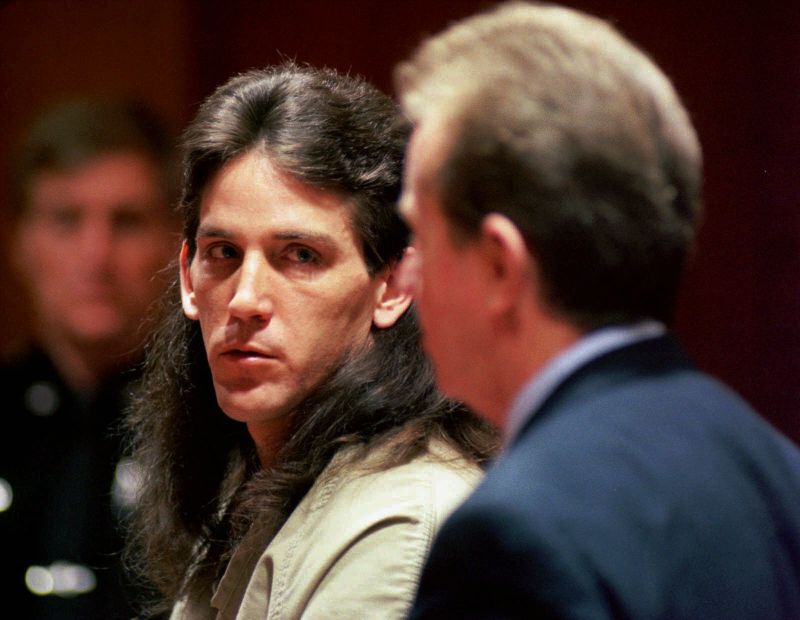 Being a bartender, you get used to hearing strange things. But when the bartender at The Last Stop in Fairmont, West Virginia had a customer tell her that his dead fiancée was in the backseat of his car, she had a feeling she'd probably heard the weirdest thing she ever would. It was Thanksgiving weekend, 1994, and 28-year-old Forrest Fuller had stopped in for a drink.
As word spread through the bar, police were already on their way. They'd been searching the highways ever since a woman named Lilanes Guant, had called local police with her suspicions that her friend, Jodie Lynn Myers, had been killed. The bartender slipped away to call the police to The Last Stop–and so it became Fuller's true last stop.
Police found Myers's body in the backseat of Fuller's 1994 Camaro, and her wedding dress in the trunk. Already disturbed, the police's concern only grew as they questioned Fuller about the death of his fiancée.
Forrest Fuller and Jodie Lynn Myers had had a tumultuous, on-again/off-again relationship. On the night of November 23, 1994, Myers tried to break it off for good. Their relationship had gone on for years with constant up-and-downs, and it was time to leave–she wanted a chance to find love somewhere else. This revelation was too much for Fuller to take. Flying into a jealous rage, he beat Myers. He then attempted to choke her both with his hands and his tie. After that failed, he got a kitchen knife and stabbed the woman to death.
Despite her wish to be free of him, Fuller still wanted Myers to be his wife–dead or alive. He put her body in his car, drove to the convenience store where he worked, and stole nearly $700, Myers's corpse in tow.
On Thanksgiving Day, Fuller secured his dead fiancée in his '94 Chevy Camaro and stuffed her wedding dress into the trunk. He then took off from his Pemberton Township, New Jersey home on a road trip to California where he intended to marry his corpse bride. Fuller only made it as far as West Virginia, where the police stopped his westward journey.
During his macabre wedding adventure, Fuller managed to find a moment to call Jodie Lynn's mother and update her on his plans. He told the woman that he had murdered her daughter and that he still planned to wed the now-deceased Jodie Lynn. Before hanging up, Fuller promised to send Jodie Lynn's mother her own daughter's ring finger, adorned with the wedding ring Fuller would affix before saying "I do."
Word of the murder and Fuller's gruesome plan quickly spread. The tabloids labelled Fuller 'The Groom of Doom', and Jodie Lynn 'The Corpse Bride'. Adding to the shock value of the case, it was revealed after Fuller's arrest that he was already married with a young son. Apparently, his estranged wife had placed a restraining order against him–for reasons that Jodie Lynn didn't find out until it was too late. Fuller's wife attended his trial, along with their 10-year old son.
The sensational case drew headlines in tabloids and major newspapers alike, including The New York Times. In 2016, a Lifetime movie, Nightmare Wedding, sprang up, however the actual storyline appears to be only loosely based on the corpse bride.
Fuller is currently serving a 30-year sentence with no possibility of parole, the result of a 1995 guilty plea. In 2001, he requested a new trial, though that request was later denied.
Featured photo: rawpixel / Unsplash
Read more :The line up
Strange Sounds Recorded Coming from Greenland's Skies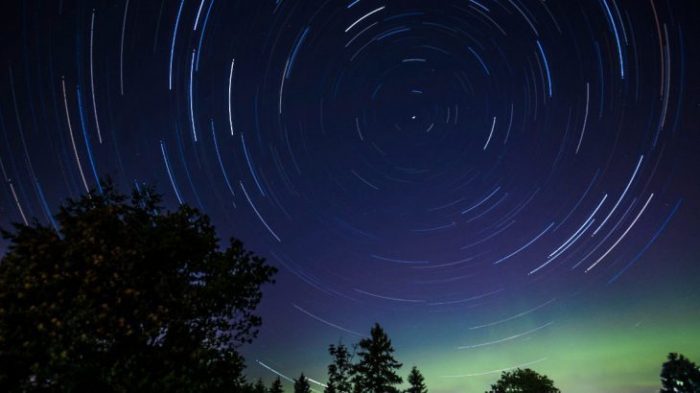 A YouTube user ('Finn Enoksen') shared video clip of strange sounds he recorded that seemed to come from the skies over Greenland on January 4th:
"I hear that strange sound like for 1hour but sometimes it silence for 5 or 10 minute, it little bit hard to heard because that strange sound is not loud."
Creepy Unsolved Murder Mysteries
The boy in the chimney
In 2008, teenager Josh Maddux left the house where he lived with his dad to run an errand. He disappeared, and seven years later, his remains were found in the fetal position, stuffed into the chimney of a nearby historic cabin. His body, devoid of wounds, showed no signs of a struggle. As The Huffington Post reported, "When the teen's skeleton was found, his knees reportedly were above his head and a hand was covering his face."
The strangest details were slowly released to the public in the following weeks. Maddux's had been clothed only in a thermal undershirt, and the rest of his clothes were lying on the floor inside the cabin. Construction workers confirmed that rebar on the chimney's opening meant he would not have been able to climb down, so he must have been trying to climb up.
To make matters worse, an anonymous Reddit post later detailed a rumor that Maddux had been coerced by a friend who went on to become a serial killer.
Hannah Upp's Disappearances
As chronicled in a New Yorker exposé, 23-year-old Pennsylvania resident Hannah Upp has led a life peppered with disappearances. Seemingly without a direct cause, Upp enters a fugue state and disappears off the grid, cutting off communication with her friends and family, and after a while, she's often found near water.
Doctors diagnosed Upp with "a diagnosis of dissociative fugue, a rare condition in which people lose access to their autobiographical memory and personal identity, occasionally adopting a new one, and may abruptly embark on a long journey." She disappeared again last year and her belongings were found near the ocean on St. Thomas — the strangest thing about her case is the fact that her parents seem apathetic, or mystical, even, when asked about their missing daughter by the press.
Kathy Hobbs Predicts Her Own Death
The kidnapping and murder of 16-year-old Kathy Hobbs is so odd that it was featured on an episode of the cult classic series Unsolved Mysteries.
After her death in 1987, Hobbs' parents and friends disclosed that all her life, Hobbs had suffered from "premonitions" that foreshadowed her death at 16. In her teen years, she developed agoraphobia and refused to leave the house, but on her sixteenth birthday she believed the curse had been broken — or, so say her family and friends. Just three months later, she was attacked coming home from buying a paperback novel and murdered with blunt force trauma to the head.
In 1989, a Toledo man named Michael Lee Lockhart was charged and convicted with Hobbs' murder, though Lockhart never confessed. The internet is divided on whether Lockhart actually shot Hobbs, but the real point of contention is the young woman's premonitions. Why was she able to predict a seemingly random act of violence?