Alien Abduction Insurance: Are You at Risk?
If you live in a high UFO area, you may want to consider insurance for abduction, impregnation, and death by aliens.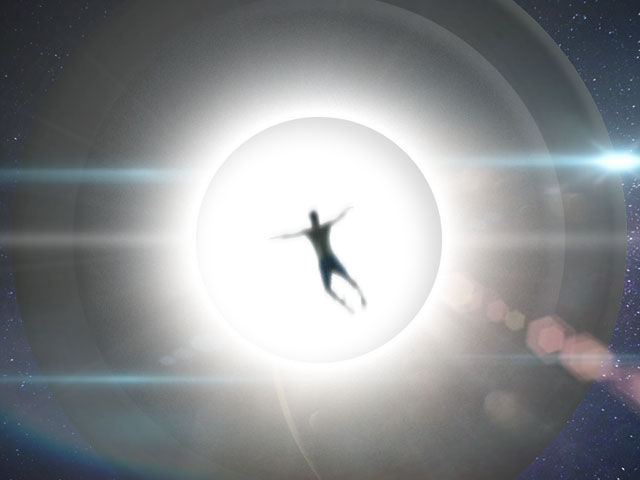 Do you need alien abduction coverage?
Hale-Bopp, the Great Comet of 1997, passed by Earth on March 22 of that year. Concealed in it's tail, according to a religious group known as Heaven's Gate, was a spacecraft waiting to take their souls to another "level of existence" or an "evolutionary kingdom above human."
The group was lead by a man named Marshall Applewhite, or "Do," as his followers called him, who believed his bodily "vehicle" was inhabited by the same alien spirit which belonged to Jesus. All Do and his followers had to do was shed their physical shell and ascend to the comet as it passed.
In October 1996, just months before the 39 members of the "Heaven's Gate Away Team" donned their matching Nike Decades and consumed lethal amounts of phenobarbital with applesauce and vodka to facilitate their transformation, the group reportedly purchased alien abduction insurance from London firm Goodfellow, Rebecca, Ingrams and Pearson Ltd. (GRIP). The policy would pay out $1 million for up to 50 members of the group in the event of abduction, impregnation, or death by aliens.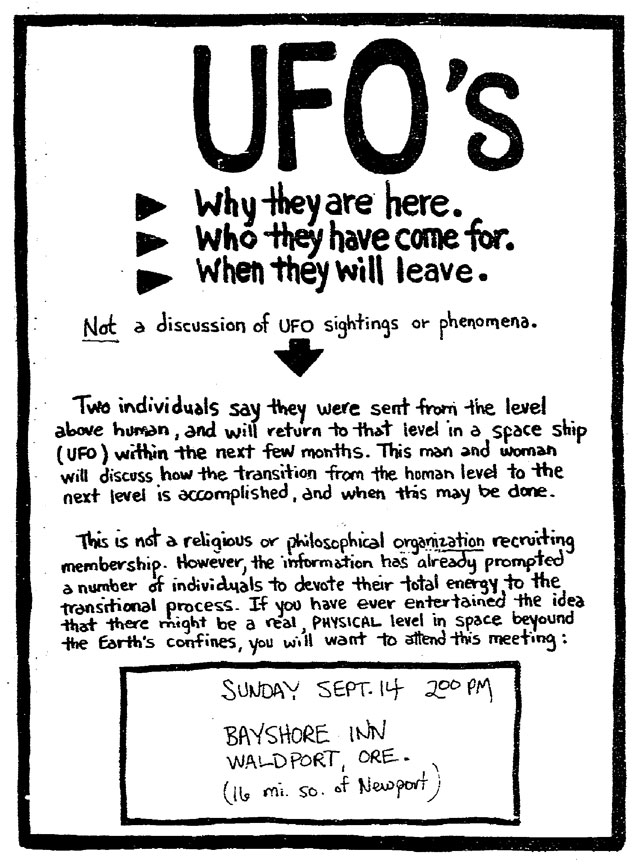 Heaven's Gate recruitment flier
Heaven's Gate was preparing to exit Earth aboard a passing UFO. It was probably a good idea to have some security in place in case that didn't go as planned. But what about the average Earthbound human? Are we at risk?
Apparently so.
On Christmas Eve of 1996, GRIP reported, an Enfield man was "kidnapped" by aliens with triangular heads. That may seem difficult to prove, but the transparent alien claw left behind was enough for GRIP. The company announced they paid their first alien abduction claim.
Suspicions soon began to mount, however, forcing GRIP to admit the claim was little more than a publicity stunt.
But that didn't matter. By 2000 the firm had sold 37,000 alien abduction policies, The Telegraph reported.
"I've never been afraid of parsing the feeble-minded from their cash," managing partner Simon Burgess was quoted in a 1998 SF Gate article.

A member of Heaven's Gate shows off their Away Team patch
Insurance companies will write policies for some odd things, like the vocal cords of a professional singer, the nose of a winemaker, or the penis of a porn star. But what if you're maimed by a ghost? Or unexpectedly become a werewolf? Or, God forbid, you experience a virgin birth? Immaculate conception, it seems, is a big concern among women named Mary.
Don't worry, GRIP has you covered.
"The Royal Falcon Hotel in Lowestoft, England, for example, insured its staff and customers against death and disability caused by ghosts, poltergeists and other abnormal phenomena," a newsletter article from Geico (which does not cover ghosts) stated.

Beam me up, I'm covered.
Florida-based UFO Abduction Insurance Co. was the first to offer alien abduction insurance, covering abductees as early as 1987. Owner Mike St. Lawrence said he first heard about the phenomenon when the book Communion by Whitley Streiber was published.
"I checked my homeowner's policy to find out if I was covered for a risk like this, and I wasn't," St. Lawrence said in a 1999 interview with Tampa Fox news.
So he decided to fill that gap in the insurance market, and you can still get covered today.
For a single lifetime premium of $19.95 you get a $10 million policy providing psychiatric care and sarcasm coverage (limited to immediate family members, who provide at least 70% of the heckling), as well as a double indemnity clause in the event the alien insists on conjugal visits or regards you as a food source.
But what happens in the event you are actually abducted?
A successful claimant (with a properly completed form) would be entitled to $1 per year for 10 million years, paid out annually on April 1st. The form asks questions about the aliens, where they're from, what type of spacecraft they're driving, and a description of the abduction. The signature of an authorized alien who was on board the UFO during the incident is required.
Abductees are limited to one occurrence per policy, however, so if you are a "frequent flyer" you will need to purchase multiple policies.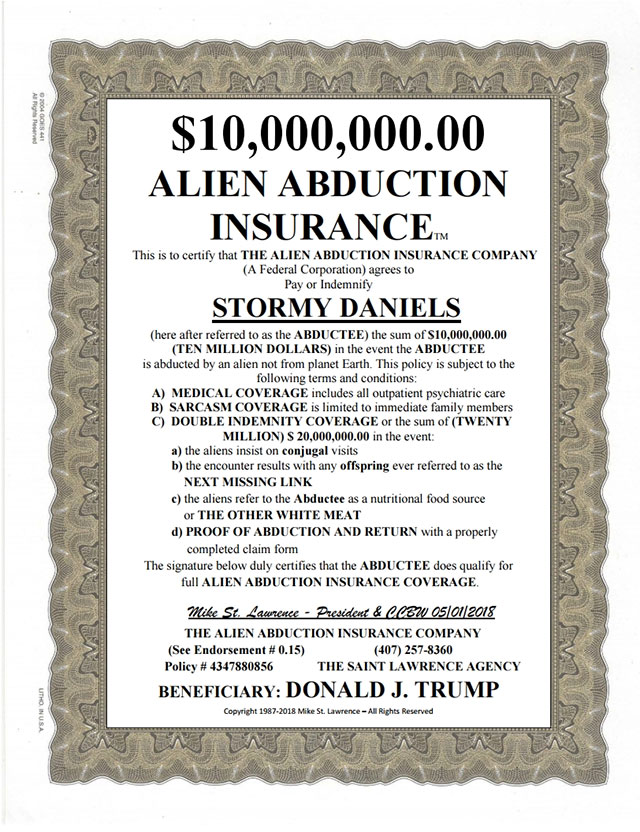 Alien abduction insurance certificate
But what about, say, reincarnation? Yes, you could buy coverage for that, as well.
"While it's still true you can't take it with you," the company notes, "now you can leave it here and come back and get it."
But what if you were to come back as an animal? Or an insect? Don't worry, the $10 million payout doubles "if you return as a lower life form."
How's that for peace of mind?
For every fear, rational or otherwise, it seems there's an insurance policy to exploit it.
"Some academics have concluded that early insurance companies got rich by exploiting fear of 'body snatchers' among the urban poor of Victorian England's disease-ridden cities," The Telegraph wrote. "An explosion in the sale of penny life policies coincided with the 1832 Anatomy Act giving hospitals the right to claim for medical experimentation the bodies of anyone whose family could not afford a proper burial."
The Alien Abduction Insurance Co. isn't out to scam anyone, though. "You can't get what we do," St. Lawrence says about the tongue-in-cheek nature of his company's policies, "unless you get what we do."
The members of Heaven's Gate, having departed for TELAH (The Next Level Above Human) were found dead on March 26, 1997. GRIP suspended sales of alien abduction insurance for fear that they may actually have to pay the claim.
But it didn't last long.
"Greed got the better of us and we resumed them," Burgess said.
GRIP had never paid an alien abduction claim. While it's unclear how many claims they may actually receive, I think it's safe to say no one has ever been able to provide sufficient proof to get their payout.
We've been deceived for 40 years. NASA scientist told how they found life on Mars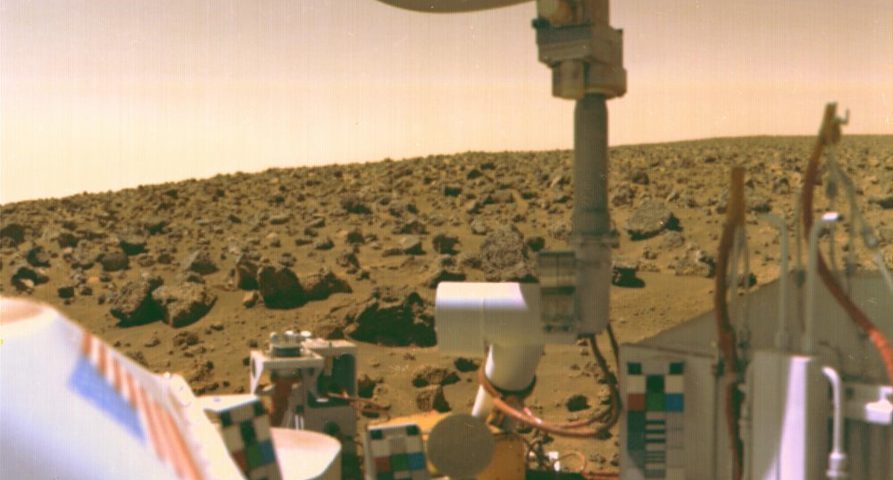 His name is Gilbert Levin, now 69. And when he was 26, he was the main explorer of the Martian surface, at least in the USA.
Gilbert Levin was not initially interested in any planets other than his own. He received his degree in environmental engineering, worked in the Department of Health and was involved in air pollution control.
Once, he invented a unique method to check water, food, and in general everything for the presence of harmful microbes – a radioisotope method: you need to put some radioactive compounds in the tested environment and see what happens. If the desired bacteria are present, then they will eat these compounds and emit radioactive gas, which will certainly be fixed.
This know-how turned out to be cosmic. The fact is that it allows you to search not only for certain pathogenic microbes, but also for microbes in general. NASA was very interested and invited the young scientist to their place. They said that there is an idea to check for sterility on Mars.
Later on, the talented engineer prepared the famous "Vikings" for solving the problem of the century. The first device – Viking 1 – landed on the Red Planet on July 20, 1976. Viking 2 followed on September 3 of the same year.
They were in different places: one on the plain of Chris, this is the western hemisphere, and the second – already on the plain of Utopia, much to the right and to the north.
Both conducted an experiment by Dr. Levin: they put on the Martian soil, so to speak, food for potential bacteria – organic matter labeled with the natural radioactive isotope carbon-14. That is, if there is someone there, he will definitely swallow the bait and metabolism will begin.
The first Viking slipped "food" into a sunlit place, the second – in the shade, under a stone. Such manipulations were carried out several times. The results were…positive, in both places. Four of the first six tests showed that the metabolism has gone.
But the sensation did not last. A week later (and its very interesting): both one and the other "Viking" again cast the same rod – and nothing. Therefore, the scientific community shrugged their shoulders and said: well, this was probably some kind of chemical process, not biological, in two different places. The project was closed and decided not to return to it
Twenty years pass. By that time, Mars Pathfinder had visited Mars, and it showed that the climate on the Red Planet was once much better, warmer and more humid. Meanwhile, on earth, they found "black smokers" – hydrothermal springs around craters, in which microorganisms feel great in completely unthinkable conditions. 
Levin, in collaboration with another researcher – Barry Digregorio – publishes the book "Mars: the Living Planet". Scientists insist that all possible chemical options are actually not so convincing.  The world again greeted it with disbelief.
A few years later, Opportunity arrives on Mars and sends, for example, this picture. Please note – this is still not some paranormal site with fake stories, this is the official Mars Exploration rovers site with the NASA logo, and nasa.gov appears in the address bar. 
2004 year. Sol 182. This means the 182nd day of the rover's work on the surface.
A similar apparatus was captured in another "sol". The media compared these balls to mushrooms with raincoats, but NASA preferred berries, namely blueberries, only for a memorable association, because in fact, as they say in the space agency, this crop consists of a mineral called hematite, a type of iron ore.
These loose balls, rich in hematite, about the size of an airgun bullet, are embedded in the Martian rock like blueberries in a muffin and are eroded over time.
Well, okay, what about this for example? This is already Curiosity and 2016. Is this also some kind of hematite? Or did the rover have a screw unscrewed?
It is also worth recalling , perhaps, about the Martian blotches, very similar to terrestrial stromatolites – these are the kind of structures that cyanobacteria build.
In short, we have: positive results of a widely used microbiological test, confirmation by the results of control studies, coincidence of results in two Viking landing sites, failure to find a non-biological explanation

Gilbert Levin, Principal Investigator of the Viking Program
More than forty years have passed since the time of the Vikings. Life on Earth goes on as usual – ordinary people look at mushrooms and screws with curiosity, if not with horror, well-informed skeptics do their job. They swear. Refute. Just not less, the well-informed Gilbert Levin throws a very simple challenge: prove that there is no life on Mars.
A mysterious metal monolith found in the Utah desert canyon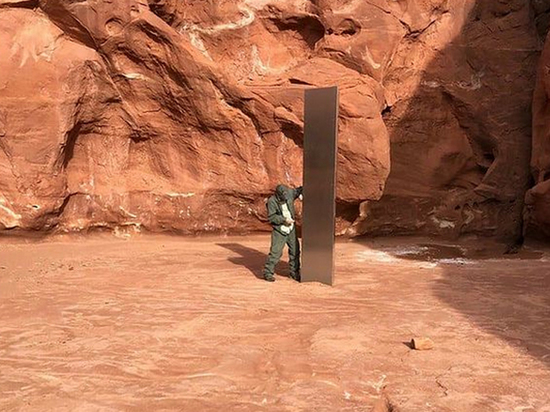 A mysterious metal monolith was discovered from a helicopter in a remote part of the US state of Utah. It has not yet been possible to unravel the secret of the origin of the mysterious artifact. A helicopter pilot and his passengers discovered a strange monolith in remote Utah among the red rocks while counting from above the bighorn sheep, according to The Guardian.
The structure, about 3 meters high, seemed to be stuck in the ground. It was made of some kind of metal, the radiance of which was in stark contrast to the huge red rocks surrounding it.
"It was the strangest thing I encountered there in all my years of flying."

Bret Hutchings, hELICOPTER PILOT
The Utah Highway Patrol has posted photos of the rams and the monolith on the Internet.
Helicopter pilot Bret Hutchings told local news channel KSLTV, "It was the strangest thing I encountered there in all my years flying."
Hutchings flew on behalf of the Utah Public Safety Department, which assisted wildlife officials in counting bighorn sheep in the southern state.
"One of the biologists noticed this when we accidentally flew over it," Hutchings says. – He's like, "Hey, stop, stop, turn, turn!" And I thought, "What?" And he was like: "There is this thing – we have to go see it!"
According to the pilot, the silvery object appears to have been artificially created and seemed to be dug into the ground rather than falling from the sky.
"I'm guessing this is some new wave artist or something, or, you know, someone who was a huge fan of 2001 Space Odyssey," the helicopter pilot said, questioning the object's alien origins.
The monolith and the entire surroundings are reminiscent of the famous scene from the 1968 Stanley Kubrick film in which a group of monkeys collide with a giant slab.
The demeanor of two crew members, dressed in jumpsuits resembling sci-fi suits, who were forced to climb each other's shoulders in an obvious attempt to peer over the rectangular cuboid, only reinforced the impression.
"We kind of made fun of that if one of us suddenly disappeared, the others would try to run away," Hutchings says.
According to The Guardian, the bighorn sheep lives in some of Utah's harshest and most remote areas and survives in adverse climates. Fearing that amateur researchers would disappear into the wild while searching for the monolith, the flight crew did not reveal its exact location.
Some observers have likened the monolith to the plank sculptures of artist John McCracken, who lived in New Mexico and New York before his death in 2011. And the artist Liam Sharp expressed people's admiration for the discovery of no more than 270 symbols, placing the words on the portal: "I like it. I imagine that this is a work of art, but what if it is not? "
Meanwhile, the Utah Department of Public Safety is businesslike and reminds that it is illegal to install structures or art without permission in public areas, "no matter what planet you are from".
Tattoo and body transformation fan wants to carve the number 666 on his head
A big fan of body transformation, whose tattoos are stuffed from head to toe, decided to go further and carve a rather large number six on his skull.
Victor Hugo Peralta Rodriguez, 50, asked his friend to cut a piece of skin on his head to leave permanent scars, and he plans to continue and add the missing numbers next to it, eventually form the legendary "number of the beast" – 666.
Victor, who is from Uruguay, is covered with hundreds of tattoos that have been stuffed on his body by a master from more than 80 countries.
Even his eyeballs and genitals are filled with ink.
He also has piercings and other modifications like star-shaped implants in his forehead.
Now the circus artist underwent another transformation – "scarification", which consisted of removing a piece of tissue to create engraving on the skin.
He carved a number on his body in the Gothic style, it is the first of three, but in general he wants to form the number 666 on his head.
This number in the book "The Revelation of John the Theologian" is called "the number of the beast" and is usually associated with the antichrist or the devil.
Victor, now living in Argentina, insists that this has absolutely no religious significance for him, he just likes to troll the faithful.
"Just the number six doesn't matter to me," he says. – I do three sixes because I hate religious people, in general what they do does not interest me – I do it because I reject the church."This was done by a colleague and friend of mine here in Buenos Aires at my local Querubin Tattoo studio." "It took about an hour of work to create one of the sixes, and due to the schedule it could not be completed in one session." "There will be a second and final session shortly to complete the work."
Victor said that this operation was performed under local anesthesia, but he still felt some pain during the removal of tissues.
"I've already had seven scars and it is likely there will be others."
Victor has been tattooing for 26 years and is also involved in a circus where he hangs from metal hooks that pierce his skin.
"I was attracted to colorful art from a very young age," he explained his love for ink. – At the age of 13 I got my first tattoo, it was the word "fu .." on the fingers of my left hand, I made it myself. " "Since then, I have never stopped getting tattoos, and today, at 50, I have 95% of my body tattooed, including my tongue and genitals."
Victor also has a number of other body modifications, including 11 subcutaneous implants, metal teeth, a cut and tattooed tongue, various scarring and ear tunnels.
Once he even pierced his scrotum, but now he only wears piercings in his nose, ears and nipples.
"I don't have a lot of piercings right now," he says. "A long time ago I had about 40 on my face, but my favorite was the septum."
The man also admitted that his most painful tattoo was a tattoo on the end of his penis, but even that cannot be compared with the agony of staining his tongue.
"It was very annoying and painful, it was even difficult to breathe for several hours," he recalls.
As for what his family and friends think about all this, Victor said:
"They are used to seeing me like that. They have seen my transformation and are encouraging it. ""There are many people who disagree with this way of life and criticize me for not understanding the tastes of others.""But I don't pay attention to them. I am unique, I do not want to be like anyone, these are my ideas and projects carried out by friends. ""Today I am a beautiful monster."
What do you think of such a bold body transformation? Let us know your thoughts on this in the comments below!
Source: The Sun