Alien Abduction: Hoax or Reality?
The terms alien abduction or abduction phenomenon describe "subjectively real memories of being taken secretly against one's will by apparently nonhuman entities and subjected to complex physical and psychological procedures". People claiming to have been abducted are usually called "abductees" or "experiencers". Typical claims involve being subjected to a forced medical examination that emphasizes their reproductive system. Abductees sometimes claim to have been warned against environmental abuse and the dangers of nuclear weapons. While many of these claimed encounters are described as terrifying, some have been viewed as pleasurable or transformative.
Due to a lack of any substantial physical evidence, most scientists and mental health professionals dismiss the phenomenonas "deception, suggestibility (fantasy-proneness, hypnotizability, false-memory syndrome), personality, sleep phenomena, psychopathology, psychodynamics [and] environmental factors". Skeptic Robert Sheaffer also sees similarity between the aliens depicted in early science fiction films, in particular, Invaders From Mars, and those reported to have actually abducted people.The first alien abduction claim to be widely publicized was the Betty and Barney Hill abduction in 1961. Reports of the abduction phenomenon have been made around the world, but are most common in English speaking countries, especially the United States. The contents of the abduction narrative often seem to vary with the home culture of the alleged abductee.

Alien abductions have been the subject of conspiracy theories and science fiction storylines (notably The X-Files) that have speculated on stealth technology required if the phenomenon were real, the motivations for secrecy, and that alien implants could be a possible form of physical evidence.
Mainstream scientists reject claims that the phenomenon literally occurs as reported. However, there is little doubt that many apparently stable persons who report alien abductions believe their experiences were real.[8] As reported in the Harvard University Gazette in 1992, Dr. John Edward Mack investigated over 800 claimed abductees and "spent countless therapeutic hours with these individuals only to find that what struck him was the 'ordinariness' of the population, including a restaurant owner, several secretaries, a prison guard, college students, a university administrator, and several homemakers … 'The majority of abductees do not appear to be deluded, confabulating, lying, self-dramatizing, or suffering from a clear mental illness,' he maintained." "While psychopathology is indicated in some isolated alien abduction cases," Stanley Krippner et al. confirmed, "assessment by both clinical examination and standardized tests has shown that, as a group, abduction experients are not different from the general population in term of psychopathology prevalence." Other experts who have argued that abductees' mental health is no better or worse than average include psychologists John Wilson and Rima Laibow, and psychotherapist David Gotlib. Some abduction reports are quite detailed. An entire subculture has developed around the subject, with support groups and a detailed mythos explaining the reasons for abductions: The various aliens (Greys, Reptilians, "Nordics" and so on) are said to have specific roles, origins, and motivations. Abduction claimants do not always attempt to explain the phenomenon, but some take independent research interest in it themselves and explain the lack of greater awareness of alien abduction as the result of either extraterrestrial or governmental interest in cover-up.
[…]
Although different cases vary in detail (sometimes significantly), some UFO researchers, such as folklorist Thomas E. Bullard argue that there is a broad, fairly consistent sequence and description of events that make up the typical "close encounter of the fourth kind" (a popular but unofficial designation building on Dr. J. Allen Hynek's classifying terminology). Though the features outlined below are often reported, there is some disagreement as to exactly how often they actually occur. Bullard argues most abduction accounts feature the following events. They generally follow the sequence noted below, though not all abductions feature all the events:
Capture. The abductee is forcibly taken from terrestrial surroundings to an apparent alien space craft.
Examination and Procedures. Invasive physiological and psychological procedures, and on occasion simulated behavioral situations, training & testing, or sexual liaisons.
Conference. The abductors communicate with the abductee or direct them to interact with specific individuals for some purpose.
Tour. The abductees are given a tour of their captors' vessel, though this is disputed by some researchers who consider this definition a confabulation of intent when just apparently being taken around to multiple places inside the ship.
Loss of Time. Abductees often rapidly forget the majority of their experience, either as a result of fear, medical intervention, or both.
Return. The abductees are returned to earth, occasionally in a different location from where they were allegedly taken or with new injuries or disheveled clothing.
Theophany. Coinciding with their immediate return, abductee may have a profound sense of love, a high, or "mystical experience", accompanied by a feeling of oneness with God, the universe, or their abductors. Whether this is the result of a metaphysical change, Stockholm Syndrome, or prior medical tampering is often not scrutinized by the abductees at the time.
Aftermath. The abductee must cope with the psychological, physical, and social effects of the experience.
When describing the "abduction scenario", David M. Jacobs says:
The entire abduction event is precisely orchestrated. All the procedures are predetermined. There is no standing around and deciding what to do next. The beings are task-oriented and there is no indication whatsoever that we have been able to find of any aspect of their lives outside of performing the abduction procedures.
Source: Wikipedia
Alien Abduction: The McPherson Tape (1998)
A simple investigation into a power blackout leads the McPherson family to witness and capture footage of actual Aliens. When the creatures pursue the McPherson's back to their home, all hell breaks loose.
I don't know if you know about this tape, it's old story with much obscurity, some say it's true some say it's fake, there's even this guy called Dean Alioto that said he made original tape and later made remake. I was thinking about this story for a while and didn't know where to put it. Maybe it's only acting , maybe it's not but something smells here!
Here is the later remake:
https://www.youtube.com/watch?v=mUgRCPKP1jg
You can see that this video is something like Blair witch project!
This is what Wikipedia says about it:
The McPherson Tape is a docudrama originally directed by Dean Alioto, and later re-made with a larger budget into Alien Abduction: Incident in Lake County. Both videos claim to be the final recordings and last-known whereabouts of a family just before they are abducted by aliens. However, the "McPherson scandal" later revealed that actors had been paid and that the films were a complete fabrication.

Dean Alioto has since contributed an explanation for the two recordings.
Now this is what he said:
Quote
Here is the whole unedited strange story of how my 1989 $6,500 video entitled UFO Abduction became the UPN special, Alien Abduction: Incident In Lake County.
In 1988 I was headed for my 25th birthday and I had not yet made my first feature film — this 25th year mark is crucial for most filmmakers as it was the age that, Orson Wells, Coppola, Scorsese, Spielberg all had made their first films by. Unlike them, I had a budget that equaled the size of craft service for a day on a studio feature film. One night after reading the latest books on the UFO phenomenon (Communion, Missing Time, and the books of Jacques Vale), I came up with the idea of making the most realistic movie on UFO abduction ever made. The best part of the idea was that it could be done for my miniscule budget. I wrote an outline of twenty action beats based on the claimed abduction experience. I hired a group of skilled improve actors, except for myself who played the 16 year old shooting the video, and shot the direct-to-video movie in one night, in one continuous take, on 8mm video. The guy who created the UFO craft and aliens has since gone on to be the production designer for the recent live-action Scooby-Doo films — Bill Boes.

Here's where things get "strange". The video actually got distributed. However, a few months later the distribution company burned to the ground. I lost my 1 inch master tape and all of my artwork, leaving me with my original tapes and a 3/4 inch copy. I figured, "Oh, well — time to move on" and forgot about my first attempt at a feature film. Five years later, 1994, I begin getting calls from Unsolved Mysteries, Hard Copy, and a show called Encounters. They all want to know if I knew who had found some mysterious UFO tape that had been passed around the UFO community for the past five years. The tape, without a title or credits, was believed by many people to be real footage of an alien abduction.

When I finally stopped laughing and told them no one had found the tape, that I had made it and own the rights, they told me what my little video had been up to. Apparently, someone — much more crafty than myself — had made an edited bootleg copy of my video and injected it into the UFO community, hyping it all the way to the 1993 International UFO Congress Convention where it brought the house down. A Lieutenant Colonel with 40 years military intelligence, who was on the panel at the convention, determined right there that the tape was real! When I tried to ascertain how all this happened no one was able to find "patient zero" — the person who bootlegged the tape. I was aware that a few sample copies were made in 1989 by the distributor, before the company was burned, and that these copies were sent out to a few mom and pop video stores around the country. That's was it.

After I was interviewed on Encounters (by the same guy that would go on to produce Alien Autopsy), and the local news, Mr. American Bandstand, Dick Clark, would enter into this strange story. In 1995 I got hired to direct on a crime reenactment series called US Customs: Classified. There, I became friends with Paul Chitlik, the head writer. Paul had heard me mention the tape once and insisted I let him see the video. After I finally got around to showing it to him (I delayed giving it to him because, at the time, I was a little too embarrassed to show him something that wasn't as slick as my current directing samples), he told me he could get us a made-for-TV movie deal with the video. I laughed at him and flippantly said "Yeah, okay, Paul. I want a story by credit, you can write the teleplay, I'll direct it, and we can produce it together." He said okay and a week later we had a deal at Dick Clark to remake my little first feature. A year and a half later of turn-around nightmares at Showtime we ended up at UPN.

This time around I had a $1.2 million dollar budget and the guys from The X-Files were creating our space ship and aliens. Like in my original, we used little kids to play the aliens. We shot the remake in Vancouver in a week — the first ever made-for-TV movie shot in 5 days. We did twenty minute takes and floated three weather balloons with lights in them above the house set so I could shoot 360 degrees without seeing a light. I directed the whole movie from a small remote camera monitor in a room in the back of the house. I gave camera directions to the cameraman and the actors followed preset precise blocking movements, like a play. I have to admit it was a blast. We came in $300,000 under budget and left feeling like we had created the most original alien story since Orson Well's version of H.G. Welles' War Of The Worlds. Then the you-know-what hit the fan.

While we were up in Canada making our movie, Paramount replaced all of the big execs at UPN. This sucks especially hard if you're a creator of a show that the new execs didn't green light. It is the ritual of all new execs to piss on the tree they didn't plant. I heard from the head of TV movies guy that the first big exec screening of Alien Abduction (which still had the imaginative title of The McPherson Tapes) was the worst screening of his career. The big boys were actually throwing food at the screen! A decision was reached by Dick Clark productions and UPN to dump Paul and I and bring in someone else to cut the movie down to one-hour and add several new interviews, one of them was poor Stanton Friedman. They ended up having to pay myself and Paul union damages for cutting us out. However, the worst thing they did was to remove the commercial bumper tags which were to read, "The program you are watching is fictional", like the ones used on the CBS movie Special Bulletin. This caused much outrage in the UFO community and even incited a nation wide boycott of UPN.

The last laugh would be enjoyed by myself however. The show aired and became the highest rated show ever for UPN's Tuesday primetime slot. Their website, which normally receives 10,000 hits a day, got 300,000 hits during the hour that the show aired. It was a hit! When they put back more of my abduction footage for the second showing they pulled in more great numbers and ended up with 1.3 million website hits! Another satisfying note is that my two-hour TV movie version was the one that was distributed in Europe. It has amassed quite a following and I still, five years later, get occasional e-mails from places like Denmark, asking about the movie. The original UFO Abduction has gone on to air on a Japanese Unsolved Mysteries type show and won them the best primetime network ratings for the week, even beating out ER.
http://www.badmovieplanet.com/3btheater/a/alienabductionII.html
What is interesting that if they were actors they preformed it better then some high paid actors(and he had budget of 6000$ for the original tape, with lower budget better actors, I don't think so) and you can see that in remake that these guys are real actors and here are their names:
http://www.imdb.com/title/tt0142074/
What is interesting is why thee aren't names of of actors in original tape, and he said they used children to act greys, and these children must have been one great actors if they could act greys in such a way, and from where he could get so many good kid actors, 4-5 kids(3 plus 1 grey and little girl)?What is suspicious to me is also his story that distribution company burned down, what is a possibility that something like that happens? Maybe tape is real and his story and remake is cover up( C's said people would explode if they found out the truth, and people are left confused with these story and that is exactly what would PTB want if the story is true) and maybe he is telling the truth, but really i don't know! I would like to hear your opinions!
Note: The above section is from the Cassiopaea Forum >>
The cast of Ghost Hunters to host panel at AlienCon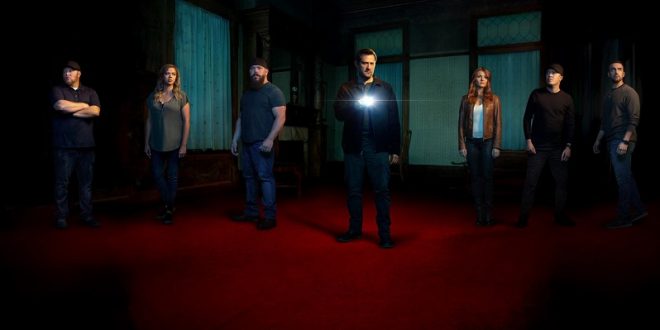 AlienCon the world's first convention dedicated to seeking the truth about extraterrestrial existence and solving the mysteries of the universe, has announced new program details for the October 4-6 event in Dallas, Texas. A+E Networks previously announced celebrity guests at AlienCon Dallas will include HISTORY's "Ancient Aliens" contributors Giorgio A. Tsoukalos, David Childress, Nick Pope, Caroline Cory, Jason Martell, John Brandenburg, Travis Taylor, and Jonathan Young.
The entire cast of A&E's "Ghost Hunters," one of the most successful paranormal series of all time, joins AlienCon Dallas for a panel discussion, Inside the World of A&E's "Ghost Hunters," on Saturday, October 5 at 2:20pm.
Have you ever wondered what it takes to investigate the paranormal? Hear from paranormal expert Grant Wilson and his new team of investigators. For the first time ever, this team of seven paranormal investigators – Wilson, Daryl Marston, Kristen Luman, Brandon Alvis, Mustafa Gatollari, Brian Murray and Richel Stratton – are sharing their approach to investigations, the cutting-edge technology they use, and how they research and prepare to go into a hunt.
Panel:  Inside the World of A&E's "Ghost Hunters"
Saturday, 10/5 at 2:20PM 
Grant Wilson, team leader/executive producer, and panel moderator
Daryl Marston, co-lead investigator
Kristen Luman, co-lead investigator
Mustafa Gatollari, site analyst/researcher/paranormal investigator
Brandon Alvis, tech manager/paranormal investigator
Richel Stratton, paranormal investigator
Brian Murray, paranormal investigator
There will also be two panel discussions regarding the Skinwalker Ranch
Panel: The Secret of Skinwalker Ranch
Friday 10/4 at 1:40PM
Panel: The Future of Skinwalker Ranch
Saturday, 10/5 at 11:00AM
Fans can learn more about ticket packages, special celebrity guests, and up-to-the-minute AlienCon Dallas programming information by visiting TheAlienCon.com.

AlienCon, owned by A+E Networks® in partnership with Prometheus Entertainment and produced by Mischief Management, LLC, is a three-day fan event inspired by HISTORY®'s hit series, Ancient Aliens®. AlienCon offers the opportunity for like-minded people to come together to challenge existing beliefs and seek disclosure of all kinds in an environment that inspires discovery and discussion.  The event will feature over 150 hours of original programming, sneak peeks and exclusive panels. Attendees can meet and mingle with their favorite celebrity guests.
More information can be found on the AlienCon website: TheAlienCon
A Taos Close Encounter of the Hunters and Aliens Kind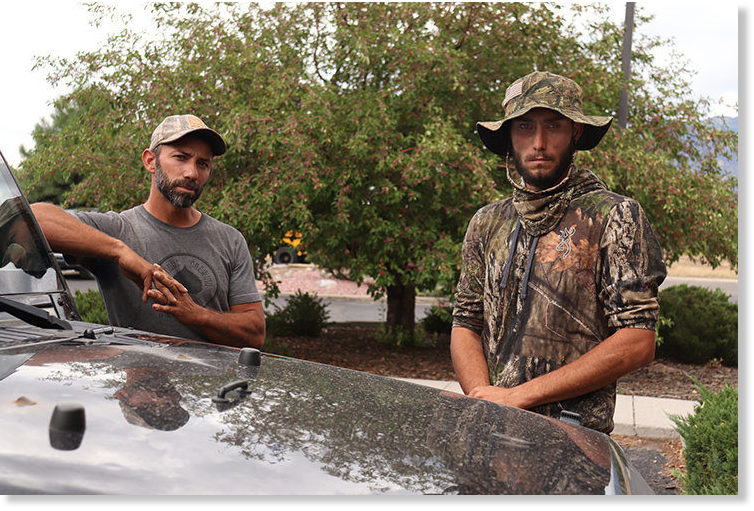 © Jesse Moya/Taos News
Staci Matlock
Taos News
From left, Josh Brinkley and Daniel Lucero were out bow hunting for elk near Cerro de la Olla Monday (Sept. 2) northwest of Taos when they had a strange encounter with a gigantic white structure that then disappeared. A day earlier, Brinkley saw what he thought were two hunters, but later described as oddly clothed "very tall figures with oversized heads." The two men are still trying to figure out what they saw.
Bow hunters Josh Brinkley and Daniel Lucero, dressed in camouflage gear, looked a little uncomfortable sitting in chairs at a local newspaper.
The Santa Fe County residents had just come into Taos after several days in rugged terrain near Cerro de la Olla, also called Pot Mountain, northwest of town near Ute Mountain.
They had a strange tale to tell and they weren't sure of their reception.
"We're a couple of guys that don't believe in much, but we believe now," Brinkley said.
They went hunting for elk.
They encountered aliens or something else so strange they don't know what to call it.
Brinkley, 41, said he's been going to the Pot Mountain area hunting for 15 years. He had never seen anything particularly odd.
He said he works construction and on movie sets. He's a family guy who doesn't want anyone to think he's crazy.
He and Lucero have worked together for eight years.
They say they aren't prone to seeing things and didn't particularly believe in aliens.
Odd Figures
Opening morning of bow hunting season was Sunday (Sept. 1). The two men had gone a couple of days early to scout the area for elk. Lucero, 26, had never been there.
They set up along the tree line on different sides of a field and waited. After three hours and no elk, Brinkley became restless. It was about 9:30 a.m.
"I take off walking, creeping around through the woods, looking for elk," Brinkley said.
He reached the top of the mountain where there's a caldera, a kind of wide bowl left behind by a collapsed volcano. He went to the edge on the southwest side. As he walked to the edge he noticed two figures on his side of the caldera. He thought at first they were hunters. But, they were "very tall shapes of these beings, standing side by side, staring right at me," he said.
He walked toward them across the brushy field. He estimates they were about 35 yards away. As a bow hunter, where measuring distance is critical to hitting a target, he said he's pretty adept at it. He went around the bush and looked again. The figures were gone.
He looked around and didn't see them. "Figured I would talk to them. They were gone, just gone," Brinkley said.
He thought more about what he had seen: With their lower half concealed by bushes in the caldera, he had only seen them from the waist up. "The shape that would be like their heads, it looked like they had huge hoods on. It looked like two ribbons coming off either side to a point at the top and bottom (like a banana). The right side was black, left side was white and a little shiny. Torsos were kind of black, I couldn't see many details. It definitely looked like clothes. In middle of the oval was just gray."
He thought maybe it was the back of hunters' heads. "But it looked too strange, too crazy."
Later, he drew what he could remember of them in a leather bound sketchbook he carries with him. And he drew what he saw next.
Weirded Out
Brinkley hurried back to where Lucero was still waiting. Still no elk. "I was a little weirded out," he told his friend.
He told Lucero he had seen a couple of hunters and that's probably what had scared off the elk. He couldn't bring himself at first to say what he might have just imagined.
They went back to camp. "I couldn't take it any more," Brinkley said. "I told him what I saw was weird. They were too tall, their heads were too big to be hunters."
"Anyone who knows me knows I don't tell these weird stories."
Lucero said he had known something was up when Brinkley had walked quickly and noisily up to his position at the field. Normally his friend is quiet, a hunter's slower, more measured speed through the bushes.
After Brinkley told him, Lucero felt a little weird, too. "I didn't know what to believe," Lucero said.
Brinkley kind of wrote off what he saw.
A Strange Structure
On Labor Day (Sept. 2), they headed out again to hunt early in the morning and hiked all around the area. No elk. They got back to their Jeep at about 2:30 p.m.
"We couldn't figure out why there was no elk," Brinkley said.
They decided to drive to the other side of the mountain and see if there were other hunters or four-wheelers scaring off the elk. As they drove, the men saw no signs of any wildlife at all, they said.
They drove about 10 minutes, when they saw it. They both work with movie sets. At first they thought it was a movie base camp. "It's this big tent structure, like a circus tent, 50-60 feet tall. Coming off the left of it was this long building, almost like what you would build for an archery lane for target practice. It was a third the height, but really long, maybe a couple hundred feet."
They were about a quarter mile away and couldn't see the bottom of the structure.
They watched it for about a minute as they drove.
"What is it," he asked Lucero, "a base camp for a movie? Or are they building an alien ship set?"
They drove down a little hill, lost sight of the structure for at most five seconds, Brinkley said.
"When we topped the hill, it was gone. Just gone."
Lucero said he was watching it the whole time while Brinkley drove except for those few seconds. "There was no dust, there was nothing," Lucero said.
They drove around the area searching for what they had seen until dark.
Nothing.
"I just know it was real," Brinkley said. "It was huge and white and then gone."
'Profoundly Unsettling'
When the two men reached a place with cell signal, they told a few friends what they had seen. They thought about calling the Air Force. A friend put them in touch with Peter Davenport, longtime executive director of the National UFO Reporting Center in Washington state.
Davenport confirmed they had called him. "It was a dramatic story," he said. "If it is true, it is profoundly unsettling."
He said out of the thousands of calls he gets every year about supposed alien sightings, they rarely describe seeing aliens on the ground.
They aren't the first hunters to see something they can't explain. Four hunters in Challis, Idaho, in 2000 described having a large triangular craft hover a couple of hundred feet above them before moving off over the mountains.
After listening to some 350,000 phone calls over 25 years, Davenport thinks he can tell those that are credible.
This was one of them, he said.
Brinkley and Lucero said they weren't drinking and weren't on drugs.
The hardest thing is telling their story. "People probably think we are insane," Brinkley said
He said he didn't believe in UFOs. "I sure do now," he said.
Lucero said he doesn't know about aliens. "I just know I've never seen anything that big just disappear."
"The two aliens, you can say I imagined that. But you cannot explain something that big just — gone," Brinkley said.
After telling their strange tale, the hunters did what they came to do – go try one more time to find elk.
New Mexico Hunters Have ET Encounter on Pot Mountain
Let's answer a few of the obvious questions right away. Yes, there really is a Pot Mountain in New Mexico. No, it has nothing to do with marijuana. Yes, that may absolve the two ET-spotting hunters from accusations that they were high when they claim to have seen two tall big-headed, half-black/half-white aliens on Pot Mountain. No, they weren't trying to be politically correct with that description. Yes, one saw the creatures and both saw something that was either their tent or their means of transportation. And no, they didn't take any pictures. However, it's an interesting story and UFO expert believes their sincerity in telling it.
"We're a couple of guys that don't believe in much, but we believe now."
Josh Brinkley and Daniel Lucero were still in their bow-hunting camouflage clothing when they told their story to the Taos News. The friends and co-workers have been hunting together for elk for years, but this was Lucero's first time on Cerro de la Olla – an inactive volcanic mountain northwest of Taos named Mountain of the Pot or Pot Mountain because of its pot shape. Brinkley brought him there a few days before the September 1 opening day of elk season to scout for some good spots. However, he was alone and wondering why there were no elk around when he had his first close encounter.
"[I noticed the] very tall shapes of these beings, standing side by side, staring right at me. The shape that would be like their heads, it looked like they had huge hoods on. It looked like two ribbons coming off either side to a point at the top and bottom (like a banana). The right side was black, left side was white and a little shiny. Torsos were kind of black, I couldn't see many details. It definitely looked like clothes. In middle of the oval was just gray."
Brinkley estimated the creatures were 35 feet from him. As he walked around a bush to get a better look, they disappeared. He told the Taos News that he returned to Lucero but hesitated before telling him about the unbelievable encounter with the two tall beings. They returned to the same area the next day and still saw no elk. That's when both hunters had a close encounter of the tent kind.
"It's this big tent structure, like a circus tent, 50-60 feet tall. Coming off the left of it was this long building, almost like what you would build for an archery lane for target practice. It was a third the height, but really long, maybe a couple hundred feet."
As they drove around to get closer, they lost sight of the structure for less than five seconds. When they had a view again of where it was … it wasn't.
"When we topped the hill, it was gone. Just gone. There was no dust, there was nothing, I just know it was real. It was huge and white and then gone."
They had no further encounters. In addition to the Taos News, they told their story to Peter Davenport, the executive director of the National UFO Reporting Center, who was intrigued by the witnesses claiming to see actual alien creatures and added this comment to the report of the call.
"NUFORC was impressed with what we perceived to be the apparent sincerity of the caller during the telephone conversation with him."
One discrepancy between the two accounts – NUFORC says there were three witnesses while the Taos News says there were only Brinkley and Lucero. That might be cleared up with an official written account to NUFORC by the witnesses, but that hasn't happened yet.
What did Josh Brinkley and Daniel Lucero see? Taos is well-known as a center for New Age beliefs, but it and New Mexico in general have had their share of strange incidents and alien encounters, ranging from the mysterious Taos hum to the Roswell UFO crash to extraterrestrials living in caverns near Dulce to the alleged 1948 'flying saucer' crash in Hart Canyon near Aztec with 14 to 16 small humanoid corpses found in the wreckage.
Is the incident on Pot Mountain just a good title for a major motion picture or a real close encounter? It would have helped their case to have photos instead of drawings and another witness who is not also a friend and co-worker. It would have also helped if there were footprints of the ETs and imprints or other evidence of the mysterious tent.
Keep looking up … unless hunting season has started.
Source: Mysterious Universe