Alabama Passes Law to Chemically Castrate Pedophiles
In the state of Alabama, certain types of sex offenders like pedophiles will now be chemically castrated by law before they are given parole. The legislation was signed into law by Alabama's governor Kay Ivey, and will apply to all sex offenders who are convicted of crimes against children younger than 13.
For these offenders, chemicals will be used that will reduce their libido, and hopefully the likelihood of them repeating their crimes. Critics of the bill said that it was unconstitutional, claiming that it violates a person's right to freedom from "cruel and unusual punishment."
Attorney Raymond Johnson says the point of contention is the fact that this is happening once people have already paid their debt to society.
"They're going to challenge it under the 8th Amendment Constitution. They're going to claim that it is cruel and unusual punishment for someone who has served their time and for the rest of their life have to be castrated," Johnson said.
The bill was initially introduced by Republican congressman Steve Hurst, who recently told CBS42 that the punishment fits the crime.
"I had people call me in the past when I introduced it and said don't you think this is inhumane? I asked them what's more inhumane than when you take a little infant child, and you sexually molest that infant child when the child cannot defend themselves or get away, and they have to go through all the things they have to go through. If you want to talk about inhumane – that's inhumane. If we do something of this nature it would deter something like this happening again in Alabama and maybe reduce the numbers," Hurst said.
This is a practice that is actually not legal throughout most of the United States. There are only 8 states that currently allow chemical or surgical castration for extreme sex offenders, but even in these states, it is rarely ever actually used. Under Alabama's new laws, this would be happening to every prisoner that fit the criteria, by law.
In 1996, California became the first state to pass a law allowing for chemical castration of certain sex offenders. In the years that followed, Florida, Georgia, Louisiana, Montana, Oregon, and Washington also passed similar laws.
However, as previously mentioned, the guidelines in most of these states are very loose, and this type of measure is rarely enforced, even in cases of crimes against children.
Chemical castration is an extreme measure for a modern industrialized society, but there are some cases where it could be plausible, according to experts. Earlier this week, we reported on the story of a disturbed man from the United Kingdom who avoided jail time after his third time getting caught with large stashes of child abuse images and videos.
The 36-year-old man was arrested with over a million illegal files on his home devices, which depicted graphic scenes of child sexual abuse. For over a decade, this man has been in and out of courthouses, repeating the same crimes over and over again.
This case is slightly different because the suspect only had images and videos, and because there was not a specific underage victim involved.
However, the drive to repeat the same crime over and over again is very similar among these types of predators. In cases where a predator has many underage victims and repeated offenses, a punishment like this is not unreasonable.
Alabama's governor Kay Ivey has been in the national media spotlight for past several months, due to another piece of controversial legislation in the state. This May, Kay Ivey found herself at the center of a national debate on abortion, after signing one of the most restrictive abortion laws in the country.
The legislation, called House Bill 314, "Human Life Protection Act," bans all abortions in the state except when "abortion is necessary in order to prevent a serious health risk" to the woman. The bill will reclassify abortion as a Class A felony, which will be punishable by up to 99 years in prison for doctors who carry out the procedure.
However, the 74-year-old governor shocked her constituents this week, by signing a bill that legalized medical marijuana in the state. Kay Ivey has been the governor of Alabama for just two years, since 2017.
Tesla autopilot sensor recorded "ghost" in an empty cemetery
A Tesla electric car with an activated autopilot function recorded an invisible person who allegedly moved around the cemetery. Social network users jokingly noted in the comments that, most likely, this is some new function from Elon Musk, which allows you to see ghosts.
In the United States, a Tesla electric car with an activated autopilot function recorded an invisible person who allegedly moved through a cemetery.
The corresponding video was posted by Twitter user Ovidiu Maciuc.
The recording shows how a silhouette of a man appears on the monitor of an electric car, moving around the cemetery. After that, the driver raises the camera and starts filming the graveyard through the windshield, but there are no people there.
After some time, the "ghost" went in the opposite direction from Tesla and disappeared from the on-board computer screen.
Social network users jokingly noted in the comments that, most likely, this is some new function from Elon Musk, which allows you to see ghosts.
For many though, if you take into account the comments, the video seemed rather creepy. Some even tried to guess what the navigation system actually showed.
Some users thought the system could recognize ghosts. Others refuted this version and said that the reason for all this is an insufficiently accurate sensor, which was used for the equipment of the Tesla car.
Earlier it became known that Tesla electric cars in the near future may receive a new function with which they can talk with pedestrians. For this, American cars will be equipped with special external speakers.
In addition, Tesla cars in the future will receive the option to change the horn and sound of movement at low speeds to warn pedestrians. According to Elon Musk, among the sounds of movement there will be the sound of the clatter of a horse's hooves, and as a whistle – the bleating of a goat.
Mysterious energy source melts Tel Aviv sidewalks, leading to the evacuation of several buildings in Israel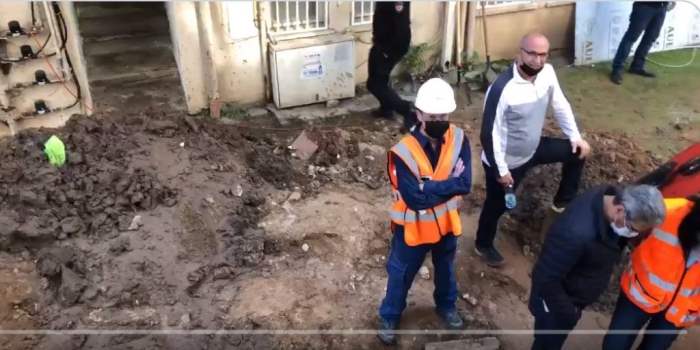 About two weeks ago, Tel Aviv residents noticed that the concrete surface outside their homes was heating up and steam was coming out of the ground. Tests showed that steam that reached 60 ° C (140 ° F) was water based.
The witness explains: "I was afraid that there was a power line in the area and asked a worker to dig out the ground with a shovel. Steam suddenly came out. I imagined it was probably a geyser. It seemed to me that this was a geological incident – also because there were no problems with electricity in the building. "
Although the experts did not find any hazardous substances or any risk to the stability of buildings at the site, residents as well as kindergartens in the area were evacuated.
Officials described the heat source as "trapped energy" of unknown origin.
Work continues, steam is still rising and the ground is still hot. It is currently unclear what is causing the warming. Note the hole dug in the area. The area is still blocked.
Mysterious origins
City officials said they will "continue to monitor the temperature of the earth, which is expected to cool down for a long time, and will continue to investigate the causes of the unusual event."
Israel Electric Corporation has not found a connection between heat and power in the area.
The Israel Geological Survey confirmed the rise in temperature after testing ground and water temperature levels, but said it has not yet found an explanation.
Despite their best efforts, municipal officials, the fire department, Israel Electric Corporation and the Ministry of the Environment have yet to find a source of heat.
Meanwhile, the Tel Aviv municipality has informed dozens of evacuees that they can return to their homes. However, residents are not going to return until they receive a detailed account of the source of the mysterious event.
"They evacuated us because they were concerned about our safety, and now they are urging us to return without any convincing explanation. How can you be sure that there is no more danger? "
The night sky in southern Taiwan shows a weird red moon alarming netizens: 2021 disaster year omen?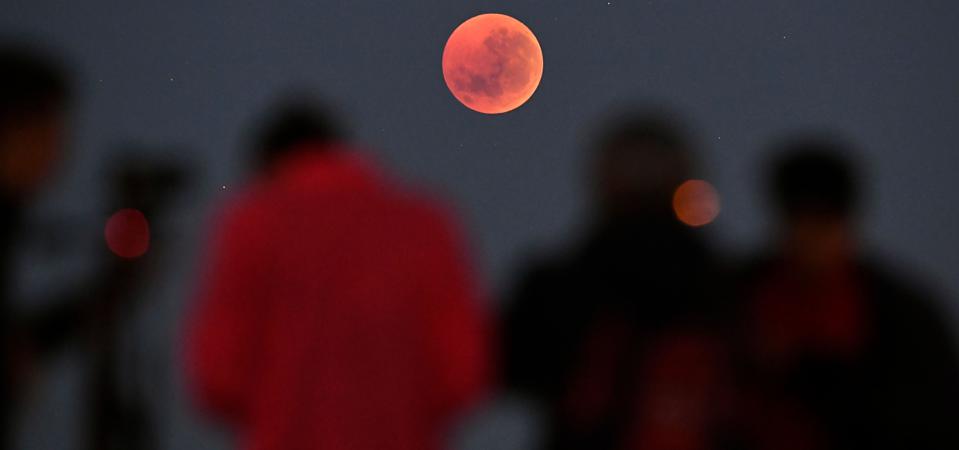 Some people in Chiayi, Taiwan took pictures of a large dark red moon hanging in the night sky on the first night of 2021 and uploaded them to Facebook. There are also people in Tainan who have photographed the rare "red moon". The weird scene has aroused heated discussions among netizens. Some people worry that an earthquake may occur, while others suspect that this is a precursor to the year of disaster in 2021?
Yesterday, on January 1 at about 8:00 in the evening, Chiayi residents shared a photo of "2021's first red moon" on Facebook. As you can see in the photo, the weather was quite good at that time. There was a clear big round moon in the night sky, but it was a dark red moon, which was very different from the usual moon.
Later, people in Kaohsiung and Tainan also posted photos of the red moon they had taken.
The weird and rare "big red moon" immediately attracted the attention of netizens. Some people think that such a sight is caused by air pollution, and some people think that the red moon is "extremely beautiful", but many people worry about whether it is a harbinger before the disaster ?
"Hope is not a harbinger of disaster~", "A harbinger of disaster in 2021???", "It looked uneasy", "After seeing the red moon, I hope everyone will be safe".
Some netizens worry that this is a pre- earthquake omen.
"Remember the red moon before the 921 earthquake (omen)", "earthquake precursors", "I feel that there will be an earthquake again recently", and "It seems that 2021 will be another year of bloody disaster."
The British clairvoyant Craig Hamilton-Parker published his prediction for 2021 on YouTube in December last year, stating that, as far as the world is concerned, 2021 will be a year full of social unrest, armed conflict and political changes. There will be difficult times right now until 2025.
He also predicted that the biggest worry is climate and earthquakes. A tsunami will occur near Japan. Large earthquakes will occur in the Himalayas, Iran and the Americas. There will also be problems such as floods, dams bursting, and huge icebergs obstructing shipping. Until 2025, the severity of environmental problems will gradually increase.