Alabama Passes Law to Chemically Castrate Pedophiles
In the state of Alabama, certain types of sex offenders like pedophiles will now be chemically castrated by law before they are given parole. The legislation was signed into law by Alabama's governor Kay Ivey, and will apply to all sex offenders who are convicted of crimes against children younger than 13.
For these offenders, chemicals will be used that will reduce their libido, and hopefully the likelihood of them repeating their crimes. Critics of the bill said that it was unconstitutional, claiming that it violates a person's right to freedom from "cruel and unusual punishment."
Attorney Raymond Johnson says the point of contention is the fact that this is happening once people have already paid their debt to society.
"They're going to challenge it under the 8th Amendment Constitution. They're going to claim that it is cruel and unusual punishment for someone who has served their time and for the rest of their life have to be castrated," Johnson said.
The bill was initially introduced by Republican congressman Steve Hurst, who recently told CBS42 that the punishment fits the crime.
"I had people call me in the past when I introduced it and said don't you think this is inhumane? I asked them what's more inhumane than when you take a little infant child, and you sexually molest that infant child when the child cannot defend themselves or get away, and they have to go through all the things they have to go through. If you want to talk about inhumane – that's inhumane. If we do something of this nature it would deter something like this happening again in Alabama and maybe reduce the numbers," Hurst said.
This is a practice that is actually not legal throughout most of the United States. There are only 8 states that currently allow chemical or surgical castration for extreme sex offenders, but even in these states, it is rarely ever actually used. Under Alabama's new laws, this would be happening to every prisoner that fit the criteria, by law.
In 1996, California became the first state to pass a law allowing for chemical castration of certain sex offenders. In the years that followed, Florida, Georgia, Louisiana, Montana, Oregon, and Washington also passed similar laws.
However, as previously mentioned, the guidelines in most of these states are very loose, and this type of measure is rarely enforced, even in cases of crimes against children.
Chemical castration is an extreme measure for a modern industrialized society, but there are some cases where it could be plausible, according to experts. Earlier this week, we reported on the story of a disturbed man from the United Kingdom who avoided jail time after his third time getting caught with large stashes of child abuse images and videos.
The 36-year-old man was arrested with over a million illegal files on his home devices, which depicted graphic scenes of child sexual abuse. For over a decade, this man has been in and out of courthouses, repeating the same crimes over and over again.
This case is slightly different because the suspect only had images and videos, and because there was not a specific underage victim involved.
However, the drive to repeat the same crime over and over again is very similar among these types of predators. In cases where a predator has many underage victims and repeated offenses, a punishment like this is not unreasonable.
Alabama's governor Kay Ivey has been in the national media spotlight for past several months, due to another piece of controversial legislation in the state. This May, Kay Ivey found herself at the center of a national debate on abortion, after signing one of the most restrictive abortion laws in the country.
The legislation, called House Bill 314, "Human Life Protection Act," bans all abortions in the state except when "abortion is necessary in order to prevent a serious health risk" to the woman. The bill will reclassify abortion as a Class A felony, which will be punishable by up to 99 years in prison for doctors who carry out the procedure.
However, the 74-year-old governor shocked her constituents this week, by signing a bill that legalized medical marijuana in the state. Kay Ivey has been the governor of Alabama for just two years, since 2017.
Highly Unusual Creature Discovered Beneath the Antarctic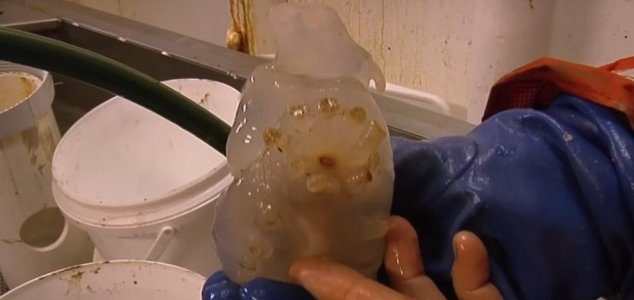 Strange gelatinous creature has been discovered by scientist 3,500 meters beneath the ocean's surface.
via Unexplained-Mysteries:
Likened by some to the terrifying alien creature in science-fiction movie 'The Thing', this never-before-seen deep-sea life form was found within a scarcely explored region of the ocean floor that is so far down that it experiences pressures 300 times those found at the surface.
It was discovered by scientists aboard the New Zealand research vessel RV Tangaroa.
"It has something quite interesting at the front which sort of likened it to a hippopotamus," said Dr Kareen Schnalbel, a marine biologist at the National Institute of Water and Atmospheric Research.

"We don't know how many are down there, we don't know how common this is."

"But I have never seen anything like this before."
You can watch a full documentary about the team's discoveries below.
Unexplained-Mysteries
Falling Fireballs Crashed in Chile Last Week. They Weren't Meteorites, Experts Say.
Chilean officials are investigating a curious collection of burning objects that fell onto parts of the country last week.
Goodness gracious! Great balls of fire rained from the sky in Chile last week, and officials are still trying to figure out what they were and where they came from.
One thing is certain: The mysterious burning objects were not meteors, according to news reports.
The fiery UFOs descended on Dalcahue City on the Chilean island of Chiloé on Sept. 25, CNET reported. . The tumbling objects crash-landed in seven locations, setting off fires that were promptly put out by volunteer firefighters. .
Geologists from Chile's National Geology and Mining Service soon arrived to examine the seven sites that had been scorched by the falling space stuff. While they conducted their analyses, the story spread through local news, social media and national outlets.
Chilean astronomer and astrophysicist José Maza told Chilean news network TVN that the blazing bodies were likely either meteorites or space debris that had detached from rockets or satellites, according to CNET. On Sept. 26, astronomer Jonathan McDowell of the Harvard-Smithsonian Center for Astrophysics chimed in on Twitter, saying that the falling objects were probably meteorites and that there were "no obvious space debris candidates that [he could] see."
"But [it] sometimes takes a few days for relevant data to come in," McDowell added.
Se reporta caída de meteorito en mocopulli chiloe pic.twitter.com/7w3KGEgnln

— marcelo macaya (@mmacaya) 25 September 2019
On Sept. 28, the geologists released their official assessment: None of the seven sites contained traces of meteorite. Since the mysterious objects weren't meteors, logic dictates that they must have been wayward space junk, but officials said they'll be conducting more detailed analyses of soil samples collected from the singed sites to make sure, according to CNET. The geologists will release their results later this month. Only time will tell what exactly fell from the heavens on that unusual September evening.
Source www.space.com
Strange Angel Hair Phenomenon
When most people hear the phase "angel hair", they immediately think of the classic pasta dish, but for the avid UFO enthusiast, it takes on an entirely different meaning.
The strange material known as "angel hair"–a light, cobweb-like substance that reportedly sometimes falls from the sky during UFO sightings–has been considered to be somewhat of a fringe element of Fortean phenomena, but this doesn't mean that occurrences of angel hair have been rare; in fact, since 1947, there have been well over 200 documented cases of this gossamer-like substance being found in direct connection with UFO sightings.
So what exactly is angel hair? It has been generally described as being fibrous and silk-like, with a remarkable consistency that on one hand can be strong and resilient, but then in an instant can dissipate into the air like fog or smoke.
Some ufologists believe that angel hair is left behind as some sort of "exhaust" from alien spacecraft, similar to carbon emissions that are produced by an automobile. Scores of eyewitness reports describe unidentified flying objects including cigar-shaped aircraft, disks and silver spheres emitting this bizarre substance, particularly after moments of rapid acceleration or complex aerial maneuvers.
The substance will slowly drop to the ground, often landing on fences, wires or trees in the area, many times covering large areas at a time. In fact, there have been several reports of angel hair covering power lines for miles on end, or blanketing several square miles of land at a time.
One report from October of 1957 describes how an area of New Mexico was draped in strands of angel hair that reached up to 50 feet in length apiece, and covered a total area of roughly 110 miles. This bizarre phenomenon is often classified as being a close encounter of the second kind, since the substance typically makes some type of physical contact with the environment.
According to a vast number of reports, one of the most interesting properties of angel hair is its ability to demonstrate sublimation, which is the ability of the substance to change directly from a solid to a gas, essentially bypassing the liquid stage altogether.
It has been described in various instances as both fine and coarse, having a consistency similar to cotton, but it often dissipates as it is being physically handled. The most commonly reported color for angel hair is white, but it has also been observed in other instances as being silver, gray, black, and even translucent.
There seems to be no one particular cause for the phenomenon, but there is an inextricable link between UFO sightings and angel hair, with roughly 57% of all angel hair cases being tied to UFO reports in some way. In addition, eyewitness accounts representing virtually every corner of the globe generally agree on both the look and the consistency of this odd substance.
There have been several cases where angel hair was not only recovered from alleged UFO sighting areas, but it has also been examined in scientific laboratories. The substance has been examined by professionals from a wide range of disciplines, with the general consensus being about the same: Nobody is quite sure what this stuff is made of.
Prominent biologists, chemists, fiber technicians, toxicologists, engineers, and so forth have all sought to gain insight into the composition of this strange substance, but to little avail. Common elements such as boron, magnesium, silicon, potassium, and calcium have been discovered in samples of angel hair, with the most notable element being boron due to its noted usage in nuclear technology.
Boron is commonly utilized as a buffer that shields and controls nuclear reactions, a fact that has prompted many researchers to speculate that angel hair may be the by-product of some type of nuclear-powered propulsion system.
Some skeptics have claimed that angel hair is nothing more than the webbing produced by ballooning spiders, which are known for producing large blankets of silk webs that are often pulled aloft by the wind.
Interestingly enough, all of the samples of angel hair that have been studied in laboratories have lacked a primary ingredient that is necessary for spiders to manufacture their webbing: Protein.
The "ballooning spider theory" also does not account for the fact that angel hair often sublimates on contact, which is almost the complete opposite of what happens when physical contact with a spider's web occurs.
While the phenomenon of angel hair definitely leaves quite a bit of room for speculation, its correlation to UFO sightings cannot be easily dismissed. In light of all that is still not known about this unique substance, it would be beneficial for more members of the UFO and scientific community to devote more time and resources towards conducting serious research of this mysterious phenomenon.