After Seeing Extraterrestrials & A UFO, This Artist Is Delivering A Message From Space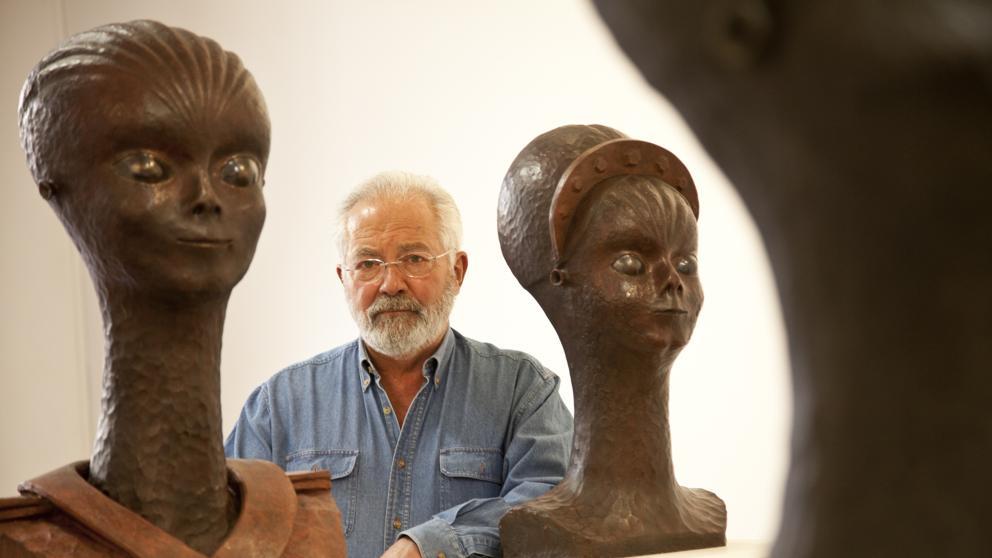 After seeing a UFO or an extraterrestrial (ET), would you share your experience with others? Odds are that tons of people out there have had encounters with ETs, but were too scared to come forward. There is a huge stigma surrounding UFO and ET phenomena, which is largely due to mainstream media and Hollywood.
It's no secret that the U.S. government has been discussing UFOs for quite some time; leaked FBI documents, emails from the Clinton campaign, the black budget secret space program, and even quotes from former U.S. presidents have confirmed that. Even the Vatican has addressed extraterrestrial intelligence, yet many people will simply brush off this subject as if it's a joke.
Well, that's not the case for Spanish artist Robert Llimós. After seeing a UFO and ETs face to face, he was inspired to share his experiences through his art. By painting what he saw, he hopes to desensitize people to ETs so that hopefully, if and when they finally return, people won't be scared of their appearances.
Robert Llimós' Experience Meeting ETs
While on vacation in Brazil, Robert went for a walk on his own. Bringing a pencil and some paper, he set out to adventure through the dunes. He found a place to sit and soon realized he was directly in front of a UFO.
Here are some of his illustrations depicting his experience:
Robert explains, "A window opened with two figures looking at me."
"They had a regal bearing, with long necks, deformed skulls and black eyes. She was wearing a small tiara on her head."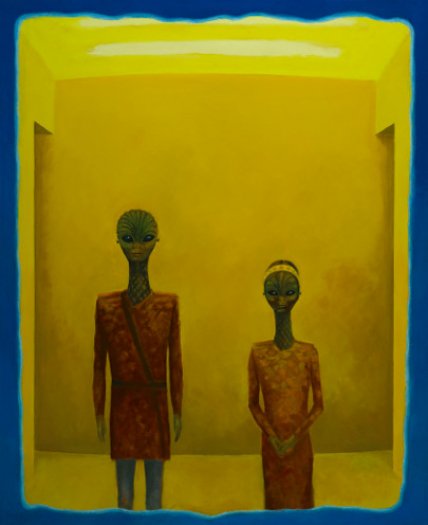 Robert believes that the extraterrestrials who visited him chose to contact him because of his painting and sculpting skills. He feels that they were aware of his artistic abilities and that they knew he could accurately portray their appearances. Despite their diverse physical characteristics, Robert felt as though they weren't trying to harm him, but rather help him.
Robert explains, "They are like older brothers who want to help us, not harm us."
"My role is to reduce the fear of them before they make their return. I make this work so you are not scared of seeing a figure with a long neck and scales. Perhaps in 20 years, people will have seen these figures and then they'll say, 'That crazy man was right!' "
It hasn't always been easy for Robert. "Some of the people around me understand and accept this, and some don't. I know it's hard to believe. I have to believe a lot of things that I don't see. When I draw them, they become tangible. I'd like to see them again," he says.
You can check out more of Robert's artwork on his website here. If you're interested in listening to Robert's story, told by him, you can check out this VICE interview here, which is where I sourced his quotes within this article.
Many people seem to think that ET phenomena are a joke, which is primarily due to lack of disclosure and the stigma surrounding the topic. In reality, there are so many government documents and emails as well as countless reported human encounters with UFOs and ETs that it would be ignorant to deny the facts.
Why UFO and ET Phenomena Are Very Real
The following are only a few of the quotes from high-level government personnel discussing UFOs:
"There are objects in our atmosphere which are technically miles in advance of anything we can deploy, that we have no means of stopping them coming here … [and] that there is a serious possibility that we are being visited and have been visited for many years by people from outer space, from other civilizations. That it behooves us, in case some of these people in the future or now should turn hostile, to find out who they are, where they come from, and what they want. This should be the subject of rigorous scientific investigation and not the subject of 'rubishing' by tabloid newspapers." (source)
– Lord Admiral Hill-Norton, Former Chief of Defence Staff, 5 Star Admiral of the Royal Navy, Chairman of the NATO Military Committee
"There is abundant evidence that we are being contacted, that civilizations have been visiting us for a very long time, that their appearance is bizarre from any kind of traditional materialistic western point of view, that these visitors use the technologies of consciousness, they use toroids, they use co-rotating magnetic disks for their propulsion systems, that seems to be a common denominator of the UFO phenomenon." (source)
– Dr. Brian O'Leary, Former NASA astronaut and Princeton Physics Professor
"Yes there have been crashed craft, and bodies recovered. We are not alone in the universe, they have been coming here for a long time." (source) (source)
– Dr. Edgar Mitchell, 6th man to walk on the moon.
"In my opinion I think they were worried that it would panic the public if they knew that someone had vehicles that had this kind of performance … so they started telling lies about it. And then I think they had to cover another lie, you know, tell another lie to cover their first lie, now they don't know how to get out of it. Now it's going to be so embarrassing to admit that all these administrations have told a lot of untruths…. [and that] there are a number of extraterrestrial vehicles out there cruising around." (source)
– Gordon Cooper, Former NASA Astronaut, Aeronautical Engineer and test pilot. One of the seven original Astronauts in Project Mercury, the first manned space program of the United States.
There have even been numerous large-scale UFO sightings, like when 60 school children saw a UFO and ETs in Zimbabwe, or when 1 million people witnessed a large UFO hovering over Los Angeles.
What We Can Learn From Robert Llimós
We can all learn a lot from Robert's passion and determination to spread the truth. We live in a society that thrives off fear; it's precisely why governments use false-flag terrorism and why the elite further perpetuates separatism amongst races, classes, etc. Fear is the one thing that can perceivably control us; in a way, it connects us all. However, our fear can also blind us from the truth and prevent us from accepting knowledge and especially the unknown.
That is why it's crucial to challenge fear, which is precisely what Robert is doing. He recognized that the beings who visited him don't need to be feared and feels passionate about sharing this with others through his artwork.
His paintings also speak to how using a creative outlet can help us understand some of life's most notable events. Expressing ourselves can be incredibly therapeutic, as it allows us to expose our vulnerabilities and speak our truths, whether that be verbal or not. For Robert, his creative outlet is through art. For me, it's typically through writing, whether that be through CE or just in my journal, and yoga.
Expressing ourselves freely not only helps us to accept that what happens in our lives has, in fact, happened, but it also allows us to truly feel our emotions, overcome them, and ultimately move on.
Dan Aykroyd Is A Fourth-Generation Ghost-Hunter, UFOlogist, And Paranormal Master
Dan Aykroyd, the Canadian comic master behind Ghostbusters, Saturday Night Live, and The Blues Brothers, is a UFOlogist. Now that Aykroyd is essentially retired from the comedy game, he spends his time researching paranormal activity, alien abductions, and UFOs from his haunted farmhouse in Canada.
Aykroyd has no qualms being open about his belief in the obscure and occult – he talks about it freely. Some even refer to him as a master of the subject.
So, what does it take to be a paranormal master? According to Aykroyd: a lifetime of commitment to the truth, and a family that believes in uncovering the mysteries of the universe.
His Family Farmhouse Has A Spiritual History
Aykroyd isn't some Johnny-come-lately to the paranormal investigation game. The Aykroyds have been searching for the truth about ghosts for a while. Their history dates back to the comedian's great-grandfather, who was a spiritualist and dentist.
Aykroyd still lives in the family farmhouse that has been host to seances and spiritualist get-togethers for decades. Aykroyd says the house has "a history of spiritual activity that would blow your mind." Despite living in the spooky farmhouse, he's yet to have direct experience with an apparition as an adult.
He Claims The Ghost Of A Famous Musician Liked To Cuddle In Bed
One of the many houses owned by Aykroyd is a Los Angeles bungalow, where notable musicians like Mama Cass (The Mamas and the Papas) and Ringo Starr lived in the '60s and '70s. When Aykroyd lived in the home, he claimed a ghost – which he believes to be the spirit of Mama Cass – was haunting the place because someone would turn on his StairMaster and mess with the family jewelry.
But perhaps the biggest revelation Aykroyd made about the ghost:
It once even crawled into bed with me. I rolled over and just nuzzled up to whatever it was and went back to sleep… I'm sure it's Mama Cass because you get the feeling it's a big ghost.
He Says He Has Seen Four UFOs
In a 2015 interview with Huffington Post, Aykroyd tried to play it cool about the fact he's witnessed a series of phenomena that would drive ordinary people crazy. When asked about his experiences with extraterrestrials, he said he's seen four UFOs, though he's not sure if they were alien or human:
I can't say that they are alien craft and neither can the Air Force. The Air Force has been very interested in this. They don't deny the existence of these hyper-dynamic, super aerodynamic craft.
Two of the crafts, he claims, were seen one night in Martha's Vineyard. He said they were "flying side by side. They were at about 100,000 feet up, and they were going fast."

He Purchased UFO Footage From A Tarmac Worker At O'Hare Airport
On November 7, 2006, an employee at O'Hare International Airport allegedly saw a large disc floating in the middle of their airspace and recorded footage of the event. The footage never turned up, but Aykroyd supposedly has it. He claimed to have purchased the footage from a tarmac worker.
After announcing he had the footage, Aykroyd alleged he would be releasing a DVD with the never-before-seen footage and photographs. Some of it made it into his documentary, Dan Aykroyd Unplugged On UFOs.
He Believes Aliens Walk Among Us
Many people believe aliens are flying through our skies at night, but Aykroyd believes extraterrestrials are already here and living among us. In 2010, he appeared on Larry King Live and made the claim we're living in a They Live scenario, albeit without the cool sunglasses.
He explained to King that while aliens are living as our friends and neighbors, they haven't shown themselves because "they don't want anything to do with us."
Ghosts Visited Aykroyd As A Child
While Aykroyd admits he's had somewhat bad luck with seeing full-body apparitions as an adult, as a child he was apparently a ghost magnet. He claimed that when he was a kid, there was a time when his mother, a skeptic, actually saw the ghosts of his great-grandparents watching him sleep.
My mother speaks about a time when she was nursing me, and an old couple came to the end of the bed. The image faded away. She pulled out an album and saw that it was my great-grandfather Sam and Jenny, his wife, coming to approve the new child.
He Has A Documentary Called 'Dan Aykroyd Unplugged On UFOs'
In 2006, Graviton Productions released the documentary Dan Aykroyd Unplugged On UFOs. The film follows Aykroyd as he talks with author and fellow UFOlogist David Sereda about the potential existence of alien life.
The documentary also features interviews and footage from the likes of astronaut Gordon Cooper, NASA engineer John F. Schuessler, and President Ronald Reagan.
He Thinks There Should Be More Science In Parapsychology
As much as Aykroyd loves the fantastical elements that go along with hunting ghosts and UFOlogy, he also believes there should be more legitimate science applied to parapsychology. He thinks there would be major discoveries if physicists began analyzing ghosts.
He explained to the Daily Beast, "Are oxygen and nitrogen and hydrogen molecules coalescing to produce these visions in front of people? I'd love it if some research were done on materialization."
As an example, he discussed mediums who were able to produce fully formed limbs from their mouths. He thinks it would "be nice to get some DNA and see if it's the DNA of the person exuding this mass of ectoplasm or the DNA of another being."
He Thinks The Government Knows About UFOs
Aykroyd believes the government is aware of extraterrestrial life, and he also thinks they are keeping it a secret for a reason. When talking to the Huffington Post, Aykroyd said, "The Air Force cannot just come out and admit that there are extraterrestrial beings far in advance of our culture that have built these machines."
Furthermore, according to Aykroyd, the government can't openly say there are "many species coming and going" to Earth every day without people losing faith in the structure of the government and causing a "complete breakdown of society."
Crystal Head Vodka Is His Nod To An Alleged Central American Alien Discovery
When Aykroyd introduced Crystal Head Vodka in 2008, he was making a direct reference to the legend of the Crystal Skulls that also appeared in the movie Indiana Jones and the Kingdom of the Crystal Skull. Before rolling out the vodka, Aykroyd said he was nervous about incurring the wrath of Steven Spielberg. Fortunately, when the two met to talk about their similarly named products, Spielberg requested the vodka be served at the film premiere.
Speaking to The Telegraph, Aykroyd claimed the vodka is made in the "last government-owned distillery in the world in the province of Newfoundland and Labrador" and had won a double gold medal at the "spirit Oscars."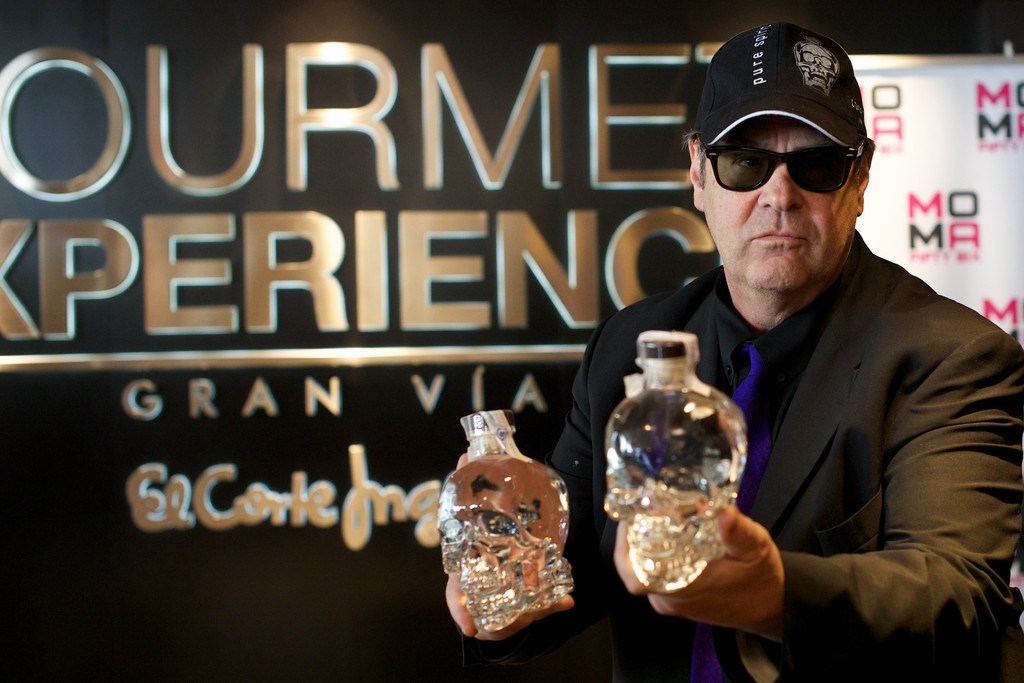 His Father Wrote A Book About Paranormal Activity
In 2009, Aykroyd's father, Peter Aykroyd, released an exhaustively researched book called A History of Ghosts, which tells the story of the rise of spiritualism in the Western world while paralleling it with Aykroyd family history. Speaking about the book and paranormal research, the Ghostbusters star said, "It's the family business, for God's sake."
Much of the material in the book was recorded by Peter Aykroyd and his father, Samuel Aykroyd, during séances. While researching the book, Peter Aykroyd found the notes locked in a trunk and began working them into the book.
He Believes In Some Kind Of Afterlife
Even though Aykroyd is a total believer in spirits and extraterrestrials, he's still not sure about what happens after we die. When asked in a 2012 Telegraph interview if he feared death, the multi-hyphenate actor/paranormal investigator/vodka aficionado said he knows "the spirit survives" but he hopes he's "not sliced in half by a plate-glass window."
Aykroyd said his preferred way to pass from this mortal coil would be to "pass through the veil in my 90s at the farmhouse by the lake where the seances took place with all my great-grandchildren around me."
His Father Approved Of The Opening Scene In 'Ghostbusters'
Since Aykroyd comes from a family of parapsychologists and paranormal investigators, you might think they were tough on him for taking the family business and turning it into a comedy goldmine in Ghostbusters. That's not the case, said Aykroyd. His father, Peter, was "elated" with the film and thought that the opening scene where a ghost completely wrecks the basement of the New York Public Library was incredibly accurate.
Peter Aykroyd told the Daily Beast, "It was a pure poltergeist phenomenon and absolutely true to form. Let's face it, he was writing this thing from conviction. There was truth in that, even though it seemed fantastic." As much as Peter thought the opening scene was an accurate depiction of a poltergeist, he did feel the Stay Puft Marshmallow Man was a bit much.
Source www.ranker.com
Harry Reid urges senators to push for more substantial UFO research
© Unknown
Former Senator Harry Reid
Owen Daugherty
The Hill
Former Senate Majority Leader Harry Reid (D-Nev.) wants his former colleagues in the upper chamber to increase the government's efforts in studying unidentified flying objects.
Reid told Nevada radio station KNPR Thursday in an interview that he was about to talk with a key senator to discuss establishing a way for military members to report suspicious sightings without facing backlash.
"What we found in the past is that these pilots, when they see something strange like this, they're prone not to report it for fear that the bosses will think something's wrong with them, and they don't get the promotion," Reid said Thursday in the interview. "So, many, many times they don't say a word to anybody about these strange things."
Reid's comments were first reported by Roll Call.
Reid said the ability for service members to report potential sightings without fear will support research efforts.
"The facts are, they need a place to be able to report this, and that's what I'm going to work on in a couple of hours, to make sure that somebody I think's a powerful member in Congress, I want him to be able to sit down and talk to some of these pilots who have seen these things," Reid said. "I can arrange this because of the contacts I have with members of the Congress."
While Reid said he doubted "little green" aliens existed, he does think much more should be done to study the possibility of extraterrestrial life.
"I personally don't know if there exists little green men other places, I kind of doubt that, but I do believe that the information we have indicates we should do a lot more study," he said. "We have hundreds and hundreds of people that have seen the same thing – something in the sky, it moves a certain way."
As a lawmaker hailing from Nevada, Reid knows quite a bit about super-secretive Area 51, saying he has visited the Air Force facility in his home state "lots and lots of times."
"Oh sure, I've been to Area 51. I know Area 51. I don't know if I should say many times, but lots and lots of times. I know Area 51 quite well, I know what they've done there," he said. "I don't know in recent years, of course, but I know what went on there."
Philadelphia witness had good view of UFO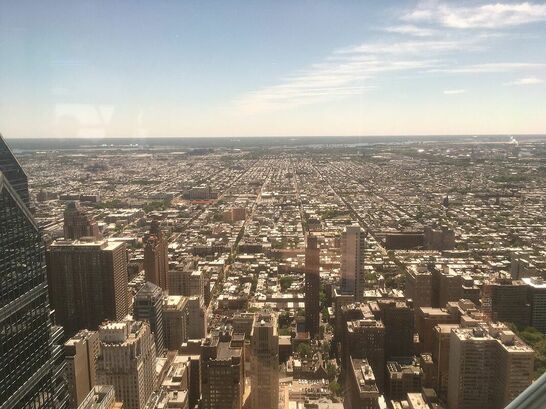 South Philadelphia. Credit: Wikimedia Commons
by Roger Marsh
A Pennsylvania witness at Philadelphia reported watching a hovering orb that eventually flew away, according to testimony in Case 95886 from the Mutual UFO Network (MUFON) witness reporting database.
The witness was in South Philadelphia at 11 p.m. on October 26, 2018.
"I was holding my three-month-old son and looking out my north facing third floor windows," the witness stated. "There is an airport nearby and I see loads of helicopters and drones, but this was different than anything I have seen in the seven years that I have lived here."
The witness said he sees many objects from the master bedroom window on the third floor.
"I have five windows that face north, south, and west and I have no curtains since I like to see the city views. What I saw was a large, bright red, glowing orb about 11-30 feet in diameter that hovered erratically and changed colors every 30 to 60 seconds. It changed from completely red to completely green then completely blue. It was red most of the time and I don't think it was a sequential pattern I believe it was random because I saw more red and green than blue."
The witness said the orb was flying east, and then it would hover and stay completely still.
"It then changed direction and flew west very quickly and disappeared. The total viewing was about five minutes. I've scoured the news and have seen no other accounts of this which is perplexing because there should be multiple witnesses. South Philly is a busy area on a Friday night because of the cheesesteak places that tourists line up at. I'm hoping someone else out there saw this as well."
MUFON Pennsylvania Field Investigator William Morse closed this case as an Unknown-Other.
Source: MUFON