After 7 Years of Deceptions About Assange, the US Readies for Its First Media Rendition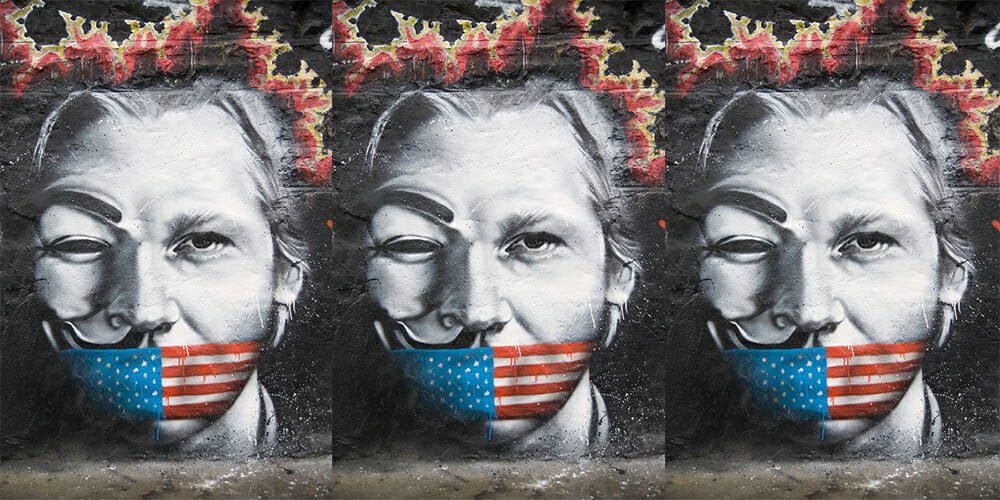 The Facts:A document published by Wikileaks clearly implies that the United States had a "secret" base on the Moon that was destroyed by Russia. It's one of many interesting documents that suggest strange things are and have been happening on the Moon.
Reflect On:Is our world really as it's been presented? There are millions of pages of documents that are classified by multiple countries every single year, how is it possible to really determine what's going on behind the scenes? Why does secrecy rule?
The Assange arrest is scandalous in several respects, and one of them is the effort of governments, and it's not just the US government… The efforts to silence a journalist who was producing materials that people in power didn't want the rascal multitude to know about… That's basically what happened. Wikileaks was producing things that people ought to know about those in power, people in power don't like that. So therefore we have to silence it. – Noam Chomsky (source)
*Note from author: I recently published an article that goes into detail about what Julian Assange's arrest tells us about our world.
The idea that something strange may be happening on the Moon is not far fetched at all. In fact, given all of the information that's now available within the public domain on the subject, it's hard to see how it's not a fact. We'll get to some of that information later in this article; but first, let's draw our attention to a strange Wikileaks document titled, "Report That UR Destroyed Secret Moon Base."
Unfortunately, the document is not an electronic document, therefore access to its full contents is not available online. For anybody truly interested in reading the entire thing, a Freedom of Information Act Request (FOIA) may be in order.
Without speculating here, we can conclude that this is what it says it is, a report regarding possible space wars that are taking place in the classified world. The document title alone not only exposes the reality of these alleged wars, but the possibility of a "Secret Moon Base" belonging to the United States that apparently was in operation until it was destroyed by "UR." (Soviet Union)
You can view it in the Wikileaks archive here.
So, what other information exists, besides this document, showing that something strange is and has been happening on the Moon? There's a lot of information, so it's hard to know where to begin.
First of all, the idea of bases on the Moon have been an open discussion within the government for a long time, although the information isn't easy to find, but it's definitely out there. A document from the government's own publishing office is a great example. It clearly shows one of the goals of the United States government is to build a base on the Moon, and this is as far back as 1966. (source)
A portion of the document reads, with reference to presidents Kennedy and Johnson in a statement by HON. George P. Miller:
I also believe that we can and will achieve the goal set by Presidents Kennedy and Johnson: a manned landing on the moon before 1970. My own confidence in our rapidly advancing science and technology is such that I can visualize many more dramatic achievements ahead, although I will fix no timetable for them. 1. The exploration of the lunar surface, and possibly the establishment of one or more permanent bases there.
Furthermore, decades old documents have been declassified discussing this topic, showing just how serious and far possible advancements with these intentions have gone.
Take a look at the screen shot below, taken from the CIA electronic reading room in the form of a memorandum that was addressed to the CIA director regarding "Military Thought (Top Secret)" by Lieutenant General Korenevskiy.
The document above really goes into detail regarding the importance of weaponizing space. This brings to mind another document from Wikileaks, in the form of an email that was sent to politician John Podesta from Dr. Edgar Mitchell, Apollo 14 astronaut, and Dr. Carol Rosin. It reads as follows:
Dear John, Because the War in Space race is heating up, I felt you should be aware of several factors as you and I schedule our Skype talk. Remember, our nonviolent ETI from the contiguous universe are helping us bring zero point energy to Earth. They will not tolerate any forms of military violence on Earth or in space. The following information in italics was shared with me by my colleague Carol Rosin, who worked closely for several years with Wernher von Braun before his death. Carol and I have worked on the Treaty on the Prevention of the Placement of Weapons in Outer Space, attached for your convenience.
A declassified report by the Air Force Nuclear Weapons Center from June 1959 shows just how seriously they considered a plan called Project A119. In general, they wanted to investigate the capability of weapons in space as well as gain further insight into the space environment and the detonation of nuclear devices within it.
Interesting to say the least, but it's important to recognize the intentions behind the letter, and that is the recognition that humans have brought and will continue to bring their destructive ways into space by weaponizing it or attempting to weaponize it.
With all of this documentation, it's also interesting to look into witness testimonies from credible sources.
In the 1950s, Colonel Ross Dedrickson was responsible for maintaining the inventory of the nuclear weapon stockpile for the AEC, and for accompanying security teams testing the security of the weapons, among many other duties. When it comes to weaponizing space, which is clearly outlined within multiple documents linked above, this is what he had to say:
"I also learned about incidents involving nuclear weapons, and among these incidents were a couple of nuclear weapons sent into space that were destroyed by the extraterrestrials… At the very end of the 70s and the early 80s, we attempted to put a nuclear weapon on the Moon and explode it for scientific measurements and other things, which was not acceptable to the extraterrestrials. They destroyed the weapon before it got to the Moon." (source)
Dedrickson is one of hundreds of whistleblowers with verified, credible and impressive backgrounds to speak up about an extraterrestrial presence. In that same interview, he went on to state that:
A spacecraft went to the rescue of Apollo 13, and they accompanied Apollo 13 on their voyage around the Moon back to Earth. And on two occasions they thought they might have to transfer the crew to their spacecraft, but they saw them safely back to Earth.
This may explain why several astronauts have also been quite outspoken about an extraterrestrial presence, like Edgar Mitchell, Brian O'Leary, Story Musgrave, Gordon Cooper and many others.
Another document from 1965 regarding the CIA keeping tabs on Soviet space plans reads as follows:
Keep in mind, this was more than 50 years ago.
Below is an interesting quote from Carl Sagan:
It is not out of the question that artifacts of these visits still exist, or even that some kind of base is maintained (possibly automatically) within the solar system to provide continuity for successive expeditions. Because of weathering and the possibility of detection and interference by the inhabitants of the Earth, it would be preferable not to erect such a base on the Earth's surface. The Moon seems one reasonable alternative. Forthcoming high resolution photographic reconnaissance of the Moon from space vehicles – particularly of the back side – might bear these possibilities in mind. (source)
George Leonard's 1976 book, Somebody Else is on the Moon, and Fred Steckling's 1981 book, We Discovered Alien Bases on The Moon, also come to mind when discussing this subject.
Members of the Society For Planetary SETI Research (SPSR) recently published a paper in the Journal of Space Exploration about certain features on the far side of the Moon that appear in the crater Paracelsus C. Titled "Image Analysis of Unusual Structures on the Far Side of the Moon in the Crater Paracelsus C," it argues that these features might be artificial in origin.
The study makes a great point when it comes to the extraterrestrial hypothesis:
A decidedly conservative mainstream scientific establishment often rejects anomalies based on subject matter alone, i.e., there cannot be alien artifacts on the moon because there are no alien artifacts on the moon (or other planets). Such a view is an example of circular reasoning, based on the belief that extraterrestrials do not exist, or if they do exist that they could not have traveled to our solar system.
The truth is, "there is abundant evidence that we are being contacted, that civilizations have been visiting us for a very long time." – Dr. Brian O'Leary, former NASA astronaut and Princeton Physics Professor (source)
When it comes to the Moon, man-made bases may not be the only ones there.
As far as our own bases are concerned, Karl Wolfe, who was a precision electronics photograph technician at Langley Air Force Base, became well-known when he provided his testimony at National Press Club in Washington, D.C. as part of Dr. Steven Greer's disclosure project.(source)
Wolfe's testimony revealed that he was taken into a dark room where images from NASA's Lunar Orbiter were being developed and stitched together into composite images called "mosaics."
"They were doing 35 mm strips of film at the time which were then assembled into 18 ½ x 11 mosaics. Those strips were from successive passes around the Moon and they would build up a photograph ," Wolfe said.(source)
"We walked over to one side of the lab and he said, 'By the way, we've discovered a base on the backside of the moon.'"
Dr. John Brandenburg, the Deputy Manager of the Clementine Mission to the Moon, which was part of a joint space project between the Ballistic Missile Defence Organization (BMDO) and NASA, has also made some fascinating revelations. The mission discovered water at the Moon's poles in 1994 (Source: page 16 of 18)(source)(source). But, according to Dr. Brandenburg, the Clementine Mission had an ulterior agenda:
"The Clementine Mission was a photo reconnaissance mission basically to check out if someone was building bases on the Moon that we didn't know about. Were they expanding them?… Of all the pictures I've seen from the Moon that show possible structures, the most impressive is a picture of a miles-wide recto-linear structure. This looked unmistakably artificial, and it shouldn't be there. As somebody in the space defence community, I look on any such structure on the Moon with great concern because it isn't ours, there's no way we could have built such a thing. It means someone else is up there." (Quote from the documentary, "Aliens on the Moon.")
Related Articles
There are other strange facts about our Moon that've been pointed out by some very credible sources. I go into more detail regarding the actual structure of the Moon and what it is as well as the evidence suggesting it could be artificially made in the article linked below:
Multiple Scientists Publish Papers Suggesting The Moon Is Hollow & Artificially Made
Welcome To The World of Secrecy
A Michigan State University economist teamed up with multiple researchers, including Catherine Austin Fitts, former assistant secretary of Housing and Urban Development. They found trillions of unaccounted for dollars missing from housing & D.O.D and going towards black budget programs. You can read more about that here.
We are talking about Special Access Programs (SAP). We have unacknowledged and waived SAPs. These programs do not exist publicly, but they do indeed exist. They are better known as 'deep black programs.' A 1997 US Senate report described them as "so sensitive that they are exempt from standard reporting requirements to the Congress." (source)
I am mentioning this stuff because, whatever is happening with regards to the Moon, you can bet that it's being funded by trillions of dollars from within these deep black budget programs. These are our tax dollars hard at work.
We don't really hear about black budget programs, or about people who have actually looked into them.  However, the topic was discussed in 2010 by Washington Post journalists Dana Priest and William Arkin. Their investigation lasted approximately two years and concluded that America's classified world has:
Become so large, so unwieldy and so secretive that no one knows how much money it costs, how many people it employs, how many programs exist within it or exactly how many agencies do the same work. (source)
CE founder Joe Martino recently went deep into this subject on an episode of CETV, it will be airing soon!
The Takeaway
Our world is not how it's been presented. Many subjects once and that still are deemed as a "conspiracy" are clearly not a conspiracy. Strange things happening on the moon and UFOs, for example, are one of several great examples.
It's OK to explore these things, but it's vital that we examine good sources and present good sources when we do so.
Terra-forming Is Happening To Planet Earth For Extraterrestrial Beings
There is something happening to Planet Earth, that is causing the manipulation of weather and affecting natural habitats for wildlife. Certainly people are contributing to the pollution of the planet, yet temperatures have changed across various landscapes. It doesn't take a rocket scientist to see, that some places are experiencing cooler temperatures more so than ever before.
Through a series of transformations, "Earth-shaping" will continue to happen. This process is a deliberate modification of the Earth's atmosphere where temperatures change along with the topography.
Perhaps Earth will undergo a physical pole shift, that would destroy all if not most of humanity. There are various theories about how the world might end. One of them is the great Nibiru cataclysm, a ticking time bomb of destruction where Earth will collide with a large planetary object (either from a collision or a near-miss). This allegedly will happen sometime in the early part of the 21st century.
This kind of thinking, has been labeled as mere hearsay and conjured up by "conspiracy theorists". Likely all of this is happening, due to the reports of different alien and UFO sightings. This includes the large numbers of abductions that have happened. Some people have gone missing without a trace.
What happened to these people? Did they quite literally vanish off the face of the Earth? Were they taken by some kind of alien species? All of it is rather strange indeed, such as the cattle mutilations found. Are people being experimented on and cross bred with another species?
Some believe, that our planet is being changed in different ways, to make it more inhabitable by these extraterrestrials. There are apparently six to seven different alien species, that are fighting for the control of our world. The following species are believed to be here already:
The Sirians, a species believed to be from the Sirius B star system. They previously transmitted their knowledge to selective human civilizations. Some think that the Egyptians were blessed with both medical and astrological Know-how.
The Short Grays, are species between 3 to 5 feet tall. These creatures have round heads along with big black eyes. Despite having mouth, they rarely ever speak because most of their communication is conducted telepathically. They are minions of The Tall Grays. These short stature d aliens are both unemotional and vicious.
The Tall Grays, are a species described as being between 7 to 9 feet tall. Believed to be in agreement with a global shadow government, they oversee every abduction and human experiment. However, they don't attend these sessions personally. Instead, they employ the Short Grays to do their bidding. They come from a star system in the Orion constellation.
The Alpha Draconians, are thought to be between 14 and 22 feet tall and weigh around 1,800 pounds. They are thought to be exceptionally intelligent and are described as having large sized heads along with serpentine type eyes. Possibly, they have both tails and wings. Their boundless egos, make them believe they have rights to rule planet Earth among other worlds, since they consider us as second-rate species.
The native Reptilians, are a race believed to have been here on Earth before us. They have infiltrated society controlling different affairs of human life. Their influences include the construction of our financial system among religious influences. They reside underground and control media and different corporate businesses. It is also believed that they stand behind most crimes against humanity.
The Anunnaki, represent a noble race of creatures from another galaxy know as Illywn. Their home was a planet called Rizq which was later destroyed, making planet Nibiru their new "residence". Before they went to Earth, The Anunnaki colonized the planets in the Orion star system.
Their arrival on the Earth happened millions of years ago. Their intention was to seek for gold material so they alter their life on Nibiru. In order to do that, they are said to have created mankind so they could get help from them as a workforce in their process. It is thought that the Anunnaki are supervised by the Draconians and human beings share most of their DNA with these types of aliens.
All of this is quite a lot to comprehend and while it is far out there, some if not all of it could hold some truth. Hopefully, people will keep an open mind about what is actually happening in our world. There is much kept hidden away from us, to keep us under control.
20 Historical Paintings That Conspiracy Lovers Can't Get Enough Of
Between the moon landing in 1969 and the growth of the science fiction genre, most would likely peg the 20th century as the origin of humanity's interest in extraterrestrial life. Think about it: is there anything more "modern" sounding than the idea of aliens?
In actuality, this may not be the case. There are a number of historical paintings that some claim feature alien contact —we're talking about UFOs, people! Here are 20 works of art — painted centuries before we ever went to space — that are so out of this world they might be proof of alien existence!
1. St. John the Baptist (1513 – 1516): Leonardo Da Vinci is known for leaving hidden codes in his work. Well, if you join two mirror images of this painting, the face of an alien figure can be seen. Was he trying to send us a message?
Leonardo da Vinci
2. "Charama, India, Cave Paintings" (8,000 B.C.): Archaeologists have discovered alien-like paintings inside an Indian cave. Scientists have gone straight to NASA to investigate whether or not these paintings prove aliens visited our planet 10,000 years ago.
Times of India
3. "Two Dutch Ships" (unknown): Although the artist and era of this painting are unknown, it can be seen that two Dutch ships are sailing towards floating orbs in the sky. Upon further inspection, there appear to be faces inside the orbs suggesting that this is a UFO sighting.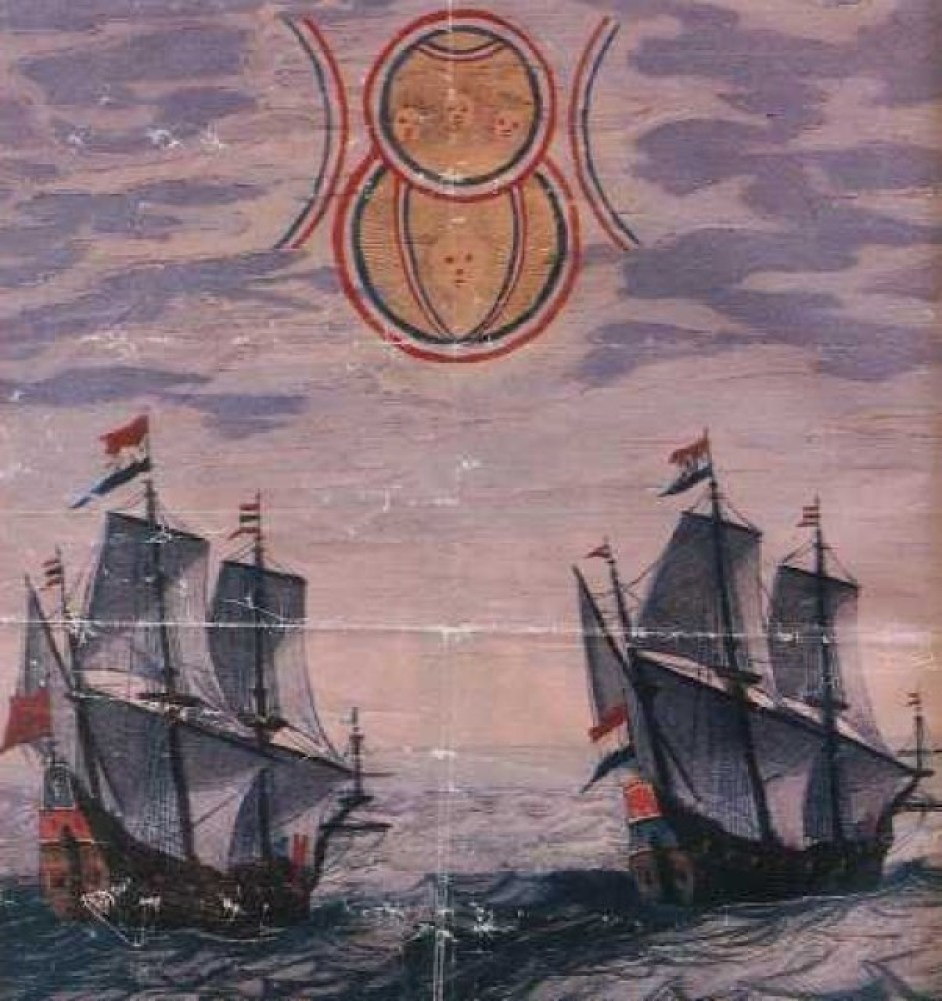 4. UFO sighting outside Windsor Castle (1783): This painting depicts Thomas Sandby's account of a pale blue object entering the night sky from beyond. He recounted that the glowing orb came to a halt and moved directions at one point during the encounter.
Thomas Sandby
5. Mayan carving (1st Century): Carved in stone, there is a man worshiping or surrendering to an alien-type figure hovering above. Some suggest the UFO carving is really just a representation of an ancient Mayan god, but the extraterrestrial reference is strong.
6. The Annunciation With Saint Emidus (1486): Painted by Carlo Crivelli, this work depicts the Virgin Mary just before she learns she is going to give birth to Jesus Christ. The light beaming down on her is either the halo of the Lord… or it's a UFO and a sign that Mary was abducted, depending on who you ask.
Carlo Crivelli
7. The Crucifixion Of Christ (1350): This painting, which hangs above the Visoki Decani Monastery in Kosovo, depicts the crucifixion of Christ. Supposedly, the objects in the upper corners are some sort of spacecraft!
8. The Baptism Of Christ (1710): Showing the baptism of Jesus, this painting by Aert de Gelder features four separate beams of light. Some believe this demonstrates that the disc in the sky is actually a UFO.
Aert de Gelde
9. The Madonna With Saint Giovannino (late 1400s): Domenico Ghirlandaio painted an object over the Madonna's left believed by some to be a UFO. A man is staring at it in the distance and a dog seems to be barking at it as well.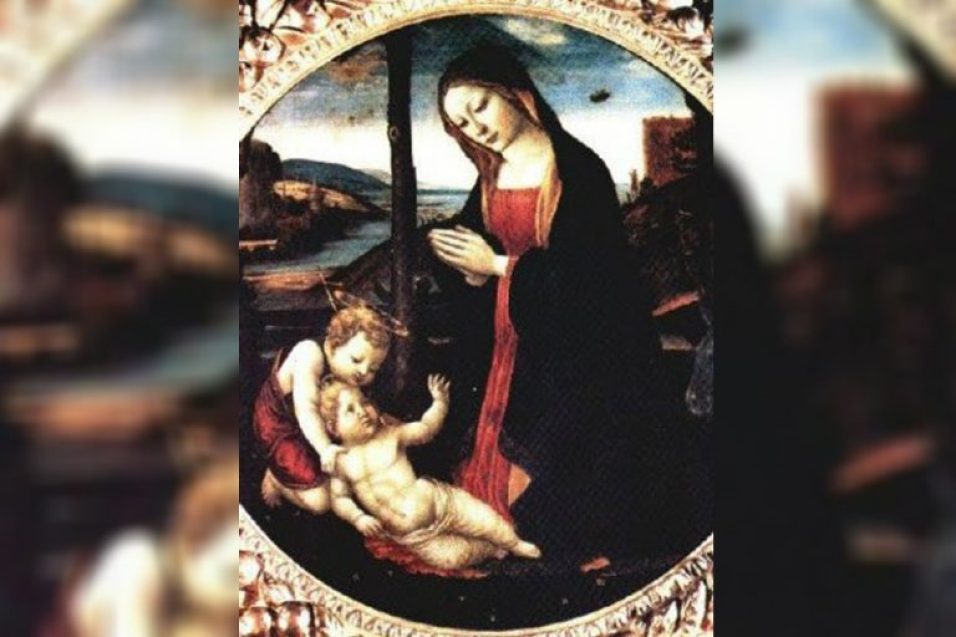 Domenico Ghirlandaio
10. Triumph Of Summer Tapestry (1538): This tapestry was created in Bruges, Belgium, and features depictions of three strange objects in the sky. They don't seem to match any known religious symbols, and the scene on the tapestry is of a ruler's rise to power.
11. La Tebaide (mid-1400s): This painting shows a number of scenes from monastic life in the 15th century, as well as the Crucifixion. Some point to the red disc at the bottom as a sign of something alien, but debunkers say it's nothing but the hat style commonly worn by cardinals at the time.
12. The Miracle Of The Snow (1428-1432): Painted by Masolino da Panicale, it evidently shows a snowfall that happened on a hot August day in Italy. Many believe the clouds might really be representative of something far more otherworldly.
Masolino da Panicale
13. "Israel, Put Your Hope In The Lord" Painting (circa 1600s): Residing now in the Church of the Dominican Monastery in Sighisoara, Romania, this eerie painting shows a church on fire. Above it appears to be some sort of UFO wreaking havoc.
14. Glorification Of The Eucharist (early 1600s): Painted by Ventura Salimbeni, it's hard not to notice the globe in the middle of the work. Some say it's evidence of time travel, while experts suggest it's a "creation globe," and the antennas are actually wands used by God and Jesus.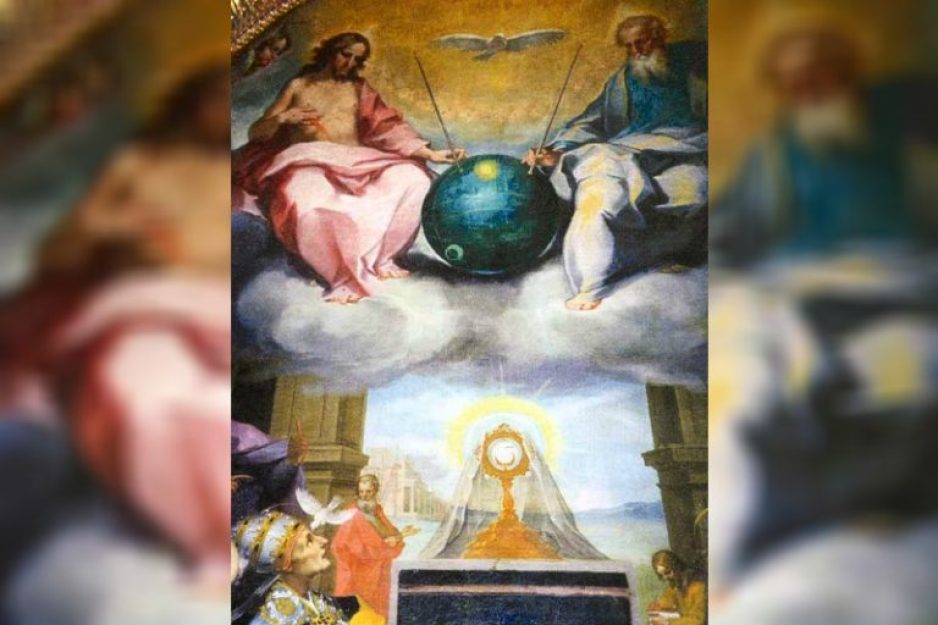 Ventura Salimbeni
15. The Crucifixion Of Christ (circa 1600s): Found in the Svetishoveli Cathedral in Mtskheta, Georgia, this painting apparently shows two flying objects on either side of Christ during the Crucifixion. Some believe this is proof that Jesus was some form of human-alien hybrid.
The Crucifixion Of Christ
16. Saint Wolfgang and the Devil (circa 1475): This piece by Michael Pacher shows Saint Wolfgang himself getting help from some devilish alien creature to build his church.
Michael Pacher
17. Egyptian Pictograph (400 B.C.): This pictograph appears to show a male Egyptian offering a live bird to a cloaked alien figure of some sort. Potentially a peace offering after unwanted aliens invaded earth?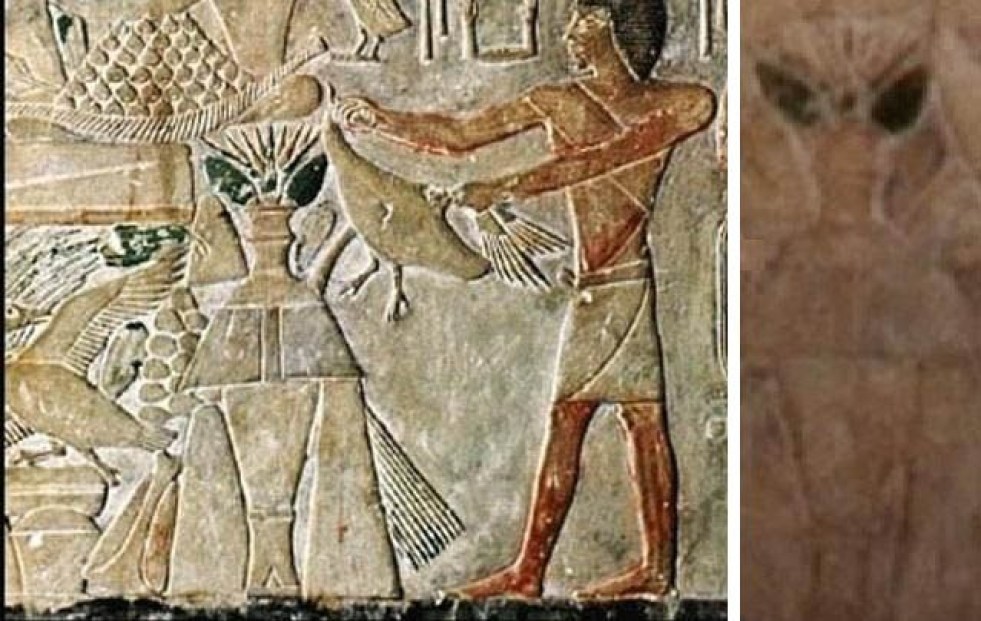 18. "Une No Chiri" (1803): Published in a book in the 19th century, this illustration depicts a real-life artifact that was found at Haratonohama by Japanese sailors. According to the explanation on the drawing, the outside was made of iron and glass.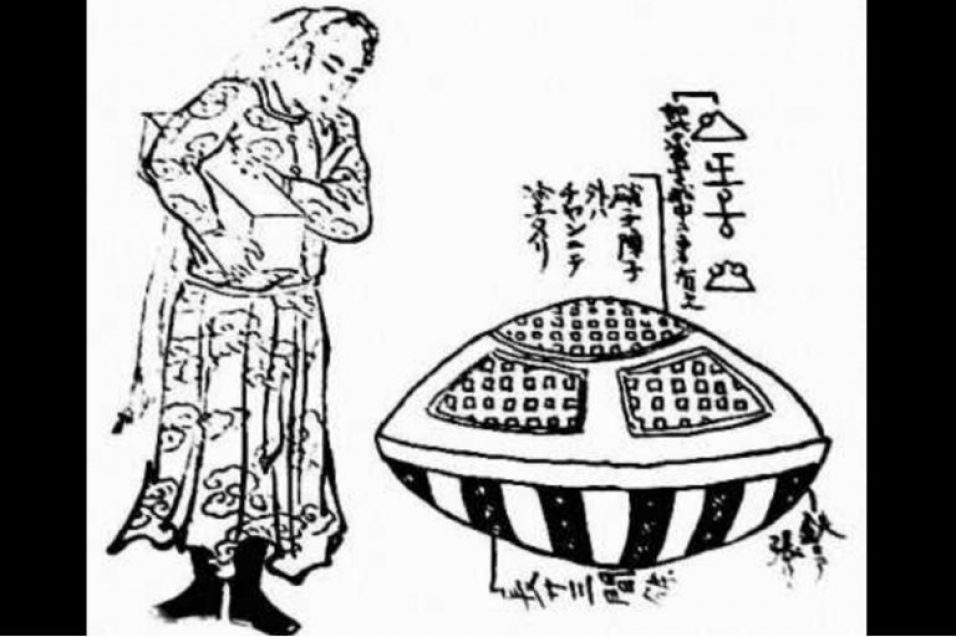 Ume No Chiri
19. Foppa Adorazione (1478): This painting has a hidden message lurking in the back. A man can be seen standing on the hill looking up at a glowing orb. Some argue that this divine painting depicts belief of extraterrestrial life.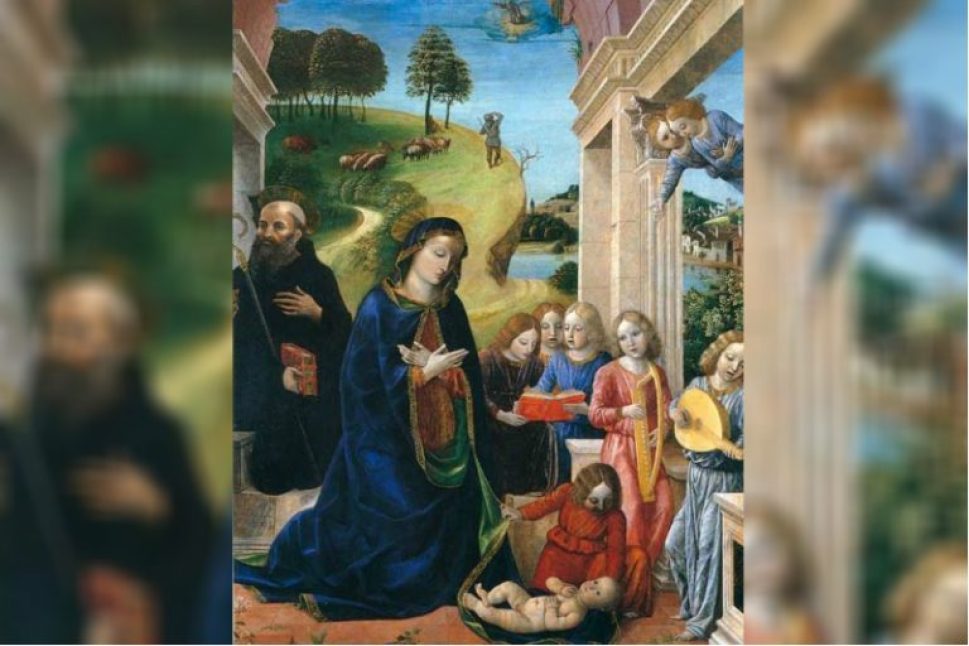 Vincenzo Foppa
20. Mona Lisa (1503) Another example of Leonardo da Vinci leaving hidden messages in his work, comes from one of his most famous paintings. If you place two mirror images of the Mona Lisa side-by-side, an alien's face becomes clearly visible.
Leonardo da Vinci
But there is actually much more to this classic than just Aliens. There is so much mystery surrounding Mona Lisa that historians continue to study the painting today, and after all these years she still has secrets to reveal…
In 2015, a French scientist using reflective light technology discovered a portrait of another woman hiding beneath the painting we see now. The underlying portrait is believed to be Da Vinci's first draft of the famous painting, but it's difficult to confirm if that belief is true or not. And Mona Lisa isn't the only one holding secrets…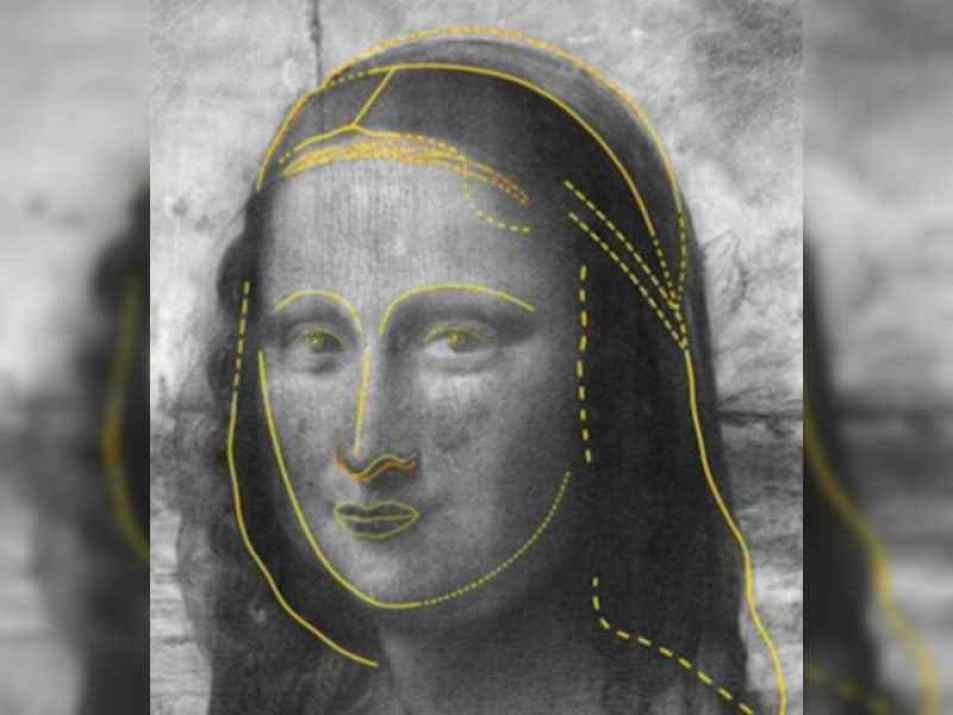 Jan van Eyck, the Netherlandish painter, created the famous Arnolfini Portraitin 1434. The painting depicts Giovanni di Nicolao Arnolfini, an Italian merchant, and his wife, Constanza Trenta. While the renowned work is impressive in itself, there's more to the painting than meets the eye…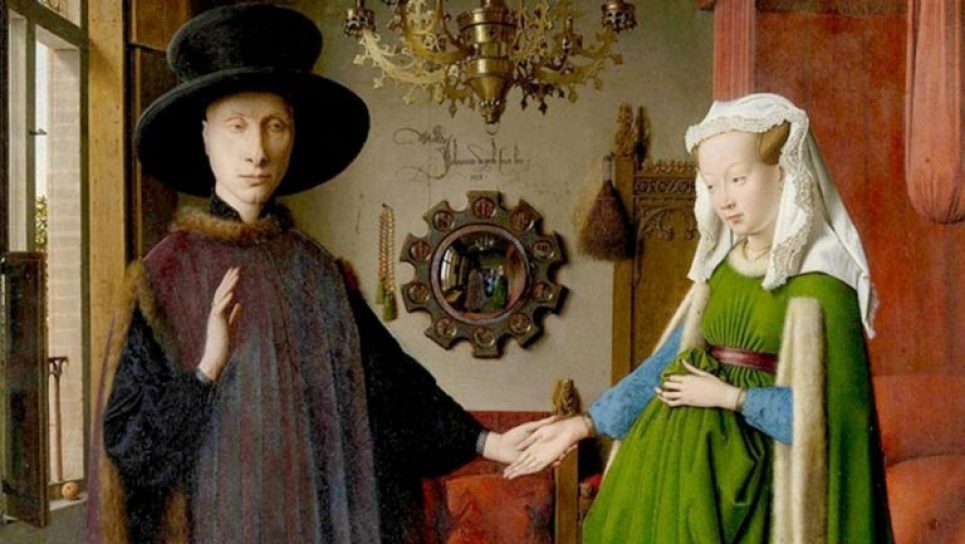 Take a closer look, you'll see a mirror centered in the background of the painting. Reflected in the mirror are two other figures who appear to be looking at the Arnolfini's. Based on our logic of mirrors, one of the figures is presumed to be the artist, Van Eyck, subtly eternalizing himself in the portrait.
We can't talk about art without bringing up the chiseled bod of David. Arguably one of the greatest sculptures of all time, Michelangelo's statue of David stands 17 feet tall. Seriously, we have to admit, David doesn't really have a bad angle going for him. But looking up at David does distort one thing that might change the way you consider the work.
David is positioned in a heroic manner. Due to its size, when we admire the statue we are forced to look up at him. His body is anatomical perfection, and, paired with his confident stance, David is often thought to be sculpted as "hero." Looking at David at eye level reveals a different story. His expression shows concern and fear, which makes sense after all given he is about to engage in a battle with Goliath!
This one is a touch macabre. In 1533, Hans Holbein the Younger painted The Ambassadors. The work showcases two rich ambassadors, seemingly healthy and in their prime, surrounded with their fine material goods. While the portrait is strikingly rich in color, the hues defy the underlying message of the work, which is far from vivifying.
Looming at the feet of the ambassadors is an anamorphic perspective of a skull. The skull, with its placement and perspective, seems so stark that it feels like it doesn't belong in the painting.
This piece was intended to hang in a stairwell so, at the angle of ascension, the skull would jump right out at you. The skull was to serve as a memento mori, which translates to, "remember you will die." So much for a welcome mat, huh?
More details here https://www.khanacademy.org
Despite his name, Pieter Bruegel the Elder is not a wizard. Unfortunately. What he is though, is one of the most notable artists of the Dutch and Flemish Renaissance painting. In 1559, he created the Netherlandish Proverbs. It may look more like a Neanderthal-ish bedlam, but this raucous scene is actually telling a story — 112 stories to be exact!
The artist is known for inserting the absurdity of humanity in his work, and he didn't miss a beat with this one. The painting literally illustrates 112 different proverbs and sayings from the Netherlands. Some of which include, "To be a pillar biter" and "Armed to the teeth." But the real proverb here is, if you're not Dutch, you're not getting much (at least not much face time in a Bruegel painting)!
The Sistine Chapel. You may have heard of it — the big, painted chapel in the Apostolic Palace, nestled in the Vatican City. Well, way back in 1512, Michelangelo was commissioned by Pope Julius II to paint the story of Genesis across 9 sections of the concave ceiling. Michelangelo's work would come to be recognized as a cornerstone of high renaissance art. Some speculate that beyond a masterpiece, the artist also left behind a message…
Michelangelo spent many years studying human anatomy. With that deep understanding, the artist was able to depict people with greater realism and insert more cerebral meaning into his paintings. In this famous section, God is surrounded by what looks like a brain. This insinuates that not only did God give Adam life, but also the ability to reason and think.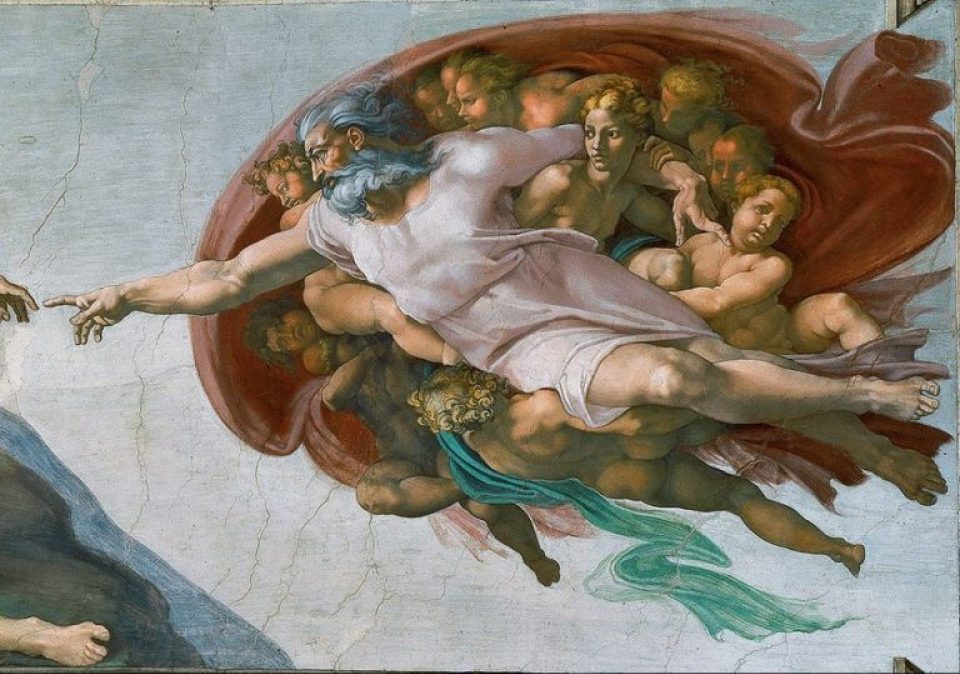 The Last Supper by Leonardo Da Vinci is almost as famous for its rumors of secret meanings as it is for its artistic brilliance. Da Vinci was unique in his genius, and much of that is to due to his vast and diverse passions. Not only an artist, Da Vinci identified as a mathematician, scientist, inventor, and even a musician.
And when a fellow musician admired Da Vinci's work, he noticed something peculiar. When the five lines of a musical staff are drawn across the supper, the bread rolls combined with the apostle's hands create musical notes. When you follow Da Vinci's signature style of right to left, the notes make up a 40-second musical composition.
Vincent Van Gogh created Café Terrace at Night in 1888, a scene so charming, you can almost hear accordions. Some art historians have a different take on this painting though. There are theories that posit this café might have a more symbolic impetus, coming from the son of a Protestant minister…
There have been many comparisons with Van Gogh's Café Terrace and Da Vinci's Last Supper. The central figure in white is thought to be a representation of Jesus, while the dark figure in the doorway is speculated to represent Judas.
There is a good story here, but first let's take a moment to appreciate the name of this painting's creator, Hieronymus Bosch. Ohhh, it's so good! Hieronymus Bosch is the creator behind this triptych oil painting titled, The Garden of Earthly Delights. What is even more delightful are the secret, behind-the-scenes notes…
These notes, found on the bottom of a tortured soul in the "hell panel" of the painting, translate into approximately 28 seconds of what can only be described as a reject Nokia ringtone. This melody is widely referred to as "the butt-song from hell."
The legendary Mexican painter Frida Kahlo had a husband who was, apparently, a painter as well. Just kidding, Diego Rivera is totally a big shot. Due to his notoriety, in the early 1940s, Nelson Rockefeller commissioned Rivera to paint a mural, Man at the Crossroads for the Rockefeller Center in New York City. Alas, even the richest of the rich don't always get exactly what they want…
Young Rockefeller didn't appreciate the inclusion of the communist revolutionary Vladimir Lenin in the mural, so he had the painting destroyed. In response, Rivera re-created the mural in 1943 in Mexico city and titled it, Man, the Center of the Universe. Not only was Lenin even more prominently featured in this mural, but Rivera, not so coyly, painted in Rockefeller's father below the bacterial illustration of syphilis.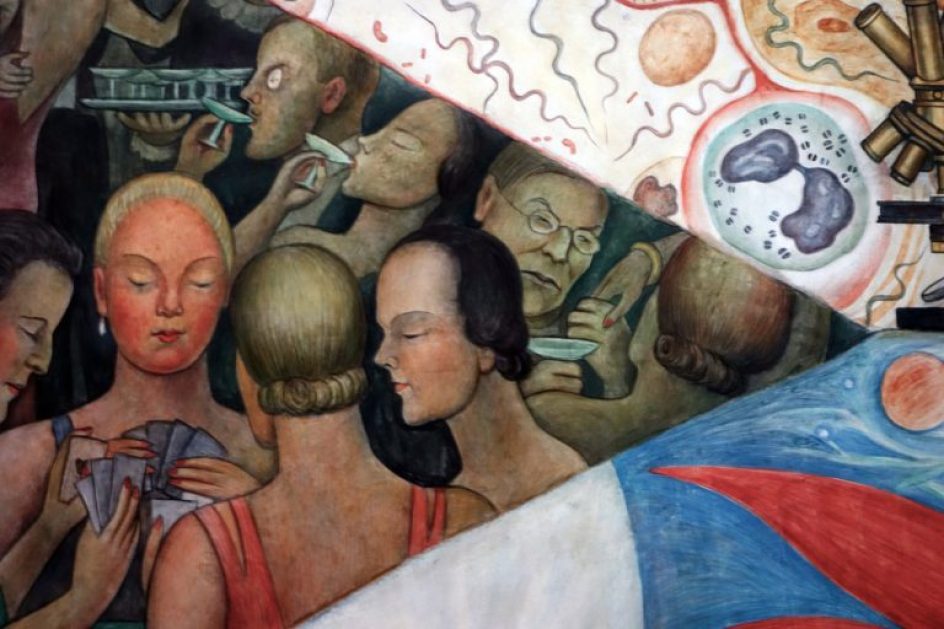 The elites are not human: This is how these Reptilians act with us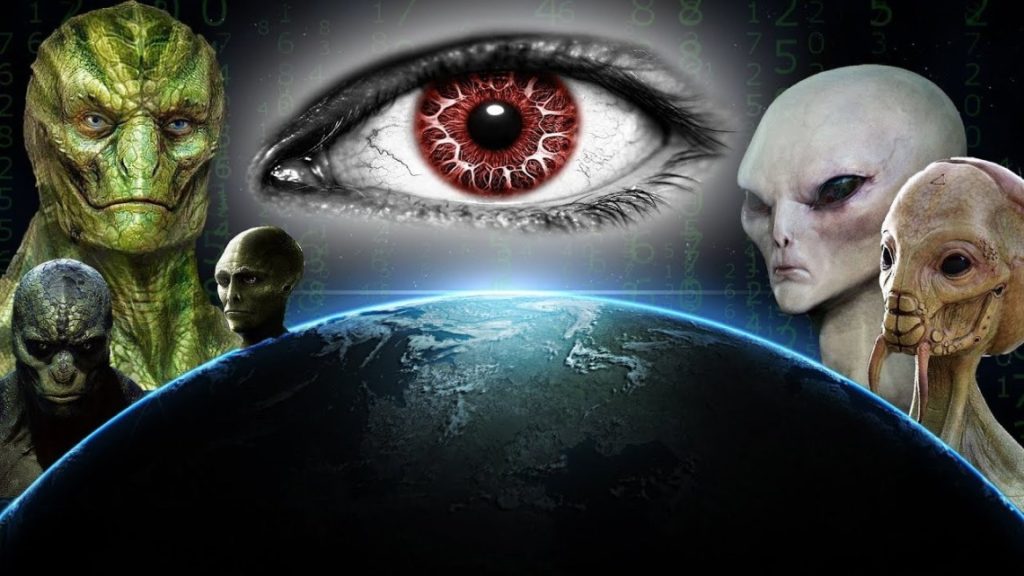 One of the most surprising theories in the panorama of conspiracies is that which has been defended by the British researcher and writer David Icke, who since 1990 devoted himself to searching for the "reptiles that control the world".
Apparently David Icke's idea of ​​a conspiracy of lizards may seem like idiocy; but the investigating experts who have come to study Icke's theses, in many occasions to try to dismantle their eccentric visions, have found with the surprise that the theories of this English writer are of absolute solvency and that they are perfectly structured and documented.
In his writings, Icke warns that world control resides in a few magnates, powerful people from the economic, political and world royalty spheres, who are descendants of a race of humanoid reptiles that have always controlled all of humanity .
These dominant "lizards" are those who wield world power through the occult society of elite "Illuminati".
That the control of the economic and political power of the world is structured from occult secret societies, followers of the Devil, is something that was already known. The great novelty introduced by David Icke is the element "lizard", that is, to say that these controllers of world power are reptilian beings and that they transform their form.
David says that most of the world leaders, of any social structure, like George Bush, the Rockefellers, the Rothschilds, and even the Royal Family of England, are 7-foot-tall, humanoid reptiles that feed primarily on blood.
Snake beings, also called, can transform their physical appearance, from human to reptile, depending on whether they are in private or in public at that moment.
According to an interview with David Icke, Christine Fitzgerald, a confidante of Princess Diana , tells that Diana told her, that the Royal Family were reptilian aliens, and that they could change shape.
David Icke states that September 11 is a conspiracy by the Reptilians to enslave through fear of humanity, George Bush being a servant of the lizards.
David Icke's theories may be difficult for some to understand, but what is undeniable is the fact that when you listen to his propositions, he makes a very good discussion with his case. This is a time of great changes in the world.
People have started to wake up, deciding for themselves what resonates as truth and what does not. We live in an era of massive information exchange, thanks to the advent of the Internet. People are connecting from around the world to share knowledge and create changes on a large scale.
The most important thing that each of us must do during this time is to inform ourselves as much as possible. In short, we are the ones who have the power to create what we want as a society. When we tune into our true potential, everything is possible.