African sorcerers prey on albinos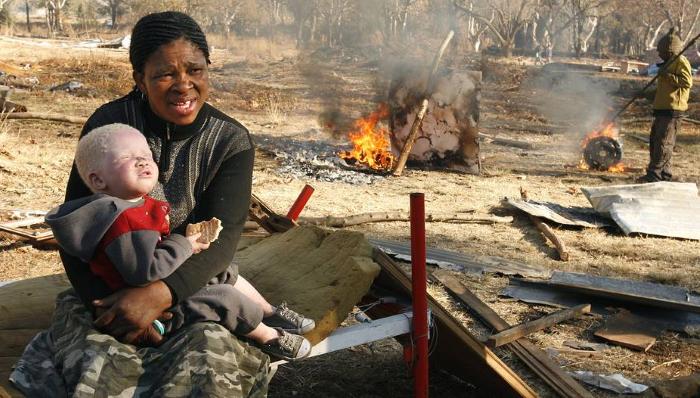 June 13 will mark International Albinism Awareness Day. This memorable date was established at the UN only a few years ago after it became known about the atrocities that albinos in Africa are subjected to.
Who are albinos?
These are people with unusually fair skin and hair, and sometimes with reddish eyes. Their appearance is due to a lack of pigments called melanin (do not confuse with melatonin, which regulates sleep-wake cycles and is sold in pharmacies). Depends on the number and ratio of melanins, blond man, brunette or red, pale or dark, what color he has an iris. There is special melanin even in the brain. True, why is he really incomprehensible .
Melanin deficiency occurs in albinos due to mutations in the genes that regulate the production and distribution of these substances in the body. Since breakdowns occur in different places of DNA, there are several types of albinism, more than a dozen of them are described in the scientific literature, but the classification has not been fully established. Some albinos have completely white skin and hair, while others are simply paler than usual and with yellow hair. Someone's eyes are affected only, but there are also forms that can be recognized only when examined with special equipment.
Is it dangerous?
Usually albinism does not shorten life expectancy, but albinos more often burn out in the sun and suffer from skin cancer ( presumably , melanin protects against ultraviolet rays and acts as an antioxidant), their eyes are more sensitive to light than other people. Because of this, albinos have to close their skin, use special creams, wear dark glasses. Often they have poor eyesight, sometimes they have strabismus, the eyes move involuntarily – the look seems to run.
With proper care, these are surmountable difficulties, but even penniless glasses are not available everywhere and not to everyone. For example , in Tanzania, only 10% of albino children go to high school (in 2017, the national average was 58%). When there is nothing to close your skin and eyes, even playing with friends on the street is not so simple, but if you do go out, you will find a wise guy who will tease you.
There are more dangerous forms of albinism, for example,Germanic-Pudlak syndrome. In people with this syndrome, blood coagulates worse, which makes bruises easy, and bleeding difficult to stop. In addition, in some young people lungs healed. After it becomes difficult for them to breathe, life remains for no more than ten years. And sometimes with the Germanic-Pudlak syndrome, the intestines become inflamed and the kidneys fail.
Is albinism being treated?
No, so far, doctors are only able to help with related problems like visual impairment. Someone will say that albinism – at least some forms – is not a disease at all in order to treat it. Be that as it may, a genetic test during pregnancy reveals this feature. But many do not even suspect that they may have such a baby – albinos appear in people with ordinary pigmentation.
Albinism is a fairly common phenomenon. On average, one out of 17–20 thousand people is albino. But in some places they are much more common. For example, among the Panamanian Indians, kuna albino is one hundred and fifty. Kuna consider this a blessing. True, when the Spaniards colonized those territories, the kuna began to kill white-skinned children due to associations with the invaders.
By the way, what atrocities were mentioned at the beginning of the article?
In Africa, between lakes Victoria and Tanganyika, it is believed that albinos and parts of their body bring good luck. Children are especially valued because of their innocence. Albinos are attacked by warlocks and maimed, and sometimes killed to make talismans. The report of the International Red Cross and Red Crescent Movement, published in 2009, said that in the largest city of Tanzania Dar es Salaam, four limbs, genitals, ears, tongue and nose of an albino in the amount cost $ 75 thousand. Also in those parts it is believed that having sex with an albino girl can save you from HIV / AIDS.
The attacks began in the mid-2000s. Political analyst Benson Bana explained to The Guardian that fishing regulation was tightened on Lake Victoria. Catches were reduced, and if someone came across large prey, then this was explained by superstition. It was then that the sorcerers took notice, and soon amulets from albinos became popular with local miners. However, killings for "medical" purposes (not necessarily albinos) have been carried out in Africa since time immemorial.
More than a hundred victims of sorcerers and their mercenaries are known, but probably more albinos died. Relatives are often involved in crimes, so they are not made public. The authorities of East African countries and non-profit organizations have achieved some success, but the problem has not been fully resolved.
Who else has albinism?
On the Internet it is easy to find photos of a wide variety of albinos: kangaroos, pandas, moose, even crocodiles. But in some creatures, melanin is not the only substance that gives color, so without it, not everyone becomes albino. By the way, there is melanin even in bacteria, because they also need protection from sunlight.
There are even plants as albinos , but in their case it is due to the absence of the green pigment chlorophyll. Chlorophyll is needed for the production of nutrients, so these plants usually die young.
However, the leafless chin (Epipogium aphyllum) also survives without chlorophyll: this is an entire albino species, it receives food by fungal hyphae that entangle its roots. The chin, or ghostly orchid, is found in Russia, but is extremely rare (so it's better not to pluck it!). Maybe you are lucky and you will see this beautiful flower.
Ways to have fun celebrating Halloween in the pandemic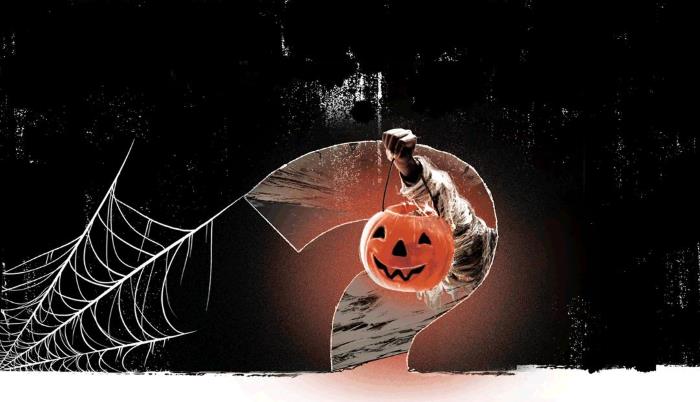 Roughly 74% of American millennials and young parents think Halloween is more important this year than ever. They gather in online groups where they exchange tips and suggestions on the safest way to have fun on All Saints' Day in a pandemic.
The Los Angeles Times selected seven of the most successful ideas, and shared them with readers.
This year, when most of the candy lovers are staying at home, decorating their home is more important than ever. The more tinsel, the better. You can hang out flashlights, buy a fog machine, or make a stuffed animal out of old clothes. Carve some pumpkins and have an online contest among family members, asking them to vote for the best neighborhood crafts.
Of course, the bravest children will come under your door shouting "wallet or life", but it is impossible to communicate directly with little ghouls who are always short on candy. It is better to arrange sweets in bags in advance and put them outside the door. You can wave your hand at them from the balcony or out the window if you want to see how happy they will be with the treat.
The candies can be hung from strings on a fence or from trees. Children will quickly figure out how to rip them off.
If your child really wants to go outside, and the level of infection in the region does not allow this, you can distract him by looking for sweets at home. Turn off the lights, take flashlights, and run with him in search of candy. For teenagers, you can do a whole quest with tips and tasks.
Plastic eggs, which many use for Easter gifts, can be pasted over with glowing scary faces and muzzles. Then fill them with candy and hide them inside or outside the house. You can decorate them with stickers glowing in the dark, then it will be more interesting to look for surprises in the dark.
It's not recommended to have ghosts in the house, of course, but you can watch movies about them on Halloween. An impromptu cinema can be arranged both in the house and in the yard. Then the neighbors can join the session. To keep your distance, you should buy hula hoops. Then everyone will be accommodated on the same lawn in front of the house, but the risk of infection will be avoided.
The most important thing is to get a good mood on Halloween. Therefore, without further ado, you can put vacuum-packed sweets under the door of your neighbor, call and run away with all your blades. This will amuse you and your neighbors, who will spend half the night wondering whether to eat the offering or throw a potentially infectious bag in the trash.
The activation of volcanoes in Iceland and Russia concern scientists: "This is an anomaly"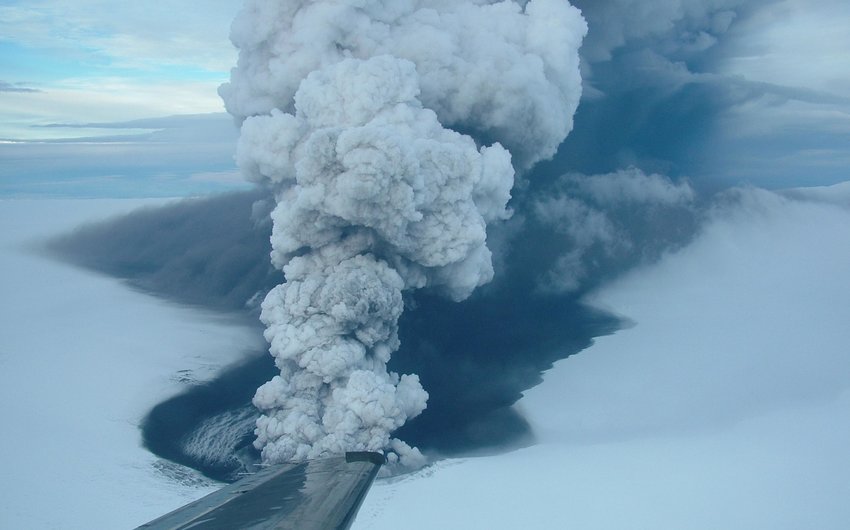 Almost all volcanic eruptions of the past, leading to a cooling of the climate, coincide in time with low solar activity. 
Alarmingly, the Sun is currently passing through its deepest solar minimum in 100+ years and looking into the future, NASA found that the next cycle (25) could be "the weakest in the last 200 years" – a return to minimum conditions Dalton.
The Dalton Minimum (1790-1830) was a period of historically low solar activity that also included the famine-inducing eruption of Mt. Tambor, in 1815.
The eruption of Tambora was one of the most powerful on Earth in the last 2000 years, and it exacerbated the cooling of the Earth, already occurring due to low solar activity. This unfortunate combination led to one of the harshest climates of the modern era – 1816 is also known as the "year without summer".
ICELAND
Of today's waking volcanoes, those in Iceland are perhaps the most worrying. It is this highly volcanic region that is likely to be home to the next "big" (repeat of the 536 AD eruption that destroyed the Roman Republic), which will plunge the Earth into a new volcanic winter.
The high frequency of volcanic eruptions allows scientists to detect patterns (precursors). And if these patterns are repeated every time a volcano erupts, then scientists can be more confident in their predictions.
Grimsvötn is Iceland's most frequently erupting volcano, with approximately 65 known eruptions over the past 800 years. Icelandic scientists are closely following Grimsvotn after its 2011 eruption 
Recently, researchers have seen various signals indicating that the volcano is preparing to erupt again, and have raised the threat level.
The volcano swells as new magma moves into the channel system below it. The increase in thermal activity has led to the melting of more ice, and earthquakes have also become more frequent in recent years.
The time intervals between the eruptions of Grimsvotn are different, writes Dave McGarvey, a volcanologist at Lancaster University. For example, before the larger eruption of 2011, there were smaller eruptions in 2004, 1998, and 1983. Intermittently from four to 15 years. It is important to note that given the next eruption, Grimsvotn appears to have a pattern of infrequent large eruptions that occur every 150-200 years (e.g. 2011, 1873, 1619), with smaller and more frequent eruptions occurring approximately every ten years in between. 
If the previous model of Grimsvotn, consisting of occasional large eruptions with more numerous smaller eruptions occurring in between, continues in the future, then the next eruption should be small (considering that there was a large eruption in 2011). 
Nevertheless, the word "must" is important here, McGarvey stresses, – Iceland's volcanoes are complex natural systems, and their patterns do not always correspond exactly to reality.
Katla is another Icelandic volcano on the verge of erupting, according to the Icelandic Meteorological Bureau (IMO). Since January of this year, researchers have recorded an upturn in and around Katla, and in recent months have recorded an increase in sulfur dioxide levels close to the site of two previous eruptions.
The previous major eruption of Katla occurred in 1918. This year is within the Hundred Years Low, the previous multi-decade period of low solar activity.
Icelandic authorities are well aware of the dangers posed by the next Katla eruption, and a delegation of volcanologists meets regularly with the Icelandic parliament to discuss how to respond in the event of an eruption.
RUSSIA
Scientists are also concerned about the unusual behavior of Klyuchevskaya Sopka Volcano (also known as Klyuchevskaya Volcano) located on the Kamchatka Peninsula in Russia.
As a rule, a year passes between the eruptions of Klyuchevskoy volcano, but recently this period of calm has been reduced to two months – on October 5, 2020, night cameras recorded the outpouring of lava from the crater of the volcano's summit.
According to Yuri Demyanchuk, head of the Klyuchevskoy volcanic station IViS, all of this indicates an impending new larger eruption.
Klyuchevsky's uncharacteristic behavior can lead to paroxysmal explosions (unpredictable, dangerous explosions).
"The last activation was in 2013, before that – in 1994. But so far we have not observed such an intensity of tremor to speak of an impending paroxysmal activity, "the expert explains. – "This is an anomaly."
Seismic and volcanic activity is associated with changes in the Sun.
Volcanic eruptions are one of the key factors pushing the Earth towards the next stage of global cooling. Volcanic ash (particulate matter) ejected more than 10 km away – and therefore into the stratosphere – obscures sunlight and lowers Earth's temperature. Smaller particles of an eruption can linger in the upper atmosphere for years or even decades.
The recent outburst of volcanoes around the world is believed to be related to low solar activity, coronal holes, a waning magnetosphere, and an influx of cosmic rays penetrating silica-rich magma.
The world's oceans are under attack from man-made disasters
The mass death of marine animals in the Avacha Bay in Kamchatka was due to toxic algae, according to experts of the Russian Academy of Sciences. But there are also signs of technical pollution – increased concentrations of oil products and heavy metals in water. After natural disasters, the ocean recovers itself. And what are technogenic fraught with?
For most of its history, humanity has been more consumerist about the ocean. Only in recent decades has a new understanding begun to form: the ocean is not just a resource, but also the heart of the entire planet. Its beating is felt everywhere and in everything. Currents affect the climate, bringing cold or heat with them. Water evaporates from the surface to form clouds. The blue-green algae that live in the ocean produce virtually all the oxygen on the planet.
Today we are more sensitive to reports of environmental disasters. The sight of oil spills, dead animals and garbage islands is shocking. Each time the image of the "dying ocean" is strengthened. But if we turn to facts, not pictures, how destructive are industrial accidents on big water?
Annushka has already spilled … oil
Of all oil product pollution, the majority is associated with everyday leaks. Accidents account for a small part – only 6%, and their number is decreasing. In the 1970s, countries introduced stringent requirements for tanker ships and restrictions on shipping locations. The world tanker fleet is also gradually being renewed. New vessels are equipped with a double hull to protect against holes, as well as satellite navigation to avoid shoals.
The situation with accidents on drilling platforms is more complicated. According to Peter Burgherr, an expert in assessing technological risks at the Paul Scherrer Institute, the risks will only increase:
"This is connected, firstly, with the deepening of wells, and secondly, with the expansion of production in areas with extreme conditions – for example, in the Arctic ". Restrictions on deep-sea drilling offshore have been adopted, for example, in the USA, but big business is struggling with them.
Why are spills dangerous? First of all, the mass death of life. On the high seas and oceans, oil can quickly take over vast areas. So, only 100-200 liters cover a square kilometer of the water area. And during the disaster on the Deepwater Horizon drilling platform in the Gulf of Mexico, 180 thousand square meters were contaminated. km – an area comparable to the territory of Belarus (207 thousand).
Since oil is lighter than water, it remains on the surface as a continuous film. Imagine a plastic bag over your head. Despite the small thickness of the walls, they do not allow air to pass through, and a person may suffocate. The oil film works the same way. As a result, "dead zones" can form – oxygen-poor areas where life is nearly extinct.
The consequences of such disasters can be direct – for example, contact of oil with the eyes of animals makes it difficult to navigate normally in the water – and delayed. Delayed ones include DNA damage, impaired protein production, hormone imbalances, damage to immune cells, and inflammation. The result is stunted growth, reduced fitness and fertility, and increased mortality.
The amount of oil spilled is not always proportional to the damage it causes. Much depends on the conditions. Even a small spill, if it fell during the fish breeding season and happened in the spawning area, can harm more than a large one – but outside the breeding season. In warm seas, the consequences of spills are eliminated faster than in cold ones due to the speed of the processes.
Accident elimination begins with localization – for this, special restrictive booms are used. These are floating barriers, 50-100 cm high, made of special fabric that is resistant to toxic effects. Then comes the turn of water "vacuum cleaners" – skimmers. They create a vacuum that sucks the oil film along with the water. This is the safest method, but its main disadvantage is that collectors are only effective for small spills. Up to 80% of all oil remains in the water.
Since oil burns well, it seems logical to set it on fire. This method is considered the easiest. Usually the spot is set on fire from a helicopter or ship. Under favorable conditions (thick film, weak wind, high content of light fractions), it is possible to destroy up to 80–90% of all pollution.
But this should be done as quickly as possible – then the oil forms a mixture with water (emulsion) and burns poorly. In addition, combustion itself transfers pollution from water to air. According to Alexei Knizhnikov, head of the environmental responsibility program for WWF-Russia business, this option carries more risks.
The same applies to the use of dispersants – substances that bind oil products and then sink into the water column. This is a fairly popular method that is used regularly in case of large-scale spills, when the task is to prevent oil from reaching the coast. However, dispersants are toxic by themselves. Scientists estimate that their mixture with oil becomes 52 times more toxic than oil alone.
There is no 100% effective and safe way to collect or destroy spilled oil. But the good news is that petroleum products are organic and are gradually decomposed by bacteria. And thanks to the processes of microevolution in the places of the spill, there are more precisely those organisms that are best at coping with this task. For example, after the Deepwater Horizon disaster, scientists discovered a sharp increase in the number of gamma-proteobacteria, which accelerate the decay of oil products.
Not the most peaceful atom
Another part of oceanic disasters is associated with radiation. With the onset of the "atomic age," the ocean has become a convenient testing ground. Since the mid-forties, more than 250 nuclear bombs have been detonated on the high seas. Most, by the way, are organized not by the two main rivals in the arms race, but by France – in French Polynesia. In second place is the United States with a site in the Central Pacific Ocean.
After the final test ban in 1996, accidents at nuclear power plants and emissions from nuclear waste processing plants became the main sources of radiation entering the ocean. For example, after the Chernobyl accident, the Baltic Sea was in first place in the world in terms of the concentration of cesium-137 and in third place in terms of the concentration of strontium-90.
Although precipitation fell over land, a significant part of it fell into the seas with rain and river water. In 2011, during the accident at the Fukushima-1 nuclear power plant, a significant amount of cesium-137 and strontium-90 was released from the destroyed reactor. By the end of 2014, the isotopes of cesium-137 had spread throughout the Northwest Pacific.
Most of the radioactive elements are metals (including cesium, strontium, and plutonium). They do not dissolve in water, but remain in it until the half-life occurs. It is different for different isotopes: for example, for iodine-131 it is only eight days, for strontium-90 and cesium-137 – three decades, and for plutonium-239 – more than 24 thousand years.
The most dangerous isotopes of cesium, plutonium, strontium and iodine. They accumulate in the tissues of living organisms, creating a danger of radiation sickness and oncology. For example, cesium-137 is responsible for most of the radiation received by humans during trials and accidents.
This all sounds very disturbing. But now there is a tendency in the scientific world to revise early fears about radiation hazards. For example, according to researchers at Columbia University, in 2019, the plutonium content in parts of the Marshall Islands was 1,000 times higher than that in samples near the Chernobyl nuclear power plant.
But despite this high concentration, there is no evidence of significant health effects that would prevent us from, say, eating Pacific seafood. In general, the influence of technogenic radionuclides on nature is insignificant.
More than nine years have passed since the accident at Fukushima-1. Today, the main question that worries specialists is what to do with radioactive water, which was used to cool fuel in destroyed power units. By 2017, most of the water had been sealed off in huge cisterns onshore. In this case, groundwater that comes into contact with the contaminated zone is also contaminated. It is collected using pumps and drainage wells and then purified with carbon-based absorbents.
But one element still does not lend itself to such cleaning – it is tritium, and around it most of the copies break today. The reserves of water storage space on the territory of the nuclear power plant will be exhausted by the summer of 2022. Experts are considering several options for what to do with this water: evaporate into the atmosphere, bury or dump into the ocean. The latter option is today recognized as the most justified – both technologically and in terms of consequences for nature.
On the one hand, the effect of tritium on the body is still poorly understood. Which concentration is considered safe, no one knows for sure. For example, in Australia the standards for its content in drinking water are 740 Bq / l, and in the USA – 76 Bq / l. On the other hand, tritium poses a threat to human health only in very large doses. Its half-life from the body is from 7 to 14 days. It is almost impossible to get a significant dose during this time.
Another problem, which some experts consider a ticking time bomb, are barrels of nuclear fuel waste buried mainly in the North Atlantic, most of which are located north of Russia or off the coast of Western Europe. Time and sea water "eat up" the metal, and in the future, pollution may increase, says Vladimir Reshetov, associate professor of the Moscow Engineering Physics Institute. In addition, water from spent fuel storage pools and waste from nuclear fuel reprocessing can be discharged into wastewater and from there into the ocean.
Time bomb
Chemical industries pose a great threat to communities of aquatic life. Metals such as mercury, lead and cadmium are especially dangerous for them. Due to strong ocean currents, they can be carried over long distances and not settle to the bottom for a long time. And off the coast, where the factories are located, infection primarily affects benthic organisms. They become food for small fish, and those for larger ones. It is the large predatory fish (tuna or halibut) that get to our table that are most infected.
In 1956, doctors in the Japanese city of Minamata faced a strange illness in a girl named Kumiko Matsunaga. She began to haunt sudden seizures, difficulties with movement and speech. A couple of days later, her sister was admitted to the hospital with the same symptoms. Then polls revealed several more similar cases. The animals in the city also behaved in a similar manner. Ravens fell from the sky, and algae began to disappear near the shore.
The authorities formed the "Strange Disease Committee", which discovered a trait common to all infected: the consumption of local seafood. The plant of the Chisso company, which specialized in the production of fertilizers, fell under suspicion. But the reason was not immediately established.
Only two years later, the British neurologist Douglas McElpine, who worked a lot with mercury poisoning, found out that the cause was mercury compounds that were dumped into the water of Minamata Bay more than 30 years since the start of production.
Bottom microorganisms converted mercury sulfate into organic methylmercury, which ended up in fish meat and oysters along the food chain. Methylmercury readily penetrated cell membranes, causing oxidative stress and disrupting neuronal function. This resulted in irreversible damage. The fish themselves are better protected from the effects of mercury than mammals due to the higher content of antioxidants in the tissues.
By 1977, authorities counted 2,800 victims of Minamata Disease, including cases of congenital fetal abnormalities. The main consequence of this tragedy was the signing of the Minamata Convention on Mercury, which banned the production, export and import of several different types of mercury-containing products, including lamps, thermometers and pressure measuring instruments.
However, this is not enough. Large amounts of mercury are emitted from coal-fired power plants, industrial boilers and home stoves. Scientists estimate that the concentration of heavy metals in the ocean has tripled since the start of the industrial revolution. In order to become relatively harmless to most animals, metallic impurities must travel deeper. However, this could take decades, scientists warn.
Now the main way to deal with such pollution is high-quality cleaning systems at enterprises. Mercury emissions from coal-fired power plants can be reduced by using chemical filters. In developed countries this is becoming the norm, but many third world countries cannot afford it. Another source of metal is sewage. But here, too, everything depends on money for cleaning systems, which many developing countries do not have.
Whose responsibility?
The state of the ocean is much better today than it was 50 years ago. Then, at the initiative of the UN, many important international agreements were signed that regulate the use of the resources of the World Ocean, oil production and toxic industries. Perhaps the most famous in this row is the UN Convention on the Law of the Sea, signed in 1982 by most countries in the world.
There are also conventions on certain issues: on the prevention of marine pollution by dumping of wastes and other materials (1972), on the establishment of an international fund to compensate for damage from oil pollution (1971 and and harmful substances (1996) and others.
Individual countries also have their own restrictions. For example, France has passed a law strictly regulating the discharge of water for factories and plants. The French coastline is patrolled by helicopters to control tanker discharges. In Sweden, tanker tanks are labeled with special isotopes, so scientists analyzing oil spills can always determine which ship was discharged from. In the United States, a moratorium on deep sea drilling was recently extended to 2022.
On the other hand, decisions made at the macro level are not always respected by specific countries. There is always an opportunity to save money on protective and filtering systems. For example, the recent accident at the CHPP-3 in Norilsk with the discharge of fuel to the river, according to one version, occurred for this reason.
The company did not have equipment to detect subsidence, which led to a crack in the fuel tank. And in 2011, the White House Commission to investigate the causes of the accident on the Deepwater Horizon platform concluded that the tragedy was caused by the policy of BP and its partners to reduce security costs.
According to Konstantin Zgurovsky, Senior Advisor to the WWF-Russia Sustainable Marine Fisheries Program, a strategic environmental assessment system is needed to prevent disasters. Such a measure is provided for by the Convention on Environmental Impact Assessment in a Transboundary Context, which has been signed by many states, including the countries of the former USSR – but not Russia.
"The signing and use of SEA allows in advance, before the start of work, to assess the long-term consequences of a project, which makes it possible not only to reduce the risk of environmental disasters, but also to avoid unnecessary costs for projects that can be potentially dangerous to nature and humans."
Another problem that Anna Makarova, Associate Professor of the UNESCO Chair "Green Chemistry for Sustainable Development" draws attention to, is the lack of monitoring of waste burials and mothballed industries. "In the 90s, many went bankrupt and quit production. Already 20-30 years have passed, and these systems began to simply collapse.
Abandoned production facilities, abandoned warehouses. There is no owner. Who is watching this? " According to the expert, disaster prevention is largely a matter of managerial decisions: "The response time is critical. We need a clear protocol of measures: which services interact, where the funding comes from, where and by whom the samples are analyzed. "
The scientific challenges are related to climate change. When ice melts in one place, and storms begin in another, the ocean can behave unpredictably. For example, one of the versions of the mass death of animals in Kamchatka is an outbreak of the number of toxic microalgae, which is associated with climate warming. All this has to be studied and modeled.
So far, the ocean has enough resources to heal their "wounds" on their own. But one day he may present an invoice to us.