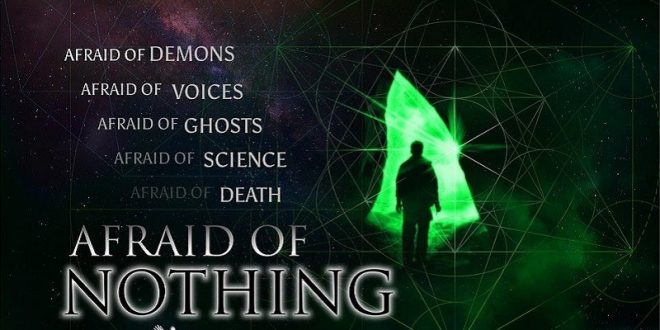 Just recently I had the opportunity to watch a new documentary film called Afraid of Nothing.
Created by independent filmmaker Robert Heske, Afraid of Nothing explores life and the afterlife through the eyes of a Shaman, Astronomer, Ghost hunter, Psychic, Past Life Regressionist, a Witch and other individuals. It had its world premier back in February at the Boston Sci-Fi Film Festival.
The documentary is produced and filmed in a way in which it lets you make up your own mind in what you think in regards to life, the afterlife and the paranormal.
The people in the film tell their stories and share their beliefs in a way that it is not biased, unlike other similar documentaries and TV shows which quite often are. These are simply real people sharing their stories and experiences in what they do.
One thing I really liked about this documentary is that with it including people from different backgrounds it gives different explanations to the paranormal and afterlife, from a spiritual side to a scientific point of view.
Afraid of Nothing is good documentary film, its different from many other paranormal tv/film documentaries as it presents different real life facts and leaves it up to the viewer decided in what that want to believe.
I really hope this film gets to become available on a TV network, but for now if you see it advertised at a film or sci-fi festival I would recommend you take time out to watch it.
You can find more information on Afraid of Nothing on the films Facebook page
*I was invited to watch Afraid of Nothing. This review is of my own thoughts and opinion.
The Best Paranormal Movies Since 2000
Paranormal films can capture the imagination like no other genre.
Whilst they are certainly not for everyone, a good horror movie can be the perfect way to spend an evening snuggled up on the couch hiding behind your favourite blanket. Paranormal films appeal to our most primal human instincts of curiosity, fear and deeper meaning, with very few other genres able to get such a visceral reaction as horror.
Of course, classics such as The Exorcist and Halloween are deservedly looked upon as true classics of the horror genre, yet we think that paranormal movies really came into their own in the 21st century, with the introduction of advanced technology and the obvious benefits this brings.
In this article, we will take a look at some of the very best paranormal movies since 2000, taking you on a journey through a selection of films. Some of these were huge commercial successes, others critics' favourites, but one thing unites them: they are all absolutely terrifying.
So, without further ado, our list of the best paranormal movies since 2000…
The Witch – 2015
The debut feature from Robert Eggers is perhaps the most critically acclaimed of any film on our list and, for our money, it is the best paranormal movie of the 21st century so far. Whilst debate among purists continues to rage over whether or not this slow-burning, understated and moody film is a true horror in the classic sense, the way in which The Witch unsettles and disquiets audiences make it a truly exceptional film.
Set in the northeastern United States, a region with a long tradition of bizarre superstitions around the supernatural, The Witch tells the story of a family of English Calvinists banished from their community and their subsequent struggle to set up a new life. Things begin to go catastrophically wrong and it soon becomes apparent that there are supernatural forces at work.
As both a parable on human nature and straight-up supernatural horror, The Witch has a devastating effect and is the kind of film you will be left thinking about long after the credits roll.
Paranormal Activity – 2007
Although a critical success for the most part, Paranormal Activity will surely go down as one of the biggest box-office coups in movie history. On a budget of just $11,000, director Oren Peli managed to create a movie that would go on to make more than $193.4 million in ticket sales. As a result, Paranormal Activity has since gone down as the single most profitable film ever made.
The genius of this 2007 horror lies in it's simplicity, with the found-footage conventions employed to chilling effect in the telling of the tale of a young couple haunted by a supernatural presence in their home. Both critics and audiences alike were left floored by what is to this day considered one of the scariest films ever made, something all the more impressive considering the movie's tiny budget and immense financial return.
The Conjuring – 2013
The film that spawned an entire universe and subsequent franchise is just as terrifying today as it was upon release. Starring Vera Farmiga and Patrick Wilson as paranormal investigators, this film draws brilliantly on classic haunted house conventions that have long spooked audiences across the globe.
The genius of The Conjuring lies in the work of director, James Wan, who drums up such a level of prickly tension throughout the picture that by the end you are left feeling deeply shaken. With that said, there's nothing particularly original about this movie and this is perhaps why it manages to be so effective. The Conjuring draws on our deepest fears and carries off the old-school Amityville-inspired scare-fest to a tee, perhaps even surpassing the original haunted house classic in quality and sheer terror.
Nowadays the film is maybe best remembered for one of the most terrifying dolls in film history. In fact, The Conjuring uses cliches such as these and a not-quite-ironic level of self awareness to devastating effect – instilling fear in audiences who know exactly what is coming yet who can never quite convince themselves that this, after all, is just a movie.
Ghost Hunters and Psychic Kids return to A&E for a Back to Back Debut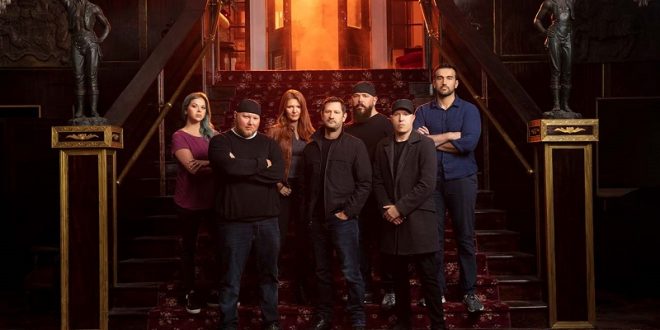 On Wednesday August 21st both Ghost Hunters and Psychic Kids return to A&E channel for back to back debut episodes starting at 9PM ET/PT.
From having the opportunity to preview both new episodes I can tell you its straight back to business for both shows.
Fifteen years ago the world was introduced to Ghost Hunters with Grant Wilson, Jason Hawes and the TAPS team investigating lots of haunted locations over 11 seasons.
Seven years ago Grant Wilson decided to quit Ghost Hunters to spend more time with his family but now in 2019 Grant is back with a whole new team of hand picked professional ghost hunters as they use their decades of experience to investigate hauntings across America.
Grants new team members are Daryl Marston co-lead investigator, Kirtsen Luman co-lead investigator, Mustafa Gatollari Historian and site analyst, Richel Stratton paranormal investigator, Brian Murray paranormal investigator and Brandon Alvis paranormal technician.
The season premiers with "School Spirit".  Grant is contacted by the principal of Pocatello High School in Idaho after security cameras capture unexplained electrical light disturbances and a ghostly apparition in the hallway.
The school has long been rumoured to be haunted, but most rumours are thought to be just urban legends, but are they?
Psychic Kids first debuted in 2008 and became a hit series for A&E. It brought together children who had psychic abilities and helped them to harness and cope with their abilities to try and stop them from being afraid.
Now with the new series, the kids from 10 years ago are now in their 20's and ready to assist the next generation of children with psychic abilities.
In the first episode we are introduced to Kendyll and Ethan. Two children who are scared and having a hard time controlling their abilities and turn to mentors to help them cope.
The mentors Peri Zarella and Ryan Michaels, two psychics who featured in the original series when they were children, try to help and guide Kendyll and Ethen with their abilities via different scenarios.
Will you be watching?
Staff claimed to have seen creepy Mothman-like creature before blast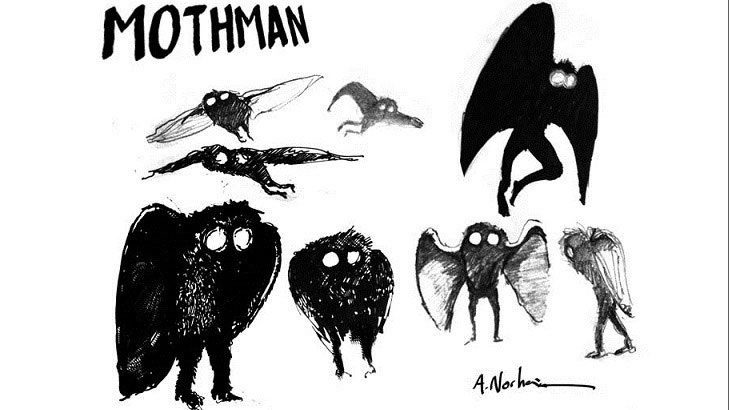 L.J. Charleston
news.com.au
The terrifying creature rose above the horizon of Chernobyl and Pripyat, a hideous humanoid with giant wings, a black headless body and red glowing eyes sending a message of doom to all who gazed upon it.
In the days leading up to the Chernobyl disaster, several of the workers in the control room of the nuclear power plant in northern Ukraine claimed to have seen the creature that is known as the Blackbird of Chernobyl.
Those unlucky enough to see the creature were said to be plagued with terrifying dreams and threatening phone calls.
Still others believe the Black Bird of Chernobyl was a form of the creature known as Mothman whose presence only ever meant one thing: that a catastrophic event would soon follow.
Last month marked 33 years since the Chernobyl tragedy and it seems the further time moves away from the event, the stories, folklore and legends continue to captivate and grow. And, since the huge success of the TV series, Chernobyl, there's a seemingly endless desire for more knowledge about the disaster – the known as well as the unknown.
The Black Bird Rises In Chernobyl
Sydney archaeologist Robert Maxwell is the only archaeologist who has ever worked at Chernobyl, completing two field excursions at the exclusion zone in 2010 and 2012.
He is passionate about the place in both a historical and archaeological sense; there is little Maxwell doesn't know about Chernobyl, on matters of both the physical and supernatural world.
Maxwell told news.com.au that the legend of the Blackbird of Chernobyl was something he heard about when he was in the exclusion zone.
"The legend states that in the days leading up to April 26, 1986, that a supernatural creature was sighted in the sky over Chernobyl by many of the men in the control room. They also claimed to have seen this terrifying creature just before the explosion," Maxwell said.
"Now it's become one of those fables that's difficult to track because it relies on the accounts of people who died due to radioactive contamination.
"The Blackbird has also become one of those fairly safe legends where, if you try to look for proof, it might not be available because the workers are dead, or maybe the sightings were never officially recorded.
"So, for people trying to check the voracity of these claims, of course, you've got to take them on face value because there's not a lot of history or archaeology to go on.
"But the stories persist, even to this day."
Maxwell describes the legends around Chernobyl as "the fireside stories of the 21st century."
These days, the Blackbird of Chernobyl is something of an internet legend, similar to "Slenderman", and creepy pasta legend "The Smiling Man".
"These legends fill a place for us as humans that the ghost stories and stories by the fireside fulfilled back in the earlier centuries. But there are a couple of versions of the Blackbird story, and the earliest known account seems to have come from 2005," Maxwell said.
"According to the legend, rumours went through the ranks of Chernobyl, that five employees had seen a large, dark headless creature with gigantic wings and fire red eyes. Chernobyl employees began sharing strangely similar experiences, some had horrifying nightmares, while others received threatening phone calls," Maxwell said.
"The second account I've heard of this story comes from 2007 which says that people in and around the power plant began to experience a series of strange events revolving around sightings of a mysterious creature – also described as a large dark and mutated creature with large wings and piercing red eyes.
"People affected by the phenomena also experienced nightmares and had first-hand encounters with the winged beast.
"Some of the workers reported their bizarre experiences to supervisors of the facility but there was very little these officials could do even if they'd been willing to take action. Then, in April, disaster struck."
Reactor number four of the nuclear power plant exploded on April 26 and, two days later, the entire city of Pripyat was evacuated.
It was several years later that the stories of the Blackbird began to spread.
"Because the workers apparently described the Blackbird as a headless, large-winged black creature with no head, but with fire red eyes – which most people take to mean the eyes appear in the torso, it sounded very similar to the Mothman sightings in the west.
"Many people believe the Mothman, like the Blackbird of Chernobyl, are the harbingers of doom, in the same way the banshee was a herald of doom and death to many Celtic societies."
The Mothman
Mothman sightings are an enduring mystery that began in November 1967 in Point Pleasant, West Virginia. More than 100 locals reported seeing what they described as a six-foot (182cm) tall beast, covered in hair or feathers with a wingspan of six to ten feet (182-305cm) and bright, glowing red eyes.
Then, in December, a chain suspension bridge across the Ohio River, from Point Pleasant to Gallipolis, crashed into the river at peak hour, killing 46 people.
Some reported that they saw the Mothman on the bridge just before the collapse.
Due to the bridge collapse happening around the same time as the Mothman sightings, inevitably the two became intertwined.
Whether you want to believe the legend or not, one irrefutable fact is that the story of one can't be told without the other: the bridge collapse and Mothman are forever linked. There's even a Mothman statue in Point Pleasant which is now a popular tourist attraction.
The Mothman statue by Bob Roach in downtown Point Pleasant, West Virginia pic.twitter.com/3RQwdQkf5l

— 41 Strange (@41Strange) 7 January 2019
The Mothman was also reportedly spotted in Germany, on September 10, 1978, when a mine collapsed in Freiburg, killed several miners. But more than 20 miners who were supposed to work that day were apparently scared away by the sight of a Mothman-like creature perched at the entrance of the mine.
This creature was known as "Freiburg Shrieker". And now the Mothman is seen as a "grim reaper" appearing just before death.
Of course, sceptics dismiss the Mothman as an elaborate hoax or an example of mass illusion. Some believe the stories have actually been created by Pripyat authorities in a bid to prevent people from entering the radioactive area as looters are still a security problem.
The herald of doom
According to Maxwell, while some see the Mothman as a herald of doom, others see the creature in a different light, that it seems to be a time traveller of some kind that keeps returning to sudden, unexpected disasters.
"And for others, the Mothman is a completely supernatural entity that's drawn in, like a moth is drawn to a flame; the Mothman or the Blackbird is simply drawn to the energy of disasters, or so the story goes," Maxwell said.
"It's a fascinating little spooky sidenote to the story of Chernobyl because not many people are aware of the stories of this creature. But it certainly adds to the creep factor.
"As if the Chernobyl disaster wasn't terrifying enough, then you've got these alleged encounters with a black winged red eyed creature at night."
And as for Maxwell, the question remains: during his two field excursions to the Chernobyl exclusion zone, did he see anything supernatural?
"No, absolutely not. It was entirely very much real terror when you're there. What's truly frightening is that you've got the all-encompassing overwhelming threat of radioactive contamination if you do the wrong thing or go in the wrong place or lean against the wrong object.
"There are certain things in the zone today for which any contact for any prolonged period of time will definitely kill you.
"There is one thing in particular that I still think about quite a lot: The Claw."
Next week news.com.au will bring you the story of The Claw: the most contaminated thing at Chernobyl.