A Website Exposing How Much Big Pharma Pays Your Doctor
The Facts:A resource that allows you to understand the financial relationship between doctors and pharma companies in the United States. If you click on Search Tool, you have the ability to search by Physician, Teaching Hospital, or Company Making Payment.
Reflect On:Why is our medical system dominated by pharmaceutical companies? Why do most doctors trust the medications they prescribe without looking into it more? Why don't doctors prescribe health solutions that don't involve drugs?
In 2014, Harvard University stated that prescription drugs are the 4th leading cause of death. North American culture practically worships the pharmaceutical industry and often fails to recognize many of the issues within it. Many Americans are completely unaware that new prescription drugs have a 1 in 5 chance of causing serious reactions, even after being approved.
In fact, approximately 1.9 million people are hospitalized annually due to properly prescribed medication (not including any overdoses, self-prescriptions, or mis-prescribing). 128,000 people die every year in the U.S. from drugs prescribed to them, so why is this still happening? The reality is, drug companies make a lot of money from selling prescriptions, and they even pay doctors to do it for them.
If you've ever questioned this industry and your doctor's motives, here is some good news: You can now find out how much your doctor is paid annually to prescribe any drug. In addition, you can also search any company name and find out how much they pay doctors in total every year.
The Database That's Exposing Big Pharma's Money Trail 
The governmental website Open Payments Data a
The two former options allow you to see how much doctors and hospitals are paid annually by pharmaceutical companies to prescribe drugs. If you search a specific company, on the other hand, you can see a detailed summary of their spendings. There's specific information outlining which doctors are paid the highest amounts, how many doctors they pay nationwide, the nature of these payments, and then specific details of every single payment they made to doctors that year.
For example, when you type Big Pharma giant Gilead Science Inc. into the tool bar, you can see that the company spent $36,830,535.40 in Total General Payments and $45,394,349.76 in Total Research Payments in the year 2015 alone. 48.4% of payments were classified as "Compensation for services other than consulting, including serving as faculty or as a speaker at a venue other than a continuing education program." The top paid physician made more than $600,000 in 2015 from simply prescribing drugs manufactured by Gilead Science Inc.
It doesn't take much common sense to understand what this could mean, particularly since it's hardly a secret that pharmaceutical companies essentially buy out the medical industry. Numerous pharmaceutical companies have paid doctors and researchers to understate the dangers of both drugs and their negative side effects, and to falsify research as well.
Arnold Relman, Harvard Professor and former editor of the New England Journal of Medicine, put it perfectly when he said, "The medical profession is being bought by the pharmaceutical industry, not only in terms of the practice of medicine, but also in terms of teaching and research. . . . The academic institutions of this country are allowing themselves to be the paid agents of the pharmaceutical industry. I think it's disgraceful."
Don't Be So Quick to Blame Your Doctor…
If you've visited Open Payments Data's platform and searched your doctor within their database, take a moment to reflect on what you're really looking at. Just because your doctors receive payments from pharmaceutical companies doesn't necessarily mean they're terrible people; it could just mean that they're doing their jobs.
It's unlikely your personal doctor designed the current structure of the medical industry. Your doctor may not even understand the complexity of the pharmaceutical industry because MDs aren't properly educated on these drugs. Many doctors genuinely believe they're helping people through the use of medication; they don't see the bigger picture here because it's not included in their education. Plus, it's often illegal for MDs to prescribe natural cures instead of pharmaceutical drugs and conventional treatments, particularly when it comes to the cancer industry (check out this CE article that exposes the truth about cancer).
In addition, when you actually think about it, it makes perfect sense that some doctors are being paid by pharmaceutical companies. Of course Big Pharma would require doctors' help in creating drugs and validating their use; it's completely legal and should be expected of them. However, there's clearly a grey area here that cannot be ignored.
Pharmaceutical companies, rather than qualified and unbiased doctors, define a lot of the information that MDs are taught, and Big Pharma often influences medical professors and funds university programs. For example, 1,600 Harvard professors stated that they or a family member have ties to drug companies that could bias their teachings or research. The pharmaceutical industry donated more than $11.5 million to Harvard in 2008 for "research and continuing education classes." Many Harvard students have expressed concern over this and it even made mainstream news when a student was belittled by his professor for asking about the side effects of a drug his professor was unlawfully promoting in class.
This has also been a prevalent issue within psychiatry. As Dr. Irwin Savodnik of UCLA explains, "The very vocabulary of psychiatry is now defined at all levels by the pharmaceutical industry." This is partially because the Diagnostic and Statistical Manual of Mental Disorders (DSM), the text most psychiatrists in the U.S. refer to to diagnose and treat their patients, is heavily biased toward using pharmaceutical drugs instead of therapy. Read more about this in our CE article here.
If you haven't yet been exposed to this side of the U.S. medical industry, I can understand that there may be some confusion. Why would pharmaceutical companies and some doctors conspire to over-prescribe or mis-prescribe people when their sole purpose should be to help their patients? The simple answer is profit.
The main reason we take so many drugs is that drug companies don t sell drugs, they sell lies about drugs. This is what makes drugs so different from anything else in life… Virtually everything we know about drugs is what the companies have chosen to tell us and our doctors… the reason patients trust their medicine is that they extrapolate the trust they have in their doctors into the medicines they prescribe.

The patients don't realize that, although their doctors may know a lot about diseases and human physiology and psychology, they know very, very little about drugs that've been carefully concocted and dressed up by the drug industry… If you don t think the system is out of control, please email me and explain why drugs are the third leading cause of death… If such a hugely lethal epidemic had been caused by a new bacterium or a virus, or even one-hundredth of it, we would have done everything we could to get it under control. – Dr. Peter Gotzsche, co-founder of the Cochrane Collaboration (source)
Why Big Pharma Wants You To Take Pills
This may be obvious to many of you, but, just to be clear: The entire medical industry is focused around profit. It's similar to any other industry in that every service it provides you with, or item it convinces you to purchase, makes someone else a lot of many. In the case of a pharmaceutical company, they can only make money if you're sick.
So, it wouldn't really be in the best interest of Big Pharma to sell drugs without any negative side effects. If they produced drugs that actually 100% cured people, how would they continue to profit off our illnesses?
This is precisely why Big Pharma does not get involved with all-natural medicines; there is no profit to be made in plants. Anyone can grow a plant with the right climate and it's much cheaper to manufacture than synthetic drugs. It's also easier to make pills in larger quantities than plants. and then when you consider the economies of scale, Big Pharma is able to generate an even greater profit.
Big Pharma has infiltrated pharmaceutical drugs into other industries too. If you eat animal products, then you're inadvertently ingesting the hormones, antibiotics, and other pharmaceutical drugs given to those animals. Antibiotics, birth control pills, painkillers, and other pharmaceutical drugs can be found in tap water as well.
Let's take a moment to look at the bigger picture: Most industries are currently driven by money, not passion. It seems strange, but this is precisely the issue within the medical industry. I'm sure many doctors choose their occupation because they're passionate about helping people. However, until Big Pharma stops playing such a crucial role in creating their job descriptions, it will be difficult for MDs to actually help people without simultaneously hurting them.
It's clear that we need a systemic change in values. Until we start to work "for the people" rather than "for the profit," we cannot expect these outcomes to change. It's hardly surprising that Big Pharma wants you to be sick because they're not just in the business to cure people — they also need to make a profit.
Yes, fear is the power of control
"… The young devil to the old:
– How did you manage to send so many souls to hell?
Old devil:
– Through fear!
Young:
– Well done! And what were they afraid of? Wars? Hunger?
Old:
– No … Disease!
Young:
– They weren't sick? Weren't they dying? Wasn't there a medicine?
Old:
-….. got sick. They died. There was a cure …
Young:
– I do not understand…
Old:
– We accidentally decided that the only thing that needs to be preserved at any cost is LIFE !!!
They stopped hugging … They stopped greeting each other !!! They left all human contact …. They left everything that made a person human!
They were left without money. They lost their jobs.
But they chose to fear for their lives, even if they didn't have bread to eat.
They believed what they heard, read the newspapers and blindly believed everything they read.
They gave up freedom.
They never left the house again. They never went anywhere. We never visited friends and family again. The whole world has turned into a huge prison with convicts – volunteers.
They accepted everything !!! All this to live another miserable day …
They didn't live, they died every day!
It was too easy to take their pitiful soul … "
Clive Lewis "Letters from a Senior to a Junior Devil".
From the book "Balamut's Letters" (1941)
Havana Syndrome again? CIA officers are mowed down by a mysterious disease
A CIA officer in Moscow experienced symptoms of the so-called "Havana syndrome" in 2017. This became known to The New York Times with reference to sources in diplomatic circles.
CIA officer Mark Polimepulos, who helped lead covert operations in Russia and Europe, complained about the manifestation of mysterious symptoms. According to the newspaper, in December 2017, he felt severe dizziness, which later developed into a prolonged migraine, forcing him to retire. At that time, Polymerpoulos was 48 years old.
It is noted that such a case was not the only one. Similar symptoms were experienced by the staff of the American ambassadors in Cuba and China in 2016-2018. However, the exact number of cases and the place where this happened is not named. It is alleged that the US diplomats have tried to influence in a similar way around the world.
At the same time, the US State Department was unable to establish an unambiguous reason that caused the "Havana syndrome." Among other things, it was assumed that the diplomats may have been exposed to an unidentified sound effect.
In 2017, it was reported that, beginning in late 2016, American diplomatic officials and their relatives in Cuba began to complain of symptoms such as hearing loss, nausea, headaches and balance disorder. 
The Associated Press received audio footage of the attack and described the harassing sounds as "the high-pitched sound of crickets combined with fingernails scratching on a board." Then the American government suggested that Russia or China could be the culprit.
Many victims are still undergoing rehabilitation. Specialists from the University of Pennsylvania performed magnetic resonance imaging and revealed visible changes in the structure of the brain in the diplomatic missions.
Differences were found in 23 men and 17 women who complained of health problems while on diplomatic duties in Havana. Scientists have yet to figure out what causes the unusual symptoms.
How Russia and the United States nearly started a nuclear war in 1995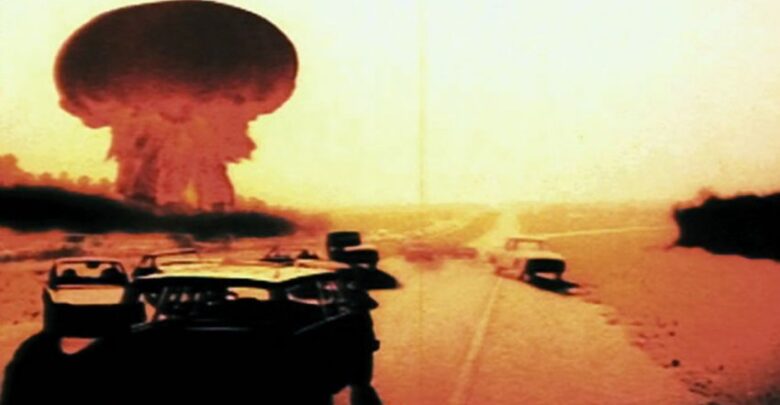 The Norwegian meteorological rocket incident remains the only time in history that the Russian president has activated his nuclear briefcase.
On January 25, 1995, Doomsday could have come in the world: the Russian Federation was preparing to launch a nuclear strike on the United States. How did it come about that the states that left the confrontation of the Cold War in the past and had just normalized relations with each other found themselves on the verge of mutual destruction?
The beginning of the war?
The cause of the crisis was an ordinary Norwegian meteorological rocket. Its launch from the small island of Anneia at 7 am local time (10 am Moscow time) towards Spitsbergen caused a stir in Russia.
Black Brant XII. Legion Media / ZUMA Press
Equipped with scientific equipment to study the aurora borealis, the Black Brant XII was similar in size to the nuclear-powered American Trident D-5 ballistic missile, intended for launch from submarines. In addition, it flew along a trajectory along which, as the Russian Defense Ministry believed, American missiles would fly in the event of a nuclear war.
In December 1994, Norway informed 28 states, including Russia, about the planned launch, but did not give a specific date, limiting itself to specifying the period: from January 15 to February 10 of the next year. Due to bureaucratic delays, this information did not reach the Russian Missile Warning System, which sounded the alarm.
Decisive minutes
An emergency meeting with the country's top political and military leadership was convened in the Kremlin. Defense Minister Pavel Grachev, Chief of the General Staff Mikhail Kolesnikov and President of the Russian Federation (as Supreme Commander-in-Chief) Boris Yeltsin had three strategic missile forces control terminals activated – the so-called nuclear suitcases.
Vladimir Sayapin / TASS
The military believed the lone missile could have been fired to create an electromagnetic pulse that knocked out Russian radars and communications systems. Following it, a massive blow could be expected.
For several tense minutes, as leaders watched it flight, it was decided whether Russia would launch a nuclear strike against the United States.
"Little is known today about what Yeltsin said at the time, given that it could have been some of the most dangerous moments in the entire history of the nuclear era," The Washington Post journalist, David Hoffman wrote three years after the incident : "They make it clear that the Cold War nuclear readiness system continues to operate, and how catastrophic its consequences could be, despite the fact that the feud between the great powers is already over."
The situation was discharged only when it became clear that the rocket had gone towards Spitsbergen (not far from which it fell into the ocean). The nuclear cases have been deactivated.
Russian President Boris Yeltsin (center) and Russian Defense Minister Pavel Grachev (right). Igor Mikhalev / Sputnik
The incident with bringing Russia's Strategic Nuclear Forces to combat readiness, soon became the property of the world community. When, four years later, the Norwegians were about to repeat their launch of Black Brant XII and reported this to the Russian Foreign Ministry, the US additionally warned all key Russian military departments about it through their channels. As a result, this time there were no unpleasant surprises.
Source: rbth.com