A Website Exposing How Much Big Pharma Pays Your Doctor
The Facts:A resource that allows you to understand the financial relationship between doctors and pharma companies in the United States. If you click on Search Tool, you have the ability to search by Physician, Teaching Hospital, or Company Making Payment.
Reflect On:Why is our medical system dominated by pharmaceutical companies? Why do most doctors trust the medications they prescribe without looking into it more? Why don't doctors prescribe health solutions that don't involve drugs?
In 2014, Harvard University stated that prescription drugs are the 4th leading cause of death. North American culture practically worships the pharmaceutical industry and often fails to recognize many of the issues within it. Many Americans are completely unaware that new prescription drugs have a 1 in 5 chance of causing serious reactions, even after being approved.
In fact, approximately 1.9 million people are hospitalized annually due to properly prescribed medication (not including any overdoses, self-prescriptions, or mis-prescribing). 128,000 people die every year in the U.S. from drugs prescribed to them, so why is this still happening? The reality is, drug companies make a lot of money from selling prescriptions, and they even pay doctors to do it for them.
If you've ever questioned this industry and your doctor's motives, here is some good news: You can now find out how much your doctor is paid annually to prescribe any drug. In addition, you can also search any company name and find out how much they pay doctors in total every year.
The Database That's Exposing Big Pharma's Money Trail 
The governmental website Open Payments Data a
The two former options allow you to see how much doctors and hospitals are paid annually by pharmaceutical companies to prescribe drugs. If you search a specific company, on the other hand, you can see a detailed summary of their spendings. There's specific information outlining which doctors are paid the highest amounts, how many doctors they pay nationwide, the nature of these payments, and then specific details of every single payment they made to doctors that year.
For example, when you type Big Pharma giant Gilead Science Inc. into the tool bar, you can see that the company spent $36,830,535.40 in Total General Payments and $45,394,349.76 in Total Research Payments in the year 2015 alone. 48.4% of payments were classified as "Compensation for services other than consulting, including serving as faculty or as a speaker at a venue other than a continuing education program." The top paid physician made more than $600,000 in 2015 from simply prescribing drugs manufactured by Gilead Science Inc.
It doesn't take much common sense to understand what this could mean, particularly since it's hardly a secret that pharmaceutical companies essentially buy out the medical industry. Numerous pharmaceutical companies have paid doctors and researchers to understate the dangers of both drugs and their negative side effects, and to falsify research as well.
Arnold Relman, Harvard Professor and former editor of the New England Journal of Medicine, put it perfectly when he said, "The medical profession is being bought by the pharmaceutical industry, not only in terms of the practice of medicine, but also in terms of teaching and research. . . . The academic institutions of this country are allowing themselves to be the paid agents of the pharmaceutical industry. I think it's disgraceful."
Don't Be So Quick to Blame Your Doctor…
If you've visited Open Payments Data's platform and searched your doctor within their database, take a moment to reflect on what you're really looking at. Just because your doctors receive payments from pharmaceutical companies doesn't necessarily mean they're terrible people; it could just mean that they're doing their jobs.
It's unlikely your personal doctor designed the current structure of the medical industry. Your doctor may not even understand the complexity of the pharmaceutical industry because MDs aren't properly educated on these drugs. Many doctors genuinely believe they're helping people through the use of medication; they don't see the bigger picture here because it's not included in their education. Plus, it's often illegal for MDs to prescribe natural cures instead of pharmaceutical drugs and conventional treatments, particularly when it comes to the cancer industry (check out this CE article that exposes the truth about cancer).
In addition, when you actually think about it, it makes perfect sense that some doctors are being paid by pharmaceutical companies. Of course Big Pharma would require doctors' help in creating drugs and validating their use; it's completely legal and should be expected of them. However, there's clearly a grey area here that cannot be ignored.
Pharmaceutical companies, rather than qualified and unbiased doctors, define a lot of the information that MDs are taught, and Big Pharma often influences medical professors and funds university programs. For example, 1,600 Harvard professors stated that they or a family member have ties to drug companies that could bias their teachings or research. The pharmaceutical industry donated more than $11.5 million to Harvard in 2008 for "research and continuing education classes." Many Harvard students have expressed concern over this and it even made mainstream news when a student was belittled by his professor for asking about the side effects of a drug his professor was unlawfully promoting in class.
This has also been a prevalent issue within psychiatry. As Dr. Irwin Savodnik of UCLA explains, "The very vocabulary of psychiatry is now defined at all levels by the pharmaceutical industry." This is partially because the Diagnostic and Statistical Manual of Mental Disorders (DSM), the text most psychiatrists in the U.S. refer to to diagnose and treat their patients, is heavily biased toward using pharmaceutical drugs instead of therapy. Read more about this in our CE article here.
If you haven't yet been exposed to this side of the U.S. medical industry, I can understand that there may be some confusion. Why would pharmaceutical companies and some doctors conspire to over-prescribe or mis-prescribe people when their sole purpose should be to help their patients? The simple answer is profit.
The main reason we take so many drugs is that drug companies don t sell drugs, they sell lies about drugs. This is what makes drugs so different from anything else in life… Virtually everything we know about drugs is what the companies have chosen to tell us and our doctors… the reason patients trust their medicine is that they extrapolate the trust they have in their doctors into the medicines they prescribe.

The patients don't realize that, although their doctors may know a lot about diseases and human physiology and psychology, they know very, very little about drugs that've been carefully concocted and dressed up by the drug industry… If you don t think the system is out of control, please email me and explain why drugs are the third leading cause of death… If such a hugely lethal epidemic had been caused by a new bacterium or a virus, or even one-hundredth of it, we would have done everything we could to get it under control. – Dr. Peter Gotzsche, co-founder of the Cochrane Collaboration (source)
Why Big Pharma Wants You To Take Pills
This may be obvious to many of you, but, just to be clear: The entire medical industry is focused around profit. It's similar to any other industry in that every service it provides you with, or item it convinces you to purchase, makes someone else a lot of many. In the case of a pharmaceutical company, they can only make money if you're sick.
So, it wouldn't really be in the best interest of Big Pharma to sell drugs without any negative side effects. If they produced drugs that actually 100% cured people, how would they continue to profit off our illnesses?
This is precisely why Big Pharma does not get involved with all-natural medicines; there is no profit to be made in plants. Anyone can grow a plant with the right climate and it's much cheaper to manufacture than synthetic drugs. It's also easier to make pills in larger quantities than plants. and then when you consider the economies of scale, Big Pharma is able to generate an even greater profit.
Big Pharma has infiltrated pharmaceutical drugs into other industries too. If you eat animal products, then you're inadvertently ingesting the hormones, antibiotics, and other pharmaceutical drugs given to those animals. Antibiotics, birth control pills, painkillers, and other pharmaceutical drugs can be found in tap water as well.
Let's take a moment to look at the bigger picture: Most industries are currently driven by money, not passion. It seems strange, but this is precisely the issue within the medical industry. I'm sure many doctors choose their occupation because they're passionate about helping people. However, until Big Pharma stops playing such a crucial role in creating their job descriptions, it will be difficult for MDs to actually help people without simultaneously hurting them.
It's clear that we need a systemic change in values. Until we start to work "for the people" rather than "for the profit," we cannot expect these outcomes to change. It's hardly surprising that Big Pharma wants you to be sick because they're not just in the business to cure people — they also need to make a profit.
Why We Need To Stop Bashing R. Kelly If We Want To Stop Teen Sexual Abuse & Pedophilia
The Facts:A former long time US government insider, Steve Pieczenik, recently tweeted about elite level pedophilia, hashtagging it on twitter and emphasizing that it's "NOT! Surprising."
Reflect On:With so many people like Steve speaking out, why do many of us still believe this is a conspiracy when there is evidence that women and children are actually suffering?
Steve Pieczenik is a former United States Department of State official and a Harvard trained psychiatrist with a doctorate in international relations from the Massachusetts Institute of Technology (MIT). He held many roles within the US political system, including as the Deputy Assistant Secretary of State under Henry Kissinger, Gerald Ford, Jimmy Carter, Ronald Regan and George H.W. Bush.
Now, if you've done research into US politics, being associated with names like Kissinger and Bush automatically raise a red flag. What's even more concerning is that he was a member of the Council on Foreign Relations, a group many consider to be 'wicked' while hiding behind good deeds. However, he was removed from the membership as early as October 2012, which was around the same time he started to "blow the whistle."
Not everyone from 'within' is part of this strange clique that many people are becoming aware of today. The clique that Donald Trump doesn't seem to be part of, which is a huge step, and is something we haven't seen for a long time. That's not to say we support his presidency whatsoever, we're just stating that he doesn't seem to be part of the Deep State. Nevertheless, many from within are starting to have a shift in consciousness, and feel a deep need to let the public know what's really going on.
Despite his credentials, Pieczenik's statements have gone completely ignored by mainstream media. In 1982, Pieczenik was mentioned in a New York Times article as "a psychiatrist who has treated C.I.A. employees." In 2001, he operated as chief executive officer of Strategic Intelligence Associates, a consulting firm.
He's been an insider for years and is one of many from within who have a much clearer idea of what is going on behind the scenes, despite the narrative that's controlled and televised by the establishment's media mouthpieces.
Pieczenik is a legend for speaking his truth, and he deserves to at least be listened to.
It's interesting to review how 'elite level pedophilia' hit the mainstream over the past couple years, bringing up Pizzagate at first, which was quickly labelled a 'conspiracy theory,' and then again when the 'Q anon' phenomenon began to surface, which mainstream media brushed off as a 'conspiracy' yet again.
You don't have to look far to see that this kind of thing isn't a conspiracy theory. The victims are starting to come forward, and people like Pieczenik are speaking up about it. Not long ago, an MSNBC news report even implicated Hillary Clinton in covering up a pedophile ring within the state department.
A lot of this is simply labelled as 'fake news' by the establishment because it implicates many of its members. It's also easy to label it as such because some of it is so unbelievable that it's hard for the mind to accept.
The truth is that we have more than enough information to at least warrant a proper investigation.
The more we continue to refer to this type of thing as a conspiracy theory, the more we allow those who are involved to continue hurting and abusing innocent women and children who have no way out.
We are talking about ritual abuse, and it seems to start at the Vatican, bleeding down into the government and other power structures. It's a big club, and we're obviously not in it. Let's not forget Jeffrey Epstein, a convicted pedophile of the Royal Family, similar to the relationship Jimmy Savile had with the Royals as well.
Even foreign politicians have suggested that western politics is associated with pedophilia and Satanism, Vladimir Putin being one of the latest examples.
This is why I wasn't shocked when I came across the tweet below, discussing the news that came out at the end of last year stating that celebrity Sacha Baron Cohen found a potential pedophile ring while taping the show "Who is America."  Cohan was quoted as saying, "We immediately turned over the footage to the FBI because we thought, perhaps there's a pedophile ring in Las Vegas that's operating for these very wealthy men."
You may be asking: Why hasn't the FBI done anything? (Ted Gunderson, former FBI special agent and head of their L.A office did a lot of work in this area).  If you want the answer to that question, retired police detective Jon Wedger, with over 25 years of service in the investigation of child abuse, explains who is involved in this ring and how it operates continually without ever being taken down. It's because, for the most part, when you take this information to your superior, they are already aware of these activities and fail to act on any information. The ones we go to solve this problem may actually be condoning it.
Pieczenik has also implicated the Clintons, stating that"We know that both of them have been a major part and participant of what's called The Lolita Express, which is a plane owned by Mr. Jeff Epstein, a wealthy multi-millionaire who flies down to the Bahamas and allows Bill Clinton and Hillary to engage in sex with minors, that is called Pedophilia."
It's important to note that Trump's name was found once on the flight ledger to Lolita Island but not repeatedly as with many other people, like Bill Clinton who appeared 26 times for example. It is often believed that Trump appears to be working so hard to stop sex trafficking because of what he saw when visiting Lolita Island.
Again, given his background, and all of the evidence that's already been put out to the public, why should anybody deem this a conspiracy theory? Why have there been no investigations? Why were Australian media outlets forced into silence when Cardinal George Pell was recently convicted on five counts of child sexual abuse? He is now the most senior official ever to be found guilty, serving as an advisor to Pope Benedict as well as Pope Francis. He's one of the Vatican's most powerful officials.
Children are being subjected to torture, murder, and a life full of trauma. We must understand that pedophilia within the realm of politics goes far beyond just that, it goes into ritual abuse and Satanism as well. And it's not just politics, it's Hollywood too. You can find it in many institutions that have amassed massive amounts of power.
Weird connections have always been observed from within, take the Obama administration for example. He appointed Kevin Jennings as Assistant Deputy Secretary of the Office of Safe and Drug-Free Schools at the US Department of Education. He's a member of NAMBLA (North American Man/Boy Love Association) and supports Harry Hay, who is also in support of NAMBLA. This was more than a decade ago, but these strange connections exist all over the political system.
Another example of institutional pedophilia support can be found within the UK government and the Catholic Church, which have come under public scrutiny for claiming that victims of child sexual abuse can "consent" to their rapes. They did this in order to avoid compensating victims. The Criminal Injuries Compensation Authority (CICA) establishes which victims get compensated, and they do so by determining whether or not the victim gave consent, even if that victim is a child. You can read more about that here.
A lot has happened since Former U.S. representative Cynthia McKinney blew the whistle about pedophilia within the government in 2005. She grilled Donald Rumsfeld on DynCorp's child trafficking business of selling women and children. (source)
Not long after that, retired Army General James Grazioplene, who worked in the Pentagon and as the Vice President of DynCorp, faced six rape charges against minors.
There are so many connections, whistleblowers and investigations that have uncovered examples of institutional pedophilia — we just aren't aware of them because the mainstream media often fails to report on them.
The Takeaway
What does this tell us about who we are electing as our leaders? Are they that two-faced? Many of these people are powerful members of the elite, and some of them have been made for us to idolize and almost worship. They hide behind philanthropy and good deeds, masking some very disturbing things taking place behind the scenes.
We've been turning a blind eye to this topic for too long and it's time to pay attention. A big issue here is the fact that many of the people involved have also experienced the same type of trauma as a child. It's considered normal to them, and it's normal to many of the children who are involved today. If we as a society are going to bring this out into the open, a discussion has to happen from a place of compassion, not judgement. This is still something the human race needs to work on, because if we continue to punish and ostracize people for their wrongdoings, we will never address the root causes of the issues we wish to rid the planet of.
Veteran MD Drops a Bombshell about 5G and the Effect it Will Have on Your Health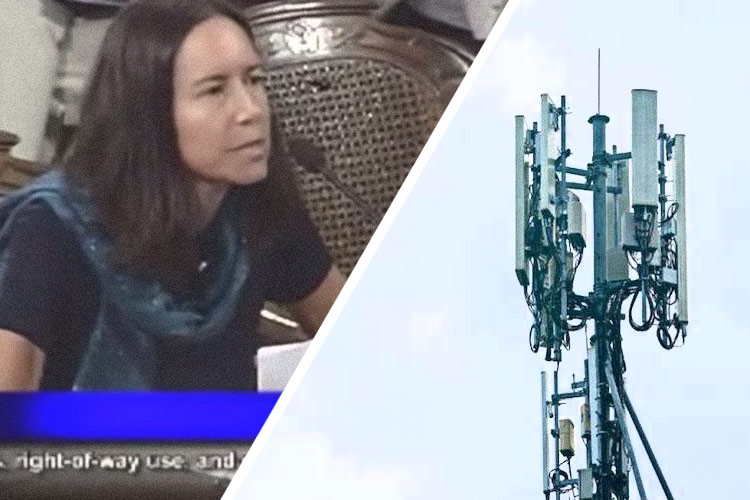 If you're at all paying attention to the major changes taking place in the world today, you already know that human beings are on the very brink of becoming slaves to technology that we have created. In other words, technology that directly affects our health, well-being, and mental and physical sovereignty is being deployed on a mass scale without anything resembling consent by the vast majority of people.
This, of course, is just fine to those who stand to profit financially or gain more power and control from the implementation of technology that can track, spy, pry, invade, censor, redact, identify, and even manipulate people into engaging in behavior that would have otherwise never have made sense to them.
At the very forefront of this effort to enslave the planet with technology is the rollout of the international 5G network, the so-called fifth generation of wireless technology. The great promise is faster internet and a massive upgrade to the internet of things, a silent network of devices that talk to each other and predict human behaviors. When this is fully implemented, we'll be able to replace drivers with robot vehicles and send text messages 100 times faster than we can do today.
But the cost of all this is our health, and the health of our planet, it's natural ecosystems and the delicate web of life that makes this planet so lovely. 5G is not friendly to human health. It will require the deployment of some 20,000 satellites above the earth, beaming every square inch of terraforma with high frequency radio waves that will literally fry the cells of all living things below them. Developers of 5G know this, but are unconcerned, not even with the fact that 5G uses a frequency range in line with a Pentagon funded crowd control system.
That's right, they are plugging in a global radio-frequency crowd control network to blanket the earth with electromagnetic radiation. Experts say that this network will require the deployment of hundreds of thousands, if not millions of small 5G boxes, pretty much everywhere.
Dr. Sharon Goldberg, an internal medicine physician & professor, is one of many professionals and concerned humans who are speaking a very important truth to power right now. That is, she is giving a very serious warning to those who may be in positions of power where they can affect the trajectory of the 5G rollout.
Dr. Goldberg's comments in her testimony to the U.S Senate serves as yet another warning.
"Wireless radiation has biological effects. Period. This is no longer a subject for debate when you look at PubMed and the peer-review literature. These effects are seen in all life forms; plants, animals, insects, microbes. In humans, we have clear evidence of cancer now: there is no question We have evidence of DNA damage, cardiomyopathy, which is the precursor of congestive heart failure, neuropsychiatric effects…5G is an untested application of a technology that we know is harmful; we know it from the science. In academics, this is called human subjects research." ~Dr. Sharon Goldberg
Recently we reported on UN Staffer Claire Edwards who made a similar attempt to warn the United Nations, calling 5G a 'war on humanity." The 5G revolt is here, and this may be the most important struggle of our generation.
About the Author
Terence Newton is a staff writer for WakingTimes.com, interested primarily with issues related to science, the human mind, and human consciousness.
This article (Veteran MD Drops a Bombshell about 5G and the Effect it Will Have on Your Health) was originally created and published by Waking Times and is published here under a Creative Commons license with attribution to Terence Newton and WakingTimes.com. It may be re-posted freely with proper attribution, author bio, and this copyright statement. 
How X-Ray Mammography Is Accelerating The Epidemic of Cancer
Article written by Sayer Ji, Founder of Greenmedinfo LLC, posted here with permission.

While a growing body of research now suggests that x-ray mammography is causing more harm than good in the millions of women who subject themselves to breast screenings, annually, without knowledge of their true health risks, the primary focus has been on the harms associated with over-diagnosis and over-treatment, and not the radiobiological dangers of the procedure itself.

In 2006, a paper published in the British Journal of Radiobiology, titled "Enhanced biological effectiveness of low energy X-rays and implications for the UK breast screening programme," revealed the type of radiation used in x-ray-based breast screenings is much more carcinogenic than previously believed:

Recent radiobiological studies have provided compelling evidence that the low energy X-rays as used in mammography are approximately four times – butpossibly as much as six times – more effective in causing mutational damage than higher energy X-rays. Since current radiation risk estimates are based on the effects of high energy gamma radiation, this implies that the risks of radiation-induced breast cancers for mammography X-rays are underestimated by the same factor.[1]

In other words, the radiation risk model used to determine whether the benefit of breast screenings in asymptomatic women outweighs their harm, underestimates the risk of mammography-induced breast and related cancers by between 4-600%.

The authors continued

Risk estimates for radiation-induced cancer – principally derived from the atomic bomb survivor study (ABSS) – are based on the effects of high energy gamma-rays and thus the implication is that the risks of radiation-induced breast cancer arising from mammography may be higher than that assumed based on standard risks estimates.

This is not the only study to demonstrate mammography X-rays are more carcinogenic than atomic bomb spectrum radiation. There is also an extensive amount of data on the downside of x-ray mammography.

Sadly, even if one uses the outdated radiation risk model (which underestimates the harm done),* the weight of the scientific evidence (as determined by the work of The Cochrane Collaboration) actually shows that breast screenings are in all likelihood not doing any net good in those who undergo them.

In a 2009 Cochrane Database Systematic Review,** also known as the Gøtzsche and Nielsen's Cochrane Review, titled "Screening for breast cancer with mammography," the authors revealed the tenuous statistical justifications for mass breast screenings:

Screening led to 30% overdiagnosis and overtreatment, or an absolute risk increase of 0.5%. This means that for every 2000 women invited for screening throughout 10 years, one will have her life prolonged and 10 healthy women, who would not have been diagnosed if there had not been screening, will be treated unnecessarily. Furthermore, more than 200 women will experience important psychological distress for many months because of false positive findings. It is thus not clear whether screening does more good than harm.[2]

In this review, the basis for estimating unnecessary treatment was the 35% increased risk of surgery among women who underwent screenings. Many of the surgeries, in fact, were the result of women being diagnosed with ductal carcinoma in situ (DCIS), a "cancer" that would not exists as a clinically relevant entity were it not for the fact that it is detectable through x-ray mammography. DCIS, in the vast majority of cases, has no palpable lesion or symptoms, and some experts believe it should be completely reclassified as a non-cancerous condition.

A more recent study published in the British Medical Journal in 2011 titled, "Possible net harms of breast cancer screening: updated modeling of Forrest report," not only confirmed the Gøtzsche and Nielsen's Cochrane Review findings, but found the situation likely worse:

This analysis supports the claim that the introduction of breast cancer screening might have caused net harm for up to 10 years after the start of screening.[3]

So, let's assume that these reviews are correct, and at the very least, the screenings are not doing any good, and at worst, causing more harm than good. The salient question, however, is how much more harm than good? If we consider that, according to data from Journal of the National Cancer Institute (2011), a mammogram uses 4 mSv of radiation vs. the .02 mSv of your average chest x-ray (which is 200 times more radiation), and then, we factor in the 4-600% higher genotoxicity/carcinogenicity associated with the specific "low-energy" wavelengths used in mammography, it is highly possible that beyond the epidemic of over-diagnosis and over-treatment, mammograms are planting seeds of radiation-induced cancer within the breasts of millions of women.***

With the advent of non-ionizing radiation based diagnostic technologies, such as thermography, it has become vitally important that patients educate themselves about the alternatives to x-ray mammography that already exist.  Until then, we must use our good sense – and research like this – to inform our decisions, and as far as the unintended adverse effects of radiation go, erring on the side of caution whenever possible.

Additional Reading

Is X-ray Mammography Findings Cancer or Benign Lesions?

The Dark Side of Breast Cancer Awareness Month

Does Chemo & Radiation Actually Make Cancer More Malignant?

---

*This discrepancy in radiation risk models/estimates follows from two fundamental problems: 1) the older risk model was based on higher-energy radiation emissions, such as are given off from atomic bomb blasts 2) it was a crude model, developed before the discovery of DNA and a full understanding of radiotoxicity/genotoxicity.

** Keep in mind that the Cochrane Database Review is at the top of the "food chain" of truth, in the highly touted "evidence-based model" of conventional medicine. Cochrane Database Reviews are produced by The Cochrane Collaboration, which is internationally recognized as the benchmark for high quality, evidence-based information concerning the effectiveness (or lack thereof) of common health care interventions. The organization, comprised of over 28,000 dedicated people from over 100 countries, prides itself on being an "independent" source of information, and historically has not been afraid to point out the corrupting influence of industry, which increasingly co-opts  the biomedical research and publishing fields.

***The low-energy wavelengths cause double strand breaks within the DNA of susceptible cells, which the cell can not repair. Through time these mutations result in "neoplastic transformation"; radiation has the ability to induce a cancerous phenotype within formerly healthy cells that has cancer stem cell-like (CSC) properties.

[1] Enhanced biological effectiveness of low energy X-rays and implications for the UK breast screening programme. Br J Radiol. 2006 Mar ;79(939):195-200. PMID: 16498030

[2] Screening for breast cancer with mammography. Cochrane Database Syst Rev. 2009(4):CD001877. Epub 2009 Oct 7. PMID: 19821284

[3] Possible net harms of breast cancer screening: updated modelling of Forrest report. BMJ. 2011 ;343:d7627. Epub 2011 Dec 8. PMID: 22155336

Sayer Ji is founder of Greenmedinfo.com, a reviewer at the International Journal of Human Nutrition and Functional Medicine, Co-founder and CEO of Systome Biomed, Vice Chairman of the Board of the National Health Federation, Steering Committee Member of the Global Non-GMO Foundation.

If you want to learn more from Greenmedinfo, sign up for their newsletter here.