A third of humanity will ascent to 5th dimension – Do you feel the symtoms?
We go through a turbulent period in terms of planetary vibration. Since a year ago, this has been accentuating little by little more intensely. There are people who feel energy both positively and negatively.
Part of humanity is to ascend to the fifth dimension. The sensations that these people may feel, may be, for example, nausea, physical discomfort, and that all the food feels bad, feels heavy and bad body normally.
TRULY
We prepare for an imminent change of energy on the level of the planet, which comes little by little. Many will feel it during these next 2 years, so if you are one of the few who feel these sensations, it should be considered privileged.
I say this due to the fact that their sensitivity is increasing and, according to quantum science, people who are at this level, work unconsciously to enter the third part of humanity that will ascend to the fifth dimension, that is, that you will be able to follow your present life and the lives of future incarnations on the planet earth that is to come.
THE NEW EARTH
In it, we will live a period of countless light, as the vibration changes, and this for those who are up to date is nothing new, it would be said that in the new earthly life on this planet is no longer going to be a full planet of proofs and atonement like the one we are now, and it will become a planet of regeneration.
There will be no more pain or suffering, in the near future, everything will be lighter. Water and sunlight will be the energy base of the new human.
We will have a sensation of apparent satiety, which will make us eat only the precise. The reason for the vibratory change is nothing else than to make humanity realize that life is more than pain and suffering. Everything is to come and the best is yet to come.
Elva Thompson, Contributor
Waking Times
One of the most valuable understandings I have been taught in this life… is that nothing is constant. Everything is in motion from the tiniest atom to the tallest mountain top – all physical matter vibrates with the on-off switch of creation and destruction – the in and out called life.
Just imagine what it would be like if we could view the planet from an energetic perspective, and see the trillions of pulsing pixilations – the vibrational throbbing energy of all living things in the dance of life and death – and the flashes of human thoughts as they to and fro…. in the unseen world that creates our physical reality.
Tick-Tock Goes the Life and Death Clock
The tick-tock of life and death is a fundamental on every level of life in this dimension… nothing physical lives for ever…. only the primal force that holds everything together is infinite, eternal and cannot be destroyed. The Cosmic on and off switch of Duality is in constant swing between the polarities of happy and sad. Everything can be good in our lives and then suddenly, we are unexpectedly confronted with tragedy and loss. In an instant everything changes…there is no going back. Our lives are turned upside down on every level, and we are faced with emotional trauma: denial, shock, disbelief, rage, loneliness and sorrow.
Many people don't recover from life's blows and get stuck in the pit of depression and despair. The why's – the questions are forever with us. And, what do we have for solace at such times ? – that the god of whatever knows what is best for us – only the good are called – and god has his reasons…. Is this the best human beings can do in the face of disaster? What if tragedy has nothing to do with a fantasy figure called god… and god's judgement is total crap? A narrative made up to control us and keep us in the shadow haunted world of ignorance and brutality.
What If?
What if… what happens to us in life is the result of our own thinking? What if, unwittingly we resonate our faulty programming, inherited prejudice and hate into the cosmic looking-glass along with resentment, envy, jealousy and just downright no-goodness… all electro-magnetic time bombs that come back to haunt us in this life and maybe also in the next – the matrix isn't in a hurry.
Maybe it's time to monitor our own thinking…..and ask the question – who is talking?
Thoughts are Seeds and Your Mind is the Garden
Our thoughts are alive – they are energetic charges – nurturing or poisonous it doesn't matter to the matrix. The seeds of whatever intent get planted in our electro-magnetic mind garden – the unseen part of our reality… and they bear fruit according to their resonance. Many wise people have stated through the ages that what you sow – you reap. This is the Cosmic Law of Return – of Causation and Effect… what you put out physically, mentally and spiritually comes right back through the mirror. Bad luck is a thought-form of our own creation – there is no such thing as chance – and lady luck favours anyone with a strong focus and intent.
'Chance is but a name for Law not recognised'
Most of us are so heavily conditioned that we don't realise that our thoughts create our reality, so we just carry on with the same behaviour – with the same thought patterns that brought failure, loss, drama and conflict into our lives. And when life hits us in the face again and again, we blame circumstance or other people for our misfortunes but we never look at self… do we?
Instead we pile up energetic debt.
Electro-Magnetic Debt
Energetic debt is just as real as physical debt, and with the engineered divisions in society almost everyone on the planet will die with a negative balance sheet – the pangs of unresolved guilt and conscience that have not been put to rest.  The electro-magnetic "unfinished business bureau" follows us in death… and the debt becomes due in our next incarnation.
The electronic debt system between souls keeps repeating until we stop creating a negative charge on the balance sheet… forgive and turn the other cheek… which in this sacrificial dimension is almost impossible. This is the meaning of the phrase: chained to the wheel of rebirth – round and round goes the human merry go round – and in every round we are manipulated – coerced into breaking the Laws of Life and we pay for it with misery… and the chaining of our souls to the next round….
The concept of the Law of Return or Karma is beautifully summed up in the poem called 'The Cup' by Swami Vivekanander:
"This is the cup, the cup assigned to you from the beginning. I know my child, how much of this dark drink is your own brew – Of fault and passion ages long ago – In the deep years of yesterday, I know.

This is your road, a painful road and drear. I made the stones that never give you rest; I set your friend in pleasant ways and clear And he, like you, shall come unto my breast, But you my child, must travel here.

This is your task, it has no joy or grace, But it cannot be wrought by any other hand. I bid you close your eyes and see My face." ~Swami Vivekanander, The Cup
"Every Cause has its effect; every Effect has its Causes; everything happens according to Law; Chance is but a name for Law not recognised; there are many planes of causation, but nothing escapes the Law." ~The Kybalion
The Lost Science of Metaphysics
At one time the Seven Spiritual Laws that govern this third dimensional construct were common knowledge – but with the destruction of our tribal oral history and sonic language – the banning of our language and ceremonial way of life – we lost the sacred information of the Ages – lost the original instructions given to us by Source Creator. Sadly, in this fast age of everything there are few shamans left to teach us about elemental realities, other states of being… and the ability to see future and past events.
The knowledge of the hidden worlds has been stolen from us – hoarded in mystery schools and the covens of the elite. Carefully crafted Religions have usurped our spiritual reality…. and replaced it with a lie that men will surely die for. But, Metaphysics – the first Science of Causation and Effect is nowhere to be found in the status quo curriculum and, as a result we have been blindsided to our spiritual connection with the All.
Tesla said that if we want to discover the secrets of life we have to think in terms of energy, frequency and vibration.
To see ourselves as wave forms vibrating in a sea of electro-magnetic energy and connected to the wave forms of the One Life is very hard for most of us to do…. because in our 'civilised' state, the energetic side of our nature is alien to us…we know very little about it….and we fear it because it is unknown.
But the shaman knew that all life was connected in the five moving powers. He knew the directions, geometrics, sounds, colours and perfumes of the spiritual worlds of earth, water, fire and air. He was free to travel beyond this world of limitation… and because he was part of the All could shape shift into any form he/she desired… but the disconnected consciousness of the hive mind make fun of things they cannot understand and call it fakery and superstition.
Unplugged
We are as a species unplugged from our Source Field – our pineal gland and crown chakras are de-activated – out atlas bone C1 is subluxated. Slowly but surely we are being genetically modified through nano particulates, gmo's and god knows what else into a spiritually dead borg… a mechanised brute.
Whatever is in charge of this plane is trying to take us somewhere… and I don't want to go… so… it's time to become the viewer instead of the viewed… and happen to things instead of things happening to us.
It's time to confront the shadow side of our lives… dust away outworn thought forms of the past – try to put right wrongs and mend bridges while in life… for no one can promise tomorrow.
"Man can only read the future through the causes that bring the effects.
Seek ye within the causation and surely ye shall find the effects." ~ Thoth the Atlantean
About the Author
Elva Thompson was born in England in 1947 and moved to Rosebud Lakota reservation in 1987. She is the author of the Heartstar Series; Book One: The Key made of Air, and Book Two: The Gates to Pandemonia. Her other interests include organic gardening, ancient phonetic languages, sonic sound and their application in the healing arts. She is also a medical intuitive and teaches sonic re-patterning using sound, colour, and essential oils. Elva Thompson is on Amazon Author Central @ amazon.com/author/heartstar
WARNING! Five Traits That Could Get You Abducted By Aliens!
Are you worried about being abducted by aliens? I suspect it will cross the mind of some of you reading this post that alien abduction is a possibility.
After all, many people worldwide have claimed to have been abducted by aliens, been taken against their will to an alien spacecraft or enclosed place, questioned or physically examined, and they remember these experiences either consciously or through methods such as hypnosis.
Indeed, many of those people who claim to be alien abductees are seemingly sincere, psychologically healthy, nonpsychotic people—so are their experiences real and their claims to have been abducted true?
Professor Rich McNally and his colleagues at Harvard University have spent over 10 years researching the psychology of alien abductees, and in particular why it is that some people embrace the identity of "alien abductee."
His research has isolated a number of traits possessed by 'alien abductees' each of which he argues contributes to the experiences they recall when 'being abducted' and to the desire to cling on to their belief that aliens were responsible for their abduction experiences. Let's look at each of these five traits in turn.
1. Regularly experiencing sleep paralysis and hallucinations when awakening: Many people who have reported alien abduction suffer episodes of early morning sleep paralysis. On awakening from this paralysis, their terror gives rise to hallucinations of flashing lights and buzzing sounds. Some experience feelings of 'floating' around the room or seeing figures in the room. While many people interpret these post-sleep paralysis experiences as dreaming, some people interpret these experiences as seeing figures, ghosts, or aliens.
2. Tendency to Recall False Memories: In an elegant set of experimental studies, McNally and colleagues found that individuals who claimed to have been abducted by aliens were prone to what is known as "false memory syndrome." That is, alien abductees regularly claimed to recall words, items, sentences, etc. in memory tests that they had never actually seen before. If this "false memory" effect can be generalized to autobiographical memories, then individuals who claim to have been abducted by aliens would be twice as likely to "falsely remember" things that had never happened to them than would non-abductees.
3. High levels of "Absorption": Alien abductees also score significantly higher than most people on the mental characteristic known as 'absorption.' This is a trait related to fantasy proneness, vivid imagery, and susceptibility to hypnosis and suggestion. Because of this it is probably not surprising that many alien abductees recall their experiences under hypnosis, where memories of abduction can be induced through suggestibility—especially if the person leading the hypnosis session asks particularly leading questions about abduction.
4. New Age beliefs: Being whisked up into space ships by tractor beams or light sources is not something that happens every day—nor is it something that is easily explainable within our existing knowledge of physics. Similarly, being subjected to imaginative medical procedures requires a tendency to accept unusual and non-mainstream ideas. This is also a trait possessed by 'alien abductees.' They score highly on measures of magical ideation and endorse New Age ideas that encompass beliefs about alternative medicines and healing, astrology, and fortune telling. Such beliefs would certainly allow the individual to accept things happening to them that would be dismissed by existing scientific knowledge.article continues after advertisement
5. A familiarity with the cultural narrative of alien abduction: As a cultural phenomenon, alien abduction has entered folklore and the images and descriptions of aliens and their spacecraft have become familiar to many people. Alien abductees tend to be very familiar with this cultural narrative which is one possible reason why their descriptions of aliens and their spaceships are so similar—being fuelled as they are by sci-fi films and numerous books about aliens and alien abduction.
As Professor McNally points out in a very readable review of his studies on alien abduction, it is still unclear whether all these characteristics are necessary ingredients in the recipe for 'alien abduction' or whether some are more necessary than others.
Other researchers have also identified further traits that appear to be characteristic of 'alien abductees', such as paranoid thinking and weak sexual identity.
There is still much more research to do to fully understand the motivations and thinking patterns of individuals who claim to have been abducted by aliens, but as McNally shrewdly points out, these people are not anxious nor depressed, they are not psychotic and do not appear to have any obvious mental health problems. 'Alien abduction' experiences often deepen spiritual awareness and give shape to the identities of abductees and provide a basis for their beliefs about the world and the universe.
Whether the experiences of abduction were real or not, the experiences and interpretations adopted by 'alien abductees' are often psychologically helpful and can be spiritually comforting.
Finally, a note of caution. All of these studies of 'alien abductees' were carried out after they had their abduction 'experiences', so it's difficult to know whether these five traits are consequences of the experience or were—as McNally suggests—factors that led individuals to interpret rather earthly experiences (such as sleep paralysis and hallucinations) as evidence of abduction.
And then— perhaps fantastically—can we genuinely rule out the possibility that such traits are implanted in their victims by aliens in invasive medical procedures carried out on alien spaceships!
My skeptical, scientific mind says probably not—but who knows?!
Source www.psychologytoday.com
11 Signs Your Personality Is So Intense That It's Intimidating To Others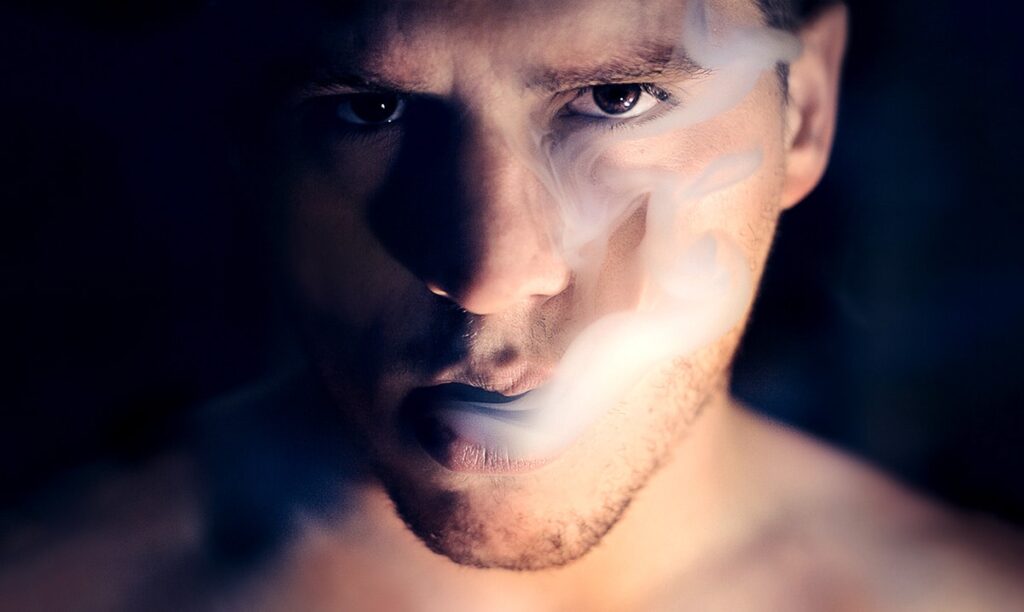 There are many different situations we may find ourselves alone in life ranging from the energy we carry, the personality traits we possess and the atmosphere that we create in life. For those who possess a deeper personality, you may actually be scaring people off just by being yourself!
This isn't designed to tell you to change or alter yourself in some way. If you possess a deep personality, know that you are a diamond in the rough – the honest, reliable, forward-thinking type of person that makes this world a better place. However, not everyone is going to understand how your mind works. There are many people out there who are willing to settle for far less, and your intensity threatens the simplicity of the world that they have created.
If you feel as though you are struggling to connect with others, this could be a sign that your personality is so intense that others simply don't know how to approach you. This is a reflection on them, not a reflection on you. Keep doing your thing!
Here Are 11 Signs That Your Deep Personality Is So Intense That It's Intimidating Others:
#1 – You are honest to a fault.
When it comes down to it, you value honesty above all else. In fact, you will have an uncomfortable conversation, if necessary, to ensure that you can get straight to the point and put the truth out there. After all, if you don't have the truth, what do you have? Just remember that not everyone is prepared to hear the truth.
#2 – You are a problem solver, not one to wallow.
If you're in a difficult situation, you're not the kind of person who is going to sit around wallowing in the struggle you've been handed. Instead, you will instantly get to work trying to find a solution to the problem, working on getting yourself out of there and on to better things.
#3 – You aren't afraid of intimacy.
It's surprising how many people in today's society claim to understand the importance of intimacy and then shy away from it completely when the opportunity presents itself. You, however, understand that intimacy comes on many levels, and each is necessary in its own way in your relationships including not only romantic relationships but also friendships and family connections. This includes actions as simple as a hug or a pat on the back.
#4 – You are incredibly intense in all that you do.
You intend on living life to the fullest, experiencing everything available. This causes you to lead your life with a level of intensity that most will fail to understand. The few who understand you will share your passion for finding enjoyment in every moment, those are the people you need to surround yourself with.
#5 – You ask A LOT of questions.
While this may come across to others like you are interrogating them, the truth is that you want to get to know them on a deeper and more meaningful level. You aren't asking for manipulative reasons or to find out information you can use to your benefit later, you genuinely want to understand others better and asking questions is the best way to learn more.
#6 – You refuse to waste your time waiting around for others.
Sure, you understand the importance of friendship and companionship but when it comes down to it, you have places to go and things to accomplish. If someone is going to waste your time or leave you waiting around waiting for them to recognize what you have to offer, you have better things to do. You'll simply walk away and devote that time and energy into those who are ready.
#7 – You are like a human lie detector, able to see through the BS.
When someone is being insincere or dishonest, it's like a red light goes off in your mind warning you that they are screwing around. As someone who values honest, as we previously discussed, there's nothing you see as a bigger deal breaker than someone who tells lies. You have no interest in sticking around for those that don't respect you enough to be transparent with you.
#8 – You are incredibly open-minded.
Too many people have masked closed-mindedness today with the illusion that they are merely staying true to their morals and beliefs rather than admitting they simply haven't tried to understand. Instead, you are open to trying to understand new ideas, concepts and ways of living. You may not agree, but you're always willing to learn more.
#9 – You always have a clear picture of what you want.
Every situation you enter into, you do so with the end already in mind and you refuse to settle for anything less. Your goals are always a top priority which can lead you to say or do things in your quest to achieve success that will make others feel uncomfortable. Just be careful not to be too goal focused or you can lose sight of the beauty in the little moments in between.
#10 – You are a creature of habit.
Schedules and consistency are your friends, creating a solid and predictable foundation upon which you can build your life. You like to know what to expect and how you should prepare for it, and you have no interest in surprises.
#11 – You have no interest in shallow relationships.
You're not the kind of person who is going to enjoy a one-night stand or a casual fling. If you get into a relationship, you're all in. You want to connect with someone on a deep level, establishing a meaningful relationship, and anything less is a waste of time in your opinion.