A Taos Close Encounter of the Hunters and Aliens Kind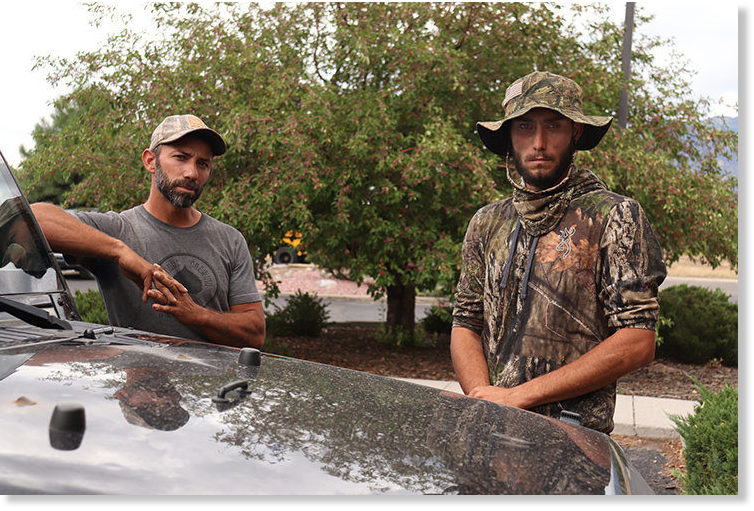 © Jesse Moya/Taos News
Staci Matlock
Taos News
From left, Josh Brinkley and Daniel Lucero were out bow hunting for elk near Cerro de la Olla Monday (Sept. 2) northwest of Taos when they had a strange encounter with a gigantic white structure that then disappeared. A day earlier, Brinkley saw what he thought were two hunters, but later described as oddly clothed "very tall figures with oversized heads." The two men are still trying to figure out what they saw.
Bow hunters Josh Brinkley and Daniel Lucero, dressed in camouflage gear, looked a little uncomfortable sitting in chairs at a local newspaper.
The Santa Fe County residents had just come into Taos after several days in rugged terrain near Cerro de la Olla, also called Pot Mountain, northwest of town near Ute Mountain.
They had a strange tale to tell and they weren't sure of their reception.
"We're a couple of guys that don't believe in much, but we believe now," Brinkley said.
They went hunting for elk.
They encountered aliens or something else so strange they don't know what to call it.
Brinkley, 41, said he's been going to the Pot Mountain area hunting for 15 years. He had never seen anything particularly odd.
He said he works construction and on movie sets. He's a family guy who doesn't want anyone to think he's crazy.
He and Lucero have worked together for eight years.
They say they aren't prone to seeing things and didn't particularly believe in aliens.
Odd Figures
Opening morning of bow hunting season was Sunday (Sept. 1). The two men had gone a couple of days early to scout the area for elk. Lucero, 26, had never been there.
They set up along the tree line on different sides of a field and waited. After three hours and no elk, Brinkley became restless. It was about 9:30 a.m.
"I take off walking, creeping around through the woods, looking for elk," Brinkley said.
He reached the top of the mountain where there's a caldera, a kind of wide bowl left behind by a collapsed volcano. He went to the edge on the southwest side. As he walked to the edge he noticed two figures on his side of the caldera. He thought at first they were hunters. But, they were "very tall shapes of these beings, standing side by side, staring right at me," he said.
He walked toward them across the brushy field. He estimates they were about 35 yards away. As a bow hunter, where measuring distance is critical to hitting a target, he said he's pretty adept at it. He went around the bush and looked again. The figures were gone.
He looked around and didn't see them. "Figured I would talk to them. They were gone, just gone," Brinkley said.
He thought more about what he had seen: With their lower half concealed by bushes in the caldera, he had only seen them from the waist up. "The shape that would be like their heads, it looked like they had huge hoods on. It looked like two ribbons coming off either side to a point at the top and bottom (like a banana). The right side was black, left side was white and a little shiny. Torsos were kind of black, I couldn't see many details. It definitely looked like clothes. In middle of the oval was just gray."
He thought maybe it was the back of hunters' heads. "But it looked too strange, too crazy."
Later, he drew what he could remember of them in a leather bound sketchbook he carries with him. And he drew what he saw next.
Weirded Out
Brinkley hurried back to where Lucero was still waiting. Still no elk. "I was a little weirded out," he told his friend.
He told Lucero he had seen a couple of hunters and that's probably what had scared off the elk. He couldn't bring himself at first to say what he might have just imagined.
They went back to camp. "I couldn't take it any more," Brinkley said. "I told him what I saw was weird. They were too tall, their heads were too big to be hunters."
"Anyone who knows me knows I don't tell these weird stories."
Lucero said he had known something was up when Brinkley had walked quickly and noisily up to his position at the field. Normally his friend is quiet, a hunter's slower, more measured speed through the bushes.
After Brinkley told him, Lucero felt a little weird, too. "I didn't know what to believe," Lucero said.
Brinkley kind of wrote off what he saw.
A Strange Structure
On Labor Day (Sept. 2), they headed out again to hunt early in the morning and hiked all around the area. No elk. They got back to their Jeep at about 2:30 p.m.
"We couldn't figure out why there was no elk," Brinkley said.
They decided to drive to the other side of the mountain and see if there were other hunters or four-wheelers scaring off the elk. As they drove, the men saw no signs of any wildlife at all, they said.
They drove about 10 minutes, when they saw it. They both work with movie sets. At first they thought it was a movie base camp. "It's this big tent structure, like a circus tent, 50-60 feet tall. Coming off the left of it was this long building, almost like what you would build for an archery lane for target practice. It was a third the height, but really long, maybe a couple hundred feet."
They were about a quarter mile away and couldn't see the bottom of the structure.
They watched it for about a minute as they drove.
"What is it," he asked Lucero, "a base camp for a movie? Or are they building an alien ship set?"
They drove down a little hill, lost sight of the structure for at most five seconds, Brinkley said.
"When we topped the hill, it was gone. Just gone."
Lucero said he was watching it the whole time while Brinkley drove except for those few seconds. "There was no dust, there was nothing," Lucero said.
They drove around the area searching for what they had seen until dark.
Nothing.
"I just know it was real," Brinkley said. "It was huge and white and then gone."
'Profoundly Unsettling'
When the two men reached a place with cell signal, they told a few friends what they had seen. They thought about calling the Air Force. A friend put them in touch with Peter Davenport, longtime executive director of the National UFO Reporting Center in Washington state.
Davenport confirmed they had called him. "It was a dramatic story," he said. "If it is true, it is profoundly unsettling."
He said out of the thousands of calls he gets every year about supposed alien sightings, they rarely describe seeing aliens on the ground.
They aren't the first hunters to see something they can't explain. Four hunters in Challis, Idaho, in 2000 described having a large triangular craft hover a couple of hundred feet above them before moving off over the mountains.
After listening to some 350,000 phone calls over 25 years, Davenport thinks he can tell those that are credible.
This was one of them, he said.
Brinkley and Lucero said they weren't drinking and weren't on drugs.
The hardest thing is telling their story. "People probably think we are insane," Brinkley said
He said he didn't believe in UFOs. "I sure do now," he said.
Lucero said he doesn't know about aliens. "I just know I've never seen anything that big just disappear."
"The two aliens, you can say I imagined that. But you cannot explain something that big just — gone," Brinkley said.
After telling their strange tale, the hunters did what they came to do – go try one more time to find elk.
The Man Who "Hacked" NASA & The AFSPC Gives A New Interview Describing What He Found
The Facts:Nearly two decades ago, Gary Mckinnon of the UK accesses nearly 100 NASA and Department of Defence, including the US Air Force Space command. He faced extradition for 10 years after finding a picture of a UFO and a list of "non terrestrial officers."
Reflect On:How sheltered are we from certain information? Has 'national security' simply become an excuse to keep information concealed from the public to protect corporate and government interests?
The field of UFOlogy has long been muddled with disinformation campaigns and bad journalism, and sometimes this journalism includes infiltration efforts by intelligence agencies themselves. This is clear given the fact that intelligence agencies have a direct relationship with journalists and mainstream media outlets, as there are declassified documents showing so. Operation mockingbird is a great example, not to mention all of the mainstream media journalists who have come out and said that mainstream media is directly influenced by intelligence agencies, governments and corporations. You can find some of these documents and see examples of these whistleblowers in two previous articles I've published that go into more detail here, and here. When it comes to UFOs, we know that they're real, but we also know that along with that reality there has been "an official campaign of ridicule and secrecy." (Ex-CIA Director Roscoe Hillenkoetter) Perhaps this ridicule campaign carries on today through some rather ghastly, unbelievable claims, but let's not let that mask the fact that this phenomenon is indeed real, and there are a plethora of credible sources including documents, data, physical evidence, and more suggesting we're not alone, and that we probably are being visited and have been visited by intelligent extraterrestrial beings from other worlds and possibly other dimensions.
A lot of this evidence has come from UFOlogist Richard Dolan, who has always been a key resource for me with regards to accessing credible information about the UFO phenomenon. I find that it's important to seek out proper researchers who share information in a credible and verifiable way, especially about a subject that can so easily be ridiculed when you are trying to reach the masses who don't have much knowledge about it, but are genuinely curious. I also feel that my generation of UFO researchers lack proper research and investigative skills, are easily influenced and swayed, and in the age of social media are simply trying to share whatever they can, no matter how credible, to simply 'stay relevant,' instead of doing it for the love and genuine desire to share important, truthful information.
Like I said, there are some rather 'outside the box claims' out there that have absolutely no credibility behind them, and to share those actually does more disservice to the movement, in my opinion. On the other hand, there are some very outside the box claims and information that do indeed have tremendous amounts of credibility behind them, and these are the ones we should be paying attention to.
One example comes from the case of Garry McKinnon, who for 10 years was in great danger of extradition to the United States for accessing nearly 100 NASA and military computers including the United States Space Command. This was the real deal, and HERE is a clip of Obama and the UK Prime Minister at the time fielding a question about Garry, this breach made headlines new.
Gary was able to access these computers in real time and view files on them. He found some startling pictures, one in particular was of a large cylindrical shaped UFO hovering in space, in addition to a strange spreadsheet document with a list of "non-terrestrial officers," presumably belonging to a publicly unacknowledged branch of the United States military operating in space, as well as "fleet to fleet" transfers of materials, whatever that means.
I'll let you listen to the interview below for more details straight from Garry McKinnon's mouth, via Dolan's Youtube Channel, where he also describes a high-resolution photograph, taken from space, of a smooth, cigar-shaped craft.
The Real Secret Space Program
Is there a secret space program, and have clandestine groups been reverse engineering ET technology?
Dr. David Clarke is an investigative journalist, reader and lecturer at Sheffield Hallam University in England. He was also the curator for The National Archives UFO project from 2008–2013, and regularly comments in national and international media on UFOs.
These documents reveal how the RAF expressed great interest in finding UFOs.
Dr. Clarke told The Daily Mail,
Even though they have been partly censored they can't conceal the fact the UK military were interested in capturing UFO technology or what they coyly refer to as 'novel weapon technology'… And the files reveal they were desperate to capture this technology – wherever it came from – before the Russians or the Chinese got hold of it first…. Although this was 1997, Russia was still regarded as an undefeated enemy with a weapons programme regarded as a threat to the West.
The question is: Did they get one? More on that later…
The military personnel who are encountering these phenomena tell remarkable stories. In one example, over the course of two weeks in November 2004, the USS Princeton, a guided-missile cruiser operating advanced naval radar, repeatedly detected unidentified aircraft operating in and around the Nimitz carrier battle group, which it was guarding off the coast of San Diego. In some cases, according to incident reports and interviews with military personnel, these vehicles descended from altitudes higher than 60,000 feet at supersonic speeds, only to suddenly stop and hover as low as 50 feet above the ocean. – Christopher Mellon, former Assistant Secretary of Defence
We don't know the answer to these questions, but we do know that the United States has a history of government agencies existing in secrecy for years. The National Security Agency (NSA) was founded in 1952, and its existence was hidden until the mid 1960s. Even more secretive is the National Reconnaissance Office, which was founded in 1960 but remained a secret for 30 years.
We are talking about Special Access Programs (SAP). From these we have unacknowledged and waived SAPs. These programs do not exist publicly, but they do indeed exist. They are better known as 'deep black programs.' A 1997 US Senate report described them as "so sensitive that they are exempt from standard reporting requirements to the Congress."  (source)
We also know that there is a black budget to fund these programs.
HERE is another great discussion with Dolan titled "Secret Space Program, Real Evidence."
Are These Objects Extraterrestrial?
There are literally hundreds of people with extensive academic, political and military backgrounds, all the way to astronauts, who have been blowing the whistle for a very long time.  Many scientific publications have also been made throughout the years describing strange and radar confirmed military sightings by military pilots. You can see some evidence and documentation from this article I wrote regarding the Chilean Air Force.
According to Herman Oberth, one of the founding fathers of rocketry and astronautics, "flying saucers are real and . . . they are space ships from another solar system. I think that they possibly are manned by intelligent observers who are members of a race that may have been investigating our Earth for centuries." (Oberth, Hermann: "Flying Saucers Come from a Distant World," The American Weekly, October 24, 1954)  (source 1)(source 2)
""We have, indeed, been contacted — perhaps even visited — by extraterrestrial beings, and the US government, in collusion with the other national powers of the Earth, is determined to keep this information from the general public."
–Victor Marchetti (Second Look, Volume 1, No 7, Washington, DC, May, 1979)
Another great quote:
"There are objects in our atmosphere which are technically miles in advance of anything we can deploy… we have no means of stopping them from coming here… there is a serious possibility that we are being visited and have been visited for many years by people from outer space, from other civilizations… This should be the subject of rigorous scientific investigation and not the subject of 'rubbishing' by tabloid newspapers."
– Lord Admiral Hill-Norton, former Chief of Defence Staff, 5 Star Admiral of the Royal Navy, Chairman of the NATO Military Committee
The point is, if you believe some of these objects are indeed extraterrestrial, you are not alone. Couple these statements with the claims of thousands of individuals who have had contactee and abduction experiences who've shared remarkably consistent stories, it's definitely a plausible hypothesis for the UFO phenomenon.
The Takeaway
What are the implications of extraterrestrial contact? Humanity will always go through paradigm shifting realizations that will jolt human consciousness. Right now, we have a lot of work to do here on Earth, and we should be focusing on cleaning up our planet and ridding it of greed, destruction, war, etc. I feel that the ET reality is somehow connected to that realization, and the need and urgency that many of us feel regarding the planet and service to others.
What about you?
Stephen Bassett explains why NASA hides the truth
Explaining why NASA is allegedly forced to cover up the existence of space aliens, Stephen Bassett argued that ending the "truth embargo" on this issue would greatly benefit the space agency.
Explaining why NASA is allegedly forced to cover up the existence of space aliens, Stephen Bassett argued that ending the "truth embargo" on this issue would greatly benefit the space agency.
Stephen Bassett, the man who has long campaigned for the government to end its alleged embargo on the truth about extraterrestrial life, has recently claimed that NASA essentially has its "hands tied" when it comes to concealing UFO appearances, the Daily Star reports.
Commenting on the instances of the International Space Station live feed being cut, which a number of conspiracy theorists attribute to alien spacecraft allegedly popping up in the frame, Bassett argued that the US space agency is not actually a "bad guy" here.
"It's them essentially obeying the law, which is what the National Security Act is, and simply not doing anything which would, quote, endanger the truth embargo because under the act of national security it has to remain", he explained during a chat with the media outlet."
Bassett went on to elaborate that by the time NASA was established in 1958 via the Space Act, the US government was allegedly well aware of the existence of "extraterrestrial presence" and thus knew that these phenomena might be encountered by the civilian space program.
"And so what the government did, what congress did, was to put a clause in the Space Act right there up the front that says anything which involves national security, deemed to be national security matters, that NASA encounters will be completely turned over and deferred to the Department of Defence and NASA will say and do nothing", he said, adding that therefore, "NASA has been between a rock and a hard place" since 1958.
Therefore, Bassett argued, ending the alleged "truth embargo" on the truth about the existence of aliens "will be a massive boom for NASA."
"First of all, the burden of having to maintain this posture, essentially a blind posture, will be gone and the interest in space and space research will expand and explode and NASA will be the recipient of that. And so they will be throwing some serious parties at various NASA facilities around the country the day after the head of state finally confirms the ET presence," he surmised.
(Source)
Russian astrophysicist states: "Extraterrestrial beings are using self-replicating probes to explore the Earth and the whole galaxy"
One of the questions that scientists usually ask is where all the aliens are in a galaxy full of planets; why hasn't another civilization contacted us yet?
An astrophysicist has a revolutionary answer to this question: extraterrestrials are already here. Zaza Osmanov, of the Free University of Tbilisi in Georgia, suggested in a new study that a race of extraterrestrial beings is using self-replicating probes to explore our galaxy, including the Earth.
He says that a civilization that has reached stage 2 of the Kardashev scale, a level above us, would be fully capable of producing a fleet of Von Neumann probes. Von Neumann's probes, small self-replicating robots that collect resources from planets and asteroids to build new copies of themselves, would quickly saturate the galaxy. And the probes would make a bee line for an obvious candidate like the Earth.
"All the results indicate that if a foreign object with extremely high values ​​of higher brightness is detected, it could be a good signal to place the object in the list of candidates for Von Neumann's extraterrestrial probes," Russian astrophysicist wrote in a new scientific article.

"We have considered the scenario in which type II civilization must" invade "interstellar clouds through self-reproducing robots," he continued. "And it has been shown that this process will inevitably lead to the consequences of observation."
But when it comes to explaining why we haven't seen this fleet of probes, Osmanov has a new and totally plausible theory: the probes are much smaller than the eye can see. Or they are equipped with Stealth shielding, invisible to the human eye and military radar.

He says that nanotechnology is the obvious choice for building a probe that moves quickly, builds itself quickly and adapts to a wide range of possible landing sites: "We analyzed the efficiency of Von-Neumann probes in the microscale compared to macro robots and found that the former could (reproduce) efficiently in interstellar media, while large-scale automata can only be replicated on rocky planets, this requires further maneuvers ".
Even if there were billions of these little machines sneaking into the solar system, we couldn't detect them with our current equipment. Each would have a size of about one nanometer, or only a billionth of a meter.
But although micro machines are almost invisible because of their size, Osmanov says there may still be a way to detect them. If by chance these probes work with light, they could emit small amounts of light as they travel through space. If you observe using infrared telescopes, these luminous currents would appear as the "trails" left by comets.