Urban legends of a terrible TV commercial of 1985 with a girl and a demon child in Japan are becoming more and more popular every year. This advertisement really causes strange sensations, but is it really so scary?
If you lived in Japan in 1985 and watched TV, sooner or later you would see one of the strangest commercials created for Kleenex cleaning wipes.
There are two characters in the commercials: a pretty girl in a long white dress and a 2-3-year-old child in the make-up of the red-skinned one-horned cannibal demon from Japanese mythology.
Both of them are sitting on the hay, the little "eater" looks angry, while the girl gently throws up napkins or tries to stroke the "eater". They don't pronounce a single word in 30 seconds of each video and all this happens under the melancholy slow song "It's a Fine Day" by Edward Burton and Jane.
As soon as these commercials began to appear on TV, many people began to feel that the commercials scared them and that they had an incomprehensible effect on the psyche. The reaction of the audience was so negative that the videos were soon removed from the show. But the story did not end there, soon various scary stories and stories associated with this advertisement began to disperse throughout the country, which in our days have turned into urban legends.
First of all, it was stated that the song "It's a Fine Day" in the original performance in German was not at all romantic, but contained the refrain "Die, die, everyone will be cursed and killed." It was even said that repeated listening to this song imposes on people a peculiar "mental attitude" to death. Then, unverified but persistent rumors began to appear that many people who took part in the filming of these videos began to die a strange and sudden death. Including it was reported that the boy who played the cannibal demon suddenly lost consciousness and soon died from the failure of the internal organs.
It was said that the director, cameramen and both producers of this advertisement also died. And many other crew members suffered from accidents or various unpleasant things happened to them. The actress who played the girl in a white dress allegedly went crazy and was sent to a psychiatric clinic shortly after filming in commercials.
According to other versions, she committed suicide after giving birth to a terribly mutilated child. Ordinary viewers who saw this ad several times, allegedly, either went crazy, tried to commit suicide or simply disappeared without a trace.
In 2006, the official television version of these commercials was completely destroyed, but soon amateur videos of this advertisement appeared on YouTube. And soon, many people began to say that from watching this advertisement they had cramps, headaches, or even loss of consciousness. Several deaths have even been reported.
Some users noticed another oddity: if you watch this ad at night, then the small details of the video change by themselves. Sometimes a cannibal boy becomes colored blue, and the color of the girl's dress also changes, or interference bars begin to run across the video screen. Some viewers wrote that these commercials do not just feel like something ominous, they allegedly encoded some information aimed at destroying the human psyche or taking it under control.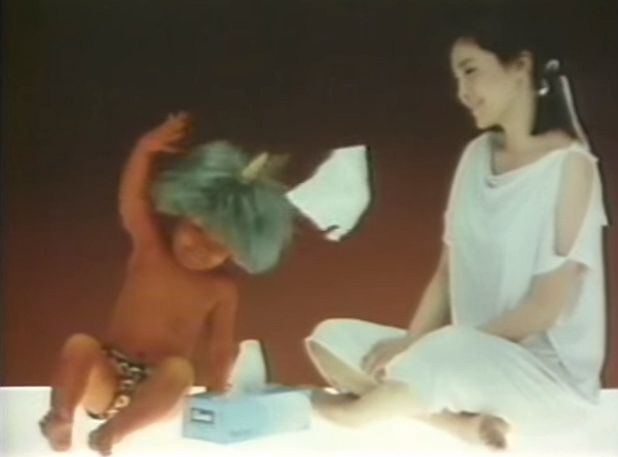 All this is quite frightening, like a plot from a horror movie, but most likely all this is completely (or partially) fiction. The fact is that at least one striking "fact" has not been completely confirmed – the girl in white is the actress Keiko Matsuzaka, who is still alive and healthy and has never been in a mental hospital. At the same time, it was neither possible to confirm nor deny the death of the demon boy or accidents with the film crew. No information was available on them.