A Rare Nikola Tesla Interview From 1931 About What Extraterrestrial Communication Would Do To Mankind
Nikola Tesla was one of the greatest scientific minds our world has ever known. Although mysteriously absent from school textbooks, he accomplished much in his lifetime, discovering radio and remote control — the backbone of NASA's current technology — drone technology, cosmic radio waves, and more. He was also a big proponent of free, unlimited energy for everyone.
Tesla publicly demonstrated his first working model of a robot guided by radio waves, unveiled to many astonished viewers at the Electrical Exposition held at Madison Square Garden, in May 1898. This was front page news in America at that time. It marked the first time that radio waves were used to guide the movement of a robot — 11 years before Marconi was awarded the Nobel Prize for the discovery of radio in 1909.
In today's world of science, few remember that most of our pioneering physicists and chemists were mystics. Certainly this is the case for Tesla, whose idea of free energy was greatly influenced by Vedic philosophy. It is an unfortunate reality that even someone as brilliant as Tesla would be maligned as a pseudoscientist by mainstream researchers if he were alive and working today.
Tesla wasn't just a proponent of wireless communication and energy. He also believed we are not alone in the universe — a conclusion which has become blatantly obvious, even to many mainstream scientists. In fact, a recent congressional hearing in the United States saw top U.S. astronomers tell Congress that extraterrestrial life most certainly exists, without question. And a number of scientists and military and political personnel have told us that we are not alone, and that we have been being visited by intelligent extraterrestrial life for a long time.
Tesla offered these remarks in an interview he gave to Time at the age of 75:
I think that nothing can be more important than interplanetary communication. It will certainly come someday, and the certitude that there are other human beings in the universe, working, suffering, struggling, like ourselves, will produce a magic effect on mankind and will form the foundation of a universal brotherhood that will last as long as humanity itself.
Few people know that in 1899, while working at his Colorado Springs laboratory, he announced that he had received extraterrestrial radio signals. The scientific community thought he was nuts, and in fact, cosmic radio signals didn't even exist at the time. One an easily imagine how alone and misunderstood Tesla must have felt.
The Black Knight Satellite
It's known as the "Black Knight Satellite," and although it wasn't confirmed by scientists until 1932, Tesla discovered it in 1899 while in his Colorado Springs laboratory, hearing strange rhythmic sounds on his radio receiver. The confirmation in 1932 gave birth to the field of radio astronomy, which is now used to decode and detect messages from distant stars and other mysterious celestial sources. Tesla writes:
I can never forget the first sensations I experienced when it dawned upon me that I had observed something possibly of incalculable consequences to mankind. I felt as though I were present at the birth of a new knowledge or the revelation of a great truth. Even now, at times, I can vividly recall the incident, and see my apparatus as though it were actually before me. My first observations positively terrified me, as there was present in them something mysterious, not to say supernatural, and I was alone in my laboratory at night; but at that time the idea of these disturbances being intelligently controlled signals did not yet present itself to me.

The changes I noted were taking place periodically, and with such a clear suggestion of number and order that they were not traceable to any cause then known to me. I was familiar, of course, with such electrical disturbances as are produced by the sun, Aurora Borealis and earth currents, and I was as sure as I could be of any fact that these variations were due to none of these causes. The nature of my experiments precluded the possibility of the changes being produced by atmospheric disturbances, as has been rashly asserted by some. It was some time afterward when the thought flashed upon my mind that the disturbances I had observed might be due to an intelligent control. Although I could not decipher their meaning, it was impossible for me to think of them as having been entirely accidental. The feeling is constantly growing on me that I had been the first to hear the greeting of one planet to another. . . . I was not merely beholding a vision, but had caught sight of a great and profound truth. (source)(source)
Tesla believed that the signals he was picking up on were from Mars.  Here's another statement he gave on what he found:
Others may scoff at this suggestion…[of] communicat[ing] with one of our heavenly neighbors, as Mars…or treat it as a practical joke, but I have been in deep earnest about it every since I made my first observations in Colorado Springs… At the time, there existed no wireless plant other than mine that could produce a disturbance perceptible in a radius of more than a few miles. Furthermore, the conditions under which I operated were ideal, and I was well trained for the work. The character of the disturbances recorded precluded the possibility of their being of terrestrial origin, and I also eliminated the influence of the sun, moon, and Venus. As I then announced, the signals consisted in a regular repetition of numbers, and subsequent study convinced me that they must have emanated from Mars, the planet having just then been close to the earth. (source)
According to the American Physical Society Physics, Tesla concluded that these signals, or this strange unnatural object they originate from, was indeed extraterrestrial, or an effort to "communicate with Earth by alien beings."
This was one of multiple incidents in which Telsa intercepted what he thought were intelligent signals from space. He states that even the simplest form of communication (such as the interchange of numbers) could represent a form of intelligible transmission from extraterrestrials.
When I came across that information, I instantly thought about this NSA document, which is one example of strange messages that come from space, as elaborated on below.
Today, we know for sure that these signals are of extraterrestrial origin, but it's assumed that they are radio waves from planets, comets, stars, or galaxies — not 'ET.'
More than 30 years after the confirmation in 1932, a graduate student by the name of Jocelyn Bell noticed some strange data coming from her telescope at the Mullard Radio Astronomy Observatory (MRAO). After a few weeks, she noticed that the signal being produced could not have originated from any known natural source, and she (and her team) ruled out every conceivable explanation, such as multiple sources of human interference, other radio astronomers, radar reflected off the moon, orbiting satellites, television signals, and more. Nothing could explain these strange signals.
She eventually published a paper in the scientific journal Nature, despite the fact that the source of the sound, though they knew it to be artificial, had not been determined.
These announcements caused quite a commotion at the time, and today it is common for strange signals, determined to be coming from 'non-natural' sources, to be detected. But who knows what they are?
Just last year, strange radio wave flashes from far outside of our Milky Way galaxy (or in it) had scientists completely confused; you can read more about that here.
I just want to make it clear that this type of stuff is always going on.
Sources Used:
http://www.aps.org/publications/capitolhillquarterly/200604/history.cfm
http://www.tfcbooks.com/tesla/1901-02-09.htm
All other sources are listed throughout the article.
Another TR-3B? Huge triangular UFO flew over New York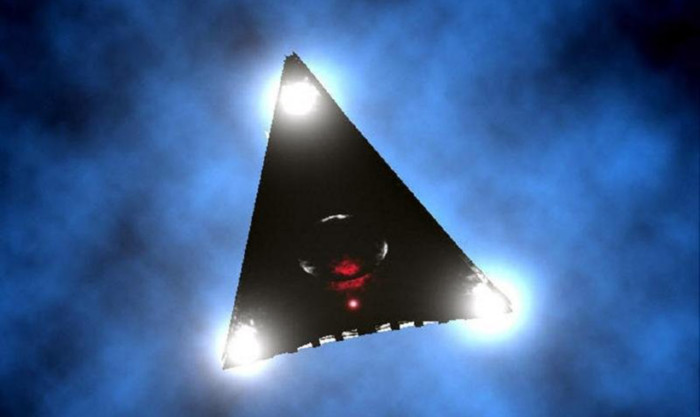 A resident of Bronx, New York, on January 16, 2021, saw three UFOs above the houses in his area, moving synchronously in the form of a huge triangle. The brightly shining points were very clearly visible in the night sky.
The man managed to capture a triangle slowly floating in the sky on video (see below) and posted it on his YouTube channel.
Since he was a very modest blogger who had only a few subscribers, his video went unnoticed for several days by UFO lovers, until finally it was re-posted on social networks, and from there it got to news sites.
The video shows how the author of the video is very surprised by what is happening, he looks up into the sky and says:
"They fly nearby and look like stars. It's a triangle and I don't know what it is."
Then he tried to ask someone from the passers-by about whether they knew that it was in the sky, but they could not answer either.
On social networks, this video caused a lot of comments from curious people who offered their versions of what they saw. From the fact that someone has programmed the drones to move in the form of a triangle, to the fact that they are actually Chinese lanterns.
The lantern version was quickly criticized, as the lights move at such a high altitude that Chinese lanterns could not continue to burn so brightly.
The drone version also drew a lot of criticism, because in order to launch several large drones over residential buildings in New York, you need to obtain special permission and it is not so easy.
The most popular was the theory that what he saw was a secret American reconnaissance aircraft TR-3B, about which there have been many rumors for a long time. Allegedly, it was developed on the basis of an alien ship that fell in Roswell, it can move silently and is practically invisible to radars.
Indians and aliens – "I was told that there are four aggressive species in the universe, and humans are one of them."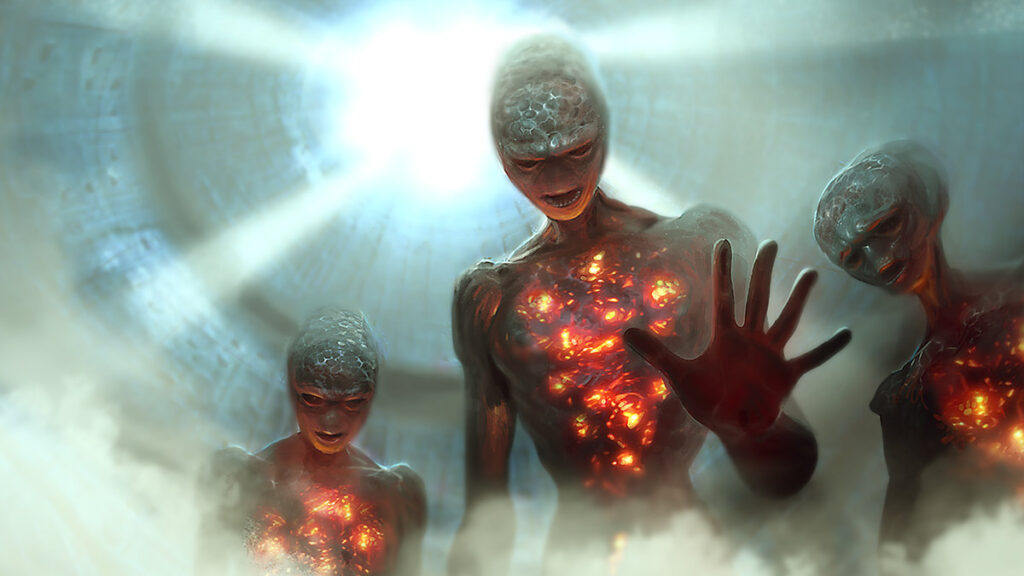 Dr. Ardi Sixkiller Clarke, professor emeritus at Montana State University, who is a native of the Cherokee tribe, has studied Indian stories about the "Star People" and collected stories of encounters between aliens and native Indians over the years.
Here is one of the stories she recorded, which she recorded from the words of a female elder named Tali:
I have seen star creatures all my life. The first time I was about 8 years old. I picked berries by the river. I watched the ship descend and land across the river. I crossed the river, stepping carefully over the rocks so as not to get my feet wet. I was curious; I've never seen anything like it.
As I approached, the door opened and I went inside. I remember that the star beings greeted me. There were two women. One combed my hair and said that I was beautiful. After that, I often met with them.
Sometimes I brought them flowers, sometimes stones. My grandmother told me that stones have a soul, and I tried to explain it to them. I don't think they understood. But they taught me to heal with my hands. Star doctors taught me how to treat diseases with my hands. They taught my grandmother how to heal.
When my grandmother died, the star beings were very saddened and I was tasked with continuing her work and learning about herbs and healing people naturally and metaphysically.
They are light, tall and thin. They are much smarter than us, but they are interested in our development. They travel the stars and learn from others throughout the star system. They collect information about the aging process of earthlings. They are trying to understand why we die so young.
Star people live much longer than we do. The normal age for them is 1000 Earth years. They do not have such diseases as we do. Their civilization does not consume alcohol and tobacco.
They choose who they will be, their job and stay on it forever. They become experts in their field, which leads to many discoveries that improve their lives. Star physicians visit Earth constantly. They mostly watch, but all over the world there are "helpers" who serve them. Both my grandmother and I were their assistants.
Star people call themselves observers.
They weren't cruel. I was told that there are four aggressive species in our universe. People are one of them."
Dr. Clarke ends the story like this:
"For the next five plus years, I frequently visited the reservation to meet Tali. She remained strong and mobile until her death at 95. On the day of her funeral, several people saw a UFO appear and hover in the sky. I was one of them."
Observers
In the stories of many people who have come into contact with representatives of extraterrestrial civilizations, there are references to the fact that they are just observers. It seems that some of these creatures are just curious observers of planet Earth, collecting data, as if some of them are carrying out scientific missions to bring information about other planets and civilizations back to their planet.
We are not alone in the universe. Perhaps one day we ourselves will become aliens for someone exploring another planet.
Can we change?
As for the fact that humans are one of the most violent species in the universe … We are empathetic beings with tremendous potential for good. We really can, but we do not change, and if you were an alien watching what is happening on our planet, you would probably be intimidated by how aggressive and cruel we are …
It is a pity that we are in a group of worlds characterized as aggressive, but I really hope that we will change. People can change, but only by standing at the edge of the abyss and realizing that if they do not change, human civilization will simply disappear. We are already on the edge of the abyss. We have actually destroyed the house we live in and the name of this house is Earth.
Humanity has only two ways – to change or die out.
The CIA has laid out all its information about UFO's in the public domain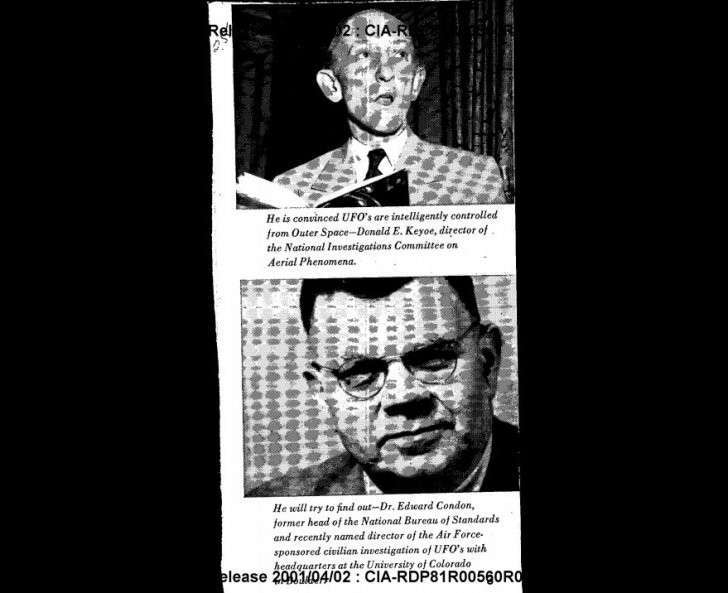 The Black Vault, which publishes declassified data, has posted on its website an impressive archive of CIA documents related to UFOs. The founder of the project, John Greenwald, says that he received all the documents by official means from the hands of the organization's employees.
And suddenly, the CIA declassified its entire database of UFOs. That is, the secret service has documents from the 1980s and everything shows that conspiracy theories are becoming a reality. Already, the "Black Vault" website contains several relevant documents, which can be downloaded by anyone.
The term "Unidentified Flying Objects" is commonly used in the documents.
Some of these may be due to light reflections or errors in the pilot instruments. However, some are objects of inquiry by the Pentagon.
The CIA claims that they have nothing else, but it is not possible to verify this statement.
It was possible to obtain information thanks to the Law on Freedom of Information, and the process itself was launched at the turn of the 70-80s of last century.
The representatives of the special services had to admit that the public ultimately has the right to find out the secrets of the government, but the process of transferring information is not really regulated. According to Greenwald, he spent 25 years in endless meetings, disputes and bickering with the CIA, until he finally got what he wanted.
But not everything is so simple – the researcher was handed a box with about 10,000 printed sheets of very low quality. He had to scan them manually, some things could not be disassembled at all, many documents were scattered. 
"Starting about 20 years ago, I struggled for years to get additional UFO records from the CIA," Greenwald said in an email to Motherboard. "It was like pulling teeth! I went around with them to try and do it, finally achieving it. I received a large box with a couple of thousand pages, and I had to scan them one page at a time."
The CIA used the rather outdated .tif format, so software processing is also difficult. Ufologists don't have to talk about a gift, it's more like trying to get rid of garbage in order to get rid of annoying researchers. 
"Researchers and curious minds alike prefer simplicity and accessibility when they look at such data dumps," says Greenwald. "The CIA made it INCREDIBLY difficult to use its archives in a sensible way. They offer a very outdated format (multi-page .tif) and offer largely unusable text output, which I think they intend to use as a "search" tool. In my opinion, this outdated format makes it very difficult for people to view documents and use them for any research purposes."
However, there are also enough mysterious stories there.
Thousands of files were uploaded in the first 24 hours after release, Greenwald said. Some documents are crisp and clear, while others are almost impossible to decipher.
According to Greenwald, one of the most interesting documents in this article relates to the fact that the Assistant Deputy Director of Science and Technology passed on some serious information about UFOs to the CIA back in the 1970s. After that, it became extremely difficult to obtain information from the government about extraterrestrial phenomena.
The release of the documents comes six months before the UFO report to be released by the US government. This means that the revelations are not made at this time randomly.
In particular, intelligence experts have 180 days to formulate an official report on signs or secret aircraft near US military bases, which will be released later.
Greenwald posts the files in the Black Vault, as he claims that publishing the files is a matter of public interest and notes that citizens have a right to know.
"The public has a right to know!" Greenwald says. "When I started my research almost 25 years ago, at the age of 15, I knew there was something about this topic. Not from viral online pranks, not from secret meetings with insiders that no one has ever seen. No, this is all UFO evidence straight from the CIA and NSA. I feel like I've almost achieved what I set out to do – give people easy access to important material so that people can form their own opinion about what's going on."
The aliens are already among us.