A Rare Nikola Tesla Interview From 1931 About What Extraterrestrial Communication Would Do To Mankind
Nikola Tesla was one of the greatest scientific minds our world has ever known. Although mysteriously absent from school textbooks, he accomplished much in his lifetime, discovering radio and remote control — the backbone of NASA's current technology — drone technology, cosmic radio waves, and more. He was also a big proponent of free, unlimited energy for everyone.
Tesla publicly demonstrated his first working model of a robot guided by radio waves, unveiled to many astonished viewers at the Electrical Exposition held at Madison Square Garden, in May 1898. This was front page news in America at that time. It marked the first time that radio waves were used to guide the movement of a robot — 11 years before Marconi was awarded the Nobel Prize for the discovery of radio in 1909.
In today's world of science, few remember that most of our pioneering physicists and chemists were mystics. Certainly this is the case for Tesla, whose idea of free energy was greatly influenced by Vedic philosophy. It is an unfortunate reality that even someone as brilliant as Tesla would be maligned as a pseudoscientist by mainstream researchers if he were alive and working today.
Tesla wasn't just a proponent of wireless communication and energy. He also believed we are not alone in the universe — a conclusion which has become blatantly obvious, even to many mainstream scientists. In fact, a recent congressional hearing in the United States saw top U.S. astronomers tell Congress that extraterrestrial life most certainly exists, without question. And a number of scientists and military and political personnel have told us that we are not alone, and that we have been being visited by intelligent extraterrestrial life for a long time.
Tesla offered these remarks in an interview he gave to Time at the age of 75:
I think that nothing can be more important than interplanetary communication. It will certainly come someday, and the certitude that there are other human beings in the universe, working, suffering, struggling, like ourselves, will produce a magic effect on mankind and will form the foundation of a universal brotherhood that will last as long as humanity itself.
Few people know that in 1899, while working at his Colorado Springs laboratory, he announced that he had received extraterrestrial radio signals. The scientific community thought he was nuts, and in fact, cosmic radio signals didn't even exist at the time. One an easily imagine how alone and misunderstood Tesla must have felt.
The Black Knight Satellite
It's known as the "Black Knight Satellite," and although it wasn't confirmed by scientists until 1932, Tesla discovered it in 1899 while in his Colorado Springs laboratory, hearing strange rhythmic sounds on his radio receiver. The confirmation in 1932 gave birth to the field of radio astronomy, which is now used to decode and detect messages from distant stars and other mysterious celestial sources. Tesla writes:
I can never forget the first sensations I experienced when it dawned upon me that I had observed something possibly of incalculable consequences to mankind. I felt as though I were present at the birth of a new knowledge or the revelation of a great truth. Even now, at times, I can vividly recall the incident, and see my apparatus as though it were actually before me. My first observations positively terrified me, as there was present in them something mysterious, not to say supernatural, and I was alone in my laboratory at night; but at that time the idea of these disturbances being intelligently controlled signals did not yet present itself to me.

The changes I noted were taking place periodically, and with such a clear suggestion of number and order that they were not traceable to any cause then known to me. I was familiar, of course, with such electrical disturbances as are produced by the sun, Aurora Borealis and earth currents, and I was as sure as I could be of any fact that these variations were due to none of these causes. The nature of my experiments precluded the possibility of the changes being produced by atmospheric disturbances, as has been rashly asserted by some. It was some time afterward when the thought flashed upon my mind that the disturbances I had observed might be due to an intelligent control. Although I could not decipher their meaning, it was impossible for me to think of them as having been entirely accidental. The feeling is constantly growing on me that I had been the first to hear the greeting of one planet to another. . . . I was not merely beholding a vision, but had caught sight of a great and profound truth. (source)(source)
Tesla believed that the signals he was picking up on were from Mars.  Here's another statement he gave on what he found:
Others may scoff at this suggestion…[of] communicat[ing] with one of our heavenly neighbors, as Mars…or treat it as a practical joke, but I have been in deep earnest about it every since I made my first observations in Colorado Springs… At the time, there existed no wireless plant other than mine that could produce a disturbance perceptible in a radius of more than a few miles. Furthermore, the conditions under which I operated were ideal, and I was well trained for the work. The character of the disturbances recorded precluded the possibility of their being of terrestrial origin, and I also eliminated the influence of the sun, moon, and Venus. As I then announced, the signals consisted in a regular repetition of numbers, and subsequent study convinced me that they must have emanated from Mars, the planet having just then been close to the earth. (source)
According to the American Physical Society Physics, Tesla concluded that these signals, or this strange unnatural object they originate from, was indeed extraterrestrial, or an effort to "communicate with Earth by alien beings."
This was one of multiple incidents in which Telsa intercepted what he thought were intelligent signals from space. He states that even the simplest form of communication (such as the interchange of numbers) could represent a form of intelligible transmission from extraterrestrials.
When I came across that information, I instantly thought about this NSA document, which is one example of strange messages that come from space, as elaborated on below.
Today, we know for sure that these signals are of extraterrestrial origin, but it's assumed that they are radio waves from planets, comets, stars, or galaxies — not 'ET.'
More than 30 years after the confirmation in 1932, a graduate student by the name of Jocelyn Bell noticed some strange data coming from her telescope at the Mullard Radio Astronomy Observatory (MRAO). After a few weeks, she noticed that the signal being produced could not have originated from any known natural source, and she (and her team) ruled out every conceivable explanation, such as multiple sources of human interference, other radio astronomers, radar reflected off the moon, orbiting satellites, television signals, and more. Nothing could explain these strange signals.
She eventually published a paper in the scientific journal Nature, despite the fact that the source of the sound, though they knew it to be artificial, had not been determined.
These announcements caused quite a commotion at the time, and today it is common for strange signals, determined to be coming from 'non-natural' sources, to be detected. But who knows what they are?
Just last year, strange radio wave flashes from far outside of our Milky Way galaxy (or in it) had scientists completely confused; you can read more about that here.
I just want to make it clear that this type of stuff is always going on.
Sources Used:
http://www.aps.org/publications/capitolhillquarterly/200604/history.cfm
http://www.tfcbooks.com/tesla/1901-02-09.htm
All other sources are listed throughout the article.
US special forces engaged in combat with aliens during the Vietnam war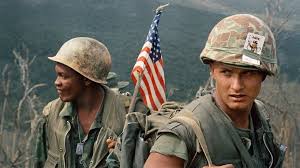 This incident happened in early 1972 during the Vietnam War. A US Special Forces group was secretly delivered at night and parachuted in an area on the Cambodia-North Vietnamese border.
The operation was vital: to destroy a facility in North Vietnam, which, as it was possible to establish by American intelligence, was secretly overhearing top secret conversations of the US Army in South Vietnam.
The SWAT team set up camp for the night, preparing to assault the North Vietnamese team at dawn. In the early morning, the commandos quietly crept up to the Vietnamese base, but what they saw there shocked and frightened them.
As the team got closer to the location of the North Vietnamese unit, they suddenly discovered that there was a large spherical ship that stood on three sturdy metal supports.
The ship suddenly began to hum, causing instant sickness, dizziness, and disorientation in the US military.
The group leader was about to issue a command to retreat when a group of strange looking humanoid creatures appeared.
Not believing what they saw, the special forces group was even more frightened by what these creatures were doing (according to the description of the soldiers, taking into account modern data based on numerous contacts, it can be assumed that they were "gray"): the aliens got out of a large pile various parts of human bodies and placed them in large containers – arms, legs, torso, heads; this terrible list went on and on.
Some were the remains of white people, others were black (US Army soldiers), and others looked like Vietnamese (Vietnamese soldiers from the base).
What they saw sobered and angered the special forces and the commander gave the order to open fire – the bullets hit the bodies of the creatures, but they did not do any harm, except for one who was killed by a shot in the head.
Several commandos were killed, and others were seriously injured by the effects of unknown weapons. Then the aliens quickly retreated into the ship and he quickly rushed into the sky,
Soon, another CIA team appeared on the scene, as one of the survivors said they were all given some kind of mind-altering drugs to try to make them forget about this incredible fight. And it worked, at least for a while.
However, in the late 1980s, two members of the special forces team who took part in that battle began to have nightmarish memories of the events of April 1972, which prompted one of them to contact many other special forces who were found and who were still alive.
Two had already died, three were not found at all, but the rest were able to meet in August 1988 and decided that this story should be told.
They turned to researcher and ufologist Leonard Stringfield and he published their story in his 1991 book.
The story is told in Stringfield's UFO Crash Retrievals: The Inner Sanctum. 
UK UFO case to be kept secret until 2072
The UK Department of Defense has blocked the planned release of a dossier detailing the famous UFO incident.
Back in August 1990, two tourists walking in the Scottish Highlands near Calvine, Pitlochry, witnessed a strange rhombic object hovering over the nearby landscape.
They managed to take pictures of the UFO before it flew away at significant speed.
Eager to share what they saw, the couple contacted the Scottish Daily Record and shared both their story and the photos they took.
Then the journalists shared the pictures with the UK Department of Defense.
It turned out that the tourists weren't the only ones who saw the object – the pilot of the RAF Harrier jet also witnessed the phenomenon – again near Calvine – after being forced to investigate this UFO.
Military intelligence officers sent these images to JARIC, which is the Joint Air Intelligence and Reconnaissance Center.
It is the UK's military center of excellence when it comes to image analysis. These intelligence officers concluded that these photographs were real and that no one had the slightest idea what they were.
Thirty years later, the dossier of the Ministry of Defense, including photographs, was scheduled for declassification and publication, which is typical of such documents.
However, the release has now been postponed for another 50 years for unknown reasons.
According to the 30-year rule, the file was supposed to be released on January 1, 2021, but if the ministry gets it, it won't be released until January 1, 2072 – an 82-year closure.
"By the time the world gets to see the file, the two witnesses will be dead. It is crazy. What are the authorities trying to hide?"
A complaint lodged under the Freedom of Information Act about the National Archives withholding the documents is now under investigation by the UK information watchdog, the Information Commissioner's Office.
The National Archives refused to comment further. The MOD refused to comment at all.
What are the authorities trying to hide?
FBI decrypted documents confirm that there are giant aliens
The topic of aliens has always attracted attention. Recently, foreign media disclosed that a declassified document released by the Federal Bureau of Investigation (FBI) once again confirmed the existence of UFOs and aliens.
FBI Declassified Document: Describes UFO and Aliens
The British "Daily Star" reported that earlier this year, the FBI released the decrypted documents in 1947. The 70-page decrypted report contained a "Memorandum 6751". The person who wrote the report was an anonymous university professor.
"Memorandum 6751″ mentioned that there were flying saucers, unidentified creatures, and " giant aliens resembling humans ".
The report stated that these aliens are like humans, "but larger in size. They are not from any planet known to people, but from the etheric." "Ether" is a term used in ancient Greece, generally referring to the atmosphere or sky.
There is also a description of the flying saucer in the decryption report, which refers to the fact that most of the flying saucers are loaded with alien creatures. The flying saucers have powerful radiation, are very fast, and have powerful attack capabilities.
"These flying saucers have a kind of radiant energy or light that can easily disintegrate any spacecraft that launches an attack. They can re-enter (earth) from the ether at will, or they can simply disappear from our sight without leaving a trace."
The report states, "If one of these (flying saucers) is attacked, the attacking aircraft will almost certainly be destroyed. As far as the general public is concerned, this may lead to proximity panic and international suspicion."
Tesla is a " Venusian "
In recent years, due to the expiration of the confidentiality period, the FBI has published many decrypted documents on its official website, including one about the famous inventor Nicholas. Tesla (Nikola Tesla) declassified documents, caused a public heat. The document mentioned that Tesla came from "Venus" and was an "alien".
The decrypted document is called "Nikola Tesla Part03 of03". It is the third document about Nikola Tesla decrypted by the FBI. It has 64 pages of content, some of which are blacked out and cannot be distinguished.
The remaining content that is not blacked out contains the following passage: "The people of the universe have contacted Nikola Tesla many times and told the FBI that Tesla was from Venus. Tesla was brought to the earth in 1856 to a Yugoslav couple to raise."
The publication of this document shocked the world. Faced with a wave of discussions and doubts from netizens, the FBI did not make any response or explanation, which is even more curious.
F-18 fighters chase UFO
"The Wall Street Journal" recently reported that the non-profit organization "National UFO Reporting Center" data shows that so far this year, UFO sightings have increased by 51% over the same period last year. The center has received approximately 5,000 sightings reported.
On September 8, the United States retired Lieutenant Colonel David. David Fravor accepted the Massachusetts Institute of Technology scientist Rex. In a live webcast interview with Lex Fridman, he talked about the bizarre experience of driving an F-18 fighter jet to chase UFOs 16 years ago.
On November 14, 2004, a UFO was found in the waters of San Diego, California, and Frevo piloted an F-18 fighter to investigate. Both he and the pilot of the other fighter saw a white Tic Tac mint-shaped flying object.
Subsequently, the pilot Chad Underwood flew an F-18 fighter jet, caught UFO on the radar, and successfully filmed UFO video with an infrared camera.
In April this year, the Pentagon released three videos of UFOs, one of which was taken by Underwood during this operation.
12 U.S. soldiers live on alien planets
Former Minister of Defense of Canada Paul. Paul T. Hellyer once disclosed that there are aliens living on the earth and working for the US government. Many US presidents have also admitted the existence of aliens on different occasions.
In addition, some U.S. military personnel disclosed that a top-secret exchange between the U.S. military and aliens was named "Operation Zeta," and an alien envoy came to the United States. In July 1965, 12 American soldiers secretly boarded an alien spacecraft to the planet Zeta.
Of these 12 people, 4 never returned to Earth. Of these 4 people, 2 died, 2 chose to stay on Zeta, and the remaining 8 returned to Earth 13 years later.