A Rare Nikola Tesla Interview From 1931 About What Extraterrestrial Communication Would Do To Mankind
Nikola Tesla was one of the greatest scientific minds our world has ever known. Although mysteriously absent from school textbooks, he accomplished much in his lifetime, discovering radio and remote control — the backbone of NASA's current technology — drone technology, cosmic radio waves, and more. He was also a big proponent of free, unlimited energy for everyone.
Tesla publicly demonstrated his first working model of a robot guided by radio waves, unveiled to many astonished viewers at the Electrical Exposition held at Madison Square Garden, in May 1898. This was front page news in America at that time. It marked the first time that radio waves were used to guide the movement of a robot — 11 years before Marconi was awarded the Nobel Prize for the discovery of radio in 1909.
In today's world of science, few remember that most of our pioneering physicists and chemists were mystics. Certainly this is the case for Tesla, whose idea of free energy was greatly influenced by Vedic philosophy. It is an unfortunate reality that even someone as brilliant as Tesla would be maligned as a pseudoscientist by mainstream researchers if he were alive and working today.
Tesla wasn't just a proponent of wireless communication and energy. He also believed we are not alone in the universe — a conclusion which has become blatantly obvious, even to many mainstream scientists. In fact, a recent congressional hearing in the United States saw top U.S. astronomers tell Congress that extraterrestrial life most certainly exists, without question. And a number of scientists and military and political personnel have told us that we are not alone, and that we have been being visited by intelligent extraterrestrial life for a long time.
Tesla offered these remarks in an interview he gave to Time at the age of 75:
I think that nothing can be more important than interplanetary communication. It will certainly come someday, and the certitude that there are other human beings in the universe, working, suffering, struggling, like ourselves, will produce a magic effect on mankind and will form the foundation of a universal brotherhood that will last as long as humanity itself.
Few people know that in 1899, while working at his Colorado Springs laboratory, he announced that he had received extraterrestrial radio signals. The scientific community thought he was nuts, and in fact, cosmic radio signals didn't even exist at the time. One an easily imagine how alone and misunderstood Tesla must have felt.
The Black Knight Satellite
It's known as the "Black Knight Satellite," and although it wasn't confirmed by scientists until 1932, Tesla discovered it in 1899 while in his Colorado Springs laboratory, hearing strange rhythmic sounds on his radio receiver. The confirmation in 1932 gave birth to the field of radio astronomy, which is now used to decode and detect messages from distant stars and other mysterious celestial sources. Tesla writes:
I can never forget the first sensations I experienced when it dawned upon me that I had observed something possibly of incalculable consequences to mankind. I felt as though I were present at the birth of a new knowledge or the revelation of a great truth. Even now, at times, I can vividly recall the incident, and see my apparatus as though it were actually before me. My first observations positively terrified me, as there was present in them something mysterious, not to say supernatural, and I was alone in my laboratory at night; but at that time the idea of these disturbances being intelligently controlled signals did not yet present itself to me.

The changes I noted were taking place periodically, and with such a clear suggestion of number and order that they were not traceable to any cause then known to me. I was familiar, of course, with such electrical disturbances as are produced by the sun, Aurora Borealis and earth currents, and I was as sure as I could be of any fact that these variations were due to none of these causes. The nature of my experiments precluded the possibility of the changes being produced by atmospheric disturbances, as has been rashly asserted by some. It was some time afterward when the thought flashed upon my mind that the disturbances I had observed might be due to an intelligent control. Although I could not decipher their meaning, it was impossible for me to think of them as having been entirely accidental. The feeling is constantly growing on me that I had been the first to hear the greeting of one planet to another. . . . I was not merely beholding a vision, but had caught sight of a great and profound truth. (source)(source)
Tesla believed that the signals he was picking up on were from Mars.  Here's another statement he gave on what he found:
Others may scoff at this suggestion…[of] communicat[ing] with one of our heavenly neighbors, as Mars…or treat it as a practical joke, but I have been in deep earnest about it every since I made my first observations in Colorado Springs… At the time, there existed no wireless plant other than mine that could produce a disturbance perceptible in a radius of more than a few miles. Furthermore, the conditions under which I operated were ideal, and I was well trained for the work. The character of the disturbances recorded precluded the possibility of their being of terrestrial origin, and I also eliminated the influence of the sun, moon, and Venus. As I then announced, the signals consisted in a regular repetition of numbers, and subsequent study convinced me that they must have emanated from Mars, the planet having just then been close to the earth. (source)
According to the American Physical Society Physics, Tesla concluded that these signals, or this strange unnatural object they originate from, was indeed extraterrestrial, or an effort to "communicate with Earth by alien beings."
This was one of multiple incidents in which Telsa intercepted what he thought were intelligent signals from space. He states that even the simplest form of communication (such as the interchange of numbers) could represent a form of intelligible transmission from extraterrestrials.
When I came across that information, I instantly thought about this NSA document, which is one example of strange messages that come from space, as elaborated on below.
Today, we know for sure that these signals are of extraterrestrial origin, but it's assumed that they are radio waves from planets, comets, stars, or galaxies — not 'ET.'
More than 30 years after the confirmation in 1932, a graduate student by the name of Jocelyn Bell noticed some strange data coming from her telescope at the Mullard Radio Astronomy Observatory (MRAO). After a few weeks, she noticed that the signal being produced could not have originated from any known natural source, and she (and her team) ruled out every conceivable explanation, such as multiple sources of human interference, other radio astronomers, radar reflected off the moon, orbiting satellites, television signals, and more. Nothing could explain these strange signals.
She eventually published a paper in the scientific journal Nature, despite the fact that the source of the sound, though they knew it to be artificial, had not been determined.
These announcements caused quite a commotion at the time, and today it is common for strange signals, determined to be coming from 'non-natural' sources, to be detected. But who knows what they are?
Just last year, strange radio wave flashes from far outside of our Milky Way galaxy (or in it) had scientists completely confused; you can read more about that here.
I just want to make it clear that this type of stuff is always going on.
Sources Used:
http://www.aps.org/publications/capitolhillquarterly/200604/history.cfm
http://www.tfcbooks.com/tesla/1901-02-09.htm
All other sources are listed throughout the article.
Aliens blamed for spate of cow mutilations in Argentina after 'strange lights' seen in sky
© Express, UK
Sean Martin
Express, UK
Local farmers in Santa Fe, north-eastern Argentina, have seen seven cows killed and mutilated with some believing extraterrestrials are killing the bovine animals.
Witnesses claim the cows look as if they were attacked with lasers, while strange markings were also found on their tongues and genitals.
Farmers in the region are blaming aliens or the mythical chupacabra – a myth from South America which supposedly feeds on animals' blood.
Norberto Bieri, owner of one of the seven cows, told local media: "They did not have tongues or flesh around the jaw, but they did not take any animals away or remove their bones.
"It seems as though the clean incisions were done with a laser as there is no trace of a knife being used. The cows did not have signs of blood and nothing had appeared to eat them.
"Some people say chupacabra or aliens did it. Others believe it was rodents.
"The truth is, the cows are dead and there are no answers as to why."
Mr Bieri added that there had been other recent cases of mutilated animals.
Samples were sent to the lab to be analysed and results indicated the cattle had not been shot or poisoned, adding more mystery to the case.
However, experts offered their, more logical, opinion.
A rat-like animal called hocicudo is endemic to South America and some believe they are responsible.
The day that the Aliens attacked Tuscany, in Italy
During the autumn of 1954 throughout western Europe several surprising events occurred of encounters with strange flying objects (UFOs) and encounters with extraterrestrial beings, according to the sources of the testimonies and victims that relate their experiences, most were peasants and villagers. Let's talk about a case that happened in a small town in Tuscany, Italy.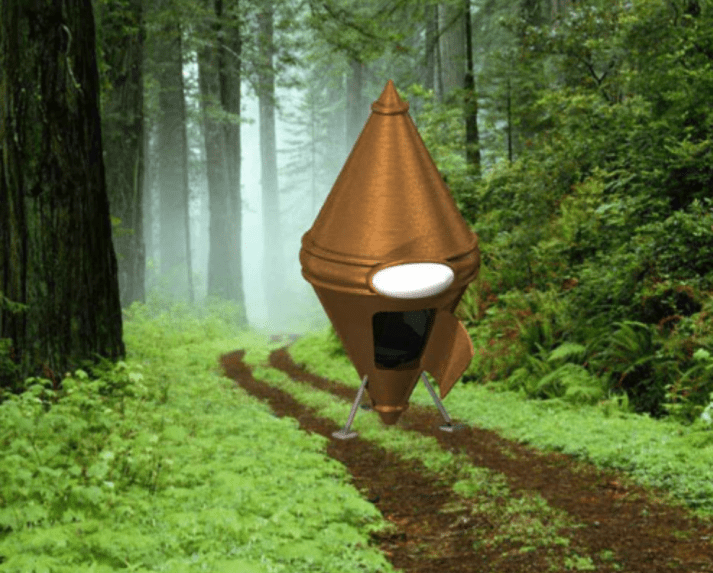 Rosa Lotti Dainelli was a forty-year-old peasant, mother of four children, owner of a farm called "La Collina" in the locality Cennina7 (a small town near Biicine, in the province of Arezzo, Italy).
Monday, November 1, 1954. That morning Rosa was going to go as usual to the church in her town where she used to go, that day she had got up very early at half past six in the morning as the feast of all was celebrated Saints and had several important things to do. Rosa that day decided to release a new dress that she had kept for the occasion and some new shoes.
He left his house with a large bouquet of flowers that he had taken the day before with the intention of going to church after going to the cemetery to visit his deceased relatives as usual on that day. He took a small path that would take her first to the place where he was going. Halfway through he realized that there was a lot of humidity at night because of the abundant morning dew, he stopped to take off his shoes so they would not get wet holding them with his left hand since in the other hand he was carrying the bouquet of flowers and he continued the path barefoot on the path.
Rosa went somewhat distracted looking at the flowers she was carrying and went through a small forest, when she suddenly stopped and was surprised to see a strange device parked on the ground by the side of the road.
Rosa for a few seconds remained motionless and not knowing how to act but minutes later decided to continue moving slowly down the path of the forest. The farmer, without being able to look away from the apparatus, was curiously observing this strange object as she continued to walk, an object which has the shape of two cones, was of a brilliant brown metallic color with golden reflections.
Afraid of this, she decided to approach very slowly to observe more details of that machine. Approached about 5 meters away from the device, Rosa from there could already appreciate the dimensions of that object, which had a height of more than 2.5 meters by almost 2 meters in diameter and a little further down there was a small door which was totally open.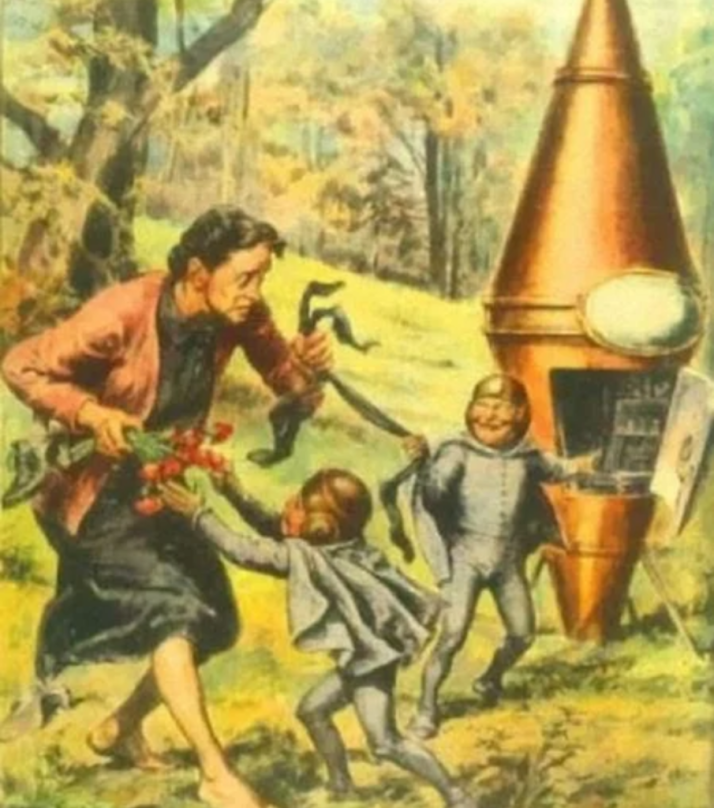 Curiosity overcame him at that moment, making him approach the opening, where he could see two small armchairs facing what looked like a very illuminated board. A kind of broad band surrounded the junction of the cones and above this band were observed several small windows similar to blinking lights similar to "portholes". Suddenly Rosa heard a noise among the branches and in the distance, a few meters away, she saw two little beings appear among the bushes, which caused the woman to be petrified by such an apparition.
They were beings that seemed very smiling, gesticulating, without giving any sign of being a threat to her. In fact it seemed as if they were trying to make themselves understood and wanted to start a conversation with her, they had small and very dark eyes (according to Rosa), they were short (they would not be more than one meter tall), they looked very Similar to humans, their faces were almost perfect, although their trail was rather aged by the wrinkled skin.
The beings wore a bluish-gray one-piece suit with a cape on their backs and over their heads they wore a kind of helmet. They approached her slowly with a funny and friendly face speaking loud and sharp in a strange language. Rosa at that moment remained motionless, so the beings took the opportunity to jump on him and snatch the bouquet and his shoes. At that moment, Rosa proved that despite the size, these beings had great strength.
She tried to recover her belongings, but the one who was closest to her insisted on taking everything she had in her hands. Then Rosa already panicked for fear of being harmed and ran to the trees, hiding as she could in the forest.
When he left, he saw how these creatures stayed in custody and with great curiosity inspected the bouquet of flowers, took some objects that had been left on the ground and then approached the ship, deposited everything inside and then returned to the place and began to search the surroundings are supposed to be looking for Rosa who already died of fear, continued crawling among the grass and thus managed to get away more than 50 m. Once refugee, from that place he observed how those beings, climbed the small ship minutes later and closed the door of the ship. Soon after, with a great sonic vibration and releasing a lot of smoke and flames, that device began to rise and in an instant disappeared into the sky ..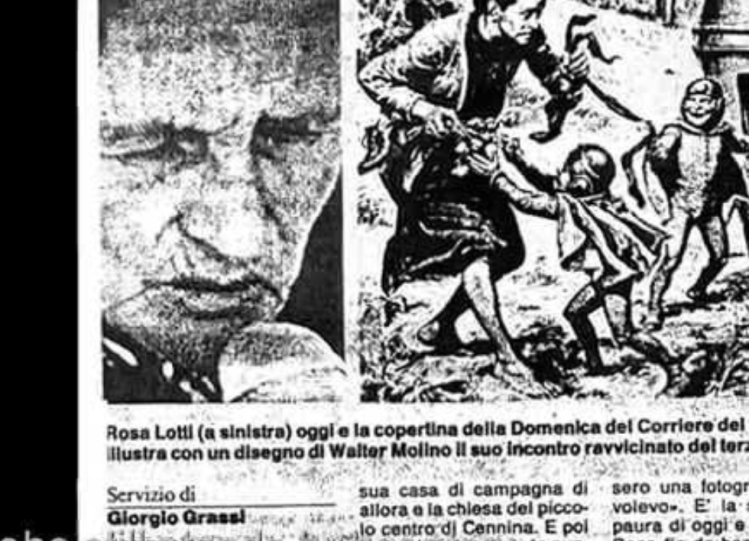 Life on Enceladus? complex organic molecules on Saturn's satellite?
From stories about the inhabitants of the Moon to the costly research programs set up by space agencies, identifying the presence of life on another heavenly body seems to be an endless concern for mankind. As the margins of the known Universe are still moving away from the Earth, the possibility of discovering living beings on another planet is increasing even though we have no certainty, but only hope and probability.
For the moment, we are grateful for these probabilities, awaiting the day that it will undoubtedly confirm that we and our planet do not represent the only life-assembling complex of this huge universe.
But to host life, a heavenly body must give it certain conditions. (Here, it seems that we still need to expand our ideas a little, because we tend to believe that any living thing on another planet must be made up just like the living things on Earth, not necessarily like them, but be the same at the molecular level.
If one of the great scientific discoveries of recent years – bacteria capable of using arsenic instead of phosphorus – is confirmed – that means that our perspective on what is living must change. And then, it is possible that some planets with attributes that today seem inappropriate to become more interesting in the future in the light of our changed concepts.)
But, by the way, all people, at all times, think about the ideas of their time, so let us also thank ourselves to the contemporary ideas regarding what life means and the conditions that a planet must fulfill for that the miracle of life should appear there and perpetuate.
Extraterrestrial life could develop into Enceladus's hidden oceans
The first observations of Saturn's satellite were made in 2005 when hydrothermal jets were detected for the first time. Now, there may be the answer that raises the chances of alien life.
"From where Enceladus has the energy to support the phenomenon has always been a mystery to us,"said astrobiologist Gael Choblet of Nantes University in France.
"I have now considered with greater detail how the structure and composition of the solid core can play a key role in generating the necessary energy,"he added.
It is estimated that the ice thickness is 25 kilometers, but only one kilometer around the southern polar region, where these hydrothermal phenomena occur.
The small pieces of minerals detected in jets suggest that salts and silica dust are formed by the interaction of water that can reach up to 90 degrees Celsius with the rocks of the Enceladus satellite. For this interaction to take place, there must be space in the core for water to coexist, so the core must be porous.
"Whatever the mineralogical composition of the core, it must contain water," Choblet explained, "maybe 20-30% water."
In the new simulations, the team found that the tides generated by the orbit around Saturn can heat the water inside Enceladus due to the frictional force produced as the liquid circulates through rock fragments.
When the water rises in temperature (reaching up to 90 degrees in the orange sections in the image below), it rises through the porous core through the ocean to the surface in the form of jets.
Previous studies state that this heat would have been from radioactive material, but if that was the case, the process would have provided the heat needed to emerge the jets for several million years, so somehow the radioactive material would have appeared recently on Enceladus.
The new theory offers a more plausible explanation, with a phenomenon that takes place over a longer period.
What's most interesting is that the warm water, the long time and the chemical composition found on Enceladus are key elements in the emergence of life.
Thus, this study can be the basis for the search for extraterrestrial life.
Scientists have found evidence of complex organic molecules on Saturn's satellite
Using mass spectrometry data collected by NASA's Cassini probe, scientists have found that large organic carbon molecules are ejected through the cracks on the frozen surface of Enceladus, one of the many natural satellites of the giant gas giant, Saturn.
Researchers at the Southwest Research Institute, who discovered the presence of these molecules, believe that the chemical reactions between the solid core of the satellite and the warm water in the ocean under ice are responsible for these complex compounds, Phys.
"ONCE AGAIN, WE ARE AMAZED BY ENCELADUS. PREVIOUSLY, WE IDENTIFIED ONLY THE SIMPLEST ORGANIC MOLECULES CONTAINING A FEW CARBON ATOMS, BUT EVEN THOSE WERE VERY INTERESTING, "SAID CHRISTOPHER GLEIN, A SCHOLAR AND CO-AUTHOR OF THE WORK RECENTLY PUBLISHED IN NATURE.

"NOW WE HAVE FOUND ORGANIC MOLECULES WITH MASSES OF OVER 200 ATOMIC MASS UNITS. THESE ARE TEN TIMES HEAVIER THAN METHANE. WITH COMPLEX MOLECULES EMANATING FROM THE LIQUID WATER OF THE OCEAN, THIS SATELLITE IS THE ONLY BODY BESIDES THE EARTH THAT SIMULTANEOUSLY MEETS ALL THE NECESSITIES OF LIFE AS WE KNOW IT. "

"EVEN AFTER ITS END, CASSINI CONTINUES TO TEACH US ABOUT ENCELADUS'S POTENTIAL IN ASTROBIOLOGY," GLEIN ADDED.
During the flight, near Enceladus, on October 28, 2015, with the help of the INMS (Neutral Mass Spectrometer) instrument, molecular hydrogen could be detected when the ship passed through a jet.
Previous studies have already shown that the satellite has an ocean under the ice layer and above the solid core. The molecular hydrogen jet is probably formed by the geochemical reactions between water and rocks in hydrothermal environments.
"HYDROGEN PROVIDES A SOURCE OF CHEMICAL ENERGY THAT SUPPORTS MICROBES LIVING IN THE EARTH'S OCEANS NEAR HYDROTHERMAL SPRINGS," SAID HUNTER WAITE, THE SCIENTIST WHO HEADS THE TEAM AT INMS AND CO-AUTHOR OF THE NEW STUDY. "ONCE YOU HAVE IDENTIFIED A POTENTIAL SOURCE OF FOOD FOR MICROBES, THE NEXT QUESTION IS ABOUT THE NATURE OF COMPLEX ORGANIC COMPOUNDS IN THE OCEAN. THIS WORK IS THE FIRST STEP IN THAT UNDERSTANDING OF THE COMPLEXITY OF ORGANIC CHEMISTRY BEYOND OUR EXPECTATIONS. "

"ALSO, THE FINDINGS IN THIS STUDY HAVE IMPORTANT SIGNIFICANCE FOR EXPLORATIONS OF THE NEXT GENERATION," GLEIN ADDED. "A FUTURE SHIP CAN FLY THROUGH THE JET TO ANALYZE THESE COMPLEX ORGANIC MOLECULES USING A HIGH-RESOLUTION MASS SPECTROMETER TO HELP US DETERMINE EXACTLY HOW TO FORM THEM."
Year after year, benefiting from advances in exploration technology, astronomers discover more planets that seem to be "good for life." Let us understand: we do not necessarily speak of "good for us", that is, good to live on, but some that offer similar conditions – identical – to those on Earth, conditions that could allow them to live there beings, adapted to those conditions.
And on Earth there are many places where people do not live, but they live enough life forms, some with a very original metabolism. And some creatures on the Earth can withstand almost unimaginable harsh conditions.
If experts will persuade those who decide the money destination to provide funds for the preparation of such a mission, Enceladus could become the next star on alien life searches.
He deserves it, say "his admirers", because he has a lot to offer – he has qualities that can feed hope much more than the planet Mars, the one that "consumes" currently the funds for the research of the profile.
Well, what can I say? Let's be healthy to take the time when the world explodes the news that the space mission to Enceladus has found signs of biological activity there, undeniable evidence that there is what we have been looking for decades – life-forms living on another heavenly body from our solar system.
References: