A new species of dinosaur, a relative of Velociraptor, has shown scientists a little more about the origins of similarities and differences between the feathers of dinosaurs and birds.
The fossil belongs to a fierce dinosaur from the Cretaceous period called the "dancing dragon" who lived 120 million years ago in what is now China.
'Dancing dragon'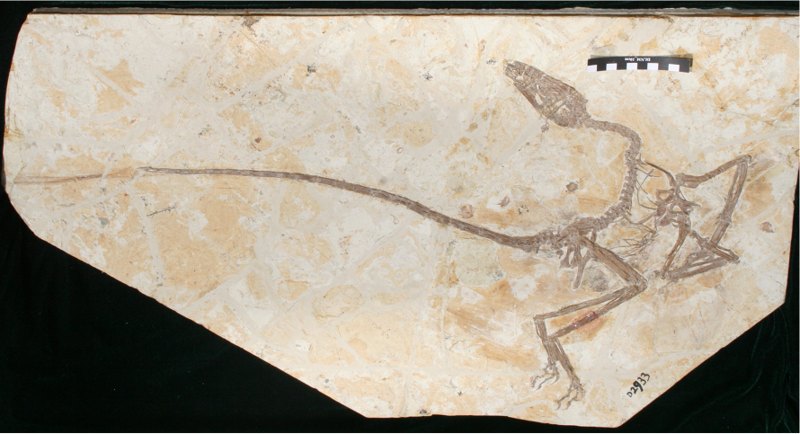 Called Wulong Bohaiensis, It was a two-legged carnivore, a little bigger than a raven, that resided in an environment next to lakes. He had a scaly face, a mouth full of pointed teeth, a particularly dangerous toenail, and probably hunted small mammals, lizards, birds and fish.
He was gound in the Chinese province of Rehe, in northeastern China and his name translates as 'dancing dragon', as it refers to the articulated position in which his skeleton is.
Conserved in its entirety, the skeleton included soft tissues such as feathers, which appear together on its arms and legs, very similar to those of birds now. In addition to its four long limbs and two long feathers at the end of the tail, his body was covered by spongy filaments.
At the end of its long bone tail, fused in a rigid rod, there were 2 very long feathers.
«The Wulong specimen is a magnificent fossil. With the feathers and claws, I think it would have been beautiful and a little scary. I would love to see one alive, "said leading research paleontologist Ashley Poust of the San Diego Natural History Museum.
Plumage differences between birds and feathered dinosaurs
A thorough examination of the bones showed that this Wulong individual was approximately one year old, that is, he was a young male still growing.
This characteristic puzzled the experts, since usually the feathers appear in the adult stage. "Either the young dinosaurs needed these tail feathers for some function we don't know, or they were cultivating their feathers very differently than most current birds", Poust explained
Birds evolved from small feathered dinosaurs approximately 150 million years ago. But there were many feathered dinosaurs that didn't fly, like Wulong.
Young Wulong seemed to have the plumage of an adult.
«It has long and isolated feathers that extend from its long tail. This is quite different from live birds and tells us that these decorative feathers preceded adulthood in dinosaurs. Of course, they may be using these feathers in a very different way from live birds too, "said the expert.
Paleontologists are eager to understand many more plumage differences between birds and these feathered dinosaurs.
The finding was described in the scientific journal. The Anatomical Record.