"A Murky Path Down Archer Avenue" short documentary
When I'm not out filming projects in locations that I probably shouldn't be at, I'm most likely reading books, online articles, magazines, you name it. I've been a big geek for history and mythology for as long as I can remember so very few narrative types hit the sweet spot for me as ghost stories do. Creepy tales–are they real or not? did they happen or are they completely bogus?–tend to be a nice collision of rumors, darkly wishful collective thinking, and factual history. That's the type of cocktail that filmmakers seem to enjoy and I'm no different. Big-time, international legends (Robin Hood, Mulan, Pecos Bill, etc.) are widely celebrated, as they should be, but I've always felt that lesser-known, community-based stories are often underrated and underexamined.
There can be an inclination to throw away local legends (the kind all of us here on earth are bombarded with from time to time) when they don't hold up to scrutiny. Fact-checking is best served in courts of law, not necessarily when it comes to telling fright stories. Ancient paper files disintegrate, get lost, catch fire, and are intentionally discarded. People lie and others make mistakes. It happens all the time. History–the concise, crunchy kind that we cling to nowadays–can be more delicate and elusive than we're comfortable admitting. One flawed or misread vintage article can easily send a researcher down the wrong street. We must give space and respect for legends and how they function in fleshing out the bigger pictures of sociocultural values. If you squint and turn your head a certain way, there's more truth being revealed than you may realize.
Chicago, Illinois is similar to many other big cities in the sense that it has a messy history. Lots of people came crashing towards a chosen area during a time when institutionalized documentation wasn't quite on the same level that we have today (to put it mildly). Sometimes rumors and legends are all that we have left. They fill in the gaps where files fall short. Folks in the earliest decades of the 20th century, and beforehand, had a difficult enough time keeping track of the living so when it came to the dead….the details can get easily muddled.
A lengthy, old travel route coursing through Chicago and certain suburbs, Archer Avenue is heavy in history and graveyards which means that ghastly stories are inevitable. The value of these tales–and the value of neighborhood legends in general–is that they're reflective of the histories of their respective locations. Religious obsession? Covered. Guilt, fear, and fascination regarding displaced peoples? Absolutely. Industrial Age tech shock: scary innovative equipment and automobiles turning machines into new monsters to watch out for? Very much there. The ever-present threat of poverty? Constantly highlighted in bright, blazing lights.
What were the past preoccupations of the people in your area? Dig into whatever the rumors are and you'll gain plenty of insight.
The Archer Avenue stories presented in this short documentary are captured in their quickest essences. This is only a brief, 13-minute adventure–history, and twists on history, as a kind of carnival ride–not a day trip. It's designed to spark your curiosity. The beautiful, awful, silly, unnerving folktales included here call for further investigation and in-depth reading. It may seem like there are too many creeps crammed into a singular line of land to be believed–do they ever bump into each other and, if so, what happens then?–but remember that these are tales circulating around just one street in Chicago so you can imagine what the rest of the city is like…..
*This is a guest post written by Derek Quint, Director of Addovolt Productions
*Derek Quint is an independent filmmaker based out of Chicago and the director of the short documentary, "A Murky Path Down Archer Avenue". "A Murky Path Down Archer Avenue" is an entertaining and fast-paced ride through the folklore of Chicago's spookiest street. This project is narrated by Michael Marius Massett and features music compositions by Andre Miguel Almaraz and Michael Marius Massett
Descending Dark Humanoid Figure Filmed In California
This grainy footage, appears to show a dark humanoid figure descending over top of Burbank, California. The footage was captured recently by Pablo Morales. He went on to explain, that it was really cloudy outside and there was thunder earlier on the same day.
While outside with his family, they soon noticed a dark figure in the sky. He is assumed to have recorded it with his phone. The quality is pretty terrible, considering phone cameras have come a long ways.
Pablo Morales said, "I went, but found no balloons or trash or anything that could have been that big."
Some are speculating that the dark figure seen is some kind of fallen angel. It looks kind of mysterious. Quite possibly, this could be a large balloon of some kind deflating slowly. Yet all of this is mere speculation at this point in time.
Pablo's footage was later posted onto YouTube back on May 10th. The video, later was noticed by a number of channels, dedicated to paranormal type discoveries. Not long after this, others spread news about this rather interesting video.
Seen during this video is a dark humanoid anomaly, that seemingly floats across the sky. During one point in the video, someone can be heard saying, "Is that Jesus Christ?". Moments later they can be heard saying, "Please, oh, Father God."
This mystery dark figure, floats for a bit longer before disappearing behind a tree, then behind a building seen in the far distance. It is unknown if someone recovered this anomaly. There has been no report yet of what happened to this. Was it carted off by the government? Or perhaps someone out there found this figure. Other questions remain, such as was this thing alive or dead when it finally descended?
Pablo later went to the area, where he thought this thing would have come down. It more than likely was some kind of balloon. But this is still speculation it may have been something else.
Helltown, Ohio – Creepy Facts, Legends and Myths
Whether you're talking about the paranormal or just plain odd, Ohio is easily the strangest state in the US.
There are ten times more hauntings, more cry baby bridges, and more urban myths across the state the state of Ohio than any other state, but among all creepy or weird places in Ohio there is one that stands out to such a degree that you would think the weirdness in the rest of the state was actually emanating from it. Welcome to Helltown Ohio….
Helltown is a specific area within the Boston Townships that borders the Cuyahoga Valley National Park. In fact it is one of the original Boston communities; originally named Boston Village.
It found its new name as a result of the mass eminent domain seizure of homes in the region during the mid-1970s. The large number of vacant homes and other derelict buildings, a few disappearances and word spread that Helltown was home to a satanic cult.
There are so many urban myths, folklore (or fakelore), and paranormal locations in Helltown Ohio that its difficult to know where to begin, so we'll start with the myths.
Satanists in Helltown Ohio
The belief that Satanists inhabited the Helltown may have begun with the abandoned buildings, but it didn't end there. The story grew until the Satanists were said to be sacrificing animals by night in the local Presbyterian church.
The church itself doesn't help refute the story; it's a creepy old building built facing a fork in the road, and exactly the sort of place children make up stories about.
However; there has never been any real evidence of Satanists in Helltown, and while pretty much everybody tells the story, most are well aware that this is just a myth.
The Helltown Mutants
As if Satanists weren't bad enough; the Helltown Ohio myths take a definite turn for the weird when you start hearing about the Helltown mutants.
There are two origin stories to the myth; one tells that a chemical plant exploded and another tells that there was a massive illegal chemical dump in the Cuyahoga River just upstream from the area known as Helltown.
These stories lead into a massive 30ft python (which you would think somebody might have caught on film by now) to a single hiker caught in the chemicals that mutated in to a sort of half human super powered monster. The "Peninsula Python", a gigantic snake that wanders Helltown's woods for food of the human sort is said to live in the river, while the mutant hiker is said to live in a small abandoned house in the woods.
The truth behind these is that there has never been a chemical plant in the area and the chemical spill rumour may have come from the 1985 discovery of toxic waste being dumped. However; the dump was discovered when a hiker in the park became ill after touching something coming out of some rusted drums at the abandoned Krejci Dump.
At least that part of the Helltown urban myths is true, but also true is that the hiker later died in a nearby hospital.
The Helltown Cry Baby Bridge
The Helltown Cry Baby bridge is a different matter. Although many have reported the sounds of a baby crying, the most notable occurrences on the cry baby bridge are of a physical sort.
Reportedly, if you leave your car, you'll return to it to find it surrounded by children's footprints and sometimes handprints on the window. More importantly, if you leave your car unlocked with the keys in the ignition you'll return to find it running.
There aren't many details to the origin story of Helltown Cry Baby Bridge, just that a child was thrown from its edge and died below, which is most often the case with all cry baby bridges.
The Highway to Hell and the End of the World
"The Highway to Hell" is in fact the nickname for a specific stretch of Stanford Road in Helltown Ohio where the road enters a steep decline on a wooded hill. The road also narrows significantly at the entrance of the woods creating a sharp drop-off, and at the end of the road (not visible from the top) is a barricade known as "The End of the World."
Today the portion of "The Highway to Hell" where it enters the woods is closed to vehicle traffic. However; it wasn't always the case. Helltown legend has it that the road was once a popular target for cut throats and thieves.
Given the lack of visibility, the steep inclines and twists in the road causing drivers to slow considerably the myth was that cut throats would wait in the woods and highjack those driving by. The ghosts of their victims are said to be heard moaning from the surrounding woods throughout Helltown.
The School Bus in Helltown Ohio
The Helltown Highway to Hell myth certainly didn't diminish when one day in the mid-1980s an abandoned school bus was discovered along the road. While there are certainly numerous reasonable possibilities for how the school bus got there you have to admit it has a certain creepiness factor to it, and this is Helltown afterall.
This was made worse when residents of the area began reporting that they had seen a man presumably living in the bus, which by that time was scheduled for removal by the county.
The authorities put the bus under observation to deter vagrancy, but each night the shadow of a man smoking a cigarette in the bus would appear and the bus would be found empty when the posted officers investigated.
Mother of Sorrows Cemetery
Despite that "Mother of Sorrows" is the English translation of the cemetery's proper name, Mater Dolorosa Cemetery has become the standard name by which it's called in most tales of Helltown Ohio.
The cemetery is about as eerie a cemetery as you'll find. Entirely hidden within the Cuyahoga Valley National Park just east of Peninsula Mother of Sorrows Cemetery has been abandoned for the last fifty years and is now just a scattering of twenty or so tombstones in the forest.
It's said that the Helltown Satanists we explained earlier are buried on these grounds in unmarked graves, but the more notable spirits are those of Michael Raleigh who's face is said to appear in his tombstone when it rains or in the reflections of moonlight, and Thomas Cody whose spirit wanders the woods of Helltown at night and can be sometimes seen peering out at night time visitors.
The Cabin in the Woods in Helltown Ohio
Depending on who you ask there are two abandoned structures in the Helltown woods that play the part of the infamous "cabin in the woods".
The story of the cabin in the woods tells that somewhere in the forests of Helltown there is an abandoned residence that when approached a heavy fog will set in sealing it off from the outside world and making it impossible to navigate the terrain.
Some claim that the cabin is a specific house not far from the Highway to Hell. However this house has recently been restored and is currently the residence of a family of four.
The other structure pointed to as the Helltown cabin in the woods is in fact the barn shown in the image. The barn of course pulls in the Satanic cult myths from above, but also includes from time to time stories of red eyes that appear in the fog.
The fog itself is actually a reality and although it ups the Helltown creepy factor by about a thousand degrees, it's in fact perfectly natural.
Cuyahoga Valley National Park is home to one major low lying river, about a dozen smaller offshoot streams and creeks, and more ponds than you could count. Under very common circumstances the Helltown forests are covered in fogs put off by these waterways.
Spectral Hearses, Headless Train Conductors, and Slaughterhouses
Believe it or not we've only covered a handful of the urban myths saturating Helltown. We could probably write another five pages on the lesser myths, but a couple do stand out enough to warrant a mention.
There have been a number of visitors to Helltown that reported being chased by a hearse, and as it turns out there was once a resident of Helltown that owned a hearse, but I'm sure he didn't appreciate the constant attention when people started accusing him of chasing them in it.
A set of rail tracks runs through Cuyahoga Valley National Park and its said that where the tracks cross the Cuyahoga river the headless phantom of an early 1900s train conductor can be seen by the water beside the bridge. There's really no back story here; just a headless train conductor hanging out by the river in Helltown.
Lastly; the same barn mentioned above is often included in another legend that tells of a slaughterhouse where numerous versions of "bad things" happened. Locals telling these myths will also tell of the stench that seems to come and go and the whispering voices that accompany it.
Unknown Presence Watches Family Through Window
This odd photo, made its way around the internet. It seems to show a family inside goofing around and making faces at one another. The thing is, they didn't seem to notice something standing by the window, watching their every move. Many believe this is some kind of demonic type presence seen. Perhaps it was nothing more than someone wearing a mask, but one can never be too sure…as it appears to be quite different indeed.
This is what they had to say about it:
"Growing up, my dad's house held many spooky, unexplainable nights. We would hear loud, heavy footsteps running up the stairs when we were home alone. It also sounded like a person – or thing – was dragging a rake up the walls as it sprinted up the stairs. But there was one room in the house where – sometimes in photographs – it looked like a man was watching us from the windows. The photos below were taken in the same room and six months apart. Each shows a different window in the room."
The only known information about the photo is…about the person who posted it. They are from Amelia, Ohio and her name is Kara Siler.
Did Kara share evidence of something supernatural? Perhaps so, after reading what she had to say. This thing may even be some kind of poltergeist of some sort. It is believed that this particular type of ghost, is able to forcefully manipulate objects around them to move. One can guess, some kind of energy was used to accomplish this.
Whatever this thing is by the window, it seemed to genuinely be interested in this family for some reason. If this was a person, then maybe they were stalking them for a reason. Could this all be a staged setup? This is also very possible but just speculation at this point.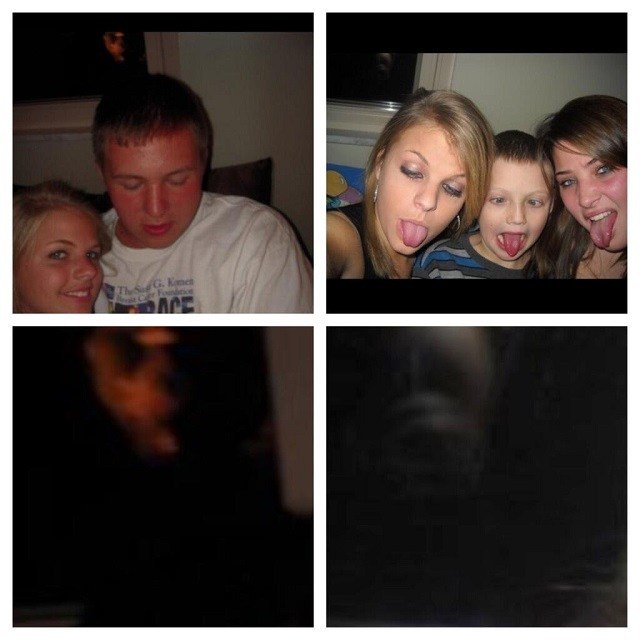 These distorted faces seem to contort differently in each photo. This happened over the course of six months. Sometimes certain people seem to attract spiritual energies more so than others for ever different reason.
However, if this wasn't a someone and a something, then it would be a good documentation of something otherworldly.