In the last 20 years, about 350 cases of suspected drownings have been detected in the United States, with painted emoticons being found near the corpses.
Most often, these are the most primitive emoticons depicted with a circle, dashes (or dots) and a wide smile. Sometimes, investigators come across more carefully drawn emoticons, such as horns and tongue.
The emoticons are painted on fences, stones, on asphalt, trees or concrete pillars.
Some researchers believe these are mere coincidences, and the deaths of all these people are the result of suicide or accident. But others, including New York detectives Kevin Gannon and Anthony Duarte, believe it is the work of serial killers – psychopaths.
These stories are like urban legends or scary horror stories, but these are completely real events.
People who died from drowning lived in different cities and states. The only thing that connects them is the strange emoticon painted with a graffiti spray a few steps from the location of the bodies.
One might think that such a sign is too common and they coincidentally coincide with the place of death. However, this would be plausible if other graffiti drawings were found at the scene. And in most cases, they were not found.
In addition, two more facts are suspicious – the vast majority of drowned men are of the white race, aged 19 – 23, and almost all cases are from New York State, as well as Highway 94, to the upper Midwest.
According to the most popular theory, this is the work of a group of serial killers who communicate and discuss their new killings on the Dark Web .
The first emoticon killing occurred in 1997. A 21-year-old student from Fordham University, Patrick McNeill, disappears. He was last seen by visitors at a bar in Manhattan, where he was in the evening. Two months later, the student's rotting body was found in the water of Bay Ridge , Brooklyn.
Although the medical examiner determined the cause of death – "drowning" as a result of a likely fall from the bridge due to alcohol intoxication, Sergeant Kevin Gannon, who was working on the case at the time, found signs of torture on the body of the man killed. He also discovers that during those two months, Patrick's body laid somewhere on the ground and was thrown into the water shortly before it was discovered.
Gannon was in close contact with the McNeill family and was appalled by the circumstances of Patrick's death. So, he personally promises his parents that he will understand what happened to their son.
His determination was heightened when, in the same year, after the discovery of Patrick McNeill's body in the water near New York, four more strange 'drownings' were discovered. They are all young white boys studying in college. Then, such cases begin to happen more and more frequently.
In 2001, Gannon resigned from the NYPD and became a private investigator. Then, along with his old partner Anthony Duarte, he continues his purposeful investigation into the killings with emoticons.
For the first time, Gannon and Duarte, discovered the connection between the drowning and the image of the emoticon,  during the investigation into the death of a 21-year-old Minnesota student – Christopher Jenkins.
It happens in 2002, on Halloween Day. When Chris's body was found floating in the water 4 months later, he was still wearing a Halloween costume.
When Gannon examines the suspected location where Jenkins may have been thrown into the water, he suddenly notices a drawing on the asphalt of a smiling man. Gannon immediately remembered that the same "smile" was present at the place where McNeill's body was discovered, and in at least 12 other cases.
Later, in an interview with reporters, Gannon said that, in his view, this picture symbolized a mockery of the police who could not solve any of these crimes.
According to Gannon, there have been more than 40 such killings, but other investigators estimate there are about 350 cases in 25 cities and 11 states.
In an interview with Larry King ( Larry King ), Gannon says:
"I think it would be impossible for just one person to do that. I think it's the work of a group of killers. "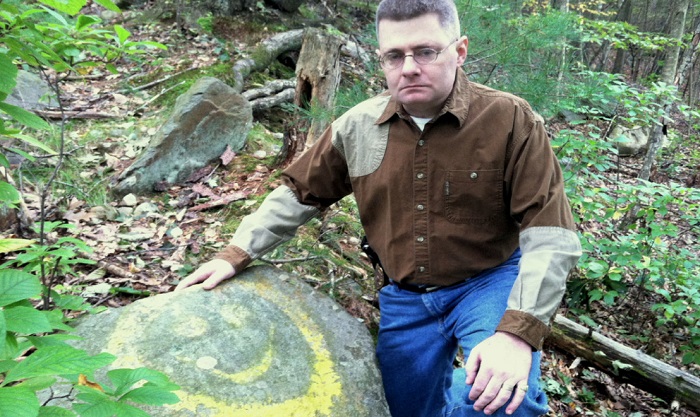 According to Gannon, this criminal group hunts people of a certain type – boys 19 to 23 years old, smart, purposeful, successful in life, athletic and white, with rare exceptions.
Gannon shares:
"It is possible to engage in envy murder or to have a specific initiation ritual when it is necessary to kill a specific person for a specific purpose."
In one case where the body was found in the water, the word 'Sinsinawa' was found next to the emoticon. Gannon ignored it until, after a few months, the body of another successful student was found in the water near Cincinnava Avenue.
However, this was a weak clue and no such cases appeared again.
According to Gannon and Duarte, the hunt for future victims begins when they are having fun at a bar or pub with friends. At one point, a drug is added to the drink of the victim being targeted. The student who is about to disappear is then kidnapped, taken somewhere, tortured, then killed and thrown into the water.
Probably, the bodies of the killed are thrown into the water in order to wash away the fingerprints and other possible evidence.
Gannon and Duarte are often interviewed for their work. In 2008, their interview was broadcast on all US national channels. But alas, it doesn't produce any results. Gannon and Duarte still have no clue as to the specific people who commit these crimes.
In addition, their colleagues are trying to prevent them. In 2010, the Center for investigation of murder in Minneapolis ( Minneapolis ) submit a report in writing on points that "murder emoticons" are actually fictitious, based on coincidences.
Part of the report's conclusion:
"Students often drink in bars and often then fall into the water, drowning. And graffiti emoticons are common in the city. "
The mystery remains unresolved. Are they really coincidences, as claimed in the Report? Or are the authorities hiding the truth? If it is a cover-up, who and why are they concealing? Is Conspiracy Reaching So High? For now, the questions remain unanswered…