A Geyser of Mud From San Andreas Fault is Creeping Across California and it's Unstoppable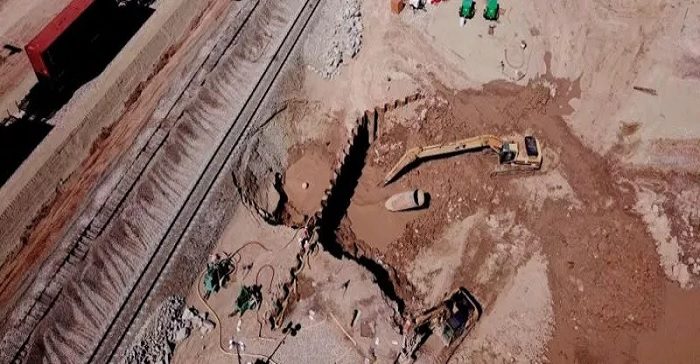 A mud puddle doesn't really sound all that threatening, but there's one in California's Imperial County that's so troublesome, an emergency had to be declared earlier this year.
It's called the Niland Geyser and it's exactly that, a geyser of bubbling mud. But there's a strange twist – this menacing puddle has been slowly creeping across the ground, to the point where it's now threatening railroad tracks and a state highway.
The Niland Geyser first appeared in 1953, and sat around without incident for decades. Then, around 11 years ago, things shifted. The geyser started moving across dry ground at a glacial pace.
Now, things have gotten more serious – in the last six months, that pace has picked up considerably. In a few months, the Niland Geyser travelled 18.3 metres (60 feet).
Then, it travelled another 18 metres in a single day – bringing it worryingly close to Union Pacific's railway tracks, State Route 111, a petroleum pipeline, and fibre optic telecommunications lines.
Overall, this bubbling puddle has moved roughly 73 metres (240 feet) from where it was a decade ago.
"It's a slow-moving disaster," Alfredo Estrada, Imperial County's fire chief and emergency services coordinator, told the Los Angeles Times. Last month, the county announced it was proclaiming an emergency for the affect area.
There have been several attempts to stop the mud. The basin has been drained of water. Wells have been dug, to try and relieve pressure on the geyser. Loose stone was dumped in the mud spring.
As a somewhat desperate measure, the Union Pacific Railroad built a wall of steel and boulders 22.9 metres (75 feet) deep and 36.6 metres (120 feet) long between the mud spring and the railroad.
Nothing has stopped it, not even the wall. In October, the mud just seeped underneath it and kept sludging on towards the tracks.
The source of the mud, known as the mud spring or mud pot, is located at the southern end of the San Andreas Fault, the boundary between the North American and Pacific tectonic plates.
However, its important to note that the geyser's presence and movement are not signs of seismic activity. A mud pot is associated with a tectonic boundary, but it's actually a bit like a sinkhole (except full of, well, mud).
The Niland Geyser is a geothermic feature where water is forced upward through the soil. It's not a very hot spring, with a temperature of only around 27 degrees Celsius (80 Fahrenheit); instead it's bubbling with carbon dioxide gas that is also seeping up from deep under the ground, released by prior earthquake activity.
It also reportedly has a bit of a stench, smelling faintly of rotten eggs – not uncommon for underwater spring activity, due to the hydrogen sulfide in the water.
As it moves along through a soft sedimentary rock called mudstone, it leaves a soggy trail in its wake, weakening the integrity of the ground to a depth of about 9-12 metres (30-40 feet), making it boggy and unsuitable to support structures.
So there's no need to worry that the long-awaited "Big One" earthquake is about to hit. The Niland Geyser is plenty enough to worry about without borrowing impending doom.
The Union Pacific Railroad has already built an alternate track for its trains to travel along, which they do at a slower pace than they used to. If the mud continues to creep onward, a more permanent solution, such as a bridge, may need to be implemented.
And if it creeps too close to the road, California Department of Transportation Ed Joyce told KYMA, "Caltrans will have to close state route 111 if that mudpot advances to a point where it impacts the state road. We obviously have to divert traffic."
MICHELLE STARR
sciencealert
Once a Year at 11:11 am the Sun Shines Perfectly on this Memorial
At precisely 11:11 a.m. each Veterans Day (Nov. 11), the sun's rays pass through the ellipses of the five Armed Services pillars to form a perfect solar spotlight over a mosaic of The Great Seal of the United States.
The Anthem Veterans Memorial, located in Anthem, Arizona, is a monument dedicated to honoring the service and sacrifice of the United States armed forces. The pillar provides a place of honor and reflection for veterans, their family and friends, and those who want to show their respects to those service men and women who have and continue to courageously serve the United States.
The memorial was designed by Anthem resident Renee Palmer-Jones. The five marble pillars represent the five branches of the United States military. They are staggered in size (from 17 ft to 6 ft) and ordered in accordance with the Department of Defense prescribed precedence, ranging from the United States Army, the United States Marine Corps, the United States Navy, the United States Air Force and the United States Coast Guard.
Additionally, the brick pavers within the Circle of Honor are inscribed with the names of over 750 U.S. servicemen and women, symbolizing the 'support' for the Armed Forces. The pavers are red, the pillars are white, and the sky is blue to represent America's flag. The circle represents an unbreakable border. Anthem resident and chief engineer, Jim Martin was responsible for aligning the memorial accurately with the sun.
Awards
– Arizona Historic Landmark Designation 2012 – Arizona Historical Society
– Arizona Public Works Project of the Year Award 2012 – Arizona Chapter of the American Public Works Association
– ACEC 2012 Grand Award – Best Engineering and Environmental Consulting Project
Sources
– Anthem Community Council
– Arizona Tourism: Anthem Veterans Memorial
– ABC Arizona: Anthem dedicates memorial to veterans
Anthem Veterans Memorial
41703 N. Gavilan Peak Parkway
Anthem, AZ 85086
(623) 742-6050
Veterans Day is an official United States holiday that honors people who have served in the U.S. Armed Forces, also known as veterans. It is a federal holiday that is observed on November 11. It coincides with other holidays such as Armistice Day and Remembrance Day, which are celebrated in other parts of the world and also mark the anniversary of the end of World War I (major hostilities of World War I were formally ended at the 11th hour of the 11th day of the 11th month of 1918, when the Armistice with Germany went into effect).

The United States also originally observed Armistice Day; it then evolved into the current Veterans Day holiday in 1954. Veterans Day is not to be confused with Memorial Day; Veterans Day celebrates the service of all U.S. military veterans, while Memorial Day is a day of remembering the men and women who died while serving. [source]
SOURCE: alien-ufo-sightings.com
Could Earth Have Been Seeded With Life?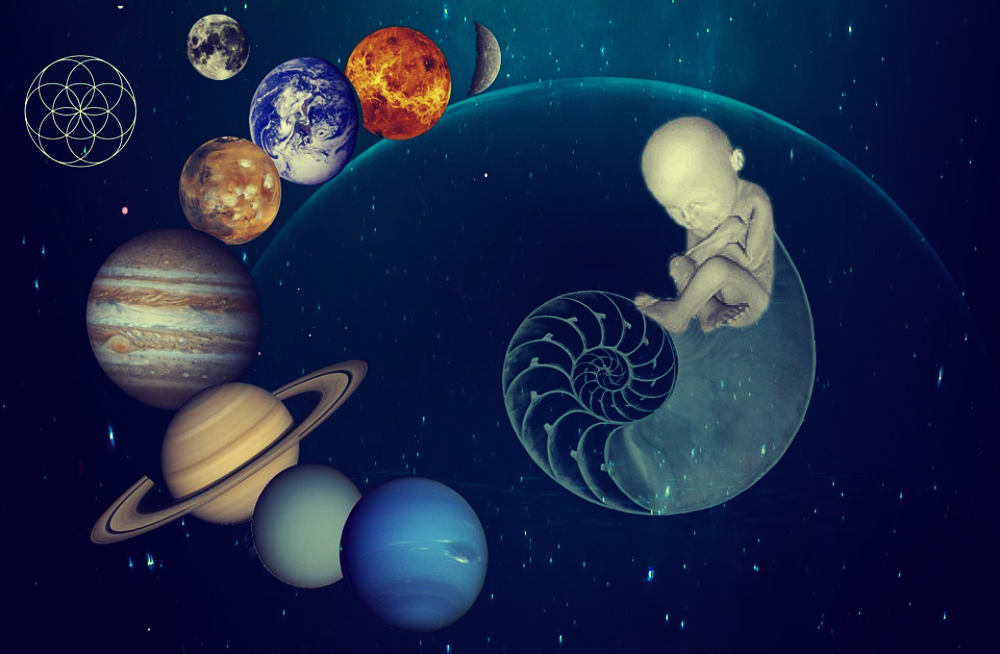 How did life begin? The biggest question mankind has asked itself.  Where did we come from? The idea that gods from the heavens had provided the seed of life has been supported by many researchers. End of the day we may have been looking into the correct direction: a breakthrough study claims that the so-called building blocks of life, the elements that are the backbone of organic molecules which form living matter, came to Earth from outer space.
Evidence of seeding
According to a team of researchers from the University of Hawaii at Manoa and their colleagues from France and Taiwan, phosphates and diphosphoric acid, two major chemicals that form chromosomes carrying our genetic information, were generated billions of kilometers away from our planet and were delivered to Earth by space wanderers such as asteroids or comets.
The scientists used a vacuum chamber cooled down to near absolute zero to simulate interstellar icy grains coated with carbon dioxide, water, and phosphine.
When exposed to radiation, these grains created both phosphates and diphosphoric acid. "On Earth, phosphine is lethal to living beings," said Andrew Turner of the University of Hawaii.
"But in the interstellar medium, an exotic phosphine chemistry can promote rare chemical reaction pathways to initiate the formation of biorelevant molecules such as oxoacids of phosphorus, which eventually might spark the molecular evolution of life as we know it."
Scientists suggested that these phosphorus oxoacids could be traced back to an interstellar medium, the materials that fill the space between stars, which are delivered to Earth by comets or meteorites.
Panspermia is a mechanism that allows biology to spread through space without needing a spaceship. Living matter "hitches a ride on sunlight or inside rocks." Some scientists believe that Mars was indeed inhabited at one time. Some space rocks were "kicked" off the planet and landed in a "suitably welcoming patch" on Earth. Biological material from Mars that was in the rocks may spur exploration into the search for the solution to the age-old question: Where do we come from and why are we here? There are several theories that relate to extraterrestrials.
There are suggestions that aliens escape from an unknown planet and come here due to dire circumstances on their home planets and most likely we are descendants of this race.  Environmentalist and ecologist turned author Dr. Ellis Silver believes we may have come from Alpha Centauri. The planet may have suffered some type of cataclysmic event from which a few residents were able to escape and come to Earth.
Other scientists believe that, eons ago, Humanoids inhabited Mars but a war destroyed the livability of the planet. This could have been due to the equivalent of two hydrogen bombs exploding on Mars 300,000 to 1 million years ago. Is it possible some living beings were able to escape to Earth before the destruction?
There are many mysteries and controversial theories for which there seems to be more questions than answers.
Rare T. Rex Relative Discovered in New Mexico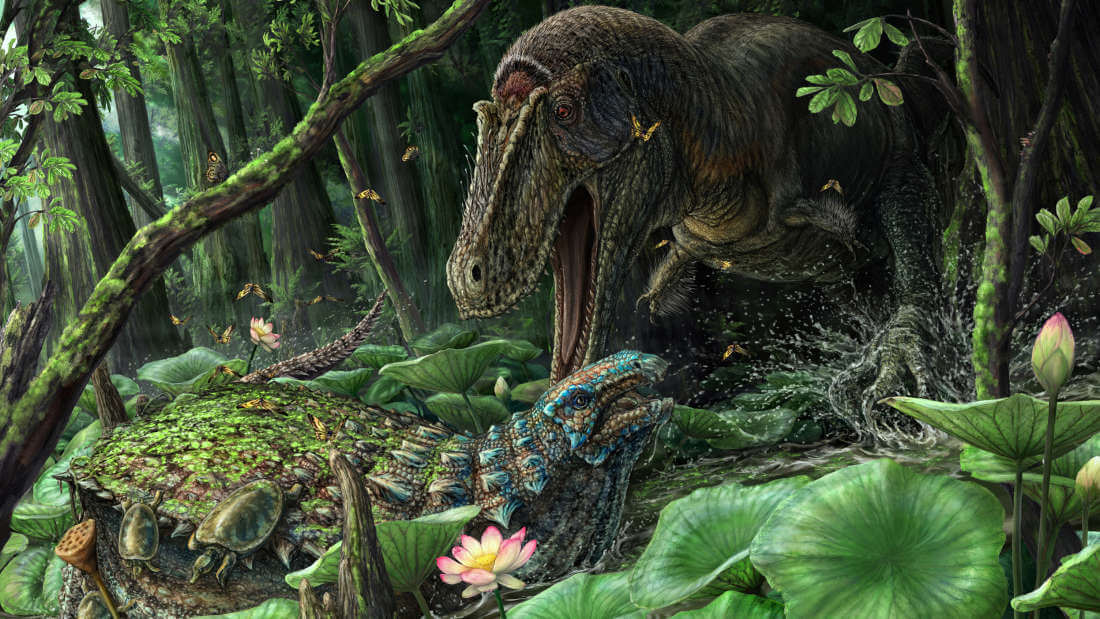 They don't look remarkable to the untrained eye. The skull bones are fragmentary, unrecognizable to most. The story of a fearsome tyrannosaur, who lived millions of years before T. rex, would remain lost to the ages had it not been for the fossil's discovery in New Mexico by a dedicated team of dinosaur hunters.
Digging in rock known to be approximately 80 million years old, but also infamous for its lack of fossil preservation, paleontologists Andrew McDonald, Douglas Wolfe, and their team searched for remnants of life in the Menefee Formation of New Mexico. This particular geologic formation was part of Laramidia, the western part of the ancient continent that eventually became the North America we know today.
Clues were there from the very beginning: Most of the bones were hollow and the skull segments were distinctive. Excited, McDonald knew these indicated a theropod. But what kind?
Theropods were bipedal dinosaurs and most, but not all, were carnivorous. Tyrannosaurus rex is the most well known type of theropod, but it's just one of a very diverse group of animals. It is also a later form of tyrannosaur. Many of the T. rex fossils people recognize from museums are approximately 66 million to 77 million years old. Earlier forms of tyrannosaur are extremely rare.
In a paper published today, McDonald, Wolfe, and Alton Dooley Jr., introduce Dynamoterror dynastes, which is only the second known tyrannosaur in Laramidia from this time period. D. dynastes walked the Earth approximately 80 million years ago.
Comparing fragments of bones offers a unique challenge to paleontologists hoping to identify such fossils. It took considerable research into published data, as well as trying to match the bones with available specimens. Perhaps one of the most exciting aspects of the study was the use of 3D scanning and printing to facilitate their research.
3D models of the D. dynastes bones. Image: McDonald et al.
The two frontal bones of the skull of D. dynastes were broken in different ways, but there was enough on both sides that they could reconstruct them.
"There are features on the right frontal," explained McDonald, curator at the Western Science Center, "that aren't preserved on the left, and vice versa. But there are enough overlapping features" that enabled them to recreate a digital composite of both bones.
"Those overlapping features gave us landmarks to work with," he said.
To be clear, Dooley, executive director of the Western Science Center, said, "the 3D modeling didn't reveal any feature that we didn't already know was there. But it made it much easier to make the comparisons and for us to interpret what we were looking at."
What would have previously taken weeks to confirm their fossil interpretation took only three days with the 3D models.
"The whole process of producing the composite 3D model took us [approximately] a day to scan the fragments," said Dooley, "then maybe one more day to make the composite model and then a third day to print it out."
These scans are publicly available to download from Morphosource and Sketchfab, enabling anyone to use them for noncommercial purposes.
"We hope that [publicly available digital fossil scans] become the standard," Dooley said. "It's not going to replace looking at the original specimens. As good as scans are, the actual specimen is still better. But sometimes you don't need the original specimen. You can get the data that you need perfectly well from just a scan." He said that these digital scans open up fossil research to scientists who may be limited by time or money.
He added: "We're not doing [scientific] work to keep it secret. We want to further human knowledge. We want other scientists to be able to use this specimen to help them in their own research. Travel is expensive; it can be difficult. And if we can do things to mitigate the costs of doing research, we can make it more accessible."
Source gizmodo.com