A Flying Saucer (Maybe) and Four Martinis
The story of the crash of an alleged UFO in May 1953 – on the fringes of the town of Kingman, Arizona – is one of the most controversial of its kind. But, how many people really know how the "crashed saucer" saga began? I thought today I would share with you just how the whole thing took off, so to speak. The genesis of the story can be traced back to early February of 1971. At the time, Jeff Young and Paul Chetham were two new and enthusiastic UFO investigators who were digging into a truly sensational story that, if true, strongly suggested intelligent life existed outside of the confines of our own world. These amazing revelations came from a man named Arthur Stansel, who was a good friend of Young's family and who claimed to have had personal, firsthand knowledge of a crashed UFO and alien body recovery near Kingman on May 21, 1953.
During the course of a face-to-face, tape-recorded interview with Young and Chetham, Stansel – who held a master's degree in engineering and who took part in the D-Day landings at Normandy, France, during the Second World War – recounted that in 1953, he was working at the ultra-secret Nevada Test and Training Range. It was the location of a then-recent atomic bomb test that had been a part of a larger series of tests known as Operation Upshot-Knothole. This operation was just the latest in a whole series of atmospheric nuclear weapons-based tests that fell under the jurisdiction of the Atomic Energy Commission (AEC), all of which were conducted on land overseen by the NT&TR from March 17 to June 4 of 1953. Still on the issue of the matter of Operation Upshot-Knothole, on several occasions Stansel speculated that perhaps the incredible blast from one of the bomb tests inadvertently caused the UFO to go wildly out of control, cascading and finally crashing in the next state over, Arizona.
Stansel began by telling the astonished but excited duo that late one night, he and a colleague observed nothing less than an honest-to-goodness UFO soar across the skies near the site. Ultimately, however, Stansel had much more to impart than a sketchy story of a hard-to-define aerial encounter. As Stansel felt more and more comfortable telling his story, he gradually divulged the details of what would become known as the Kingman affair to the unsuspecting Young and Chetham.
Stansel stressed that the incident had taken place during his brief tenure with the U.S. Air Force's UFO investigation program, known as Project Blue Book. He had received a telephone call from the base commander at Wright-Patterson in Dayton, Ohio, with orders for him to fly to Phoenix, Arizona. From there, Stansel was driven to the crash site of what he was told was a secret Air Force project gone awry. Upon his arrival at the site – which he was certain was situated on the fringes of Kingman – Stansel could not fail to see the unusual object. This was no classic flying saucer, however; rather, the object was shaped like a cross between a teardrop and a cigar. Moreover, it was small, barely twelve feet long. But that was not all: There was a body. According to Stansel, this was no human body. Yes, it had arms, legs, a torso, and head, but it was only about four-feet-tall, its skin was dark, and its facial features were manifestly different than those of a human being. The truth soon dawned on the shocked Stansel: A spaceship from another world had just crashed at Kingman.
Aside from being mentioned in an April 23, 1973 article in the Massachusetts-based Middlesex News, not much else came of the Kingman story – for a while, anyway. Things eventually changed: a man named Raymond Fowler, a well-respected UFO investigator and author, read the article and was intrigued. As Fowler began to dig into the story, he discovered something amazing and near-synchronistic: both he and Arthur Stansel were employed by the very same company. Needless to say, Fowler wasted no time in contacting Stansel, and the pair met in Stansel's office at noon on May 4, 1973. The Kingman case was about to be taken to a whole new level.
Fowler, admittedly, had some deep concerns about both the witness and his story, since it soon became clear that the tale Stansel told to him was radically different from what had been imparted to Chetham and Young, two years previously. Stansel explained, somewhat awkwardly, and with a degree of embarrassment, that this discrepancy arose from a basic confusion regarding the dates as well as from the fact that he had been under the influence of four martinis when he was interviewed back in 1971. Stansel admitted that when the booze kicked in, he was often prone to exaggeration. Not a good thing when you're trying to convince someone you saw a dead alien, whose craft may have been brought out of the sky from an atomic bomb detonated on the Nevada test and Training Range.
Although these issues raised some justifiable suspicions about the legitimacy (or otherwise) of the Stansel account, as related to Fowler it was still one that cried out for scrutiny and investigation – which is precisely what Fowler did. On June 7, 1973, Fowler procured a signed affidavit from Stansel, albeit one in which Stansel's name was changed to the pseudonym of "Fritz Werner" – which, of course, rendered the affidavit wholly meaningless and worthless. Nevertheless, the very fact that Stansel had been willing to put at least something in writing was encouraging, if nothing else.
According to Stansel's new – or, to be precisely accurate, modified – version of events, it was while on a very short assignment with the Air Force's Project Blue Book that, on May 21, 1953, he was flown to Phoenix, Arizona, and then driven in a bus with blacked-out windows to a location not too far from the nearest significant landmark: Kingman. When Stansel spoke with Fowler, however, what he had originally described to Young and Chatham as a twelve-foot-long teardrop/cigar-shaped object had suddenly been transformed into an oval-shaped craft with a diameter of at least thirty-feet – a definitive flying saucer, Stansel stressed to Fowler. That's quite a difference. The exterior of the vehicle resembled brushed aluminum, Stansel added, and the craft had only penetrated about two feet into the ground, which suggested a light, semi-controlled descent had occurred, rather than a violent crash.
The affidavit also described some kind of a hatch, about three-feet-high and roughly one-foot wide, on the side of the craft that provided entrance to its interior. Looking inside, the investigative team spied an oval-shaped cabin, two swivel chairs, and a variety of instruments and screens that did not resemble conventional aircraft technology. Most significant of all, a small body was retrieved from the interior of the vehicle and was taken to a nearby, hastily constructed tent. Very human-like, if small in stature, the presumed pilot had a pair of eyes, two nostrils, a small mouth, and two ears. It wore a silver-colored, one-piece suit, and atop its head sat what appeared to be a small skull-cap made out of the same material as the suit.
Quite naturally and wholly understandably, Fowler had some concerns about the differences between the two narratives, but he did not discount Stansel's story entirely. Quite the opposite: he continued to investigate it – and Stansel, too – with vigor. What he uncovered added a degree of credibility to Stansel's new or reworked version of the events. Fowler was able to confirm that between June 1949 and January 1960, Stansel held a variety of engineering and management positions at Wright-Patterson Air Force Base in Dayton, Ohio, and that during the period in which the incident supposedly took place, Stansel worked within what was known at the time as the Air Materiel Command Installations Division, within the Office of Special Studies. Stansel certainly did not appear to be a fool or a fantasist; quite the opposite, in fact. These welcome discoveries with respect to Stansel's career did not negate the fact that he had clearly told one story to Young and Chetham (after having had a good old, head-spinning time quaffing a few martinis with his new buddies) and a very different one to Fowler. And, that's how it all began – a weird and controversial case which continues to provoke interest.
SOURCE:
1,500-year-old Mummy Wearing 'adidas Sneakers' Believed To Be A Time Traveler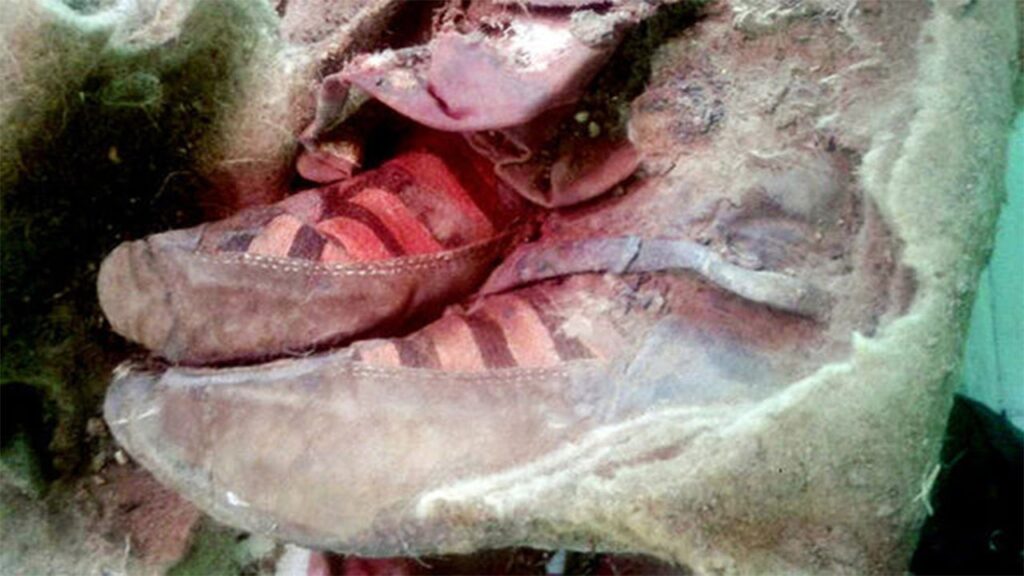 A recently unearthed mummy equipped with a well-preserved pair of 'Adidas sneaker' has intrigued archaeologists and conspiracy theorists alike. While some consider it to be only a lucky find, others have brought conclusive arguments as to why this could be the remnants of an actual time traveler.
Time travel has always been a fascinating topic, especially in present days when this concept doesn't look so futuristic after all. With our current development in technology, we can dream of cruising through time in a couple hundred years. Until that day arrives, we'll need to focus our attention on a very bizarre archaeological find from the Altai Mountains in Siberia, where an unusual mummy had recently been discovered.
So, what's the connection between those mummified remains and time travel? Well, there's a certain item on the deceased body that's strongly resembling a pair of – you guessed it – Adidas sneakers. If the pair of shoes prove to be authentic, then the world will know that time travel is a real phenomenon. However, I'm inclined to think that people at that time were only skilled shoemakers. Or were they really?
The extremely well-preserved remains belong to a Turkik person that lived some 1,500 years ago in central Asia. The body was found alongside the remains of a horse, a pillow, and a sheep's head. Archaeologists also found a saddle, bridle, clay vase, wooden bowl, trough, iron kettle, and four different 'Dool' (Mongolian clothes).

"It is the first complete Turkik burial at least in Mongolia – and probably in all Central Asia. This is a very rare phenomenon. These finds show us the beliefs and rituals of Turkiks," said B. Sukhbaatar, researcher at Khovd Museum. "We can see clearly that the horse was deliberately sacrificed. It was a mare, between four and eight years old. Four coats we found were made of cotton."
Researchers haven't been able to determine the genre of the deceased so far, but they believe the remains belonged to a woman because they found no trace of a weapon inside the tomb, where male warriors were always buried alongside their bow.
The resting place was found at an altitude of 2,803 meters, and the mummy – still wrapped in felt – was resting its bones inside a 3-metre-deep grave. The body preserved extremely well because of the cold temperatures, together with the belongings and horse remains.
"The grave was located 2803 meters above sea level.This fact and the cool temperatures helped to preserve the grave," said Sukhbaatar. "The grave was three meters deep. The finds show us that these people were very skilled craftsmen. Given that this was the grave of a simple person, we understand that craft skills were rather well developed."
There are several things that don't add up here. First of all, Mongolians are well-known for their herds of horses, which in turn determines the wealth of their people. These noble animals were (and still are) essential to them, meaning that whenever someone died, they would leave behind a substantial herd.
The grave of the Turkik mummy is considered to be rich in possessions, but since only the remains of a horse were found inside, researchers are now insinuating that the mummy didn't belong to the elitist class of the region. But how is that possible if four different garbs, together with a presumed pair of 'Adidas sneakers' and numerous other items including the wool originating from a camel were discovered inside the tomb? Could it be that this woman was of a different culture? A distant traveler with knowledge of time manipulation?
A Romanian archaeologist explains more about the burial ceremony in his book about Turkik nomads. It reveals that Turkik people preferred being buried with far less material possessions, but they sacrificed their horses to accompany them on the other side.
"When a man died, the survivors dug a pit as large as a house, in which they laid the deceased holding in his hand a wooden cup filled with a drink, as well as his belt, bow, and money…Following that, the dead man's horses were killed, the number of horses sacrificed being an indication of his personal wealth."
So how does a not-so-wealthy Turk woman end up in a strategically-placed grave atop of the Altai Mountains, together with rich possessions and a pair of sneakers from the future? Is it possible that archaeologists really stumbled across the mummified remains of a time traveler, or is this but a mere coincidence?
More images from inside the tomb can be found HERE.
MH370 sighting claimed to be spotted on NASA satellite photo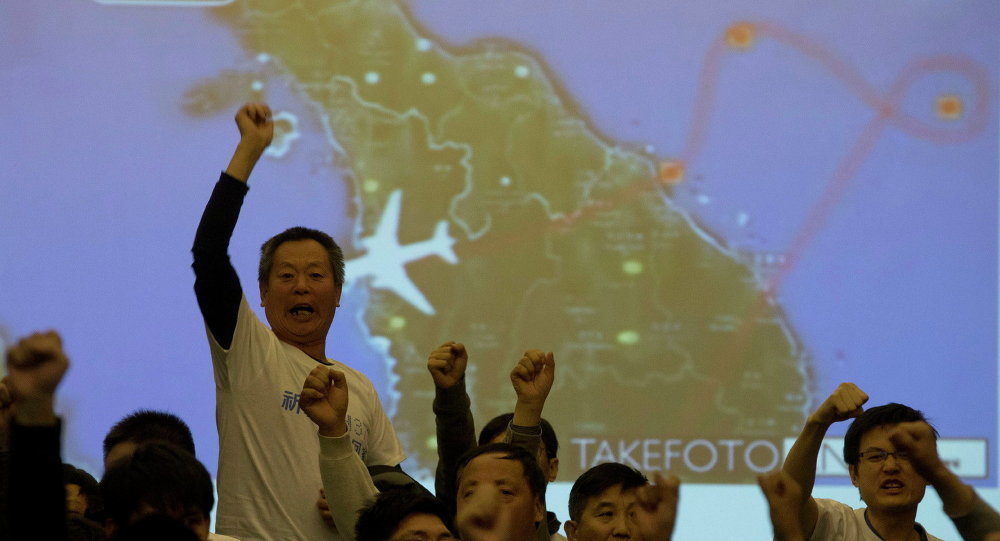 © AP Photo / Ng Han Guan, File
Although the 5-year anniversary of the disappearance of the Malaysia Airlines Boeing 777 that vanished with 239 people aboard en route from Kuala Lumpur to Beijing is on the horizon, the mystery remains unsolved. Despite the country's government having halted the search, enthusiasts continue to look for clues using everything at their disposal.
A video has been posted on YouTube pinning a possible sighting of the MH370 that went off radars on 8 March 2014. The user with the handle Darren Bailey, who uploaded the clip, claims to have used NASA Satellite Data provided by Zoom Earth. The screen capture coincides with the day of the plane's mysterious disappearance.
On the photo, the creator of the clip ringed a plane-shaped object, which could easily be a cloud, in the area of the Indian Ocean west of Malaysia and Indonesia. The coordinates of the possible MH370 sighting are 3'00.549'S and 86'21.943'E.
Malaysia Airlines Flight MH370 with 239 passengers on board disappeared on 8 March 2014 on its way from Kuala Lumpur to Beijing. In 2015, a fragment of the plane wing was discovered east of Madagascar on Reunion Island and confirmed as coming from the missing aircraft. Malaysia, China, and Australia have conducted a nearly three-year, $144-milllion surface and underwater search in the southern part of the Indian Ocean, which was called off in January 2017 after yielding no results.
Last May, the US tech firm Ocean Infinity also ended its operations. The company searched over 112,000 square kilometres of ocean floor but ended up finding nothing as well.
In July 2018, Malaysian investigators issued a lengthy report, saying the Boeing was likely deliberately steered off course under manual control, but they failed to say who was responsible.
Over the years, multiple aviation experts and enthusiasts have come up with various explanations for the incident and multiple hypotheses as to the MH370's crash site, varying from the bottom of the Indian Ocean to deep inside the Cambodian jungle.
Mysterious Radar Anomalies Reported Near Sydney Australia
Late in 2018, a series of anomalies appeared on weather radar systems over the US states of Illinois, Kentucky, Maine, Florida, and Indiana. The anomalies were eventually blamed on a new experimental type of chaff, an aircraft countermeasure designed to mask aircraft activity over a given area and generally confuse enemy radar systems.
While that explanation may have been sufficient for that week's news cycle, many aviation experts noted that chaff usually doesn't linger in place as these mysterious clouds seemed to. Were these anomalies indeed the product of chaff testing, or was military activity merely a convenient scapegoat as has been alleged in many other anomalies aerial phenomena?
The mystery deepened this week as similar radar anomalies were reported in Australia and again blamed on chaff. Many Sydney residents were startled when they saw weather radar displaying what appeared to be ominous rain clouds heading their way when a glance outside revealed crystal blue skies. Australian Broadcasting Corporation meteorologist Graham Creed quickly explained the radar anomaly on social media, stating that like in the American radar anomalies, this was the product of chaff:
It's the Williamtown RAAF base and they're putting what's known as chaff in the atmosphere. The idea of it is that it hides what they're doing underneath it. They're doing manoeuvres with their aircraft. They drop this chaff and it spreads out and then it creates an echo so you can't see individual movements.
The Williamtown RAAF base and Australian Department of Defence were contacted by the ABC but did not comment on the anomaly. What was the RAAF hiding, and from whom?
Like in the case of last year's radar anomalies in America, I'm left to wonder why experimental aircraft technology would be tested near densely populated areas where weather radar systems are so common. If you wanted to hide experimental aircraft tests, why not do it somewhere more secretive? Or was that the point: to determine how well civilian radar systems can be fooled? To what end?
SOURCE: Mysterious Universe