A Brief History of Censorship and How It's Playing Out Now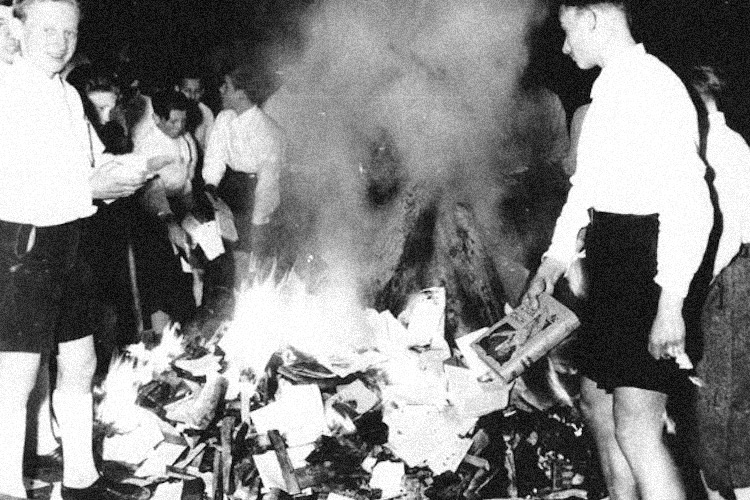 Censorship has been considered a legitimate instrument for controlling the political and social position of the masses for centuries. It did not dawn in our current Orwellian state. With the massive YouTube channel bans, social media limitations of reach, shadow banning, and false narrative creation, we can look to precise moments in history when similar tactics were used to control our freedom of expression. Nevertheless, truth always wins.
To 'Censor' With Love from Rome
"If large numbers of people believe in freedom of speech, there will be freedom of speech, even if the law forbids it. But if public opinion is sluggish, inconvenient minorities will be persecuted, even if laws exist to protect them." – George Orwell
The origin of the term censor comes from Rome, in 443 BC. Famously, the philosopher Socrates was forced to drink poison in 399 BC for his "corrupt" religious and political views, but he was not the first person to ever be punished for his views so violently. In every corner of the globe – from China to the U.S.S.R. and from the U.S. to Africa censorship has abounded. Notably, censorship reforms only began in Russia in a single decade of tolerance (1855-1865) during the reign of Tsar Alexander II, when a transition was made from legislation on pre-censorship to the punitive system based on legal responsibility, but with the false Russian 'spy' narrative being plugged today, we should be wary of focusing on a singular geographic region as the only country to use censorship to control its people.
The Red Pencil
Journalists of the highest caliber have faced the "red-pencil" when trying to accurately and honestly report on war crimes, civil movements, and even non-violent demonstrations or artistic movements, which often carry the seeds of expressed emotions pushed into submission by more overt displays.
Book Burning
Books, and entire libraries have been burned to quash freedom of expression. This imprisonment of some of humanity's most original thinkers and invaluable ancient history has still not stifled the truth from eventually coming forth.
Famous Book Burnings:
The Burning of the Books of the "Pretended Prophecies" – Rome
In 186 BC, in an effort to suppress the Bacchanalia practices that had been led in part by Minius Cerrinius, a Consul of Rome claimed that the fathers and grandfathers of the Romans had suppressed foreign rites and ceremonies, "seeking out and burning all books of pretended prophecies."
Imperial Books and Manuscripts of Wisdom – Japan
During the "Isshi Incident" of 645, a transformative event in early Japanese Imperial history, the influential Soga no Iruka was assassinated and enemies of the Soga Clan seized power. Shortly thereafter, Iruka's father Soga no Emishi Soga committed suicide by setting fire to his residence. The conflagration destroyed the manuscript copy of the Tennōki, an important historical text which was forever lost, as well as many other Imperial treasures which had been taken for safe-keeping by the Soga.
The Burning of the Library of Alexandria
Caesar's conquest in 48 BC resulted in a massive book burning. The stories told by Plutarch, Aulus Gellius, Ammianus Marcellinus, and Orosius indicate that troops of Caesar "accidentally" burned the library down during or after the Siege of Alexandria.
Selective Burning of the Books of the Qur'an
Uthman ibn 'Affan, the third Caliph of Islam after Muhammad, who is credited with overseeing the collection of the verses of the Qur'an, ordered the destruction of any other remaining text containing verses of the Quran after the Quran has been fully collected, circa 650.
Competing Christian Philosophies
After the conquest of Toledo, Spain Toledo (1085) by the king of Castile, it was being disputed on whether Iberian Christians should follow the foreign Roman rite or the traditional Mozarabic rite. After additional ordeals, it was submitted to the trial by fire: One book for each rite was thrown into a fire.
Nazi Book Burning
In 1817, German student associations (Burschenschaften) chose the 300th anniversary of Luther's 95 festival at the Wartburg, a castle in Thuringia to burn all books and literature thought to be "non-German." Nazi German authorities synchronized professional and cultural organizations with Nazi ideology and policy (Gleichschaltung) at the time of the burning.
There are thousands more instances of book burnings, and literature or manuscripts being defiled all over the world.
Dead Sea Scrolls and other manuscripts which are "magically" showing up in digitally archived form may have been saved in some instances of the attempt control of information, but largely, the social and political narrative has been closely guided for thousands of years.
Entire communities have been sent into exile, when controlling the narrative through media is not sufficient of the powers in control. War, often as the last resort, but often also the first, further controls the narrative.
What those aiming to control us forget, is that communication of truth will always find a rising tide. One controversial site has already enacted a joint venture with an offshore Internet Security Provider, with aims of having their own channel which cannot be censored. It will be deeply encrypted so that all posts and email for members will be censorship- immune.
This is just the first step of many counter-attempts to keep free speech alive. Many more are likely to surface as the fury of those being censored drives them to find alternatives to the Deep-State controlled media outlets.
YouTube's surreptitious banning of "false news" channels will only backfire. Pun intended. This is only a modern attempt at book burning gone virtual and digital.
Internet censorship violates the US Constitution and demonizes Truthers, but as history reveals, the antics of the Deep State will likely fail. Even after burning millions of books, genocide, war, and organized social control, Truth has greater power.
About the Author
Christina Sarich is a staff writer for Waking Times. She is a writer, musician, yogi, and humanitarian with an expansive repertoire. Her thousands of articles can be found all over the Internet, and her insights also appear in magazines as diverse as Weston A. Price, Nexus, Atlantis Rising, and the Cuyamungue Institute, among others. She was recently a featured author in the Journal, "Wise Traditions in Food, Farming, and Healing Arts," and her commentary on healing, ascension, and human potential inform a large body of the alternative news lexicon. She has been invited to appear on numerous radio shows, including Health Conspiracy Radio, Dr. Gregory Smith's Show, and dozens more. The second edition of her book, Pharma Sutra, will be released soon.
This article (A Brief History of Censorship and How It's Playing Out Now) was originally created for The Mind Unleashed and is published here with permission. It may be re-posted freely with proper attribution and author bio.
New Perspectives on Improving Health Care in the U.S.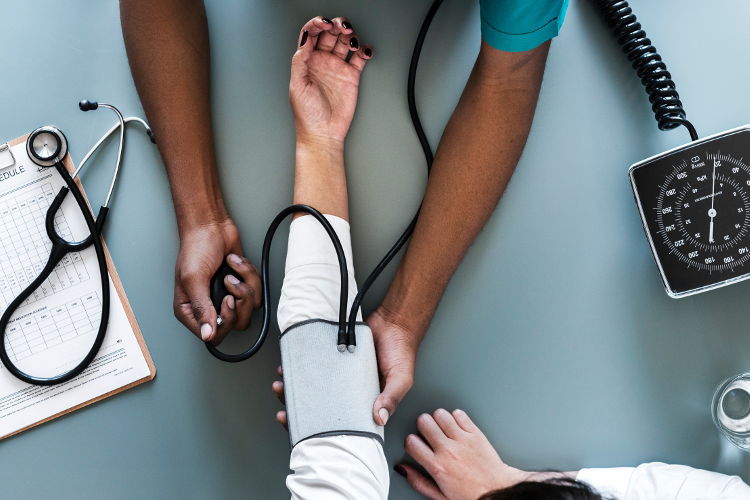 Alex Pietrowski, Staff Writer
Waking Times
The idea that the poor state of health among Americans can only be addressed with effective health care services is impractical and unrealistic. It is a known fact that a healthy diet is one of the best ways to reduce the amount of illness in our society. Thus, it would be more sensible to put more attention on improving the condition of food quality and education regarding accurate dietary standards.
The Hefty Price of Health Care
On average, Americans spends $5,500 out-of-pocket on health care each year. The biggest share of this cost is made up of insurance premiums. A comparison of health insurance plans in India, the U.S. and European countries illustrates that cost of insurance in the U.S. is outrageous. In India, health care insurance spending totals only about $3.7 billion for 1.3 billion people. In Europe, the health insurance bill for 33 countries combined and 509 million people totals $708 billion. Compare this to $1.1 trillion in the U.S. for only 326 million people.
Families that are unsubsidized by Obamacare or employer benefits carry an even bigger burden. They spend anywhere from 10 to 17 percent of their household income on insurance premiums. (This is calculated using country averages.) In addition, out of pocket health expenses for these households could amount to the average deductible of $7,900 per year. Thus, for an average household making $60,000 per year, this could mean 23 percent of their income is spend on health care!
The costs don't stop there. Productivity losses linked to absenteeism due to poor health cost employers about $150 billion each year. In addition, corporations pay billions per year to subsidize health insurance for their employees.
Poor Food Quality Equal Poor Health
As the U.S. government continues to struggle in establishing a health care system that is economical for both citizens and institutions, it seems reasonable to also consider a different perspective. This perspective looks at improving health with better food quality and improved dietary standards.
The food industry in the U.S. might as well be called the chemical food industry. Most live foods are over-treated with pesticides and herbicides. Many are also genetically altered or enhanced.
Moreover, packaged foods are made with various agri-business by-products, such as high-fructose corn syrup, and food processing by-products, such as pulp refuse and pomace. Finally, producers prepare processed and semi-processed foods with countless chemically-created ingredients. The most common are preservatives, sweeteners, colorants and flavor-enhancers.
Consequently, unless you're eating 100% organic, non-GMO foods, you're likely getting much less nutrition from your foods than your ancestors. Furthermore, you're likely putting more stress on the body as it has to digest, filter and eliminate all of the additional chemicals you're putting in the body. The two combined make it more difficult for the body to fight off disease.
Lack of Effective Nutritional Education
Finally, there's the state of dietary education, which does not sufficiently stress the significance of eating a healthy diet. School children do learn about the importance of fresh fruits and vegetables, but school systems do not teach by example.
Most public schools offer school lunches mostly made of processed and prepackage foods. As well, primary schools offer ice cream, candy, sodas and chips for children to buy. Visit any U.S. public school lunchroom and look on the children's plates. You will find very few fruits, and even fewer vegetables.
Children learn though experience. Thus, one of the most effective ways to truly revamp dietary habits is to engaged students in growing their own organic foods. Then, schools could serve fresh produce as part of school meals.
Little Effort to Change Established Dietary Habits
Looking at nutritional education beyond primary schools, it is a small component of the higher medical school system. Most doctors give very little nutritional guidance beyond over-generalized advice, like "Eat more vegetables," and "Drink your milk." Instead, many family practitioners have become a distribution arm of the pharmaceutical industry. As a result, the people we turn to for health advice do very little to help us establish better dietary habits.
No wonder that the typical Western diet still consists of 50 to 80 percent carbohydrates!
Of course, the U.S. government has made some feeble attempts to change this. Thus, in 2005 and 2011, the USDA revamped the notoriously outdated Food Pyramid. The newest USDA graphic (below) shows that about half of your plate should consist of fruits and vegetables.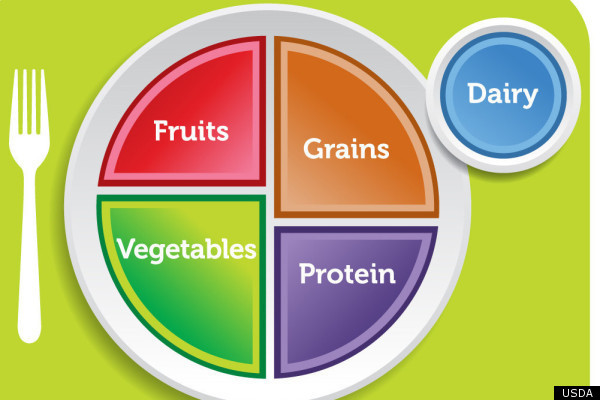 This is definitely a step in the right direction. Unfortunately, old habits are hard to break and a new graphic sure isn't going to change much. Moreover, what percentage of U.S. adults do you think have actually seen USDA's new food guidelines? The number is likely very low.
Final Thoughts
Without additional robustness in nutritional education at all levels, as well as an overhaul of the food industry's quality standards, we are not likely to see any significant changes in how and what people eat. As a result, a growing share of Americas will suffer from illness and face the burden of high-costs of health care in the U.S.
The poor health of the American public and the rising cost of health care are significant issues that need attention. Yet, it's important to consider that the answers don't necessarily reside solely in the hands of the health care industry.
"The Doctor of the future will give no medicine, but will interest his patient in the care of the human frame, in diet, and in the cause and prevention of disease." – Thomas A Edison, 1847-1931
About the Author
Alex Pietrowski is an artist and writer concerned with preserving good health and the basic freedom to enjoy a healthy lifestyle. He is a staff writer for WakingTimes.com. Alex is an avid student of Yoga and life.
Sources:    
https://www.forbes.com/sites/danmunro/2015/01/04/u-s-healthcare-spending-on-track-to-hit-10000-per-person-this-year/#49ece1c86dea
https://drive.google.com/file/d/1vi3S2pjThLFVwB7OtYwFmOiLVPTFl_wk/view
https://www.cms.gov/Research-Statistics-Data-and-Systems/Statistics-Trends-and-Reports/NationalHealthExpendData/downloads/highlights.pdf
https://www.cnbc.com/2017/06/23/heres-how-much-the-average-american-spends-on-health-care.html
https://www.benefitspro.com/2016/10/27/study-americans-spending-10-percent-of-income-on-h/?slreturn=20180610201522
https://www.ey.com/Publication/vwLUAssets/EY-global-analysis-of-health-insurance-in-india/$File/ey-global-analysis-of-health-insurance-in-india.pdf
http://ec.europa.eu/eurostat/statistics-explained/index.php?title=File:Healthcare_expenditure_by_financing_scheme,_2015_(%25_of_current_healthcare_expenditure)_FP18a.png
https://www.cdcfoundation.org/businesspulse/healthy-workforce-infographic
https://www.ncbi.nlm.nih.gov/pubmed/25748244
https://www.huffingtonpost.com/2011/06/02/food-pyramid-usda_n_870375.html
This article (New Perspectives on Improving Health Care in the U.S.) originally created and published by Waking Times and is published here under a Creative Commons license with attribution to Alex Pietrowski and WakingTimes.com. 
US Military Child Sex Trafficking Whistleblower Exposes The United Nations & The U.S. State Department
The topic of pedophilia is a disturbing one for sure, what's even more disturbing is that this kind of thing continues to happen all over the world, particularly among the global elite. There are literally too many examples to go through, whether it be the pedophilia that's been exposed inside the Vatican or the fairly recent NBC news report accusing Hillary Clinton covering up a giant pedophile ring within the state department, this thing is hitting the mainstream.
What really blew the lid off the topic was the whole Pizzagate scandal, although labeled as "fake news" by those who control the mainstream media, as organizations like Wikileaks felt it very important to release that information, and question it.  Then you have people with strange connections to the Clintons and other 'global elitists,' like Jimmy Savile, who was well connected with the Royal Family, as well as Jeffrey Epstein, who seemed to be well connected with Prince Andrew.
There are countless lawsuits, accusations, and more constantly going on that the public is completely unaware of. The Vatican alone has dished out approximately 4 billion dollars to settle child sex abuse claims, and right now, the prominent Vatican official Cardinal George Pell, who has been found on multiple occasions to be connected to large pedophilia rings, has been charged by detectives in Australia and is currently fighting multiple allegations of sexual abuse.
Above are not even a fraction of the examples that are out there, this is a very big issue with a lot of evidence behind it, but we don't really know about it because not many people hear about it, and most of it is so downright unbelievable that it's hard to blame them, but also discouraging when it's not really acknowledged.
Apart from what's mentioned above, we have people from within these "cliques", and others from police forces, as well as intelligence agencies,  investigating this type of thing. Ted Gunderson, a former Director of the FBI (LA Branch) was one who spent a lot of time in this area, if you haven't already heard of him I suggest you check him out. He did a lot of investigating into elite level child sex pedophile rings as well as children who've been used in strange rituals.
You can watch a lecture from Gunderson here.
There's a quote that fits in perfectly with this from a Vatican source,  Malachi Martin, who was an Irish Catholic priest and writer on the Catholic Church. He was originally ordained as a Jesuit priest and became Professor of Paleography at the Vatican's Pontifical Biblical Institute.
"Most frighteningly for [Pope] John Paul [II], he had come up against the irremovable presence of a malign strength in his own Vatican and in certain bishops' chanceries. It was what knowledgeable Churchmen called the 'superforce.' Rumors, always difficult to verify, tied its installation to the beginning of Pope Paul VI's reign in 1963. Indeed Paul had alluded somberly to 'the smoke of Satan which has entered the Sanctuary'. . . an oblique reference to an enthronement ceremony by Satanists in the Vatican. Besides, the incidence of Satanic pedophilia – rites and practices – was already documented among certain bishops and priests as widely dispersed as Turin, in Italy, and South Carolina, in the United States. The cultic acts of Satanic pedophilia are considered by professionals to be the culmination of the Fallen Archangel's rites." (Written in Manlpy P. Hall's book about  geopolitics and the Vatican, The Keys of This Blood, page 632)
So, for these reasons and many more, I wanted to turn your attention to a lecture given by a former Nebraska policewoman, Kathryn Bolkovac, who has also served as a U/N/ peacekeeper. In the lecture, she discusses her experience with human trafficking. What makes her so interesting is that she was with the International Police Task Force which was arranged by DynCorp Aerospace. She was actually assigned to the office that investigates sex trafficking, which is how she learned what she did.
What she discovered was horrific. For example, when she arrived in Bosnia, she was shocked to discover military officers involved in human trafficking and forced prostitution, with ties to the United Nations as well as the U.S. State Department. Let me remind of the first paragraph of this article, with regards to the State Department. Even Steve Pieczenik, a former United States Department of State official who referenced Jeffrey Epstein (mentioned above) fairly recently stated,
"We know that both of them have been a major part and participant of what's called The Lolita Express, which is a plane owned by Mr. Jeff Epstein, a wealthy multi-millionaire who flies down to the Bahamas and allows Bill Clinton and Hillary to engage in sex with minors, that is called Pedophilia."
But again, this goes far beyond just mere quotes.
Bolkovac's disclosures have been a precursor to some recent ones, like, for example, US-based NGO Code Blue received 14 internal UN reports detailing how numerous UN peacekeepers were accused of sexual misconduct. They involved some very serious allegations, which were mishandled and "botched"  by the UN. An Associated Press investigation into the United Nations (UN) has revealed that over the past 12 years, there have been approximately 2,000 allegations of sexual abuse and exploitation by UN peacekeepers and other employees around the world. The latest example to come out of the UN would be from the ex-chief advisor for the United Nation's Child Labour Program, Peter Dalglish, who was recently arrested for pedophilia. In early 2017 the United Nations Secretary-General admitted to 145 incidents involving 311 victims in 2016 alone, mainly in peace operations. We covered this earlier this year.
When Bolkovac exposed this type of stuff, she was instantly demoted, threatened, fired, and forced to flee the country. She was a target because she had access to and kept the incriminating documents. She was the inspiration behind the Hollywood feature film, "The Whistleblower: Sex Trafficking, Military Contractors, and One Woman's fight for Justice"
Her role, while she had her job, involved a post with the International Police Task Force arranged by DynCorp Aerospace. She won a lawsuit against them publicly exposing their numerous human rights violations. Anytime I write about DynCorp, I have to mention that retired army General James Grazioplene, who worked in the Pentagon and as the Vice President of DynCorp, is currently facing multiple rape charges.
Former U.S. representative Cynthia Mckinney was well aware of the corruption that was going on within DynCorp, and she actually addressed it in 2005 when she grilled former Secretary of Defense Donald Rumsfeld on the government's involvement and compliance with DynCorp's child trafficking business of selling women and children.
There will be a number of related CE articles on this issue linked below the lecture that goes into more detail about the above-mentioned stuff
About The Author
I joined the CE team in 2010 shortly after finishing university and have been grateful for the fact that I have been able to do this ever since 
 There are many things happening on the planet that don't resonate with me, and I wanted to do what I could to play a role in creating change. It's been great making changes in my own life and creating awareness and I look forward to more projects that move beyond awareness and into action and implementation. So stay tuned 
arjun@collective-evolution.com
Source:
https://www.collective-evolution.com/2018/07/14/us-military-child-sex-trafficking-whistleblower-exposes-the-united-nations-the-u-s-state-department/
Government Criminalizes Off Grid Living: Tiny Homes Banned In US At Increasing Rate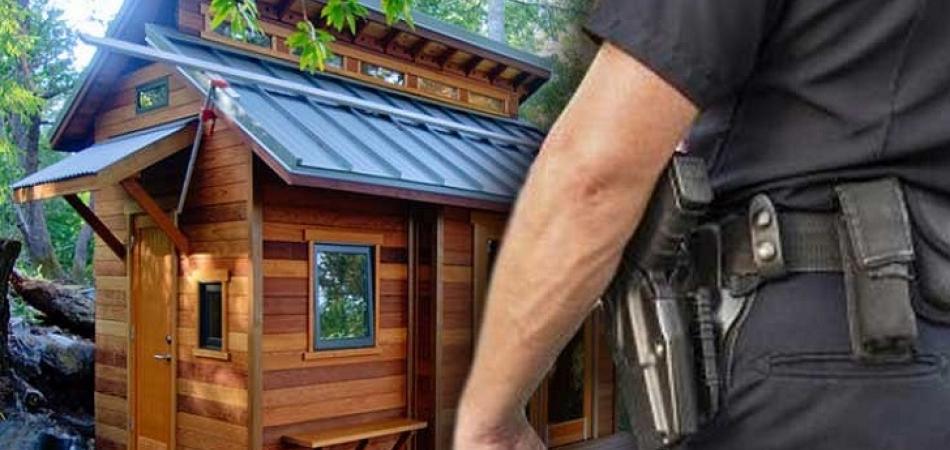 Government clamps down on off-grid cabins.
Whether for political, ideological, environmental or financial reasons or perhaps simply because of a thirst for the simpler life, more and more people across the United States are choosing to move off grid and into tiny homes.
However, it appears that the United States' government is not too happy about the challenge this new movement is posing to some of the biggest companies in America and now it looks as though this new way of life may be squashed before it has even taken off the ground.
Tiny homes, which are typically around 500 square feet, have proved enormously popular in the last couple of years mainly because of they place less of a financial burden on the homeowner than traditional properties not only because they cost less to build but because their small size means that self-sufficiency is entirely possible.
Many tiny houses are equipped to produce their own energy using small solar panels or wind turbines and they also often have the equipment to collect and clean rainwater. This means that many tiny properties are capable of existing entirely off the grid which makes them attractive to various people for a number of ideological reasons.
However, it appears that this aspect of the tiny home movement has ruffled some feathers in the political arena leading to a stamp down on tiny houses. At this current time, most towns in the United States have a minimum square footage requirement for single-family homes, often saying that tiny houses must be affiliated with a larger, conventional property. There are also a huge number of varying laws across different states which require that all residential properties be hooked up to utilities, which is often an unnecessary cost for tiny home dwellers.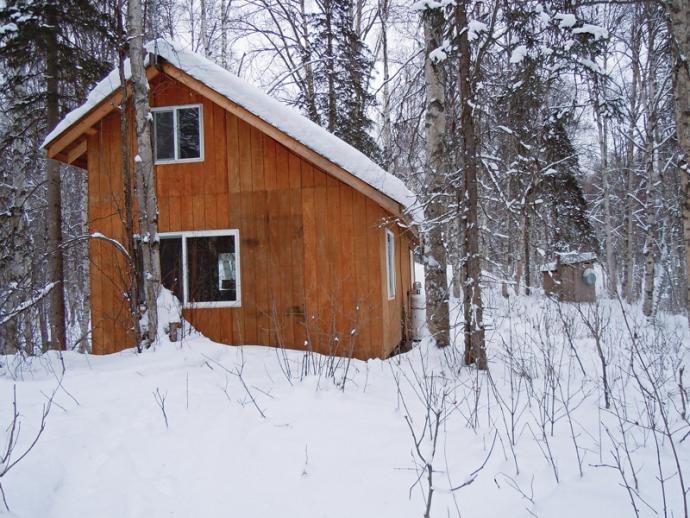 Lawmakers have given various reasons for these draconian rules. Quite often it has been suggested that allowing the construction of tiny houses will lead to a tidal wave of "unsightly little cabins plunked down next to traditional homes." In Los Angeles, lawmakers have even gone so far as to describe tiny homes as a threat to public safety.
However, these justifications have been met with incredulity by proponents of the tiny house movement. It has been pointed out that US lawmakers are often very keen to stamp out any innovations which might loosen the grip of the big energy companies over the lives (and bank accounts) of the American public. Last year, for instance, the state of Nevada increased tax on solar customers by an extraordinary 40% essentially driving the business out of the area to the huge benefit of the energy giant NV Energy which now holds a monopoly over the state's energy market.
Despite all of this, there is reason to be optimistic that the tiny house movement will find some refuge in the United States. For instance, in Detroit, citizens are being actively encouraged by the government to set up these little homes and live as they choose.
Source: Disclose.tv