A Brief History of Censorship and How It's Playing Out Now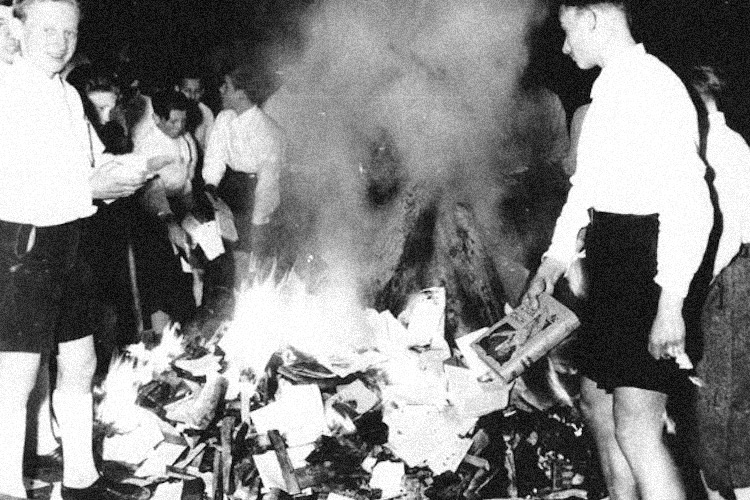 Censorship has been considered a legitimate instrument for controlling the political and social position of the masses for centuries. It did not dawn in our current Orwellian state. With the massive YouTube channel bans, social media limitations of reach, shadow banning, and false narrative creation, we can look to precise moments in history when similar tactics were used to control our freedom of expression. Nevertheless, truth always wins.
To 'Censor' With Love from Rome
"If large numbers of people believe in freedom of speech, there will be freedom of speech, even if the law forbids it. But if public opinion is sluggish, inconvenient minorities will be persecuted, even if laws exist to protect them." – George Orwell
The origin of the term censor comes from Rome, in 443 BC. Famously, the philosopher Socrates was forced to drink poison in 399 BC for his "corrupt" religious and political views, but he was not the first person to ever be punished for his views so violently. In every corner of the globe – from China to the U.S.S.R. and from the U.S. to Africa censorship has abounded. Notably, censorship reforms only began in Russia in a single decade of tolerance (1855-1865) during the reign of Tsar Alexander II, when a transition was made from legislation on pre-censorship to the punitive system based on legal responsibility, but with the false Russian 'spy' narrative being plugged today, we should be wary of focusing on a singular geographic region as the only country to use censorship to control its people.
The Red Pencil
Journalists of the highest caliber have faced the "red-pencil" when trying to accurately and honestly report on war crimes, civil movements, and even non-violent demonstrations or artistic movements, which often carry the seeds of expressed emotions pushed into submission by more overt displays.
Book Burning
Books, and entire libraries have been burned to quash freedom of expression. This imprisonment of some of humanity's most original thinkers and invaluable ancient history has still not stifled the truth from eventually coming forth.
Famous Book Burnings:
The Burning of the Books of the "Pretended Prophecies" – Rome
In 186 BC, in an effort to suppress the Bacchanalia practices that had been led in part by Minius Cerrinius, a Consul of Rome claimed that the fathers and grandfathers of the Romans had suppressed foreign rites and ceremonies, "seeking out and burning all books of pretended prophecies."
Imperial Books and Manuscripts of Wisdom – Japan
During the "Isshi Incident" of 645, a transformative event in early Japanese Imperial history, the influential Soga no Iruka was assassinated and enemies of the Soga Clan seized power. Shortly thereafter, Iruka's father Soga no Emishi Soga committed suicide by setting fire to his residence. The conflagration destroyed the manuscript copy of the Tennōki, an important historical text which was forever lost, as well as many other Imperial treasures which had been taken for safe-keeping by the Soga.
The Burning of the Library of Alexandria
Caesar's conquest in 48 BC resulted in a massive book burning. The stories told by Plutarch, Aulus Gellius, Ammianus Marcellinus, and Orosius indicate that troops of Caesar "accidentally" burned the library down during or after the Siege of Alexandria.
Selective Burning of the Books of the Qur'an
Uthman ibn 'Affan, the third Caliph of Islam after Muhammad, who is credited with overseeing the collection of the verses of the Qur'an, ordered the destruction of any other remaining text containing verses of the Quran after the Quran has been fully collected, circa 650.
Competing Christian Philosophies
After the conquest of Toledo, Spain Toledo (1085) by the king of Castile, it was being disputed on whether Iberian Christians should follow the foreign Roman rite or the traditional Mozarabic rite. After additional ordeals, it was submitted to the trial by fire: One book for each rite was thrown into a fire.
Nazi Book Burning
In 1817, German student associations (Burschenschaften) chose the 300th anniversary of Luther's 95 festival at the Wartburg, a castle in Thuringia to burn all books and literature thought to be "non-German." Nazi German authorities synchronized professional and cultural organizations with Nazi ideology and policy (Gleichschaltung) at the time of the burning.
There are thousands more instances of book burnings, and literature or manuscripts being defiled all over the world.
Dead Sea Scrolls and other manuscripts which are "magically" showing up in digitally archived form may have been saved in some instances of the attempt control of information, but largely, the social and political narrative has been closely guided for thousands of years.
Entire communities have been sent into exile, when controlling the narrative through media is not sufficient of the powers in control. War, often as the last resort, but often also the first, further controls the narrative.
What those aiming to control us forget, is that communication of truth will always find a rising tide. One controversial site has already enacted a joint venture with an offshore Internet Security Provider, with aims of having their own channel which cannot be censored. It will be deeply encrypted so that all posts and email for members will be censorship- immune.
This is just the first step of many counter-attempts to keep free speech alive. Many more are likely to surface as the fury of those being censored drives them to find alternatives to the Deep-State controlled media outlets.
YouTube's surreptitious banning of "false news" channels will only backfire. Pun intended. This is only a modern attempt at book burning gone virtual and digital.
Internet censorship violates the US Constitution and demonizes Truthers, but as history reveals, the antics of the Deep State will likely fail. Even after burning millions of books, genocide, war, and organized social control, Truth has greater power.
About the Author
Christina Sarich is a staff writer for Waking Times. She is a writer, musician, yogi, and humanitarian with an expansive repertoire. Her thousands of articles can be found all over the Internet, and her insights also appear in magazines as diverse as Weston A. Price, Nexus, Atlantis Rising, and the Cuyamungue Institute, among others. She was recently a featured author in the Journal, "Wise Traditions in Food, Farming, and Healing Arts," and her commentary on healing, ascension, and human potential inform a large body of the alternative news lexicon. She has been invited to appear on numerous radio shows, including Health Conspiracy Radio, Dr. Gregory Smith's Show, and dozens more. The second edition of her book, Pharma Sutra, will be released soon.
This article (A Brief History of Censorship and How It's Playing Out Now) was originally created for The Mind Unleashed and is published here with permission. It may be re-posted freely with proper attribution and author bio.
America's Foster Care System is the Pipeline for Child Sex Trafficking
Child sex-trafficking is an epidemic today, and while most people would find this crime to be right up there with homicide, the culture of permissiveness and lack of moral leadership tacitly condones the sexual abuse of children, while the media remains largely silent. The baffles the mind of any normal human being, and while it's quite sickening to ponder, in pretty much every city and state in America, pimps are selling underage children for sex to some of the worst human beings alive.
What's even more disgusting is the fact that the majority of the children that get lost in this soulless black hole are members of the foster care system. That's right, the foster care system in America is the primary pipeline for sex slaves in America.
Think about that for a moment. The majority of underage victims of sexual abuse have been part of the foster care system, the very organization supposedly tasked with protecting them. This includes Child Protective Services (CPS), who has the authority to remove children from their families, and is well-known for corruption and child abuse.
It's a tangled web of money, as foster kids are profitable for caretakers, and any states receive money from the federal government for each child in foster care. This breeds serious corruption, and foster care services have been known to give children to known sex offenders, and shockingly, hundreds of children just go missing each year from the foster care system.
Writing for Newsweek, Michael Dolce, Of Counsel at the law firm Cohen Milstein, recently summed up the statistical relationship of foster care to sexual abuse of minors.
Most people don't know about our nation's foster care to sex trafficking pipeline, but the facts are sobering. The National Center for Missing and Exploited Children (NCMEC) found that "of the more than 18,500 endangered runaways reported to NCMEC in 2016, one in six were likely victims of child sex trafficking. Of those, 86 percent were in the care of social services when they went missing."

The outcomes of law enforcement efforts against sex traffickers repeatedly support the NCMEC estimate. In a 2013 FBI 70-city nationwide raid, 60 percent of the victims came from foster care or group homes. In 2014, New York authorities estimated that 85 percent of sex trafficking victims were previously in the child welfare system.

In 2012, Connecticut police rescued 88 children from sex trafficking; 86 were from the child welfare system. And even more alarming: the FBI discovered in a 2014 nationwide raid that many foster children rescued from sex traffickers, including children as young as 11, were never reported missing by child welfare authorities." [Source]
This is no secret to either the media or the government, yet for some reason the media is for the most part silent about what is happening to children who end up in foster care. News like this is actually click-worthy and profitable for mainstream media, as it fits right into the bad-news-fear-news paradigm, but the lack of attention on this from politicians is also telling, suggesting a willful cover-up.
In 2013, Malika Saada Saar wrote for an article for the Huffington Post describing the same scenario. Victims of child sex-trafficking overwhelmingly come from the foster care system, and the nature of their psychological development in this environment makes them perfect sex slaves, for they tend to become acculturated to this abuse and see themselves as worthless except for sexual abuse.
Again, Dolce comments from his perspective in the legal field working directly with victims of this type of abuse.
Children are learning all the time, and in abusive foster or group homes they learn that their worth as humans is not intrinsic. Their worth is what the abusive caregiver gets from them, whether simply a paycheck from the state or their bodies for sex, as happened to some of my clients.

This conditions them to be subservient to pimps—giving all they have in exchange for essential needs, like food and shelter. As one of my clients put it, after extensive physical and sexual abuse in state care, the day she turned 18 and left the system with no community support, job or money, she saw herself in one way: "There was a gold mine between my legs." [Source]
This is so messed up and evil that it deserves serious media attention and political action, but the silence is deafening. Who will be the voice for these children in the quest for justice?
About the Author
Isaac Davis is a staff writer for WakingTimes.com and OffgridOutpost.com Survival Tips blog. He is an outspoken advocate of liberty and of a voluntary society. He is an avid reader of history and passionate about becoming self-sufficient to break free of the control matrix. Follow him on Facebook, here.
This article (America's Foster Care System is the Pipeline for Child Sex Trafficking) was originally created and published by Waking Times and is published here under a Creative Commons license with attribution to Isaac Davis and WakingTimes.com. It may be re-posted freely with proper attribution, author bio, and this copyright statement.
The Top 5 Reasons To Never Use Splenda
This article posted here with permission, from Greenmedinfo.com, written by the founder, Sayer Ji. For more news from them, you can sign up for their newsletter here. 
Splenda is marketed as a no-calorie, no-guilt sugar substitute. Blood sugar stable, it "passes right through" the body, so it's safe for diabetics AND you won't gain weight! Are these claims masking the ugly truth about this chemical imposter? As mounting research shows, when it comes to our diet, there is no free lunch.
The allure is plain to see: a sweetener made from sugar, that tastes like sugar, but has zero calories. If the marketing is to be believed, this product is better than the real thing. It's everything we love, with all of the evils removed.
When it comes to product marketing, beware the free lunch. Despite claims by the manufacturers that Splenda use is part of a healthy lifestyle, research is piling up that tells a very different story.
From the myth-busting studies linking Splenda to diabetes and weight-gain to sobering research showing increased risks of cancer, and more, our sucralose research portal reveals 22 different signs of trouble associated with this artificial sweetener.
Before we dive into the top reasons to avoid Splenda, let's separate fact from fiction regarding exactly what this false promise really is.
What IS Splenda?
The brand name "Splenda" refers to the chemical compound sucralose. The story of this substance does not attempt to conceal its bizarre origin: The year was 1974, when a chemist at a British college was told to "test" this new creation. Instead, he heard "taste," which he did. The substance had an intensely sweet impact on the tongue, and like that, a new "food" was created for the public.
Seeing the actual chemical name of Splenda makes the synthetic product's true nature much clearer:
1,6-dichloro-1,6-dideoxy-BETA-D-fructofuranosyl-4-chloro-4-deoxy-alpha-D-galactopyranoside
Although the product is touted as being derived from sugar, sucralose, aka Splenda, is not a form of sucrose, or cane sugar. Natural sugar is a hydrocarbon built around 12 carbon atoms. Sucralose is produced through substituting three hydroxyl groups (hydrogen + oxygen) with three chlorine atoms in the sugar (sucrose) molecule.
When sugar molecules are transformed into Splenda, they become chlorocarbons, the same chemical family as the deadly pesticide, DDT, disinfectants like Clorox Bleach, and the WWI poison gas, dichlorourea. Thanks to its sugary simulation, this dangerous toxicant has earned a place on grocery store shelves and in products worldwide.
Who's Protecting You?
You may be thinking, "The FDA would never approve this if it wasn't safe." Common sense dictates that trying to pass toxic chemicals off as foods would never be allowed to happen in civilized society, right?
Sadly, our collective past has proven that regulatory safety nets often fail to protect consumer safety. Artificial sweeteners like sucralose and aspartame are approved for sale in 90 nations around the world, despite overwhelming evidence linking them to a wide range of serious health conditions, such as cancer, liver failure, and brain damage.
But as concerns about sucralose mount, the scientific consensus is taking notice. A recent Italian study linking Splenda to leukemia in mice prompted the Center for the Public Interest in Science to downgrade the safety classification for Splenda from "safe" to "caution."
New evidence indicates that many of the associated health concerns present at even lower exposure levels than the manufacturers would have us believe. "Use caution" may prove to be an understatement with serious health consequences.
How Much is Too Much?
While manufacturers go to great lengths to cherry-pick studies in which damage occurs only in high doses, research shows the amount of Splenda required to cause toxic effects is much lower than current guidelines allow. In fact, the acceptable daily intake of Splenda may be set hundreds of times too high to ensure safety.
In 1998, the FDA approved an acceptable daily intake (ADI) for humans of 5 mg/kg per day, based on toxicity studies in rats measuring observed effect level. This safety limit was based on observations of the rats' outward presentations of disease symptoms.
Since that time, much has been learned about the importance of what is unseen in our biological ecosystem, namely the trillions of microbes that constitute the microbiome. Research into the impact of Splenda on gut health concluded that the observation threshold for adverse effects to the microbiome of rats was 454 times lower than when initially measured, indicating that significant effects are expected in humans who are consuming far less than the advertised acceptable daily intake of Splenda.
Top 5 Reasons to Avoid Splenda
When you understand what Splenda is, and realize there is no regulatory safety net between you and harm, it makes understanding the facts about Splenda even more critical. Here are five alarming reasons to avoid this artificial sweetener.
1. It's toxic and carcinogenic
Regulatory agencies may be slow to recognize the signs, but our bodies know immediately what is food, and what is poison. A recent study published in the European Journal of Nutrition concluded that rats metabolize sucralose in the same way they metabolize other harmful drugs and toxins. The body treats Splenda as a poison, and works fast to remove it.
Scientists found other toxicological issues with long-term exposure to sucralose. Bowel enlargement, kidney mineralization, and changes to pelvic tissue were some of the side-effects of doses well within limits of the allowable daily intake level set for humans.
These findings do much to disprove the manufacturers claim that this substance merely passes, unaltered, through the digestive tract. The makers of Splenda argue that this "remarkably stable" chemical transits, unchanged, into the urine and feces, when in fact, up to 11% to 27% is absorbed into the body (FDA, 1999).
What effects will these accumulated chemicals have on our health? According to James Bowen, M.D:
"Any chlorocarbons not excreted intact from the body can cause immense damage to the processes of human metabolism and, eventually, our internal organs."
Warning: Heating Splenda Increases the Risks
Recent findings add increased urgency to existing safety concerns surrounding Splenda's heat-stability.  Advertised as "ideal for baking", results show that Splenda is even more dangerous when heated to a mere 248℉.
At this relatively low-heat level, Splenda degrades into toxic compounds like chloropropanol and deadly dioxins. This evidence presents a sharp contrast to the claim that Splenda can safely be used in high-heat processes.
2. Increases risks of diabetes and obesity
Splenda is marketed as a way to "get a little sweetness in your life" without any of the concerns surrounding weight gain or sugar sensitivity. It's becoming clear just how false this advertising really is. In fact, the trade-off may be far worse than the real thing.
Studies on human test subjects show that sucralose alters the body's ability to process glucose, creating glucose intolerance, metabolic disturbances, and diabetes-promoting effects that are key factors in obesity. These harmful responses occur despite sucralose containing no calories and being classified as a 'non-nutritive sweetener.'
In one such trial, a single dose of sucralose led to increases in plasma glucose concentrations, a 20% increase in insulin levels, a 22% greater peak insulin secretion rate, and a 7% decrease in insulin sensitivity.
This human study linked Splenda to diabetes-associated metabolic changes, including increased appetite and weight gain, calling into question its value as a sweetener for those suffering with, or wishing to prevent, blood sugar disorders.
If these sweeteners pass through the gut intact, and are mostly unabsorbed by the body, what could be responsible for these adverse impacts on gut function and insulin response?
It's in the Microbiota
Researchers hypothesized, and later proved, that gut microbiota drove these adverse effects, including "increased weight and waist-to-hip ratio; higher fasting blood glucose, impaired glucose tolerance, and elevated markers of fatty liver disease."
They observed significant changes to the gut bacterial composition of mice consuming artificial sweeteners, which brings us to the next reason to avoid Splenda: its effects on the all-important intestinal microbiome.
3. Harms the GI tract
Research into the microbiome continues to yield breakthrough discoveries on the intimate relationship between the 'enteric brain' and the central nervous system. This connection may reveal previously unrecognized consequences of the use of this artificial sweetener. It's negative impact on the microbiome is clear:
Sucralose reduced the number of beneficial bacteria in the gastrointestinal tract (e.g., lactobacilli, bifidobacteria),
While increasing the count of detrimental bacteria (e.g., enterobacteria).
Adverse effects on gut flora did not return to normal (baseline) despite the allowance of a 3-month recovery period.
Sucralose altered the pH of the gastrointestinal tract, a prime factor in the development of disease states
These findings coincide with a global uptick in inflammatory bowel disease, particularly evident in Canada, where Sucralose has been proposed to be a primary driver of this disturbing trend.
4. Contaminates breast milk
The use of sucralose has grown so prevalent, even our most vulnerable populations are incapable of opting out of exposure. A recent government-funded study found sucralose contaminated 65% of all breast milk samples assayed.
The groundbreaking study, "Nonnutritive Sweeteners in Breast Milk", found that sucralose survives maternal metabolism and enters breast milk in the majority of samples tested. The presence of non-nutritive sweeteners in the breast milk was irrespective of whether the mother knowingly consumed the substance.
Adequate proof of the safety of sucralose in infants is not available, and tests are unethical to perform in human subjects. This is one reason for the use of animals in surrogate risk assessments. One such assessment involves testing a chemical's safety by determining the amount needed to kill 50% of rodents within a short time frame ("acute toxicity"), and then deducing an "acceptable level of harm" to humans. This is done primarily by adjusting for body weight differences between rodents and humans.
This outdated and misleading standard does not account for low-dose, chronic exposures over time, nor does it account for the synergistic toxicities of multiple chemical exposures occurring simultaneously in real-world situations. Until such rigorous testing can be performed, the use of non-nutritive sweeteners should be halted by those wishing to conceive, and women who are pregnant or breastfeeding.
5. Suppresses Thyroid Function, Disrupts Hormones
A study published in the European Journal of Nutrition is the first study of its kind to evaluate the effects of Splenda on thyroid function and metabolism.
Their findings reveal that sucralose is an endocrine disruptor: it disrupts the body's hormonal systems. In this study, resultant effects included thyroid hormone suppression, increased appetite, and weight gain.
The researchers believed that Splenda's adverse effects would be reflected in "thyroid histopathology," i.e. increased instances of thyroid lesions and tumors. Could this be one of the drivers behind the mysterious global uptick in thyroid cancer diagnoses?
In this study, researchers lament the widespread use of non-nutritive sweeteners, particularly concerning due to lack of research on their effects on thyroid:
"Non-nutritive sweeteners are the most widely used food additives worldwide. However, their metabolic outcomes are still a matter of controversy and their effect on the thyroid activity, a key regulator of metabolism, has not been previously studied."
The chief aim of this study was to reveal the effect of "sweet-type flavor on selected parameters of thyroid activity."
105 rats were divided into 3 groups that could consume, free-choice, one of three different diets. The three, wheat starch-based diets had identical caloric content, yet differed in the following ways:
Diet #1 contained no sugar
Diet #2 contained 10 grams of sucrose (cane sugar)
Diet #3 contained .0167 grams of sucralose, enough to create the same sweet flavor intensity as Diet #2
Because previous research has established that carbohydrates directly affect thyroid, this study was designed to isolate only the difference between the artificial and natural sweetener. Results indicated that both the presence and type of sweet-flavor carrier effects thyroid activity.
Compared to the diet with cane sugar which stimulates thyroid activity, sucralose diminished thyroid hormone activity. Additionally, key hormone concentrations (T4 & T3) were lower for subjects eating sucralose than in either the sugary or non-sweet diets. Researchers determined that sucralose significantly altered the thyroid and metabolic functions of the animals, with symptoms resembling those of hypothyroidism.
This study proved sucralose is not metabolically inert, the claim often made when questions of toxicity are raised. The results provide compelling evidence that the difference in thyroid and metabolic effects observed between the study groups were due to sucralose's significant and complex toxicological properties.
For more information and the latest medical research, check out GreenMedInfo's sucralose research database.
Check out the research on the health benefits of natural sweeteners like honey, and stevia, a no-calorie alternative to synthetic sweeteners.
Why Does Modern Medicine Have a Big Problem with Natural Health?

Jon Rappoport, Guest
Waking Times
Well, there is the money, of course.
When millions of people forego expensive and toxic medical drugs; when they rarely see conventional doctors; when they don't receive vaccinations and don't have their children vaccinated; when they opt for natural remedies; when, worst of all, THEY STAY HEALTHY, this is a hammer blow to drug-based medicine.
These "natural health" people are also going against The Plan, which is a cradle-to-grave system, whereby humans are diagnosed with 30 or 40 diseases and disorders during their lifetime—requiring large amounts of toxic and debilitating drugs—and then they die. Note: The effects of the drugs are labeled "diseases," which in turn are treated with more harmful drugs, resulting in new diagnoses of "diseases," and so on. It's a self-feeding, self-replicating parade of destruction.
You can see the final stages in nursing homes, where the elderly are warehoused. On their night tables are a dozen or so drugs. The tragic end-game.
This pathetic, vicious, pseudoscientific medical assault is praised to the skies, as "the best" in human care. On television, hired hands parade through show after show, insisting that modern medicine is the most brilliant program ever devised for the human race.
At the same time, untold millions of people who opt for natural health expose, by their choices, this titanic lie.
Here is how medical propaganda works, in the big picture. When delivered by competent caring personnel, acute crisis emergency care can produce remarkable results. People who have been damaged in accidents, who develop sudden life-threatening situations (unconnected to medical drugs) can be put back together. However…
Propagandists then parlay this specific success by pretending it applies over the whole field of medical practice, in every aspect. This assertion is absurd, false, and highly dangerous.
The case of a person who is lying in the road after a car crash, and a person who is suffering from chronic immune-system weakness, are as far apart from each other as an ant in Idaho and a rocket on the moon.
The propagandists' job is to make these two people "the same." They both need medical care, and medical care is wonderful. The big lie.
More and more people are waking up to this deception, and they are pursuing non-medical means to arrive at a better state of health and maintain it.
The scale is tipping in the direction of natural health–herbs, nutritional supplements, proper food, exercise, clean water, "alternative" practitioners.
Medical propaganda is on a long decline of failure.
That problem is very worrying to the medical cartel.
When you've had populations under your control for a long time, with the simplest kind of public relations; when you've been very sure your tactics were working; when you've blasted the same messages with the same rewarding results; you suffer from overconfidence.
When your tactics don't work anymore, you don't know what to do.
Your only option is trying to MANDATE medical treatment. You put populations in a box. You demand they obey.
Now you're heading toward a showdown. At what point will your prisoners decide they've had enough?
Here is a statement to shake up the princes of modern medicine:
"The combined death rate from scarlet fever, diphtheria, whooping cough and measles among children up to fifteen shows that nearly 90 percent of the total decline in mortality between 1860 and 1965 had occurred before the introduction of antibiotics and widespread immunization. In part, this recession may be attributed to improved housing and to a decrease in the virulence of micro-organisms, but by far the most important factor was a higher host-resistance due to better nutrition." Ivan Illich, Medical Nemesis, Bantam Books, 1977
For decades, authors have been punching holes in medical myths. Their efforts have not gone in vain. Educated readers have been taking their findings to heart.
The truth has been trickling up, down, and sideways in the culture. Remember, we are talking about people's view of, and concern for, their own bodies. There is nothing abstract about this. The desire for knowledge is intimate. The empty word from on high, spouted by experts, can easily take a back seat. When the issue is pain and suffering vs. well-being, people will shrug off what they're supposed to think and they will dig for answers.
Here are several statements from a widely beloved American physician, Robert Mendelsohn. During his life, his views served to awaken readers all over the world:
"Modern Medicine would rather you die using its remedies than live by using what physicians call quackery."
"Almost half of the 100,000 or so surgeons we actually do have right now are superfluous. Those 50,000 or so extra unsheathed scalpels do a lot of damage."
"The greatest threat of childhood diseases lies in the dangerous and ineffectual efforts made to prevent them through mass immunization…..There is no convincing scientific evidence that mass inoculations can be credited with eliminating any childhood disease."
"When I was Senior Pediatric Consultant to the Department of Mental Health in Illinois, I cut out a certain kind of operation that was being performed on mongoloid children with heart defects. The stated purpose of the operation was to improve oxygen supply to the brain. The real purpose, of course, was to improve the state's residency programs in cardiovascular surgery [by training new surgeons], because nothing beneficial happened to the brains of mongoloid children—and the surgeons knew that. The whole idea was absurd. And deadly, since the operation had a fairly high mortality rate. Naturally, the university people were very upset when I cut out the operation. They couldn't figure out a better use for the mongoloid children, and, besides, it was important to train people. In prepaid group practices where surgeons are paid a steady salary not tied to how many operations they perform, hysterectomies and tonsillectomies occur only about one-third as often as in fee-for-service situations."
"I can remember when if a hospital's incidence of Caesarean deliveries went above four or five percent, there was a full scale investigation. The present level is around twenty-five percent. There are no investigations at all. And in some hospitals the rate is pushing fifty percent."
"Today your child has about as much chance of contracting diphtheria as he does of being bitten by a cobra." [In the DPT vaccine, the "D" stands for diphtheria.]
Mendelsohn, Ivan Illich, and many other rebel authors have cut across the full range of medical propaganda. They've raised red flags on every front. You can't overestimate the effect they've had.
In private meetings, medical cartel front men complain, "The people aren't listening to us!" They're right. That's what happens when gross lies and deceptions are spread out across the planet.
You can diagnose and damage some of the people some of the time, but you can't damage all the people all the time.
About the Author
Jon Rappoport is the author of three explosive collections, THE MATRIX REVEALED, EXIT FROM THE MATRIX, and POWER OUTSIDE THE MATRIX, Jon was a candidate for a US Congressional seat in the 29thDistrict of California. He maintains a consulting practice for private clients, the purpose of which is the expansion of personal creative power. Nominated for a Pulitzer Prize, he has worked as an investigative reporter for 30 years, writing articles on politics, medicine, and health for CBS Healthwatch, LA Weekly, Spin Magazine, Stern, and other newspapers and magazines in the US and Europe. Jon has delivered lectures and seminars on global politics, health, logic, and creative power to audiences around the world. You can sign up for his free emails at NoMoreFakeNews.com or OutsideTheRealityMachine.
(To read about Jon's mega-collection, Exit From The Matrix, click here.)
This article (Why Does Modern Medicine Have a Big Problem with Natural Health?) was originally created and published by Jon Rappaport's Blog and is re-posted here with permission.